Park View Little League 12U all-stars defeated Cajon de Oro Little League, 17-2, on Tuesday to capture this year's California Section 7 championship and, in the process, secure a berth in the upcoming 10-team Southern California Division III tournament at Aliso Viejo Little League.
Park View's opening opponent in the Division III tournament was to be the Section 6 champion, also from San Diego County.
However, when District 31 champion Encinitas defeated District 33 champion San Carlos, 8-7, on Tuesday, it forced a double-elimination final between the teams the following day.
Park View manager Will Bleisch used the extra day to scout the two Section 6 finalists, taking his team to Escondido's Kit Carson Park to view the outcome and get an idea of just what to expect in the next tournament.
The newly crowned Section 7 champions got to see a of offense from the Section 6 champions after San Carlos defeated Encinitas, 16-2, in Wednesday's double-elimination final to join Park View in the Division III tournament.
Perhaps predictably, the focus was on pitching in Saturday's Division III opener as Park View's Green Monsters recorded a 3-1 victory in the clash of San Diego championship teams to remain in the winners bracket.
Park View's next game will be Tuesday at 6:30 p.m. at Woodfield Park against Sunday's Conejo Valley-El Segundo winner. Section 1 champion Conejo Valley defeated Section 2 Quartz Hills, 4-2, earlier on Saturday to advance to meet Section 4 champion El Segundo, which had a bye.
District 33 champion San Carlos drops to the challenger bracket and will face a quick turnaround with an elimination game Sunday at 3 p.m. against Section 5 champion Golden Hill.
Golden Hill dropped a 3-2 decision to Section 8 champion Vineyard in Saturday's opening round.
Heading into Tuesday's slate of games, four teams will remain in the winners bracket. After Tuesday's results, two teams will remain undefeated heading into Thursday's winners bracket final.
The challenger bracket final is scheduled Friday, followed by the championship game on Saturday. If necessary, a double-elimination final will be played ton Sunday to determine the team that represents Southern California in the Little League World Series West Region tournament in San Bernardino.
Park View (8-0) rode the arm of ace pitcher Jose Mendoza to secure Saturday's pivotal win over San Marcos.
The District 42 champions broke a scoreless deadlock between the two San Diego County powerhouse teams by scoring three runs in the bottom of the third inning. Park View carried its 3-0 lead into the top of the sixth inning before Ivan Rodriguez came in to relieve Mendoza on the hill.
However, San Carlos could only score one run in the frame before being finally shut down.
Hits were at a premium in the game: San Carlos collected just two hits while Park View was limited to just one hit.
The teams combined for three errors — two by Park View and one by San Carlos.
Mendoza improved to 4-0 in all-star tournament play. He threw 11 first-pitch strikes and finished the game with 7 strikeouts in five-and-one-third innings of work.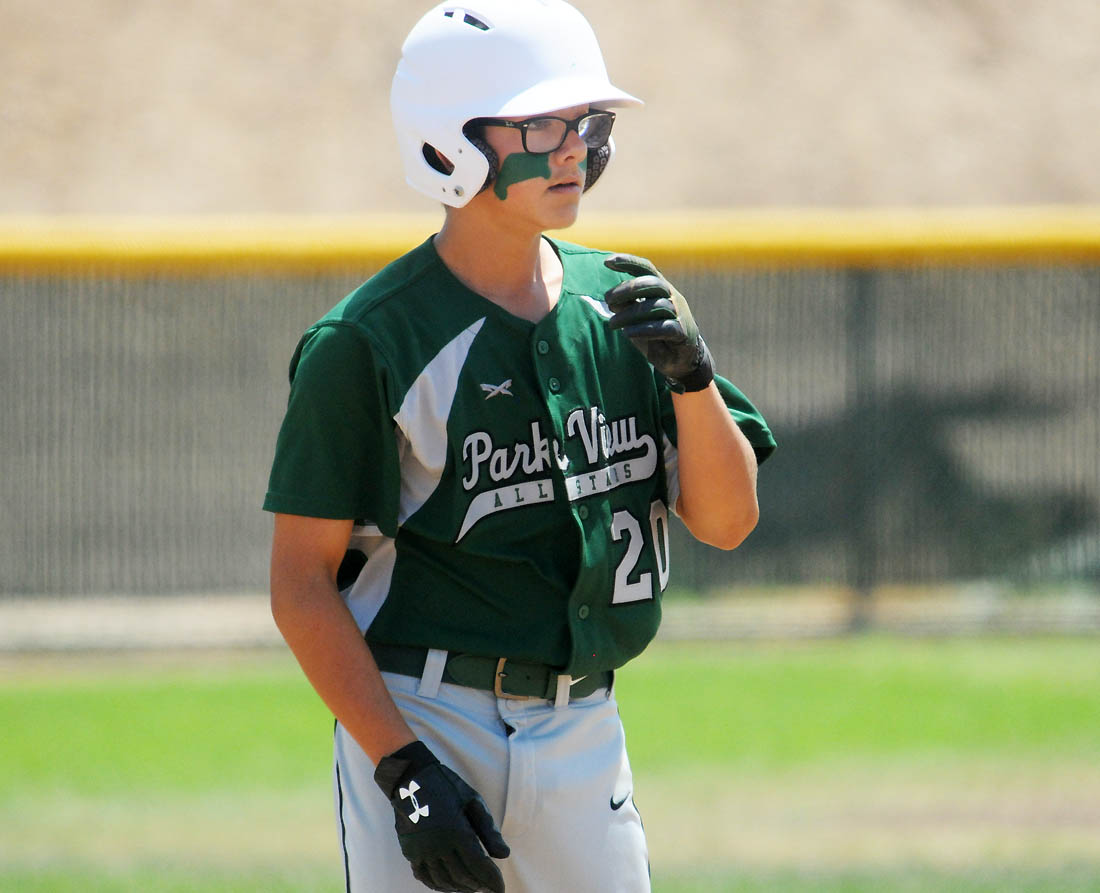 Aidan Skinner collected the lone hit in the game for Park View — a double — to score Rodriguez and Jordan Bleisch to stake Park View to a 2-0 lead.
Rodriguez, Mendoza and Atticus Gates each drew two walks to reach base in the game.
Carlos Rios, who struck out seven batters while pitching on the mound, knocked in the lone run for San Carlos.
Park View manager Will Bleisch called Saturday's  game "a pitcher's duel" between Rios and Mendoza.
"We knew the first team to put the ball in play with runners in scoring position was the team that was going to win," Bleisch said. "With runners on first and second, I inserted Aidan Skinner into the lineup and he delivered a clutch double into the left field corner scoring both Ivan Rodriguez and Jordan Bleisch."
Conner Alonzo followed with a laser shot that was too hot to handle by the the San Carlos shortstop to score Skinner and provide Park View with a 3-0 cushion.
With Mendoza out of the game with one out in the top of the sixth inning due to an 85-pitch limit, Rodriguez entered the contest and closed out he game with runners on.
"I was coming off the bench and I was looking for a fastball to drive and I got one," an elated Skinner told a KUSI-TV news crew that made the 89-mile drive to Aliso Viejo to report on the all-San Diego County matchup.
Park View Little League President Johnny Fuentes was complimentary of both teams' effort.
"Lots of credit to San Carlos they are definitely a good team and I wouldn't be surprised if we met them again down the line in the tournament," Fuentes said. "Jose Mendoza pitched a great game kept us in the game till we could strike for three runs in the third inning. Aiden Skinner had a key double which scored two runs and Conner Alonso had a sharp ground to short which the shortstop could not handle and gave us our third run.
"The pitching performance by Jose Mendoza was awesome, fell short of a complete game, Ivan Rodriguez came in and closed the game for a 3 to 1 victory.
"Congrats go to the 12u boys on a good victory; it will definitely take many more of these type as the completion gets tougher."
In winners bracket games on Sunday, Huntington Valley topped Vineyard, 14-4, while El Segundo defeated Conejo Valley, 13-3, to draw Park View in Tuesday's winners bracket showdown.
Temple City National defeated Magnolia Center, 8-5, on Saturday to advance to Tuesday's contest against the Huntington Valley.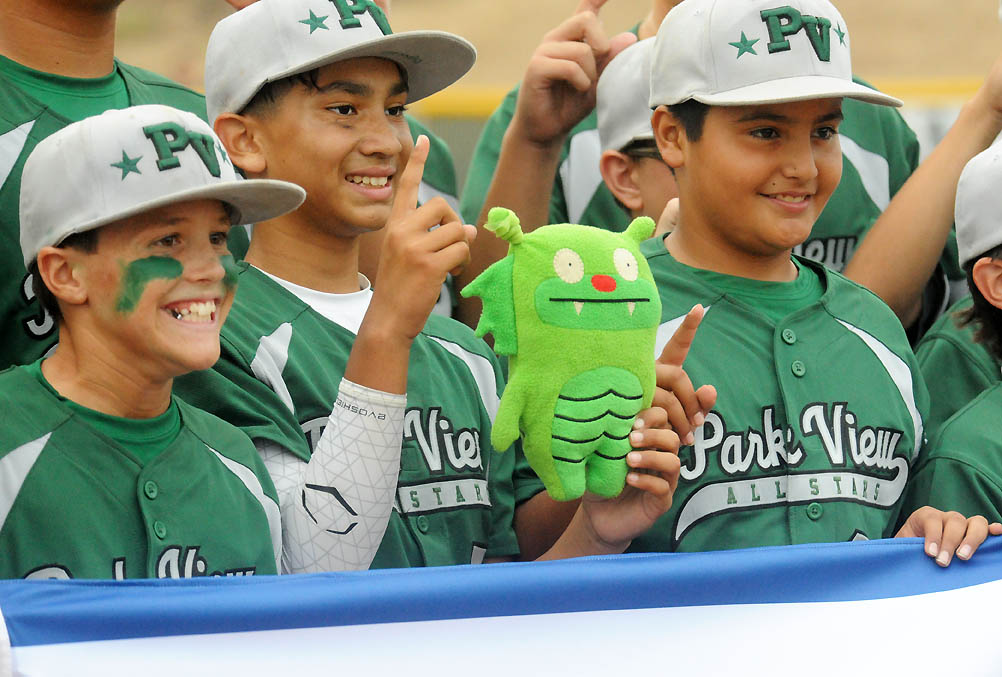 Park View tops El Segundo, 6-0; extends all-star tournament record to 9-0
Kainoa Baptista tossed a complete game shutout, using 88 pitches to subdue El Segundo, 6-0, to enable the Park View Green Monsters to remain in the winners bracket at the 12U Southern California Division III tournament at Aliso Viejo Little League.
Park View scored runs throughout the contest, starting with a triple by Jose Mendoza to score teammate Allan Camarillo and jumping ahead 4-0 courtesy of a three-run home run by Aidan Skinner, scoring Jordan Bleisch and Conner Alonzo.
The Green Monsters were warming up another pitcher in case Baptista had to leave the game because of the maximum pitch count but he was able to retire the final El Segundo batter to end the game.
The maximum pitch count is 85 but a pitcher can continue to pitch to a batter if he reaches the maximum count during the particular at-bat.
Baptista credited his defense for making plays that helped him avoid pitching out of jams.
With the win, Park View advances to Thursday's winners bracket final against Temple City National, which defeated Huntington Valley, 4-1, on Tuesday.
El Segundo drops to the challenger bracket and will meet Quartz Hill in an elimination game on Wednesday while Huntington Valley meets Golden Hill in another elimination game on Wednesday.
Four teams have now been eliminated from the 10-team divisional tournament. Park View and Temple City National are the only two undefeated teams while four other teams each have one loss.
Park View, which is now assured of no worse than a top three finish in the Division III championship field, needs two wins to advance to the Little League World Series West Region tournament in San Bernardino but must be beaten twice to be eliminated at the divisional level.
11U All-Stars
Sweetwater Valley Little League defeated Tustin Western, 5-1, in its Division III tournament opener at Temple City American Little League on Saturday.
Sweetwater Valley met Section 6 champion Allied Gardens in its next game on Sunday, winning, 2-0, to advance to Tuesday's winners bracket game against Manhattan Beach, which shut out Southridge, 5-0, on Saturday.
"It was a great weekend, a great experience for the team," SVLL manager Mahoe Nakanelua said. "It was great competition. It was intense."
The District 42 champions used four pitchers in winning its first game at the divisional tournament, with Zacque Vogel-Fux receiving credit for the win. Steven McDonald, Andrew Arnce and Daniel Sanchez also received stints on the mound.
Nyenati Snoh, Alessandro Catano, Sanchez, McDonald, Jack Villanueva, Ethan Otero and Kapono Nakanelua each had hits in the game.
Sanchez pitched a complete game on Sunday, taking a no-hitter into the sixth inning before finishing with a one-hit shutout and four strikeouts. Sanchez also scored a run on a hit by Arnce.
Joey Castillo, Catano, McDonald, Sanchez and Arnce each had hits.
Catano scored the team's first run on hit by McDonald.
Four teams are left in the winners bracket: Sweetwater Valley, Manhattan Beach, Encino and La Verne. Six teams entered Monday's slate of games still alive in the challenger bracket.
Two teams will face elimination on Monday and then two more teams will face elimination on Tuesday.
"Staying in the winners bracket is ideal for pitching and managing the team," Sweetwater Valley Little League President Arturo Maldonado explained. "We played two hard-fought games and played well. We have excellent pitching. We played two very competitive teams. The pitching has been phenomenal by allowing just one run in two games. The pitching and defense has been spot-on.
"The best part is not to drop to the losers bracket because you play every day and stress your pitching."
Sweetwater Valley continued not to stress its pitching after recording a 2-0 shutout win over District 36 champion Manhattan Beach on Tuesday to advance to Friday's winners bracket final.
10U All-Stars
Eastlake Little League dropped Saturday's Division III tournament opener to Section 5 champion Golden Hills, 7-2, but rebounded with a 12-6 elimination win over Eastvale (Section 9) on Monday to draw Vineyard in an elimination game on Tuesday.
Eastlake manager Adam Villarreal admitted Saturday's contest was "a tough day for Eastlake."
"We lost 7-2, but honestly felt like we were right there the whole time," Villarreal said.
Noah Cook pitched well for four innings, allowing five runs on five hits, while Jake Serrano pitched two innings while allowing two runs.
"The offense went cold after a two-RBI hit in the second inning," the Eastlake manager recounted. "After that Eastlake stranded seven runners on base."
Monday was a slightly different story all around for the District 42 champions as they jumped out to an 11-0 lead after the first inning.
Cook, Noah Flores, Hamza Hatahet and Armando Mendivil each went two-for-three to lead the team's offense.
Pitching was lead off with Noah Flores pitched the first and second innings, Hatahet pitched the third through the fifth, while Serrano recorded the save in the sixth inning.
"We still have a lot of work to do coming out of the losers bracket," the Eastlake manager conceded. "We need to win every day till Saturday if we're gonna pull this off.
We have the depth and the talent, we just need to execute the game plan."
That game plan appears to be working after Eastlake staved off elimination in Tuesday's challenger bracket contest against Vineyard (Section 8), winning 7-0.
Eastlake now faces either Huntington Valley (Section 10) or Golden Hills (Section 5) on Wednesday.
"We found away to win another one," Villarreal said.
Three pitchers today combined for a shutout — Noah Flores, Armando Mendivil and Josh Alo — while hits from Alo, Flores, Mendivil, Hamza Hatahet and Noah Cook led to a 4-0 lead.
"Solid pitching combined with good defensive play helped our team to the win," the Eastlake manager noted. "We live to fight another day. "(Whoever) we play next, I know our team will be prepared. We're battle tested, and ready for the challenge."
Cook finished Tuesday's game three-for-three with two doubles, one RBI and three runs scored while Mendivil went two-for-three with one double and one RBI.
Noah Flores pitched 3 innings, recording five strikeouts and no walks, while Mendivil pitched two innings with three strikeouts and no walks.
Details to follow as they become available.