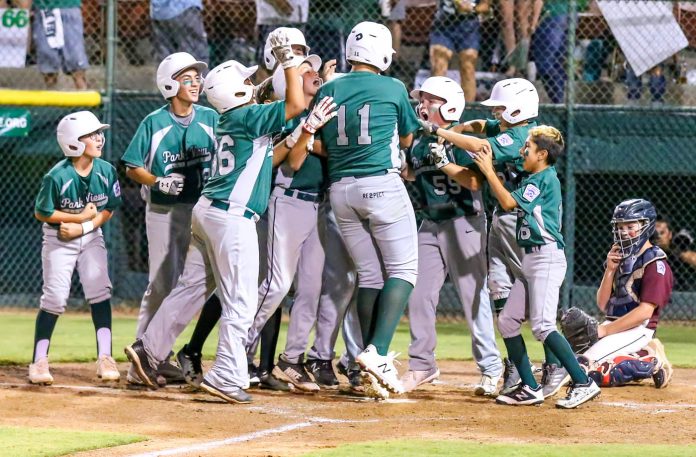 The beginning and ending of Sunday night's Little League World Series Western Regional tournament game against Northern California champion Tri-City Little League from Rocklin turned out to be a bit shaky for Southern California champion Park View Little League.
But the middle portion of the nationally live-streamed contest was pure spectacle for the California District 42 champions.
Park View slammed a total of five home runs, including a pair of two-run homers and a grand slam by Michael Rodriguez, en route to blasting five Nor Cal pitchers for 16 hits during the three-hour contest.
Park View has little time to celebrate, however, as the Green Monsters will take the field Monday afternoon (4:30 p.m. PT) for a winners bracket game against Nevada state champion Silverado West Little League from Las Vegas.
The winner of Monday's game advances to Thursday's semifinal game; the loser of Monday's game will play in an elimination game on Tuesday.
Park View, which improved to 12-0 in all-star tournament play, hopes to stay on the fast track to success. Three more consecutive wins will earn the South County team a berth in the iconic Little League World Series in South Williamsport, Pa.
If such comes to pass, it would be Park View's third trip to the hallowed Little League fields in Pennsylvania following an international championship in 2009 and a return trip in 2016.
Park View Little League President Johnny Fuentes called Sunday night's opener an "amazing game."
"The boys played great," Fuentes said. "Mike Rodriguez and Jose Mendoza both had amazing at-bats with towering home runs by both players. The team really looked like it was having a great time playing the game.
"It was key to get the first victory in San Bernardino and get the momentum going, Monday's game against Nevada will be another big test for the boys as they play back-to- back. Hopefully, we can carry the energy over to this second game. The coaches did a great job as well managing the game, very proud of our team … it's one game at a time."
"Our kids from Park View played with heart," District 42 administrator Ernie Lucero said. "At the onset of the game they fell behind. The fact that they got ahead shortly thereafter goes to show their determination and focus. This is a sophisticated team and this showed through and through last night. The key now is for them to continue to remain focused.
"These kids have instilled community pride with their success. The team is also an inspiration for aspiring little leaguers of a younger age who hope to one day have similar success. Little League is a positive all the way around. It provides an activity for children who otherwise might engage in something not so positive. It also brings families together at games to cheer their children on."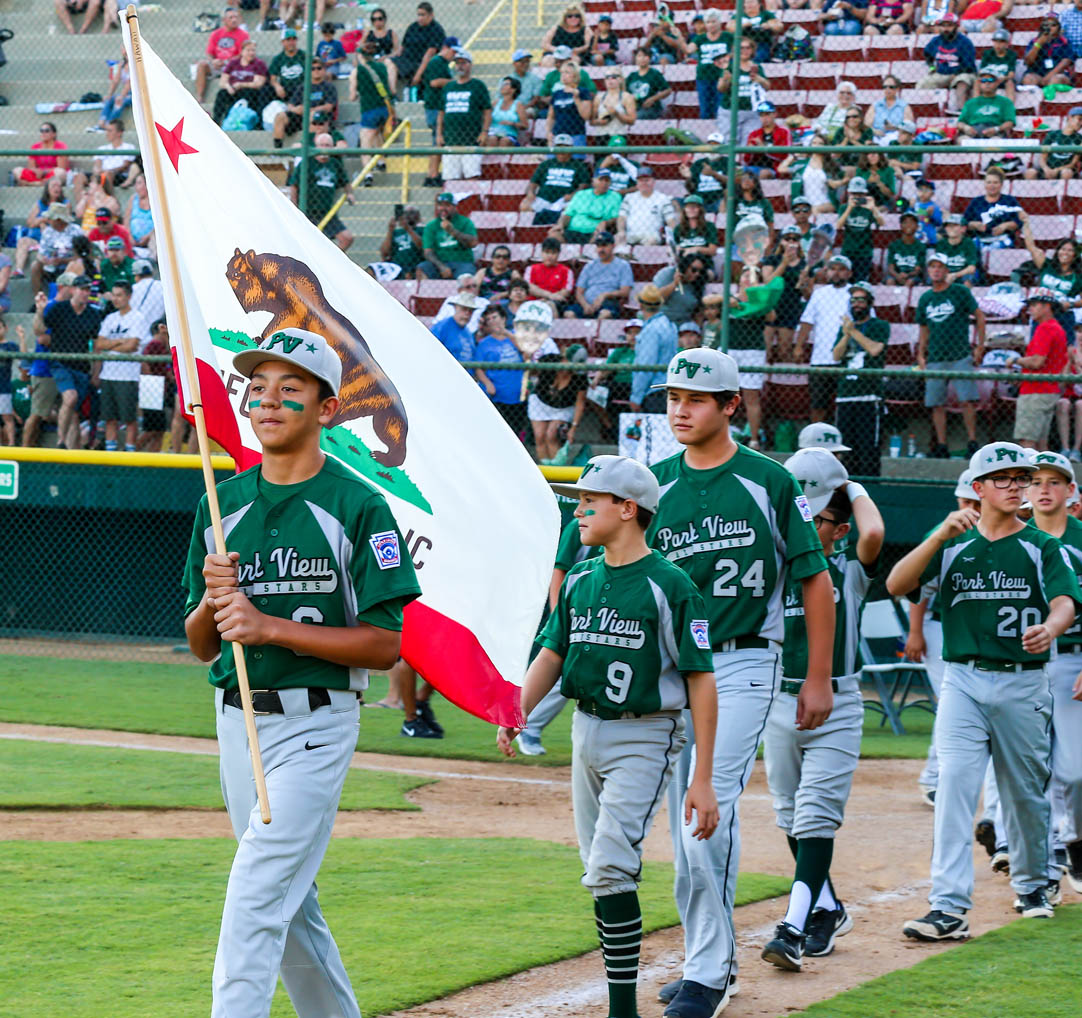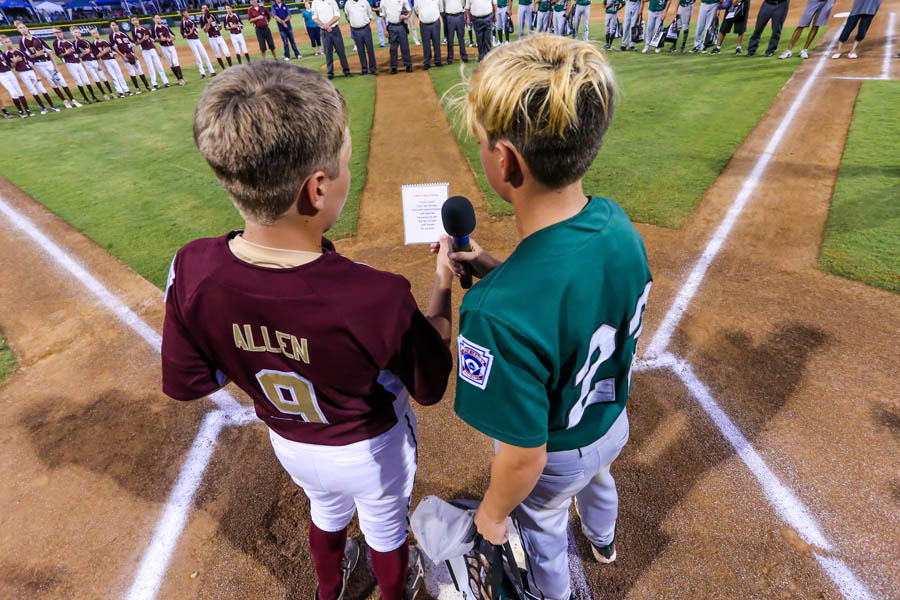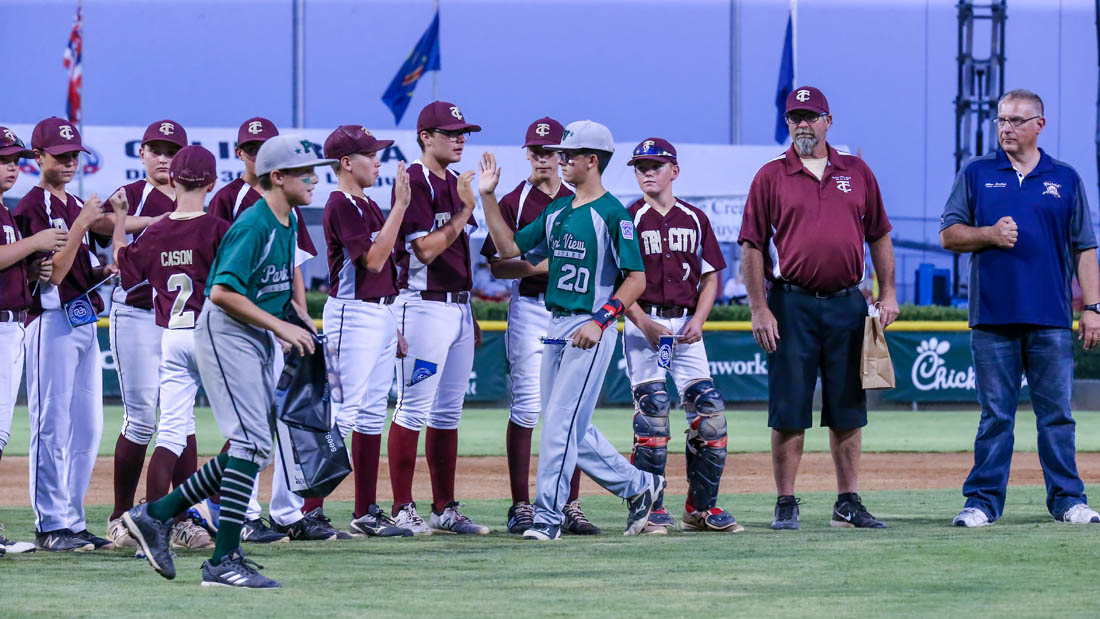 Chula Vista Mayoral candidate Hector Gastelum was among the many Park View supporters who attended Sunday's official Park View viewing party at the Buffalo Wild Wings restaurant at Chula Vista Center.
A long-time baseball fan, he admitted he was impressed by what he saw on the screen beamed live from Al Houghton Stadium in San Bernardino.
"I have followed baseball since I can remember and I am so impressed with their plate discipline, you can tell how well coached they are," Gastelum said in praise of the team.
Most of the 8,000 fans at the actual game site had to be impressed as well by what they saw unfold.
Tri-City took a 2-0 lead in the bottom of the first inning on a home run over the left field fence by Nathan Erickson and a RBI-single by Gavin Correia against Park View starter Kainoa Baptista.
Nor Cal starter Aiden Weissenberg-Frost seemed to have Park View's batter off-balance at the start of the game by firing pitches equivalent to 90-plus mph at the Major League Baseball level.
Weissenberg-Frost, in fact, struck out the side in the first inning, whiffing Park View's two on-field giants – Rodriguez and Jose Mendoza.
Weissenberg-Frost gave up a run in the top of the second inning but not before striking out the side again with heat.
Park View would knock the hard-throwing Tri-City pitcher from the game with a three-run rally in the top of the third inning.
Atticus Gates drove in Park View's first run with a bad-hop single that the Tri-City center fielder subsequently let go past him to allow Conner Alonzo to score. Gates wound up at third base on the overthrow at home plate but would not advance.
Park View left three men on base in the opening two innings while trailing the Nor Cal champions, 2-1, on the scoreboard.
Matt Bjornstad took over on the mound for Park View in the bottom of the second inning and had his curve ball working quite effectively as he struck out the side.
Park View managed to push Weissenberg-Frost, who tossed a no-hitter in the qualifying tournament, off the hill in the next frame as Jordan Bleisch reached base on an infield hit and took second base on an overthrow into the photographers well.
It didn't matter on which base Bleisch was standing when Rodriguez quickly deposited a pitch over the outfield fence for a 3-2 Park View lead.
Weissenberg-Frost was pulled after throwing 59 pitches. Tanner Dykstra replaced him on the mound.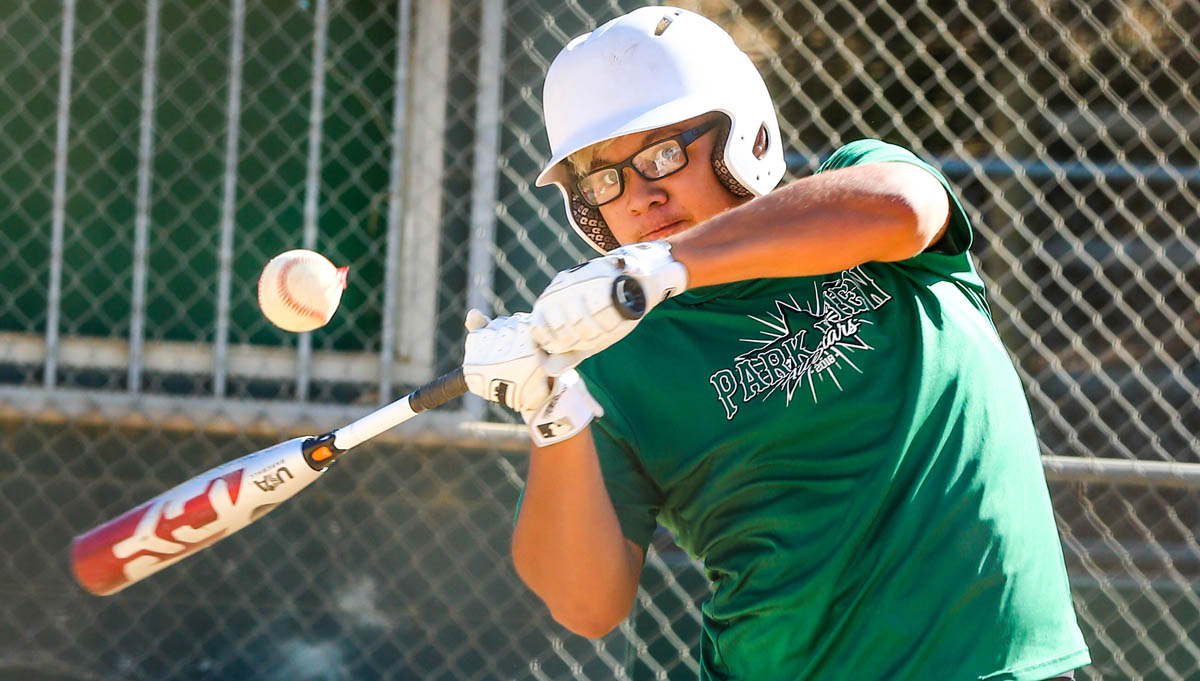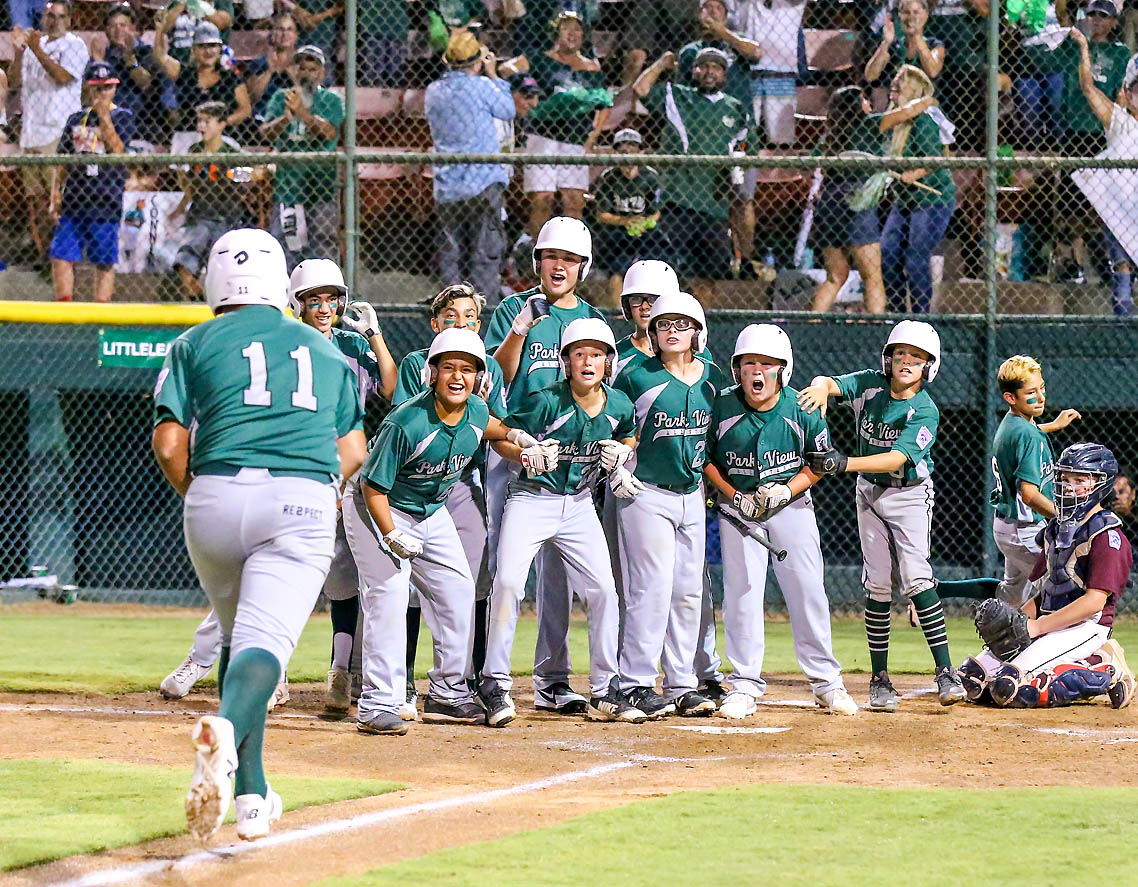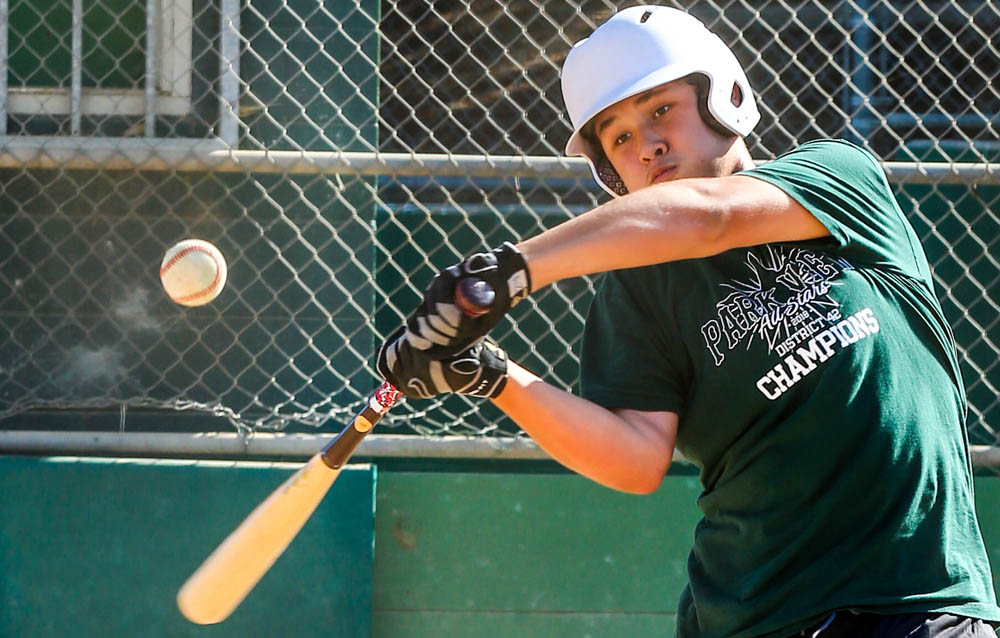 Mendoza deposited Dykstra's second pitch over the right field fence for a solo home run and a 4-2 Park View lead.
Mendoza made contact with the ball off the end of the bat but still managed to lift the ball over the fence for an opposite field homer.
Three hits and an error in the inning led to the three Park View runs. The District 42 champions would never trail the remainder of the game.
Bjornstad gave up a home run to Weissenberg-Frost in the bottom of the third inning to narrow the score to 4-3. But Park View quickly bounced back to take firm control of the game by scoring five runs in the top of the fourth inning.
Anthony Leyva started the rally with an infield hit and scored on a triple by Ivan Rodriguez to put Park View ahead 5-3.
Michael Rodriguez, cranking his bat at the first pitch, then hit a one-out two-run home run to up the Park View lead to 7-3.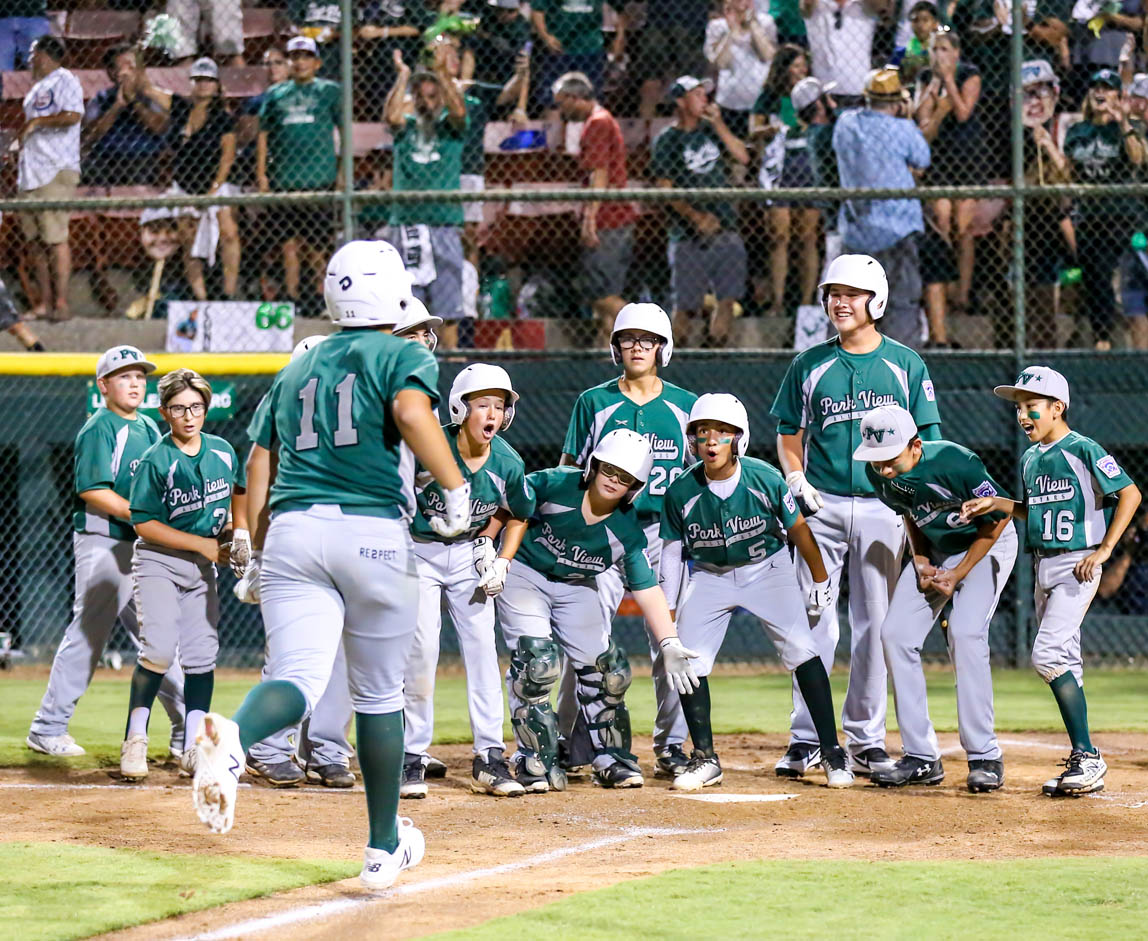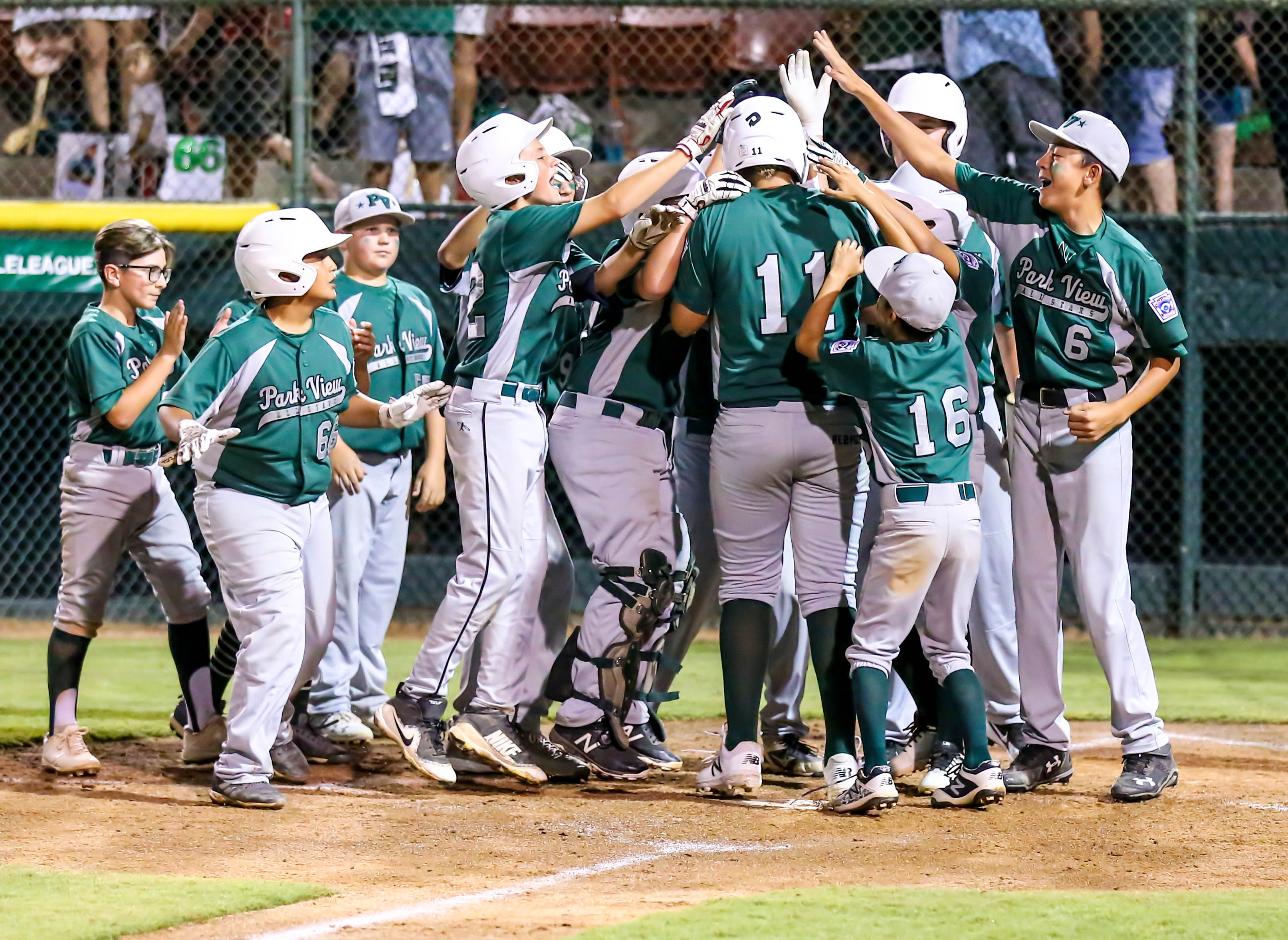 At this point, Erickson replaced Dykstra on the mound. However, the pitching change did nothing to quell Park View's suddenly hot bats.
Mendoza hit Erickson's second pitch over the fence for his second solo homer of the game to stake Park View to an 8-3 lead.
Erickson subsequently walked two Park View batters and uncorked two wild pitches to allow Alonzo to score Park View's fifth run of the inning and ninth run of the game.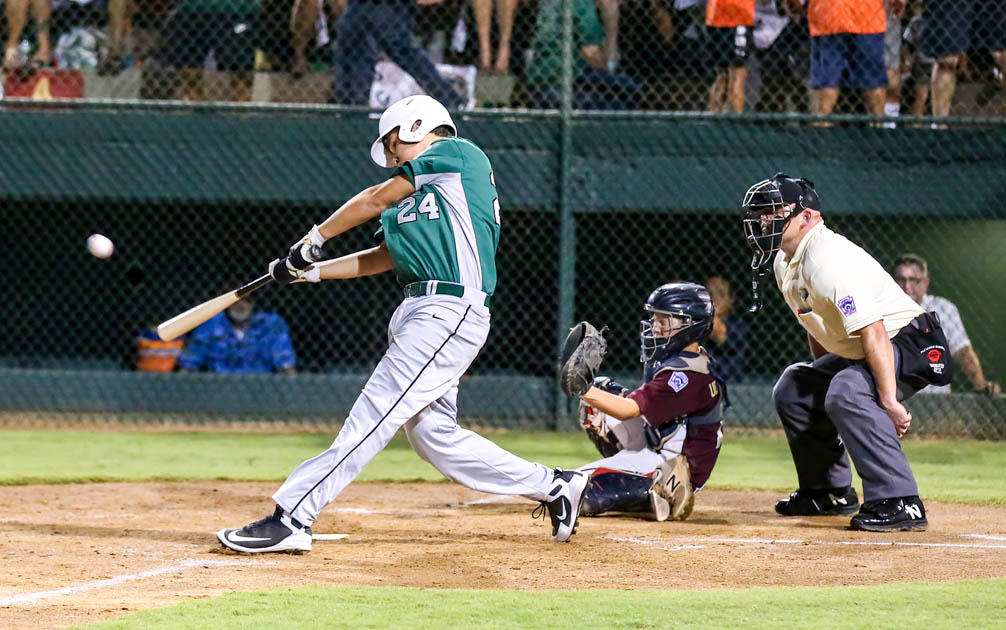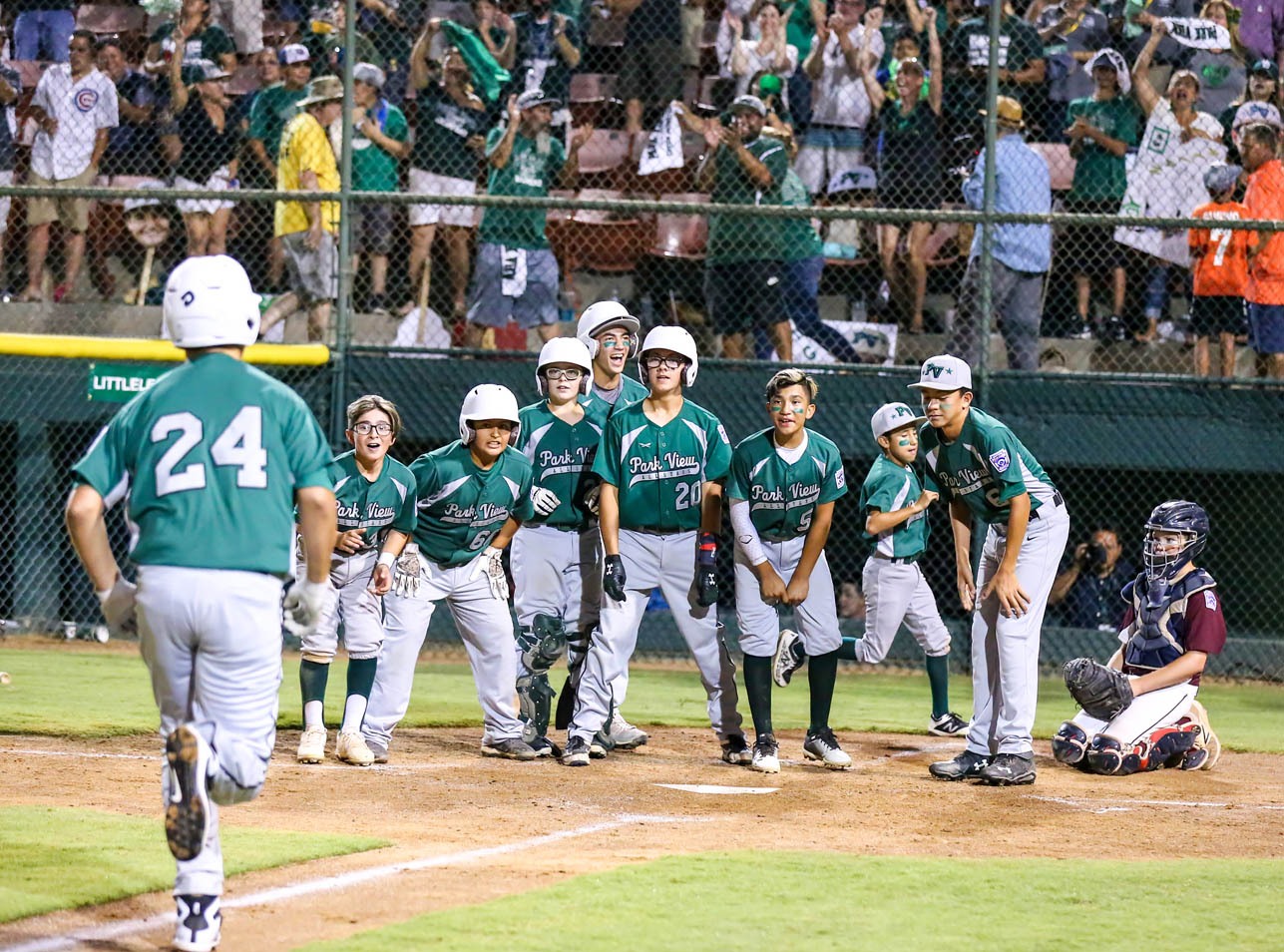 After the long break between innings, Bjornstad experienced control problems in the bottom of the fourth inning. He struck out the first batter he faced but allowed a base hit to Brady Cason and issued back-to-back walks to load the bases.
Michael Rodriguez, who started the game in the outfield (where he made a diving catch early on), relieved Bjornstad (53 pitches in 2.1 innings) on the mound. Rodriguez managed to get out of the inning but not before the Nor Cal champions scored two runs on back-to-back walks issued by Rodriguez to narrow the score to 9-5.
The fifth inning was scoreless for both teams, with both pitchers using clutch strikeouts to strand opposing runners in scoring position.
Park View catcher Joseph Anderson, however, left the game in the bottom of the fifth inning with an apparent injury after a pitch took a wicked hop in front of home plate and hit his bare hand. (Teammate Aidan Skinner replaced him behind the plate.)
Park View broke the game open with seven runs in the top of the sixth inning to send many fans home early. The late nite contest was not conducive for families who had children needing the attend school the next morning.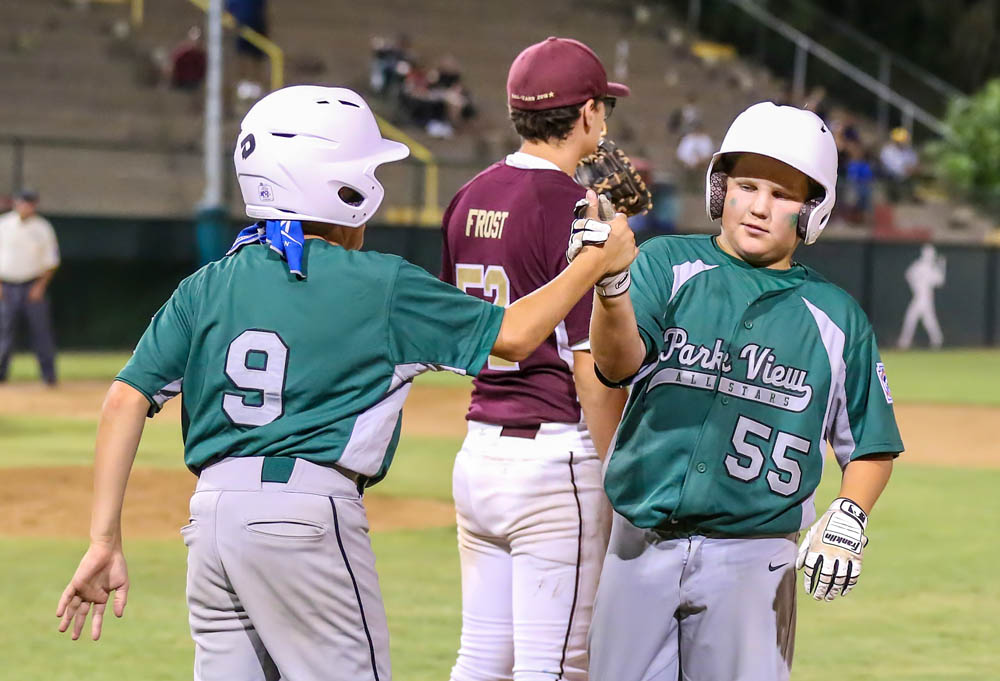 Alonzo opened the frame by being hit by a pitch. He advanced on an ensuing base hit by Bjornstad and an error on a ball hit by Makai Corpuz subsequently loaded the bases.
Leyva singled to score Alonzo for a 10-5 Park View lead. Ivan Rodriguez then doubled in Bjornstad and Corpuz to extend the lead to 12-5.
A bloop hit by Allan Camarillo loaded the bases again.
That set the stage for Michael Rodriguez, whose grand slam to center field brought his RBI count in the game to eight.
Tri-City brought in a new pitcher to end the inning.
Corpuz took over Park View's pitching reins in the bottom of the sixth inning, needing three outs to keep his team in the winners bracket. It took a while but he eventually accomplished the task.
Corpuz walked Trajan Rogowski to lead off the inning and got Troy Ueltzen to hit into a force play for the first out in the frame.
Erickson followed with a base hit to place two runners on board. Corpuz struck out Weissenberg-Frost for the second out of the inning but coughed up a basehit to the following batter to load the bases.
An infield hit by Adam Van Der Kamp brought in one run for Tri-City and two more runners later scored on a wild pitch.
Corpuz finally managed to end the game on a strikeout.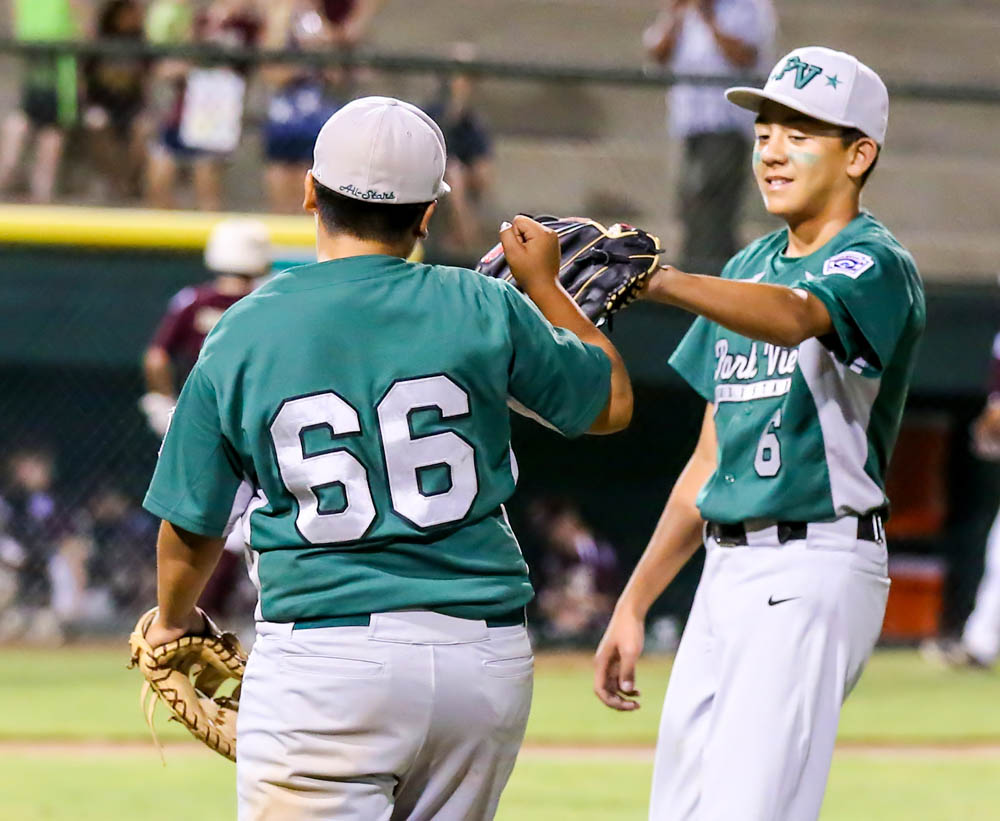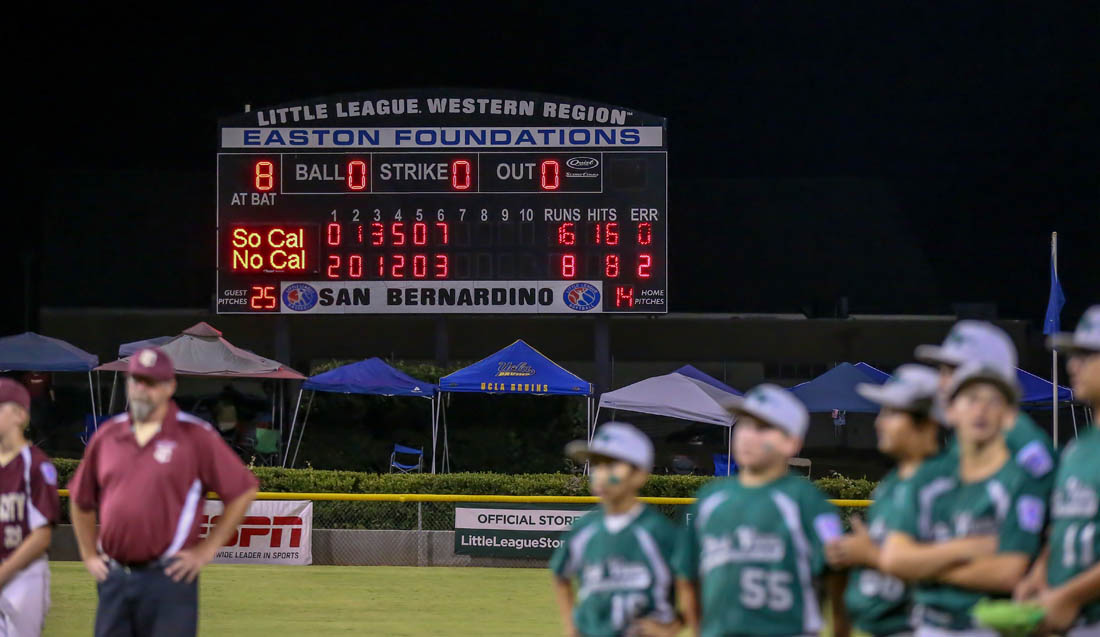 Park View totaled 16 runs on 16 hits while Tri-City collected its eight runs on eight hits while committing two errors.
Park View used the services of four pitchers in the game to record the key victory.
Michael Rodriguez led all batters in the game with three hits and eight RBI while Ivan Rodriguez collected three RBI.
Ben Tipper, who entered the game for the Nor Cal champs with out outs in the top of the fourth inning, threw nine first-pitch strikes. Michael Rodriguez threw seven first-pitch strikes while Bjornstad threw six first-pitch strikes during his stint on the hill.
Bjornstad and Weissenberg-Frost led all nine pitchers in the game with six strikeouts apiece while Michael Rodriguez recorded five strikeouts in 1.2 innings of work.
As a positive sign, Anderson was back on the field for post-game handshakes. The extent of his injury is not known at this time.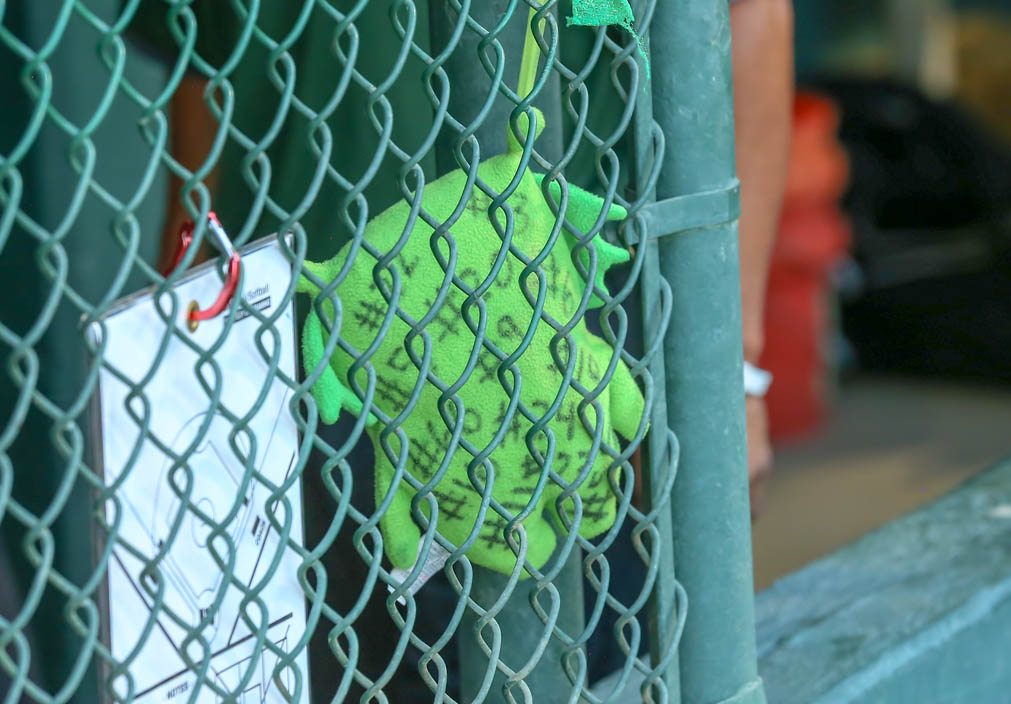 Park View players rallied around Gerald, the team's plush-toy mascot, after the game. The team also continued to rally around former manager Will Bleisch, who was removed from the team's helm following an unintended technical rules violation during the preceding Southern California Division III championship tournament.
Park View has since amassed four wins under new manager Jorge Camarillo, who previously led Park View's Green Machine to the 2016 LLWS.
Camarillo said the managerial change has brought the team closer together rather than tearing it apart.
Watch out for team with a goal to play for.
"The team continues to roll," explained the elder Bleisch, speaking if only from a fan's standpoint. "The atmosphere is electric and manager Jorge Camarillo is making all of the right moves. It's tough watching from the outside of the field but I'm extremely proud of the coaches, parents, fans and PVLL board and the players.
"The best remedy for me not being able to coach is for the boys to keep winning and realize their dreams of playing in the Little League World Series in Williamsport."
Island pride
Hawaiii defeated Arizona, 7-3, in Sunday's Western Regional opener. The Honolulu Little League team scored five runs in the top of the first inning and never looked back, eventually building a 7-0 lead over Tucson's Sunnyside Little League.
Hawaii will play Utah (Dixie Little League from St. George) in Monday's winners bracket game scheduled for 11:30 a.m. PT.
In a pair of Northwest Regional games on Sunday, also played in San Bernardino, Alaska edged Oregon, 2-1, while Idaho pounded Washington, 16-6, in the nightcap.
Thomas Baxter drove in both runs for Alaska's Gastineau Channel Little League.
Please stay tuned
More than 70 Park View supporters gathered for Sunday evening's official team viewing party. While all went home happy with the result, there were a number of technical glitches in the broadcast on the new ESPN-Plus platform that had to leave the technical crew somewhat red-faced.
The game started a half-hour late after an earlier game ran long. During the actual broadcast, which came out of a digital computer feed, the screen froze nine times. In each instance, a manual refresh was required.
In one instance, a half inning was lost to the viewing audience.
Meanwhile, ESPN2's coverage of the Intermediate League (50/70) World Series (won 10-0 by Asia-Pacific over California) went off without a hitch.
When Sweetwater Valley Little League and Park View Little League competed in the Western Regional tournament in 2015 and 2016, preliminary-round games were available free on the one of ESPN's lower-priority channels.
Viewers were asked to pay a $4.99 trial fee to watch ESPN-plus.
On the other hand, viewers would have been left in the dark without the ESPN-Plus broadcast.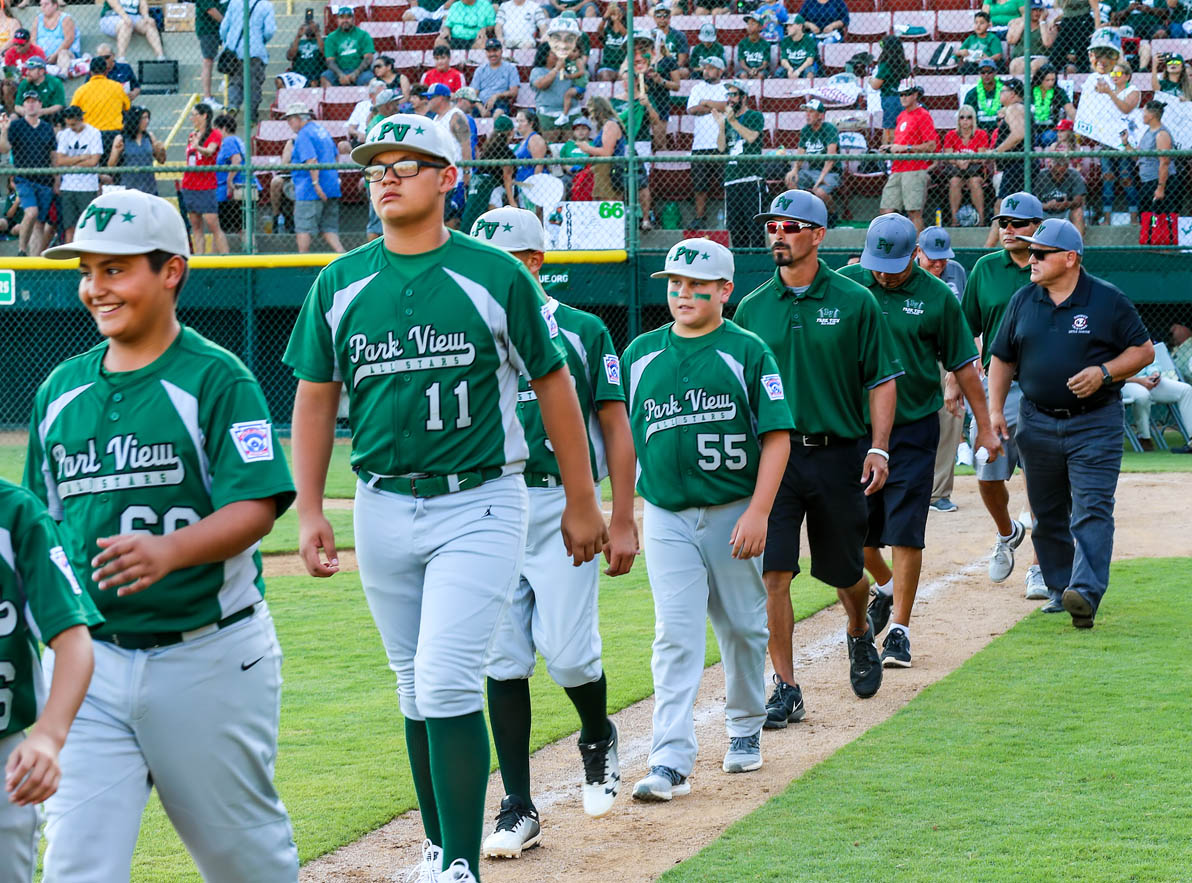 Short-shifted Park View team comes up short in loss to Nevada
Perhaps time, including a short respite between games, finally caught up to the Park View Little League Green Monsters in their quest to remain undefeated at this week's Little League World Series Western Regional championship tournament in San Bernardino.
After blasting Northern California champion Tri-City Little League by a football-like score of 16-8 in a game that ended at 11 p.m. Sunday night, the Green Monsters were slated to play a 4:30 p.m. game the following day against a well-rested Nevada state championship team.
Park View definitely had its moments in Monday's winners bracket game against Silverado West Little League from Las Vegas but failed to get the timely hit, critical strikeout or make the bang-bang defensive play when it needed to.
The game day temperature of 106 degrees also didn't help matters.
The result was a 5-3 setback to the Nevada champions that suddenly leaves the previously undefeated Green Monsters on the verge of elimination from the regional tournament.
Park View will be asked to come back to the field at Al Houghton Stadium with another less-than-24-hour turnaround on Tuesday to play Tucson's Sunnyside Little League, the Arizona state champions, in an 11:30 a.m. contest.
The winner of Tuesday's elimination game remains alive in the tournament; the loser will see its season end short of the Little League World Series.
Monday's game was a complete contrast to Sunday's all-Golden State match-up that saw the Green Monsters rack up 16 hits and slam five home runs against five Tri-City pitchers.
Silverado West held Park View's mighty bats in check, allowing just two hits in the game. The Nevada champs, meanwhile, collected eight hits and, more importantly, got hits in the clutch to punish the SoCal champs.
Silverado West scored its first two runs with two outs in the first inning and tacked on three more runs in the bottom of the third inning, two of which were scored with two out.
Park View looked to start where it left off in Sunday's game by loading the bases with two out in the first inning against Nevada starter Kekoa Young. However, Young ended the inning on a comebacker.
Young threw hard with a rapid-fire turnaround between pitches but was otherwise erratic with his pitches throughout his three innings on the mound. He issued two walks in the first inning and issued three consecutive free passes with one out in the top of the third inning.
Allan Camarillo scored on a wild pitch and pinch-hitter Joseph Anderson, who had to leave Sunday's game with a hand injury, stroked a double just inside the right field line to bring home two more runners and place Park View in the lead at 3-2.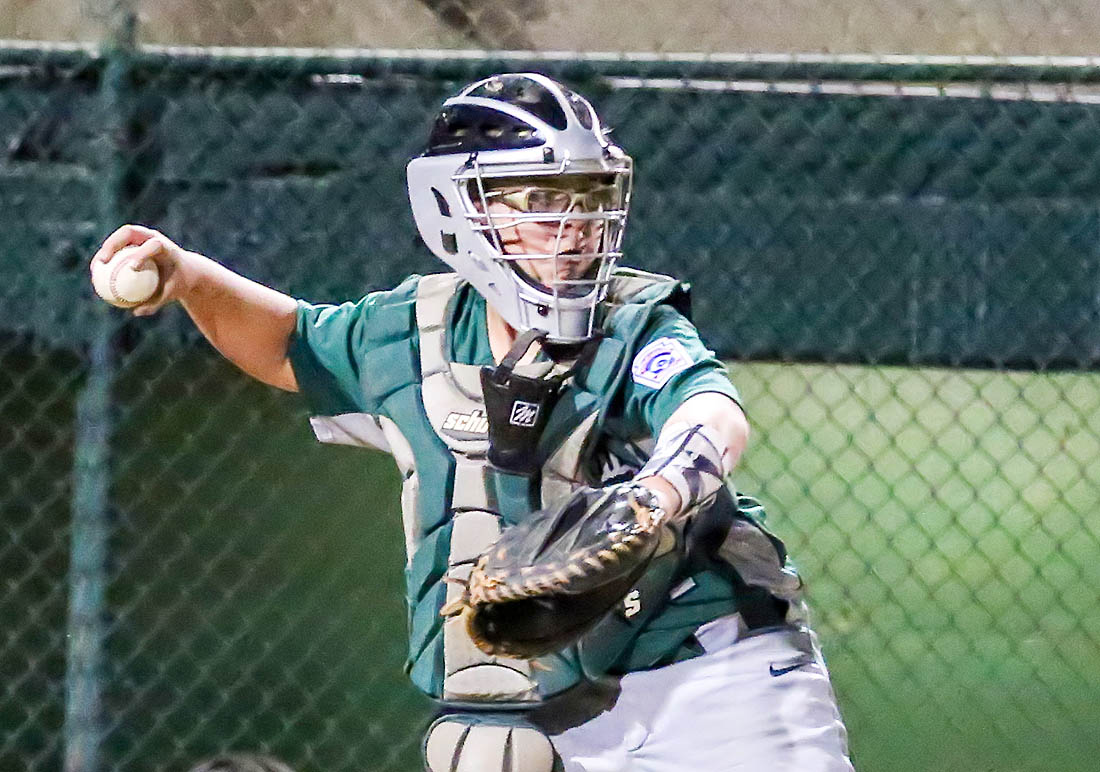 But Green Monsters starter Jose Mendoza, who many observers consider to be the team's ace, ran into some misfortune in the bottom of the frame.
Mendoza had started the game in splendid fashion, using five pitches to get two outs before a couple of fielding misplays on hard hit balls led to two runs.
Mendoza retired the first batter in the bottom of the third inning but allowed a base hit through the hole to Young. Aidan Skinner couldn't make a tough catch in left field and Oliver Makanui followed with a hit to load the bases.
Mendoza managed to get a force out at first base, though yielding a run to Silverado West to tie the score 3-3.
Broc Snider, the next batter, produced the big hit of the game by depositing a line drive into right field. One run scored and another runner came around on a fielding miscue.
5-3 Nevada.
Park View had trouble getting the ball out of the infield for most of the game. When a Green Monster hitter did appear to get the barrel of the bat on the ball, it fell short of the outfield fence.
Alonzo stroked a solid single with one out in the top of the sixth inning to bring the potential tying run to the plate. But Matt Bjornstad's blast into right field found a Nevada player's glove and Atticus Gates struck out to end the game.
It was the first loss for Park View after 12 consecutive wins.
Park View manager Jorge Camarillo was straightforward and succinct in dissecting the game in a post-game media interview.
"We played a very good Silverado West team," the Green Monsters skipper said. "They executed and took advantage of our mistakes.
"All summer (having gone undefeated) … we were due for a bad game. Sure, it hurts. But Arizona is not going to feel sorry for us."
If Park View is to advance in the tournament, it will need to string together a series of gritty wins without must rest time.
Tuesday's winners (Tri-City tests Utah in the other elimination game) meet for an elimination game on Wednesday.
The winner of Wednesday's game gets one day of rest and will face the loser of Thursday's winners bracket semifinal matchup between Nevada and Hawaii (which defeated Utah, 8-2, earlier on Monday) in the elimination bracket final on Friday.
It's back to the batters box on Saturday for the tournament championship game.
The Green Monsters (12-1) are taxed with winning their next four games in order to punch their ticket to the 2018 Little League World Series. Can it be done? One of the team's strengths is its resiliency.
If the pitching, hitting and fielding can all return to form, a refocused Park View team will be hard to beat.
But it's now time to test that, starting Tuesday morning.
Extra bases
Mendoza pitched five complete innings, throwing 92 pitches. He threw 17 first-pitch strikes and finished the game with eight strikeouts.
Young struck out five batters in three innings while reliever Connor Apeceche logged four strikeouts in three innings.
Apeceche and teammate Oliver Makanui led the Nevadans with two hits apiece in the sparsely attended game.
Michael Rodriguez, who blasted three home runs and collected eight RBI in Sunday's gargantuan performance, drew a pair of walks in Monday's contest.
Anderson and Snider each led their respective teams with two RBI.
Monday's game was the first in the tournament for Silverado West.
Hawaii improved to 2-0 in the tournament after derailing Utah in Monday's morning contest. The Honolulu team erased a 1-0 Utah lead with four runs in the bottom of the second inning and tacked on two more runs in each of the third and fourth innings to take a commanding 8-1 lead in the contest.
Sean Yamaguchi led Hawaii with three hits while Aukai Kea struck out 10 batters in 5.1 innings. Utah finished the game with just three hits (compared to eight for Hawaii) and committed four errors to jeopardize its chances of winning the game.
Keep track of the tournament: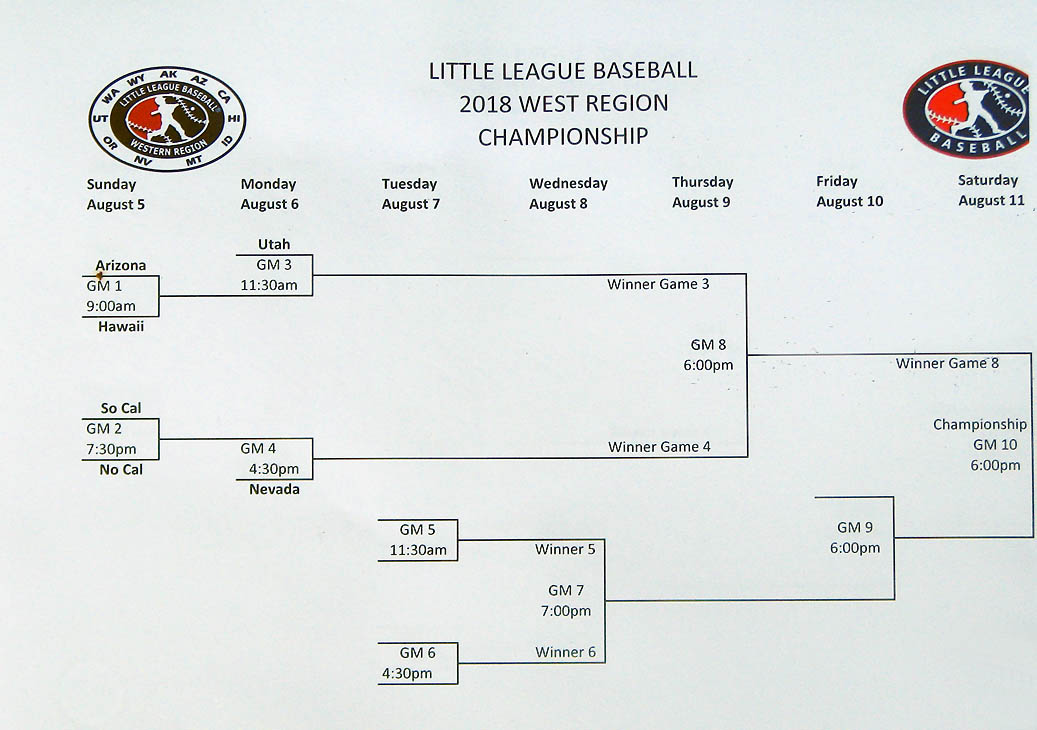 LITTLE LEAGUE BASEBALL 2018
WESTERN REGIONAL CHAMPIONSHIP
Aug. 5-11 in San Bernardino
Games of Sunday, Aug. 5:
Hawaii 7, Arizona 3
Southern California 16, Northern California 8
Games of Monday, Aug. 6:
Hawaii 8, Utah 2
Nevada 5, Southern California 3
Games of Tuesday, Aug.7:
Elimination bracket game: Park View (Southern California) vs. Sunnyside (Arizona), 11:30 a.m.
Elimination bracket game: Orem (Utah) vs. Tri-City (Northern California), 4:30 p.m.
Games of Wednesday, Aug. 8:
Elimination bracket game: Park View/Sunnyside winner vs. Orem/Tri-City winner, 7 p.m.
Games of Thursday, Aug. 9:
Winners bracket semifinal: Hawaii vs. Nevada, 6 p.m.
Games of Friday, Aug. 10:
Elimination bracket semifinal, 6 p.m.
Games of Saturday, Aug. 11:
Championship game, 6 p.m.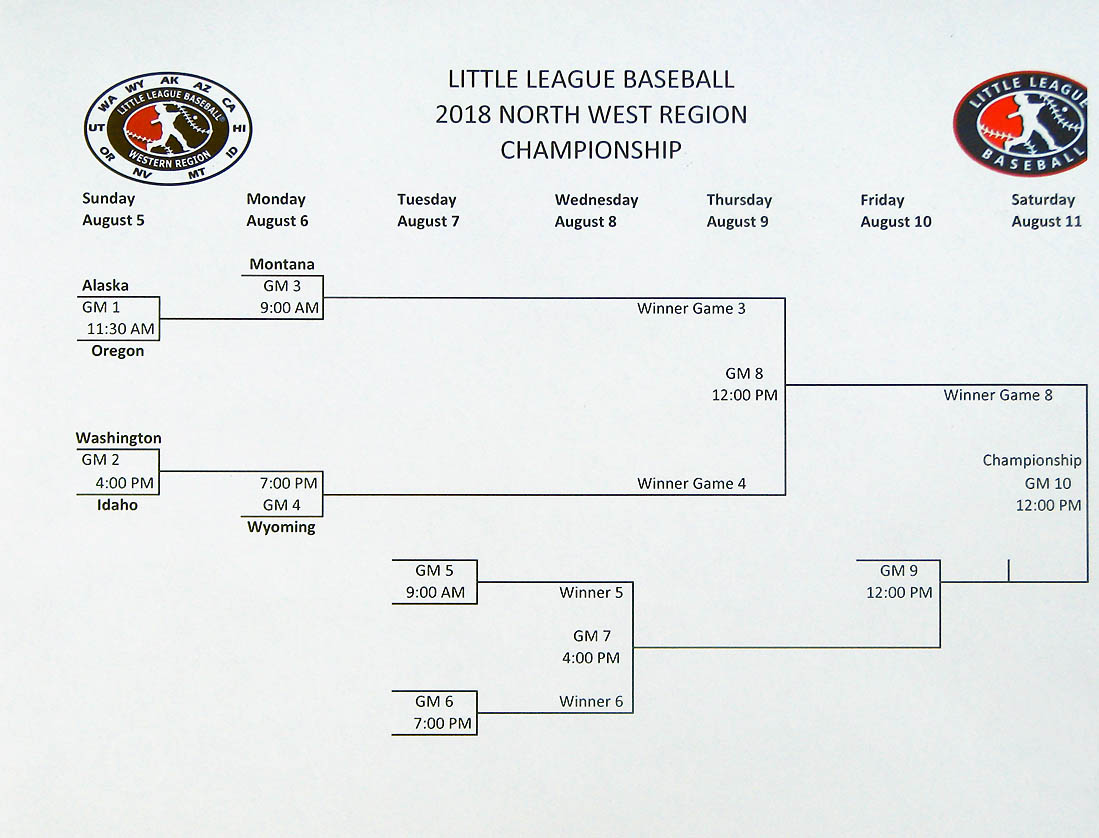 LITTLE LEAGUE BASEBALL 2018
NORTHWEST REGIONAL CHAMPIONSHIP
Aug. 5-11 in San Bernardino
Games of Sunday, Aug. 5:
Alaska 2, Oregon 1
Idaho 16, Washington 6
Games of Monday, Aug. 6:
Montana 11, Alaska 0
Idaho 13, Wyoming 1
Games of Tuesday, Aug.7:
Elimination bracket game: Oregon vs. Wyoming, 9 a.m .
Elimination bracket game: Washington vs. Alaska, 7 p.m.
Games of Wednesday, Aug. 8:
Elimination bracket game: Oregon-Wyoming winner vs. Washington-Alaska winner, 4 p.m.
Games of Thursday, Aug. 9:
Winners bracket semifinal: Montana vs. Idaho, noon
Games of Friday, Aug. 10:
Elimination bracket semifinal, noon
Games of Saturday, Aug. 11:
Championship game, noon