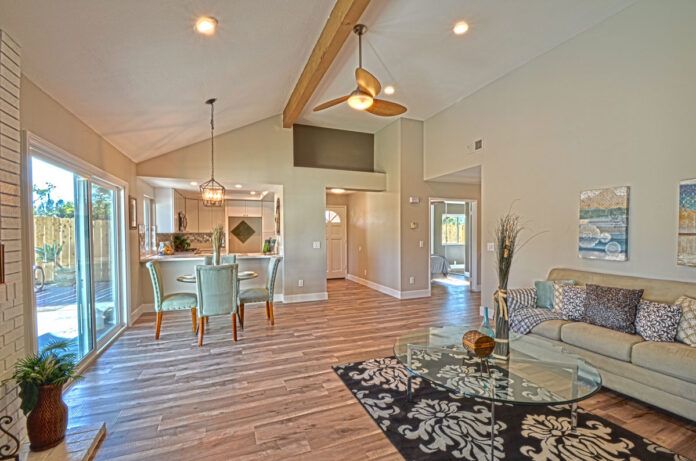 As long term or permanently working from home becomes standard practice for many people, the concept of 'work-life integration' is supplanting 'work-life balance,' according to the United States Chamber of Commerce. How has nearly two years of a pandemic altered what people look for in a home, trends in home decorating and how people approach their single work-home space?
The Perfect Paint owner and Interior Designer Jaci Springfield said she has seen "literally everything" at this point from people who have gleaned enough space in a bedroom for an adjoining home office, to parents who created 'walls'' from ceiling-hung curtains in a nursery bedroom to define a partially-isolated workspace.
Entering people's houses for paint consultations gave Springfield a chance to see "what people cobbled together, like desks jammed into a laundry room" and it is their frustration that stood out to her.
"Everyone thought it would be temporary, then it turned into 'I've been stuck in my house and I can't stand it. You've got to help me do something' as people grew frustrated.
"A curtain is an act of desperation, the need for quiet space," Springfield said, with home office space less about the square footage and more about having enough electrical outlets, an ergonomically comfortable workstation and the ability to close out the world.
Those who had the money, time and ability made changes to their home which they might not have prioritized without working from home.
La Mesa-based Architect Kent Coston observed there was "more thought to being self-sustained at home" in the earlier months of the pandemic, with many people adding options like outdoor decks that would enable them to entertain at home alongside garden projects to beautify their outdoor space.
Well over a year later, he observed, some business owners who were highly sought after during the pandemic, like contractors who work with ventilation systems saw a boost in their bank accounts.
"The unintended consequence of all this is it unintentionally fired up some engines in the economy and some clients can finally take the step of building a home. For all the people who were challenged, many are now able to do more financially," Coston said.
Furthermore, their approach is "a little more conscientious about how they use their house, who is there, how they use their space" with the ability to work from home.
On the other hand, "if things are tight and you're trying to make do without extra income, chances are you're not calling me to get involved," Coston said, because at a certain point, building or remodeling a home becomes a luxury not everybody can afford.
Those who can't afford to build, buy or renovate their own home hunted out specific amenities in rentals.
Utopia Property Management's Susan Schwartz said bonus rooms, previously overlooked in home rentals, are now a hot commodity as they can be used for a home office.
"Apartment renters are a bit more transient so they're looking at places with the space in mind— what can they do with it? Is there space for a dog? Everyone adopted a dog," Schwartz said.
Renters stayed put for most of the pandemic, she said, many afraid to move, some with lower credit scores after a job loss and others with less disposable income.
The 2019 United States Census shows roughly 53% of San Diego county residents rent their home and about 84% have been in the same place for over a year.
"As property managers, we were very accommodating but laws changed and at this point, a lot of owners are selling because they grew frustrated with the rent situation," Schwartz said, homeowner-landlords unable or unwilling to sustain a mortgage without equal income from rent coming in to cover those monthly payments.
However, a home that is fresh on the market this week could look very different than the same property back in 2019.
Everything Creative Designs Director of Operations Jessica Roberts said the entire landscape of home staging, the art of preparing a home for market has changed.
When they offer paint consultations these days, "it is white, bright, clean light for a positive home experience" and customers are advised to stay neutral to suggest a sense of calm during stressful times, like life during a pandemic.
Generally, she's observed there are more buyers coming down the coast from San Francisco who want to escape Silicon Valley prices for relatively more affordable San Diego homes, but the tradeoff is they will be telecommuting for work.
"Every time we stage now, we're building in a work-from-home spot or an office. That's been our standard since the pandemic started," Roberts said.
That approach extends to the entire family and "every child's bedroom has a desk, a place for them to work," Roberts said.
Real estate agent Cristina Munteanu, who deals with individual properties as well as multiple-unit developments across the county said buyers are specifically looking for home office space and room for a home gym, but are willing to sacrifice on kitchen space in exchange, but want that kitchen to be up to date and efficient.
"They're still working from home. They order out a lot but want updated appliances and a nicer kitchen space for when they do eat at home," Munteneau said.
The pandemic brought a new level of caution against germs which, two years later, has entered the home market.
"The other things buyers want are newer toilets and no carpets, nothing that can trap dirt or germs. They're more germ aware and the power flush? Everyone wants Kohler toilets," Munteneau said, with technology that claims to eliminate germs more effectively.
Space, she said, is at a premium— nearby amenities no longer matter to her buyers as much as whether there is enough room for their family's lifestyle at home.
"Before, they wanted to live near a Starbucks and now they just want space like a detached accessory dwelling unit for a workspace. A lot of the people who had to work from home in those early pandemic days now want to continue doing so. Having their own office is big, so is having more space for kids to play at home," Munteneau said.
One World Architecture Principal Architect Ken Parel-Sewell also said more homeowners are adding accessory dwelling units to existing properties since the start of the pandemic.
"The pandemic has increased demand for accessory dwelling units. The common reasons for clients to build ADU's have only been accelerated by the pandemic. Whether it's to house older parents or other family members or to create rental income, the trend to build these units has only continued to grow," Parel-Sewell said.
For that matter, his observations mirror what Springfield observed in home decorating and what Roberts now incorporates when she stages a home: everyone needs a place to work.
"We work on projects around the country and this trend is not just in San Diego County — it's everywhere. I've been a licensed architect for 25 years now. In the last two years, home office or work spaces went from being a casual request for a desk in the corner of the kitchen or family room, to dedicated offices with doors. This has prompted many clients to convert bedrooms into offices, and expand their houses for more bedrooms," Parel-Sewell said, and those who can't afford to build new rooms have repurposed other spaces for quiet work and school areas.
With families spending more time together, Parel-Sewell said, the ideal space does not look the same for everyone: introverts need spaces to recharge alone and extroverts want to feel connected to others.
Not everyone has the budget for major home improvements, but after nearly two years of lifestyle changes, Parel-Sewell has observed "funds budgeted for traveling vacations are being repurposed for home upgrades and expansions" and many of their clients have decided to move forward with improvements they'd been putting off, investing in their home space instead of time away from home.
Springfield also observes that people changed their entire lifestyle as months of working from home multiplied and offices closed for good. She believes this year's vacant office space could be tomorrow's affordable housing space.
"Think about it, most people don't need to drive 20 miles to work on things they can do at home with just a few work tools. My dream is to have us take some of these tract home projects and design a common space with a printer and office amenities, sort of a community office center," Springfield said.
The concept is not entirely unlike building an ADU in the backyard, seeking out a home with extra space or even dividing a child's bedroom with a curtain to create a home office. Those solutions all answer the question of how nearly two years of a pandemic altered what people look for in home design and decorating: they look for peace, comfort and a way to carve out their own space.