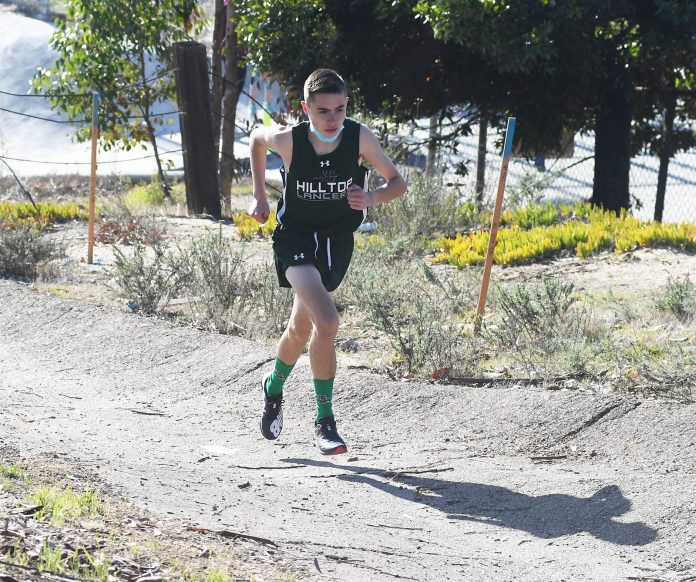 The Hilltop High School boys cross country team stepped off a season of high expectations last Friday by defeating the visiting Chula Vista Spartans in a South Bay League dual meet.
Head coach Chris Gentry said the Lancers are fielding one of their best teams in years and it would be hard to argue that fact after the host team placed the top seven runners in the race on a challenging hill course against a traditionally strong opponent.
With just one senior among the 13 runners Gentry put on the course last Friday, Hilltop still appears to be building.
"I'm excited," Lancer junior Miguel Tisnado said. "I've been waiting more than a year to make a statement, to show off all my training.
"It's a short season. Just to be back is rewarding. As a team we hope to win all our races. We want to be the best everyone can be."
Tisnado is one of three junior team captains on this year's squad, joining classmates Jimmy Byland and Noah Rosenberg.
All are happy to be back together this season. Because of pandemic protocols, many runners were restricted to solitary offseason training.
"I'd just been running on my own, just trying to get some mileage," Rosenberg said. "I was pretty excited when the season was announced. I was really appreciative to see my friends again."
"I was definitely disappointed (that the season was delayed) but I'm glad we now have the chance to do cross country again, even if it's only dual meets," Byland said. "I'm glad to be back with my teammates again."
Byland enters the season as the Metro Conference's top returning male runner after placing third at the 2019 conference finals and fourth at the ensuing San Diego Section Division II championship race. He competed at the state championship meet in Fresno, where he placed 45th in the robust field of 197 runners as a sophomore.
With the section finals cancelled this year, he still has another season to prove himself as a top runner in the region, if not the state.
"I'm just looking for more improvement this year," Byland said. "I think I over-achieved, met my goals last season. I've been running alone, doing some mileage, doing some speed work."
There's no questioning Byland's speed or endurance.
He promptly set the course record on Hilltop's newly designed on-campus course with a time of 16:34, finishing six seconds ahead of Tisnado (16:40) and 91 seconds ahead of Rosenberg (18:05), the Lancers' third scorer.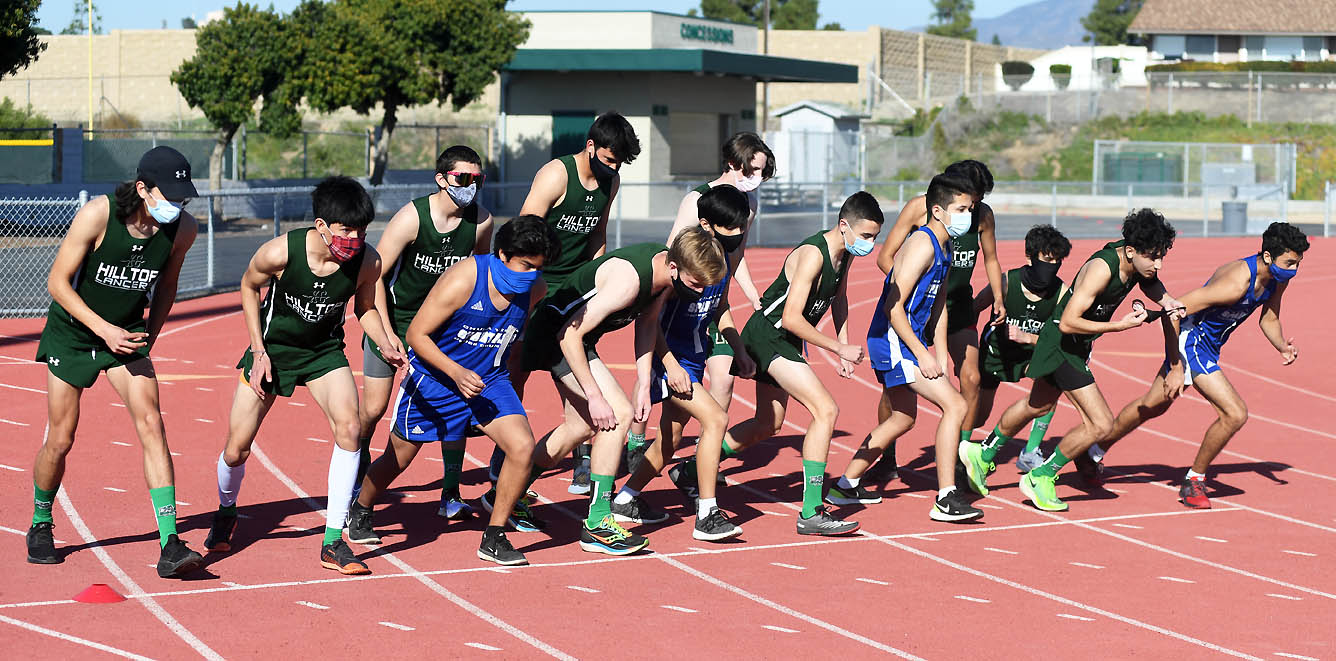 All of Hilltop's top seven finishers were juniors. Eddie Castaneda finished fourth in 18:17 while Sebastian Vieyra placed fifth in 19:27, followed by Christopher Bassig (sixth, 19:29) and Logan Mendez (seventh, 22:29).
The parade of Hilltop finishers was broken up by Chula Vista's four runners in eighth (22:38), 11th (25:58), 12th (28:17) and 14th (30:08) in the 14-deep field.
With four runners, Chula Vista did not have enough runners to score in the dual meet.
Part of the extended finishing times had to do with the steep hill that runs behind the school's football stadium.
Gentry likens the Hilltop course to one of the top five most challenging in the county.
"This is not an easy course," the Hilltop coach underscored. "The hill compares to poop-out hill on the Mt. SAC course.
The hill on the Hilltop course includes a steep rise that seemingly never crests. Girls have to run the hill once, but boys have to run it twice.
"The course was a lot harder than I expected," Rosenberg said. "It definitely felt harder. The hill was brutal. I just felt satisfied completing it."
"It was the hardest hill I've ever done," Vieyra added. "The first time it didn't seem that hard but the second time you feel the pain."
While the pandemic has played havoc with high school sports scheduling, there could be a silver lining.
The need to use on-campus courses for cross country could take the sport in an exciting new direction.
"I think you can keep things safer (being on-campus)," Gentry said. "The kids get to know the course better. The runners also get to be cheered on by whatever other sports are here practicing. And it's a great recruiting tool for the middle schools to provide more exposure."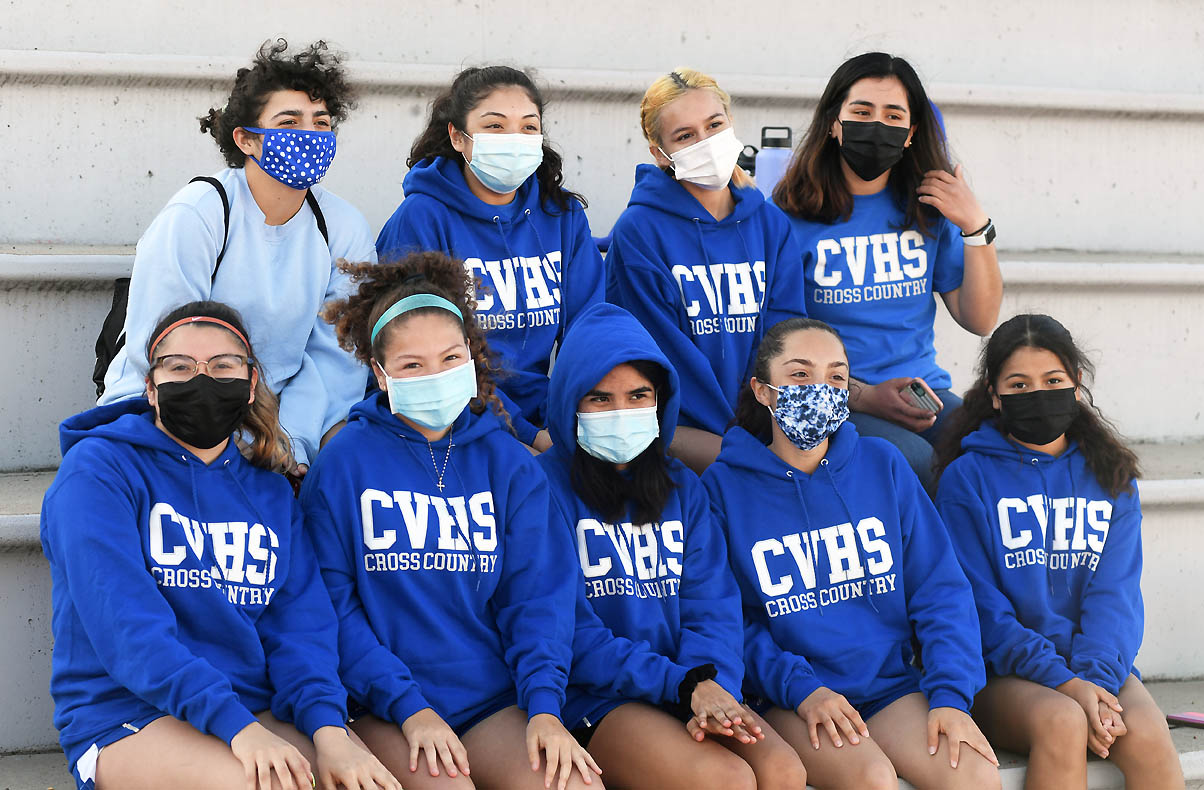 Ladies first
Chula Vista remained undefeated (2-0) in South Bay League girls duals following its 26-33 win at Hilltop.
Junior Nicole Byland captured top medalist honors for the host Lancers in 15:04 on the 2.31-mile course. She exchanged the lead over the length of the race with Chula Vista senior Clarissa Hoffas, who finished 10th at last season's conference finals.
The Spartans placed four of the top six runners in last Friday's race. Hoffas finished runner-up with a time of 15:18. Elvia Lara finished fourth in 15:48, Dubhe Motta finished fifth in 15:58 while Cali Garcia finished sixth in 16:02.
Lara was the top finisher for Chula Vista in the team's preceding victory against Sweetwater Feb. 26 at Otay Ranch High School.
"It's been great so far," Spartan coach Jorge Noriega said. "One of the most important things this season is that if we can stay healthy, we'll have a successful season given what's going on. So far, it's been great."
Hilltop finished with three of the top seven runners. Sophomore Ariana Lieras placed third in 15:35 while sophomore Tamara Cornejo placed seventh in 16:08.
Chula Vista finished 2-4-5-6-9 in the scoring column while the Lancers went 1-3-7-8-10 as the teams both placed five runners among the top 10 finishers.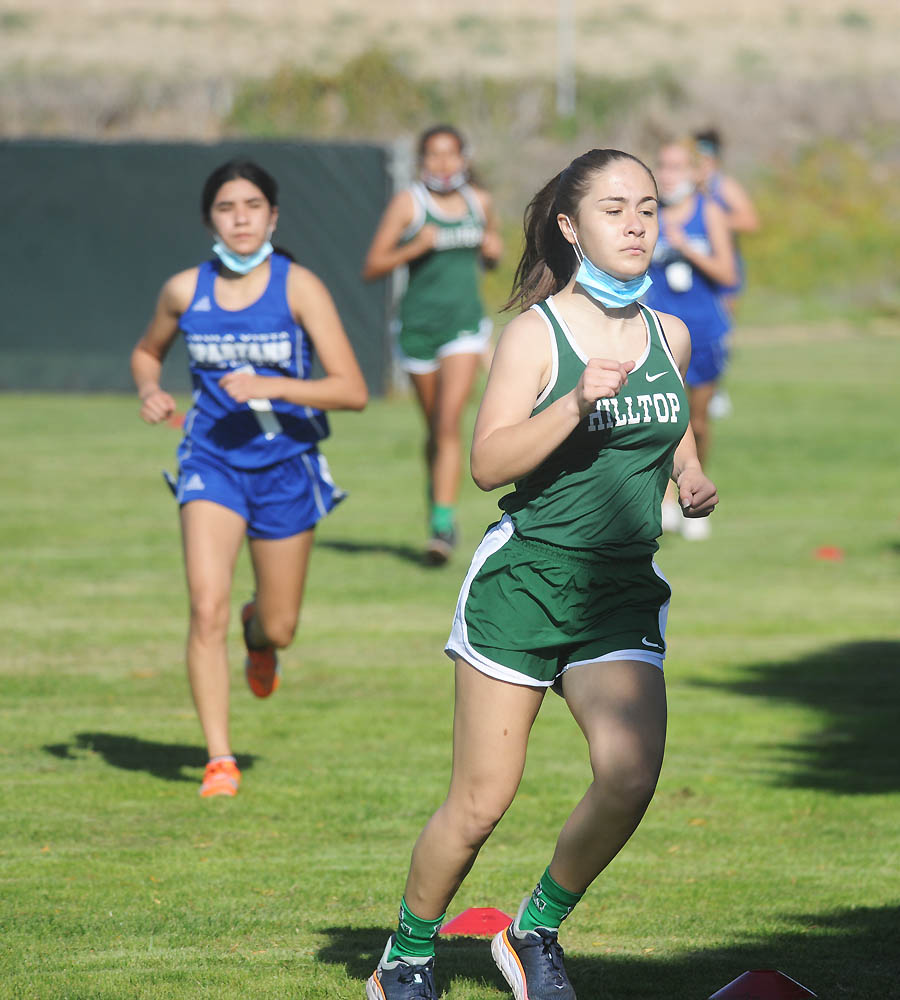 Horse power
Otay Ranch remained undefeated on the boys side after winning last Friday's dual meet against visiting Bonita Vista by a score of 22-35.
Junior Aydan Wohlford remained undefeated on the season by winning the 5K race in 17:34.20. Otay Ranch finished with the top three runners in the 19-deep race. Sophomore Jake Shorey was second in 17:37.16 while sophomore Jacob Juden was third in 17:42.85.
The Mustangs placed six of the top 10 finishers. Senior Grant Bice was seventh in 18:07.92 while senior Dominic Garcia was ninth in 18:14.46. Junior Diego Vizcarra finished 10th in 18:16.57.
Bonita Vista's five scorers included junior Pierce Manson (fourth, 17:43.88), senior Jonathan Siegel (fifth, 17:50.02), junior Enrique Aranda (sixth, 17:56.80), junior Maxwell Anderson (eighth, 18:11.64) and freshman Ian Ridge (13th, 19:51.98).
The girls varsity race proved to be cliffhanger as each team placed five runners among the top 10 finishers. Bonita Vista managed to ride an early edge with three of the top five finishers to post a narrow 27-28 victory.
Junior Lauren Salt (16:44.67) and senior Sequoia Kriss (17:11.93) paced the field for the Barons with the top two times in the 2.54-mile race while junior Diandra Jara was fifth in 17:31.76.
Otay Ranch recorded the third and fourth scoring positions with juniors Leila Fuerte (third, 17:18.83) and Elicia Arredondo (fourth, 17: 27.95) and rushed the finish line with consecutive finishes by sophomore Salma Franke (sixth, 17:58.73), senior Autumn Filson (seventh, 18:17.82) and junior Lauren Medina (eighth, 18:26.11).
Bonita Vista rounded out the scoring as junior Savanna Sierra placed ninth in 19:05.67 and sophomore Rei Fulinara finished 10th in 19:06.32.
The Barons finished 1-2-5-9-10 in team scoring to claim the narrow victory while the Mustangs finished 3-4-6-7-8.
The race featured 34 finishers.
"Lauren Salt and Sequoia Kriss, our upperclass leaders, ran well finishing first and second," BVHS coach Dan Kettlehake said. "One of the best performances of the day was from junior Diandra Jara, who finished fifth. Her training during the COVID break was fantastic and it has really paid off with her fitness and training.
"Three juniors — Bellah Marquez, Rei Fulinara and Savanna Sierra — have been working hard and are showing great improvement as well. Interestingly, our seventh varsity runner is freshman Paulina Jimenez, who I believe will be one of our top runners as this year progresses in cross country and track, and in the future. She was dealing with an injury last Friday, but we hope to see her healthy this week."
Otay Ranch, paced by top finishers Zachary Shorey (19:59.6) and Aristeo Aguilar (20:32.76), won the junior varsity dual by a score of 21-38. The Mustangs placed seven runners among the top 10 finishers.
Clash of the Titans
Eastlake swept Olympian across the board in four duals last Friday at Eastlake Community Park, winning the boys varsity matchup 15-49, the girls varsity contest 15-45, the boys JV dual 15-46 and the girls JV matchup 16-39.
The Titans placed the top six runners in both the boys and girls varsity races, the top five finishers in the boys JV race and the top four finishers in the girls JV race.
Junior Anthony Martinez won the 5K boys varsity race in 16:19.34, followed by seniors Edgar Salazar (17:14.00), Michael Patron (17:15.73) and Justin Hoban (17:28.21), sophomore Trevor Santiago (17:38.50) and senior Erick Rueda Toriz (17:50.89).
Freshmen Galia Salazar (15:41.41) and Vanessa Young (15:52.50) posted the top times in the 2.3-mile girls varsity race, followed by juniors Savannah Kipp (16:14.64) and Arianna Miessner (16:28.72). sophomore Cameron Cruz (16:29.47) and senior Kalena Garcia (16:49.16).
Top finishers for Eastlake in the 5K boys JV race included sophomores Darin Halverson (18:40.51) and Vance Halverson (19:01.64), junior Lucas Bracamontes (20:17.69) and freshmen Caleb Kipp (20:28.39) and Charles Leon (20:32.69).
Top finishers for Eastlake in the 2.3-mile girls JV race included juniors Melissa Mekitarian (16:18.52), Lake Merrifield (16:19.35) and Luna Vargas (16:55.78) and freshman Aloha Espiritu (17:30.28).
Top finishers for Olympian included junior Nathaniel Loving in boys varsity (seventh, 17:58.52), junior Maya Galvan in girls varsity (seventh, 17:16.04), sophomore Diego Noriega in boys JV (sixth, 20:38.17) and freshman Alina Garcia in girls JV (19:13.07).
COLLEGE BASEBALL NOTEBOOK
San Diego State University captured its third consecutive series by taking two of three games from visiting Fresno State last weekend. After the Bulldogs (3-5 overall) won the opener, 3-2, the Aztecs (7-3 overall) rallied with 17-0 and 12-7 wins.
Brian Leonhardt (Eastlake) went 2-for-8 with two RBI and one run scored in the three games while Tre Brown (Eastlake) pitched 1.2 innings with three strikeouts. Ricky Tibbett (Eastlake) pitched two innings with three strikeouts.