The Castle Park High School football team could be on the cusp of something exciting this upcoming season after turning in a 1-9 season in 2021, including a 1-5 mark in Metro-South Bay League play.
"We're definitely going to have a better attitude," said Trojan head coach Paco Silva, who is entering his third year with the team after winning a Metro-Mesa League championship with Eastlake in 2019. "We're looking to have a winning attitude. We're looking for some success."
The Trojans are not too far removed from a Metro-Pacific League championship in 2018 and an 11-2 season in 2019 in which they finished runner-up in the Division V championship game.
Castle Park will once again compete at the Division V level this fall.
Silva said keys to a successful season will come in establishing good team chemistry and communication skills.
"There's a lot of good talent at Castle Park," he said. "It's been a lot of hard work, but it's been worth it. The kids are responding."
Top performers in 2022 expect to be senior tight end Amador Aguilar, senior receivers Jeremiah Simler and Sergio Cobos, sophomore quarterback Dillon Villarreal and senior cornerback Marcos Gonzalez.
Cobos had 25 receptions for 396 yards and two touchdowns last season while averaging 55.3 all-purpose yards per game. Gonzalez averaged 26.2 all-purpose yards per game.
Simler averaged 7.8 tackles per game when he played on defense.
Castle Park competed alongside Bonita Vista, Hilltop and Valhalla in a seven-on-seven passing event on June 30 at Bonita Vista High School. The Trojan defense acquitted itself well.
Bonita Vista head coach Tyler Arciaga said the summer seven-on-seven drills help instill confidence.
"For us, it helps a lot with timing and competing against other teams," the BVHS coach said. "We don't keep score. I'm more concerned about developing skill sets for the freshmen and sophomores and give other guys the opportunity to compete. I want to see what the kids can do."
Prep Pigskin Pictorial
Photos by Phillip Brents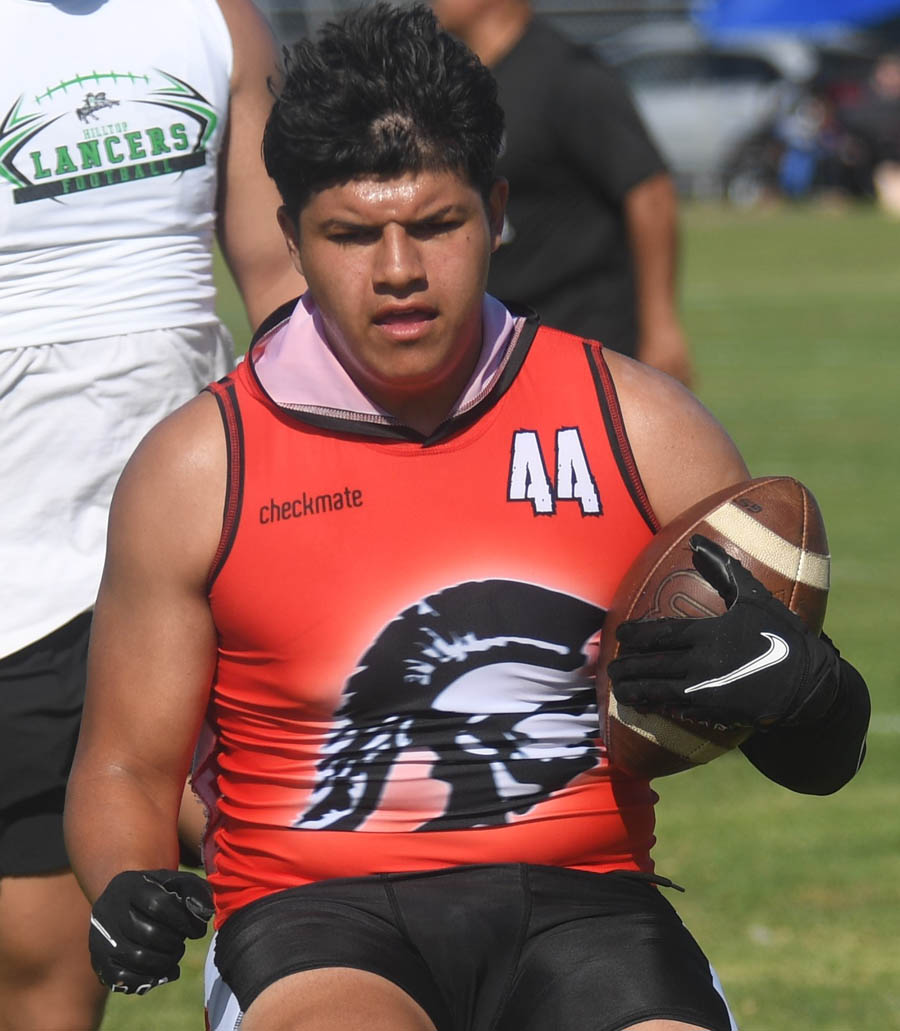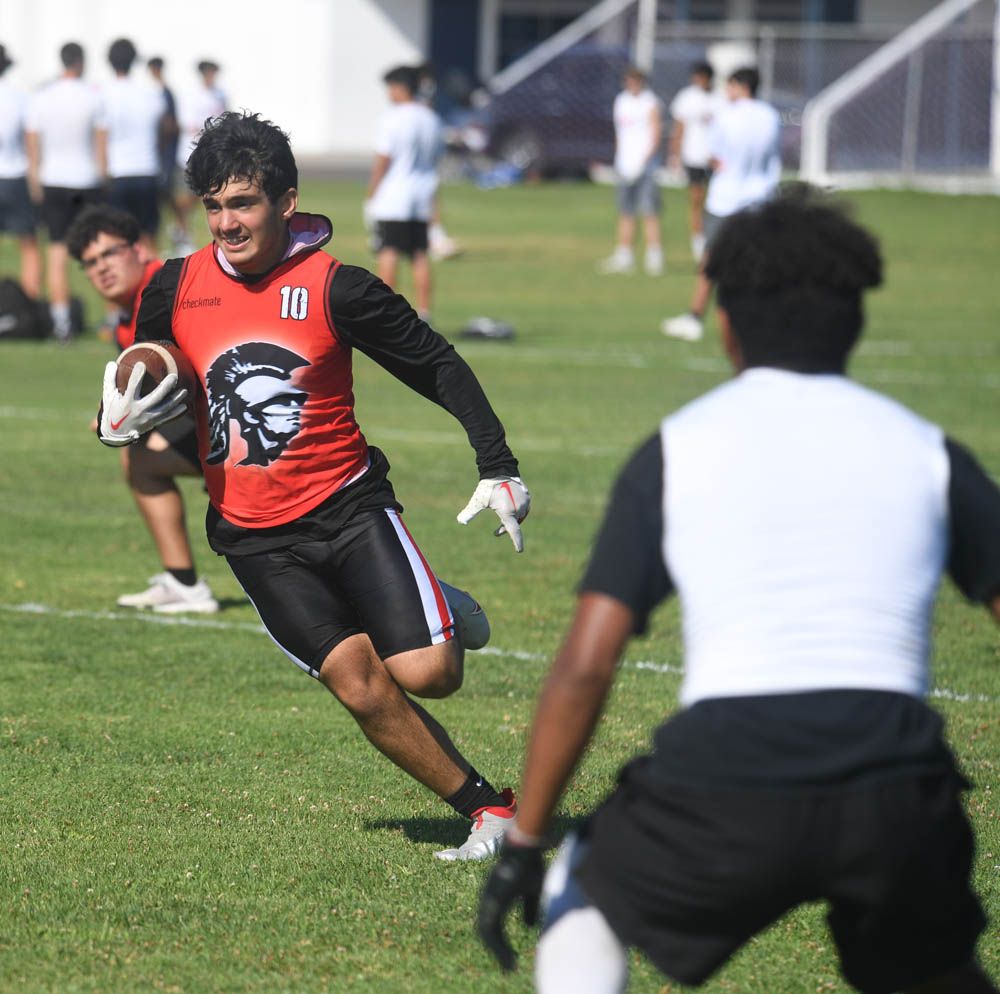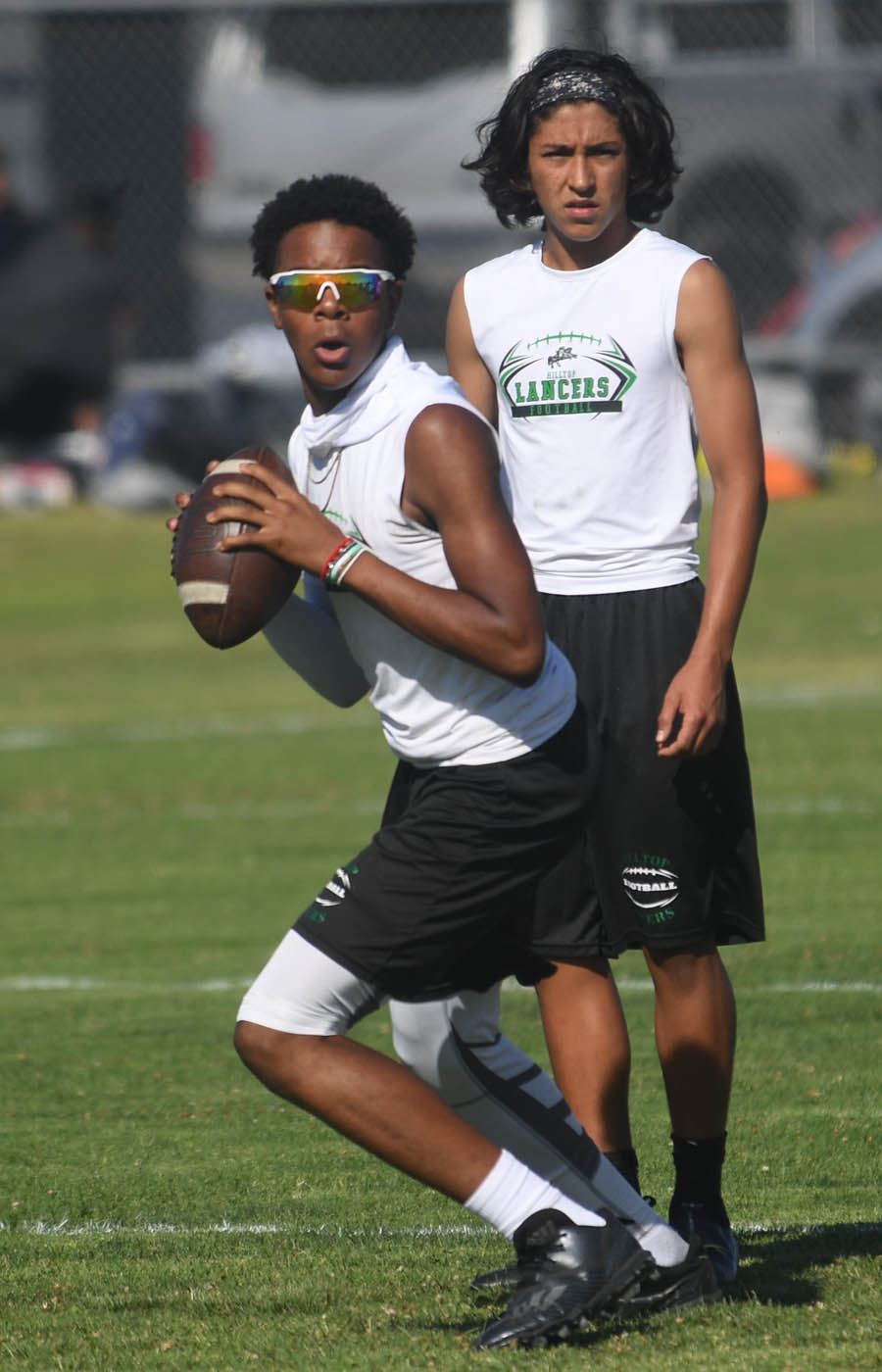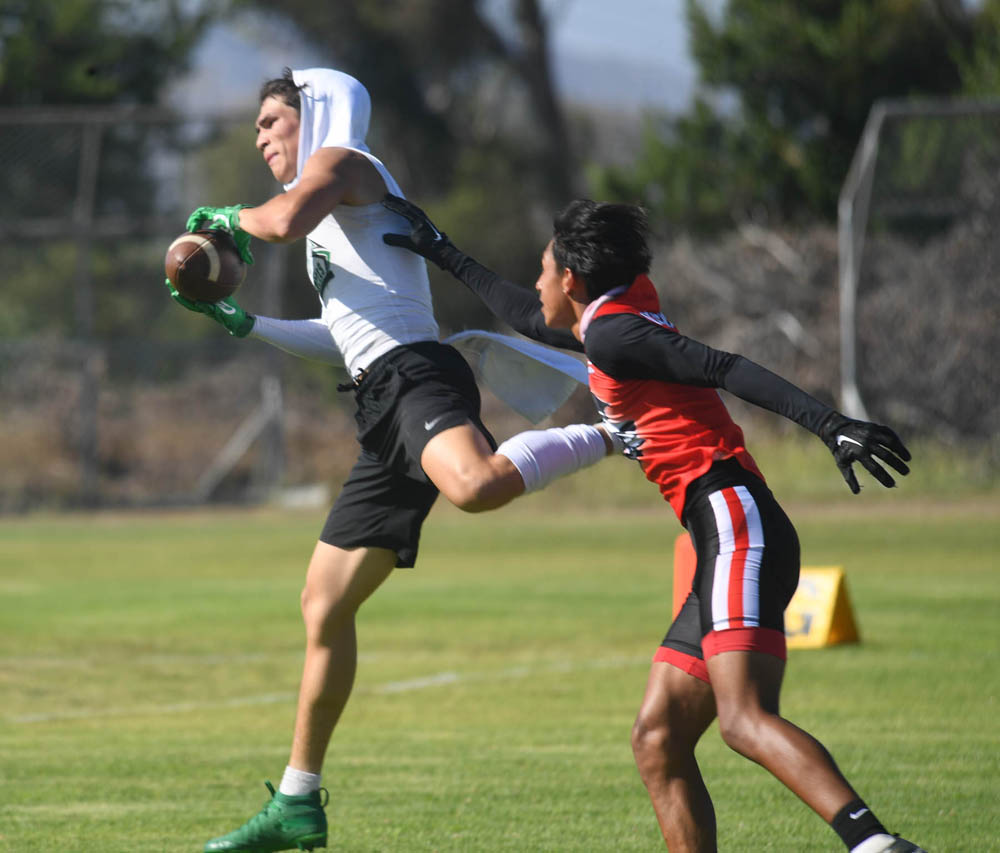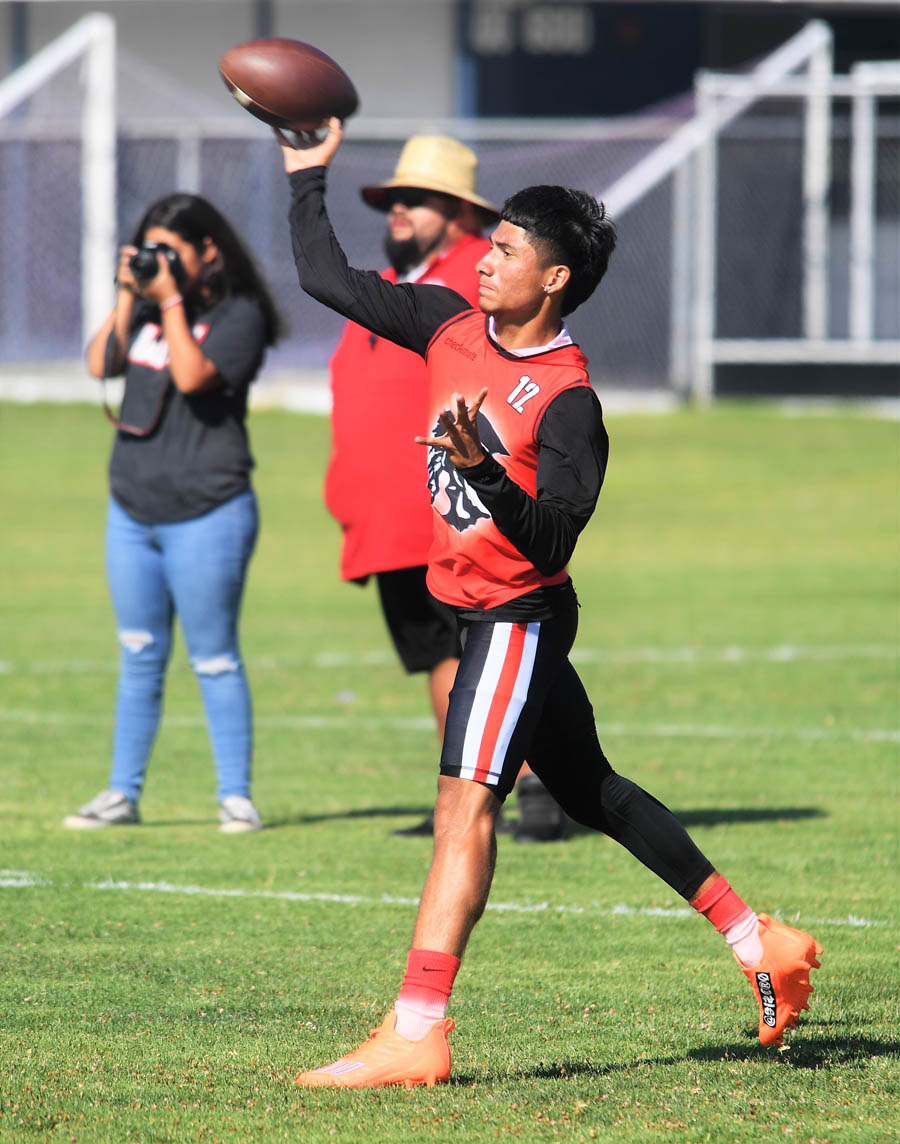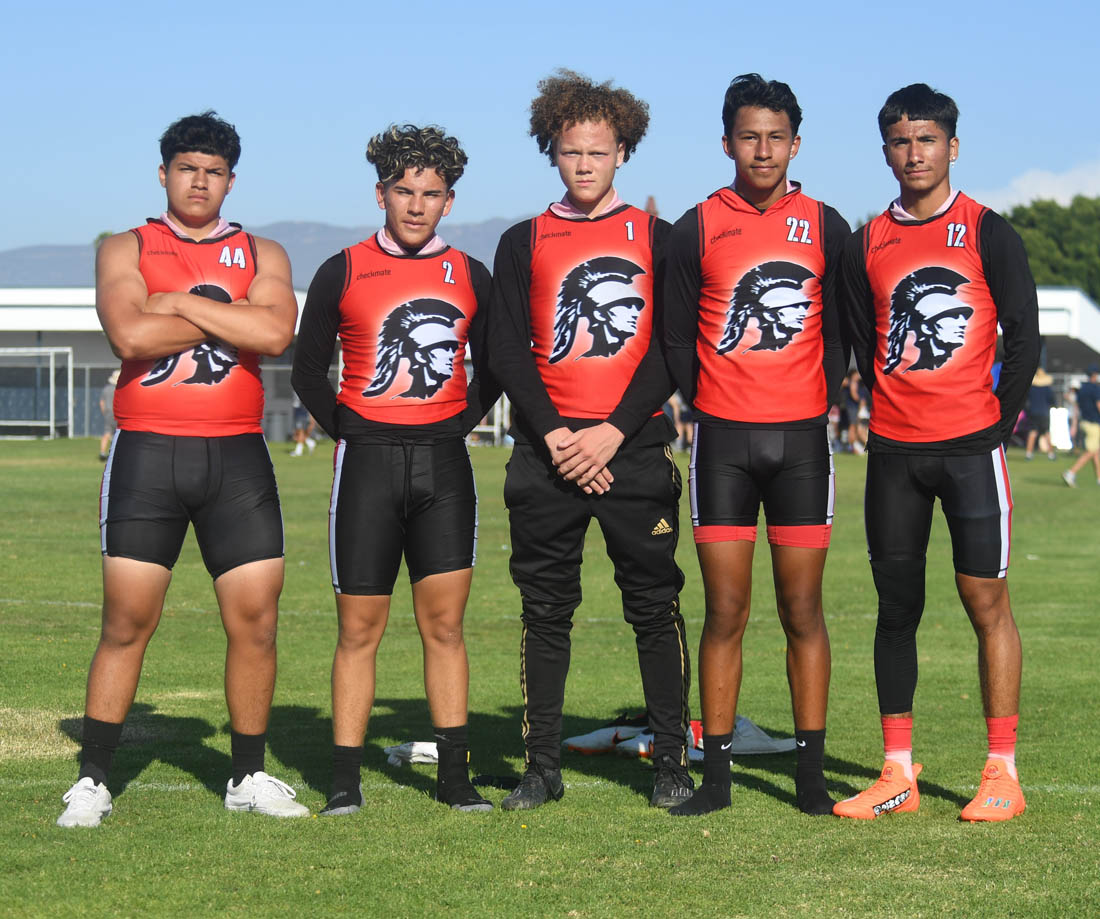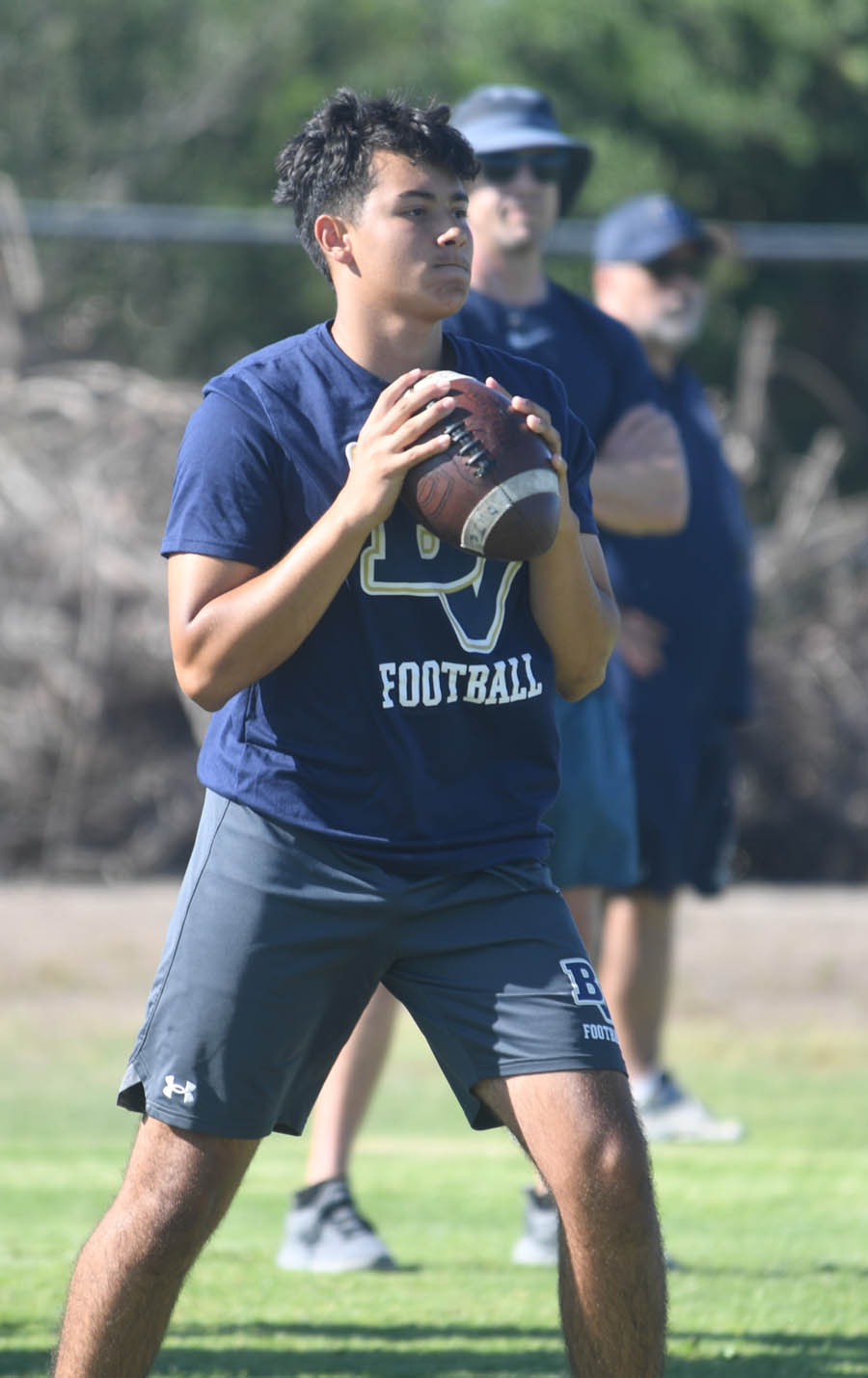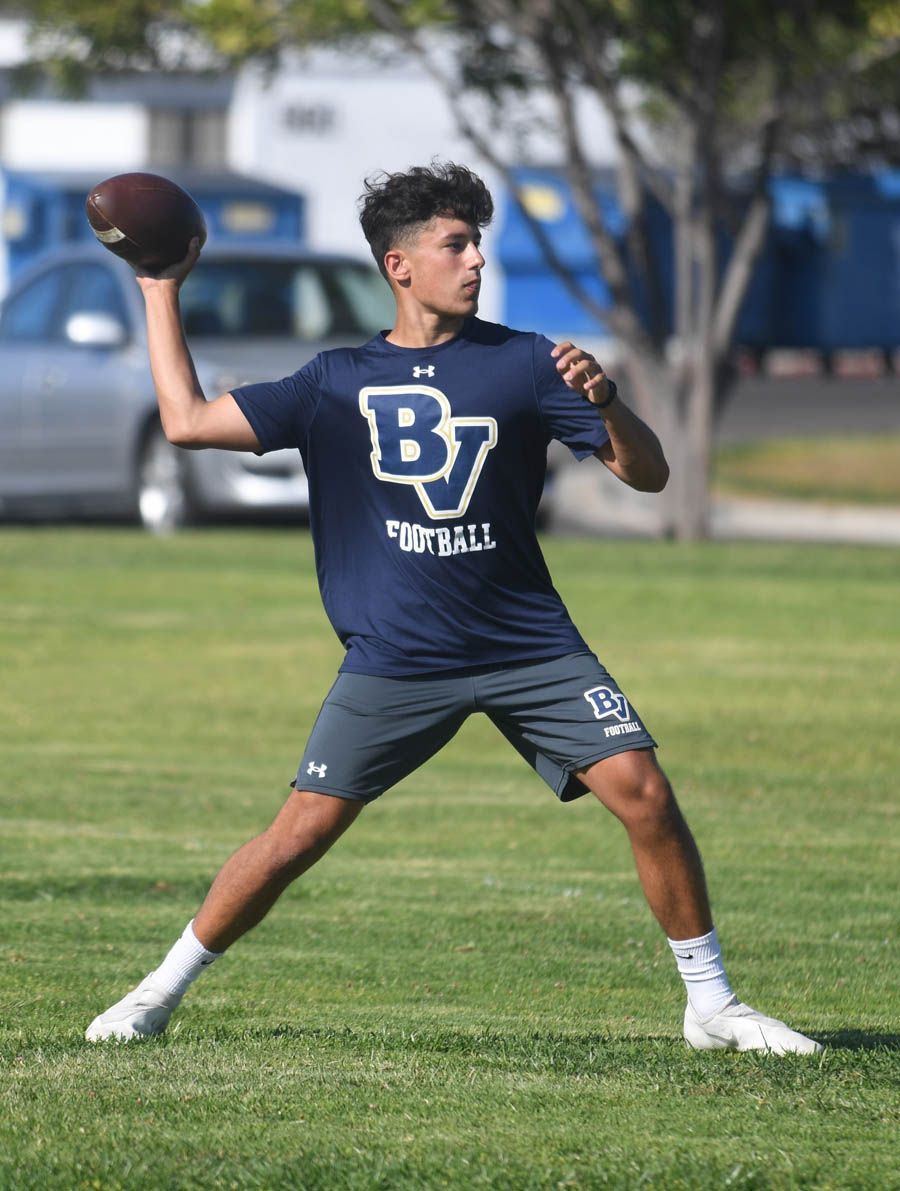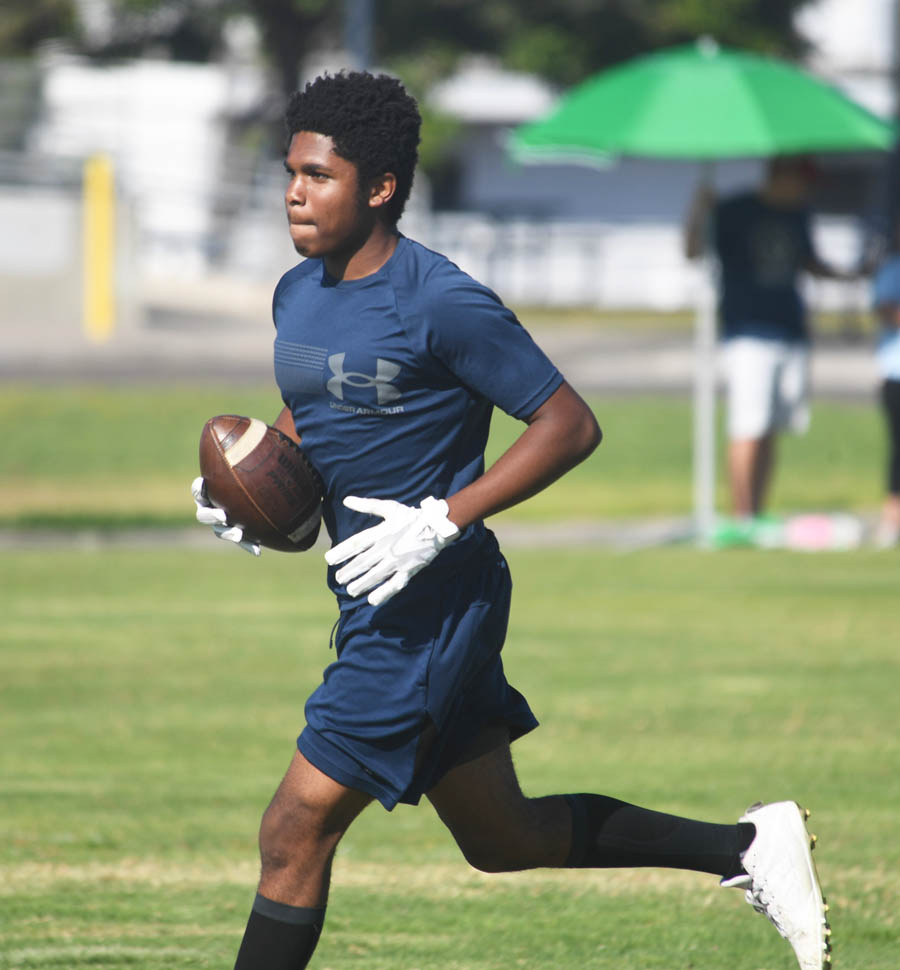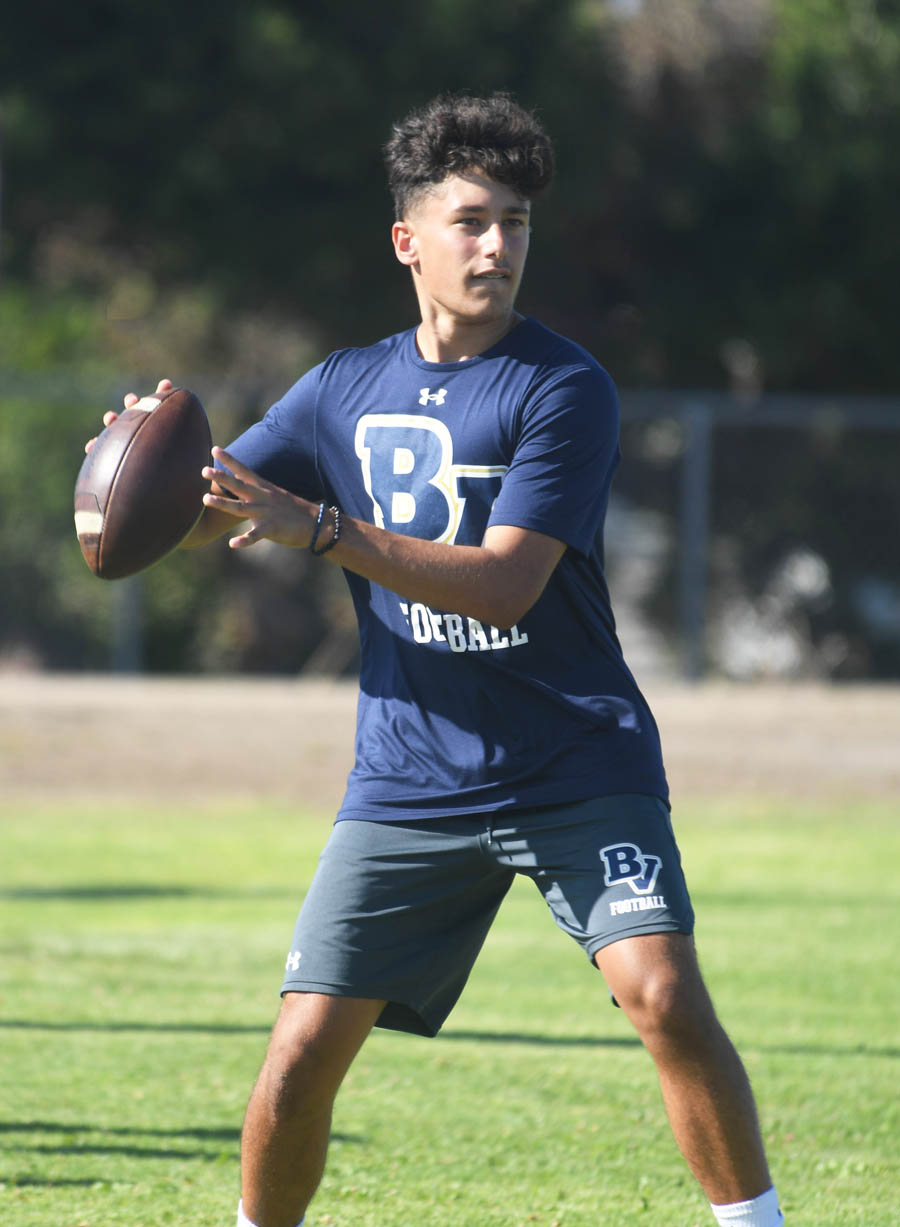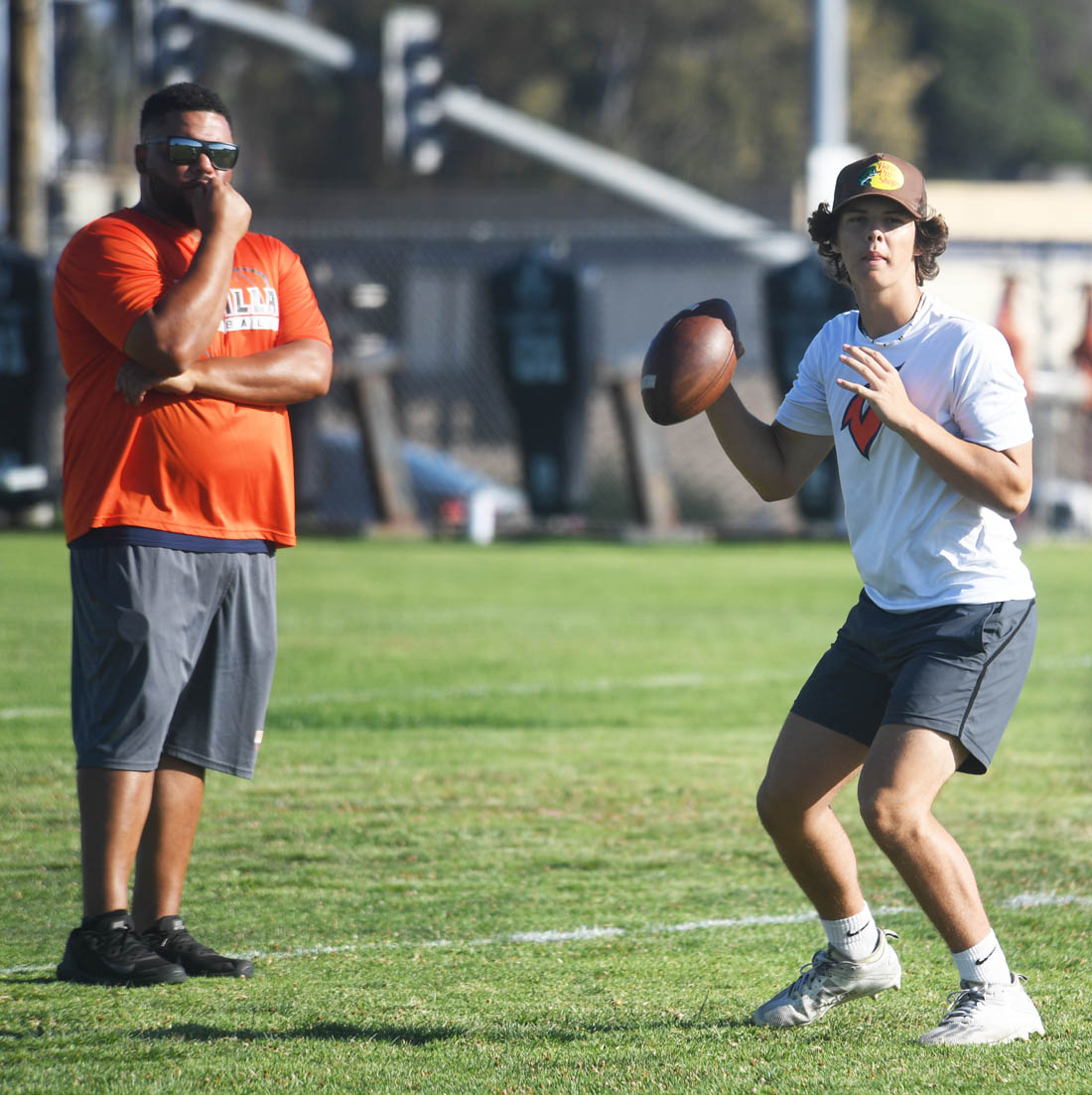 New Valhalla football coach to direct rebuild
The Valhalla High School football team has a new head coach and class of 2000 graduate Wayne Cherry is determined to turn around the fortunes of the pigskin program at his alma mater.
"I'm back at home," said Cherry, who is taking on his first head coaching assignment. "I'm trying to change the culture here and erase the image of the program being mediocre. We're trying to build the first steps in that direction but realize it's going to take time. Our motto is that 'Rome wasn't built in a day.'"
The Norsemen closed out the 2021 fall season with an inglamorous 73-6 loss to the host Sweetwater Red Devils in the first round of the San Diego Section Division IV playoffs. Valhalla qualified as the No. 11 seed in the division en route to a final 3-8 overall record.
Wayne enters the 2022 season full of optimism as the program seeks to find a firm foundation on which to build.
The rebuilding Norsemen have made use of the summer off-season by working out in the weight room and working on communication skills and strategy in seven-on-seven passing events.
Valhalla competed in a four-way series of drills against Bonita Vista, Castle Park and Hilltop high schools in a seven-on-seven event June 30 at Bonita Vista High School.
The Norsemen are set to host their own seven-on-seven event on July 12 on campus.
Top players Cherry is counting on to help lead the VHS rebuild include junior receiver Angelo Rafo, sophomore quarterback Kevin Ash, junior quarterback Braxton Estes and senior receiver Brasen Madden.
"It helps our teamwork get better," Ash said in regard to the informal summertime competition. "It helps us practice as a team."
The Norsemen still have plenty of time to get to know each other's strengths and weaknesses before they kick off the new season Aug. 19 at Hilltop. Valhalla defeated the visiting Lancers, 14-8, to kick off last season before going on to finish 2-4 in Grossmont Valley League play with wins over El Cajon Valley and Monte Vista.
West Hills won last season's GVL championship with a 6-0 league record en route to an overall 11-1 record and appearance in the Division III quarterfinals.
Valhalla kicks off its home schedule with non-league games against Granite Hills on Aug. 26 and Point Loma on Sept. 2. The Norsemen return to the South Bay to tackle the host Olympian Eagles in another non-league game on Sept. 9 before hosting the Santana Sultans on Sept. 16 in the teams' GVL opener.
Other league games are against West Hills (there on Sept. 23), El Cajon Valley (there on Sept. 30), El Capitan (home on Oct. 14), Mount Miguel (there on Oct. 21) and Monte Vista (home on Oct. 28).
Valhalla finished 0-6 during the delayed 2021 spring season, down from a 4-7 record and playoff appearance during the pre-COVID 2019 campaign.
The program hit a low point at 0-10 in 2018 after finishing 2-9 the previous season. The Norsemen were 8-3 in 2016 and 9-3 in 2015 by comparison.
COLLEGE FOOTBALL:
Preps return to SWC fields as Carberry hands the torch to new head coach
Southwestern College will host its annual (until interrupted by COVID in 2020 and 2021) high school football seven-on-seven passing tournament this weekend (July 8-9). There will be a lot of familiar faces on both sides of the ball but a few in different positions.
Ed Carberry, who set records for most wins during a 15-year career as head coach with the Jaguars, retired in February. He is succeeded as SWC head coach by longtime defensive coordinator Dionicio Monarrez Jr.
Both have been familiar faces along the sideline at local community college and high school games.
Monarrez will be looking to bring the Jaguars back into prominence. He'll have his eye on the high school talent on display this weekend for future reference.
Sixteen teams will compete in a seven-on-seven passing format. Games are 8 a.m. to 6 p.m.
"Many schools across the country do this in the offseason to prepare for the upcoming season," Monarrez said. "It is a good way for building teamwork, courage, discipline and perseverance. Teams also get to evaluate their talent, strengths and weaknesses.
"For our local community, it is a good way to see our local talent as well."
The summer offseason isn't just for the preps — community colleges and four-year universities also have their eye on continuing development.
"The Southwestern College Jaguars have been working hard all summer and many of our players are from local schools," Monarrez said. "I invite our community to come out and watch a game or two and support our team. They will see a lot of great talent on display and a very disciplined team."
The Jaguars scrimmage at Long Beach City on Aug 24 before hosting Grossmont College on Sept. 3 to kick off the new season.
"Long Beach plays in the toughest conference in the country, so this will give us a good test to see where we are in comparison," Monarrez said.
Coaches corner
Carberry wrapped up a stellar 45-year coaching career with a 211-159-1 record as one of only a few coaches to win 100 or more games at both the high school and collegiate levels. He reached the century mark with seven league championships in 14 seasons at Monte Vista High School from 1989 to 2003.
After a three-year stint at Mt. San Jacinto College, he transferred to Southwestern College, where he set the current foundation on which the Jaguars have found much success over the past 15 years.
Carberry won two San Diego Section division championships (1995 in Division II over Escondido and 2003 in Division II over Helix). The Monarchs finished runner-up to Oceanside in the 1999 Division II final.
He wore the widest grin on the sideline when the Monarchs defeated the San Diego High Cavers, 71-48, to win the 2017 Division IV CIF championship at DeVore Stadium. Monte Vista's Jahmon McClendon scored a section record eight touchdowns in a CIF title game and rushed for 383 yards to help secure the win.
"Go Monarchs!" Carberry offered with a smile.
Otherwise, it was "Go Jags!"
Carberry and his stable of assistant coaches turned around a Southwestern program that had nearly hit rock bottom. The Jaguars were 1-6 in his first season but quickly turned it around with a 7-3 record his second season.
SWC then hit its stride with seven winning seasons in an eight-year stretch from 2012 to 2019.
He credited his staff for much of his success while his staff credited him with astute leadership qualities to make it all happen.
"Football is a team game and I've had some great coach staffs, including our current staff," he said in a 2018 interview. "After all, you can't do it alone, can you?"
As far as recording the double century mark?
"If you are around long enough, the numbers are going to stack up," he said with a smile.
The numbers aligned mostly in the win column for Carberry, who won about 65 percent of his games at SWC.
"I was lucky enough to hit the nail with a hammer for 45 years, and now I'm lucky enough to know the right time to get out," he told KUSI-TV news upon his retirement.
The COVID-19 pandemic helped usher out the Carberry era. The Jaguars, like all community college programs in the state, had their complete 2020 season sidelined by the pandemic. When teams were able to return to the gridiron, vestiges of the virus continued to haunt rosters, making it difficult to field full lineups as well as recruit new talent.
"It was brutal," Carberry said in regard to the 2021 season in which SWC finished with a 3-7 record. (1-4 in conference play).
Non-memorable outings included 45-0 and 31-0 losses to Golden West and Fullerton to kick off conference play.
But there were many more happier days.
Carberry's teams won six conference championships and participated in eight bowl games during his tenure at the college.
The Jaguars finished 10-1 overall in both 2012 and 2014 as high-water marks to define the Carberry era.
During Carberry's tenure, SWC recorded three consecutive bowl game appearances for first time since the college was founded in 1961.
The Carberry era overlapped the refurbishment of the on-campus stadium into one of the top community college venues in Southern California and a destination stop for the high school section playoffs.
Crowds of 8,000 regularly descended on the SWC playing site to watch teams in the Open Division final.
Perhaps the most memorable aspect of coaching at the community college level was helping players move to the next level, whether at the four-year university level or the professional ranks.
A prime example of that was former Otay Ranch Mustang Luis Perez, who earned kudos with the Jaguars during the 2013 and 2014 seasons before earning stardom with Texas A&M-Commerce from 2015-17 where he won a NCAA Division II national championship and the Harlon Hill Trophy (emblematic of the Division II MVP) his senior year.
He played one season with the Birmingham Iron in the Alliance of American Football in 2019, winning a game in a relief role at Qualcomm Stadium against the San Diego Fleet.
He earned offseason and/or practice squad looks in the NFL with the Los Angeles Rams, Philadelphia Eagles and Detroit Lions. He played one season in the XFL with the Los Angeles Wildcats and New York Guardians in 2020.
He joined the New Jersey Generals of the reimagined USFL this season, leading the league in passer rating (105.6) and completion percentage (71.7). He completed the first touchdown pass in USFL history in the league's kickoff game on April 16.
He can still perform on some of the game's larger stages.
Fast forward
Southwestern will kick off the 2022 season with a scrimmage at Long Beach on Aug. 24, then kick off regular season play with a non-conference home game against Grossmont College on Sept. 3.
The Jaguars return to the road for non-conference games at College of the Canyons on Sept. 10 and Palomar on Sept. 17 before hosting Cerritos on Sept. 24.
Chaffey visits on Oct. 1, followed by road games at Golden West on Oct. 15 and Fullerton on Oct. 22. The Jaguars are scheduled to host Saddleback on Oct. 29.
Southwestern closes out regular season play with two games in November. The Jags host San Bernardino Valley on Nov. 5, then play at San Diego Mesa on Nov. 12.
Conference games include Golden West, Fullerton, Saddleback, San Bernardino Valley and Mesa. The full schedule is posted on the team's website at southwesternjaguars.com.