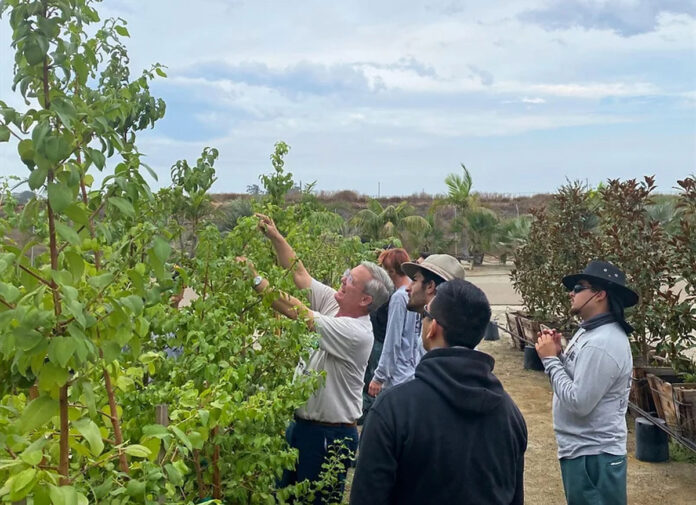 Tree San Diego, a nonprofit organization dedicated to growing and sustaining the urban forest in San Diego County, is running a paid education and workforce development program intended to grow San Diego County's urban forest while serving low-income and disadvantaged communities.
Tree San Diego project manager James Berry said Treejectory+ cohort candidates receive 30 hours of urban forestry training which they then call upon to distribute, plant and maintain 150 trees in disadvantaged communities. Those neighborhoods, including tracts in south San Diego, National City and El Cajon are based on census tracts and criteria established by the California Air Resources Board.
Currently, Berry said, the forestry industry is facing the challenge of a depleted workforce and Treejectory+ program was developed to train workers for existing job openings.
"The urban forestry sub-sector in San Diego County is in need of qualified entry-level applicants for existing job openings. Tree San Diego is leading in the effort to bolster workforce development and provide candidates different career pathways, matching them with job openings. The 'green workforce', people who are working to implement environmental solutions, is going to usher us into a more sustainable future. Treejectory+ opens the door to these opportunities," Berry said.
The Treejectory+ program is open for anyone to apply, and a paid hourly stipend is available for some candidates who live in priority zones. Berry said TSD expects to run two to three cohorts this year with 15-25 people in each group.
"Treejectory+ project candidates can expect to attend instructional modules in virtual and classroom settings in which we will cover topics ranging from industry best practices on selecting and caring for trees, nursery management, tree inventories and geographic information systems, and drones and photogrammetry in urban forestry. These classroom modules are paired with field days that bring the cohort out for hands-on training to put their education into practice," Berry said.
Additionally, the program includes a native species education component. Berry said TSD partnered with non-profit Indigenous Regeneration, a non-profit organization which works with indigenous communities such as the Kumeya'ay Nation on food cultivation, medicinal farming, cultural and ecological programs. TSD worked with the partner group to develop a comprehensive video program highlighting the cultural significance and origin stories of oak trees.
Cohorts who complete the program will gain an in-depth understanding of industry standards for tree care and maintenance, proper planting and watering techniques, GIS mapping software, and career pathways in urban forestry, Berry said, and not only is this a paid training opportunity, but the development of skills within this program will make participants a stronger applicant in the green workforce.
People who complete the Treejectory+ program will have access to industry professionals with recruitment potential, and will have already gained reputable references from International Society for Arboriculture-certified arborists.
"Now, more than ever, we need to respond to the effects of climate change and Treejectory+ provides the pathway for young adults in our region to address critical needs such as urban heat islands and equal access to green space," Berry said.
Visit webmaps.arb.ca.gov/PriorityPopulations3/ to search for disadvantaged communities. Visit treesandiego.org/treejectory for more information on the Treejectory+ program.