South County will be without a representative in this weekend's NFL divisional playoff games after both the third-seeded Seattle Seahawks and fourth-seeded Washington Football Team were eliminated from contention in last weekend's Super Wild Card Weekend.
Place-kicker and Chula Vista native Jason Myers and his Seattle teammates were stunned, 30-20, by the sixth-seeded Los Angeles Rams while Washington went down, in somewhat heroic fashion, by a score of 31-23 to ace quarterback Tom Brady and the fifth-seeded Tampa Bay Buccaneers.
Seattle, braced by top tier quarterback Russell Wilson, appeared to be among the favorites to contend for the NFC championship this season. However, Wilson experienced a meltdown on Sunday courtesy of the top-ranked Rams' defense with one interception and five sacks. The hosts also turned the ball over on a fumbled punt return.
Wilson completed 11 of 27 passes (41 percent) for 174 passing yards with two touchdowns. D.K. Metcalf (five catches, 96 yards) scored both TDs for the hosts, who rushed for 136 yards.
Myers completed the season with two field goals in as many attempts to run his consecutive field goal streak to 37 dating to last season. Myers split the uprights from 50 yards to tie the score, 3-3, early in the second quarter. He made a 52-yard kick in the third quarter to make the score 20-13 with the visitors in the lead.
He also was successful on two extra-point conversions to finish the game with eight kicking points.
Myers ended his second season with Seattle a perfect 26-for-26 on field goals and 51-of-55 on extra-point conversions (92.7 percent). He finished the season with 129 kicking points (tying a single-season high while with the New York Jets in 2018).
In his career, Myers has kicked 146 field goals and 197 extra-point conversions. He averaged 63.6 yards on kickoffs this season.
The Rams' win was a surprise given that the team entered the game with an injury crisis surrounding its quarterbacks. Starter Jared Goff, who had corrective thumb surgery late in the season, was by-passed for John Wolford, who was making his second career start.
But when Wolford suffered a neck injury very early in the game, Goff was called off the sideline to lead the team.
Goff completed nine of 19 passes for 155 yards with one touchdown and no interceptions while Wolford completed three of six passes for 29 yards before leaving the game. Robert Woods (four catches, 48 yards) caught one touchdown pass while rookie Cam Akers (28 carries, 131 yards) scored one rushing touchdown to help spur the L.A. offense.
Matt Gay took care of the rest of the team's offensive production with three field goals.
Defensively, Aaron Donald and Leonard Floyd both registered two sacks while Morgan Fox was credited with one sack. Darious Williams made the interception, returning the ball 42 yards for a touchdown to put the visitors ahead 13-3 on the scoreboard.
Wilson, who guided Seattle to a prolific 5-0 season start, finished the game with a season-low 72.1 passer rating.
Head coach Pete Carroll was visibly disappointed after his team's stunning loss.
"It's really frustrating to be done," Carroll told the media. "The sudden of this, there's nothing like it. You just have to deal with it. … Real disappointed in this outcome."
Seattle (12-5) had defeated the visiting Rams, 20-9, on Dec. 27 to clinch the 2020-21 NFC West title.
The Rams (11-6) advance to face the top-seeded Green Bay Packers (13-3) in Saturday's divisional round (1:35 p.m. Pacific Time on FOX-TV).
The winner of that game will face Sunday's winner between the second-seeded New Orleans Saints (12-4) and fifth-seeded Tampa Bay Buccaneers (12-5) in the NFC championship game on Jan. 24.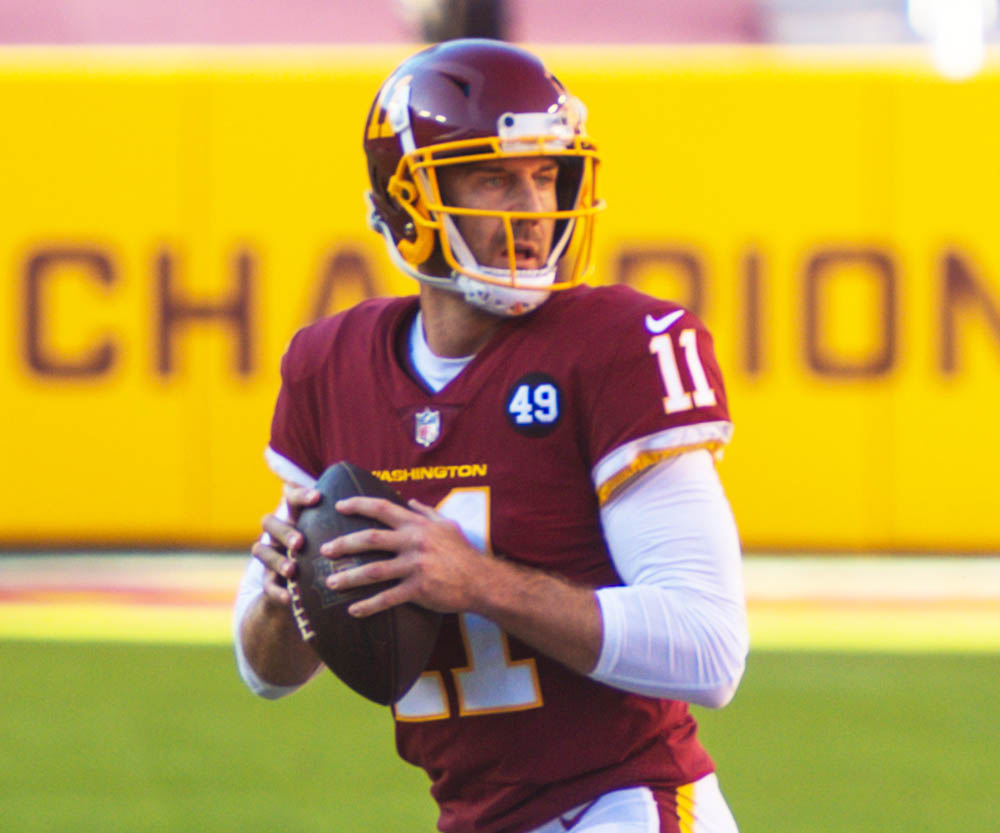 End of the road
Smith's latest NFL season ended on the sidelines after he was declared inactive for Sunday's playoff game.
Smith, a 16-year veteran quarterback, had helped Washington secure the 2020-21 NFC East championship and a berth in the playoffs while fighting through a strained calf injury in a 20-14 victory at Philadelphia on Jan. 4 on national television, to enable Washington to clinch the NFL's final playoff berth.
However, the Bonita Vista Middle School/Helix High School alumnus was unable to recover in a week's time and was not activated for the playoff game.
Smith, 36, finished 5-1 as a starter for Washington (7-10) this season, helping the team reverse a 2-7 start. He passed for 1,582 yards with six touchdowns and eight interceptions.
Smith played in eight games overall this season in Washington, finishing with a 78.5 quarterback rating.
His career statistics include 35, 650 passing yards, 199 touchdowns, 109 interceptions and an 86.9 QB rating.
Taylor Heinicke replaced Smith as Washington's starting quarterback for the playoff game against the Bucs. He shone in the prime-time broadcast, putting his name on the national scene after completing 26 of 44 aerials for 306 yards with one touchdown and one interception. He also rushed six times for 46 yards and provided highlight reel footage with a flying dive into the endzone for a touchdown.
Heinicke hit receiver Cam Sims seven times for 104 yards while Terry McLaurin caught six passes for 75 yards. Logan Thomas had five receptions for 74 yards. Steven Sims Jr. (three catches, 33 yards) caught a touchdown pass.
Brady, in leading the Bucs to their first playoff win in nearly 18 years, completed 22 of 40 passes for 381 yards and two touchdowns without an interception. Leonard Fournette rushed 19 times for 93 yards and one touchdown. Brady connected with Chris Godwin (five catches, 79 yards) and Antonio Brown (two catches, 49 yards) for passing scores.
The win sends Tampa Bay into Sunday's divisional elimination game at New Orleans, with the winner advancing to the winner between the Packers-Rams game.
Of the six Super Wild Card Weekend games, four ended in upset fashion with victories by lower-seeded teams.
The second-seeded Buffalo Bills (14-3) recorded their first playoff win since 1995 when they outlasted the seventh-seeded Indianapolis Colts (11-6) and former Chargers signal-caller Philip Rivers by a score of 27-24 last Saturday.
Besides Tampa Bay and the Rams, the sixth-seeded Cleveland Browns (12-5) recorded a stunning 48-37 upset win over the third-seeded Pittsburgh Steelers (12-5) on Sunday while earlier in the day the fifth-seeded Baltimore Ravens (12-5) edged the fourth-seeded Tennessee Titans (11-6) by a score of 20-13.
NFL DIVISIONAL PLAYOFF ROUND
Saturday, Jan. 16
NFC: (6) L.A. Rams (11-6) at (1) Green Bay Packers (13-3), 1:35 p.m. PT (FOX-TV)
AFC: (5) Baltimore Ravens (11-6) at (2) Buffalo Bills (14-3), 5:15 p.m. PT (NBC-TV)
Sunday, Jan. 17
AFC: (6) Cleveland Browns (12-5) at (1) Kansas City Chiefs (14-2), 12:05 p.m. PT (FOX-TV)
NFC: (5) Tampa Bay Buccaneers (12-5) at (2) New Orleans Saints (12-4), 3:40 p.m. (CBS-TV)
NFL SUPER WILD CARD WEEKEND
Saturday, Jan. 9
(2) Buffalo Bills (14-3) 27, (7) Indianapolis Colts (11-6) 24
(6) Los Angeles Rams (11-6) 30, (3) Seattle Seahawks (12-5) 20
(5) Tampa Bay Bucs (12-5) 31, (4) Washington Football Team (7-10) 23
Sunday, Jan. 10
(5) Baltimore Ravens (12-5) 20, (4) Tennessee Titans (11-6) 13
(2) New Orleans Saints (14-3) 21, (7) Chicago Bears (8-9) 9
6) Cleveland Browns (12-5) 48, (3) Pittsburgh Steelers (12-5) 37