The high school wrestling season was a hodge-podge of matches. Due to the ongoing coronavirus pandemic and associated protocols, not all teams had full rosters. Thus, dual meet competition may not have exactly showcased the strength of each team's lineup.
The Metro Conference had long held a season-ending tournament prior to the San Diego Section divisional championships This year the conference tournament format will help fill in the gaps in lineups.
Boys will compete Friday at Montgomery High School, starting at 3 p.m.
The girls tournament took place last Friday at Olympian High School with 48 participants. Championship matches took place in 13 weight classes.
The host Eagles won the team title with 144.5 points, followed by runner-up Hilltop with 79.5 points.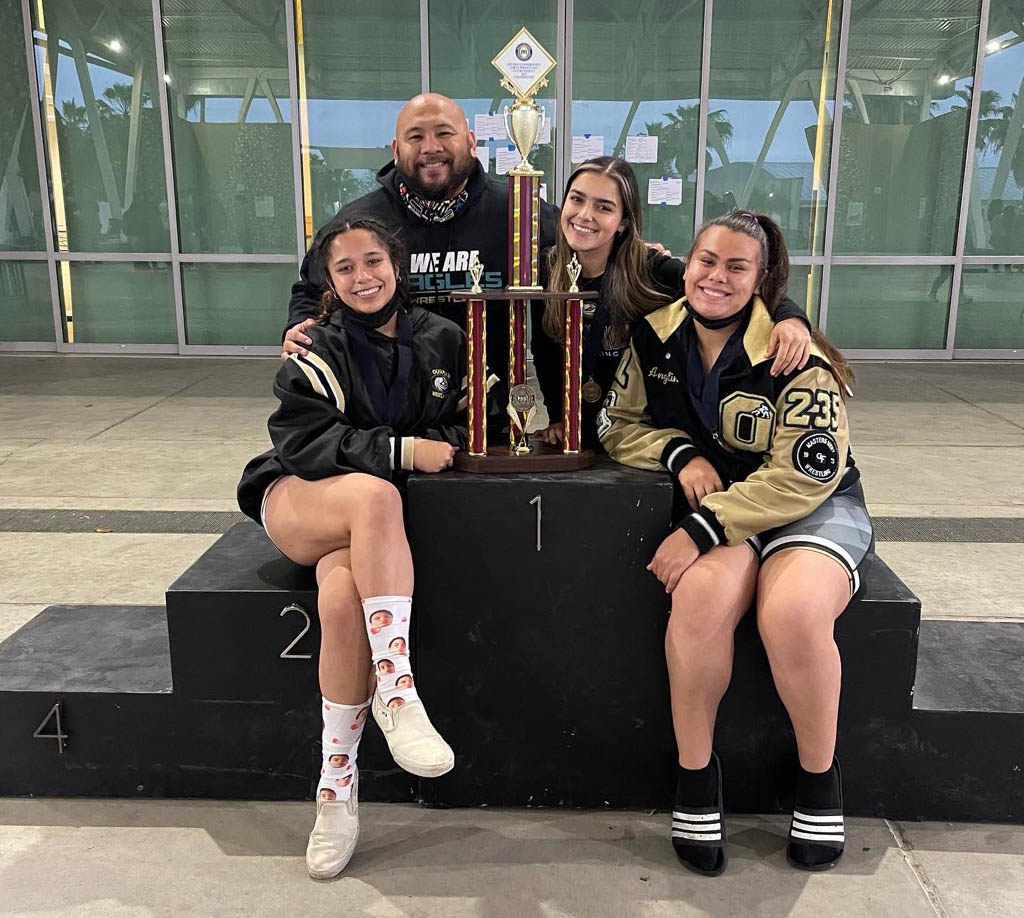 The Goddess of Olympia county-wide tournament took place at Olympian High School the following day. The host Eagles finished fourth in the impressive 33-team field.
"We wanted to give our girls in our section a chance to compete, and so when CIF allowed us to hold tournaments, we jumped on the opportunity to provide our girls a place to showcase their skills," Olympian coach Jay Fabunan said. "We are grateful to the Olympian High administration team for helping us secure the MPR/Pavilion and provide so much support to ensure the safest environment for our girls to wrestle.
"The tournaments went smoothly and everyone was grateful for the hard work that was put in to make these tournaments happen. Just a lot of teamwork and conversations that took place between admin and Metro coaches to run these tournaments."
Otay Ranch's Kayla Tolentino recorded all pins in her 121-pound weight class to earn the outstanding lower weight award while Eastlake's Brooke Klomp won the outstanding upper weight award at 170 pounds.
Isabelle Meza of Hilltop recorded the upset of the tourney with a pin of favored Makenna Harbin of Olympian at 131 pounds. Meza also pinned Montgomery's Alexis Cervantes in the weight class.
Brawley captured first place at the Goddess of Olympia tournament with 139 points while Mira Mesa followed in second place in the team standings with 83.5 points. Top 10 teams also included Valley Center (third, 78.5 points), Olympian (fourth, 65 points), Grossmont (fifth, 48 points), Imperial (sixth, 47 points), Rancho Buena Vista (seventh, 44 points), Serra (eighth, 39 points), El Cajon Valley (ninth, 36.5 points) and Eastlake (10th, 34 points).
Additionally, Otay Ranch finished in a tie for 11th place with 30 points while Castle Park was 14th with 27 points. Mar Vista finished with 22 points, Montgomery finished with 20.5 points, Chula Vista finished with 18 points and Bonita Vista with eight points.
Mira Mesa's Birta McCaskill (lower) and Vista's Kaylee Garcia (upper) received individual MVP honors.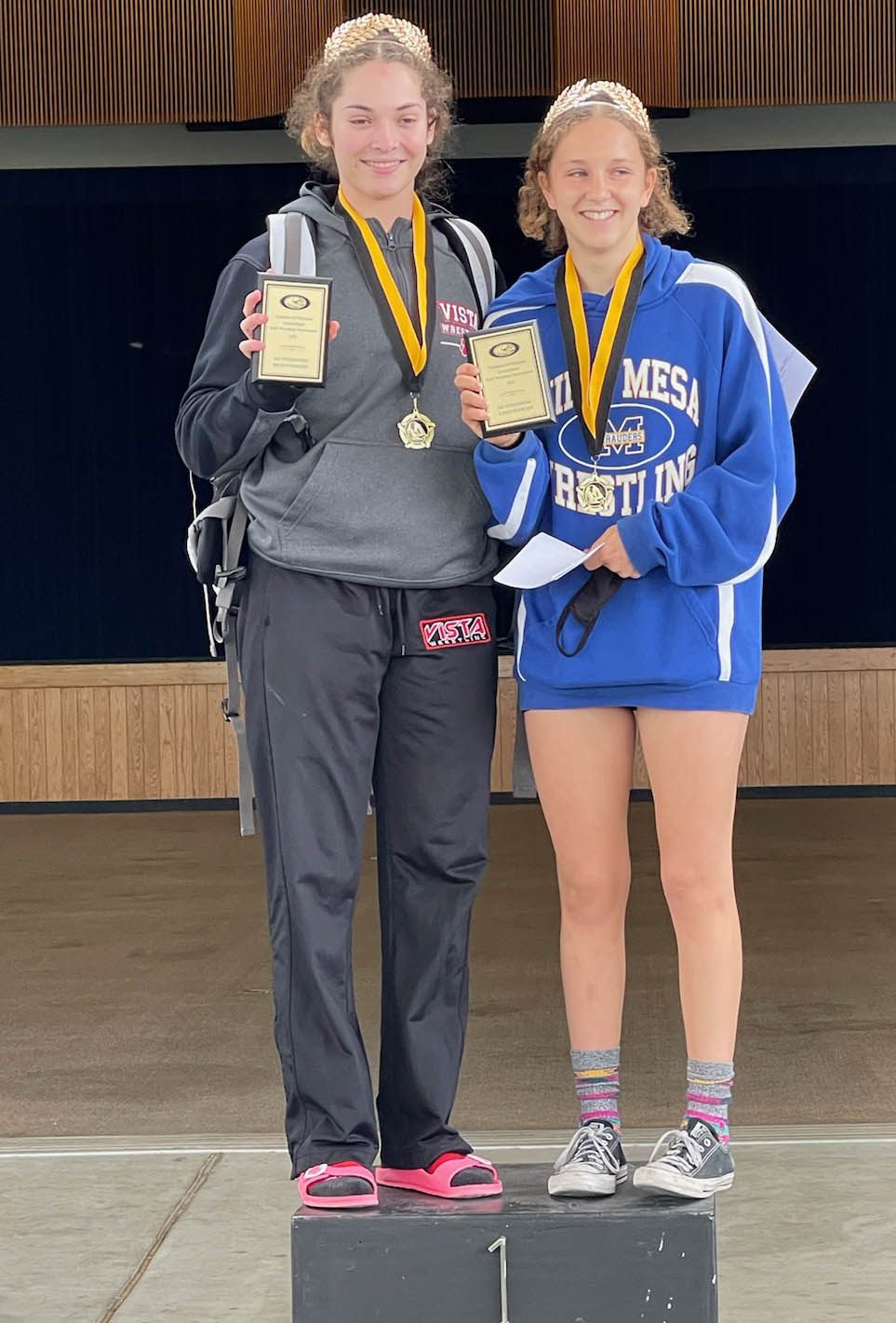 Weight class champions included Brawley's Jaylee Cazares (105), Mira Mesa's McCaskill (110), Brawley's Arianna Gonzales (115), Calexico's Karen Salais (120), San Diego's Carla Leon (125), Imperial's Ariah Barragna (130), El Camino's Alexandra May (135), Rancho Bernardo's Annabel He (141), Vista's  Garcia (147), Serra's Shyla Cooper (154), Valley Center's Savannah Mefford (164) and Sierra Mefford (174), Crawford's Foshay Mallard (193) and El Cajon Valley's Valerie Rocha (239).
Metro Conference teams recorded seven second-place finishers: CP's Jasmin Rodriguez (105), Olympian's Mia Zazueta (110), Eastlake's Isabella LaMadrid (115), Otay Ranch's Tolentino (125), Mar Vista's Anya Rodriguez (130), Chula Vista's Stacy Alvarado (164) and Olympian's Angelina Leal (239).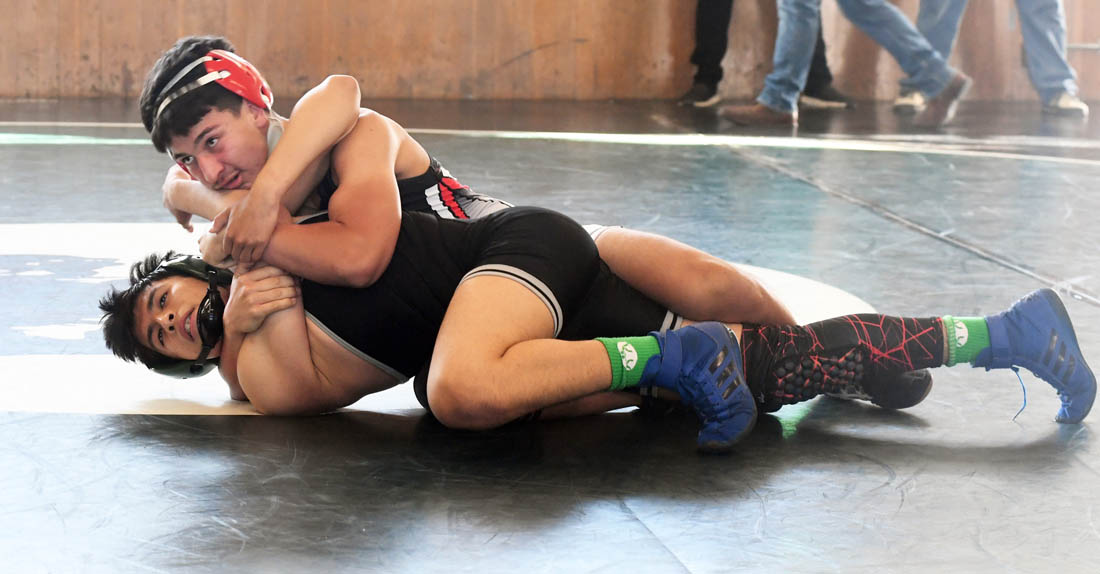 Boys wrestling
Hilltop remained undefeated in South Bay League dual competition by defeating visiting Castle Park, 32-24, on May 13. Seven matches took place — two girls matches and five boys matches.
The host Lancers won three of the five boys matches: Orlando Armenta at 145 pounds, Dominic Gurule-Metzig at 152 pounds and Josh Avitia at 220 pounds. Armenta and Avitia both won by pin; Gurule-Metzig won by a technical fall.
The Lancers previously defeated last year's league champion Chula Vista Spartans, 48-24, to keep their league slate perfect.
"It's been tough, challenging with the new health and safety protocols, including how many hours they can practice/compete each week (18 hours)," Hilltop coach Thomas Juarez said. "Each competition is valued at four hours. But we have worked hard. Kids have stayed."
Next up
The San Diego Section has approved culminating divisional championship events in both boys and girls competitions.
The girls single divisional is scheduled May 22 at Santana High School while four boys divisional tournaments are scheduled May 29.
San Pasqual High School will host the Division II tournament while Montgomery High School will host the Division III tournament. Mount Miguel will host the Division IV tournament while a venue is still under determination for the Division I tournament.
There will be no section Masters tournament or state championship events this year.
Metro Conference Girls Wrestling
Championship Tournament
May 14 at Olympian High School
Top Individuals
101 Pounds
Jasmin Rodriguez (Castle Park)
Tiana Alanis (Bonita Vista)
106 Pounds
Alina Claire Carino (Otay Ranch)
Mia Zazueta (Olympian)
Jo-Marie Aguilera (Hilltop)
116 Pounds
Isabella Lamadrid (Eastlake)
Isabella Gurule-Metzig (Hilltop)
Alissandra Bernal (Olympian)
Kamryn Jimenez (Eastlake)
121 Pounds
Kayla Tolentino (Otay Ranch)
Blayne Lopez-Griggs (Bonita Vista)
Samantha Velasquez (Hilltop)
Isabella King (Olympian)
126 Pounds
Amya Rodriguez (Mar Vista)
Alexa Rosales (San Ysidro)
Precious Randolph (Olympian)
Grace Neiman (Olympian B)
131 Pounds
Isabelle Meza (Hilltop)
Makenna Harbin (Olympian)
Alexis Cervantes (Montgomery)
Tavia Osthimer (Mar Vista)
137 Pounds
Helen Troung (Montgomery)
Alyeen Gomez (Olympian)
143 Pounds
Celina Esquer (Olympian)
Camilla Rascon (Hilltop)
Paris Ornelas (Chula Vista)
150 Pounds
Noemi Nunez (Otay Ranch)
Katherine Huslin (Olympian)
160 Pounds
Aunica Vargas (Olympian)
Stacey Alvarado (Chula Vista)
Debora Velazquez (Hilltop)
170 Pounds
Brooke Klomp (Eastlake)
Milagros Aguilar (Castle Park)
Andrea Campos (San Ysidro)
Martina Rodriguez (Hilltop)
189 Pounds
Nadia Taft (Eastlake)
235 Pounds
Angelina Leal (Olympian)
2. Evelynn Coronado (Montgomery)
Shazia Chama (Castle Park)
Isabella Owens (Eastlake)
Granite Hills Invitational sets standard for San Diego Section wrestlers as state's first sanctioned event
The inaugural Granite Hills Invitational on May 8 made history as the first sanctioned high school wrestling tournament held in the state this year.
Eighteen schools attended the event, with wrestlers from 12 of those schools advancing to the championship round.
Participants were elated to finally compete on the mat in a tournament-style format while being able to showcase all their hard work that had mostly been accomplished in private because of ongoing coronavirus protocols.
The host Eagles had two weight class champions and four finalists.
Collin Guffey defeated Eastlake's Thomas Jacobo to win the 129-pound weight class title while Justin Carroll defeated Patrick Henry's Elijah Vinoray to win the 148-pound weight class title.
Kailey Smith finished second in her 109-pound division while Logan Ransdell finished second in his 288-pound heavyweight division.
Other division champions included Olympian's Abram Cline (109), Mt. Carmel's Anthony Beato (116), Mira Mesa's Zachary Antonio (123), La Costa Canyon's Kael Sepulveda (135), Brawley's Joey Navarro (141), Mira Mesa's Devhante Hayes (155), Brawley's Robert Platt (163) and Alejandro Flores (173), Olympian's Michael Esquer (185), St. Augustine's Kevin Clements (198), Mira Mesa's Kurtis Modlin (223) and Valley Center's Cameron Fuller (288).
Mira Mesa won the team title with 185.5 points while La Costa Canyon finished runner-up with 143 points. Granite Hills finished third in the team standings with 139 points while Olympian placed fourth with 107.5 points. Brawley finished fifth with 105.5 points, followed by Eastlake with 80 points, Patrick Henry with 64 points, Valley Center with 58 points, San Pasqual with 53 points and Mt. Carmel with 51 points to round out the top 10 scoring teams.