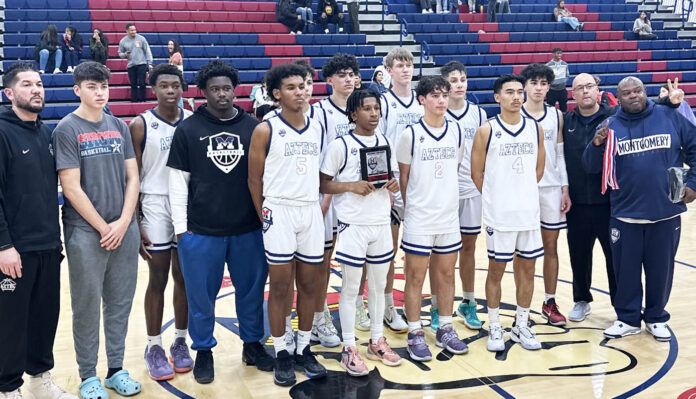 The Metro-Mesa League boys basketball circuit tipped off play this week with a who's who of local teams in the fold.
It's quite extraordinary, actually.
Three teams are ranked among the top nine teams, four teams are ranked among the top 16 teams and five teams are ranked among the top 21 teams.
For good measure, one Metro-South Bay League team is ranked 18th to give the Metro Conference six teams ranked among the top 25 teams in the San Diego Section.
"I believe this is the first time we've ever had four teams from the Mesa League in the SD UT top 10," Montgomery coach Ed Martin said. "It's going to be an incredibly competitive league season."
Mater Dei Catholic (13-3) leads the talented – and hungry pack – at No. 5 behind No. 1 St. Augustine (12-3), No. 2 Carlsbad (13-4), No. 3 San Diego (10-4) and No. 4 Torrey Pines (13-3).
The Crusaders won the recent West Hills and Sweetwater tournaments and are coming off a 65-59 loss to Santa Ana Foothill in the prestigious Torrey Pines Holiday Classic. Mater Dei Catholic won three of its four tournament games in the Classic – 71-48 over Spanish Springs (Sparks, Nev.), Vista (64-63) and Carlsbad (98-92).
Senior Kristian Gonzalez poured in 25 points in the win over Spanish Springs while junior Sebastin Wiles dropped in 21 points on 7-for-7 three-point shooting. Junior Josiah Jefferson led the Crusaders in the game with seven rebounds.
Gonzalez had 21 points and Jefferson had 20 points in the win over Vista. Gonzalez sank four of 10 three-points attempts while Jefferson grabbed five rebounds.
In the win over second-ranked Carlsbad, Gonzalez jammed the scoreboard with 33 points while sophomore Mayseo Elliott had 19 points. Jefferson contributed 18 points while freshman Lincoln Grogan had 10 points.
Jefferson led the team with 11 rebounds while Gonzalez had nine.
Gonzalez tops Mater Dei Catholic with a 19.7 scoring average through 15 recorded games while Jefferson ranks second at 13.2.
The Crusaders were scheduled to open league play Wednesday by hosting Eastlake (10-4) on Wednesday and Bonita Vista (9-5) on Friday.
Friday's game tips off at 6:30 p.m.
Mater Dei Catholic's high profile local schedule gets more intense with a road game at No. 16 Otay Ranch (10-5) on Jan. 11 and a home game against No. 7 Montgomery on Jan. 13.
Aztec Classic
Montgomery defeated Helix Charter, 66-64, to win the 40th edition of its own tournament on Dec. 30. The Aztecs finished 4-0 in the event with victories against Hilltop (73-20), Valhalla (83-42), Foothills Christian (97-40) and the Highlanders.
A trio of sophomores keyed the tourney hosts against the Lancers: Xair Mendez with 25 points, Devin Hamilton with 20 points and J.J. Sanchez with 13 assists.
The Aztecs led Hilltop (3-11) by a score of 34-6 after the first quarter and 48-13 at halftime.
Sanchez dropped in 17 points while senior Nico Reyes had 14 points (four treys) and Hamilton and sophomore Alek Sanchez both had 11 points against Valhalla. Mendez had six assists while J.J. Sanchez had six rebounds.
J.J. Sanchez earned tournament MVP honors while Alek Sanchez, Hamilton, Mendez and Reyes also earned berths on the all-tournament team.
Rounding out the all-tournament team were Eastlake's Jared Pamintuan and Josh Glanz, Helix seniors Bruck Kifleyesus and Ahkwon White, Foothills Christian freshman Julian Lebel and Valhalla senior Zaki Monqad.
Lebel, a freshman, is averaging 24.9 points per game and 9.4 rebounds per game for the Knights, who opened the season 0-10 but are now 4-12.
Monqad is 22.5 points per game, 6.9 rebounds per game, 4.1 assists per game and 3.2 steals per game.
Montgomery was scheduled to tip off league play with a home game against Olympian (9-3) on Wednesday, then travels to Otay Ranch (10-5) on Friday. The Aztecs are idle until their Friday the 13th game at Mater Dei Catholic before hosting Bonita Vista on Jan. 18 and Eastlake on Jan. 20.
Montgomery rematches against Olympian at the Eagles' nest on Jan. 23 before finally tangling with San Ysidro at home on Jan. 25.
The Cougars own one of the toughest schedules around and are coming off a 1-3 showing at the Torrey Pines tournament. Coach Terry Tuckers' team defeated Elk Grove's Monterey Trail, 105-100, in its opener behind 35 points from senior J.J. Taylor and 20 points from senior Mikey Williams.
The Cougars represented themselves well in losses to San Ramon's Dougherty Valley (94-73), JSerra Catholic (97-91 in overtime) and St. John Bosco (94-69).
San Ysidro hosts second-ranked Carlsbad this Saturday at 6 p.m., entertains Bonita Vista in a league game on Jan. 11 before meeting Miami (Fla.) Columbus in a neutral site game on Jan. 14. The Cougars host Bishop O'Gorman from Las Vegas on Jan. 28.
Taylor (6-8) leads San Ysidro in team scoring with 25.1 points per game while Williams (6-4) ranks second with a 22.7 scoring average. Gerardo Guerrero (6-6) ranks third at 10.6 points per game. Williams tops the trio with 8.8 assists per game while Taylor is averaging 5.5 rebounds per game.
Free throws
Otay Ranch participated in pre-Christmas and post-Christmas tournaments with a 4-4 record against teams from Arizona, Colorado and California.
The Mustangs compiled wins against Overland (Aurora, Colo.), Westwood (Mesa, Ariz.), Oakridge (El Dorado Hills) and Moreno Valley.
Otay Ranch was scheduled to open league play Wednesday at Bonita Vista and host Montgomery on Friday.
Senior Elijah Newsome tops the Mustangs with 11.9 points per game, followed on the scoresheet by junior Percy Whittaker with 10.3 points per game. Newsome also leads the team with 5.2 rebounds per game.
Eastlake finished 3-1 at the Aztec Classic with wins over Southwest El Centro (67-17), Mt. Miguel (74-26) and Foothills Christian (83-62).
Sophomore Anthony Reavis and junior Raymar Gonzales both keyed the Titans with 11 points in the win over Southwest El Centro while 10 other players scored at least one point in the rout.
Glanz, a junior, had 12 points in the win over Mt. Miguel while Pamintuan, a senior, had eight rebounds.
Eastlake had four players score in double-digits in the win over Foothills Christian: Pamintuan with 15 points and 10 points each from Reavis and sophomores Mason Little and Jordyn Webster.
Bonita Vista finished 3-1 in both a pre-Christmas and post-Christmas tournament appearances.
Olympian entered league play with a two-game winning streak after capturing a 76-71 double overtime home tournament win over Temecula Valley on Dec. 29 and a non-league home win over High Tech High San Diego on Dec. 30.
Sophomore Jamal Kendrick paced the Eagles with 27 points and 19 rebounds in the OT win while adding 17 points in the team's latest victory over the Storm.
Victory Christian Academy was set to tip off its inaugural South Bay League game on Wednesday against the visiting Southwest Raiders (3-12), followed by a game at Sweetwater (2-12) on Friday.
The Knights had a four-game winning streak snapped in a 79-68 non-league loss at Rancho Bernardo on Tuesday. Victory Christian defeated San Juan Capistrano San Juan Hills (69-67), Christian (80-61), Bishop's (71-57) and Coronado (74-59) in tournament play to cap the 2022 calendar year.
Four players are averaging in double-digits for the Knights, led by freshman Jayden Gray (20.8 ppg), junior Derek Edmond (16.5 ppg), freshman Isaiah Owens (13.2 ppg) and senior Quinton Richardson (13.1 ppg).
Edmond (6-5) is a transfer from Granite Hills.
Spartan Classic
Chula Vista (9-3) finished runner-up to Central Union, 66-46, in the championship game of its own long-running Spartan Classic on Dec. 30.
Chula Vista won its opening three games in the post-Christmas event, starting with lopsided victories against Chula Vista Learning Community Charter (57-27) and Preuss UCSD (67-25).
San Diego Section Basketball Rankings
Boys Teams
(MaxPreps through Jan. 3)
St. Augustine 12-3
Carlsbad 13-4
San Diego 10-4
Torrey Pines 10-5
Mater Dei Catholic 13-3
Santa Fe Christian 10-4
Montgomery 12-3
El Camino 10-4
San Ysidro 7-6
La Costa Canyon 8-6
Mission Bay 12-4
Del Norte 8-5
La Jolla Country Day 9-5
Lincoln 14-2
Cathedral Catholic 9-6
Otay Ranch 10-5
Mission Hills 10-7
Victory Christian Acad. 9-4
Coronado 14-5
Poway 10-6
Bonita Vista 9-5
University City 9-4
Rancho Buena Vista 12-4
San Marcos 9-8
Madison 8-4
Girls Teams
(MaxPreps through Jan. 2)
La Jolla Country Day 16-1
Westview 12-1
Mater Dei Catholic 11-1
Poway 11-2
Bonita Vista 9-7
Rancho Bernardo 13-1
Del Norte 10-4
Mt. Miguel 6-4
Carlsbad 12-3
Scripps Ranch 11-3
Mt. Carmel 11-4
Mission Hills 4-4
Olympian 10-7
San Diego 14-1
Imperial 13-3
El Capitan 13-4
Our Lady of Peace 12-4
Francis Parker 7-4
Torrey Pines 11-6
Grossmont 5-1
Holtville 10-7
San Marcos 9-7
Helix 10-3
Fallbrook 10-6
Cathedral Catholic 5-8
High School Scoreboard
Boys soccer:
Bonita Vista 1, Hilltop 1
Bonita Vista 4, Montgomery 3
Hilltop 2, Sweetwater 2
Eastlake 2, San Ysidro 1
Eastlake 2, Hilltop 1
Girls soccer:
Bonita Vista 3, San Marcos 1
Bonita Vista 1, Granite Hills 0
Otay Ranch 2, Grossmont 1
Otay Ranch 3, Montgomery 0
Hilltop 2, Mater Dei Catholic 2