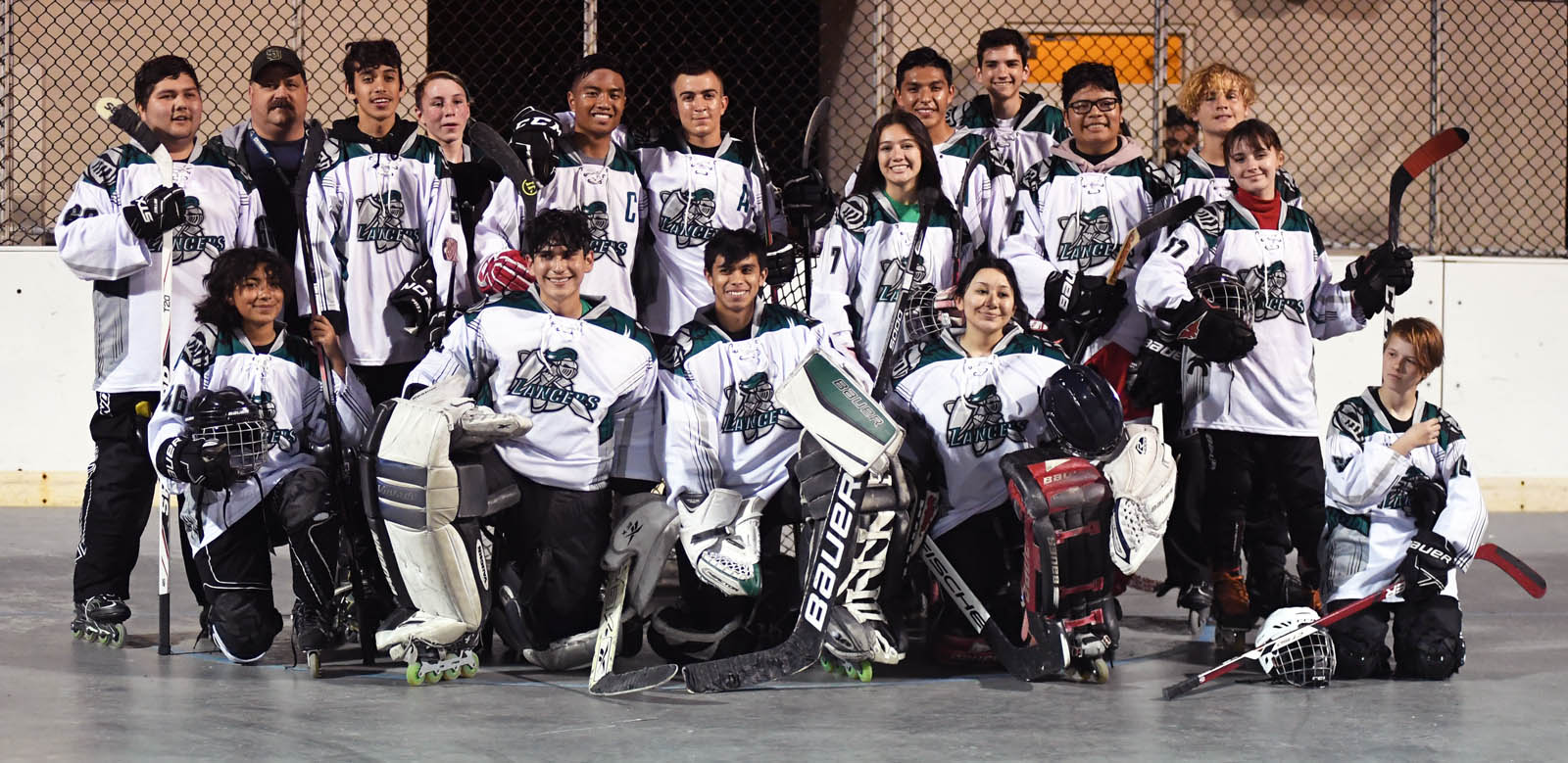 The 2019-20 CIF-Metro Conference roller hockey season came to a close Feb. 13 at the Castle Park High School rink with a trio of exciting games to punctuate regular season play.
In the opener, the Chula Vista Spartans completed a perfect 12-0 South Bay League season with an 8-1 win over the San Ysidro Cougars. Lucio Gutierrez led the Spartans (16-5 overall) with a hat trick while Sylvia Barba netted three points on two goals and one assist.
Adrian Hernandez and Sebastian Carlon both collected a goal and assist.
"We set a goal at the beginning of the season to win league and I'm pleased that we accomplished that," CVHS head coach Alvie Hernandez said. "To go 12-0 showed their determination to do that."
The second game of the night was the deciding match-up for the Mesa League championship, with the upstart Bonita Vista Barons needing a win to tie the Hilltop Lancers for a co-championship. The game also included a climactic cliffhanger ending with the district scoring title up for grabs between Bonita Vista sophomore Maxwell Anderson and Hilltop senior Trevor Fune.
The Lancers entered the contest with a one-game lead in the standings over the Barons; Anderson (110 points) entered the game with a two-point lead on Fune (108 points).
Both players were obviously motivated to play their best to help their respective teams win the banner but Fune had the bigger night with 12 points — 10 goals, two assists — in the Lancers' dominating 14-4 victory to emerge as this season's district scoring champion.
Fune finished regular season play with 120 points on 85 goals and 35 assists while Anderson, who had four goals in the loss, finished the season with 114 points on 92 goals and 22 assists.
Anderson did reap honors as the regular season district goal-scoring champion.
It's not often that two players top the 100-point mark in the same season, much less one player scoring 90 goals.
Veteran Bonita Vista head coach Keith Quigley was complimentary of both players' performances, especially of Anderson's first try at scholastic roller hockey.
"Nice job by both players," Quigley said. "It was definitely exciting watching Max all season. He had a season for the record books. As the head coach, I'm thrilled that he's only a sophomore. Max really makes the players around him play harder and play better.
"Throughout the games I really liked how he would often give the lesser experienced players some tips about playing better hockey. I also really liked how he would try to set up his teammates so that they could score. He's an unselfish player out there. Really proud of him and the season he had."
Hilltop head coach Paul Tesner pointed to Fune's leadership on the court in driving the team to sole possession of this year's league title after the Lancers shared last year's Mesa championship with Eastlake.
Hilltop faced off this season with a pair of non-league wins over Mar Vista and San Ysidro before dropping a 10-5 decision to Eastlake in the teams' Mesa League opener on Dec. 11.
Fortunes pointed the teams in different directions in 2019-20.
The Lancers ran the table in their remaining 18 games, defeating Eastlake twice, to emerge in sole possession of this year's championship banner.
Hilltop ended regular season play with an imposing 20-1 overall record, 11-1 in league play. Bonita Vista finished one of its best seasons in recent memory at 16-5 overall with a 9-3 league record.
Eastlake finished 11-6 overall, 7-5 in league play, to place third in the Mesa League standings.
Tesner said his team played "hungry" in its last two games. Prior to the high-profile matchup against the Barons, the Lancers defeated South Bay League champion Chula Vista, 9-0, in a non-league game on Feb. 12.
"They were hungry last night and they were hungrier tonight," Tesner said. "We played four games over the weekend in the tournament (Pam Wiser Classic), including back-to-back games in our last two games, so the team was tired. I gave them three days off to prepare for these games.
"Chula came out fast and played to the end. Bonita played us to the end. It was an awesome game."
"It was an exciting regular season battling with Hilltop for the league title," Quigley said. "They got it and deserve it but my Barons continued to battle hoping for a shot at that title."
The Lancers set the tone in the Mesa League championship game with an early 5-0 lead as Fune set the tempo with four goals and one assist. Isaiah Macias collected one goal and one assist in the goal explosion while Justin Sanchez picked up one assist. Fune's opening two goals came unassisted.
Anderson made his presence felt on the playing court by biting into the Hilltop lead with a breakaway goal to make the score 5-1. But that only seemed to motivate the Lancers, who would extend their lead to 9-1 before Anderson struck again.
Hilltop led 11-2 entering the final period with Fune registering eight goals and two assists to move six points ahead of Anderson on the season score sheet.
Both players rounded out the game with two more goals to end regular season play separated by six points in the scoring column.
Macias, who is also having a fine season in Fune's shadow, tallied two goals and two assists. Gabe Love and Cadence Pasco Babiarz both scored single goals in the runaway victory by the Lancers. Sanchez had two assists in support of winning goaltender Jacob Lopez.
Six of Fune's 10 goals came unassisted in a dominating individual performance on the rink.
Diego Nunes and Noah Burke were both credited with assists for the Barons.
Fune recorded four goals and two assists in the Feb. 12 win over the Spartans while Macias and Jake Phillips both scored two goals. Sanchez also scored once.
The final game on the Feb. 13 slate featured a Mesa League matchup between Eastlake and Castle Park. The game was surprising close despite the Trojans entering the game 0-20.
The Titans scored the only goal in the first period — that by Gavin Gementera. Eastlake scored three more times to face off the second period to open up a 4-0 gap. The Trojans regrouped to make the score 7-3 before Eastlake ended the game with another goal.
Gementera finished the game with four goals while Mason Sedlacek collected one goal and one assist. Harley Bradley, Brendan Scharmann and Alexander Harris all scored single goals. Bradley also had an assist.
Jose Tapia, Josh Barreto and Richelle Roldan each scored one goal for Castle Park.
CIF-METRO CONFERENCE
Team records
Sweetwater district teams
Non-Tournament
(Through Feb. 13)
Hilltop Lancers 16-1
Chula Vista Spartans 14-3
Bonita Vista Barons 13-4
Sweetwater Red Devils 12-5
Eastlake Titans 11-6
San Ysidro Cougars 7-10
Otay Ranch Mustangs 6-11
Mar Vista Mariners 4-13
Southwest Raiders 2-15
Castle Park Trojans 0-17
Mesa League standings
Hilltop 11-1
Bonita Vista 9-3
Eastlake 7-5
Otay Ranch 3-9
Castle Park 0-12
South Bay League standings
Chula Vista 12-0
Sweetwater 8-4
San Ysidro 6-6
Mar Vista 3-9
Southwest 1-11
North County League standings
Scripps Ranch 16-1
Westview 15-3
Escondido Charter 10-7
Rancho Bernardo 10-8
Poway 8-10
Cathedral Catholic 2-14
Patrick Henry 1-17
OVERALL TEAM RECORDS
(Includes tournament)
Hilltop Lancers 20-1
Bonita Vista Barons 16-5
Chula Vista Spartans 16-5
Sweetwater Red Devils 13-8
Eastlake Titans 11-6
San Ysidro Cougars 10-11
Otay Ranch Mustangs 8-13
Mar Vista Mariners 4-13
Southwest Raiders 3-18
Castle Park Trojans 0-21