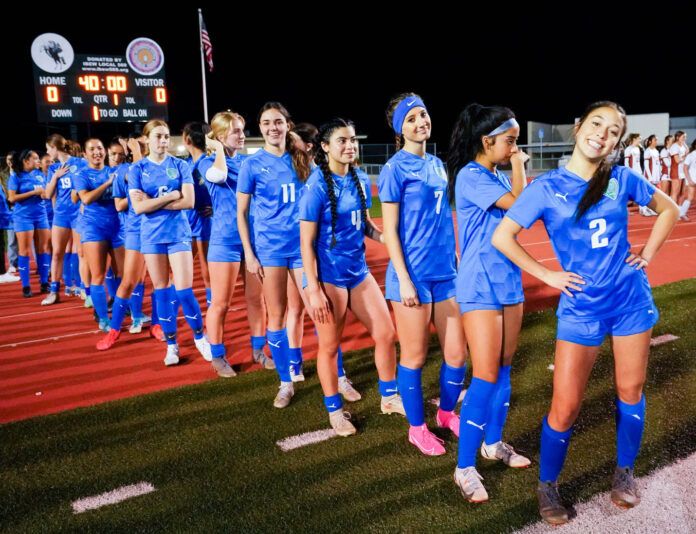 One game does not define a season.
The Hilltop High School boys and Eastlake girls soccer teams had to take that message to heart after suffering crushing losses in this year's San Diego Section championship games.
Top-seeded Hilltop carried a monstrous 18-1-7 record with 18 shutouts into the Division III boys title game Feb. 24 at Patrick Henry High School but came up on the wrong end of a 3-0 score to the third-seeded Steele Canyon Cougars.
Meanwhile, top-seeded Eastlake built a 2-0 lead in last Saturday's Division I girls championship game at Hilltop High School, only to surrender four unanswered goals in a tearful 4-2 setback.
Steele Canyon (17-4) notched goals in the 37th, 60th and 64th minutes to do in the Lancers, who created most of the early scoring chances but were unable to push the ball past goalkeeper Alex Shields, who notched his 11th shutout on the season.
"I give a lot of credit to them," Hilltop head coach John Salts offered in praise of the Cougars. "They played an amazing game. They had a great season that got them here.
"We struggled all game long to get our game down and our touch down. But nothing can take away from the amazing season we had."
Eastlake finished third in the Mesa League standings behind Bonita Vista (No. 1 seed in the Open Division) and Olympian (No. 1 seed in Division III).
The Lady Titans (9-8-3) were the third No. 1 CIF seed to make it out of league play.
Eastlake promptly opened the playoffs with a pair of shutout wins. Freshman Sophia May and sophomore Ashley Mekitarian booted the Lady Titans to a quick lead in the final against 10th-seeded Torrey Pines.
But the resilient Lady Falcons (8-13-4) would have none of that in a stunning reversal of fortune.
Both of Eastlake's goals came early in the first half. Torrey Pines made the score 2-1 at halftime. The flood of goals by the Lady Falcons started with 30 minutes left in regulation on a header in front of the Lady Titan net to tie the score.
The Lady Falcons added goals with 20 minutes left (3-2 go-ahead score) and 10:40 remaining (4-2 score).
Eastlake finished 5-4-1 in Mesa League play behind league champion Bonita Vista (7-0-3) and runner-up Olympian (6-0-4). But the Lady Titans had a rough finish with a 2-2 draw against Olympian, a 7-0 loss to Mater Dei Catholi (3-5-2in league play) and a 3-0 loss to Bonita Vista.
But Eastlake recovered nicely with its 1-0 win over ninth-seeded San Dieguito Academy in the semifinals on a second-half goal by Selena Wimbish and a 2-0 semifinal win over fifth-seeded Poway.
"It was a great bounce back," Eastlake athletic director Mark Cozhair said. "It was a testament to the resiliency of the team and this group. They fought hard and came up just short."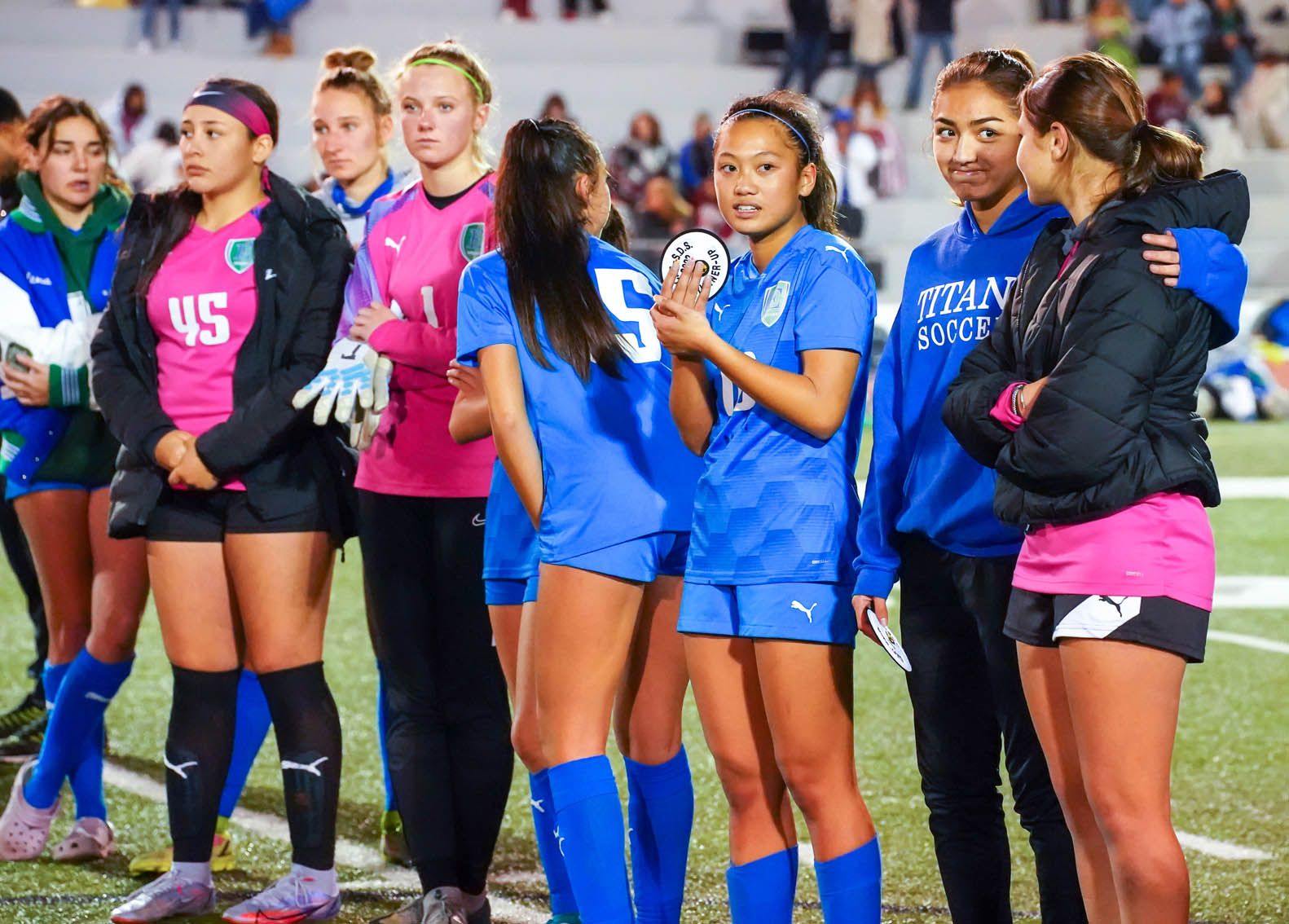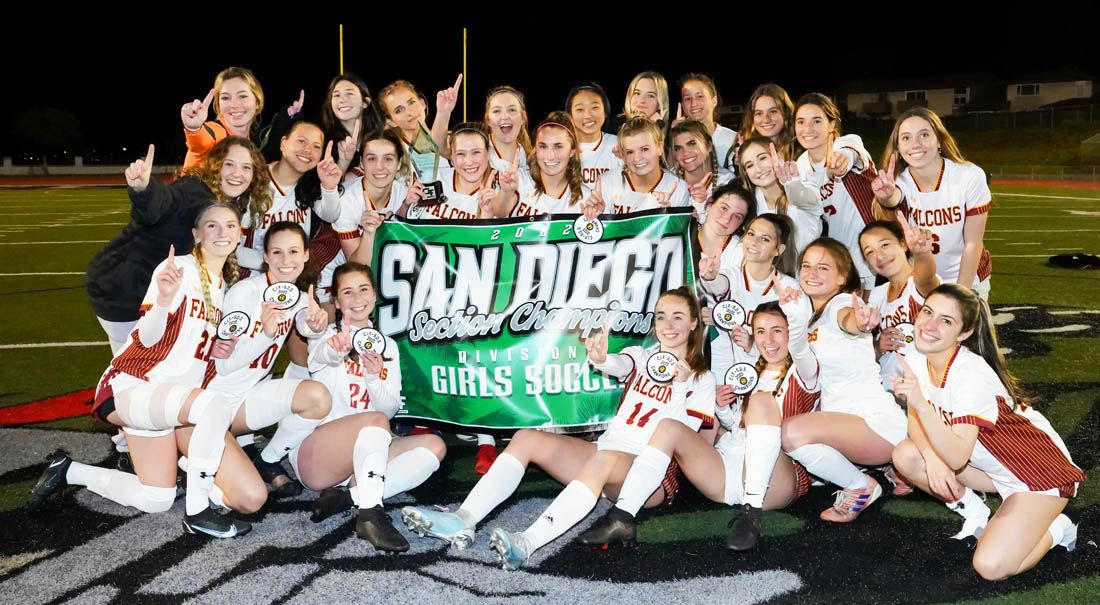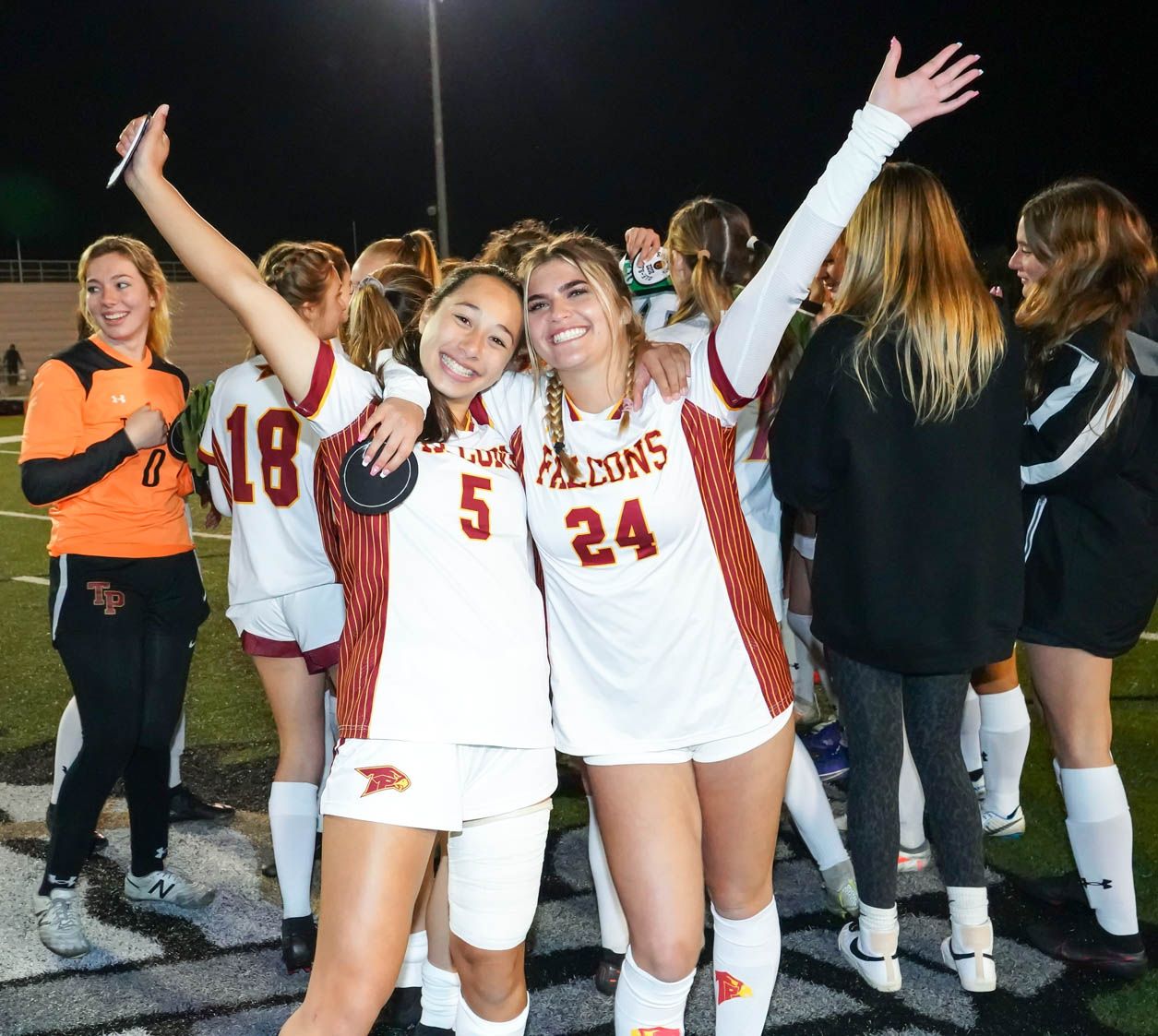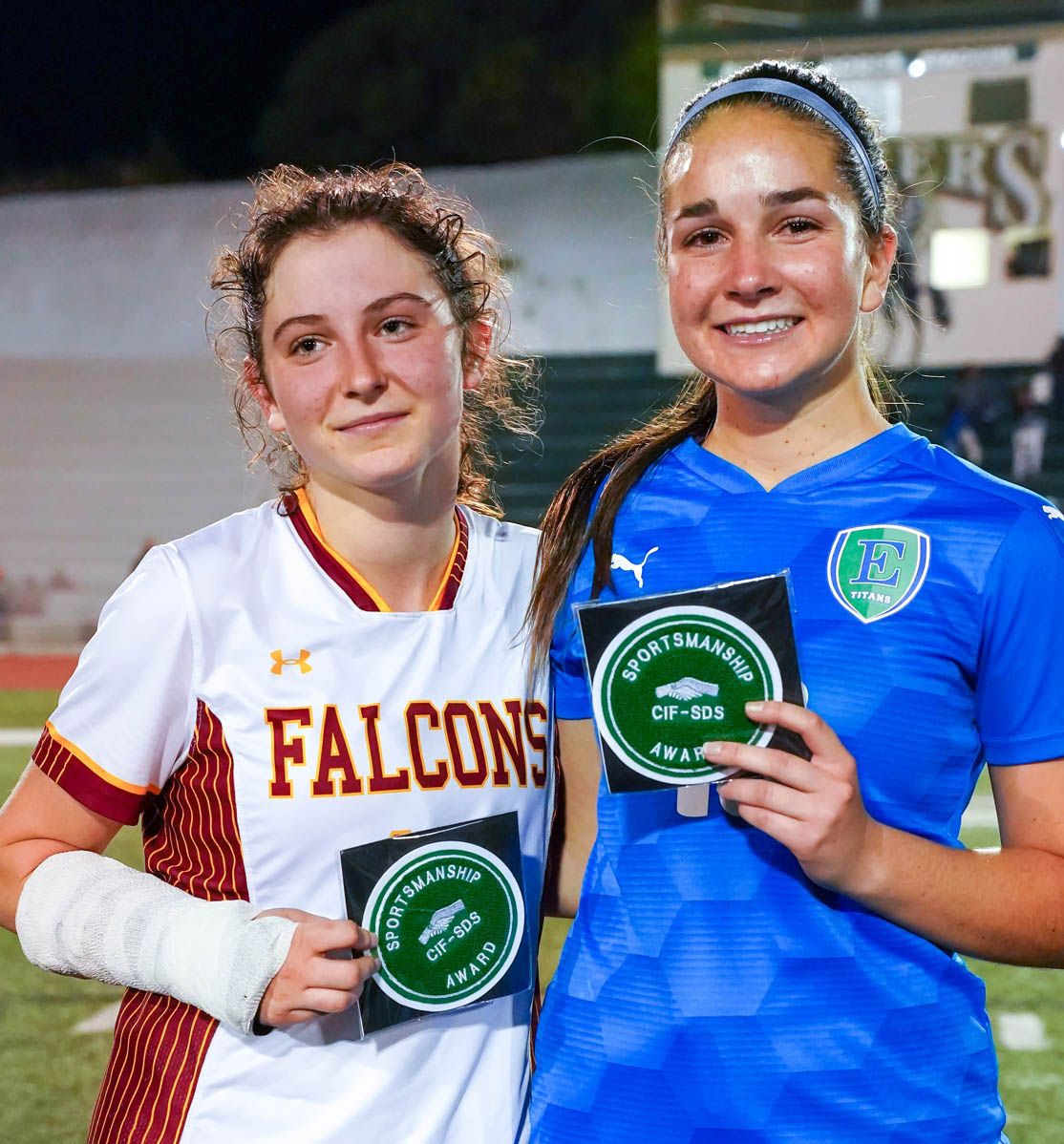 Cougars have it their way in 3-0 CIF championship game victory
STEELE CANYON BLANKS TOP-SEEDED HILLTOP TO CLAIM FIRST BOYS SOCCER TITLE IN SCHOOL HISTORY
The cheers kept coming long after the final whistle sounded. Steele Canyon High School's boys soccer players simply wouldn't stop celebrating.
They had good reason: They had just won the school's first San Diego Section championship in the gender sport.
"Cougars!" excited teenage voices broke through the descending cold last Thursday, Feb. 24, at Patrick Henry High School as players took turns hoisting the championship trophy following the team's 3-0 victory over the top-seeded Hilltop Lancers in the Division III championship game.
The school's nickname was repeated several times, followed intermittently by "C-I-F! C-I-F!"
Together the two words spelled "champions."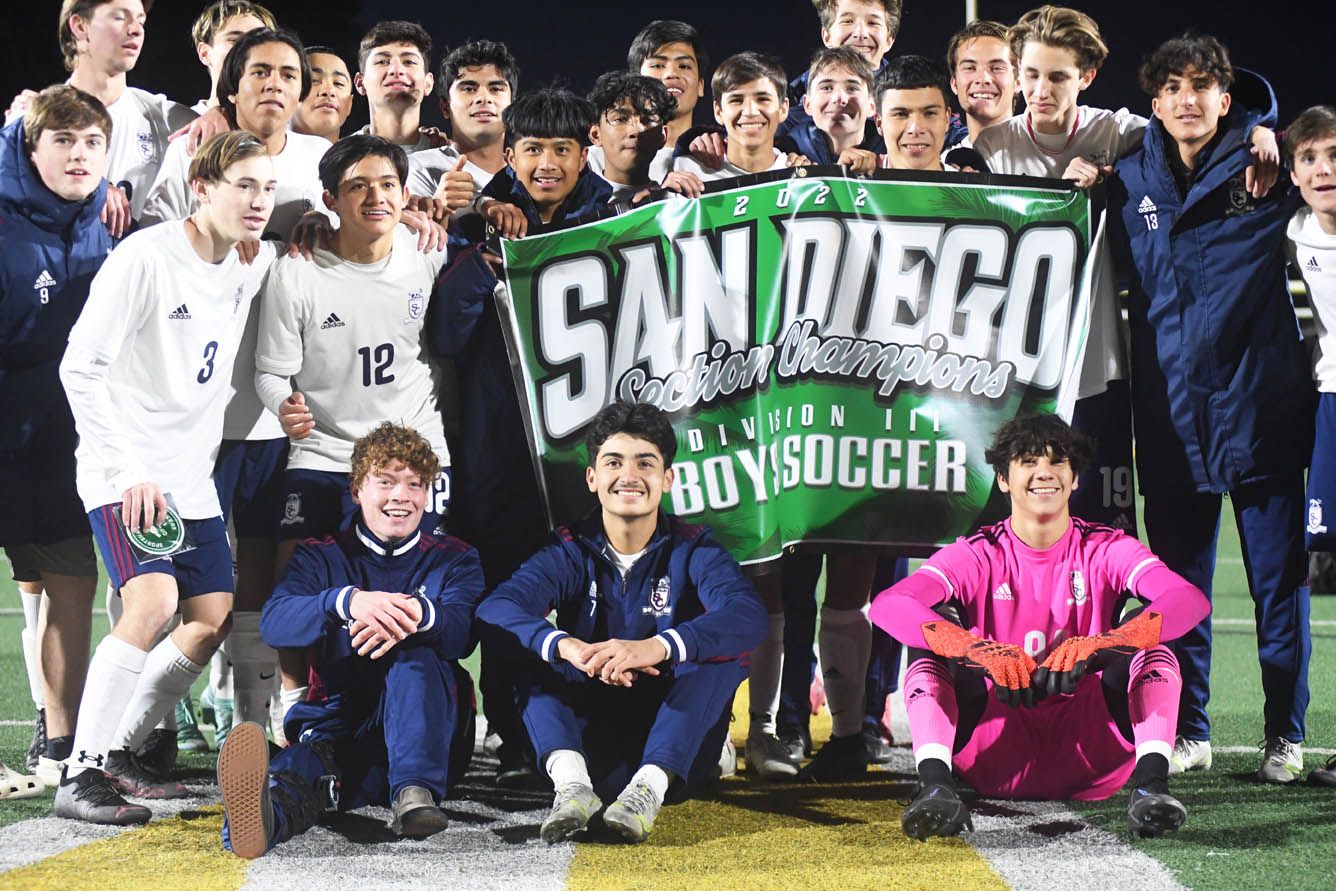 While Steele Canyon head coach Justin Johnson was obviously elated about this team's history-making performance, he also wanted to acknowledge the fine season turned in by his championship opponent. Hilltop carried an 18-1-7 record into this year's division final with 18 shutouts.
"First and foremost, we have to applaud Hilltop," Johnson said. "They were the No. 1 seed. They had one loss all season. But things went our way in this game. It was a hard-fought game by our guys. They earned it. I'm so proud of them."
The teams had met once before this season — a 3-0 Hilltop victory in the annual Grossmont Conference Holiday Cup on Dec. 18.
The Lancers won a high energy 2-1 overtime semifinal game against the neighborhood rival Chula Vista Spartans two days earlier, and Hilltop's players appeared emotionally drained when taking the pitch against the third-seeded Cougars.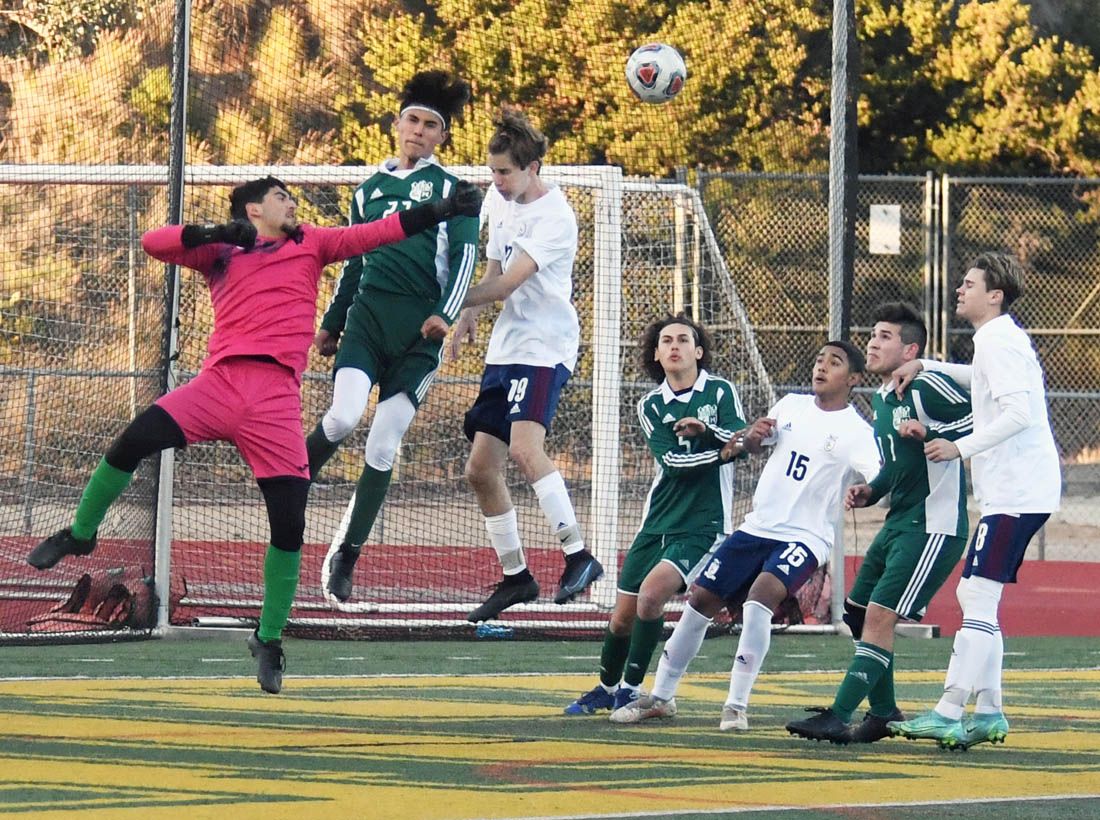 Steele Canyon was coming off a 2-0 upset win in the semifinals over second-seeded Santana. Motivation was strong as the Cougars had unfinished business to attend to after coming up short by a 1-0 score in last year's Division IV championship game.
"We were excited to be here," Johnson said. "It's the first back-to-back appearance in the finals for us. A lot of things have to go right to get to the championship game."
Now the Cougars are hoping for a championship repeat.
"It's been a good season," Johnson underscored. "The team really grew. We have 25 guys on the roster, and everyone has contributed. It's been one of the most together teams I've coached."
The boys of Steele finished 8-2 in Grossmont Valley League play behind Santana (10-0 in league). The Cougars had lost both league encounters to the Sultans (15-3-4 overall) but rose to the occasion when it counted most by dealing Santana a 2-0 defeat in the semifinals.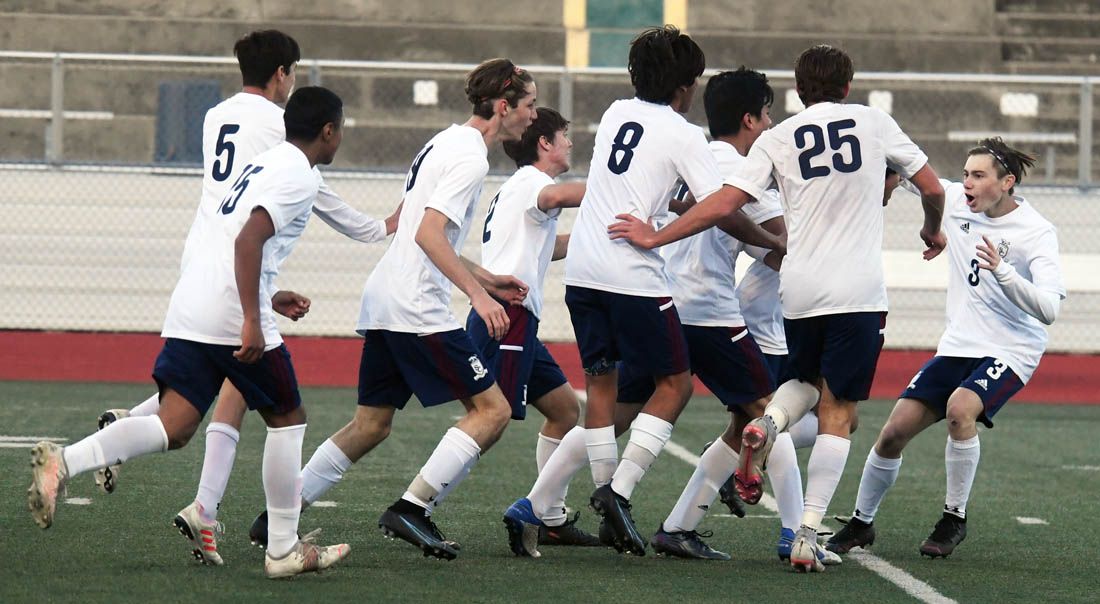 Goalkeeper Alex Shields scored on a penalty kick in the first half and top scorer Austin Moore added a goal from the field in the second half. The shutout was the 10th of the season for Shields, who also takes PKs for the team in scoring situations.
The Cougars (17-4) had more touches on the ball in the first half of play against Hilltop, though the Lancers seemed to have the better scoring opportunities.
Shields made two clutch saves to deny Hilltop during a fierce goalmouth scramble and successfully guarded the net on a screaming shot just wide by Lancer senior Isaac Rocha.
Steele Canyon took a 1-0 lead in the 37th minute on a deflected shot by midfielder Victor Carlos. Landon McDowell had taken a long throw-in that midfielder Kyle Medina had gotten a head on, but the ball was subsequently cleared out by the Lancer defense.
However, the ball wasn't cleared far enough out of danger. Carlos retrieved the ball and fired a volley that changed direction on Hilltop goalkeeper Pablo Torrez.
"I tried to put in on the right side, but it deflected," Carlos said.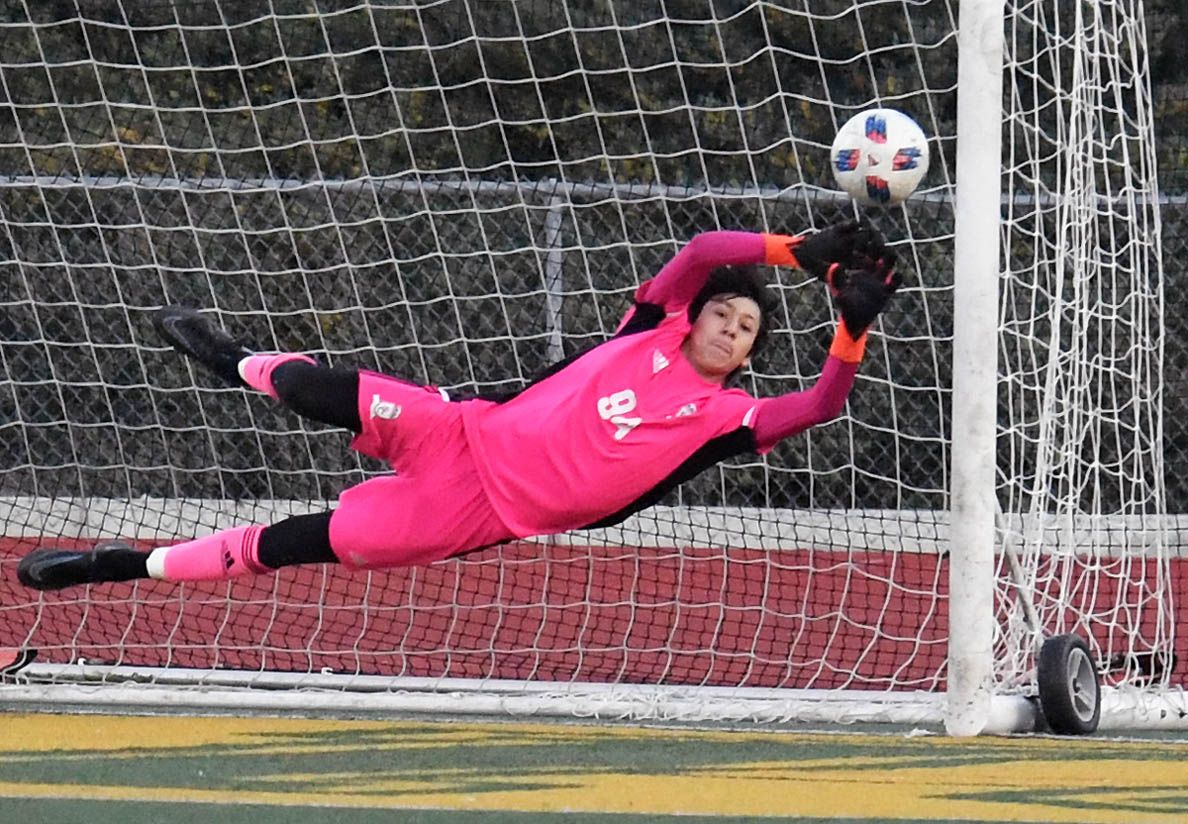 The game remained in the balance for the next 23 minutes until Moore scored the first of his two goals in the final. Both goals came while running onto long through passes along the left-attacking wing.
Moore, one of the largest targets on the pitch, made the score 2-0 in the 60th minute; he iced the game in the 64th minute to make the score 3-0.
Danny Medina received the assist on the 2-0 goal.
"Danny just kicked it and I just ran onto the ball and I found the back of the net," Moore said. "That goal (to make the score 2-0) really deflated them. We knew at that point that we were going to win the championship."
As for the 3-0 goal – Moore's team-leading 16th of the season?
"Icing on the cake," he said with a smile.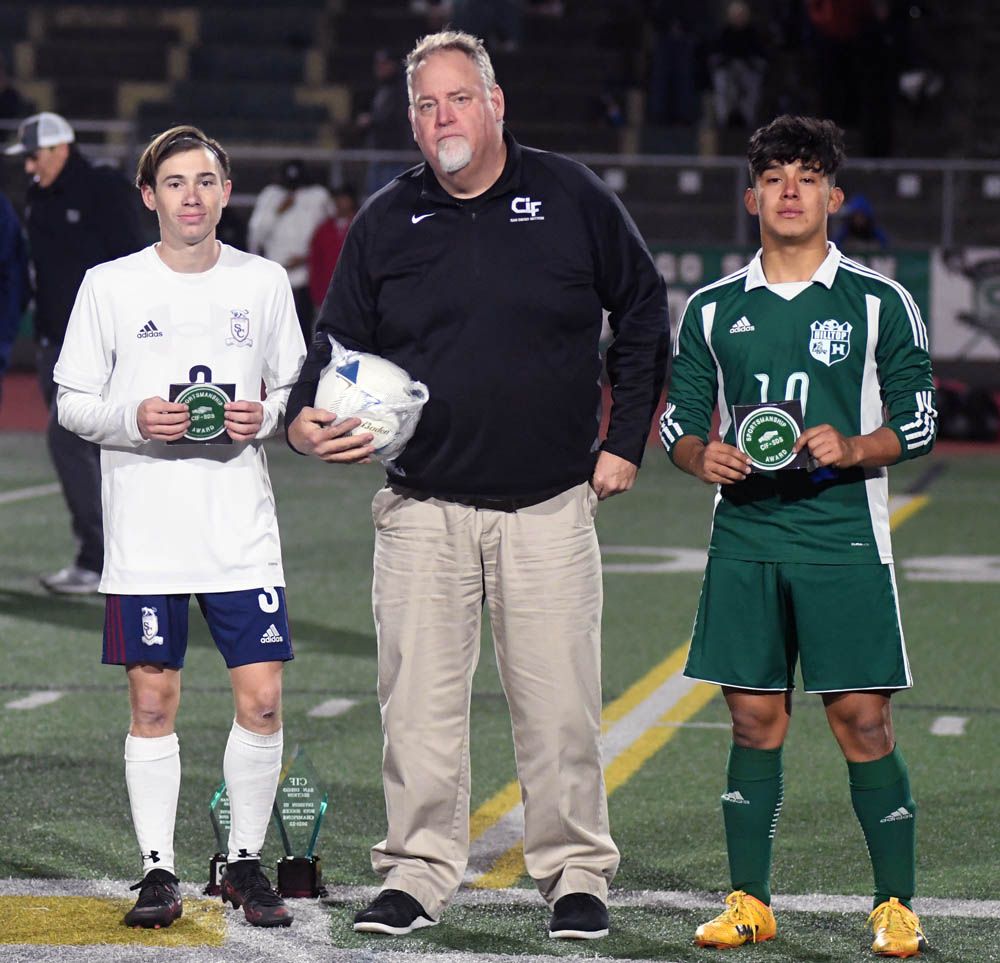 But the game was not exactly over yet. Danny Medina received a red card with 11 minutes remaining in regulation time, forcing the Cougars to play a man down.
But the Steele Canyon defense failed to bend in recording the team's seventh consecutive win and 11th shutout for Shields.
The Cougars' amazing season continued into Tuesday's Southern California Division IV quarterfinal game against visiting Quartz Hill (14-5-4). Steele Canyon received the No. 2 seed in the eight-team draw behind top-seeded Montclair (20-4-1).
San Diego Section Division IV champion Crawford (19-2-4) received the No. 3 seed for regionals.
The Cougars won, 2-1, to advance to Thursday's semifinal game against visiting Crawford, with the winner to advance to Saturday's regional championship game against either fifth-seeded Wiseburn-Da Vinci (17-8-5) or eighth-seeded King/Drew (15-10-1).
Should Steele Canyon defeat the Colts, the Cougars would host Saturday's final.
Hilltop, CVLCC put Chula Vista on girls prep soccer map
The Hilltop High School girls soccer team entered this year's San Diego Section Division IV championships as the No. 1 seed. At the other end of the bracket stood Chula Vista Learning Community Charter as the No. 2 seed.
The South Bay League champion Lady Lancers and the Frontier Summit League champion Lady Cobras tangled in last Friday's division championship game at Rancho Bernardo High School in a rare all-Chula Vista final. CVLCC (16-1-1) made the matchup even more interesting with Hilltop alumna Marissa Espino serving as the Lady Cobras' coach.
CVLCC, which defeated sixth-seeded Hoover by a 3-2 score in the preceding semifinals, won its first section championship in the sport with a 1-0 victory as Alexa Talamante scored the game's only goal in the second half.
The Lady Lancers finished an otherwise stellar season with an 18-3-1 record under coach Rene Ortiz.
Manchester City 10U and SD Loyals 12U to represent Area S at AYSO Western States
Two teams from AYSO Area 11S — 10U Manchester City and 12U San Diego Loyals — will compete in the Western States Championships on March 12 in Morgan Hill after winning Southern California Section 11 championships Feb. 12-13.
The Western States tournament includes qualifiers from Washington, Oregon, California, Arizona and Nevada.
Section 11 consists of 68 regions in Southern California. Never have two teams from Area S won the Southern California championship, according to team spokesman Albert Mendivil.
"Sending two teams to the state championships is an extraordinary accomplishment for our players, coaches and the South Bay area of San Diego," Mendivil said.
The 10U Manchester City roster includes coaches Martin Sanchez Jr. and Martin Sanchez Sr. along with players Christopher Sanchez, Aaron Escobedo, David Flores, Daniel Meade, Elijah Benitez, Ezekiel Mendivil, Gionannie Huitron Landin, Isaac Salido Gamino, Malakai Bright, Meranda Robbins and Omar Estrada.
The roster of the 12U SD Loyals includes coach Luis Alberto Dominguez along with players Javier Hernandez, Jacob Franco Marino, Martin Hernandez, Omar Munive, Santiago Rodriguez, Matthew Enriguez, Isaiah Montes-King, Emiliano Dominguez, Mark Covarrubias, Santiago Scott, Shelby Villegas and Alejandro Lizarraga.
Area 11S includes Region 116 (Bonita), Region 258 (Lemon Grove/Spring Valley), Region 290 (Chula Vista), Region 581 (Paradise Hills) and Region 712 (South Bay).
Loyal SC Home Opener
The San Diego Loyal SC will host the L.A. Galaxy II in its USL Championship home opener on Saturday, March 12, at 7 p.m. at the University of San Diego's Torero Stadium.
The Loyal is coming off a spirited 3-2 win over Club Tijuana Xolos in the teams' second "Clasico sin Fronteras" Feb. 19 in front of more than 4,500 fans at Torero Stadium.
Mater Dei Catholic High School alumnus Alejandro Guido scored once in the friendly. Tumi Moshobane and Grant Stoneman also netted goals for the Loyal.
Guido, who represented the United States at the 2011 FIFA U17 World Cup, joined the Loyal on a permanent basis after being released by MISL club Los Angeles FC in 2020.