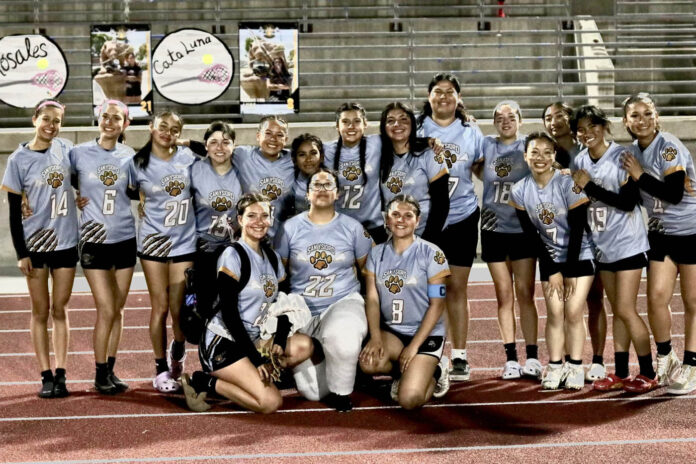 The San Ysidro High School girls lacrosse team is accomplishing amazing things this season with their 14-2-1 overall record and undefeated 5-0 mark in South Bay League play.
The Metro Conference lacrosse community is abuzz with their season, as well as Castle Park's 10-4 overall mark (5-1 in South Bay League play). The teams are scheduled to meet Monday at 6 p.m. at Castle Park High School in a potential match-up for this year's league championship.
There are four league games remaining on the Lady Cougars schedule, including Thursday's game at Montgomery High School.
San Ysidro also hosts Mar Vista next Wednesday and hosts Mira Mesa in a non-league game next Friday. The Lady Cougars host Southwest on May 1 and close out regular season play May 4 with a non-league game at Otay Ranch.
The section playoffs start May 9 for Division I teams, May 10 for Division II and Division III teams and May 11 the Open Division.
This will be the first year that four playoff champions will be crowned in girls lacrosse.
Local teams entered in the new Division III tier include Olympian, Hilltop, Bonita Vista, Mater Dei Catholic, Mar Vista, Castle Park, Otay Ranch, San Ysidro, Montgomery and Southwest.
Eastlake is the lone South County school in Division II.
Jam at the Park
San Ysidro tuned up for a multi-team event by winning laat Saturday's 10-team Jam at the Park.
The Lady Cougars finished undefeated in five games.
Participating teams in last weekend's tournament included Hilltop, Olympian, Otay Ranch, Eastlake, Mater Dei Catholic, San Ysidro, Montgomery, Santana, Valley Center and Castle Park.
San Ysidro finished with four wins and one tie to lead the group on the day. The Lady Cougars opened the event with a 6-4 win over Mater Dei Catholic and followed with a 4-4 tie against perennial Mesa League power Eastlake.
San Ysidro then wrapped up tourney play with a 5-4 win over Valley Center, a 5-3 win over Eastlake and a 4-2 win over Mater Dei Catholic.
The Lady Cougars showed they could compete with the two results against Eastlake, a team with bonafide name recognition over the years in the region.
Castle Park finished 2-1 in tourney play with wins over Santana (6-5) and Otay Ranch (11-4) and a 6-3 loss to Mater Dei Catholic.
Mater Dei Catholic finished 3-3 in the tournament with wins over Olympian (3-2), Otay Ranch (2-1) and Castle Park and losses to Olympian (9-5) and the pair to San Ysidro.
Otay Ranch defeated Montgomery (3-0) besides the setbacks to Castle Park and Mater Dei Catholic.
Montgomery defeated Hilltop by forfeit and lost to Santana (10-0).
The Lady Cougars have been racking up big numbers on the pitch this season.
Senior Genesis Cota Luna paced San Ysidro with 78 points (69 goals, nine assists) in 13 games to start the season while junior Izabella Soderberg had recorded 31 points (23 goals, eight assists) in just nine games.
Cota Luna, who ranks among the section's top scorers, will continue her lacrosse career at Whittier College.
LaxNumbers
Girls Lacrosse Rankings
Metro Conference
Eastlake 9-6-1
San Ysidro 14-2-1
Olympian 8-7-0
Mater Dei Catholic 10-8-0
Castle Park 10-4-0
Bonita Vista 1-8-0
Mar Vista 4-6-0
Montgomery 7-6-0
Hilltop 3-8-0
Otay Ranch 4-7-0
Southwest 0-6
South Bay League Standings: San Ysidro 5-0, Castle Park 5-1, Montgomery 4-4, Mar Vista 1-2, Southwest 0-3
Lady Cougars accomplishing what some spend a lifetime chasing
The San Ysidro High School girls lacrosse team entered the week poised to make history with the school's first league championship in the sport in sight.
The Lady Cougars took a big step in that direction after defeating host Castle Park, 11-3, in Monday's highly anticipated South Bay League showdown. The win, which extended the team's lengthy unbeaten streak to 13 games (12-0-1) – pushed San Ysidro's league record to 7-0 while Castle Park dropped to 6-2 in league play.
That left the Lady Cougars with four regular season games remaining on their schedule, including three in league play: Wednesday against visiting Mar Vista, Monday (May 1) against visiting Southwest and May 4 at Otay Ranch.
South Bay League teams are playing 10 league games this season in advance of qualifying for the San Diego Section playoffs. San Ysidro will host visiting Mira Mesa in a key non-league matchup on Friday.
The Lady Cougars made their history-making banner official with Wednesday's 12-2 victory against the Lady Mariners (5-7 overall, 3-3 in league).
San Ysidro improved to 8-0 in league play, 17-2-1 overall, in extending their unbeaten streak to 14 games (13-0-1).
Besides a matchup of the league's front-running teams, Monday's game also served as the Sweetwater Union High School District Spring Sports Community Appreciation Night.
"Both squads played at a high level and much respect to San Ysidro on a great win," Castle Park head coach Chris Kryjewski said with true sportsmanship.
"We appreciate all of the district administrators who came out with the city of Chula Vista community members of the Chula Vista Police Department, Chula Vista Fire Department, EMTs and Chula Vista Mayor John McCann taking the first pitch on the evening. Mayor McCann gave our program a certificate of recognition."
San Ysidro led 6-1 at halftime in Monday's climactic encounter.
Genesis Cota Luna spearheaded the Lady Cougars offense with three goals and two assists while Izabella Soderberg contributed three goals and one assist.
Francine Garcia scored three goals while Fatima Rosales and Paullette Melendez each scored one goal. Livier Enriquez collected two assists.
Freshman goalkeeper Mia Gonzalez had multiple stops with a 75-percent save-percentage.
"Mia has been a beast between the pipes," SYHS head coach Adrian Rodriguez said. "She is the backbone of this team. Our team set goals and standards for each other at the beginning of the season. We are currently accomplishing those goals: winning league, make it to playoffs and to win the CIF finals.
"This team is special, they are a very close team. Parents are involved, I would say it has developed into a family. Our program has only been together for five years — two years not being able to play because of the pandemic. What this year's team has accomplished, people spend a lifetime chasing a championship in such a short period time.
"The girls have been working extremely hard every day; they work together and hold each other accountable when one slacks off."
Castle Park received two goals and two assists from freshman Lana Roche and a goal and assist from junior Princess Tacia. Sophomore Victoria Trujillo led the Lady Trojans defensively with four ground balls while making 14 saves on 25 shots.
Cota Luna rifled in seven goals in Wednesday's league-title clincher while Soderberg had three goals. Amaya Moreno chipped in with one goal and one assist while Garcia had one goal. Fatima Rosales had two assists.
"Mia Gonzalez was on fire, allowing only two goals," Rodriguez said. "The defense was just a wall. Savannah Duenas was amazing with ground balls today and leading the defense. We are excited winning our program's first-ever girls lacrosse banner. We are taking it one game at a time and getting ready for the playoffs. One-percent every day is our motto."
San Ysidro defeated host Montgomery, 10-4, on April 20. Senior Rayleen Moreno paced the Lady Aztecs with four goals.
Castle Park isn't finished making a dent in the league standings with three games, including two league contests, remaining on its regular season schedule: Thursday against visiting Otay Ranch, Tuesday (May 2) against visiting Mar Vista and May 4 at Bonita Vista (cross-over).
Kryjewski said he expects his team to bounce back and finish strong to gear up for the new Division III playoffs.
"If we win out, we would be in second place this season," the CPHS coach said. "This would be the second time we finished in second place for league (2019 and 2023)."
Castle Park dropped an 11-1 cross-league matchup to Eastlake last Saturday. Sophomore Xicali Ramirez scored the lone goal for the Lady Trojans.
Eastlake improved to 11-6-1 overall with the victory to remain as the conference's top-ranked team. The Lady Titans previously defeated Bonita Vista, 18-1, on April 20 to go 5-0 in league play.
In other Mesa League games, Eastlake defeated Bonita Vista (16-0 on March 27), Olympian (14-2 on April 3), Mater Dei Catholic (19-10 on April 10) and Hilltop (18-5 on April 10).
Mesa League teams will play eight league games in advance of the playoffs.
Metro Conference
Girls Lacrosse Standings
Mesa League
Eastlake 5-0, 11-6-1
Olympian 4-2, 11-7
Mater Dei Catholic 4-2, 10-9
Hilltop 1-4, 4-9
Bonita Vista 0-6, 1-10
South Bay League
San Ysidro 8-0, 17-2-1
Castle Park 6-2, 11-6
Mar Vista 3-3, 5-7
Montgomery 4-6, 8-8
Otay Ranch 2-6, 4-7
Southwest 0-7, 0-8