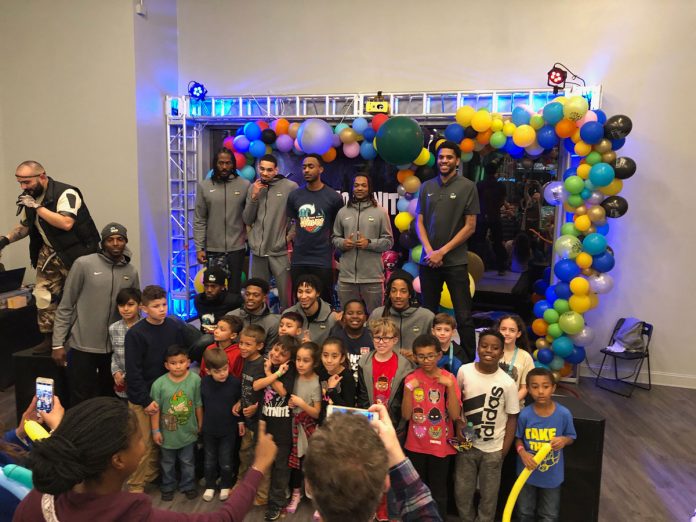 Chula Vista's 6-month-old My Ninja Factory, an indoor ninja warrior-themed playground, capitalized on the extremely popular free online video game Fortnite to host a sold-out event on Feb. 15, geared around the dances and characters associated with it.
The event, according to My Ninja Factory's marketing director Alita Fernandez, drew more than 1,000 attendees, and witnessed Fortnite characters lead dances, offered prizes for competitions such as dance and hula hoop competitions, Poing Infantiles provided a master of ceremonies, and saw appearances by the San Diego Wave basketball players.
"We decided to go on with our special events because that is what brings the community together," said Fernandez. Brothers Steven, Arthur and Kevin Fonseca own the business and, according to Fernandez, plan on franchising the brand.
"My favorite dances are orange justice, floss and ride the pony. I do them at school dances," said River Contreras, 8, a third grader at Chula Vista's Calvary Christian Academy.
"I'm level 60, my highest kill is 23.
"I started playing last year. My friend told me about it," said River.
"Today he read his Bible for 60 minutes and then he got to play Fortnite for 120 minutes," said River's mom, Natalie Contreras. "It's very controversial for some parents. It's all they want to do but they have to earn minutes and we limit playtime."
"Most of what he spends is a gift card (V-Bucks) he earns by doing chores," said Natalie Contreras." His best gift at Christmas was a Fortnite V-Bucks from his grandpa."
Correction: A previous version of headline incorrectly spelled Fortnite. The Star-News regrets the error.