The Southwestern College football team lived by two things this season according to head coach Ed Carberry: the ability of a strong kicking game to pin opponents deep in their own end and a rock solid defense.
Both came into play in the outcome of last Saturday's community college Beach Bowl hosted by Southwestern against San Diego County rival Palomar College.
The Jaguars bolted to a 28-7 halftime lead and then relied on their defense for a final stop to secure a 28-24 win over the Comets.
Southwestern finished the 2018 season with a final 8-3 record while Palomar finished 6-5.
There was little, however, at the end of the game that separated the teams.
"The first half of the game the kicking game set up all the scores," Carberry explained. "We had guys getting down field making plays. The guys were energized.
"On one punt, our kicker (Jaime Medina) punted the ball so high that their guy couldn't even catch it."
Southwestern scored the game's opening touchdown on a 28-yard pass from Demonte Morris to Andre Randolph. But Palomar drew even at 7-7 when quarterback Connor Curry connected with Mikel Barkley on a 14-yard scoring pass.
Three unanswered touchdowns by the host put them in front by 21 points at the halftime break.
Morris scored on a two-yard run with 6:38 left in the second quarter. DeAngelo Howard scored on a 27-yard touchdown pass from Marcus Hernandez-Torrez with 2:51 left in the first half.
The Jaguars upped their lead to 28-7 when Terrell Johnson scored on a one-yard run 38 seconds before halftime.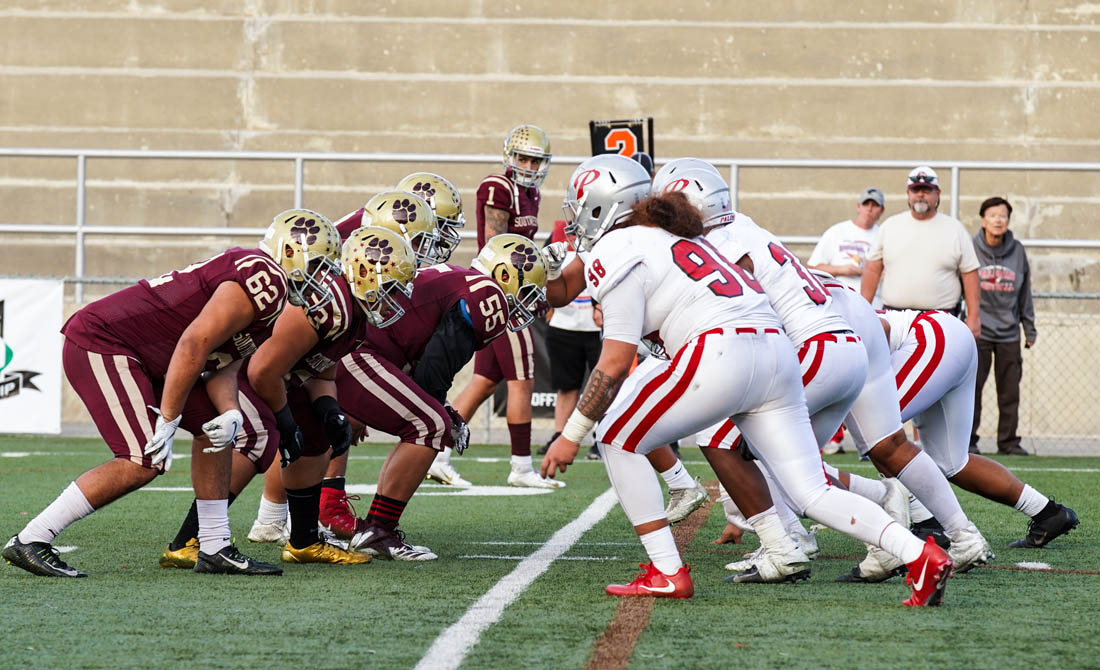 The second half of the game was altogether another story.
The third quarter opened on an ominous note when Morris threw a point-blank interception. The ball was returned to the five-yard line and, after being held there, the Comets settled on a 22-yard field goal by Mark Meader to trim the SWC lead to 28-10.
The Jaguars still led by 18 points, so there didn't appear to be too much concern at that point. But when the Comets made the score 28-17 on a 30-yard fumble return by Logan Gamble with 2:24 to play in the third quarter, things started to get a little tight.
They became too tight when Barkley (three catches, 51 yards) reeled in a nine-yard scoring pass from Curry to pull the visitors to within four points on the scoreboard with 11:36 left in the game.
Palomar, which out-gained the hosts 388 to 308 in total offensive yards and held nearly a nine-minute advantage in time of possession, ran wild on what proved to be its final drive of the game, progressively ripping off big running plays to position the ball at the SWC 20-yard line with two minutes left in the game.
But the Comets were unable to move the ball forward on four downs. On first and 10, Curry's pass was tipped away by Jaguar defensive back Angelo Trujillo in the end zone. Two more passes were incomplete, including one caught just out of the end zone.
Facing fourth and 10, Curry (255 passing yards with two touchdowns and two interceptions) rolled to his right and then tried to scamper for the first down. But he was stopped five yards short of the marker by a pair of SWC defenders.
With Palomar having used all of its time outs, the Jaguars were able to run out the clock in victory formation.
"The second half was hard fought," Carberry said. "There was a lot more intensity, a lot more mistakes and maybe over-officiated.
"We lost the equivalent of a complete line of scrimmage due to injuries. That's how bad things were getting. But defense was a strong point for us all season, and that was the difference today."
The Jaguar defense recorded two sacks, five tackles for a loss, two interceptions (one each by Isaac Wright and Jadarius Horton) and one fumble recovery (by Randolph).
Wright returned his pick 22 yards. Andrew Schasa, Quentin Walker and Alexis Quinones were involved in the two sacks.
Logan Darby, who led Southwestern with 11 tackles in the contest, received the game's MVP award."Everyone left it out there, my teammates, my brothers, and I tried to leave it out there myself," said Darby, a graduate of Bentonville High School in Bentonville, Ark.
"It was my last JC game. I didn't want to have any regrets."The second half they made some plays. We had to play defense, which is what we do best. We rose to the occasion."
The bowl game victory is the fifth in seven appearances for Carberry and his coaching staff while at Southwestern. He has also appeared in one bowl game while coaching at Mount San Jacinto College.
"This isn't by accident," Carberry noted of the Jags' frequent postseason games. "We have to be doing something right."
Extra points
Hernandez-Torrez completed 17 of 19 passing attempts for 149 yards with one touchdown while Morris completed six of 10 attempts for 66 yards with one touchdown and one interception.
Deandre Daniels, who ended the game on the sideline due to an injury, led SWC's rushing attack with eight carries for 71 yards. Howard had four catches for 64 yards while Randolph had six catches for 62 yards. Sean Davie had five catches for 57 yards.
Lamar Raboteau led Palomar with 12 carries for 65 rushing yards while tight end William Gonzalez had five catches for 77 yards.
Photo Gallery by Jon Bigornia