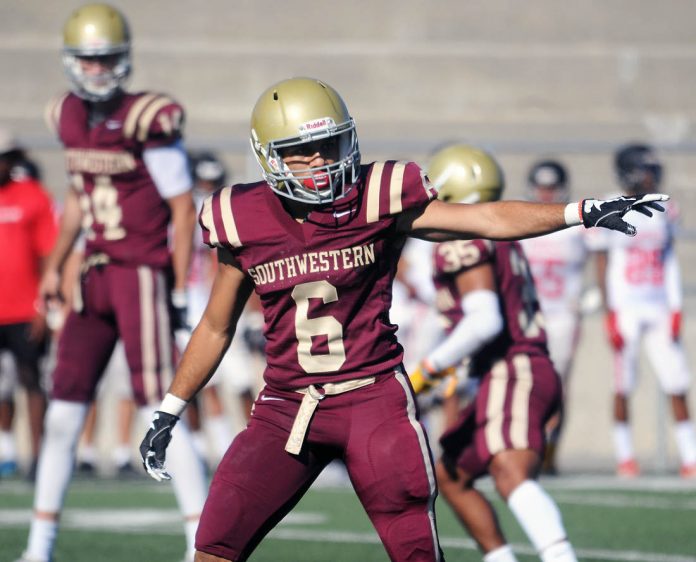 It wasn't the result expected but the Southwestern College football team will move forward with this Saturday's home game at DeVore Stadium against San Diego County rival Palomar College after dropping last Saturday's season opener, 14-4, at regional rival San Diego Mesa College.
Southwestern College enters Saturday's home opener with a 0-1 record while Palomar is 1-0 after coming off a 30-19 non-conference victory against Moorpark.
Kickoff is 6 p.m.
SWC head coach Ed Carberry attributed last Saturday's loss to "poor execution in two of the three phases of the game."
"The special teams were not very special," he said bluntly. "Snapping and punting were not where we had practice. We missed target areas in the kickoff and punt area.
"The opening series set the tone of the day with a punt returner touching a ball on the ground and allowing Mesa to recover."
There were other areas that Carberry said the team will need to focus on to be more successful.
"On defense we played great open field defense but also had three offsides penalties, a roughing the punter penalty and targeting penalty that extended Mesa drives," he said.
The Olympians scored touchdowns in the first and fourth quarters. Both SWC scores in the game came on two-point safeties — one each in the first and third quarters.
Mesa led, 7-2, at halftime following a scoreless second quarter.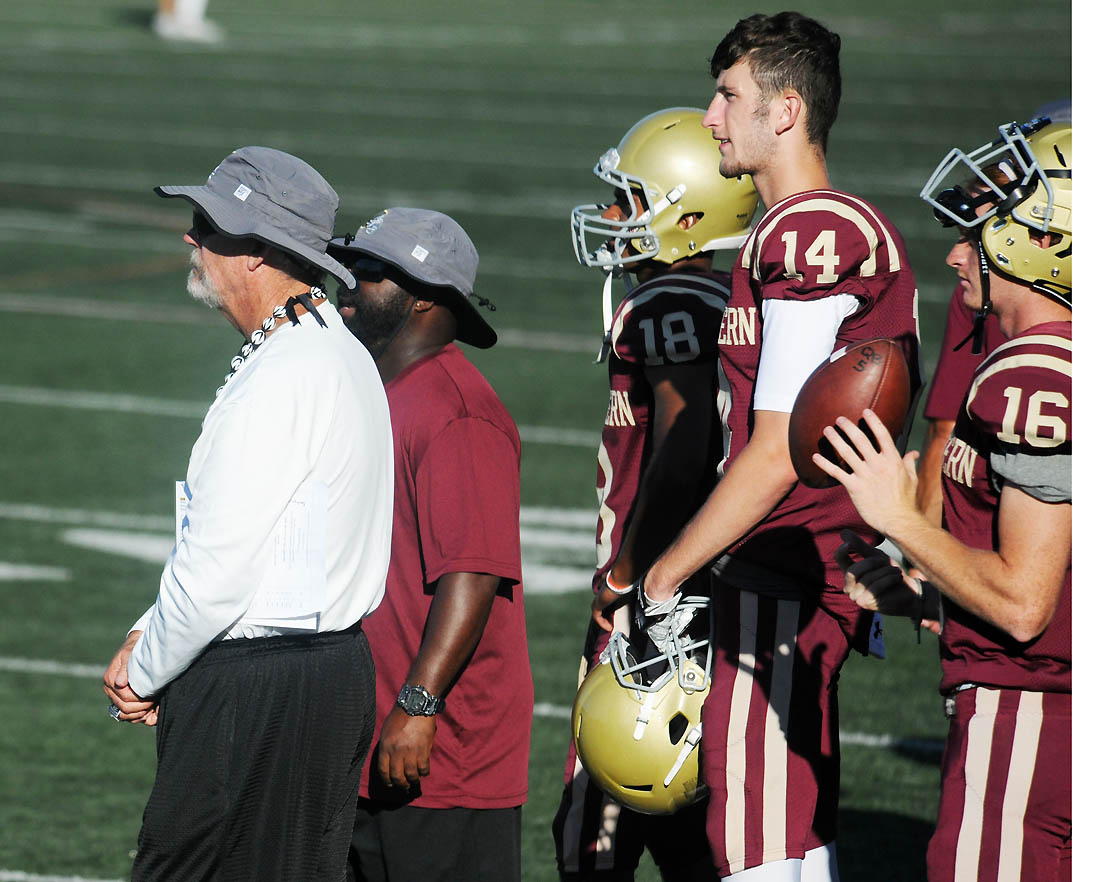 The Olympians won the statistic battle as well as the battle on the scoreboard with 21 first downs and 267 yards in total offense to 16 first downs and 203 yards in total offense for the Jaguars.
Southwestern converted on just three of 16 third-down plays (19 percent) while Mesa converted on six of 15 (40 percent).
The Jags used three quarterbacks in the game. Joshua Owen completed seven of 20 attempts for 88 yards and one interception while Cary Enos completed three of nine attempts for six yards and one interception. Brad Jeremiah completed two of four attempts for negative one yard.
Kevlan Chapman (14 carries, 46 yards) and Denadre Daniels (nine carries. 46 yards) led the SWC rushing attack that produced 110 yards.
Tyler Saikkon had five catches for 34 yards to lead the team in the receiving department while Terry Wright had four catches for 32 yards. Kameron Tiumalu had one catch for 30 yards.
Deangelo Howard averaged 29.3 yards on three kickoff returns.
Besides the two interceptions, Southwestern also lost one fumble and suffered two quarterback sacks and eight tackles for a loss.
Josh McCurty paced the SWC defense with nine tackles — a figure matched by Mesa's Isaiah Sayles.
Thomas Yam completed 10 of 27 passing attempts for 110 yards with one touchdown and one interception. Yam also scored a rushing touchdown.
Isaiah Tate was Mesa's top rusher with 69 yards on 20 carries while Antwoine Ware caught four passes for 61 yards.
Dom McManus had four catches for 39 yards, including one touchdown reception.
Both teams missed one field goal attempt.
Former SWC quarterback Thomas Fishburne handled the kicking duties for Mesa, converting on both extra-point attempts and averaging 35.8 yards on four punts, landing three inside the SWC 20-yard line.
For the visitors, Ceasar Macias averaged 34.8 yards on four punts while Justin McElligot averaged 29.8 yards on four punts.
SWC recorded one sack by Sekeli Manu and one interception by Isaac Wright on defense.
Isaiah Mitchell and Hunter Allen both had picks for Mesa. Allen recorded 34 yards on his return.
Rodney Thompson passed for 235 yards with two touchdowns and three interceptions in last week's win for Palomar. He also rushed six times for 43 yards as the team's leading ground-gainer.
Kyran Griffin had seven catches for 119 yards with one TD while Johnny Armentrout had eight catches for 88 yards and one score.
The Comets scored two rushing touchdowns in the game to go with one field goal.
Palomar recorded two interceptions and two fumble recoveries on defense.
The Jags defeated the Comets, 28-24, in last year's Beach Bowl postseason contest.
"Palomar looks tough and should be ready to come and get us with the Jags winning the last few meetings," Carberry said. "They have excellent speed on defense and a quarterback who is mobile. Their staff will remember even if the kids don't …"
Go Aztecs
Castle Paerk alumnus Luq Barcoo recorded five tackles, including four unassisted stops, and two tackles for a loss in San Diego State's 23-14 upset win at UCLA last Saturday.
The game featured three former Metro Conference players. Barcoo started at cornerback while William Dunkle (Eastlake) started at right guard. Dominic Gudino (Olympian) saw his first game action this season on the offensive line.
The Aztecs (2-0) led 10-7 at halftime on a two-yard scoring run by Chase Jasmin and a 43-yard field goal by Matt Arziza. SDSU upped its lead to 17-7 when quarterback Ryan Agnew connected with Kobe Smith on a 34-yard touchdown pass.
The Bruins (0-2) narrowed the score to 17-14 midway through the third quarter but Araiza tacked on field goals of 31 and 25 yards to close out the SDSU win — the program's first over UCLA.
The Aztecs out-gained the Bruins 373-261 in total offensive yards. Agnew completed 23 of 31 attempts for 293 yards with one touchdown while Juwan Washington rushed 20 times for 41 net yards. Smith had seven catches for 131 yards.
Barcoo has logged seven tackles in two games this season after recording two stops in SDSU's narrow 6-0 season opening victory against Weber State. Araiza supplied the margin of victory on a pair of field goals.
The Aztecs play this Saturday at New Mexico State (0-2).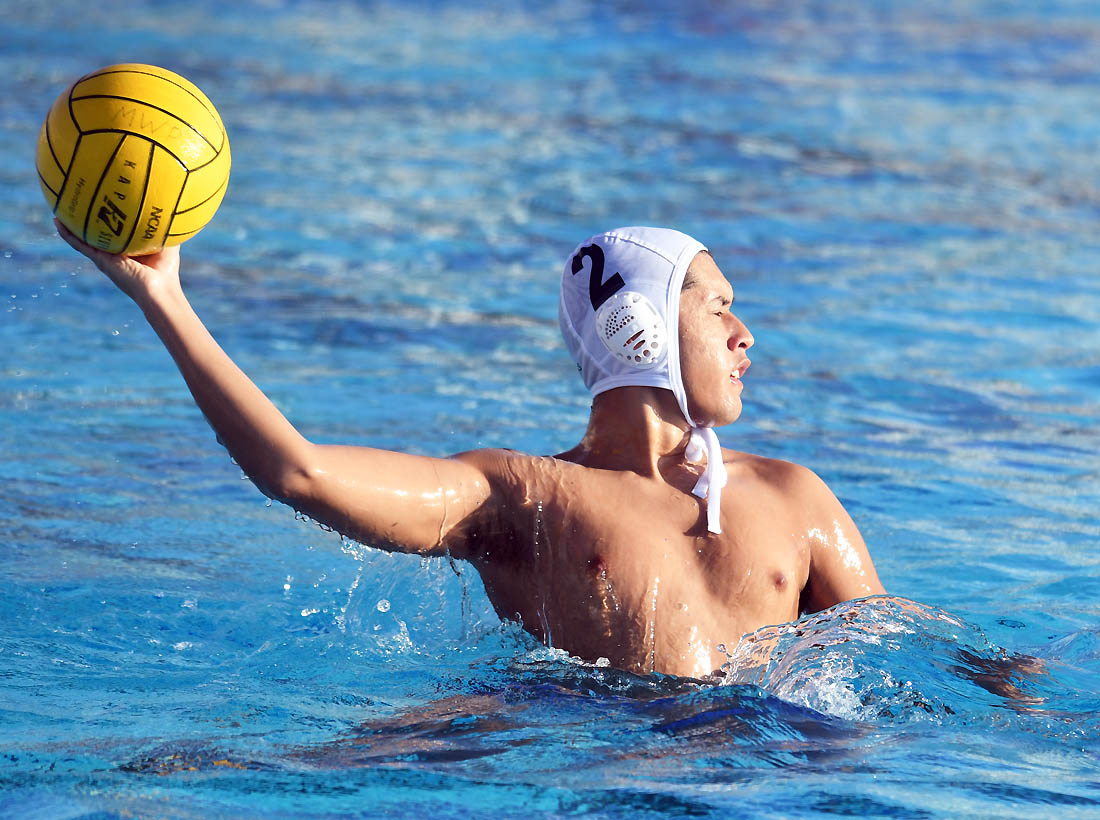 College water polo:::
Southwestern to hold alumni games this Saturday
Southwestern College's men's and women's water polo teams will hit the campus pool Saturday morning by hosting their annual alumni games.
The men's game starts at 10 a.m., followed by the women's game at 11:15 a.m.
SWC men's program enters a new era under incoming head coach Jorge Perez, formerly with the Mexican national team program and Grossmont College.
The men's team also enters the season with a completely new lineup.
"It's a totally new group from last year," Perez said. "We don't have any returners from last year. We have new players and are hoping to do well. We'd like to do well in our conference, win it, we'll see how the season goes."
Top recruits include Mar Vista's Jeremy Longworth and Bryce Heber, both freshmen drives and top high school standouts on last year's Mesa League co-championship team for the Mariners.
Players are drawn from Mater Dei Catholic, Castle Park, Eastlake, Hilltop, Otay Ranch, Bonita Vista, Mar Vista, Southwest and La Jolla high schools.
Perez played two years at Grossmont College from 2013-14 before jumping into coaching. He was an assistant coach at L.A. Valley College from 2015-17, winning conference championships in all three seasons there.
He served as the head coach at Ventura College last year being accepting the assignment at Southwestern this year.
He has been involved with water polo in some capacity for 20 years, highlighted by a four-year stint with the Mexican national junior team before progressing to a 10-year stint with the Mexican senior national team.
He has played in two Pan American Games, three Central American Games, one Junior Pan American Games and one world championship tournament.
He's hoping to impart some of that knowledge to his current group.
"It's going to be our first game of the season," Perez noted in regard to Saturday's alumni game. "We want to apply what we've learned over the summer and the last three weeks (of preseason practices). It's great to have the alumni coming back, they have history with the program."
The SWC women feature three returners: goalie Odette Ortega (Eastlake), Jazmin Glaman (Eastlake) and Nikki Torres (Hilltop).
The team's 2019 roster is comprised of athletes from Eastlake, Hilltop, Mar Vista and Bonita Vista high schools.