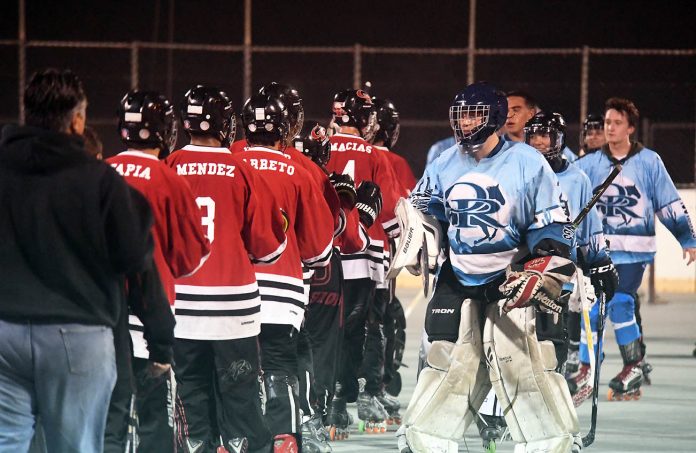 The CIF-Metro Conference's South County-based teams held rain make-up games the week of Dec. 18-21 at the Castle Park High School outdoor rink to coast into the winter break.
Both the Hilltop Lancers and Sweetwater Red Devils had the opportunity to be especially optimistic after opening league play with undefeated records. However, all 10 of the Sweetwater Union High School District-sponsored teams had reason to be optimistic about the second half of the season.
"It's another exciting roller hockey season in 2018-19," Southwest coach Jerry Nestlerode summed up. "It's great to see the kids having fun and playing hockey again."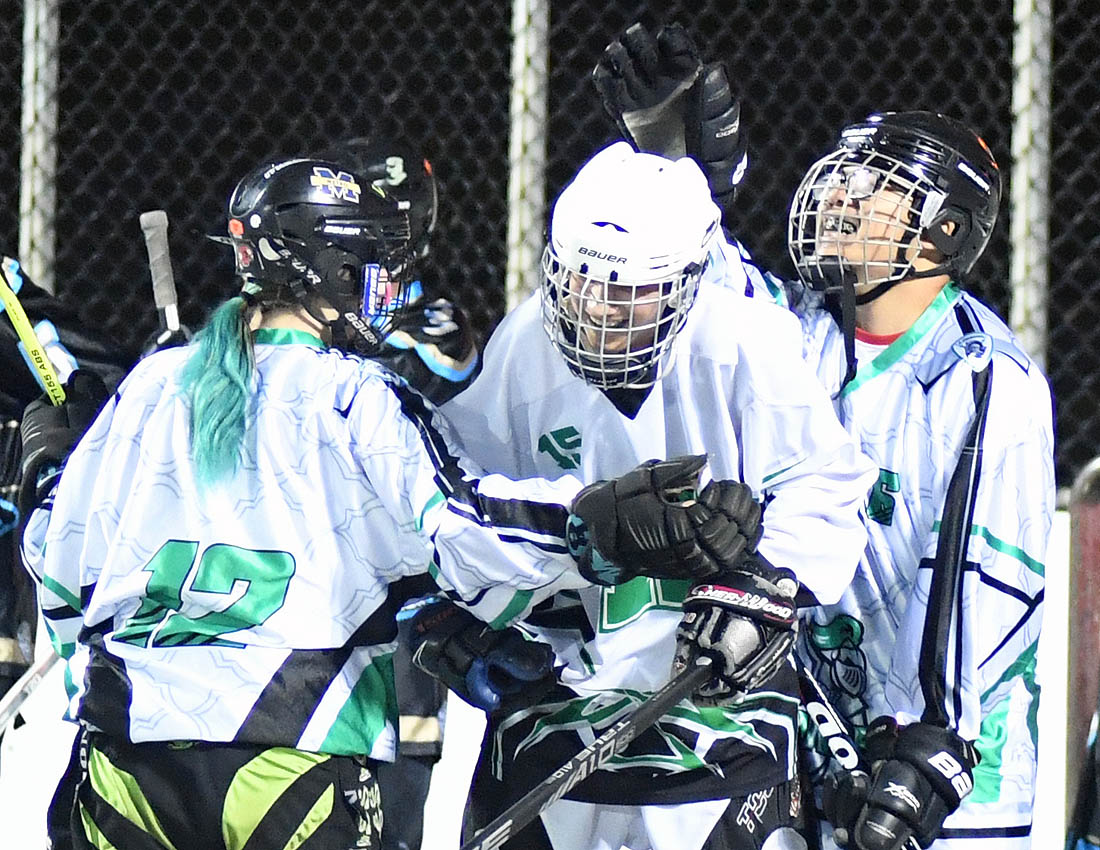 Green machine
The Hilltop Lancers swept both of their games to roll into the break with a 6-0 record — tops among Sweetwater district teams. Hilltop defeated the Otay Ranch Mustangs, 12-7, on Dec. 18 and skated past the Bonita Vista Barons, 10-3, on Dec. 20.
Hilltop's Trevor Fune (eight goals) and Otay Ranch's Sean Devaney (seven goals) dueled it out for top scorer in the Dec. 18 game.
Fune reeled off the first eight goals for the Lancers before turning over scoring duties to teammate Kristin Lambertson (two goals, three assists). Devaney scored all seven goals for the Mustangs in the loss.
Hilltop led, 7-3, before finishing with the five-goal victory.
Isaiah Macias scored a hat trick while Fune collected three goals and two assists as the Lancers remained undefeated in Mesa League play after downing the Barons two days later. Lambertson had two goals and one assist for Hilltop.
Nick Stark led Bonita Vista with two goals.
The Lancers have defeated Eastlake, Castle Park and Otay Ranch in Mesa League play for a league-best 4-0 start, and have tacked on non-league wins against Sweetwater and San Ysidro. However, Hilltop coach Paul Tesner isn't making any predictions on how the Mesa League championship race will finish.
"We have a lot more games coming up against tough opponents," Tesner said. "It's like a pitcher with a non-hitter. I'm proud of what the team has done to get us to this point but we have tough games ahead of us."
The Lancers defeated each of their league opponents once in first round play. However, many teams have started to make rapid improvement since the season started and it will be interesting to see how each game unfolds in second-round play.
Hilltop returns to the rink for a Jan. 9 game against Otay Ranch.
"We be practicing over winter break to figure out how we can beat teams like Eastlake, Otay Ranch and Castle Park," Tesner noted.
In a game on Dec. 18:
Eastlake 16, Bonita Vista 1
Braden Mayer tacked on nine points (four goals, five assists) to help the Titans even their Mesa League record at 2-2 to conclude first-round play.
In games on Dec. 19:
Chula Vista 9, Southwest 2
Lucio Gutierrez collected five points on three goals and two assists while Spartan teammate Adrian Ontiveros had five points on four goals and one assist.
Mar Vista 4, San Ysidro 1
Isaac Suarez picked up a goal and assist as the Mariners remained in second place in the South Bay League standings.
In games on Dec. 20:
Castle Park 8, Otay Ranch 7
Martin Mari scored five goals and tacked on two assists to lead the Trojans past the Mustangs. Jared Fuentes opened scoring for Castle Park, though the Trojans found themselves trailing 6-1 on the scoreboard.
Bryan Mendez scored Castle Park's second goal, and Mari then ripped off three consecutive goals as the Trojans began to rally from a 7-3 deficit on the scoreboard.
Castle Park completed its comeback with three goals in the final period — the first two scored by Mari and the final goal that proved to be the game-winner scored by Jovan Macias.
Macias finished the game with a goal and assist. Brianna Mireles also was credited with one assist.
Sean Devaney racked up six goals and one assist in the loss for Otay Ranch.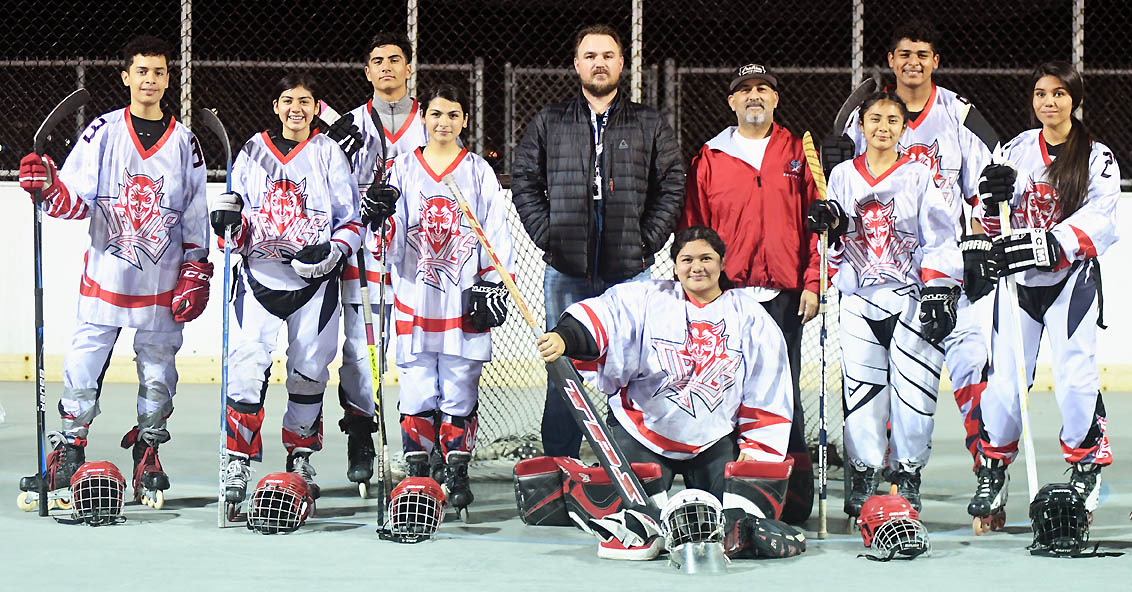 The two games on Dec. 21 wrapped up the 2018 calendar portion of the 2018-19 season for Metro Conference teams:
Sweetwater 6, Southwest 2
The Red Devils started slow but steadily built momentum to remain undefeated in South Bay League play at 4-0. Sweetwater's offense seemed to be off-track for much of the evening and part of that was due to a strong defensive effort by the Raiders.
Southwest's Gabby Sanchez scored the first goal of the game. Jose Lopez tied the game for the Devils and teammate Cesar Salazar tacked on a goal, assisted by Lopez, to lift Sweetwater to a 2-1 lead.
But Katie George, assisted by Max Arias, who seems to improve every game, drew the teams into a 2-2 tie to the end the first period with an equalizing goal.
Sweetwater played the first four minutes of the second period with an empty net but was unable to score.
Salazar did scored on a breakaway before the period expired to push the Devils in front 3-2. They would not relinquish the lead the rest of the game, though Southwest kept at their heels.
The Raiders, in fact, opened the third period on a power play but Salazar scored a shorthanded goal to place his team in front 4-2. Lopez added two goals, including one on a power play, to make the final score 6-2.
Lopez finished the game with three goals and one assist while Salazar had a hat trick.
Chula Vista 6, San Ysidro 1
Ontiveros led the Spartans with four goals while Gutierrez added three goals and one assist.
Chula Vista led 5-1 after two periods. Chris Garcia scored the lone goal for San Ysidro.
Photo Gallery by Phillip Brents
Castle Park 8, Otay Ranch 7

Dec. 20, 2018 at Castle Park High School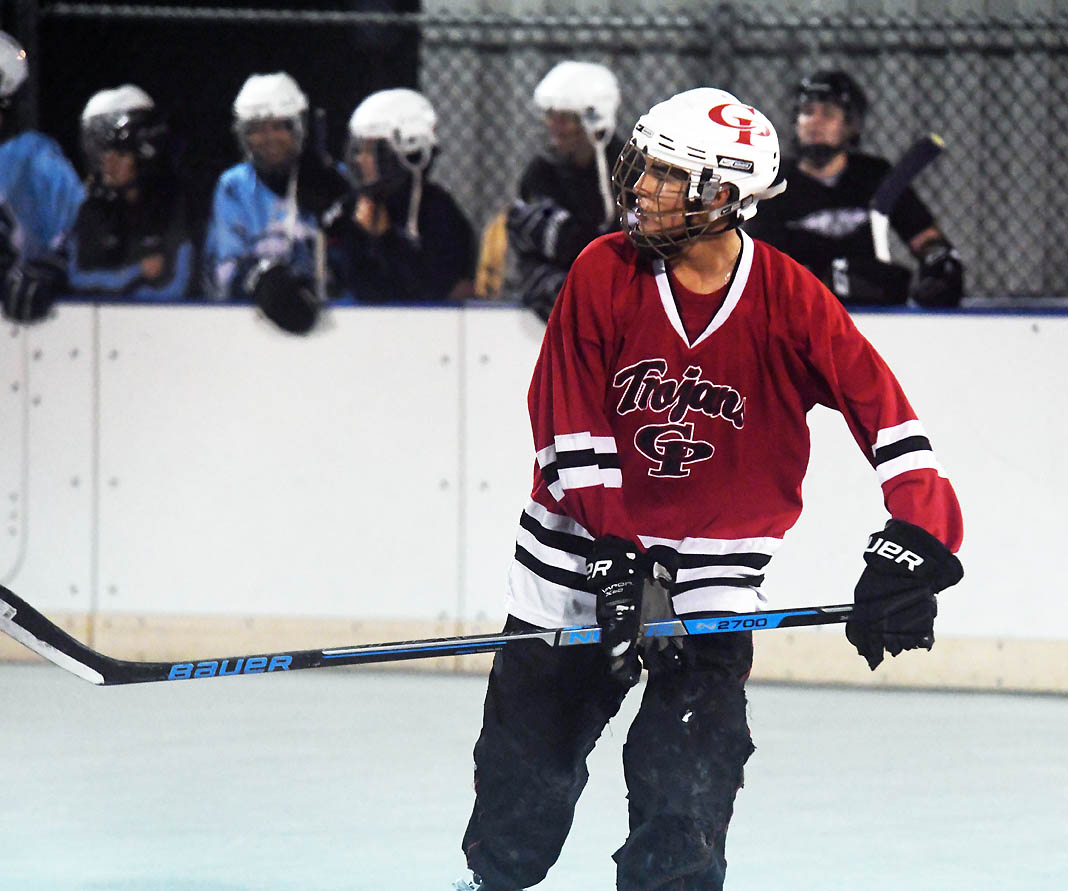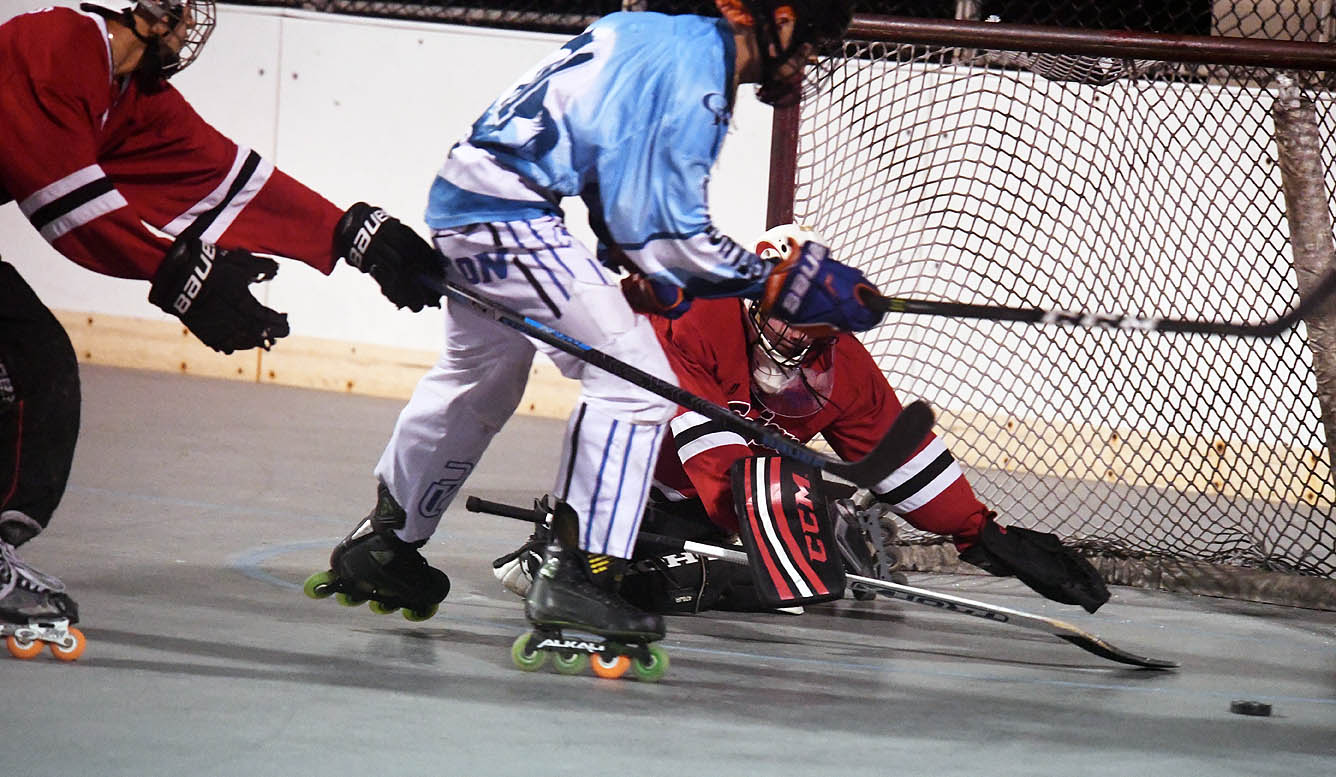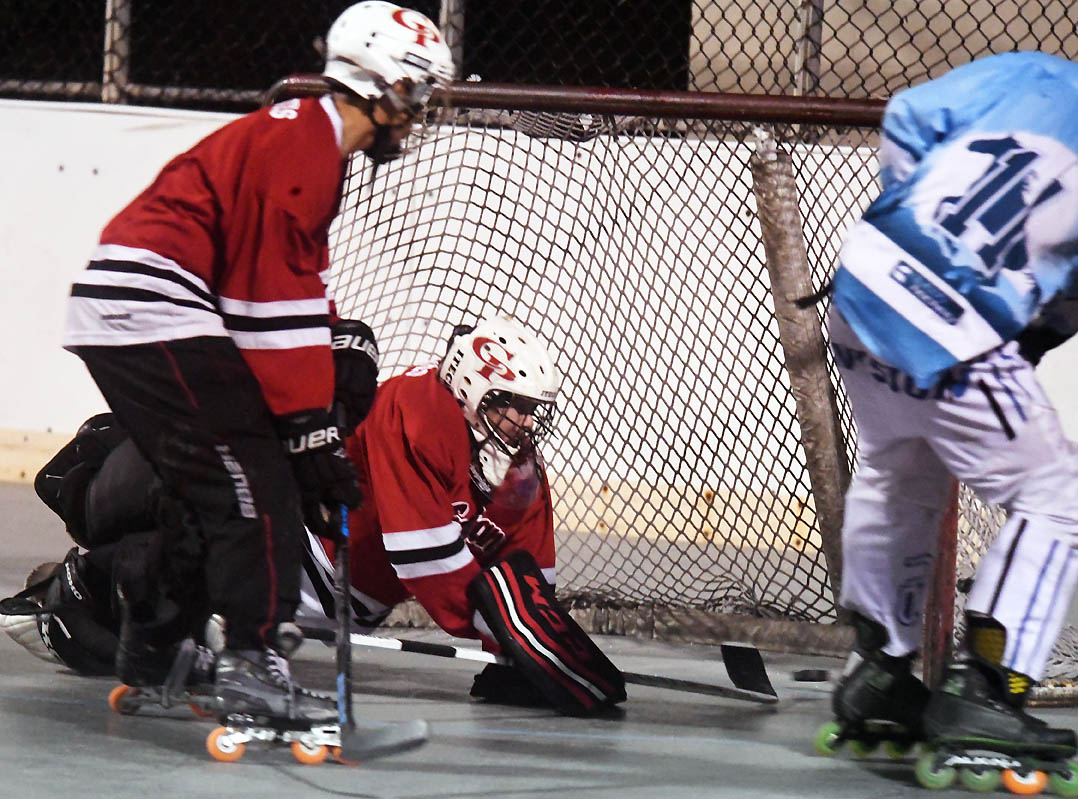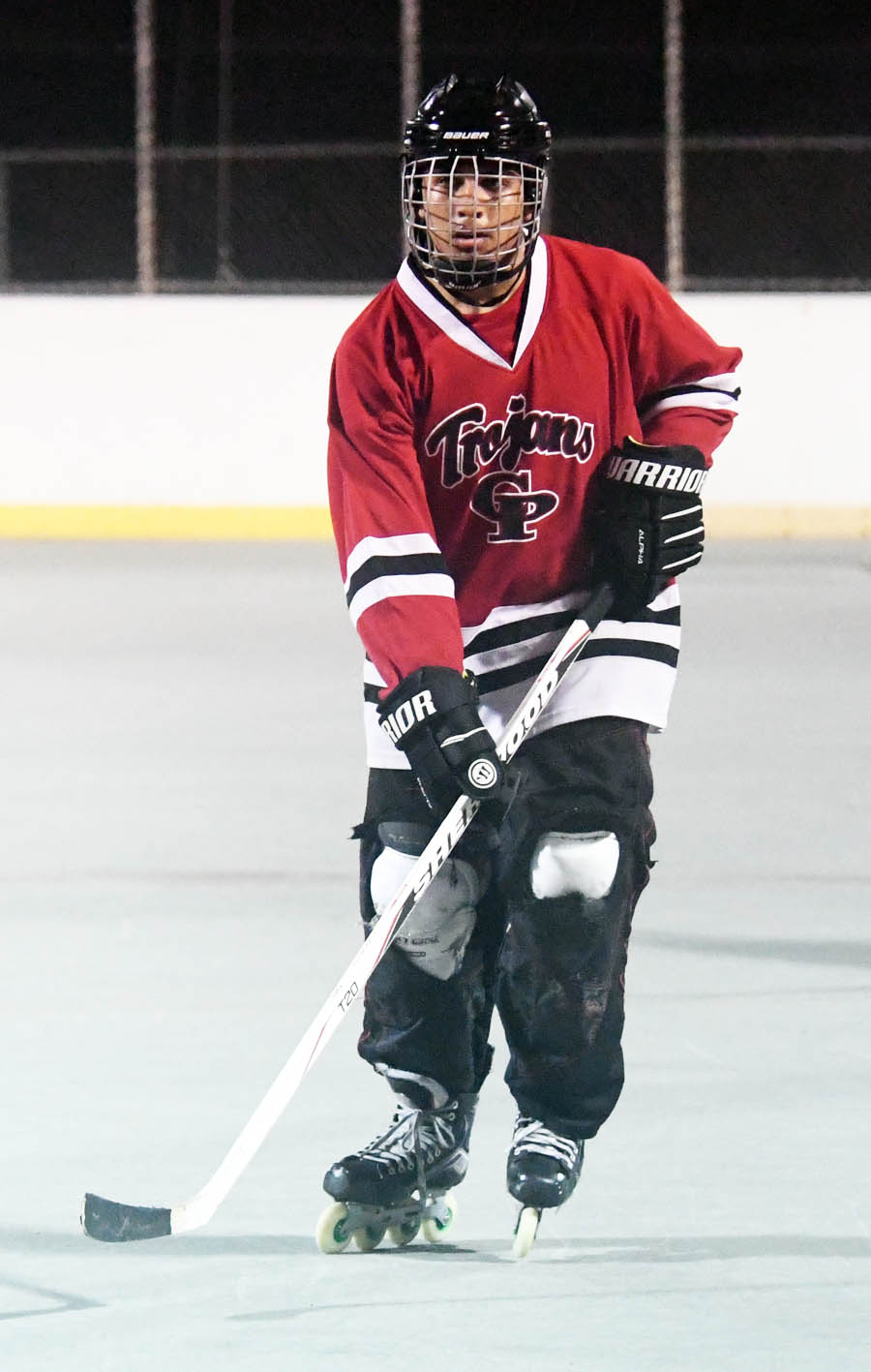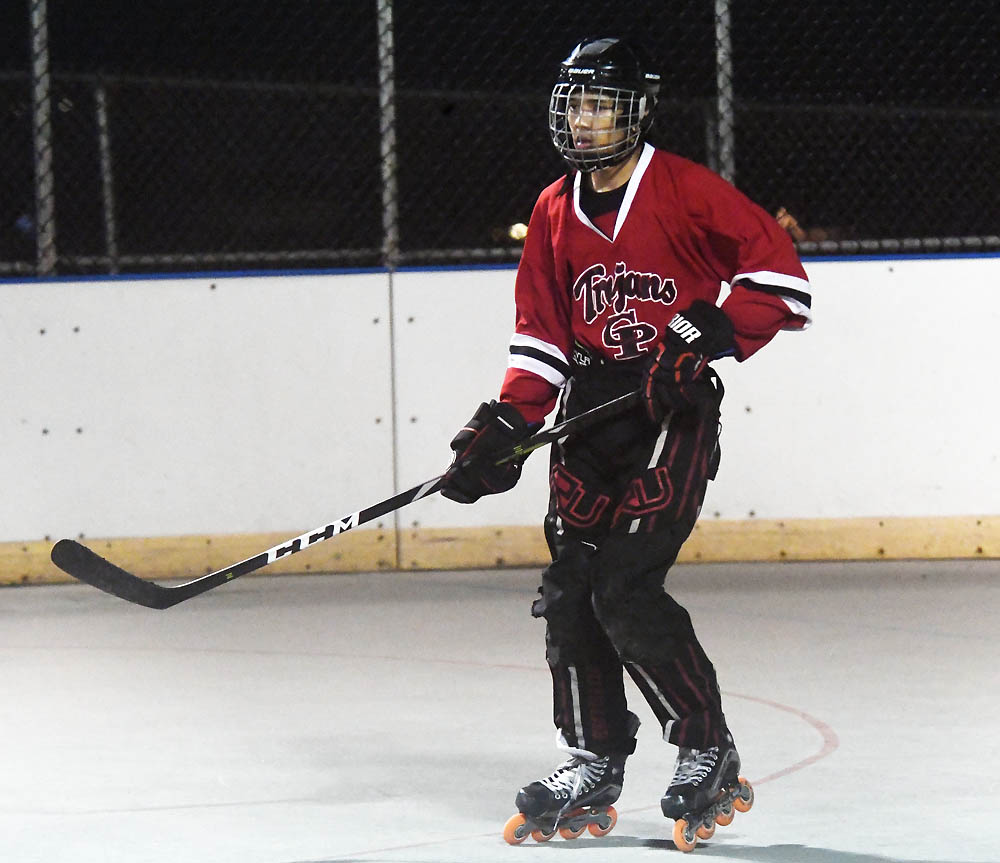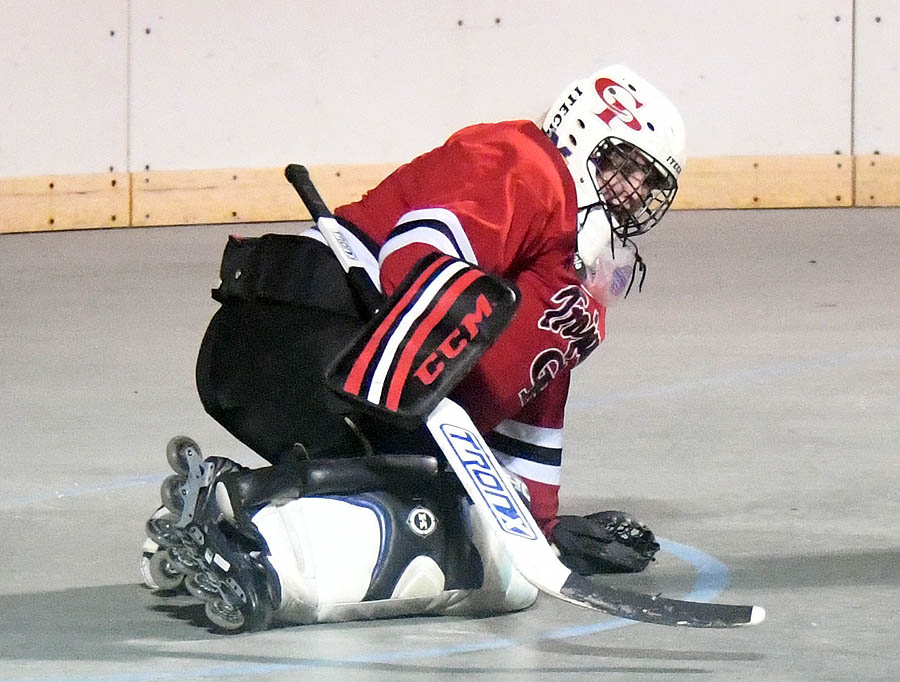 CIF-METRO CONFERENCE SCOREBOARD
OVERALL RECORDS
Sweetwater district teams
(through Dec. 21):
Hilltop 6-0
Sweetwater 4-1
Castle Park 3-1
Mar Vista 3-1
Eastlake 3-2
Chula Vista 2-3
Otay Ranch 2-3
Southwest 1-5
Bonita Vista 0-4
San Ysidro 0-5
Mesa League Standings
(Through Dec. 20)
Hilltop Lancers 4-0, 6-0
Castle Park Trojans 3-1, 3-1
Eastlake Titans 2-2, 3-2
Otay Ranch Mustangs 1-3, 2-3
Bonita Vista Barons 0-4, 0-4
South Bay League Standings
(Through Dec. 21)
Sweetwater Red Devils 4-0, 4-1
Mar Vista Mariners 3-1, 3-1
Chula Vista Spartan 2-2, 2-3
Southwest Raiders 1-3, 1-5
San Ysidro Cougars 0-4, 0-5
North County League Standings
(Through Dec. 12)
Scripps Ranch Falcons, 5-0, 5-0
Rancho Bernardo Broncos 3-1, 3-1
Westview Wolverines 2-2, 2-2
Escondido Charter White Tigers 2-2, 2-2
Patrick Henry Patriots 2-3, 2-3
Poway Titans 1-3, 2-3
Cathedral Catholic Dons 0-4, 0-4
Note: Games of Dec. 5 not recorded (rain-outs)
OVERALL CONFERENCE STANDINGS
(Through Dec. 21)
Hilltop Lancers 6-0
Scripps Ranch Falcons 5-0
Sweetwater Red Devils 4-1
Rancho Bernardo Broncos 3-1
Castle Park Trojans 3-1
Mar Vista Mariners 3-1
Eastlake Titans 3-2
Westview Wolverines 2-2
Escondido Charter White Tigers 2-2
Patrick Henry Patriots 2-3
Poway Titans 2-3
Otay Ranch Mustangs 2-3
Chula Vista Spartans 2-3
Southwest Raiders 1-5
Cathedral Catholic Dons 0-4
Bonita Vista Barons 0-4
San Ysidro Cougars 0-5
Rain make-up games:
TUESDAY, DEC. 18
Mesa League
Eastlake 16, Bonita Vista 1
Hilltop 12, Otay Ranch 7
WEDNESDAY, DEC. 19
South Bay League
Chula Vista 9, Southwest 2
Mar Vista 4, San Ysidro
THURSDAY,, DEC. 20
Mesa League
Hilltop 10, Bonita Vista 3
Castle Park 8, Otay Ranch 7
FRIDAY, DEC. 21
South Bay League
Sweetwater 6, Southwest 2
Chula Vista 6, San Ysidro 1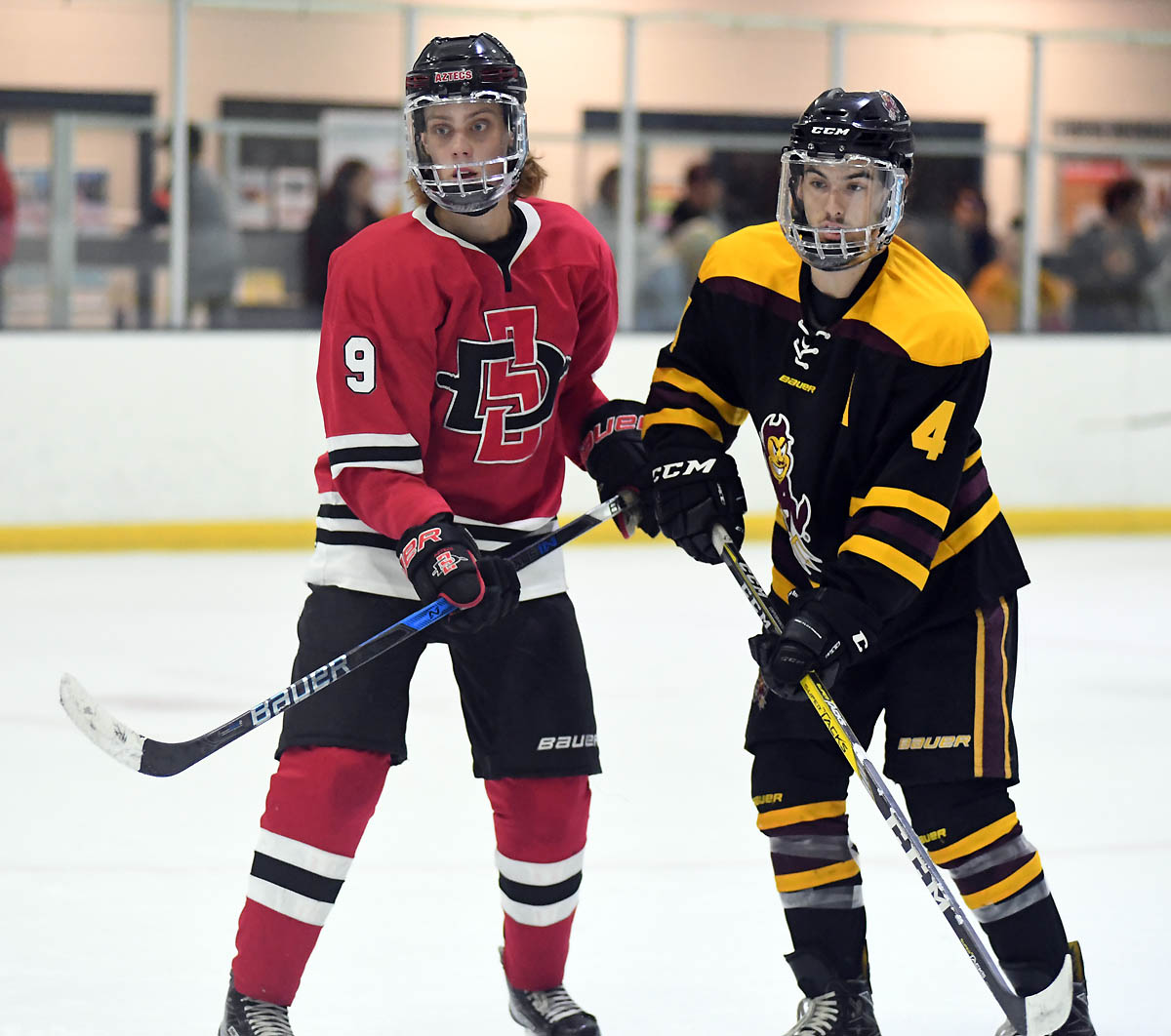 COLLEGE SPORTS:
SDSU Aztec men's ice hockey team skates into winter break with 9-4-1 record
EASTLAKE'S MAYER, OTAY RANCH'S TARAS AMONG TEAM'S TOP SCORERS
The San Diego State University men's ice hockey team pulled into the winter break with a 9-4-1 overall record following a key weekend sweep of the University of Washington Huskies in the Pacific Northwest.
The Aztecs defeated the Huskies, 5-4, in overtime on Nov. 30 and made a statement to close out the first semester with a 4-1 win on Dec. 1.
SDSU sits 19th in the latest ACHA Division 2 West Region rankings, released Dec. 20. However, two teams – top-ranked University of Mary and 11th-ranked University of Providence – are not eligible for post-season tournament play due to being first-year teams.
The Aztecs are only one of two California teams ranked among the top 20 teams in the West Region. CSU Northridge (12-3-1) is ranked ninth.
Four PAC hockey conference members are included in the latest regional ranking: Boise State University (fourth), University of Oregon (12th), Eastern Washington University (17th) and SDSU (19th).
In their first season after joining the PAC hockey conference, the Aztecs currently are in first place of the Southern Division that includes UCLA, San Jose State, USC, Arizona State University and Cal-Berkeley.
SDSU dropped its opening two conference games against San Jose State but has since gone 6-1 with a win against UCLA, a two-game sweep against USC, a split with ASU and the weekend sweep of Washington for a composite 6-3 conference record.
"The leadership of the program has really stepped up and helped a young talented crop of players continue to evolve their games," SDSU head coach Phil Bateman noted at the semester break.
Senior Aaron Mayer, who serves as the team's assistant captain, leads the Aztecs with 26 points on 11 goals and 15 assists in 12 games played.
Senior Patrick Miller ranks second with 22 points on nine goals and 13 points while newcomer Devyn Taras has accumulated 20 points (10 goals, 10 assists) with his dynamic play at the break.
Mayer (Eastlake High School) and Taras (Otay Ranch High School) are both graduates of the CIF-Metro Conference high school roller hockey program, being standout players for their respective teams.
Both Mayer and Taras, rivals on the roller hockey court, have made a big impact on the ice for the Aztecs as both players have potted three game-winning goals. Taras also owns three power play goals and one short-handed goal while Mayer has two power play goals and one short-handed goal.
Miller has one power play goal, two shorthanded goals and one game-winning goal.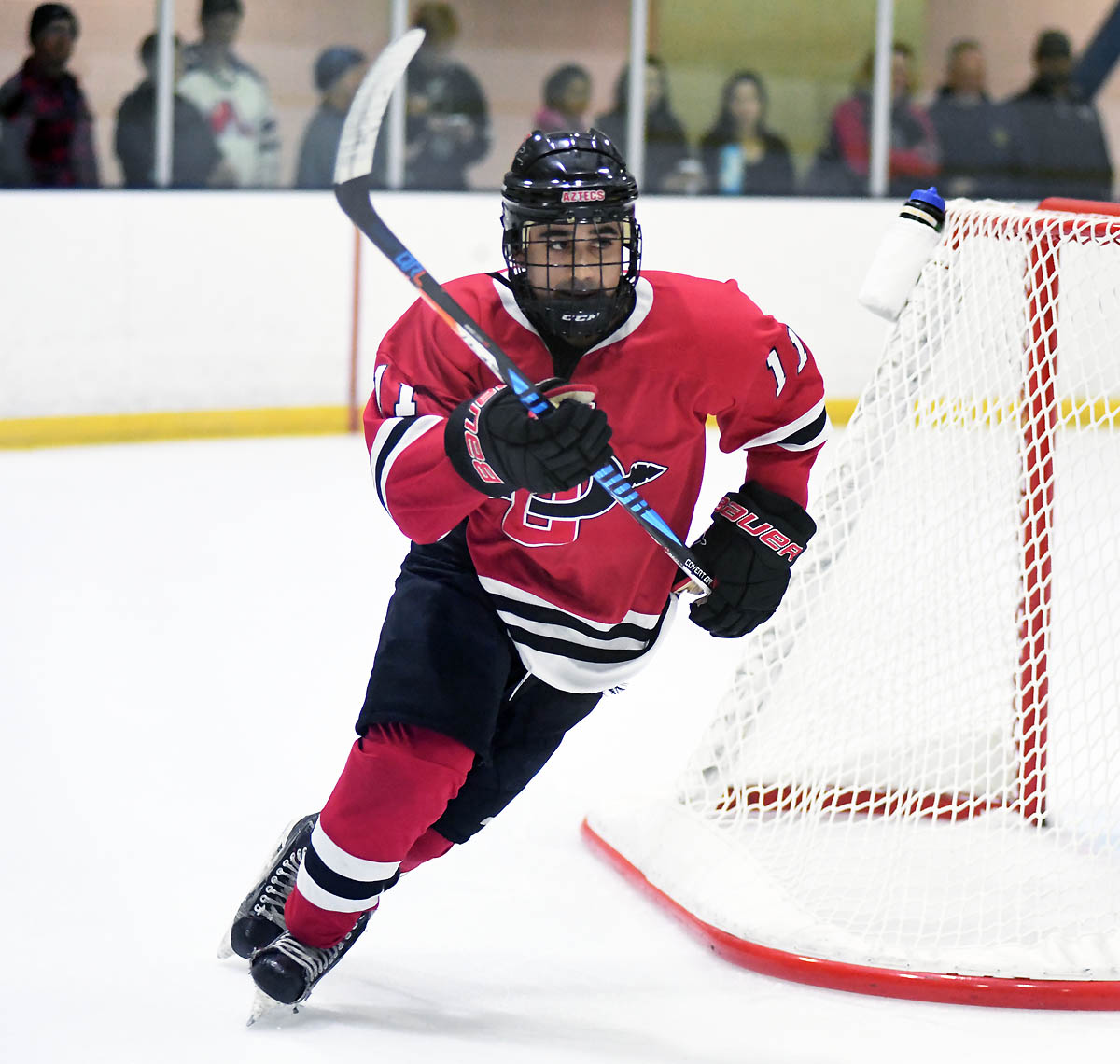 Taras had a big weekend in Washington by scoring the game-winning overtime goal in the series opener while finishing the weekend with three points (one goal, two assists).
Mayer and Miller each picked two goals and one assist in the second game.
Miller supplied the game-winner off a pass from Mayer, who finished the weekend with four points (two goals, two assists).
SDSU exploded for three third-period goals in the Dec. 1 contest to snap a 1-1 deadlock. Mayer scored twice in the frame while assisting on Miller's go-ahead goal while Taras and Miller drew the assists on Mayer's 3-1 tally.
Nick Ilvento stopped 30 of 34 shots to pick up the win in the first game while Austin Hathcoat stopped 17 of 18 shots to pick up the win in the second game.
The Aztecs out-shot the Huskies 35-30 in the first game and 32-18 in the second game.
SDSU has also benefited from play from its freshman class, according to the head coach.
"The young freshman class has really settling in and have begun to make a tremendous impact in their first 14 games," Bateman noted.
Darien Theberge has put up 12 points (eight goals, four assists), Elisha Reece has 10 points (three goals, seven assists) and Ilvento has cobbled together an impressive 5-1 record, .899 save percentage and a 3.10 goals-against average.
Other contributors include Tyler Smith (six goals, 11 points), Mickey Sullivan (two goals, seven points), Mason Cook (two goals, six points), Tristan Macalolooy (one goal, six points), Andrew Hoy (one goal, six points), Isaac Miller (two goals, five points), Callum McRae (three goals, four points), Zac Mencimer (two goals, three points), Jake Rochford (two goals, three points), Troy Smith (one goal, three points), Curtis Maltby (three assists) and Reece Breuckman (one goal, two points).
Hathcoat is 4-1 in five appearances in the net with a 3.23 GAA and .888 save percentage.
Matthew Burbage played the opening weekend in San Jose, recording a 2.55 GAA and .926 save percentage.
Miller leads the team with 32 penalty minutes, followed by Theberge with 29 penalty minutes.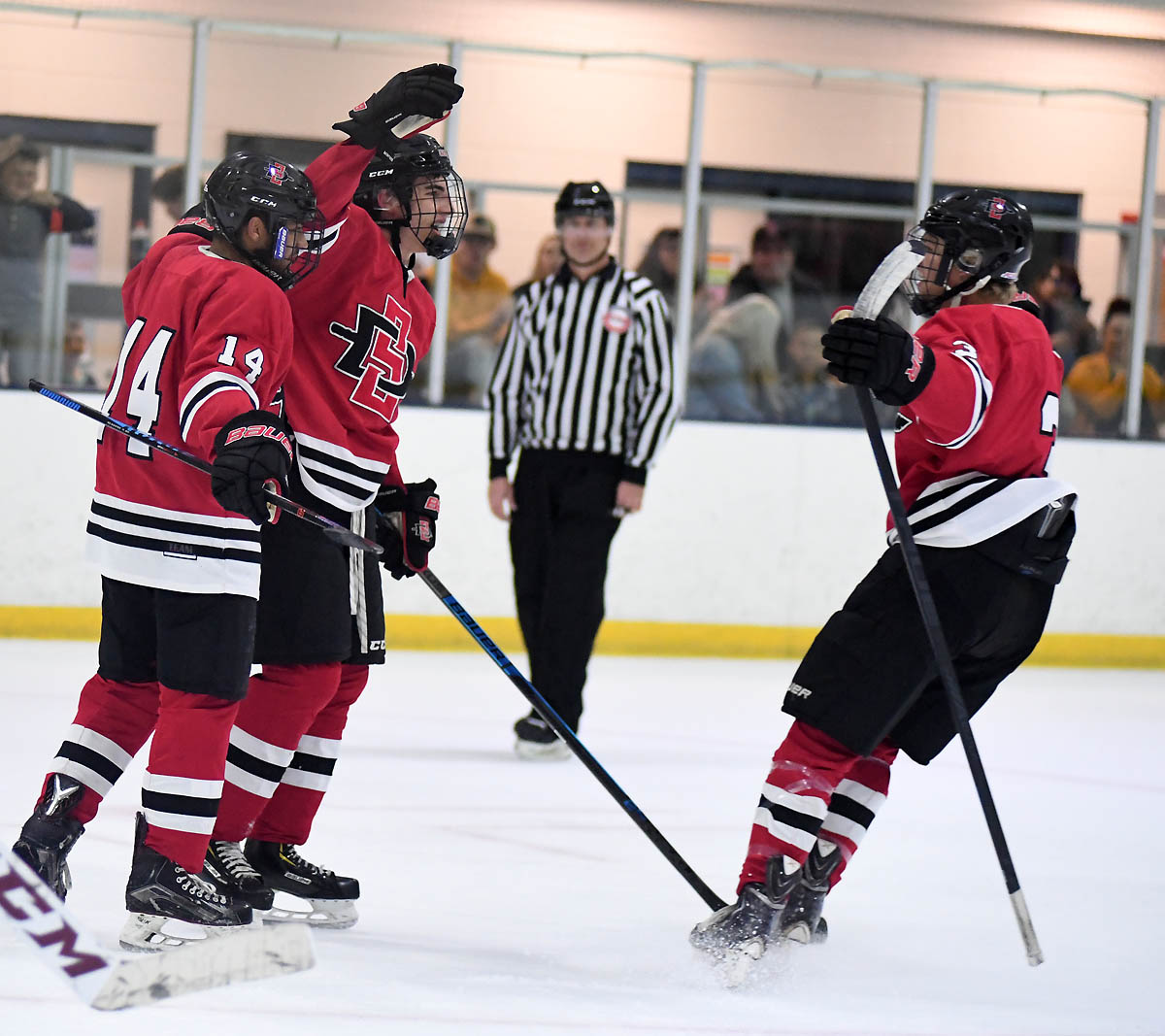 "From a coach's perspective it's nice to see the guys having success as a reward for their hard work," Bateman said. "As a team they have showed impressive signs of playing with the tempo and pace that the coaches are asking of them. We are a team based on a quick transition game, quick puck movement and attacking foot-speed.
"We transfer that intensity into our defensive play and take a lot of pride in being a hard team to play against."
Bateman said the team's challenge will be to keep the momentum going after the break when the Aztecs will face five key games: two against Iowa State over the Jan. 11-12 weekend (both at the Kroc Center), a Southern Division PAC game at UCLA on Jan. 18 and two games against the Oregon Ducks over the Jan. 19-20 weekend.
The Jan. 19 game will be played at 1 p.m. at the Pechanga Arena/San Diego while the Jan. 20 game will be played at 12:35 p.m. at the Kroc Center.
SDSU will close out regular season play with a Jan. 26 non-conference game at CSU-Long Beach and a two-game PAC series at Cal-Berkeley Feb. 2-3.
To purchase tickets to the Jan. 19 game against Oregon, fans can e-mail club president Troy Smith at tsmith022098@gmail.com for instructions and information.
The top four teams in each PAC hockey conference division advance to the conference playoffs Feb. 8-9 in South Lake Tahoe.
Boise State and Eastern Washington are tied for the PAC North Division lead with 8-2 conference records, while Oregon is 7-3 in conference play. Washington and Western Washington are both 0-8 while Washington State is 0-8.
SDSU tops the PAC South Division standings at 6-3, followed by San Jose State (6-4), USC (5-5), ASU (4-2), Cal (3-3) and UCLA (1-8).
ASU is the defending conference champion.
The official PAC hockey conference website is located at http://pac8hockey.com.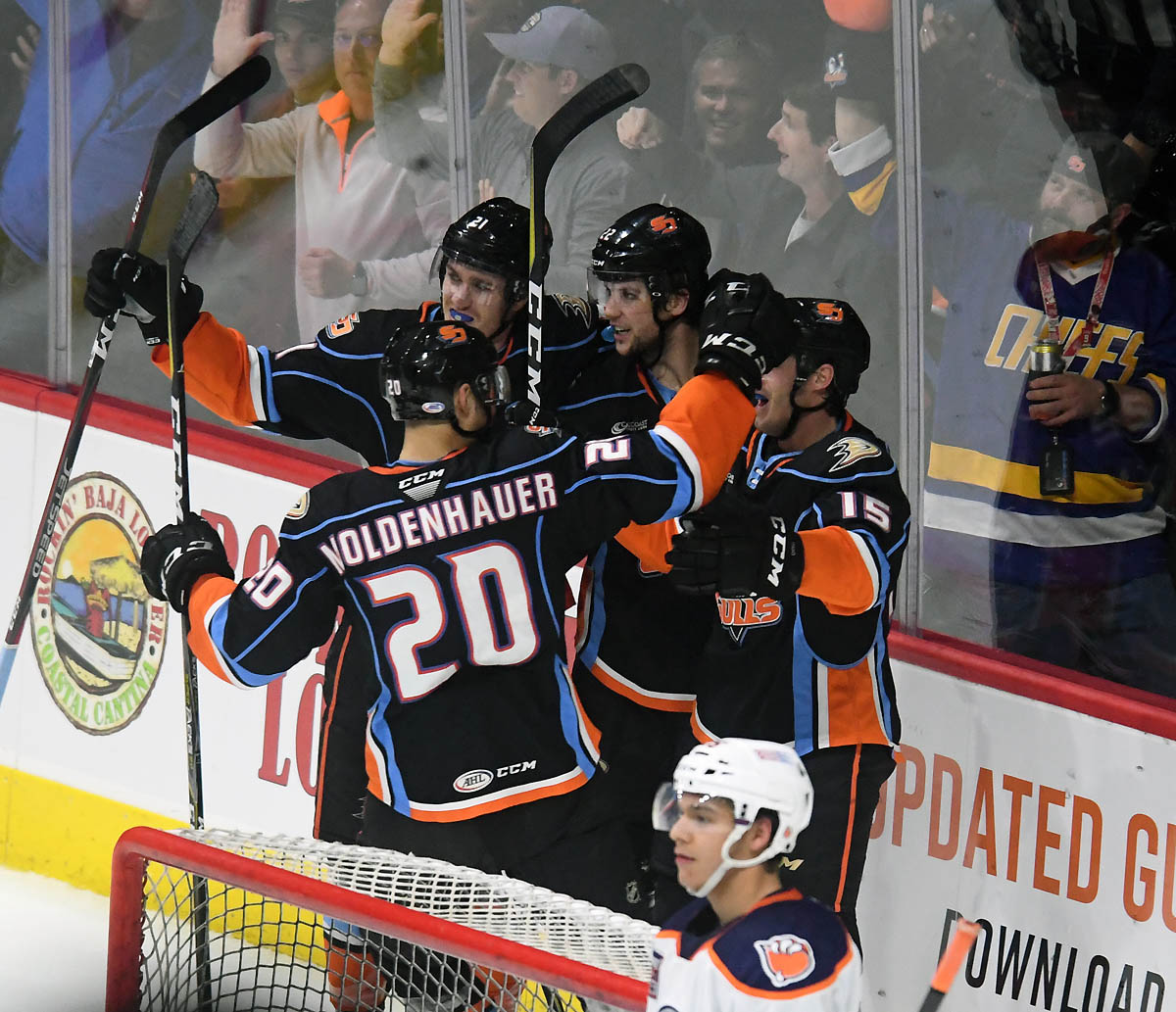 Ice chips:
Gulls keep piling up points, make flight up division standings
The San Diego Gulls entered the 2019 portion of their 2018-19 schedule right where they left off the 2018 portion: with a win.
The Gulls defeated the host Bakersfield Condors, 2-1, on Wednesday, Jan. 2, to extend their current winning streak to four games and points streak to nine games (seven wins, two ties).
The Gulls (15-11-1-3) have steadily moved up the American Hockey League's Pacific Division standings, departing last place for a three-way tie for third place alongside the Condors (16-12-1-1) and Colorado Eagles (15-12-3-1). All three teams have 34 standings points.
Both San Diego and Bakersfield have .567 winning percentages while Colorado has a .548 winning percentage.
The San Jose Barracuda continues to lead the division standings with a 19-6-1-3 record and .724 winning percentage. The Tucson Roadrunners are in second place with a 17-9-3-1 record and .633 winning percentage.
San Jose has a division-best 42 standings points while Tucson has 38 standings points.
The Gulls have the hottest streak currently in the 31-team league and are looking to move up higher in the division standings.
San Diego hosts San Jose Friday, Jan. 4. The Gulls have defeated the Barracuda in three consecutive games during December.
San Diego defeated Bakersfield despite being out-shot 34-27. However, the Gulls never trailed in the game, played in front of 3,090 fans at Rabobank Arena.
Matt Berry gave the visitors a 1-0 lead at 3:17 of the first period with his second goal of the season. The Condors tied the game, 1-1, on David Gust's fifth goal of the season at 15:05 of the second period on a power play.
San Diego escaped with the win on a goal by Joseph Blandisi, his sixth of the season, with just 70 seconds left in the game. Berry and teammate Luke Schenn drew assists on the game-winning goal.
Kevin Boyle stopped 33 of 34 shots to pick up the win between the pipes while Dylan Wells took the loss despite allowing just two goals.
"We weren't great for two periods, (but) good our guys in the room; they got it together for the third," San Diego head coach Dallas Eakins said. "It's great that our standards have changed. We're up 1-0 after the first period and we were fairly upset with how we were playing. I think that just shows you part of the process of going through the season.
"I think sometimes when you play a team this many times, the things that make you successful, sometimes you become bored with it, sometimes you even resent it. Like, 'let's do something else, let's change it up, let's keep it fresh.' We don't want to keep it fresh; we want to go with what works.
"We had decided that we were going to do something else. We reminded each other in between the first and second that that's not part of our game plan and we're going to go with what works. After the second period, that's all of the guys in our room. Our leadership group, our players in the room, that was their discussion and they came out very well in the third period."
Blandisi admitted his game-winning goal wasn't "pretty."
"We had a lot of good net-front presence," Blandisi explained. "We got a puck through from the point and I was lucky enough to put it on net and it went in. You have to credit our goaltender tonight. It wasn't our best effort as players, but some nights your goalie bails you out and you get your two points.
"We have to find ways to find our legs some nights and we weren't quite able to do it until the end. I thought we had a better third period. It still wasn't our game, but our ability to win games here as of late has been pretty good, so we are proud of that for sure."
The Gulls' nine-game point streak is the third longest such streak in franchise history, the longest since the club went 11 consecutive games without a regulation loss from Feb. 19-Mar. 16, 2016 (9-0-1-1). With a 15-11-1-3 record through 30 games, it marks the second-best start in club history, one point shy of the 17-12-0-1 record (35 points) through 30 contests in 2015-16, the team's inaugural season in San Diego.
Wednesday win in Bakersfield capped a three-game road swing transitioning from 2018 to 2019 that began with a 3-2 overtime win in Bakersfield on Dec. 29.
The Gulls promptly journeyed to San Jose for a Dec. 30 contest, winning 5-1.
San Diego started its current four-game winning streak with a 4-3 win over the Condors on Dec. 27 in its final home game of 2018.
Trevor Murphy, obtained in a trade with Tucson for Giovanni Fiore, tied the game late in regulation and Troy Terry, a former USA Olympian and the team's representative in the upcoming AHL All-Star Classic, scored the game winner. Goaltender Jeff Glass earned his first victory in the San Diego net.
"Earlier in the year we'd be in these games and we'd find a way to lose them. Now we're finding a way to win every night," Eakins said. "I think it says a lot about the resiliency of our players. I think that adversity early in the season is paying off now."
Rookie Max Jones collected three points on a goal and two assists while Boyle made 34 saves to backstop the Gulls to their third win over the front-runner Barracuda in 15 days.
The visitors scored goals in each period, leading 2-0 after the opening frame and 3-1 heading into the final period in which San Diego out-scored the hosts 2-0.
"San Jose came out strong, obviously they were fresh," San Diego assistant coach Sylvain Lefebvre said. "They were waiting for us here not playing last night. But having said that, I thought our guys battled really hard right until the end, especially the third period. We played a really, really strong third period."
The Gulls closed the calendar year with a 35-26-3-4 record over 68 games. The team concluded the month of December 6-4-0-2 with an eight-game point streak following four losses to begin the month.
San Diego has just three home games scheduled in January. After Friday's match-up against San Jose, the Gulls will host the Texas Stars (2018 Calder Cup finalists) on Jan. 16 and Bakersfield on Jan. 19 (Star Wars promotion night).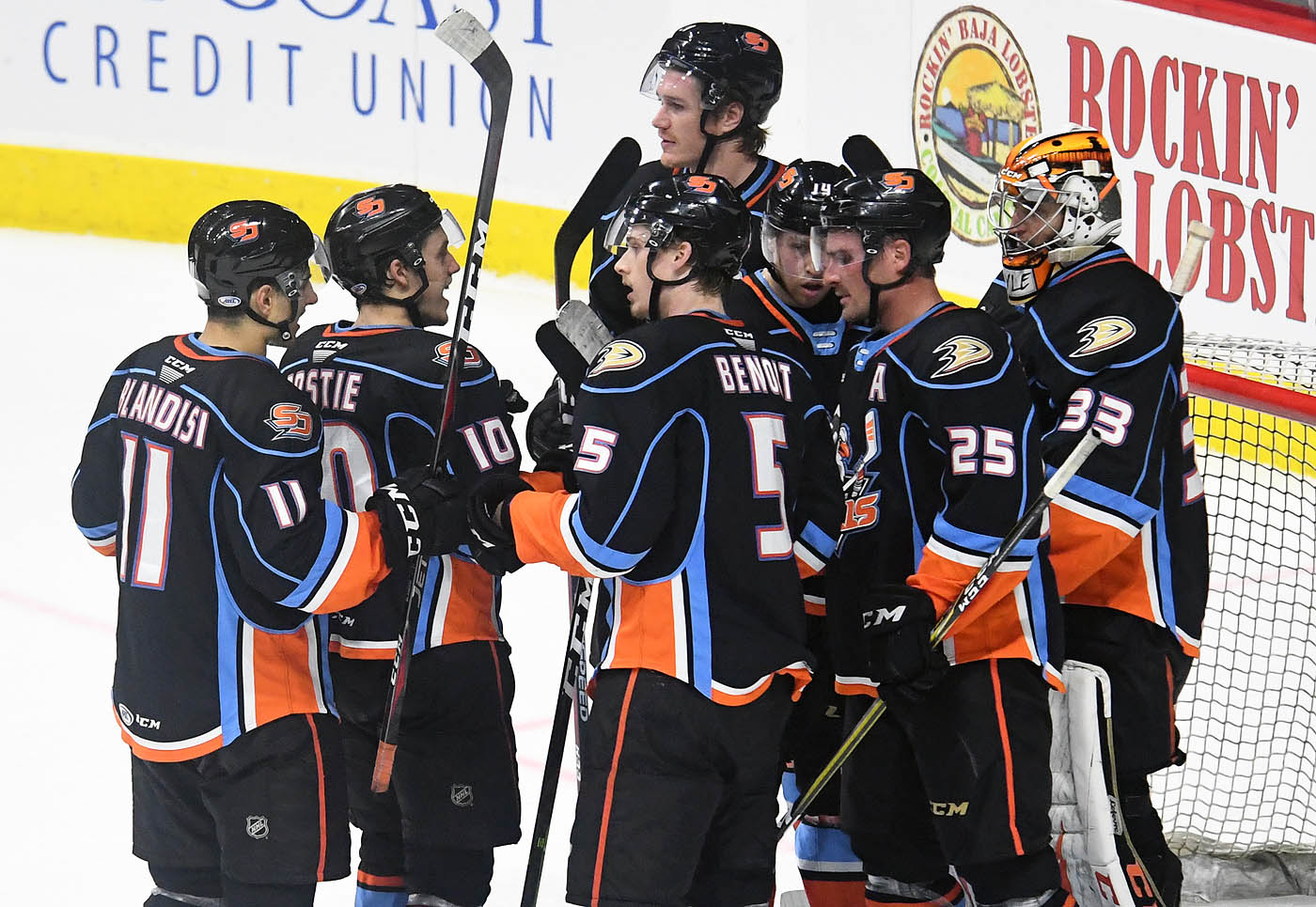 Comeback kids
It took a 2-0 Condors lead to get the Gulls going in the teams' Dec. 27 game.
Tied 2-2, San Diego benefited from a five-minute boarding penalty to Bakersfield's Braden Christoffer with 11:12 to play in the third period. The Gulls scored two goals on the man-up to lead 4-2.
Andy Welinski scored on a shot from between the circles, assisted by Terry and Kalle Kossila, to put the hosts up 3-2 with 8:45 to play. The goal was Welinski's fifth of the season. Sam Carrick scored the next goal, assisted by De Leo and Schenn. The goal was Carrick's team-leading 16th of the season and 27th point.
But the Condors quickly countered to put the win in jeopardy as Logan Day scored with 5:31 left to trim the San Diego lead to 4-3.
The Gulls took two swipes at the empty net in the final minute but the game ended with a maze of passes and near-misses by the Condors in the San Diego end.
With the win in front of 8,514 fans, the Gulls (12-11-1-3, 28 points) moved to within one standing point of idle fifth place Stockton (13-13-3-0, 29 points) in the division standings.
The Gulls erased their 2-0 first period deficit goals by newcomer Steve McParland (18:51 of the second period) and Jaycob Megna (4:55 of the third period).
Scott Moldenhauer and Jake Marchment earned assists on McParland's first goal while Kossila assisted on Megna's game-tying tally.
The win was a big emotional boost for the hosts, who were playing with one of their thinnest lineups of the season.
Adam Cracknell and goaltender Jared Coreau were both on loan to Team Canada for the Spengler Cup in Switzerland while rookie Isac Lundestrom was on load to Team Sweden for the 2019 IIHF World Junior Championship in British Columbia.
Veteran Corey Tropp and prospect Deven Sideroff were both injured.
Eakins said his team cleaned up its game after spotting the visitors a 2-0 lead.
"I thought we were quite sloppy in the first period," the Gulls bench boss told the media after the game. "We had a little chat about it in between periods and we just wanted to get back to our good habits and good competitiveness that we had going into the break. Good on the group. They regrouped and were able to come back and do what was necessary to get the win.
Eakins said the team started to brace itself after McParland's goal near the end of the second period.
"We needed a gritty goal," Eakins said. "It was a really simple play and it was great for those guys to go out and get us started."
Eakins said Boyle "made saves when we needed them."
"That is something that is critical for any team that is winning hockey games, their goaltender is better than the other one," Eakins stressed. "Kevin certainly showed that tonight."
McParland, who arrived in San Diego after signing a PTO from the ECHL Idaho Steelheads, was complimentary about the scenario that unfolded for him.
"It was fun," said McParland, who had collected 23 points in 28 games for the Steelheads. "It was a good experience. I had quite a travel day yesterday so it was nice to get into the rink and get a skate in. The guys were very welcoming.
"I just tried to keep my feet moving and finish my hits. When I got the puck, keep it going forward, keep it going north. Our line had some success with that. We got caught in the defensive zone but I think we started out pretty well. When we had the chance to go, we did.
"The crowd was so loud. They bring a lot of energy for us."
The Gulls continue to pull points out of the hat like a magician.
"I think we're finding a little bit of an identity," Welinski offered." We found out really quick tonight, if we get away from the simple things and the keys to our success, we'll struggle a little bit like we did in the first period.
"I thought we did a good job of responding and getting back to the things that we were doing so well before the break. I think that was the big difference in the second period there. That was the difference in the game and we started to turn the table a little bit."