One of the most wonderful times of the year in Downtown Chula Vista is Spring! Flowers in Memorial Park are blooming, the San Diego sun is bearable at this point in the year, and most importantly one of the longest standing events of the community comes by to celebrate the amazing businesses around the neighborhood.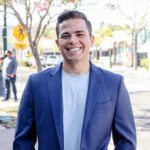 Watch Your Spring Bloom
There are many shops around the South Bay neighborhood that provide beautiful floral arrangements matching the vibrant Spring aesthetic of the season. Tallo Floral Artistry is a small, local, and women owned flower bar creating breathtaking bouquets of the freshest flowers on the market. You can either choose from the variety of flowers or let the florist in the shop pick one out tailored to your preference! The Third Avenue Village Market is also a wonderful place to purchase plants, succulents, and flowers from local vendors! Happening every Sunday from 10 a.m.- 2 p.m., the neighborhood hosts a farmers' market will several vendors selling a variety of fresh produce and other fun collectibles.
Aside from bringing a hint of Spring home, you can also enjoy the new season by taking a walk along the paths in Memorial Park and view the new blossoms growing. Take in the charm that the park brings on a nice walk with friends or family.
Taste of Third
If you're looking to experience unique bites and sips from all over the world, this is your sign to head down to Downtown Chula Vista for an experience full of delicious bites, tasty sips, and a wonderful community environment. On Thursday, March 23, foodies of San Diego are invited to join the community in celebrating Downtown Chula Vista's annual Taste of Third Event from 4 p.m.- 8 p.m. This year, participants will have a chance to enjoy worldly cuisine while listening to live music and taking in the beautiful South Bay neighborhood.
Invite your friends and family to participate in a lighthearted evening where there's something for everyone to enjoy. After checking in at the booth at the corner of Third Avenue and Park Way, attendees will receive their Taste of Third Passport which allows them to make a stop at each of the participating businesses and pick up their "tastes" at their leisure. GA tickets are $45 and allow access to food and beverage samples from 30 restaurants, bars, breweries, bakeries and other fun establishments in the area along with a chance to listen to local artists playing music of multiple genres!
The Taste of Third event is your chance to experience worldly cuisine in Downtown Chula Vista for the very first time or validate your delicious obsession with the various restaurants in the neighborhood!
Now Walk It Out Padres!
Did you happen to catch some our favorite Padres players walking through our neighborhood? Check out our IG reel to see the Manny Machado sign his mural at The Vogue Tavern in real life!
However you choose to spend your Spring equinox, Downtown Chula Vista will have everything you need for a spectacular time!
For more information on this year's Taste of Third, visit TasteofThirdCV.com.
Dominic Li Mandri is District Manager of Downtown Chula Vista Association.
About Downtown Chula Vista Association
A 501(c)(3) corporation for the public's benefit, the Downtown Chula Vista Association advocates on behalf of its members' best interests in the areas of public safety, beautification, promotion, and economic development, while preserving the unique cultural resources and community that exist in the heart of Chula Vista. The Downtown Chula Vista Association is run by a Board of Directors encompassing 9 individuals representing various business and property owners. Serving as the longest running Business Improvement District in Chula Vista, the Downtown Chula Vista Association is currently pivoting their focus in preparation for the coming years of growth, while continuing to celebrate the rich history of this tight-knit community. More information can be found by visiting www.downtownchulavista.com or by calling (619) 422-1982.