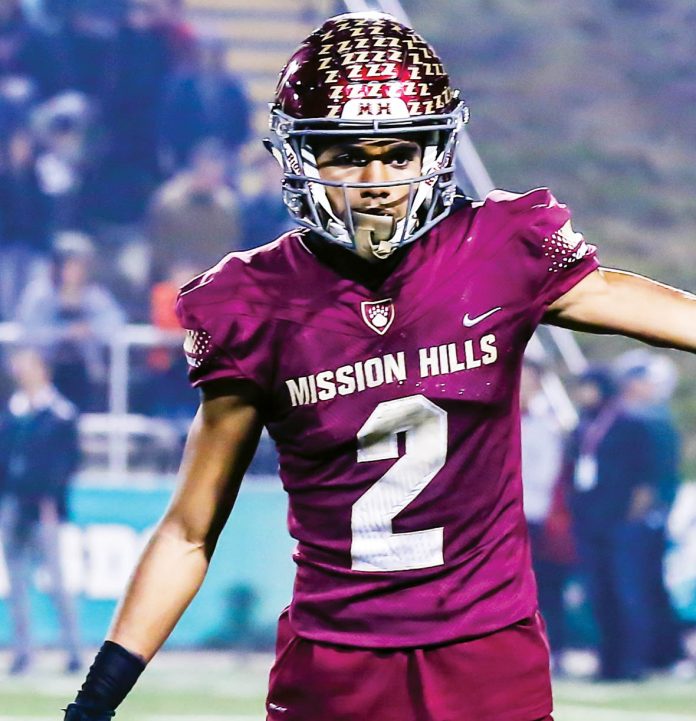 The final 2020-21 college football rankings are out and it's no surprise as to the top three-ranked teams, all of which competed in the national championship semifinals and championship game.
The Alabama Crimson Tide (13-0) wrapped up the coveted No. 1 spot following their monstrous 52-24 win over Ohio State (7-1), which moved up from No. 3 to cement its position as No. 2 in the final rankings.
Former Eastlake Titan Chris Olave made a team high eight catches for 69 yards for Ohio State in the loss to Alabama on Jan. 11 in Miami. A junior, Olave has announced on social media that he will return to the Buckeyes for the 2021 season instead of declaring for the NFL Draft.
Olave caught six passes for 132 yards, including touchdown receptions of nine and 56 yards, in No. 3 Ohio State's 49-28 upset win over No. 2 Clemson in the Sugar Bowl national championship semifinal game Jan. 1 in New Orleans.
His 56-yard TD catch, which gave the Buckeyes a 42-21 lead in the third quarter against Clemson, was rated among the scoring highlights of the game.
Ohio State (639) and Clemson (444) combined for 1,083 yards in total offense in the high scoring game. Ohio State quarterback Justin Fields passed for 385 yards and six touchdowns in the victory while teammate Trey Sermon rushed for 193 yards and one score.
Olave, who competed his sophomore varsity season at Eastlake and completed his senior season at Mission Hills High School, made 50 receptions for 779 yards and seven touchdowns during the 2020-21 college football season.
With the loss to the Buckeyes, Clemson (10-2) finished at No. 3 in the final college football rankings.
Alabama defeated then No. 4 Notre Dame, 31-14, in the Rose Bowl semifinal Jan. 1 in Frisco, Texas. However, the Texas A&M Aggies (9-1) slipped ahead of Notre Dame (10-2) in the final season poll, with Texas A&M placing fourth and the Fighting Irish placing fifth.
Rounding out the top 10-ranked teams are the No. 6 Oklahoma Sooners (9-2), No. 7 Georgia Bulldogs (8-2), No. 8 Cincinnati Bearcats (9-1), No. 9 Iowa State Cyclones (9-3) and No. 10 Northwestern Wildcats (7-2).
Texas A&M (Orange Bowl), Oklahoma (Cotton Bowl), Georgia (Peach Bowl), Iowa State (Fiesta Bowl) and Northwestern (Citrus Bowl) all turned in bowl game victories.
The Coastal Carolina Chanticleers (11-1) were college football's feel-good story of the season as they came within one victory of posting an undefeated season following a 37-34 overtime loss to Liberty in the FBC Mortgage Cure Bowl. The Chants, who pulled down a final No. 11 FBS ranking, defeated BYU, 22-17, in a non-conference game on Dec. 5 to display their star power.
BYU (11-1) finished at No. 12 after winning the Boca Raton Bowl, followed by the Liberty Flames (10-1) at No. 13, the Louisiana Ragin' Cajuns (10-1) at No. 14, Iowa Hawkeyes (6-2) at No. 15, Indiana Hoosiers (6-2) at No. 16, Florida Gators (8-4) at No. 17, Texas Longhorns (7-3) at No. 18, Oklahoma State Cowboys (8-3) at No. 19 and Ball State Cardinals (7-1) at No. 20.
Rounding out the final top 25 rankings are the North Carolina Tar Heels (8-4) at No. 21, Buffalo Bulls (6-1) at No. 22, San Jose State Spartans (7-1) at No. 23, USC Trojans (5-1) at No. 24 and Miami Hurricanes (8-3) at No. 25.
San Jose State was the Mountain West Conference's feel-good story in 2020-21. The Spartans had to travel more than 300 miles northward to practice at Humboldt State prior to starting the season, had two games cancelled due to COVID-19 issues, then had to play their final two games on the road after Santa Clara County banned all sports competitions due to coronavirus restrictions.
San Jose State defeated Boise State, 34-20, to win the MW championship game Dec. 19 in Las Vegas to improve to 7-0 — its best start since going 13-0 in 1939. The 2020 MW title was the Spartans' first undisputed conference championship since 1990.
The Spartans, who were picked 12th deep in the conference preseason poll, defeated preseason No. 2 San Diego State University, 28-17, in the third game of the season Nov. 6 at Dignity Health Sports Park in Carson. SDSU led early by a score of 10-0.
San Jose State ended an otherwise spectacular season with a 34-13 loss to Ball State in the Arizona Bowl on Dec. 31.
Head coach Brent Brennan was honored as the MW Coach of the Year while junior defensive lineman Cade Hall (nine tackles for a loss, eight sacks) earned honors as the conference's defensive player of the year.
USC, after losing 31-24 to Oregon in the Pac-12 championship game, elected not to play in a bowl game due to COVID-19 issues. The Trojans entered the conference championship game with a 5-0 record.
Conference champions included Alabama (SEC), Clemson (ACC), Ohio State (Big Ten), Oklahoma (Big 12) and Oregon (Pac-12).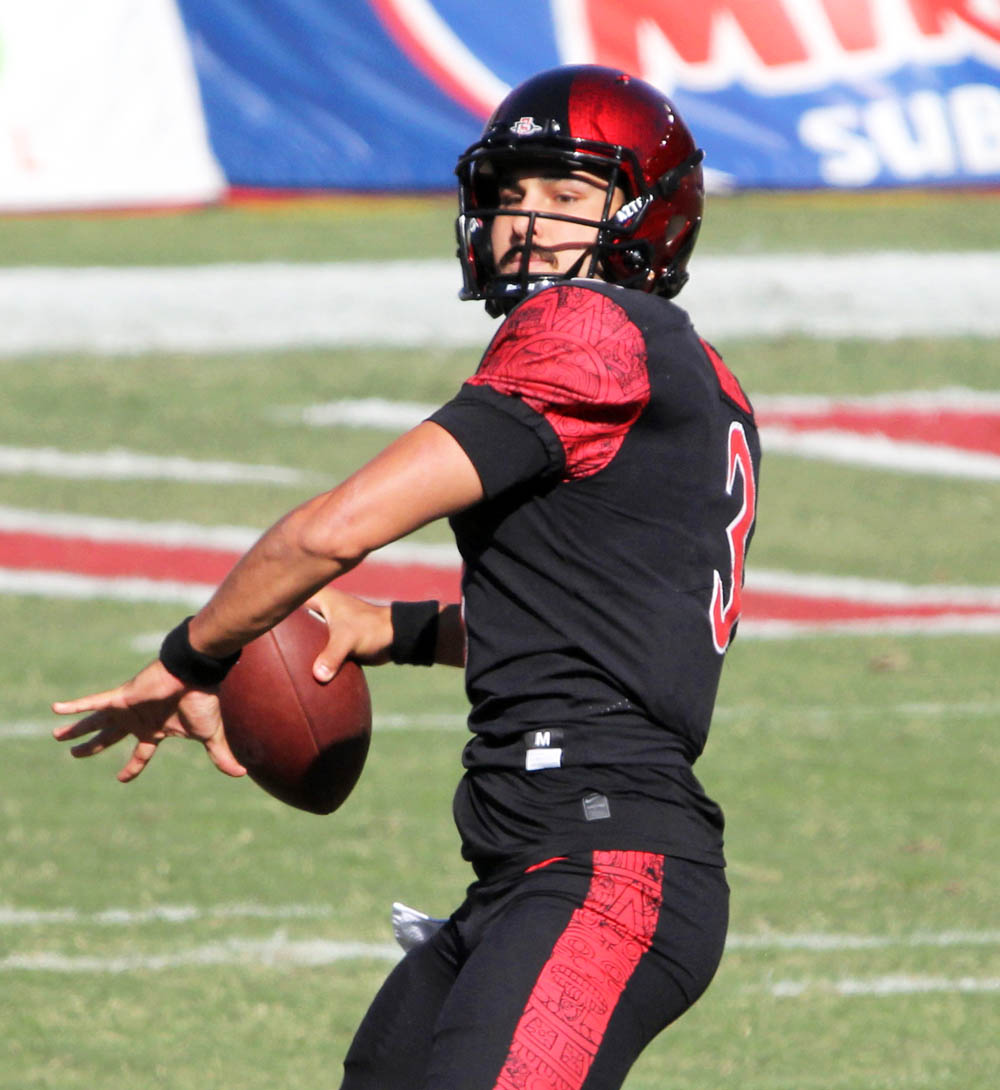 Extra points
Helix Charter alumnus Carson Baker appears to be looking for a new home to play college football after recently entering the NCAA's transfer portal. Baker, who has three years of eligibility remaining, has elected to transfer from San Diego State University.
Baker, who envisions himself as a pro-style quarterback, said he made his decision after it appears the Aztecs are heading in a different direction with a more dual-threat style of play. He made the announcement Jan. 25 on his social media account (@Cbakess9).
"Thank you to the San Diego State program, I am excited for my next journey," he posted on his Twitter feed.
The former Highlander appeared in eight games in his relatively short career at SDSU, including two games as a freshman and six games this past season. He completed 78 of 128 passes (61 percent) for 789 yards with four touchdowns and three interceptions as an Aztec.