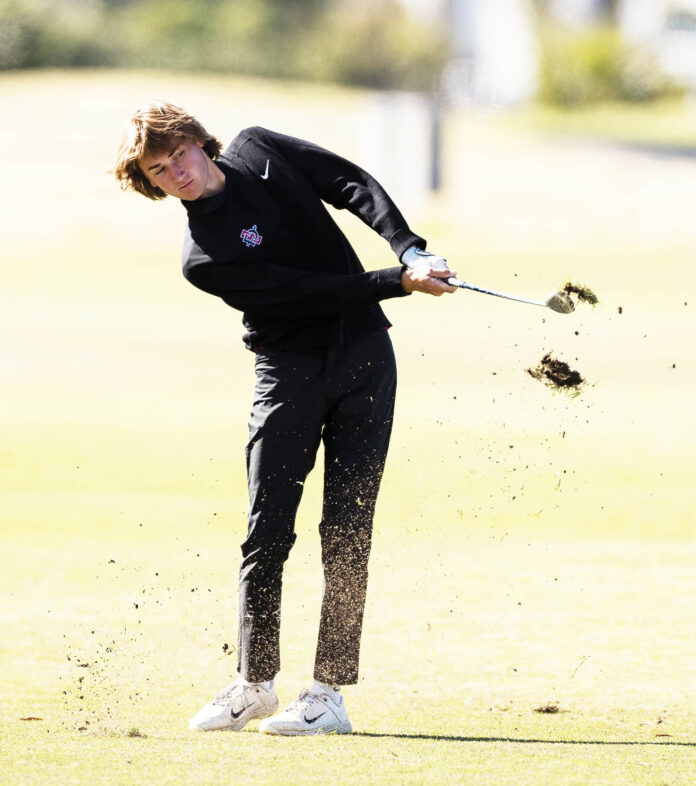 Chula Vista's historic San Diego Country Club was thrust into the spotlight as the San Diego State University and University of San Diego men's golf teams co-hosted the 16th annual Lamkin Classic March 6-7.
The two schools were among a gathering of 15 teams competing on the par-72, 7,033-yard course layout.
SDSU (-19) finished second to New Mexico (-20) to grace the top of the leaderboard.
The Aztecs entered the two-day event ranked 30th in the GolfStat computer rankings released Feb. 1. They were among six programs ranked in the top 60. Other top-60 ranked teams included No. 20 Colorado State, No. 34 Washington, No. 35 BYU, No. 54 Cal-Berkeley and No. 58 San Francisco.
Also in the field were No. 61 New Mexico, No. 63 USD, Denver, Hawaii, Loyola Marymount University, Nevada, St. Mary's. UCLA and Wyoming.
Launched in 2008 as the San Diego Intercollegiate primarily as an opportunity for local schools to compete against one another, the event has now expanded to host teams from across the nation.
Following SDSU and New Mexico among the top five scoring teams were Washington and Colorado State, both tied for third place at -7, and UCLA in fifth place at -3.
SDSU led the field after the opening two rounds.
Sophomore Justin Hastings (Grand Cayman, Cayman Islands) tied for second out of 95 players at -8 as SDSU's top finisher while fellow sophomore Shea Lague (Steele Canyon) tied for third at -6..
Both Aztec underclassmen posted impressive finishes as the two SDSU golfers placed among the top five scorers.
Washington's Petr Hruby claimed top scoring honors at -12, followed by Hastings in a tie with New Mexico's Bastien Amat. Lague finished in a three-way tie with New Mexico's Albert Boneta and Colorado State's Christoph Bleier.
Hastings finished the three rounds with scores of 69-70-69 while Lague finished his three rounds with scores of 67-71-72.
Red and Black
Lague, the San Diego Junior Golf Association's boys championship player of the year in 2021, and his Aztec teammates appear to be picking up where they left off as the calendar has flipped to the spring semester after placing 11th at the University of Arizona National Invitational Tournament March 17-18 in Tucson.
SDSU shot a 1-over-par 289 in the final round to finish at 4-under 860 on the par-72, 7,200-yard Omni Tucson National course. The host Wildcats, ranked 18th in the latest GolfStat computer rankings, won the tournament at 840 (-24) ahead of No. 9 Pepperdine (841, -23) and No. 3 Arizona State (842, -22).
Lague was the Aztecs' top finisher in a three-way tie for 13th out of 84 golfers at 5-under 211. He fired his second straight 2-under 70 in the final round, opening with two birdies in the first three holes and four through his first 10 (along with two bogeys), before recording pars on the final 10 holes.
USC's Jackson Rivera and Arizona's Zach Pollo each tied for medalist honors at 13-under 203, three shots clear of Pepperdine's William Mouw (-10).
Lague and Hastings have consistently scored high for the young SDSU team in 2022-23.
Lague paced the Aztecs with a 69.0 stroke average in fall play to rank 20th in the GolfStat individual rankings. He led the Aztecs with a 69.53 scoring average through five tournaments and 15 rounds in the spring to garner a 28th place ranking in the GolfStat individual ratings released on Feb. 21.
Lague had a breakout performance at the U.S. Amateur over the summer by advancing to the quarterfinals. He tied for 39th in stroke play at 4-over 145. He defeated No. 14 Hazen Newman in 21 holes in the round of 64 and defeated No. 19 Yuxin Lin, 3 and 2, in the round of 32 before knocking off No. 3 Hugo Townsend in 19 holes in the quarterfinals. He fell to No. 59 Derek Hitchner, 3 and 2, in the quarterfinals.