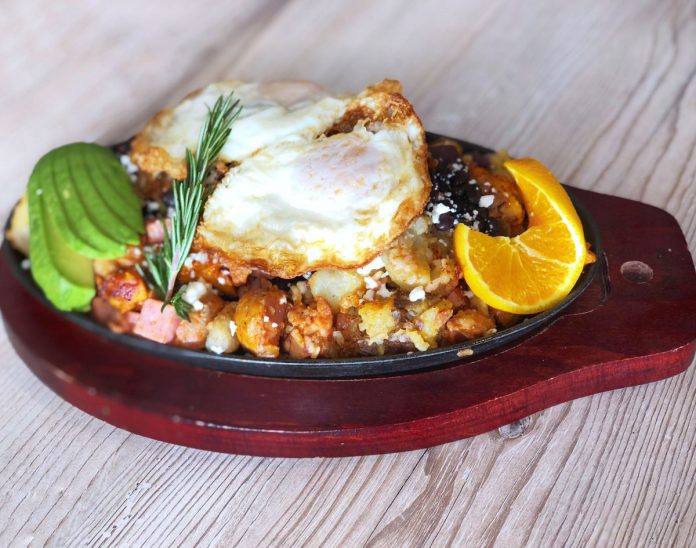 Chula Vista is rich in Mexican and Filipino heritage. Cross these two food-loving cultures together and the moniker "Mexipino" is born. There's no question that both these groups love to cook and cook big. Growing up in the South Bay, these are the two foods that many of us have always eaten in mounds. In fact, there are a couple of Mexican/Filipino hybrid eateries here and all of them take quite a different approach from one another. These three are my go-to places.
I've written about MJ's Yogurt Time and Deli near Southwestern College before and I must mention them again. They are the modern masters of blending Mexican, Filipino and Islander favorites into unique items all their own. Their fusions are so uniquely delicious. Must try: 805 Burrito (it has lumpia in it!!) and Buddah Fries (eggs, meat and Asian salad over a mound of fries).
Zarlitios in National City has long been standing at the helm of offering Mexipino food. They serve mostly classic Filipino dishes but look closely for the Z-Mex Delights in the corner of that lengthy menu and expect to be delighted with the combination of Filipino meats in Mexican favorites! Must try: adobo enchiladas and the chorizo fried rice (it has chunks of longanesa in it!).
The newest addition to our South Bay Mexipino food line-up is Mexipino Craft on Broadway between Anita and Main streets. Mexipino Craft combines Mexican and Filipino flavors in a very contemporary and comforting way, fused into classic homestyle American dishes. Must try: Mexipino hash, adobo chicken and waffles and Calamansi Agua Fresca. Enjoy your next Mexipino meal! Connect with me below, I'd love to hear about it.