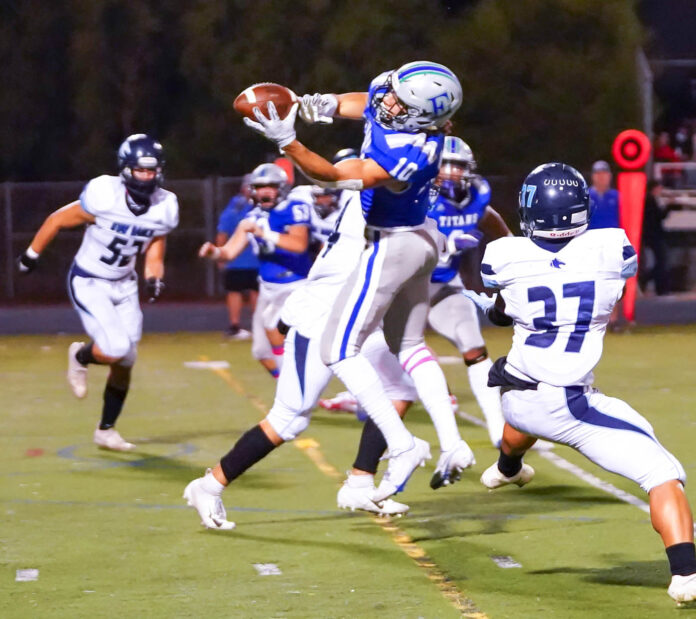 The final regular season standings are in the book and the San Diego Section football advisory committee has poured over analyses and recommendations from league representatives to select this year's divisional playoff field.
A total of 64 teams were seeded in six 11-man divisions and four more teams in one 8-man division.
Eight of the 12 varsity Metro Conference teams received entry into this year's playoff field while two other South County-based schools also received berths.
First-round play kicks off Friday, Nov. 5. Quarterfinals follow on Nov. 12 and semifinals on Nov. 19.
Four of the six Mesa League teams qualified for the playoffs.
Mesa League runner-up Eastlake (4-1 in league, 7-3 overall) received the No. 6 seed in the Division I playoffs while Otay Ranch (2-2 in league, 3-5 overall), the third-place finisher in the Mesa League standings, received the No. 7 seed in the Division II playoffs.
Both teams will host first-round games this Friday.
Mesa League champion Mater Dei Catholic (4-0 in league, 8-0 overall) received the No. 2 seed in the Division III bracket and will kick off postseason play in the division quarterfinals on Nov. 12 after receiving a first-round bye.
Bonita Vista (2-3 in league, 4-5 overall) also received a bid to the Division III playoff field as the final No. 12 seed.
Four South Bay League teams also received postseason berths.
Three teams gained entry into the Division IV playoffs: Sweetwater (No. 6 seed), Montgomery (No. 7 seed) and Mar Vista (No. 12 seed).
Sweetwater (4-0 in league, 5-3 overall) and Montgomery (4-1 in league, 6-3 overall) earned home games this Friday. Mar Vista (2-2 in league, 5-4 overall) will open the playoffs on the road.
San Ysidro (1-4 in league, 4-5 overall) earned the No. 12 and final Division V playoff berth. The Cougars will begin their playoff odyssey on foreign soil this Friday.
All games kick off at 7 p.m.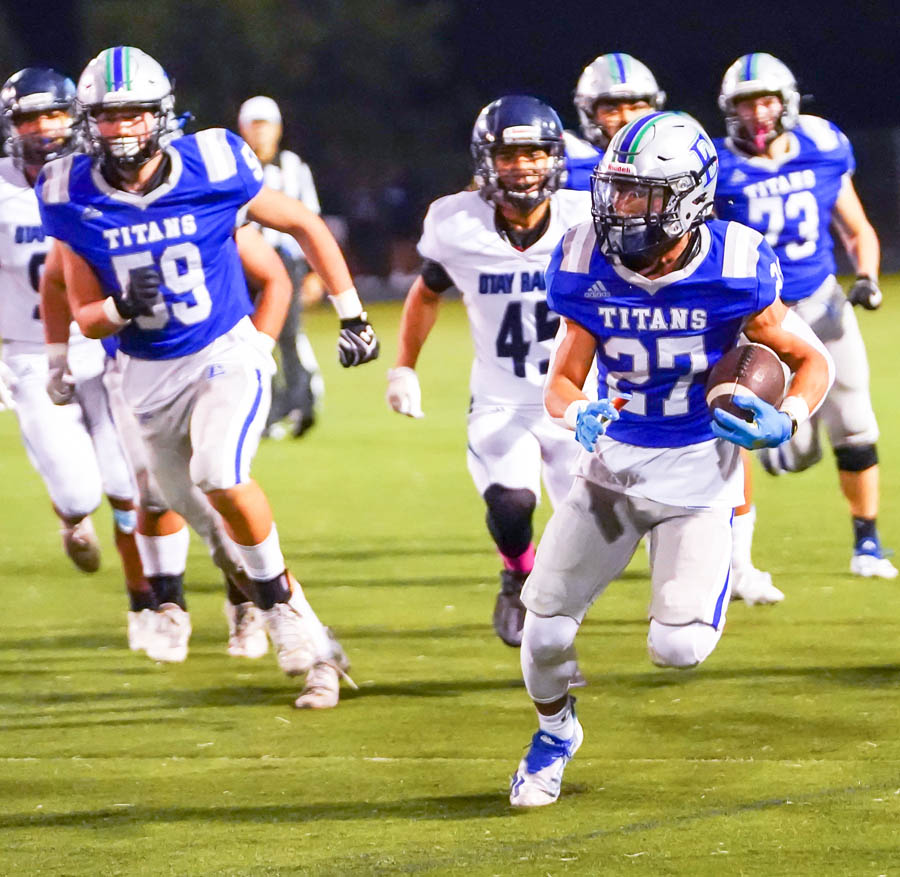 Division I
Eastlake needed a win in last Friday's Mesa League season-ender to secure a home playoff game and got it with a 21-3 win over neighborhood rival Otay Ranch. However, the team did sustain some losses on the field.
"It was a great team victory and we, as a staff, were truly pleased how our team played," Titan head coach Jose Mendoza said. "However, we had a key loss in (sophomore quarterback) Johnny Limon, who re-injured his collar bone.
"Moving forward into the playoffs our offense will ride in the hands of Jordan Blondin. Our goal stays the same to compete in every game and make minimal mistakes. We are confident in our offense led by Jordan. Our strength is our defense led by Trey White, Christian Aguilar, Isaiah Hinojosa, Jayden Kendricks, Jordan Cortell, Jaydin Jackson and Desean Burdette."
Eastlake will host the 11th-seeded San Marcos Knights (1-9) in a game to be played at Hilltop High School due to deconstruction of the Titans' football field.
Blondin, who subbed for Limon (805 passing yards, nine touchdowns, eight picks) earlier in the season, has passed for 534 yards and seven touchdowns against two interceptions. He has collected 1,140 total offensive yards this season including 300 rushing yards and three scores and 306 receiving yards and three touchdown catches.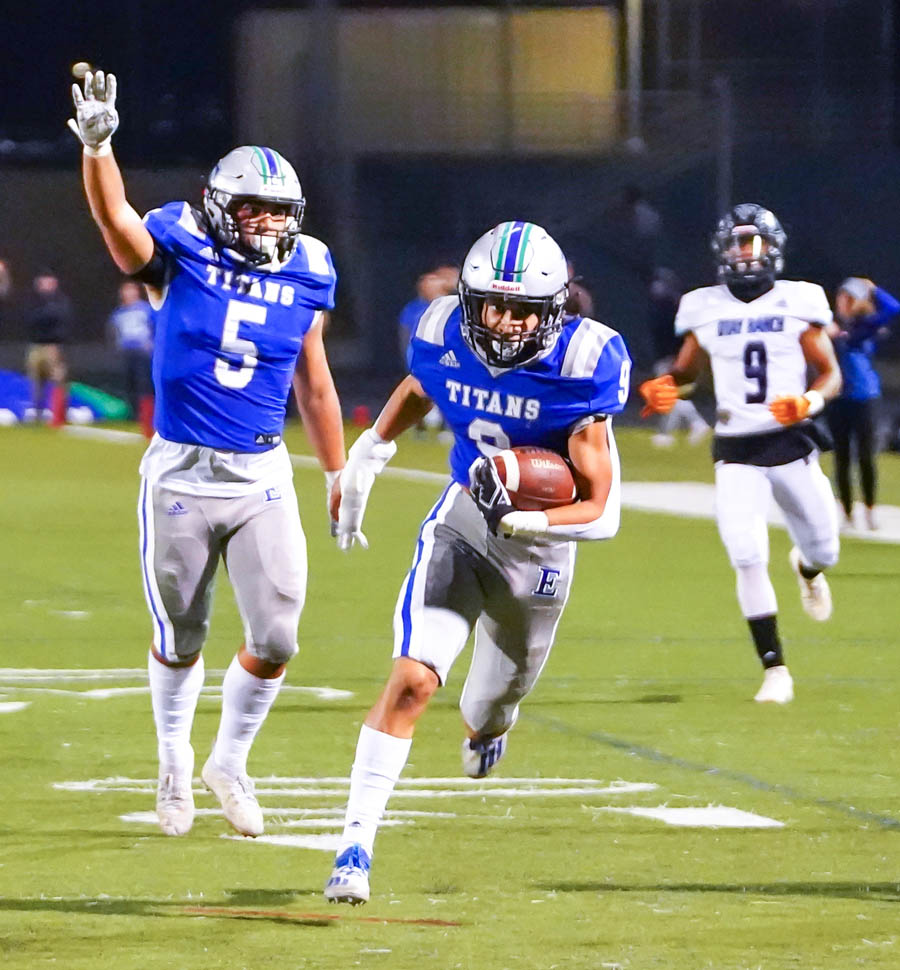 As a team, the Titans have passed for 18 touchdowns and rushed for 14 touchdowns.
The team's strength is unquestionably its defense, led by Kendricks with 102 tackles (66 solo), Aguilar with 83 tackles (55 unassisted), Cortell (66 tackles, six interceptions), Hinojosa (11 sacks) and Burdette (three interceptions, 11 passes defended).
White, a SDSU commit, has logged nine sacks, 50 tackles (35 first hits) and one caused fumble.
Blondin completed five passes for 41 yards and a touchdown to senior Justin Cardoza (two catches, 32 yards) while senior Nicolas Peters completed a three-yard scoring pass to Hinojosa to brace the Eastlake offense in last Friday's win over Otay Ranch.
The Titan defense hobbled the Mustangs with six sacks (two each by White, Hinojosa and senior Marcus House), three interceptions (one each by Burdette, Kendricks and Cortell) and one fumble recovery (senior Marco Gonzales). Kendricks led the team defensively with 12 tackles.
Burdette's pick-six measured 48 yards.
San Marcos leaders include senior signal-caller Emmett Brown with 1,547 passing yards and 13 touchdowns, senior Kaden Vohnout with 753 rushing yards and four touchdowns and freshman Jase Nix with 504 yards and seven TD.
Division II
Otay Ranch will host 10th-seeded Central Union (5-5) in Friday's playoff opener at Olympian High School. Both teams are coming off losses to end regular season play — Otay Ranch by a 21-3 margin at Eastlake and Central by a 34-21 score to Imperial Valley League champion Brawley in the teams' celebrated Bell Game.
The Mustangs are led by junior quarterback Brian Rudden, who has passed for 1,213 yards with eight touchdowns and nine interceptions, and senior receiver Jake Baca with 29 catches for 516 yards and five touchdowns.
Otay Ranch has scored 11 touchdowns — five by Rudden (30 carries, 174 yards). Senior Jayhalin Sanders has 20 catches for 202 yards. He had four pass receptions for 64 yards in last Friday's loss at Eastlake.
Senior Isaac Fualave tops the team with 82 tackles (43 unassisted) and two interceptions.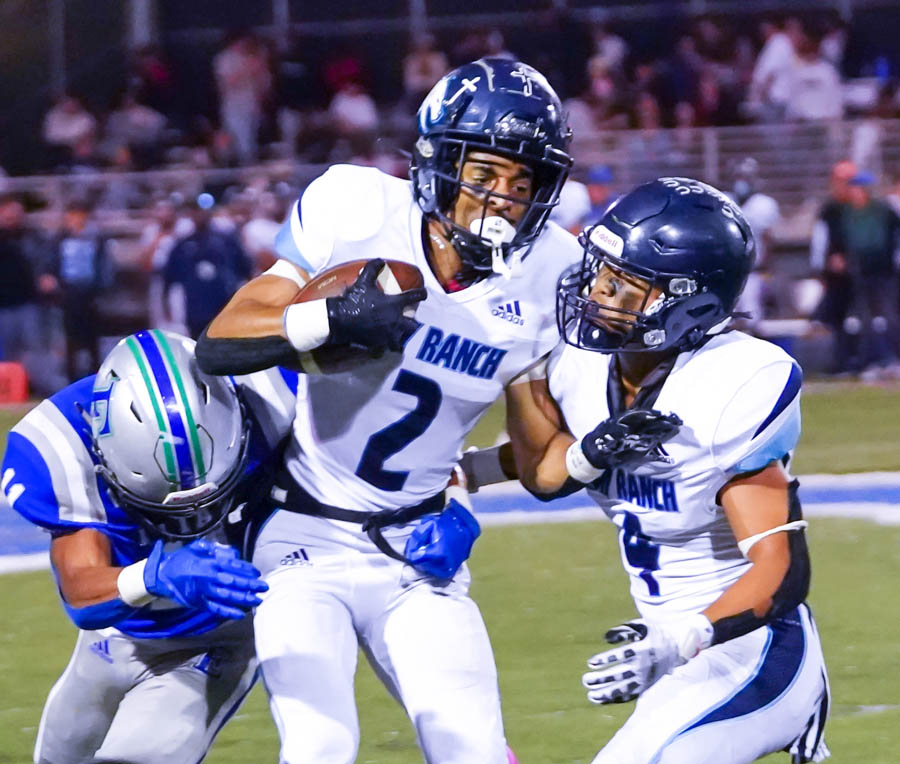 Division III
Mater Dei Catholic, which finished the regular season as the top-rated team in the Metro Conference, will host the winner of Friday's first-round match-up between seventh-seeded El Capitan (8-2) and 10th-seeded Orange Glen (5-4) in next Friday's quarterfinals.
The Crusaders are on an eight-game winning streak but will have two weeks off before their first playoff game due to an unexpected cancellation by Mesa League foe Olympian because of COVID-19 protocols and a playoff bye.
El Capitan enters Friday's first-round game extremely battle tested from a rigorous Grossmont Valley League campaign that saw the visiting Vaqueros come up short by a score of 27-21 last Friday in the league championship game at undefeated West Hills (10-0).
Bonita Vista secured its position as the final team to be seeded in the division with a key 31-14 win over the Hilltop Lancers last Friday at Southwestern College.
Senior quarterback Nathan Roble-Cristobal (13-of-19, 145 yards) had three passing touchdowns and one rushing touchdown on seven carries for 39 yards. Senior kicker Julian Acosta hit a 43-yard field goal while making four extra-point conversions. Senior Malosi Iuli (six catches, 41 yards) had a touchdown reception and an interception while also completing a pass for 17 yards.
Juniors Dante Herrero (four catches, 62 yards) and Dante Scott (three catches, 28 yards) also had touchdown receptions.
The Barons led 24-0 at halftime.
"It was a really big win for us since it helped us get into the playoffs for the first time since 2016," BVHS head coach Tyler Arciaga said. "We needed some help from some other teams which we ended up getting."
Roble-Cristobal has passed for 720 yards with 10 touchdowns and seven interceptions while Scott has 20 catches for 444 yards and eight receiving touchdowns.
"I believe this is a big step for our program and a nice way for our seniors to leave a positive mark on their career," Arciaga said. "I believe it will be a great experience for our younger players and make them strive for more in the coming years."
The Barons will face a daunting task in matching up against West Hills in Friday's opening round. Despite finishing 10-0 (with a school record 12-game winning streak dating to last season), the Wolf Pack (6-0 in league) did not receive a first-round bye in a division that featured three undefeated teams – Mater Dei Catholic (8-0), third-seeded Santa Fe Christian (9-0) and West Hills.
Mt. Carmel earned the No. 1 seed with a 9-1 record.
"They are a real solid and disciplined team who did not go undefeated on accident," Arciaga said of the Wolf Pack. "They play well in close games and are fundamentally sound."
West Hills senior quarterback Braden Oberg employed a ground offense to secure the history-making win with 14 rushes for 119 yards and three scores. Diego Calderon (nine carries, 75 yards) also scored a rushing touchdown against El Capitan (5-1 in league).
Oberg has passed for 1,499 yards and 14 touchdowns with just one pick in 10 games. He's also rushed for 561 yards and nine touchdowns for a 131 quarterback-efficiency rating. Top receivers include seniors Max Conaway (478 yards, eight TD) and Dylan Snyder (389 yards, five TD).
The division championship game is scheduled Nov. 27 at 1 p.m. at Escondido High School.
Division V preview:
(12) San Ysidro (4-5) at (5) Escondido Charter (9-1)
San Ysidro managed to nail down the final playoff berth in the division with a heroic effort in a 26-23 double-overtime loss to the Mariners. The Cougars finished 4-5 overall, 1-4 in South Bay League play.
San Ysidro did pick up wins over Clairemont (52-0), Hoover (28-0), Castle Park (49-6) and Foothills Christian (14-3) over the course of the regular season.
The Cougars trailed Mar Vista, 12-6, at halftime and 20-13 through three quarters before sending the contest into overtime with the lone touchdown in the fourth quarter. The teams were scoreless in the first overtime before San Ysidro kicked a field goal to lead 23-20 in the second overtime. However, the hosts prevailed on the touchdown plunge by QB Aleks Wojcik.
The Cougars will attempt to claw fifth-seeded Escondido Charter (9-1) in Friday's opening round.
"We're definitely going learn from this game," noted San Ysidro coach Keith Aguon in regard to last Friday's double-overtime setback. "We learned we can come back when down. That wasn't there the last few seasons."
If the Cougars can play mistake-free, they could be a handful to contain against the White Tigers.
"Mathew Jaime (271 yards rushing, one touchdown) and Mckai Jackson (158 yards rushing, two touchdowns) left it all on the field in all three phases," Aguon said in regard to last week's game. "We also learned from Mar Vista's effort — they were backed into a corner to get into the playoffs, and they got it done.  We believe we can have that same mindset for our playoffs."
On the season, Jaime has rushed for 824 yards and six touchdowns while Jackson has rushed for 651 yards and seven touchdowns. Junior Ja'Marcus Jiles has thrown for 705 yards with five touchdowns while rushing for 246 yards and three scores.
Senior Sal Samano has been a one-man wrecking crew on defense with 107 tackles (73 unassisted) and six sacks. Jaime has three interceptions while Jackson has two fumble recoveries in two-way duty.
Escondido Charter (5-0 in league) is this year's Pacific League champion.
EIGHT-MAN FINAL PITS TOP-SEEDED LIONS AGAINST THIRD-SEEDED KNIGHTS
Top-seeded San Diego Jewish Academy (8-0) will tackle third-seeded Victory Christian Academy (8-1) for the section's eight-man title Saturday at 7 p.m. at Mission Bay High School.
The top-seeded Lions defeated the fourth-seeded San Pasqual Academy Dragons, 28-22, in last Friday's semifinals while the third-seeded Knights recorded a 44-22 upset win over the second-seeded Ocean View Christian Academy.
The Chula Vista-based Knights received 168 rushing yards and four rushing touchdowns from senior William Hendry in the win over Ocean View (4-1 in Ocean League, 6-2 overall) while junior quarterback Tookie Davis (73 passing yards, 105 rushing yards) threw for one touchdown and rushed for another.
Junior Isaiah Tabares (two carries, 25 yards) also rushed for a touchdown.
Junior Anthony Contreras logged 18 tackles and three sacks on defense. The Knights had eight sacks in the game, including three by junior Max Isom and two by junior Josiah Fellows.
Division IV playoff preview: Sweetwater, Montgomery, Mar Vista all get in the fray
(11) Valhalla (3-7) at (6) Sweetwater (5-3)
The Red Devils, just-crowned South Bay League champions, are riding a five-game winning streak after kicking off the season 0-3. The Norsemen are 3-7 overall after finishing 2-4 in Grossmont Valley League play, fifth in the seven-team league standings.
Sweetwater had its Oct. 22 game at Mar Vista canceled because of COVID-19 protocols, leaving the Red Devils with only one more chance to secure the South Bay League championship. The National City team responded to the late season adversity with a 53-12 victory at Castle Park last Friday to cement its position as this year's league champion and earn a berth in the section playoffs.
"We had a tough week with only two days of practice due to COVID protocols, but overall it feels great to be back-to-back league champs and go undefeated in league," SuHi head coach Ervin Hernandez said. "It is a great testament to all our coaches and kids who have worked so hard in the offseason and during practice. The great news is we have won five in a row going into playoffs. It's a brand-new season and we will take it one day at a time to win each practice leading up to Friday night."
The Devils piled up 404 rushing yards and seven touchdowns against the winless Trojans (0-5, 0-9). Senior Javier Sanchez (13 carries, 121 yards) scored three touchdowns while senior Fabian Venegas (14 carries, 160 yards) and junior Ben Grubbs (five carries, 67 yards) both scored two touchdowns.
Sophomore Xzavier Crews had seven carries for 55 yards on offense and returned an intercepted pass 80 yards for a touchdown on defense. Sanchez also chipped in with five kicking points on special teams.
Venegas keyed the SuHi defense with 10 tackles, including seven solo stops, while sophomore Izell Wright had a fumble recovery.
On the season, Sanchez (92 carries, 661 yards) has scored 13 rushing touchdowns while Venegas (74 carries, 803 yards) has scored nine touchdowns. Senior Carlos Hopper (78 carries, 495 yards) has four touchdowns while Crews (38 carries, 260 yards) has scored three touchdowns on the ground.
Crews has five touchdowns total with a score each on a fumble recovery and interception return.
Venegas leads the Devils with 70 tackles while Sanchez tops the team with 5.5 sacks.
Valhalla solidified its playoff position with a season-ending 35-21 win at Monte Vista last Friday. Senior quarterback Tommy Logan completed three touchdown passes to junior receiver A.J. Cornthwaite and senior defensive end Alejandro Rosales scored on an 80-yard fumble return to pace the Norsemen to the league victory.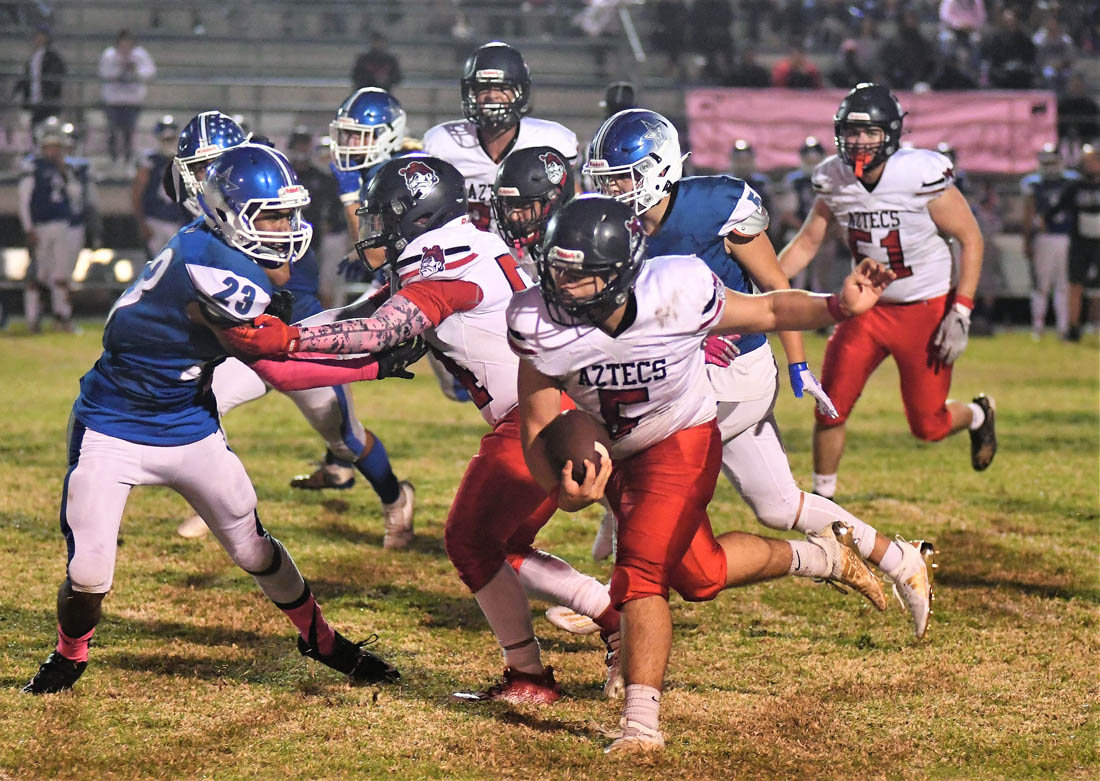 (10) Francis Parker (5-5) at (7) Montgomery (6-3)
The host Aztecs feature a run-oriented attack with 18 rushing touchdowns but can also throw the football with nine passing touchdowns.
Senior Juan Estrada has rushed 87 times for 600 yards and scored 12 touchdowns to spearhead the ground attack while juniors Isaac Cervantes (47 carries, 266 yards) and Victor Flores (53 carries, 229 yards) have both scored two touchdowns.
Senior Ansel Flanagan has passed for 547 yards with three touchdowns and six interceptions while junior Ryan Vasquez has passed for 425 yards with six touchdowns and three interceptions.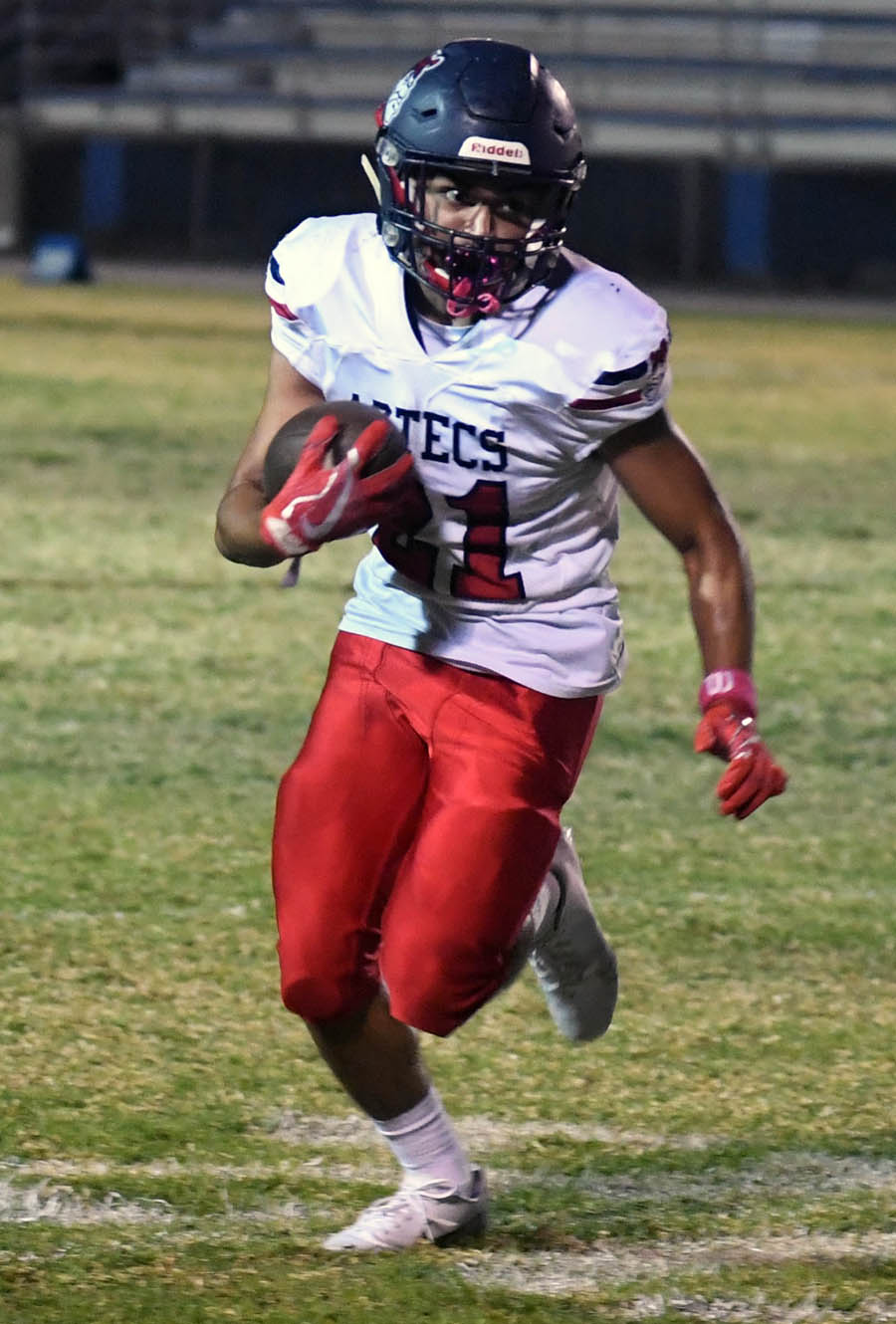 Junior Jordan Benton has made 23 catches for 359 yards and three touchdowns. Estrada has caught seven passes for 123 yards and three scores to give him 16 total touchdowns on the season (12 rushing, three receiving and one on a fumble recovery).
Sophomore Arath Leyva tops the team with 56 tackles, including 10 for a loss. Junior Gideon Baraka and sophomore Mike Mohr both have recorded four sacks.
Christian Venegas leads the Aztec defense with four fumble recoveries while Benton and sophomore Dalaias Garcia both have logged two interceptions.
Montgomery faced a must-win game last Friday at Chula Vista in order to solidify its playoff standing. The Aztecs came through with a 20-0 win to eliminate the Spartans (3-2 in South Bay League, 4-4 overall) from the Division IV playoffs.
Flanagan tossed a six-yard pass to senior Cody Johnson (two catches, 11 yards) to open scoring in last Friday's contest while Flores scored on a one-yard run to push the visitors to a 13-0 halftime lead.
Mohr sealed the win with an 11-yard fumble recovery for a touchdown with 1:46 left in the game.
Both coaches — Montgomery's Freddy Dunkle and Chula Vista's Howard Bannister III — approached the matchup as a playoff contest.
"This is playoff football — it's ugly, it's what it is, what matters is that you come out with the win," Dunkle said. "It's good to get the seniors another home game. We went 1-0 this week. We need to go 1-0 next week in the playoffs."
"We got a lot to fix but we're only graduating eight seniors," Bannister said. "We should be a lot better next year."
Parker (1-5 in Coastal League) has rushed for 25 touchdowns against seven passing scores. Junior Chris Williams has rushed for 736 yards and 12 touchdowns while classmate Chris White has rushed for 639 yards and six touchdowns.
Williams and White are dual threats on the field.
White is the team's top receiver with 28 catches for 488 yards and four touchdowns.
Williams has the most passing yards (505) while freshman Jake Danzo has the most touchdown passes (three).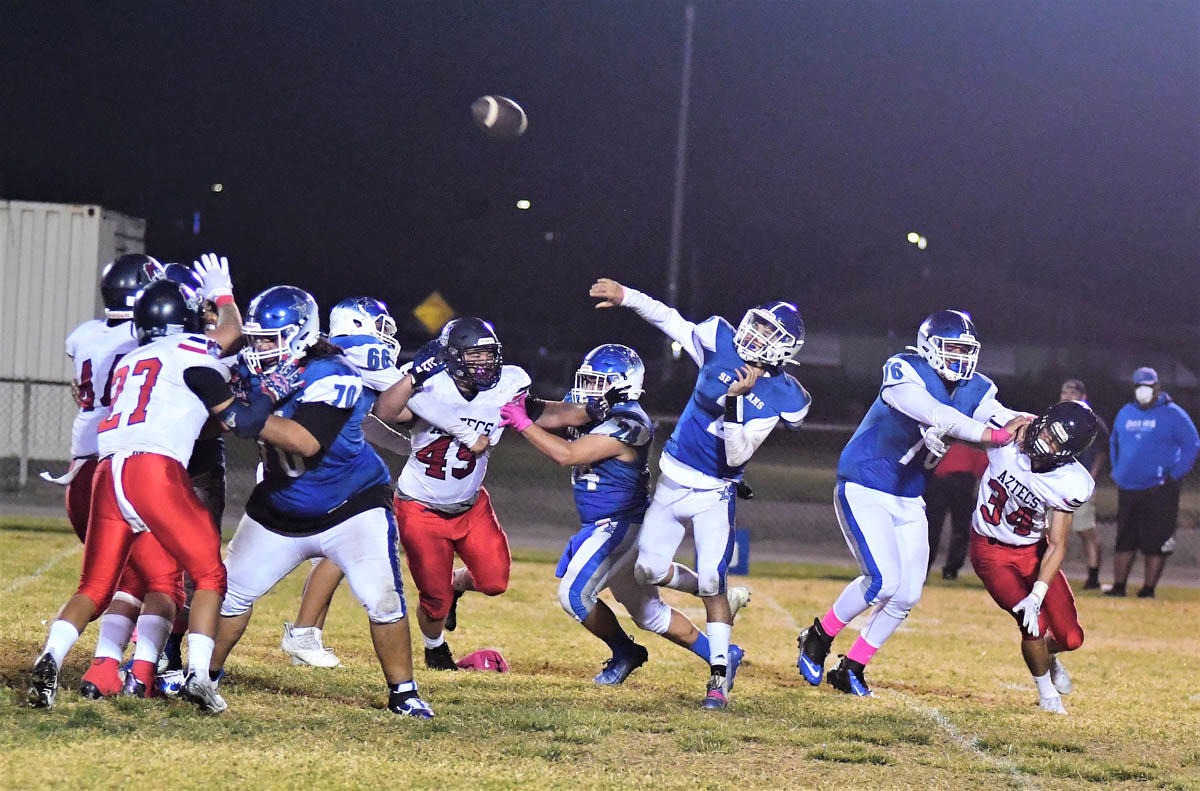 (12) Mar Vista (5-4) at (5) RBV (5-5)
The host Mariners (2-2 in South Bay League) can pass the ball behind junior Aleksandr Wojcik, who has thrown for 2,592 yards and 24 touchdowns against just four interceptions.
Senior Jordan Mahan has caught 47 passes for 981 yards while junior Nathaniel Ramos has 38 receptions for 571 yards. Sophomore Elijah Clark has 17 catches for 323 yards.
Mahan has also thrown two touchdown passes.
Wojcik leads the team with 152 rushing yards from behind center.
The Longhorns (2-3 in Valley League) started the season hot by winning their opening three games but are 2-5 in their last seven games.
Mar Vista has won three of its last four games, including last Friday's clutch 26-23 double-overtime victory against San Ysidro to clinch the final playoff berth in the division.
Wojcik passed for three touchdowns — two to Clark (25 and 20 yards) and one to Mahan (70 yards) — while rushing one yard for the game-winning touchdown. Wojcik passed for 417 yards with one interception. Mahan had six grabs for 128 yards while Clark caught seven aerials for 107 yards. Ramos had five catches for 84 yards in the victory.
On defense, senior Ross Sharping and junior Bam Bam Balansay both had interceptions.
"It was a hard-fought game," first-year Mar Vista head coach Syd Reed said. "Both teams wanted this game. It's the first playoff appearance in a couple years and we are focused on doing our jobs."
RBV leaders include junior quarterback Connor Underhill, who has thrown for 880 yards with eight touchdowns and 10 interceptions, and junior running back Angelino Trapasso with 1,451 rushing yards and 14 touchdowns.
Mesa League Standings
League/Overall
x-Mater Dei Catholic       4-0, 8-0
x-Eastlake                           4-1, 7-3
x-Otay Ranch                   2-2, 3-5
x-Bonita Vista                  2-3, 4-5
Hilltop                                1-4, 2-8
Olympian                       0-3, 0-7
x-playoff qualifier
South Bay League Standings
 League/Overall
x-Sweetwater                    4-0, 5-3
x-Montgomery                 4-1, 6-3
Chula Vista                   3-2, 4-4
x-Mar Vista                      2-2, 5-4
x-San Ysidro                     1-4, 4-5
Castle Park                   0-5, 0-9
x-playoff qualifier
Eight-Man Standings
Citrus League
Victory Christian              5-0, 8-1
San Pasqual Academy     4-1, 7-2
St. Joseph Academy        3-2, 7-3
Warner                               2-3, 2-6
Borrego Springs                1-4, 1-7
Julian                                 0-5, 0-8
Ocean League
SD Jewish Academy        5-0, 8-0
Ocean View Christian      4-1, 6-2
Horizon Prep                     3-2, 5-3
Rock Academy                  2-3, 4-4
Coastal Academy              1-4, 2-6
Calvin Christian                0-5, 1-8