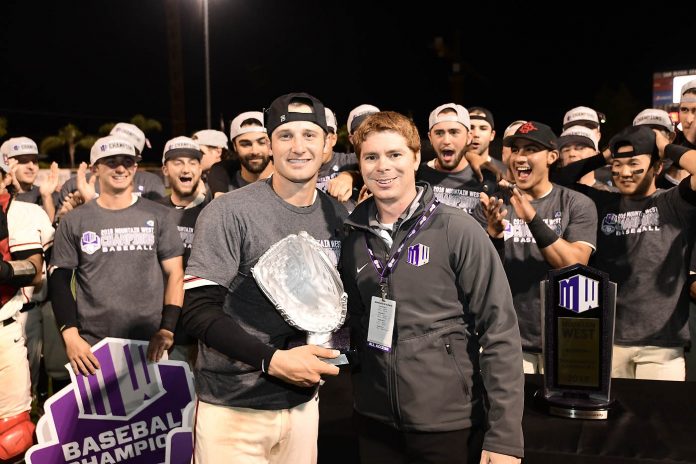 The San Diego State University baseball team claimed its fifth Mountain West Championship in the past six years following a 14-5 victory over No. 4-seeded UNLV last Saturday night (May 26) at Tony Gwynn Stadium.
Freshman right-handed pitcher/infielder Casey Schmitt received recognition as the Mountain West Championships Most Valuable Player while SDSU teammates Dean Nevarez, Garrett Hill and Jacob Erickson each received recognition on the all-tournament team.
Schmitt and Nevarez are both Eastlake High School graduates.
The Aztecs, who were seeded second in the MW tournament, will now prepare to meet LSU in the Corvallis Regional tournament hosted by Oregon State starting Friday (June 1).
The regional features a four-team, double elimination bracket. SDSU (39-19) is seeded third while LSU (37-25) is seeded second.
Stars in their eyes
After SDSU opened its scoring with a Nevarez two-run home run — his eighth of the season – the Aztecs put up two impressive offensive innings to take control of the game, batting through the entire order in both the fourth and sixth innings to score four runs and five runs, respectively.
In the fourth inning, SDSU loaded the bases for Schmitt, who delivered a double off the left-field wall to plate both Chad Bible and fellow Eastlake alumnus Julian Escobedo. After a UNLV pitching change, Matt Rudick reached and advanced to second on an error by third baseman Dillon Johnson, scoring both Nevarez and Schmitt.
SDSU was able to capitalize on another costly mistake by the Rebels in the bottom of the sixth inning.
With one out and Schmitt and Jacob Maekawa both on base, Rudick singled to center field where centerfielder Kyle Isbel misplayed the ball, allowing Schmitt and Maekawa to score on the mishap. Rudick ended up at third base on the play and later scored on a David Hensley single, before Chase Calabuig and Jordan Verdon each recording RBI base-hits to finish the outburst.
The Rebels put together one big inning on the night, scoring four times in the top half of the fourth inning. With two on and none out, Nick Rodriguez doubled to right, scoring Johnson. Nick Ames added a run on a sacrifice fly and Jack-Thomas Wold doubled in a pair with two outs.
UNLV added one run in the sixth inning when Wold grounded into a fielder's choice to second base, scoring Max Smith.
Erickson was lights out for SDSU out of the bullpen, throwing 3.2 innings of scoreless relief while striking out two batters and only giving up one hit. Erickson earned his second victory of the Mountain West Championships with his effort.
Hensley and Nevarez each went 3-for-5 with two RBI while Schmitt led the team with RBI.
All nine SDSU batters had at least one hit, eight scored a run and six had at least one RBI.
Batter up
For the third consecutive game, SDSU rallied to win.
On Thursday (May 24), the Aztecs trailed third-seeded San Jose State, 1-0, entering the bottom of the seventh before pulling out a 2-1 win on the strength of a two-run rally
Nevarez led off the top of the seventh inning with a double off the wall in left-centerfield and later advanced to third base on an infield single by Maekawa.
Nevarez scored two batters later on a one-out sacrifice fly by Hensley and Calabuig posted a go-ahead, two-out RBI single to score Maekawa and give SDSU a 2-1 edge.
Last Friday, SDSU trailed UNLV, 3-0, entering the bottom of the third inning before rallying for a 4-3 win in 12 innings on a walk-off sacrifice fly by Verdon, a Granite Hills High School alum.
Schmitt pitched the game's final three innings and allowed just one hit, but erased that quickly after making an impressive play on a softly hit grounder to start a 1-6-3 double play in the top of the 11th inning.
Schmitt needed to face just the minimum over the course of his three-inning performance and earned his first collegiate win in the process.
In Saturday's championship game, against UNLV the Aztecs were down 4-2 entering the bottom of the fourth inning.
Pitching was a big factor in SDSU's MW championship run. The bullpen pitched 14.1 innings during the tournament and allowed just one run and two hits.
Box score
Dean Nevarez (junior catcher)
Linescore: 3-5, HR (8), 2 R, 2 RBI
In 13 career games against the Rebels (11 starts), he has six home runs, three doubles and one triple.
Posted ninth multi-RBI game of the 2018 campaign.
Recorded his 13th multiple-hit game of the season.
Hit his 19th career home run which ties him for the team lead among active players and moves him into a tie for 17th place in program history.
Casey Schmitt (freshman third base)
Linescore: 2-5, 2B, 2 R, 3 RBI
Became the fifth freshman in league history to win tournament MVP and the first since SDSU's Ty France won it in 2013.
Posted his fourth multiple-RBI game of the season.
Notepad
SDSU's recent MW tournament championship titles came in 2013, 2014, 2015 and 2017. The Aztecs are the only team in the nation to have won five conference tournament championships in the last six years
The Aztecs have won a Mountain West best six postseason baseball championships (2000, 2013, 2014, 2015, 2017, 2018). The baseball program now has 28 conference titles in its history, dating to 1936.
Overall, the SDSU athletic department has captured 41team conference championship since the beginning of the 2012-13 season (35 of those have been in the Mountain West Conference).
Mountain West Conference
ALL-TOURNAMENT TEAM
MVP: Casey Schmitt, San Diego State
Jacob Erickson, San Diego State
Garrett Hill, San Diego State
Dean Nevarez, San Diego State
Dillon Shrum, Nevada
Andrew Mitchel, San Jose State
Kyle Isbel, UNLV
Dillon Johnson, UNLV
Chase Maddux, UNLV
Jack-Thomas Wold, UNLV