Eastlake High School senior Emily Lundgren made a triumphant return to the CIF state swimming championships last weekend after the event's two-year absence due to the coronavirus pandemic.
The Washington State University-bound swimmer won the 100-yard breaststroke event while lowering her own San Diego Section record in the event. She swam a total of three events in the finals after competing in four events in the prelims.
"Going into the meet as the top seed (in the breaststroke) was definitely exciting but also stressful," she explained. "Trying to reframe my mindset to use those nervous feelings as fuel for my races was a big focus for me. I just wanted to have fun with my Titan family one last time and swim fast."
No question she did just that.
Lundgren swam the 200 medley relay, 200 individual medley, 100 breaststroke and the 400 freestyle relay in last Friday's prelims.
The EHS 200 medley relay unit of Lundgren, sophomore Victoria Naval and seniors Aranza Martha and Mirsha Lora lowered their school record in the event to 1:47.17 to place 16th overall and slip into the B-finals heat.
"That was really exciting and set the tone for the rest of the meet," Lundgren said.
Lundgren posted a season best time in the 200 IM prelims (2:03.22) to qualify for the consolation heat in the finals, which she said was her goal for that race.
The 100 breaststroke event is definitely her best race, however, and she lived up to expectation with a personal best 1:00.58 in the prelims to set a new section record.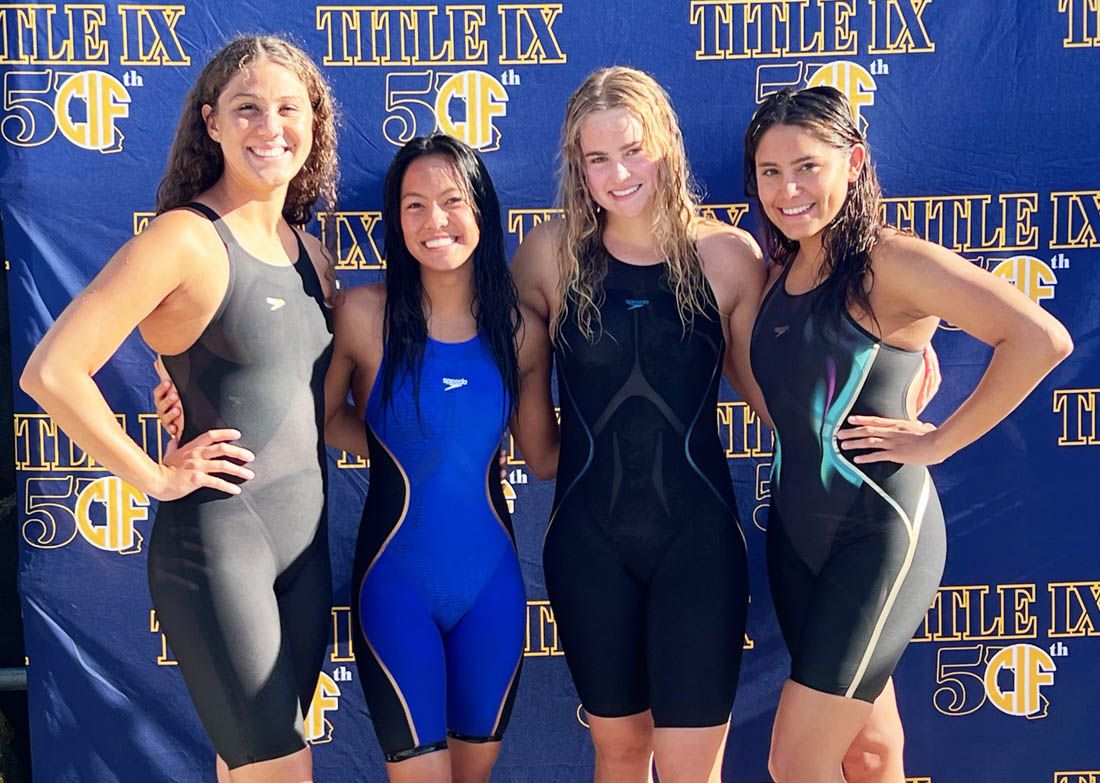 The 400 freestyle relay also went extremely well as the Lady Titan quartet timed 3:32.76 in dropping a second to move up from their 27th seed time to 18th place to just miss qualifying for the consolation finals. Lundgren's 100-split (51.45) was a personal best.
On Saturday, the Eastlake 200 medley relay unit moved up two places to 14th in the consol finals with a time of 1:47.19. Lungren said the goal was just to move up in position and that "we had fun doing it, which was the best part."
Lundgren returned to the pool to compete in the finals in the IM and breaststroke events.
She clocked 2:04.21 in the IM, slightly slower than in the preceding prelims, to place 15th overall in the event out of 16 swimmers.
"My main focus was the breaststroke, so this swim was just for fun and to do the best that I could," she said.
Lundgren called the 100 breaststroke win the highlight of the meet and the season.
"Going into it as top seed I really wanted to get that gold not only for myself, but also my team," she said. "As nervous as I was before the race, I was excited and knew I had the support of my team, coaches, especially coach (Steve) Wiggs, family, and Eastlake community. Placing first at state was such an incredible experience because it felt like all my hard work finally paid off."
Lundgren touched first in 1:00.61, just slightly off her section record the previous day, but comfortably ahead of runner-up Sarah Bennetts, a junior from Davis, who timed 1:01.28.
Lundgren admitted her last outing with her Eastlake teammates was special.
"Knowing that this was the last time I would ever compete as an Eastlake Titan with this team made me emotional," she said. "We all worked so hard the entire season and competing at the highest level for high school swimming was rewarding. Having one last hoorah with some of my best friends was a great way to end my high school swimming career."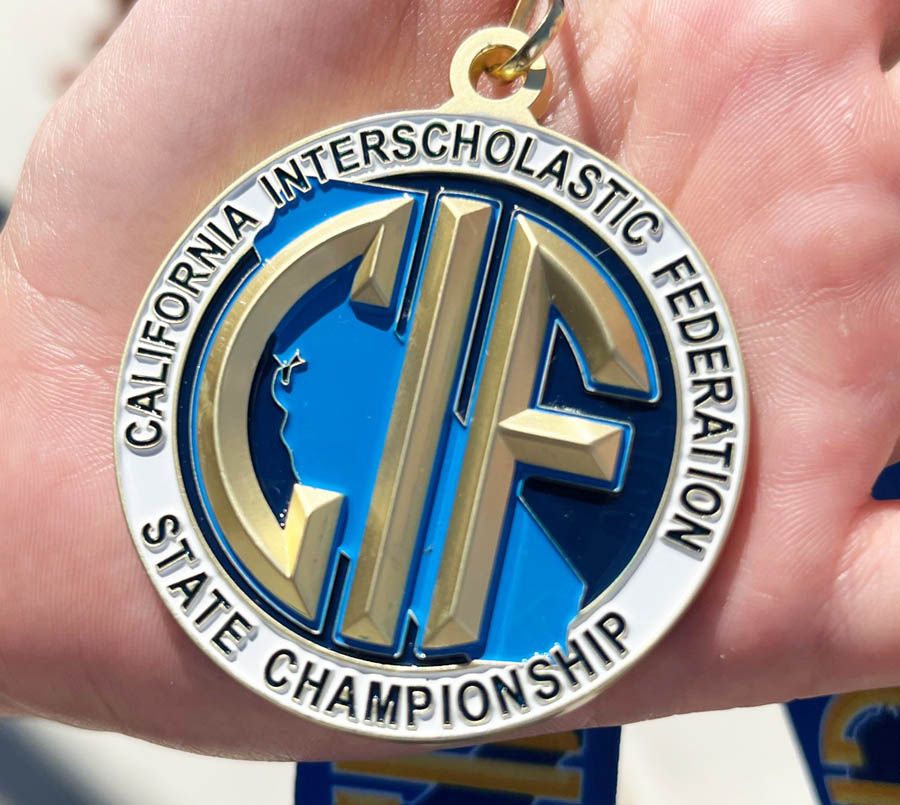 She acknowledged there was a lot to celebrate during her time at EHS.
"So many amazing memories were made during my time as a Titan, such as my first dual meets, team bonfires, winning my first CIF championship, going to state freshman year, becoming a captain, winning league, going to state this year, and now becoming a CIF state champion are things that made my time on this team so special," she said. "While I don't remember how I did at every dual meet or invitational, I remember all the fun that I have had while on this team."
Now it starts all over again in college as a Cougar.
"I can't wait to continue to push myself in this sport and see how far it will take me," Lundgren said. "While I will definitely miss this team, I am excited to see all the new teammates and friends that I will gain while at WSU."
Making a splash
Mater Dei Catholic freshman Isabella Chavez-Varela looks to follow in Lundgren's big footsteps after recording a meteoric fifth-place finish in the girls 500 freestyle championship heat (4:52.46) and a 10th-place finish in the 200 IM consolation heat (2:02.63).
Other state qualifiers included Eastlake senior Colby Hughes (11th B-final in the boys 500 freestlyle, 4:31.29), Martha (33rd girls 50 freestyle prelims, 24.23), Olympian freshman Audrey Hill (34th girls 100 butterfly prelims, 57.41) and Bonita Vista sophomore Sarah Hardin (34th girls 100 freestyle prelims, 52.56).
Mater Dei Catholic freshman Valentino Nieto placed seventh overall in the boys diving competition on May 12 with a score of 513.20 points for 11 dives.