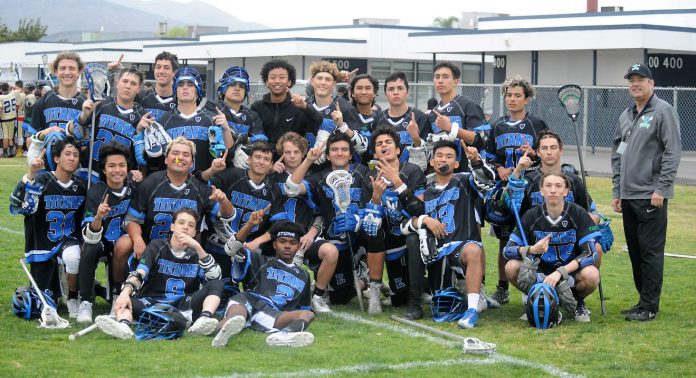 History will be made Saturday, May 19, at 2:30 p.m. at San Marcos High School when the Eastlake High School boys lacrosse team steps onto the pitch to play in the San Diego Section's Division II championship game.
It is the first finals appearance for the Titans in school history, and it's been a while coming for one of the more high profile programs in the Metro Conference.
Fourth-seeded Eastlake (15-6) will match up against second-seeded Canyon Crest Academy (13-12) in Saturday's winner-take-all title contest.
Neither team has played the other this season, though the Ravens are the higher-seeded team among the two finalists.
"We are very pleased that we can represent Eastlake High School and the Metro Mesa League in the CIF finals," explained EHS head coach Dale Drees, whose team eliminated  top-seeded Patrick Henry, 8-7, in overtime in Wednesday's division semifinals. "The significance of this moment isn't lost on the boys as I think they appreciate the efforts of previous players, coaches, parents, and school administrators over the years to get the program to this level.
"The players are very excited and have worked hard to prepare for this rare opportunity. We will meet another very good opponent in Canyon Crest Academy and our hope is that the efforts throughout the season and the experience in the playoffs thus far will put us in a position to not only be competitive but win a CIF title."
Drees expects another close matchup on the field. Canyon Crest Academy defeated third-seeded Granite Hills, 6-4, in the semifinals while Eastlake dropped an 8-7 non-league match to Granite Hills to close out regular season play on May 4.
The Titans hope to build on their experience from the semifinals when they came out on top in a fiercely fought game that turned on the first shot in overtime by team scoring leader Jaxen Trinidad.
"Like our earlier regular season matchup it was a hard fought game," Drees assessed. "It is clear why Patrick Henry (14-7) was the No. 1 seed and we could never get comfortable even though at one point we had a three-goal lead.
"Fortunately, we were able to come up with the ball off the face-off in overtime. There is a reason why Jaxen Trinidad is Mesa League Player of the Year and he showed that when he put the ball in back of the net in overtime to win the game."
Eastlake had defeated Patrick Henry, 8-7, in a non-league game back on March 13.
The semifinal contest was played at San Diego State University due to construction at Patrick Henry High School. The Patriots also had to play their quarterfinal-round game on the road. That game was played May 12 at Otay Ranch High School as the Patriots eliminated the ninth-seeded Mustangs 12-9.
Four players each scored two goals in the semifinal win over Patrick Henry: Trinidad, Brock Hayes, Tony Santos and Evan Farrage.
Trinidad, McKinley Egland-Young, Farrage, and A.J. Caturay each had one assist while goalkeeper Kai Bowden recorded 13 saves.
Eastlake defeated fifth-seeded Point Loma, 10-5, in the quarterfinals on May 12.
Caturay led the Titans with five goals while Trinidad contributed four assists. Santos collected two goals and one assist while Derrick Speed scored two goals, Marco Jauregui and one goal and one assist and Braden Mayer had two assists. Kai Bowden was credited with 11 saves.
"We were fortunate to have played Point Loma in the regular season (an 11-5 non-league victory), so we had a good feel for how they played and who their stronger players were and our game plan was developed accordingly," the EHS coach explained.
"The boys executed (that game plan) well and, as has been the case all season long, they had another great game sharing the ball, with 80 percent of goals being assisted.  Even though we jumped out to a quick 3-0 lead, Point Loma didn't back down and went on a five-goal run in the second quarter that rattled us a little.
"But with the defense settled in the second half, the rest of the game was all Eastlake. Point Loma did a great job trying to isolate Jaxen, but he still managed four assists and we got outstanding play from our midfielders, especially A.J. Caturay.
"We also saw another strong performance at the face-off spot from Tristan Corpus that allowed us to get more possessions and thus be in a position to score and control the clock."
Saturday's Eastlake-Canyon Crest contest is part of a championship triple-header at San Marcos High School. The Division I championship game between top-seeded La Jolla (15-8) and seventh-seeded Scripps Ranch (10-9) is scheduled for 5 p.m., followed by the Open Division championship game between top-seeded Torrey Pines (17-1) and third-seeded Coronado (17-4) at 7:30 p.m.
For more information and a link to a webcast, visit the website at www.cifsds.org.