California District 42 made it six-for-six at this year's California Section 7 championships — a history-making first for the Little League organization.
Chula Vista American Little League won the 10U division title while Eastlake Little League won the 11U championship.
Sweetwater Valley won the 12U division while Park View won the Junior Division.
Sweetwater Valley swept titles in both the Intermediate and Senior divisions.
Two divisions — 11U and 12U — were extended to the double-elimination stage.
It was a milestone moment for district administrator Ernie Lucero.
"Since I became district administrator for California District 42 Little League baseball in 2008, this is the first time that we have won in every division in the sectional all-star tournament — Senior, Juniors, Intermediate, 12s, 11s and 10s," Lucero said. "We had representation for the Little League's divisional all-star tournament from six leagues in our district from the South County, a step closer to the world series for some divisions.
"I only wished that I could have attended all the games from our Senior Division Sweetwater Valley team in Norco to our Junior Division Park View team in Murrieta, the Intermediate Division Sweetwater Valley team in Rancho Penasquitos, the Sweetwater Valley Little League division 12s in the city of Eastvale, Riverside County, our 11s Eastlake Little League team in Fountain Valley, a suburban city in Orange County, and our Chula Vista American Little League team in Imperial Beach.
"Deciding where to drive and watch our teams play has been a challenge, but it's a very good problem to have."
Sweetwater Valley's Senior and Intermediate teams did not make it out of the Southern California regional tournament. SVLL's seniors finished 1-2 while the intermediates finished 3-2 on a more brighter note.
"Our Park View Junior team was eliminated during the double elimination tournament," Lucero said. "These 13-14 year-old teens did not disappoint. Their final record was three wins against the two loses."
11th heaven
Eastlake started its run in the District 42 tournament with a 10-0 statement victory against returning champion Park View. Saul Gross pitched a two-hitter, catcher Isaiah Cortes allowed zero passed balls and zero wild pitches and second basemen Joey Ziomek turned two double plays to limit Park View to only one runner advancing to second base and none to third base in the game.
Eastlake cruised through the District 42 tournament by outscoring opponents 46-4. The four-game sweep included a perfect game from pitcher Eddie Acosta against Imperial Beach Little League. Eastlake secured the District 42 banner by defeating Sweetwater Valley Little League, 11-0, in the championship game.
Eastlake started the Section 7 tournament with a tough loss 4-2 to California District 41 champion Rancho De Oro Little League on July 16. The team charged back with a 15-0 victory over Lemon Grove Little League, however, on July 18 supported by a complete game shutout from pitcher Jaziel Gonzalez.
In order to win the section championship, however, Eastlake had to defeat Rancho De Oro twice in the tournament's double-elimination format.
In the first game, on July 19, Eastlake shook up its lineup and moved Dante Baca to the No. 3 spot in the lineup. Baca went on to lead the team offensively going three-for-four with a walk and three runs scored. Eastlake won the game 15-2 to force another game.
In the Section 7 championship game on July 21, Malaki Maestas opened the scoring by hitting a home run directly over the left field foul pole to give Eastlake a 3-0 lead in the second inning. Starting pitcher Ryan Nicolaus held Rancho De Oro to two runs while Gross closed the door to secure a 9-2 victory for Eastlake and this year's section banner.
In the first game of the Southern California Tournament on July 23, Eastlake defeated Conejo Valley, 15-1, led offensively by Hunter Piring, who went four-for-four. Acosta, the starting pitcher, set the tone defensively by striking out the side in the first inning.
Throughout the run, "team baseball" has been the key to success, according to the coaching staff. Nowhere has that been more apparent than off the bench, manager Matt Fischer said.
"The Eastlake 11U team epitomizes this statement," Fischer said. "Logan Boliguen, Zakai Castruita, Logan McElroy and Braylen Martinez have all made tremendous contributions to the team coming off the bench. In more than half of the team's games, the bench has been perfect offensively. Boliguen has led that productivity off the bench by going 8-for-12 with one walk in crucial situations."
Overall, Eastlake had outscored it opponents 102-13 in nine games while averaging less than one error per game. The team had stuck-out opponents 57 times.
Eastlake Little League 11U All-Star roster
Eddie Acosta, Logan Boliguen, Malaki Maestas, Ryan Nicolaus, Hunter Piring, Joey Ziomek, Danta Baca, Zakai Castruita, Isaiah Cortes, Jaziel Gonzalez, Saul Gross, Braylen Martinez, Logan McElroy.
Manager: Matt Fischer. Coaches: Eddie Acosta, Marlow Martinez, Diego Uribe
Junior Division
Park View defeated Thousand Oaks (15-3 on July 23), Orangecrest (20-8 on July 24) and Golden Hill (7-6 on July 25) in the SoCal Juniors state tourney after losing its opener to Apple Valley (5-2 on July 22).
Park View's season ended with a 15-5 loss to Redondo Beach on Tuesday.
Park View finished 8-2 in all-star play.
Update: Eastlake dropped a 7-1 decision to District 32 champion Scripps Ranch in Tuesday's winners bracket contest to fall to the elimination bracket. Eastlake defeated Temecula, 2-1, on Wednesday to advance to Thursday's elimination bracket game against El Segundo (District 36) at Fountain Valley Little League.

El Segundo won 13-4 to eliminate Eastlake from championship contention. Eastlake Little League finished 9-3 overall in all-star tournament play.

12U: On the road
Sweetwater Valley appeared in good working order by capturing its opening two games at the SoCal regionals by 12-0 and 7-0 shutout victories.
In the first game, played on Saturday, the newly crowned Section 7 champions rapped out 12 hits in four innings with Brandon Hirsch accounting for six total bases and three RBI with a double and home run. Niko Duncan had six total bases with a double. Vargas had two hits and three RBI while Kenson Johnson had two hits and two RBI.
The game ended when Sweetwater Valley scored seven runs in the fourth inning to enact the 10-run rule.
Johnson pitched three and two-thirds innings, allowing two hits while striking out six batters. He and Roman Murphy (one third of an inning, one strikeout) combined on the shutout win.
Sweetwater Valley played a regulation six-inning game against La Mirada on Sunday, out-hitting its opponent 9-4. The District 42 champions nursed a 4-0 lead into the final inning before tacking on three  insurance runs.
Joel Vargas and Maelo Forrero both had two RBI while Johnson and Nico Villa both had one RBI. Forrero had a double while Johnson and Vargas both hit home runs. Johnson finished the game with five total bases while Vargas had four.
Vargas pitched a complete game four-hitter with nine strikeouts.
***
SVLL (10-2) dropped its third game in the tournament, 3-2, to Glendora American on Wednesday to fall to the elimination bracket. Trailing 2-0 early, Vargas hit a two-run home run to tie the game, 2-2, in the middle stages of the contest.
The District 42 and Section 7 champions will face District 62 champion Huntington Valley in an elimination game on Thursday at 5 p.m. The winner advances to meet the Eastvale-Encinitas winner on Friday.
For Sweetwater Valley to win the SoCal championship and advance to the Little League World Series West Region tournament, it will need to win five consecutive games.
***
That number was down to four consecutive wins after Thursday's 6-4 victory.
Sweetwater Valley received single RBI from three players: Vargas, Austin Walrath and Lucas Yriqui. Duncan scored two runs while Vargas, Johnson, Forrero and Hirsch each scored once.
Sweetwater Valley, which improved to 11-2 in all-star tournament play, will face District 31 champion Encinitas in an all-San Diego County elimination game on Friday at 7:30 p.m.. The winner advances to Saturday's losers bracket semifinal.
Encinitas eliminated District 72 champion Eastvale by a score of 10-0 on Thursday.
***
The road continued for the District 42 champions with a 3-0 win on Friday. "It was a great game of baseball," the SVLL manager said.
Sweetwater Valley will play Del Rey American after it lost to Glendora American in the winners bracket semifinal. Game time for Saturday's losers bracket semifinal at 1 p.m. at Eastvale Little League.
Sweetwater Valley now needs three consecutive wins to advance to the western region tournament in San Bernardino.
***
Sweetwater Valley's season ended with a 4-3 loss to Del Rey American in Saturday's elimination bracket game at Eastvale Little League.
10U DIVISION:
Chula Vista American won its opening two games at the Southern California state championship tournament being played at Imperial Beach Little League. The reigning District 42 and Section 7 champions defeated La Mirada, 5-2, on Sunday to draw Dos Pueblos in a winners bracket game on Wednesday.
***
Chula Vista American recorded a 4-3 come-from-behind win to advance to Friday's semifinal game against Palos Verdes at 6:30 p.m.
***
The District 42 champions won Friday's game, 5-0, to advance to Sunday's championship game at 11 a.m.
CVA will play Saturday's elimination game winner between Palos Verdes and Dos Pueblos in Sunday's championship game.
CVA wins! CVA wins! District 42/Section 7 champs advance to SoCal 10s championship game!
Chula Vista American Little League's 10U all-star team keeps working and keeps winning. The team ran its summer all-star tournament record to 10-0 following Friday's 5-0 semifinal victory over Palos Verdes in the 10-team Southern California regional finals hosted by Imperial Beach Little League.
CVA now sits in some pretty elite company after advancing to Sunday's championship game, the last stop in Little League International for this age-group.
CVA will finish either first or second in the Southern California region after battling Palos Verdes in a rematch after Palos Verdes topped Dos Pueblos in Saturday's elimination contest. First pitch is at 11 a.m. at the Imperial Beach Little League complex.
Evan Bortscheller pitched a gem of game going 4.1 innings, striking out nine, allowing only four hits and one walk in helping catapult his team to Sunday's regional final.
Meanwhile, Sonny Garcia delivered the big hit in Friday's game with a second inning bases-loaded double that scored three runs for CVA.
The CVA defense once again was stellar in that there were no errors, a great defensive play by second baseman Israel Mejia to end a fifth-inning scoring threat by Palos Verdes (runners on first and second base, two out)," Chula Vista American manager Sergio Feria explained. "Also, a key sixth-inning double play executed by CVA to clear the bases with Palos Verdes again threatening to score."
CVA is now 10 wins, 0 losses, in the Southern California tournament. With Friday's win, CVA advances to the Southern California State Championship Game on Sunday, July 31, at Imperial Beach.  CVA will play the winner of Saturday's game between Palos Verdes and Dos Pueblos Little League (Santa Barbara/Goleta).
Throughout the tournament, CVA's pitching and defense have been outstanding. Feria said.  CVA pitchers have allowed only 15 runs and 16 walks in the 10 games.  The CVA defense has made only six errors in the 10 games.
Offensively, CVA has scored 82 runs in the 10 games.
"CVA is not done," Feria said. "The Tournament continues, and CVA has more work to do. Keep working, keep winning."
Owing to the tournament's double-elimination format, an "if necessary" game would be played Monday at 6:30 p.m. should Palos Verdes come up victorious on Sunday.
***
Chula Vista American absorbed its first loss of the State Tournament on Sunday, losing to Palos Verdes 4-1. The win by Palos Verdes forces a second championship game on Monday in the double elimination tournament, with CVA (10-1) having previously defeated Palos Verdes on Friday, 5-0.
Bennet Lopes, for Palos Verdes, pitched 4.1 outstanding innings. He allowed only three hits, struck out seven, walked one to tame the bats of Chula Vista American.
Meanwhile, CVA's Manny Dorado allowed his first runs of the tournament on Sunday. He pitched  4.2 innings, allowed eight hits, struck out six, and allowed three earned runs.
CVA batters totaled six hits in the loss.
Monday's game will be the third matchup between the teams in the SoCal state tournament with the teams squared off at a win apiece.
A Southern California Champion will be crowned Monday evening — either Chula Vista American or Palos Verdes. Game time is 6:30 p.m.
12U All-Stars Gallery
Photos by Steve Wood
Joel Vargas hits game-tying home run in Wednesday's loss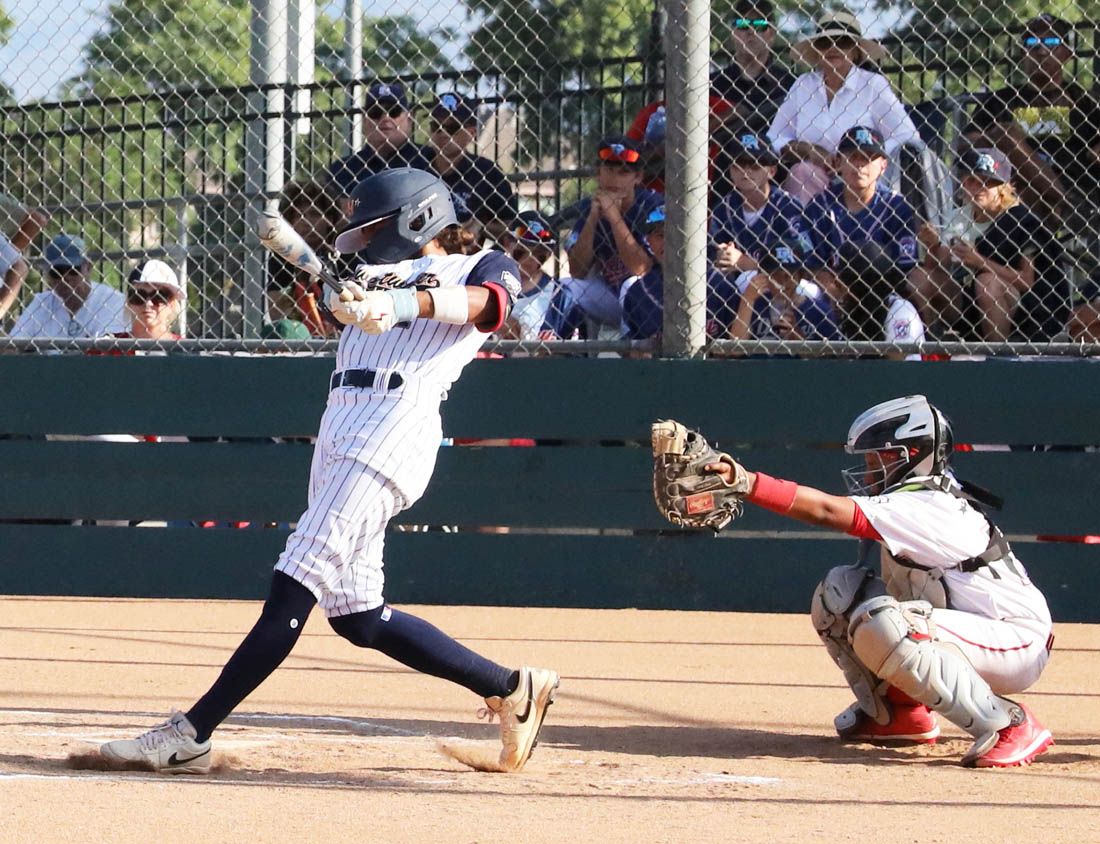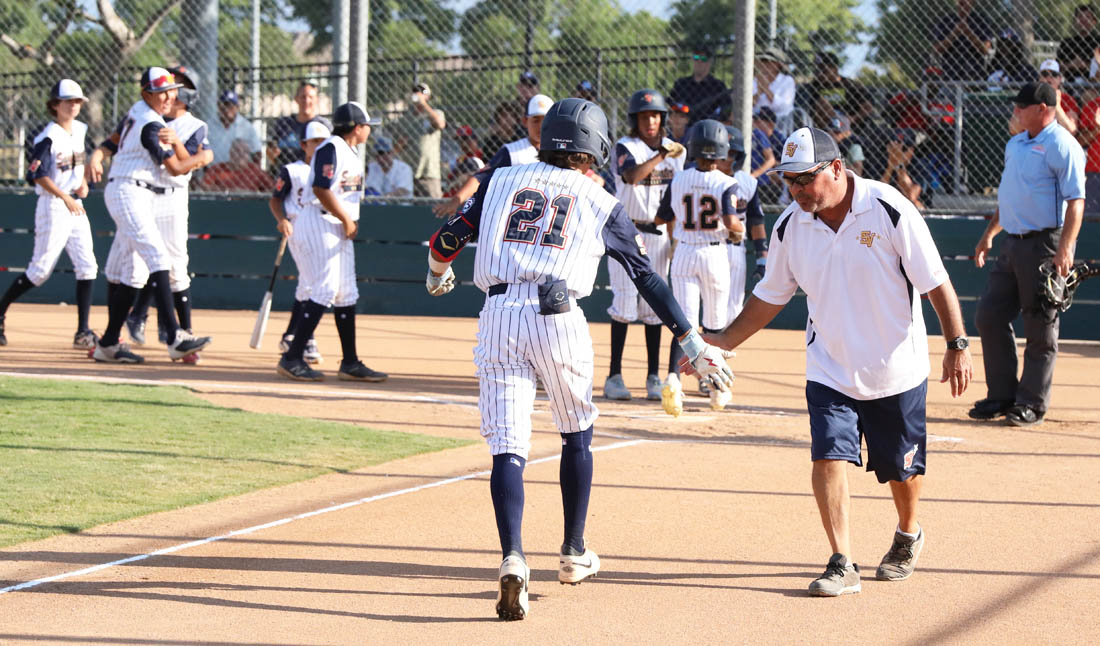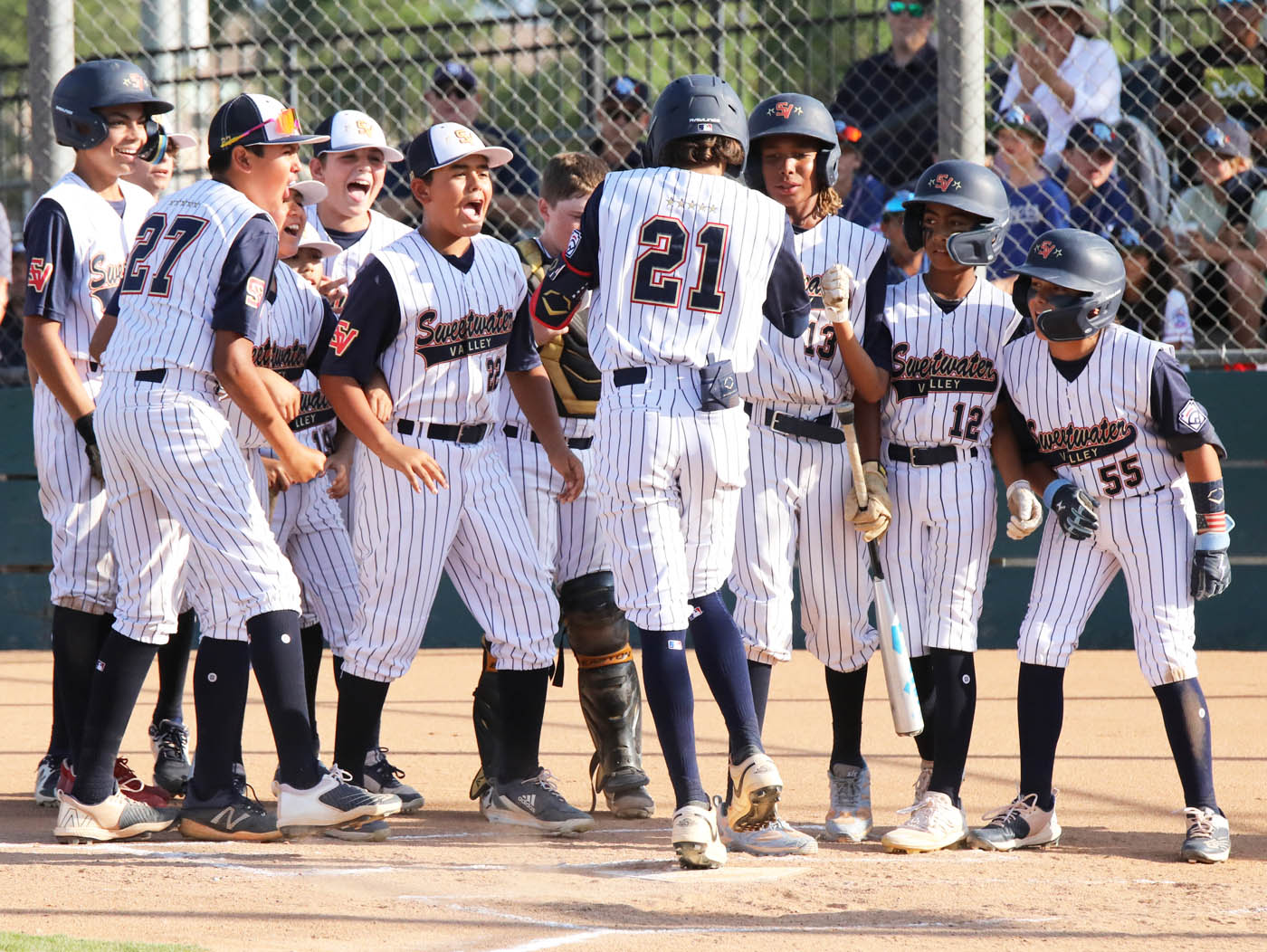 Right fielder Brandon Hirsch makes a diving catch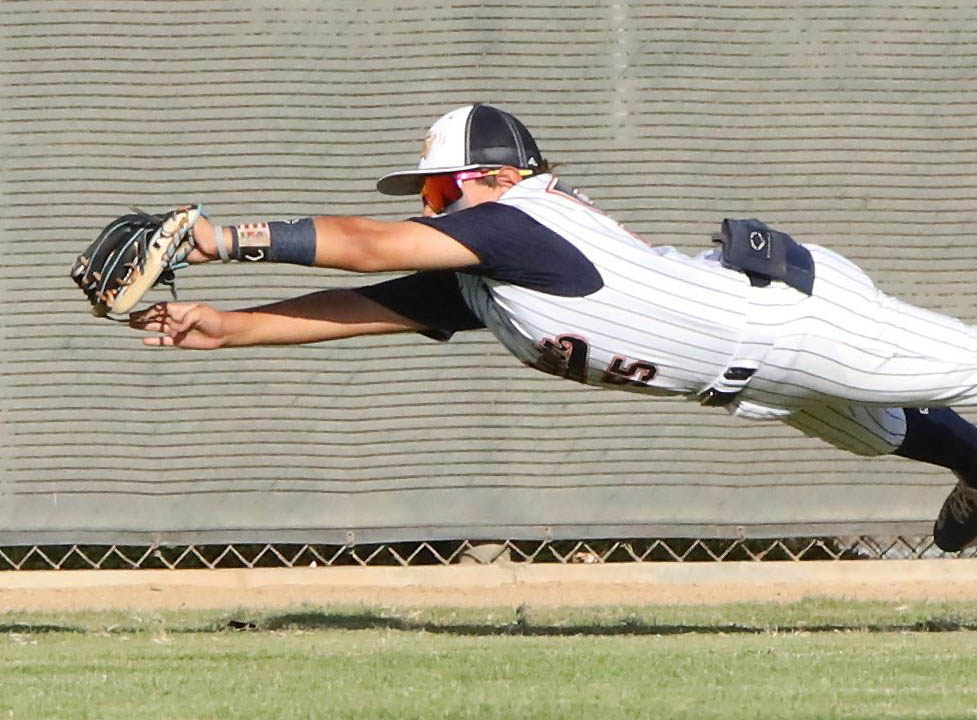 Sweetwater Valley pitcher Ethan Orozco in Wednesday's game
SOUTHERN CALIFORNIA REGIONAL TOURNAMENT
Junior Division at Murrieta National Little League
Thursday, July 21
Upland National (District 23) 13, Thousand Oaks (District 13) 2
4S Ranch (District 31) 13, Redondo Beach (District 36) 3
Friday, July 22
Golden Hill (District 56) 19, San Marino (District 17) 9
Apple Valley (District 49) 5, Park View (District 42) 2
Saturday, July 23
Upland National (District 23) 6, North Mission Viejo (District 68) 5
4S Ranch (District 31) 23, Orangecrest (District 24) 2
Redondo Beach (District 36) 15, San Marino (District 17) 0
Park View (District 42) 15, Thousand Oaks (District 13) 3
Sunday, July 24
Upland National (District 23) 13, Golden Hill (District 56) 2
4S Ranch (District 31) 13, Apple Valley (District 49) 1
Redondo Beach (Distirct 36), North Mission Viejo (District 68) 4
Park View (District 42) 20, Orangecrest (District 24) 8
Monday, July 25
Redondo Beach (District 36) 8, Apple Valley (District 49) 5
Park View (District 42) 7, Golden Hills (District 56) 6
Tuesday, July 26
4S Ranch (District 31) 10, Upland National (District 23) 2
Redondo Beach (District 36) 15, Park View (District 42) 5
Wednesday, July 27
Redondo Beach (District 36) 9, Upland National (District 23) 6
Thursday, July 28
4S Ranch (District 31) 16, Redondo Beach (District 36) 6
Note: 4S Ranch wins Southern California regional championship
Senior Division at Norco Little League
Friday, July 8
El Rio (District 13) 5, Santa Monica (District 25) 3
West End (District 42) 5, San Fernando (District 40) 4
Saturday, July 9
North Park (District 33) 7, La Mirada (District 29) 1
El Rio (District 13) 14, East Anaheim (District 46) 4
La Verne (District 20) 9, West End (District 43) 3
Sweetwater Valley (District 42) 5, Marrieta National (District 28) 0
Sunday, July 10
La Mirada (District 29) 11, San Fernando (District 40) 1
Santa Monica (District 25) 6, Marrieta National (District 28) 3
Monday, July 11
La Mirada (District 29) 7, East Anaheim (District 46) 3
West End (District 43) 1, Santa Monica (District 25) 0
Tuesday, July 12
El Rio (District 13) 10, North park (District 33) 5
La Verne (District 20) 12, Sweetwater Valley (District 42) 0
Wednesday, July 13
La Mirada (District 29) 6, Sweetwater Valley (District 42) 4
North Park (District 33) 7, West End (District 43) 5
Thursday, July 14
El Rio (District 13) 3, La Verne (District 20) 0
North Park (District 33) 12, La Mirada (District 29) 1
Friday, July 15
La Verne (District 20) 5, North Park (District 33) 2
Saturday, July 16
La Verne (District 20) 9, El Rio (District 13) 3
Sunday, July 17
La Verne (District 20) 8, El Rio (District 13) 7
Note: La Verne wins Southern California regional championship