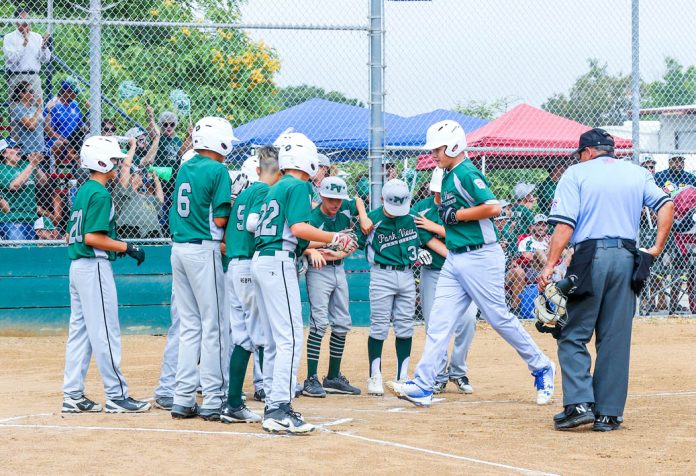 Three California District 42 Little League all-star teams have advanced to championship games in their respective divisions at this week's California Section 7 tournaments.
Eastlake's 10U all-star team defeated District 22 champion Calexico and District 41 champion West Hills to play for the division title on Tuesday. The reigning District 42 champions will face Calexico in a rematch after the District 22 champs eliminated West Hills, 21-19, in Monday's challenger bracket final.
Tuesday's game is set for 7 p.m. at Calexico Little League. If necessary, a double-elimination final will be played Wednesday at the same time at the same site.
Eastlake defeated Calexico, 7-5, in a game that went eight innings on Saturday. The temperature at the Imperial Valley site was 113 degrees at the start of the game and cooled to 101 degrees by the end of the extra inning contest.
Eastlake remained in control of its destiny by topping West Hills, 18-13, in a winners bracket game on Sunday as the temperature hit the 105-degree mark.
Eastlake manager Adam Villarreal admitted playing in the dry heat presented a challenge but his young team proved up to it.
"It's pretty exciting," the Eastlake manager said. "This is the first time being all-stars at the 10U level, so it's all new to them. We have good team chemistry, and everyone is on board with the tasks to do. It's been good to work with."
Sweetwater Valley's 11U all-star team took a more indirect route to Tuesday's championship final at Spring Valley Little League (7 p.m. start) after dropping its opener to District 41 Lakeside American, 9-8, on Saturday.
However, Sweetwater Valley remained in championship contention after eliminating Valley de Oro (15-0 on Sunday) and Lakeside American (12-1 on Monday) in a pair of ensuing contests in the challenger bracket.
Sweetwater Valley will meet unbeaten Calexico, the District 22 champions, in Tuesday's title matchup. The District 42 champions will need to defeat Calexico twice to advance to the Division III tournament.
If needed, Wednesday's double-elimination game is set for a 7 p.m. start as Sweetwater Valley Little League.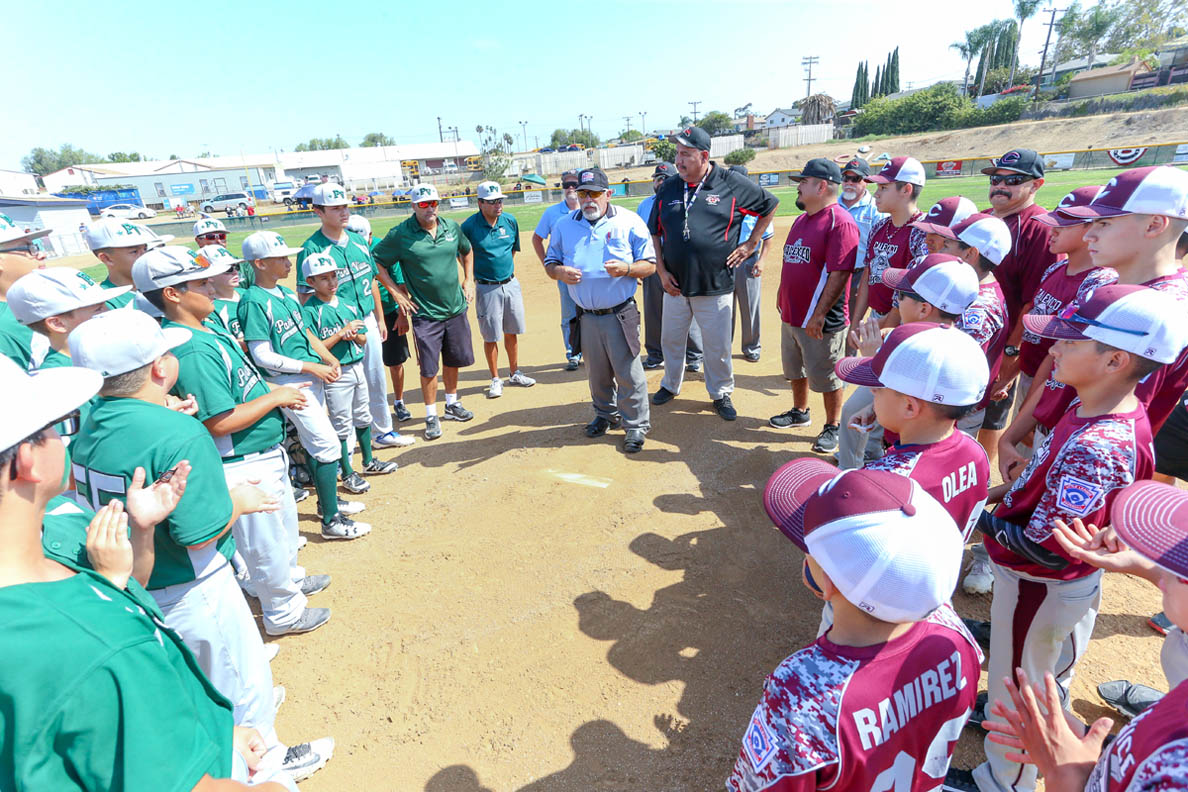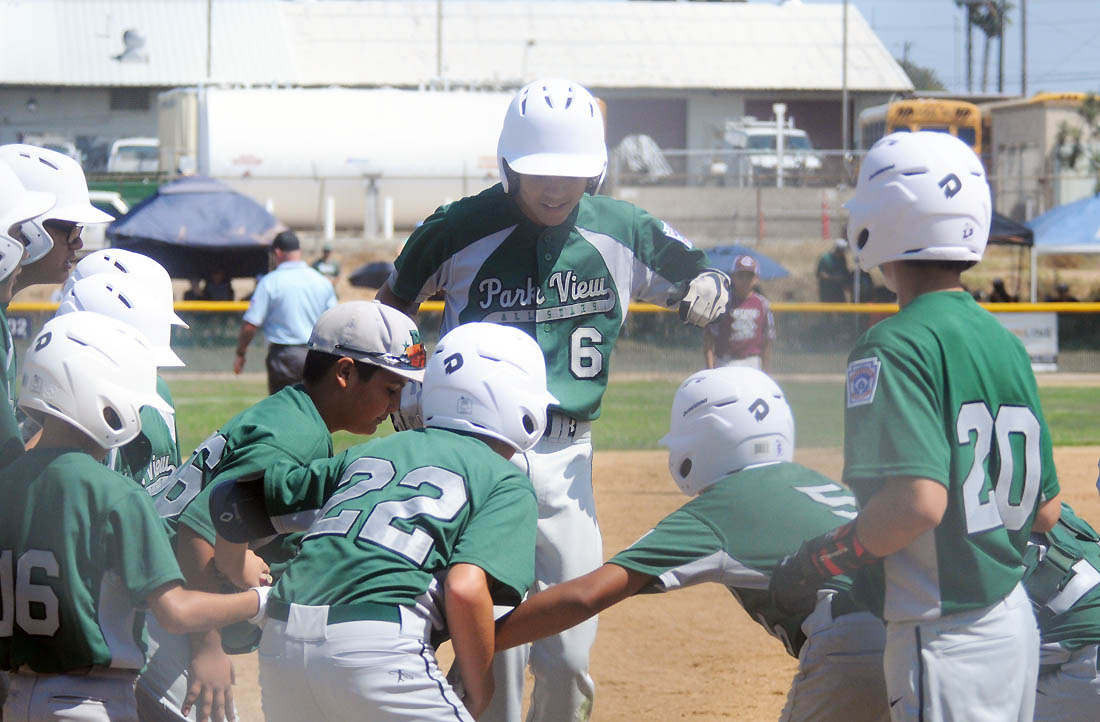 Green Monsters
Closer to home, Park View advanced to Tuesday's 12U section championship game at Chula Vista American Little League (5:30 p.m.) after dealing setbacks to District 22 champion Calexico and District 41 champion Cajon de Oro over the weekend.
Park View will meet the winner Cajon de Oro in a championship rematch after the District 41 champions eliminated District 66 champion Lemon Grove, 9-6 in Monday's challenger bracket elimination final.
Park View defeated Calexico, 9-5, in Saturday's opener and blanked Cajon de Oro, 7-0, in Sunday's winners bracket game.
Park View never trailed in either contest.
Cajon de Oro previously defeated Lemon Grove, 11-10, in a first round game while Lemon Grove eliminated Calexico by a score of 4-1 in Sunday's double-elimination round.
Park View had outscored its four opponents in district play by a margin of 29-5. However, the District 42 champions didn't look especially sharp in Saturday's opener.
"We didn't play our best game but our bats and our pitching responded," Park View manager Will Bleisch said in regard to the opening round win over Calexico. "We got some timely hitting and good pitching."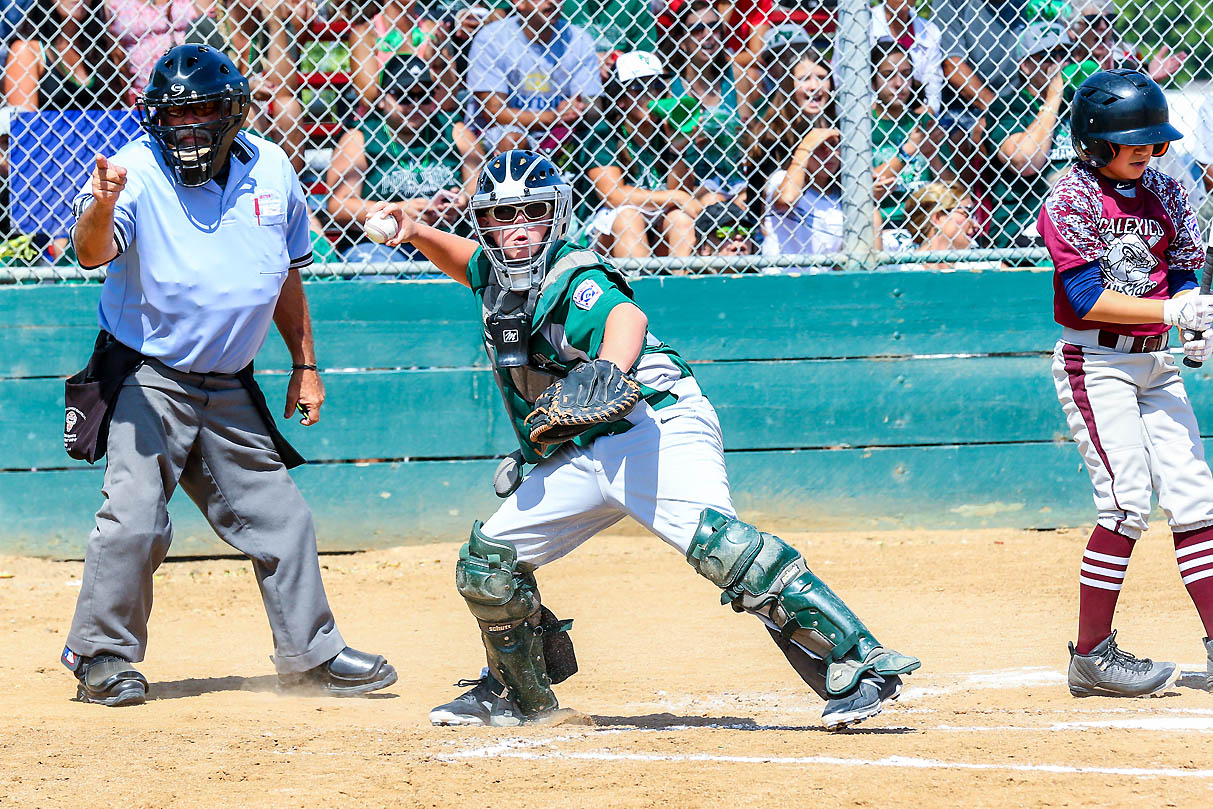 Park View catcher Joseph Anderson gets ready to fire the ball following a strikeout. Photo by Jon Bigornia
But Park View — at least the Park View team that many fans are accustomed to watching over the years — has yet to break out.
The District 42 champs hit just one home run in each game — a solo home run by Makai Corpuz in Saturday's opener and a two-run shot by Michael Rodriguez in Sunday's game.
Bleisch said the lack of balls popping over fences has to due with new bat limitations that has caused balls not to travel as far when hit with the same power.
"Those days (of the legendary 2009 Park View Blue Bombers) are over," the Park View manager said. "Teams have to rely more on small ball to win games."
Besides the new bat limitations there are also new pitching restrictions on the number of consecutive games in which a player may pitch. It's not really possible for a team to spot a couple of aces throughout a tournament as in years past.
The focus is now more on a team game, especially moving runners around the base paths, rather than simply crushing the ball out of the park, though the latter obviously helps.
"We're going to have to pick up our pitching and defense with our bats," Bleisch said. "We haven's shown what we're capable of what we're doing. But it's coming."
Of course, good pitching will often diffuse good hitting and credit has to go to the pitchers on the other teams that Park View has faced so far in tournament play.
Park View saved its ace for the second game.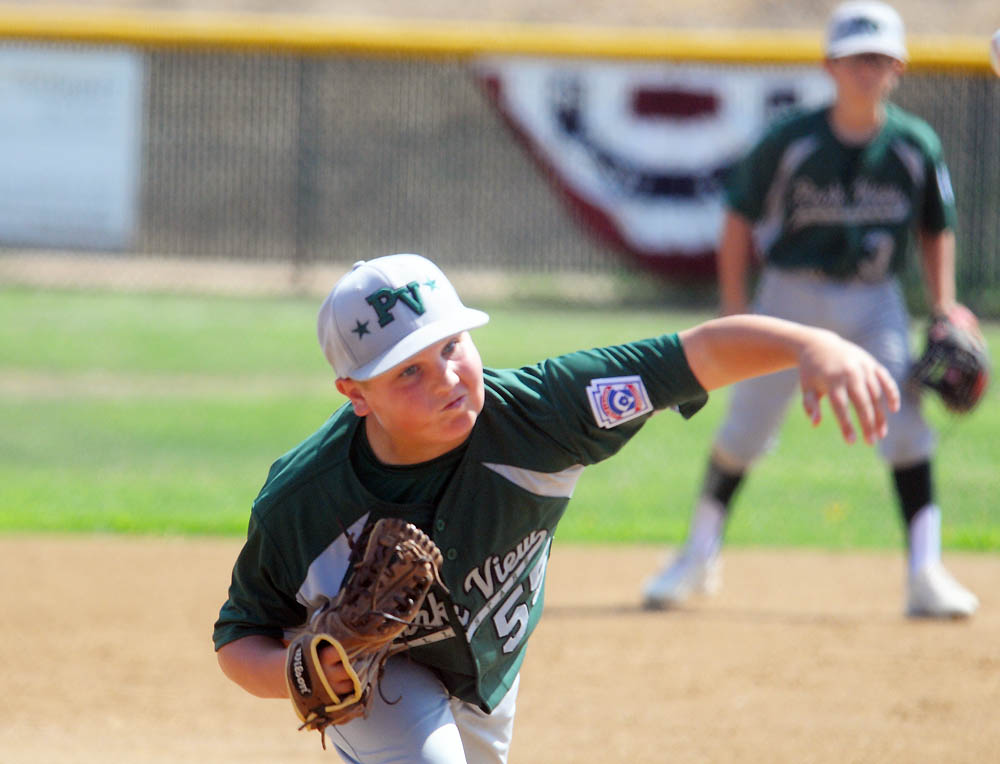 Matt Bjornstad started for Park View in Saturday's game. He threw 49 pitches in two full innings of work, followed on the mound by Ivan Rodriguez, who pitched the final four innings.
Park View handed Bjornstad a 3-0 lead in the first inning. However, Calexico responded quickly to tie the score, 3-3, in the bottom of the opening frame.
Park View took a 4-3 lead on Corpuz's home run in the top of the second inning and tacked on one more run in the top of the third inning on a RBI double by Jose Mendoza to lead 5-3.
Calexico continued to prove pesky throughout the game, though both Bjornstad and Rodriguez seemed to get the crucial outs when needed.
The District 22 champions narrowed the Park View lead to 5-4 in the bottom of the third inning. But a double play and inning-ending strikeout by Rodriguez helped quell further damage.
Park View finally broke through with three runs in the top of the fourth inning to move in front 8-4 and provide some breathing room. Allan Camarillo had the big hit in the frame with a ball that landed on the chalk down the left field line for a two-run double. Camarillo later scored on an errant throw to third base.
Calexico wouldn't go down easily, however, and added a fifth run in the bottom of the fifth inning to trail 8-5.
Park View got an insurance run in the top of the sixth inning as Conner Alonzo hit a sacrifice fly with the bases loaded.
The final tally stood at 9-5.

Park View's Makai Corpuz, holding the team's Green Monster mascot, is interviewed by a KUSI-TV cameraman following Saturday's win over Calexico. Photo by Phillip Brents
Cajon de Oro defeated West Hills, 6-2, to capture this year's District 41 all-star title but had its bats silenced by Mendoza, Park View's No. 1 pitcher. Mendoza struck out 12 batters and scattered four hits in pitching one out short of a complete game.
Park View scored two runs in the first inning and added two more runs in the second inning to lead 4-0.
Mendoza and Michael Rodriguez both scored on the latter's prodigious home run for a quick 2-0 lead; Ivan Rodriguez and Camarillo each scored runs in the second inning.
Jake Hopkins started for Cajon de Oro. He pitched into the fifth inning before leaving the game after throwing 86 pitches.
The District 41 champs threatened to carve into the early Park View lead in the third inning. Hopkins stroked a double and teammate Brendan Hermosillo drew a walk to place two Cajon de Oro base runners on with none out. Bradley Phillips successfully moved up both runners on a sacrifice bunt.
However, Mendoza made sure both runners stayed where they were after striking out the next two batters.
Park View threatened to expand its lead in the next inning but Hopkins induced a clutch strikeout to end the frame.
The District 42 champions did add three insurance runs in the top of the fifth inning.
Aidan Skinner and Kainoa Baptista reached base on an error to promptly place two runners on base.
Sammy Dento replaced Hopkins with one out and was greeted by a Bjornstad RBI-single to make the score 5-0. A wild pitch scored Baptista to up Park View's lead to 6-0.
Jordan Bleisch brought in the team's seventh run on a fielder's choice.
In the bottom of the fifth inning, Josh King singled and stole second base but remained there after Mendoza successfully retired the side.
Dento pitched much more effectively in his second inning, striking out two batters and recording the third out on a comebacker.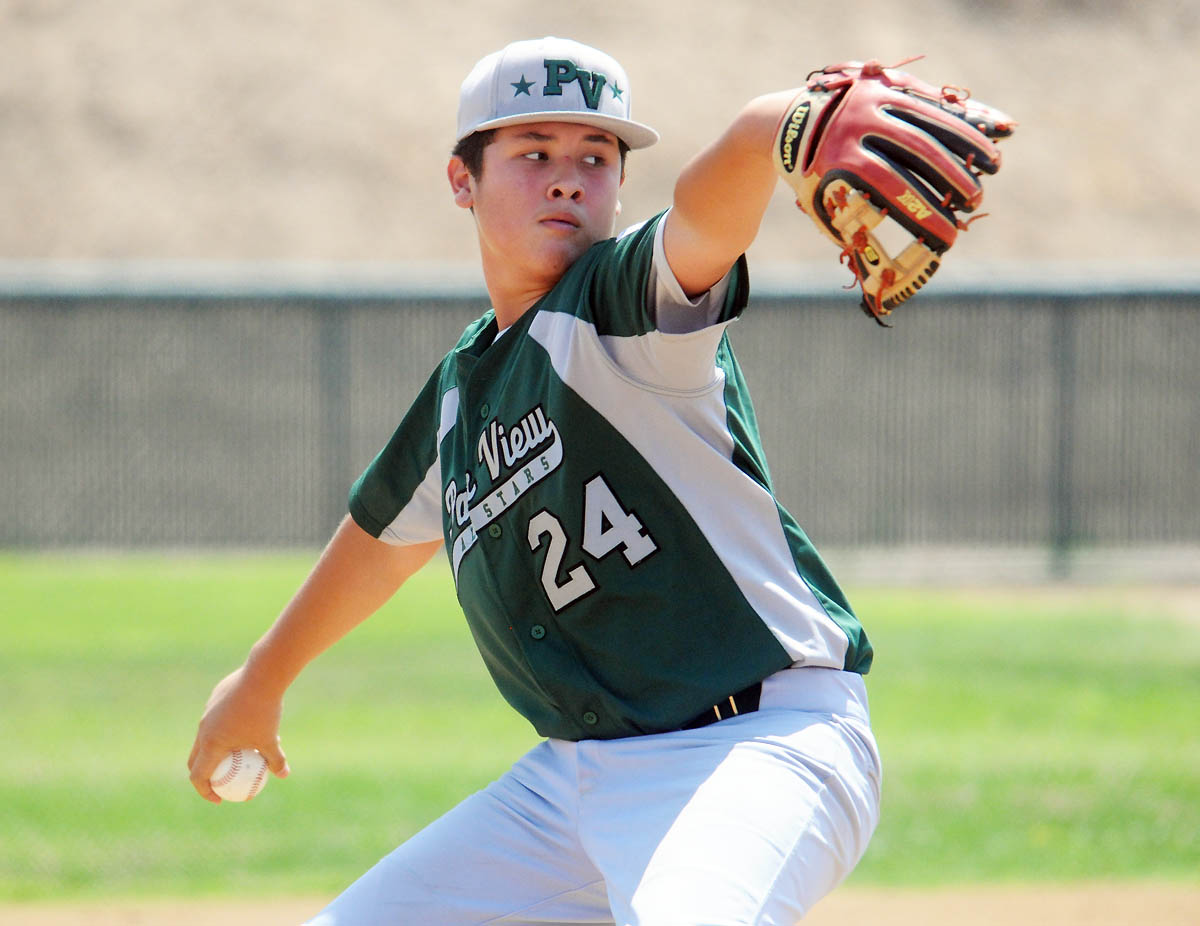 Mendoza struck out the first two batters he faced in the bottom of the sixth inning before reaching the pitch count. Conner Alonzo entered the game in relief, needing two batters to record the final out of the game.
Lincoln Wirschem blasted a double and advanced to third base on a wild pitch but Alonzo preserved the combined shutout by striking out Kyle Medina.
Park View won Sunday's game on the strength of seven hits, only two of which went for extra bases.
Both games over the weekend featured early leads by Park View and late insurance runs.
Mendoza, who threw 87 pitches in Sunday's victory, improved to 3-0 in all-star competition. He struck out 11 batters in Park View's 6-4 district championship game win over Sweetwater Valley and fanned 14 batters and allowed three hits in a 6-0 win over Eastlake in the second game of district play.
Mendoza throws the ball hard, as evidenced by the pop in the catcher's glove. He was clocked at 66 mph as a 10-year-old. However, that was two years ago and Mendoza, now standing six feet tall, obviously has much more zip on the ball.
His 16-year-old brother Rene stands 6-3 and it's believed that the younger Mendoza may still be growing.
Jose Mendoza said his success starts with one objective in mind.
"To throw strikes," he said.
However, the Park View standout likes to be considered as a dual threat both as a pitcher and hitter, not just a force to be reckoned with one the mound.
Jose Mendoza will have to speak with his bat as he will not be eligible to pitch in Tuesday's championship game.
The Park View manager said he isn't too worried about the team's pitching depth.
"We have 13 players and I believe all 13 are capable of pitching," the elder Bleisch said.
"We've been hoping to get leads and put our younger pitchers into non-pressure situations to get them some experience."
The elder Bleisch was much more pleased by Sunday's effort by his team.
"It was a well-pitched and well-defended game but we're leaving too many runners on base but that's a tribute to the other teams' pitchers," the Park View manager explained.
Park View improved to 6-0 in all-star play while Cajon de Oro dropped to 5-1.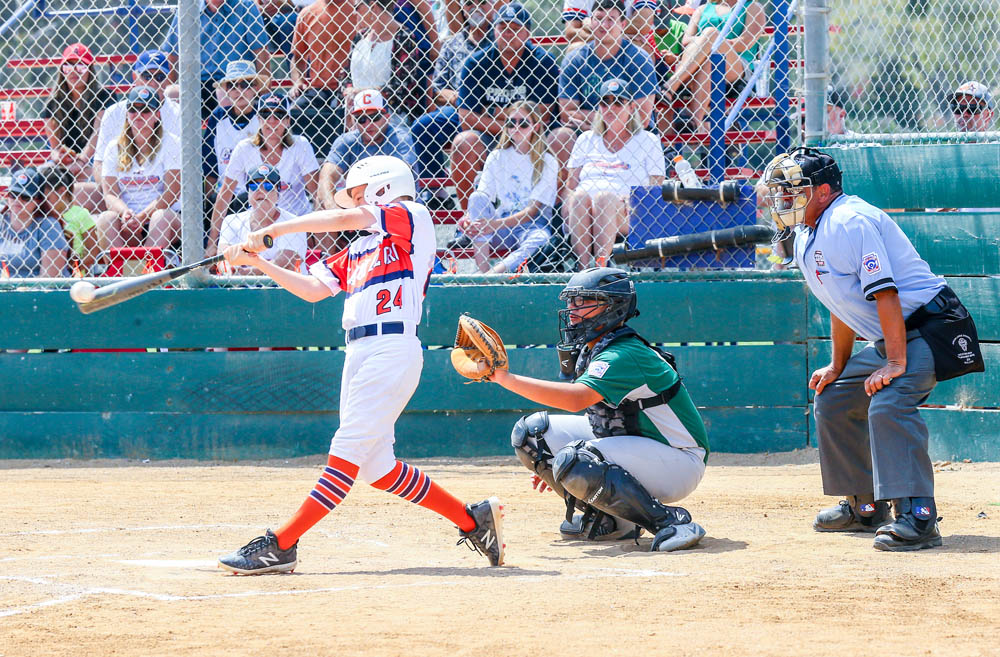 Eastern exposure
Cajon de Oro played from behind in Monday's game against Lemon Grove, trailing 4-0 before rallying with five runs in the fifth inning.
Ethan Parker slammed a two-run home run to help give Lemon Grove an early 2-0 lead but Tait Karlson's two run bomb helped decide the game in Cajon de Oro's favor.
"We created ourselves in a hole and we couldn't get out of it at first," Karlson told a KUSI-TV news crew on site. "In the fifth inning we came up with some key base hits. Our subs came up and put the ball into play. When you put the ball into play, good things happen."
Gargantuan home runs were the highlight of the team's initial encounter on Saturday. Karlson slammed one for Cajon de Oro while Lemon Grove countered with two tape measure blasts.
Hermosillo knocked in the game-winning run to settle things late.
Lemon Grove avoided elimination by topping Calexico in the tournament's opening elimination game as Matthew Johnson tripled in Parker and teammate Carlos Mack in the second inning with two outs.
Parker wound up getting credit for the win after throwing four innings with one earned run allowed.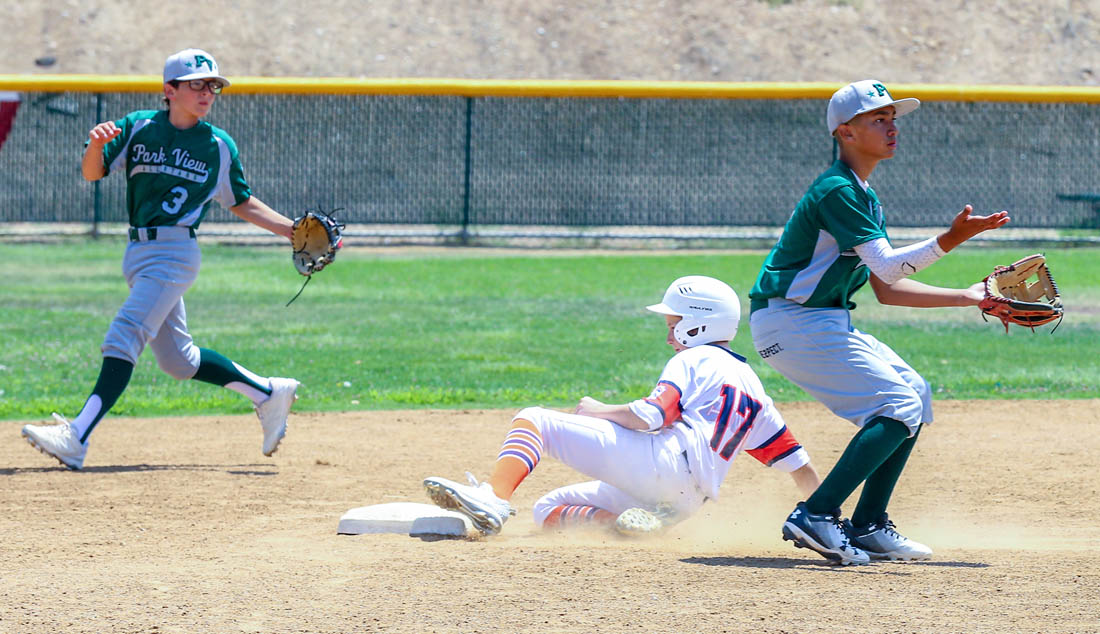 Little League Nation
There are more than 180,000 teams and 2.6 million players participate in Little League Baseball, which stands as the largest organized youth sports organization in the world.
Teams in Little League Baseball's 12U all-star division must win four tournaments — district, section, division and region — to advance to the iconic Little League World Series in South Williamsport, Penn.
San Diego County teams have made regular trips to the hallowed fields in Pennsylvania.
California District 42 has sent four teams to South Williamsport in the last nine years, highlighted by Park View Little League's 2009 international World Series championship and Eastlake Little League's runner-up finish in 2013.
Sweetwater Valley Little League finished third in the U.S. division in 2015 while Park View made a return to the division's championship tournament in 2016, winning two games.
There have been other success stories:
Oceanside American Little League advanced to the U.S. semifinals in the 2001 Little League World Series while Rancho Buena Vista Little League finished third in 2005.
East County has also sent its share of teams to compete in iconic Howard J. Lamade Stadium.
El Cajon Northern Little League defeated El Campo, Texas, to win the 1961 Little League World Series championship while El Cajon Western Little League finished runner-up to Taiwan in 1977.
California Section 7 Little League
Photo Gallery by Phillip Brents