Twenty-four teams will compete for 12 state basketball titles this weekend, Friday and Saturday, March 10-11, at the Golden 1 Center, Sacramento. Tip-off is set for 10 a.m. each day.
Bonita Vista High School's girls team, drum roll, is one of the 24 squads, including the only team from the San Diego Section, traveling north this weekend. The Lady Barons (23-9) will take on Central Fresno (22-12) on Saturday at 2 p.m.
Bonita Vista, seeded first in the Division II Southern California regional draw, qualified by topping visiting Lawndale Leuzinger, seeded second, by a score of 80-67 on Tuesday. The Lady Barons improved to 4-0 in the state playoffs.
Head coach Tristan Lamb said hard work and belief in each other has lifted the team to where it is.
"The qualities we hold to make us successful are the heart and effort we put on display every game and every practice," Lamb said. "We are not the biggest team, but we have what it takes to be challenged and overcome those challenges.
"The girls have worked so hard this season. It was their goal to go far into the state brackets. They want to finish the season on their terms which is a state title."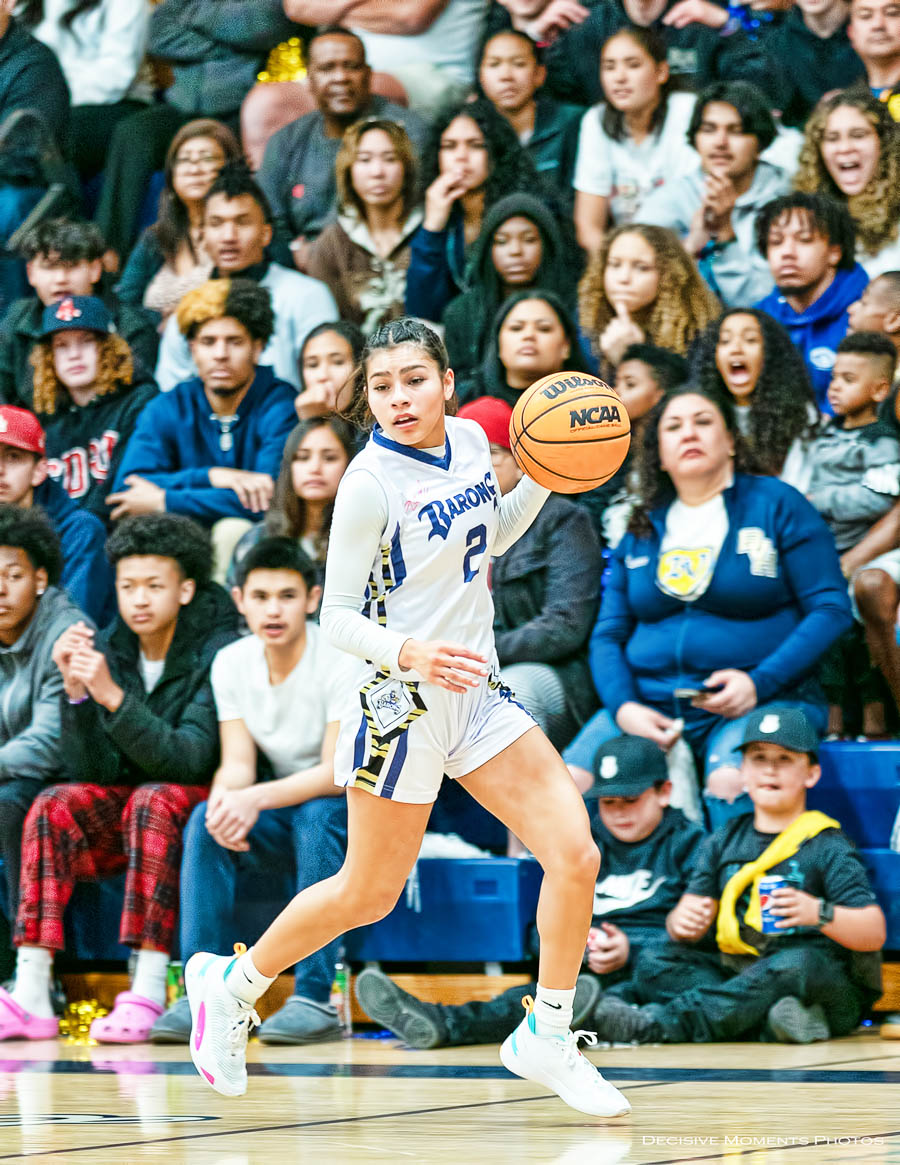 Lamb said no motivation was lacking in Tuesday's game.
"We didn't want our season to end because of a loss," the BVHS coach said. "We wanted our season to end because there are no more games to play. One thing about this group is that they play well together. When we are all clicking and everyone is on the same page, we are a tough team to beat.
"We couldn't have done what we have done without the support of the community and student body. The way they have been packing the gym and cheering us on is unreal. We definitely want to make sure everyone who has supported us knows that we truly appreciate it."
"It has been a great run for the school and the community," Bonita Vista athletic director Tyler Arciaga said. "The girls play really hard and never give up. They have been down several times in the tournament and managed to pull through. Coach Lamb and his staff do a great job preparing the girls."
Bonita Vista (8-0 in Metro-Mesa League) received the No. 4 seed in the section Open Division playoffs but saw its dreams of earning a rare Open Division championship cut short with a 61-58 quarterfinal loss to fifth-seeded Mission Hills on Feb. 18.
But the dream of winning a state title remained as all eight Open Division teams qualified for the regional playoffs.
The Lady Barons got right back to work by defeating 16th-seeded Birmingham, 63-49, in the opening round of the regional playoffs on Feb. 28.
Bonita Vista advanced to meet eighth-seeded Flintridge Prep in the next round on March 2, winning 93-61. The competition got tougher from there as the Lady Barons claimed a harrowing 70-69 victory against fourth-seeded Rancho Christian in the semifinals.
Junior Mahliya Wilson recorded a double-double (33 points, 12 rebounds) in the come-from-behind win over Rancho Christian.
Senior Alyssa Alvarado sank four three-pointers in the thrill-seeking victory against Rancho Christian and hit a trio of long-range bombs in the win over Birmingham.
Senior Kaylyn Buchanon-Lamb had three steals against both Rancho Christian and Birmingham. She had six steals in Metro-Mesa League games against both Olympian and Otay Ranch and a double-double (15 points, 11 rebounds) against Mater Dei Catholic.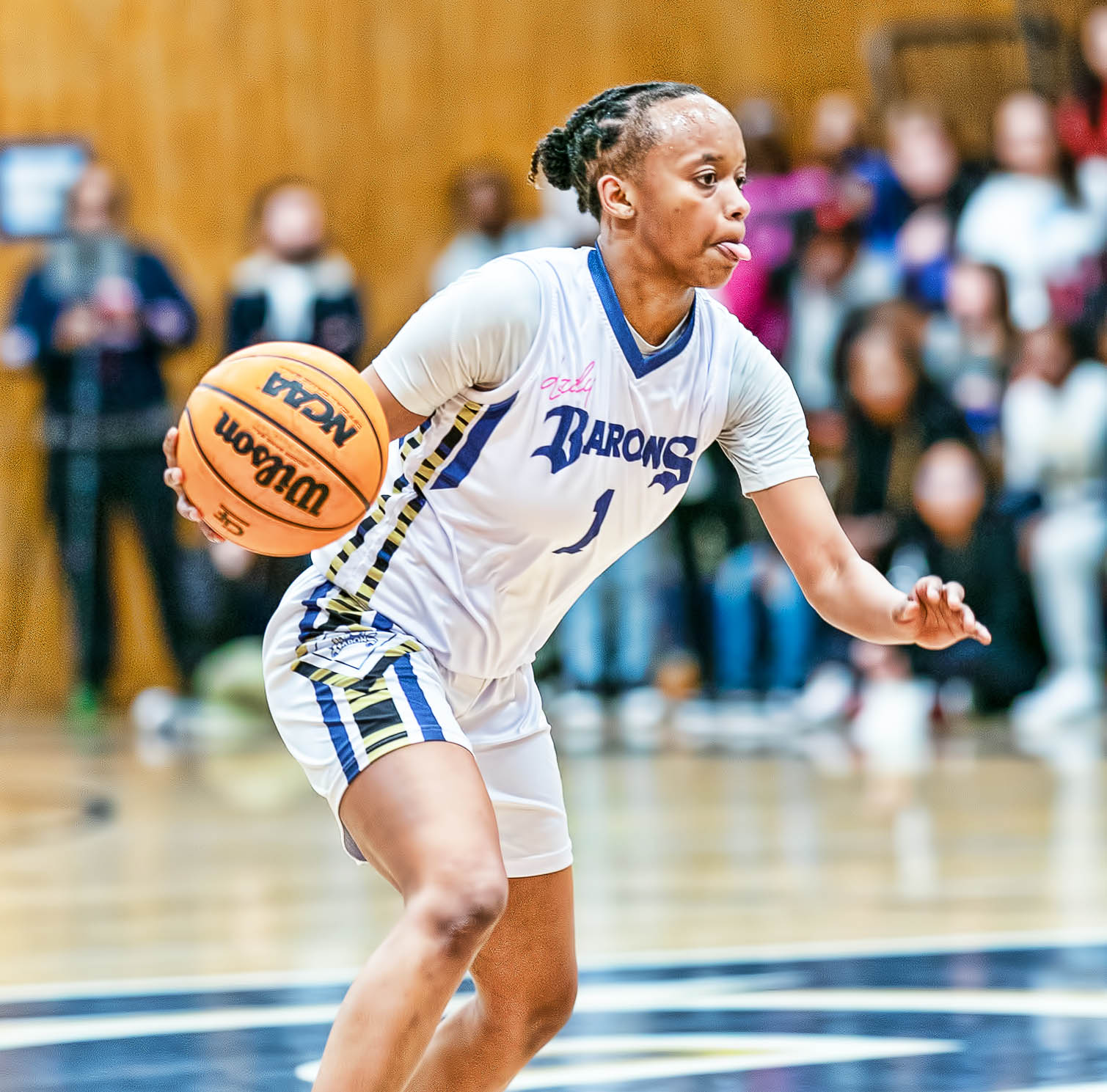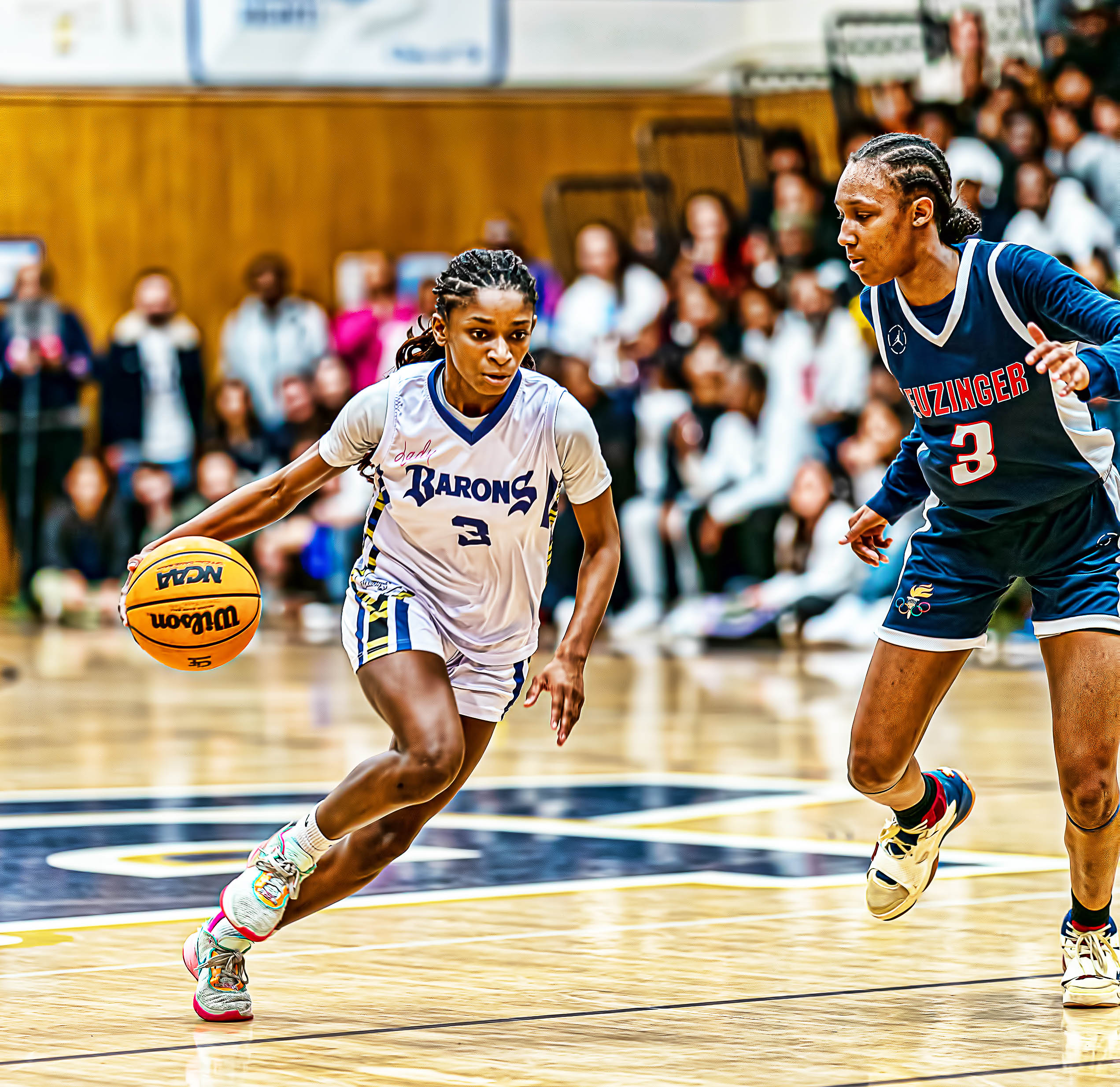 Leuzinger (30-6) also ran its side of the bracket to meet Bonita Vista in Tuesday's regional championship game.
The Olympians, who reeled off a remarkable 21-game winning streak during the regular season, led at halftime before the hosts fought back to take the lead for good in the third quarter.
Alvarado led the Lady Barons in the game with 24 points while Wilson followed on the scoresheet with 20 points and Buchanon-Lamb had 13 points.
In a magic moment, fans flooded the floor of the BVHS gymnasium at the final horn.
"The girls will be flying up on Friday afternoon and will be playing where the NBA Sacramento Kings play," Arciaga noted. "It should be a great experience and we are looking forward to a great game."
"We're excited and proud to have Bonita Vista represent the Sweetwater Union High School District in Sacramento," district athletics coordinator Alex Estrada said. "It's the first SUHSD team to play for a state title, credit coach Lamb and the entire team. In my 35 years of watching Metro basketball this is one of the most relentless teams I've seen play."
Central Fresno, seeded fourth in the Northern California regional bracket, defeated second-seeded Pleasant Valley, 62-51, to advance to meet Bonita Vista for Saturday's Division II state title.
State of mind
Bonita Vista is among 18 teams making their first state championship appearance along with Bret Harte (Division V girls), Buena (Division II boys), Central-Fresno, Etiwanda (girls Open Division), Granada (Division I boys), Half Moon Bay (Division IV boys), Lynwood (Division V boys), Marina (Division V girls), Notre Dame-Sherman Oaks (Division I boys), Oakland (Division III boys), Pacifica Christian-Newport Beach (Division II boys), San Joaquin Memorial (Division II boys), Santiago-Corona (Division I girls), Sierra-Tollhouse (Division V boys), St. Joseph-Santa Maria (boys Open Division) and Valencia (Division IV boys).
Harvard-Westlake (32-2), which is appearing in the Open Division for the first time, is the only boys team in the 2023 CIF state basketball championship finals with previous history. The Wolverines are in search of their fourth state crown after last winning the Division IV title in 2016.
In the girls Open Division game, Archbishop Mitty (28-2) seeks to avenge last year's loss and capture its seventh state title. The Division I game features an unbeaten Oakland Tech (29-5) team in the state championships, after taking the Division III crown last year. .
In the Division III contest Colfax (34-2) returns to the state championships in search of a third state title after last appearing in 1998 (Division IV) (Division IV).
Spectrum Networks (Spectrum SportsNet, Spectrum News 1, SNLA) will broadcast all championship games.
ROAD TO STATE FINALS: BONITA VISTA LADY BARONS
Non-League
Westview 60, Bonita Vista 54
Bonita Vista 91, El Camino 20
Sierra Canyon 65, Bonita Vista 51
Bonita Vista 60, Colonial (Orlando, Fla.) 54
Howard (Ellicott, Md.) 53, Bonita Vista 50
Bonita Vista 84, Eastlake 24
La Jolla Country Day 82, Bonita Vista 46
Bonita Vista 71, Denver East 56
Bonita Vista 60, Fairfax (Laveen, Ariz.) 38
Centennial Las Vegas 63, Bonita Vista 47
Tennessee Cookeville 53, Bonita Vista 43
Bonita Vista 64, Santa Margarita 49
Bonita Vista 73, Long Beach St. Anthony 55
Bonita Vista 46, Clovis 45
Bonita Vista 49, San Ramon Valley 39
San Ysidro 1, Bonita Vista 0 (forfeit)
Bonita Vista 77, Del Norte 35
Bonita Vista 69, Valley Vista (Surprise, Ariz.) 60
Fairfield Vanden 82, Bonita Vista 77
Bonita Vista 52, Los Angeles Westchester 51
Metro-Mesa League
Bonita Vista 83, Mater Dei Catholic 42
Bonita Vista 96, Otay Ranch 16
Bonita Vista 76, Olympian 45
Bonita Vista 80, Eastlake 40
Bonita Vista 66, Mater Dei Catholic 58
Bonita Vista 62, Otay Ranch 24
Bonita Vista 72, Olympian 46
San Diego Section Playoffs
Mission Hills 61, Bonita Vista 58
SoCal Regionals
Bonita Vista 36, Lake Balboa Birmingham 63, 49
Bonita Vista 93, La Cañada Flintridge Prep 61
Bonita Vista 70, Temecula Rancho Christian 69
Bonita Vista 80, Lawndale Leuzinger 67
State Championship
Bonita Vista vs. Central Fresno
Bonita Vista Statistical Log
•Mahliya Wilson 18.9 ppg, 204 rebounds, 96 steals, 65 assists
•Alyssa Alvarado 16.6 ppg, 48 rebounds, 39 steals, 26 assists
•Kaylyn Buchanon-Lamb 14.2 ppg, 201 rebounds, 116 steals, 123 assists
•Haydee Arancibia-Hardwick 146 rebounds, 42 blocks
•Shania White 75 rebounds, 53 steals, 24 assists
•Jamiya Valenciano 72 rebounds, 49 steals, 27 assists
Bonita Vista 2022-23
Girls Basketball Roster
0 – Malyn Castillo, PG, 11
1 – Mahliya Wilson, SG, 11
2 – Alyssa Alvarado, PG, 12
3 – Kaylyn Buchanon-Lamb, PF, 12
4 – Ella Ramos, SG, 11
10 – Jamiya Valenciano, SG, 10
12 – Alejandra Hernandez, SF, 11
13 – Haydee Arancibia-Hardwick, SF, SG, 11
24 – Mai'ana Norita, PG, 9
25 – Jaslene Dearmas, SG, SF, 10
30 – Shania White, -, 11
31 – Isabella Topf, SG, 11
33 – Ske Miller, – , 11
42 – Aryiana Williams, SG, 9
Head coach: Tristan Lamb
Assistant coach: Shawn Pablo
Assistant coach: David Parks
Statistician: Jenae Buchanon