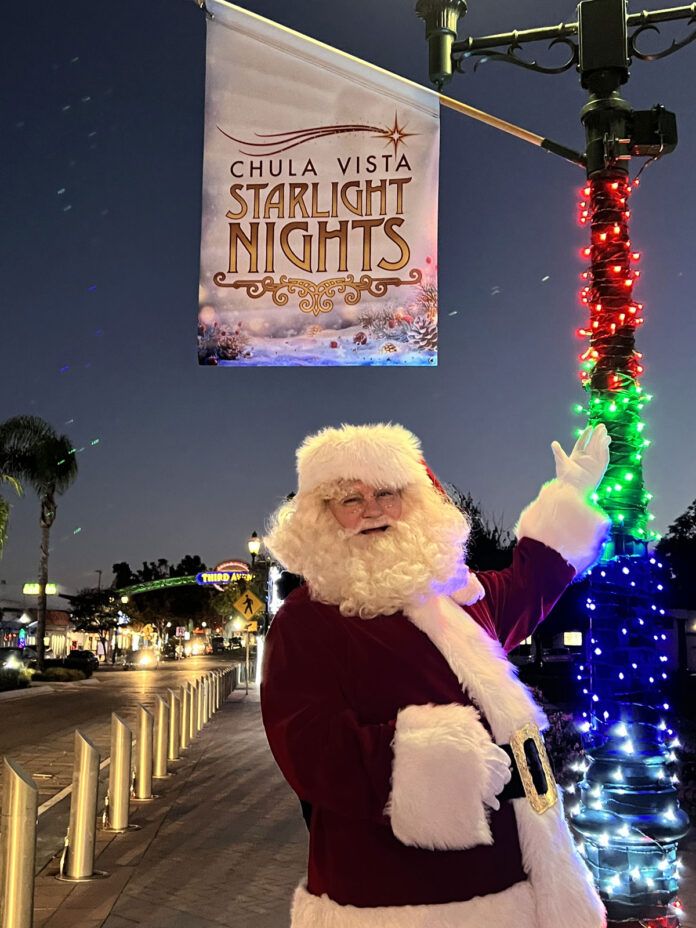 Chula Vista Starlight Nights is headed to downtown on Dec. 4 from 3:30 to 7:30 p.m. with holiday activities for the entire family. Although there will not be a parade again this year, it is not being phased out of the yearly city event.
Chula Vista Marketing and Communications Manager Anne Steinberger said in planning a December parade you need to start planning in April.
"Things were still so up in the air in April with COVID, and not only that, what is happening with fundraising, which is $150,000 event. Well, it was before COVID. We did not have a big stage, but things like that have gone way up in price. My friends in the event planning world said a $1,500 sound package for a typical stage is now $3,000 to $5,000. In 2019, we did it for $150,000 and we always got great sponsorship support, but there are other things many people are sponsoring these days."
Grasshopper is the presenting sponsor for Starlight Nights, as with the block party, and she said the city is happy with their continued support of city events in the community.
"Starlight Nights will give us a community event where we can kick off the holiday season, which is what the Starlight Parade would do," she said. "Last year we purchased holiday lights for Third Avenue that we are using and exploring options to maximize their use throughout Third Avenue. We have new businesses. There is a lot more happening downtown and we are going to light Third Avenue as far as we can and spread more lights through the business landscape."
Steinberger said also, last year, the city installed lighting on the medium on Third Avenue and have been able to change those lights to different colors throughout the year.
"We are really going to celebrate like we have always done," she said. "We are going to close Third Avenue and we are going to have a great holiday festival. Holiday artisans with the tree lighting ceremony. We will kick off the holidays in style."
Also, a sponsor, Downtown Chula Vista Association District Manager Dominic Li Mandri said this year's Starlight nights is "like nothing we have ever done before."
"Along with providing a family-friendly experience, a holiday market featuring local businesses and live music, we are beyond excited to present everyone with our new neighborhood 25-foot Christmas tree. There is nothing quite like the magic of Christmas, and we can't wait to see everyone stop by and celebrate the magic of the holidays with us."
Li Mandri said there will be plenty of activities for the community to do during the celebration and invites the Chula Vista and Southbay community to come out and enjoy downtown for the holidays. He said the tree lighting will be held at 6:15 p.m.
"It is going to have a variety of community programs including a holiday market, a ride on the Chula Vista Express trackless train, free photos with Santa, live music from the Grasshopper main stage at Memorial Park, and the special tree lighting ceremony."
There will be a professional photographer for photos with Santa and attendees will be able to download photos on a portal on the DCVA website after the event. The Holiday Market, curated by Las Jefes Market, is the perfect place to shop from local business for holiday gifts, he said.
The streets will be closed from G Street to F Street, and the trackless train will depart from G Street, and on the corner of Parkway and Third Avenue is pictures with Santa, which is a free amenity for the event because "we want people to create memories with this event," Li Mandri said.
"We are still lining up our live music events, but we do intend on having some of the local high schools, mariachi, and other local talent that we are currently securing," he said. "Mayor Mary Salas will be there to turn on the tree, and it will remain lit the entire holiday season throughout December to help create that sense of destination in downtown when people visit."
"We are really excited to bring this to downtown this year," he said. "Last year, we did not have the direction to do a more robust program because we were still battling with the pandemic, but as with all of our programs this year, we are really looking to make a statement of return and we invite Chula Vista and Southbay to commemorate this inaugural Christmas tree that will be used each year going forward in downtown Chula Vista."