When the chance opened for Olympian High School swim coach Zach Bradley to coach not only his own divers this season but athletes interested in diving from Eastlake, Otay Ranch and Bonita Vista high schools as well, he said he jumped at the opportunity.
Three months later, he said this unique partnership has proven to be an amazing experience.
"It's been a pleasure to witness firsthand the tremendous progress each athlete has made in such a short period of time," Bradley said. "Simply put, working with this group of divers has been nothing short of special."
The unique coaching arrangement was made possible as all four schools practice and hold dual meet competition at the new Southwestern College aquatics complex. While two teams can practice simultaneously, there is only one area set up for diving.
Bradley said the sizable Olympian dive group, led by seniors Alehtse Cinco, Mirna Bonilla, Montse Sanchez, Gisselle Martinez and Erik Duarte, provided the foundation for the arrangement to prove fruitful.
"They were so welcoming toward the divers from Eastlake, Bonita Vista and Otay Ranch," Bradley said. "From the first day of tryouts, these Olympian seniors have continued to provide positive words of encouragement and fearlessness when needed."
Bradley said there was interest from the three other schools from the start, with coaches Steve Wiggs (Eastlake), Betty Alexander (Bonita Vista) and Barbie Wheeler (Otay Ranch) extremely supportive of any athlete who was interested in trying out for diving.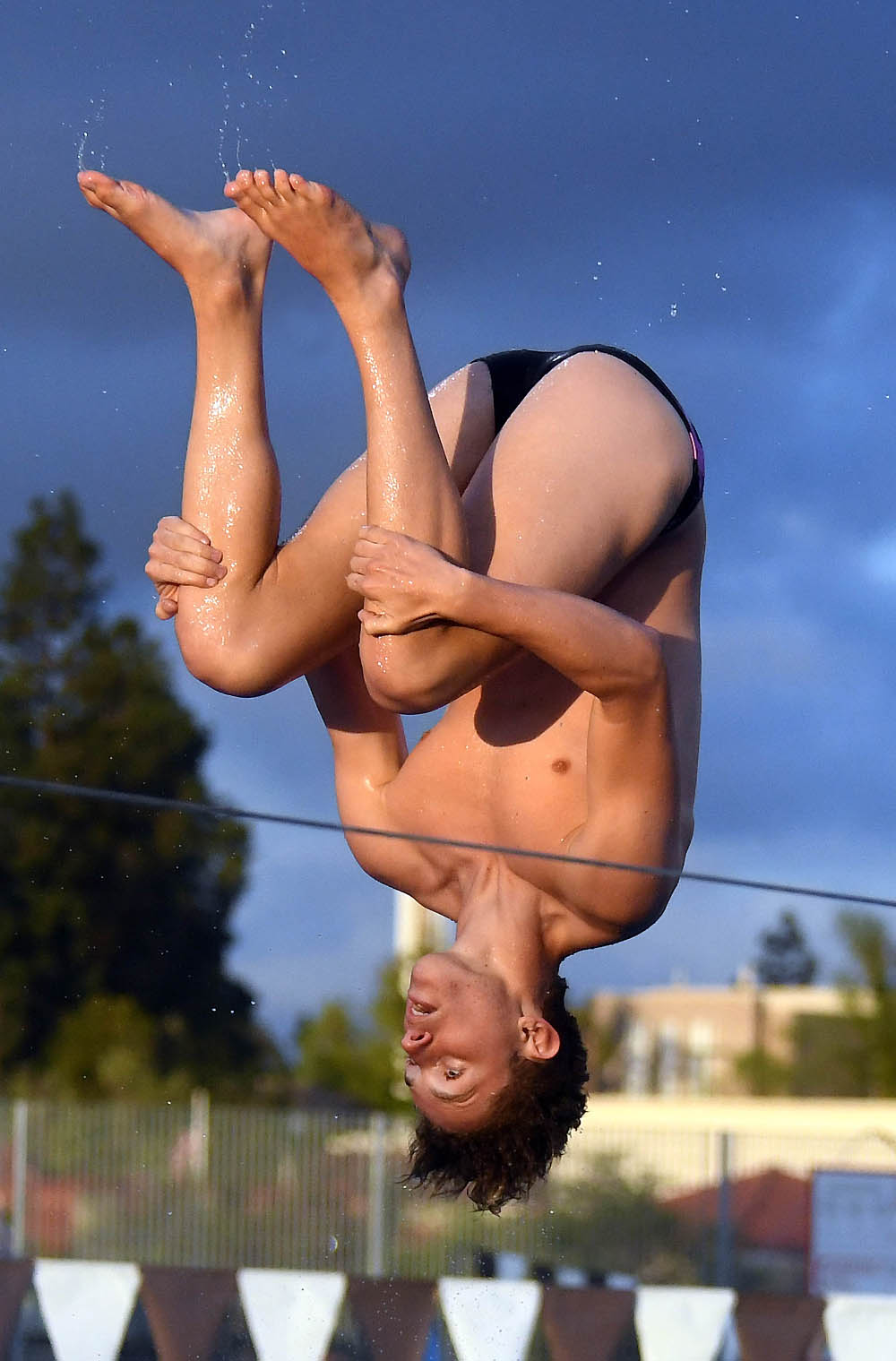 As the season progressed, Eastlake's complement grew to five divers competing: Jessie Roland, Josiah Schenk and Carl Grosselfinger at the varsity level and Isabella Ulloa and Jessica Munoz at the junior varsity level.
Otay Ranch (Zach O'Hara) and Bonita Vista (Aryel Austin) each had one diver at the varsity level.
Bradley noted this was Bonita Vista's first diver since Alexander took over the program a decade ago.
"The quite remarkable thing was that none of these athletes, including my two Olympian freshman divers, Diego Munguia and Addison Rushing, had any prior dive experience, but after a week of diving, one would never have been able to tell.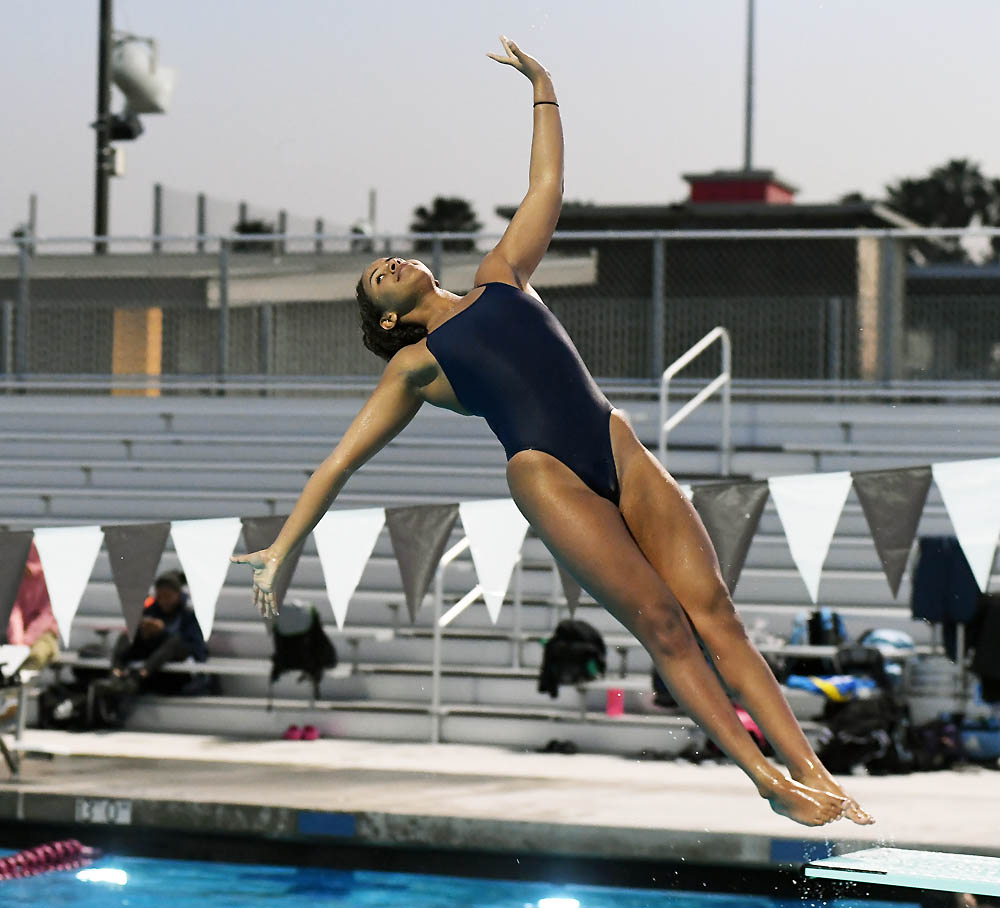 "Rather than let the lack of experience prove a deterrent, this group challenged themselves day in and day out and, with each jump, each dive, each twist, each flip, they continued to hone their craft."
The many hours of practice over the last three months have been put to good use as the athletes prepare for the upcoming league finals.
The Mesa League and South Bay League diving championship meet is scheduled Wednesday, April 24, at Southwestern College, starting at 5:30 p.m.
There are high expectations from the group training at SWC entering next week's Mesa League finals.
In particular, Olympian's Duarte and Cinco have their sights set on concluding an undefeated regular season while recording a first-place finish at the league finals.
The San Diego Section championship meet follows May 3 at Mesa College. The consideration qualifying standard for six dives is 160 points; the automatic qualifying standard is 190 points.
The state championship meet is scheduled May 10-11 at the Clovis Olympic Swim Complex at Clovis West High School for the top place-finishers at the section meet.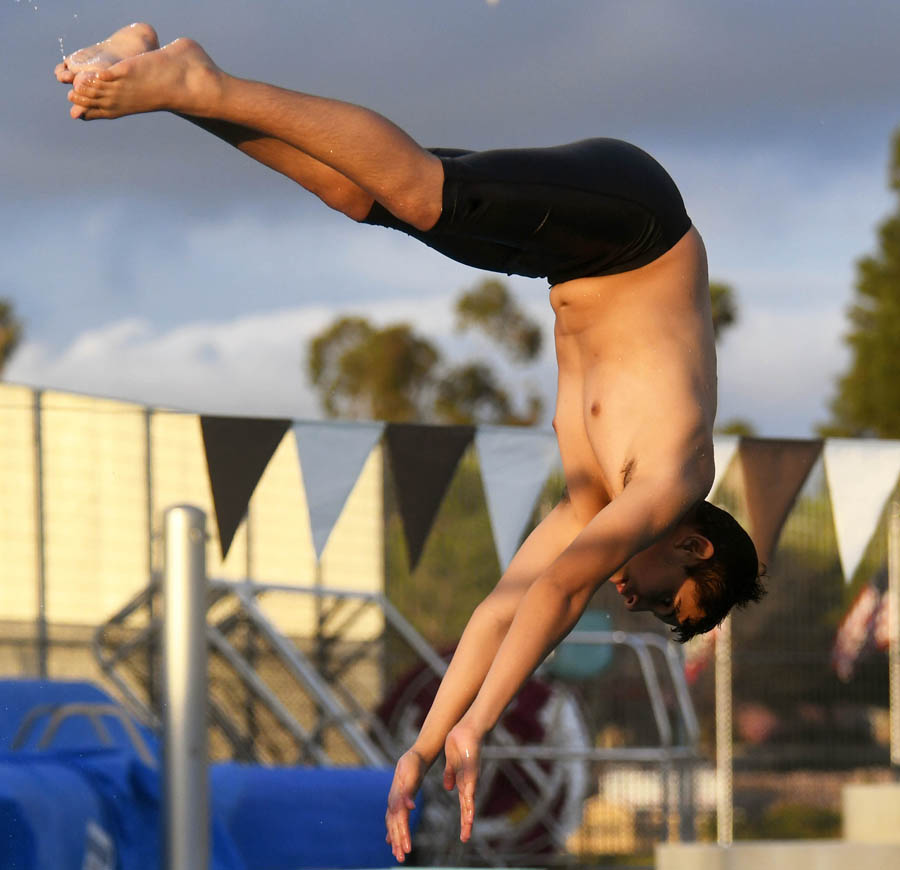 Duarte finished runner-up at last year's Mesa League boys finals with 162.2 points while Cinco placed third in the girls finals with 179.7 points.
San Ysidro's Eva Reyes is considered a contender to challenge for this year's CIF title after winning last year's South Bay League girls diving championship with 268.05 points.
This year's field looks very competitive.
Cinco scored 201.3 points in dual meet competition against Bonita Vista on March 28. Sanchez finished second with 144.45 points, followed by Martinez with 133.95 points in a 1-2-3 sweep for the Eagles. BV's Austin finished fourth with 117.35 points.
Duarte scored 184.25 points to win the boys dive card at the March 28 competition while teammate Munguia was second with 155.4 points.
A total of 10 divers, including eight varsity athletes, competed in a double dual meet April 11 at SWC to offer a preview of the upcoming league finals.
Grosselfinger (146.4 points) and Roland (173.4 points) swept the diving card for Eastlake in the match-up against Otay Ranch.
Hilltop's triad of Isabella Metzig (135.95 points), Victoria Ryan (126.95 points) and Mireya Ramirez (113.4 points) out-pointed Bonita Vista's Austin (108.45 points) in girls competition.
On the boys side, Dominic Metzig (144.8 points) and Samuel Bermudez (121.2 points) led Hilltop to victory.
Roland had scored 148.85 points to win the girls dive card in a March 21 dual meet against Hilltop.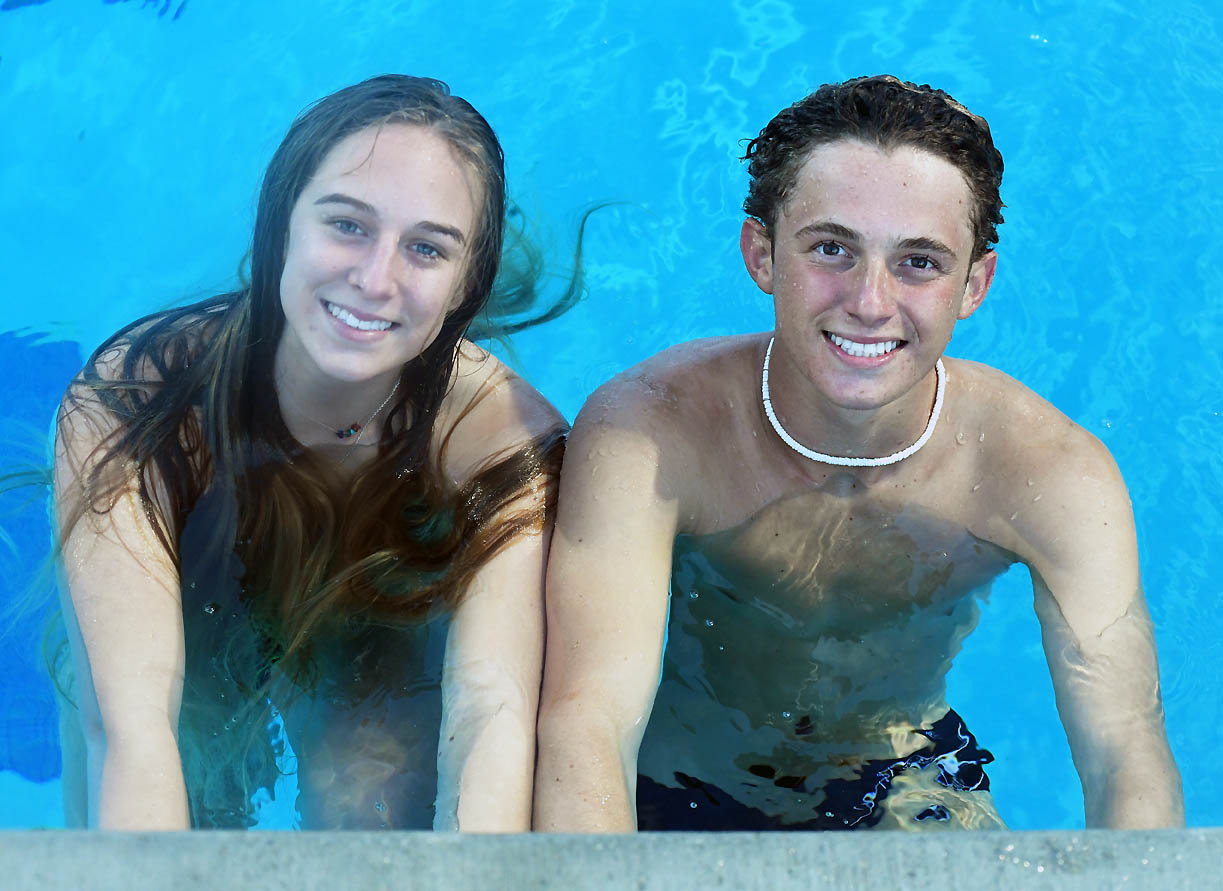 Group mentality
Besides helping analyze and develop technique, practicing in a group surrounding also has helped foster friendships with divers from the other schools.
Camaraderie between the divers has made the season very rewarding. It's helped provide a needed support group to quell any initial fears about competing, especially the fear of hitting the water.
Eastlake High School did not field a dive team last season, so Schenk and Grosselfinger, both juniors, decided to try something different besides just swimming laps.
"It was something new," said Schenk, who also swims in freestyle events on the team.
"It looked fun," added Grosselfinger, who swims a variety of events to help the team score points in dual meets.
Both admitted diving has proved challenging, especially executing double somersaults.
"The water hurts a lot," Grosselfinger said. "It can give you a concussion."
Both said fear has no place once on the board, however.
"If you want to go for a new dive, you've got to go for it full swing," Schenk said.
"You have to have confidence and the right mentality or you won't be able to do it," Grosselfinger added, finishing the thought.
"First you learn the basic dives; you don't move on to more difficult dives until you master those," Schenk noted.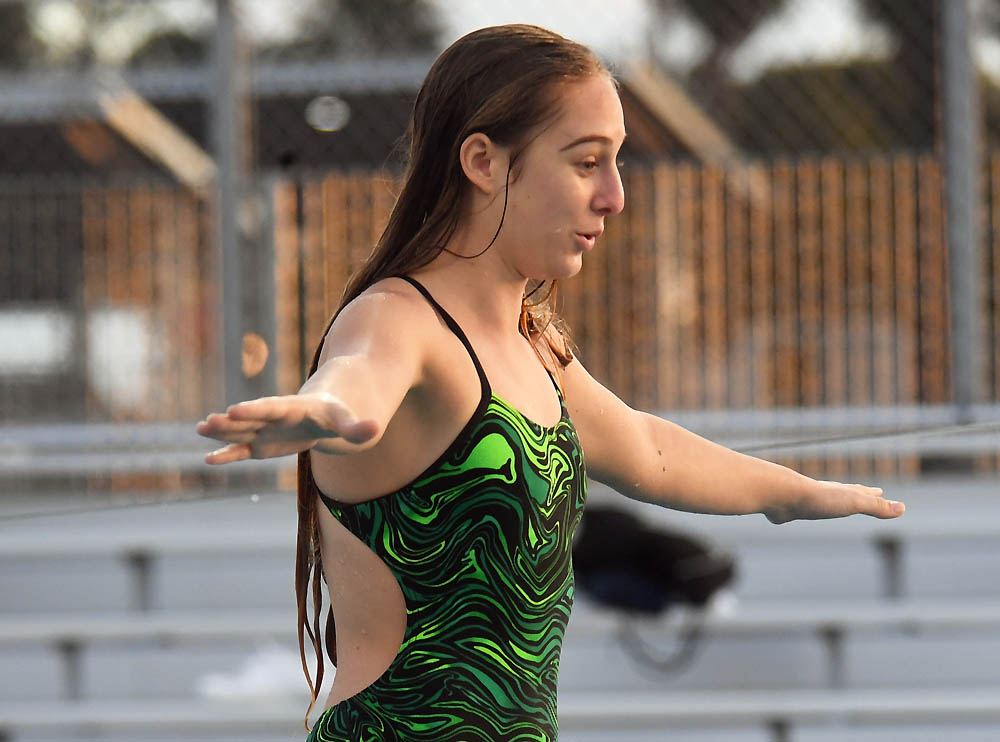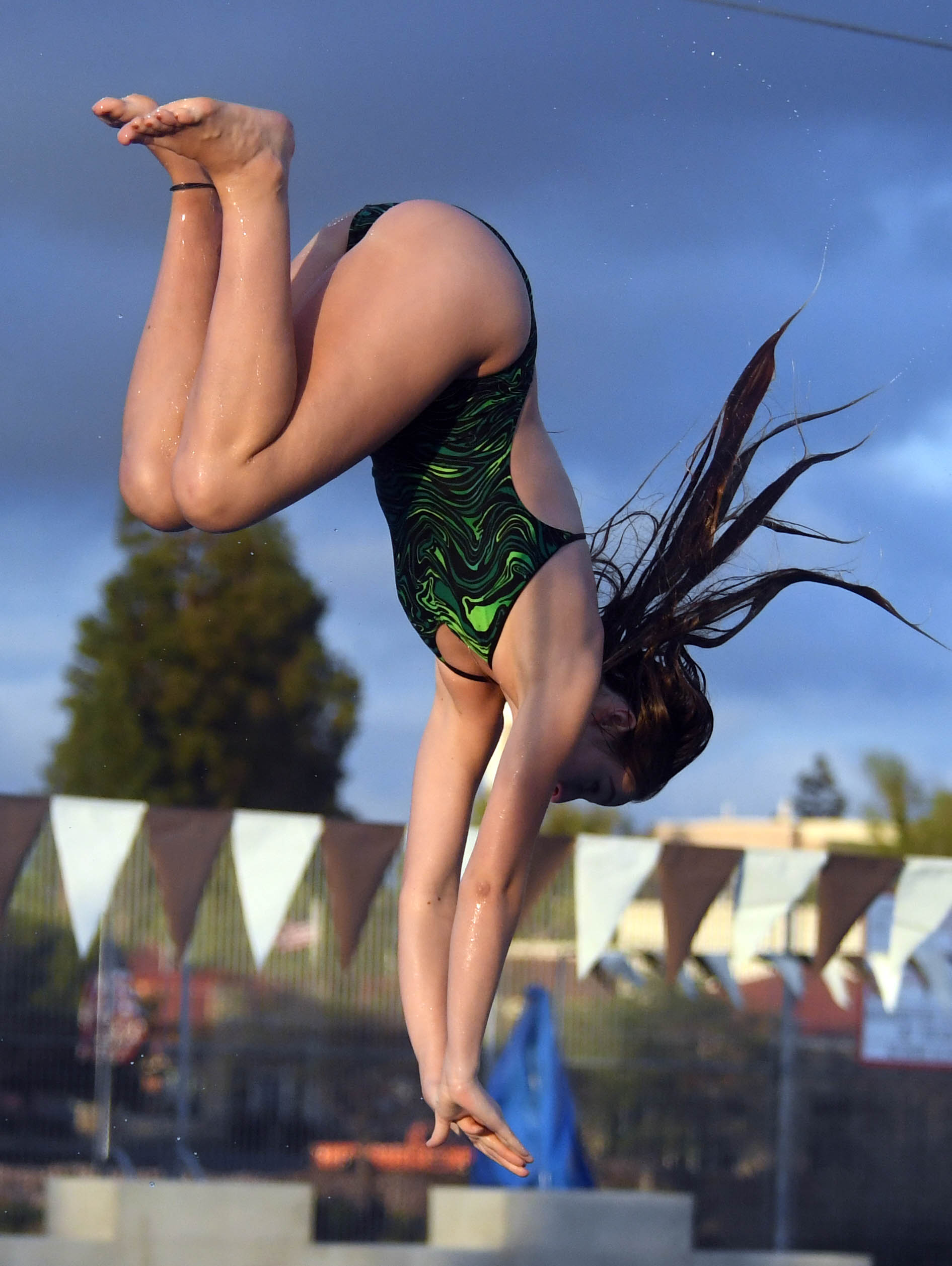 "You have to be comfortable about the dive you are doing," Grosselfinger said. "If you're doing a forward flip, you've got to master that before you can move on to a double somersault."
With everyone striving for the same goals, the group atmosphere has been one of mutual support.
"We are really close," Schenk said. "In meets we cheer for each other; we hang out together afterward."
"There's team bonding," Grosselfinger remarked.
Ulloa, also a junior, joined the dive group because it seemed "interesting," she said.
"It's a lot more fun than swimming," Ulloa said. "It's more challenging."
She said her goal is to master one dive in each category.
Sanchez is in her second year of diving.
"Last year I didn't really compete," she admitted. "This is my first year competing. I like this. There's multiple forms, different dives to do. There are a variety of challenges."
She scored 144 points early in the season.
"I want to get my score a lot higher," she said. "I want to get my double, too."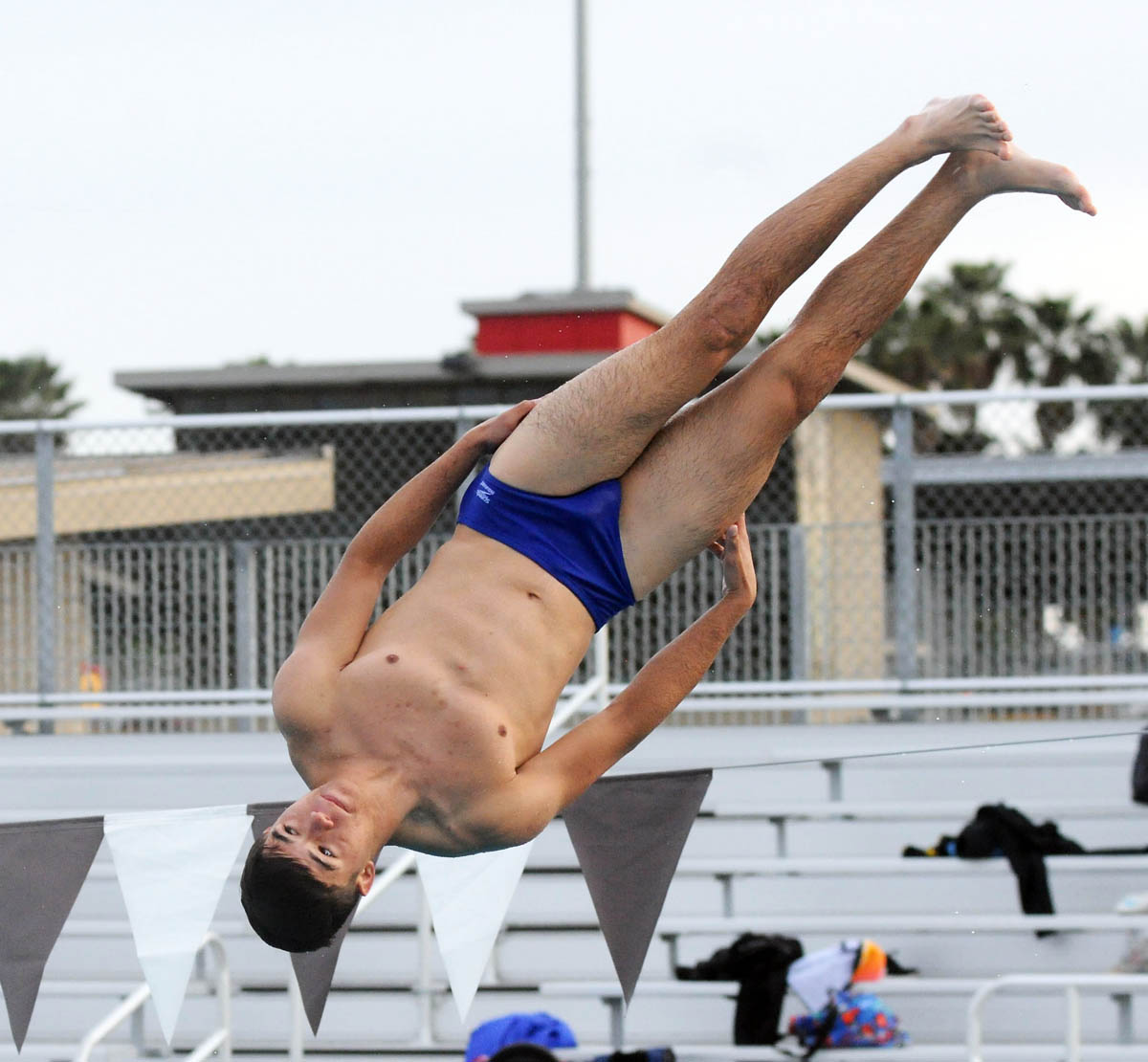 O'Hara, a junior, is trying his hand at diving after competing three years on the school's wrestling team. His highest score so far is 122.95 points as a first-year diver.
He said he's enjoying the experience so far.
"No one was doing it on the team, so I thought I could help out the team by scoring points," he explained. "Wrestling has helped me learn quicker. You have to learn to control the motions of your body.
"There's something about getting up there and jumping off. It brings fulfillment that you can do something other people can't do."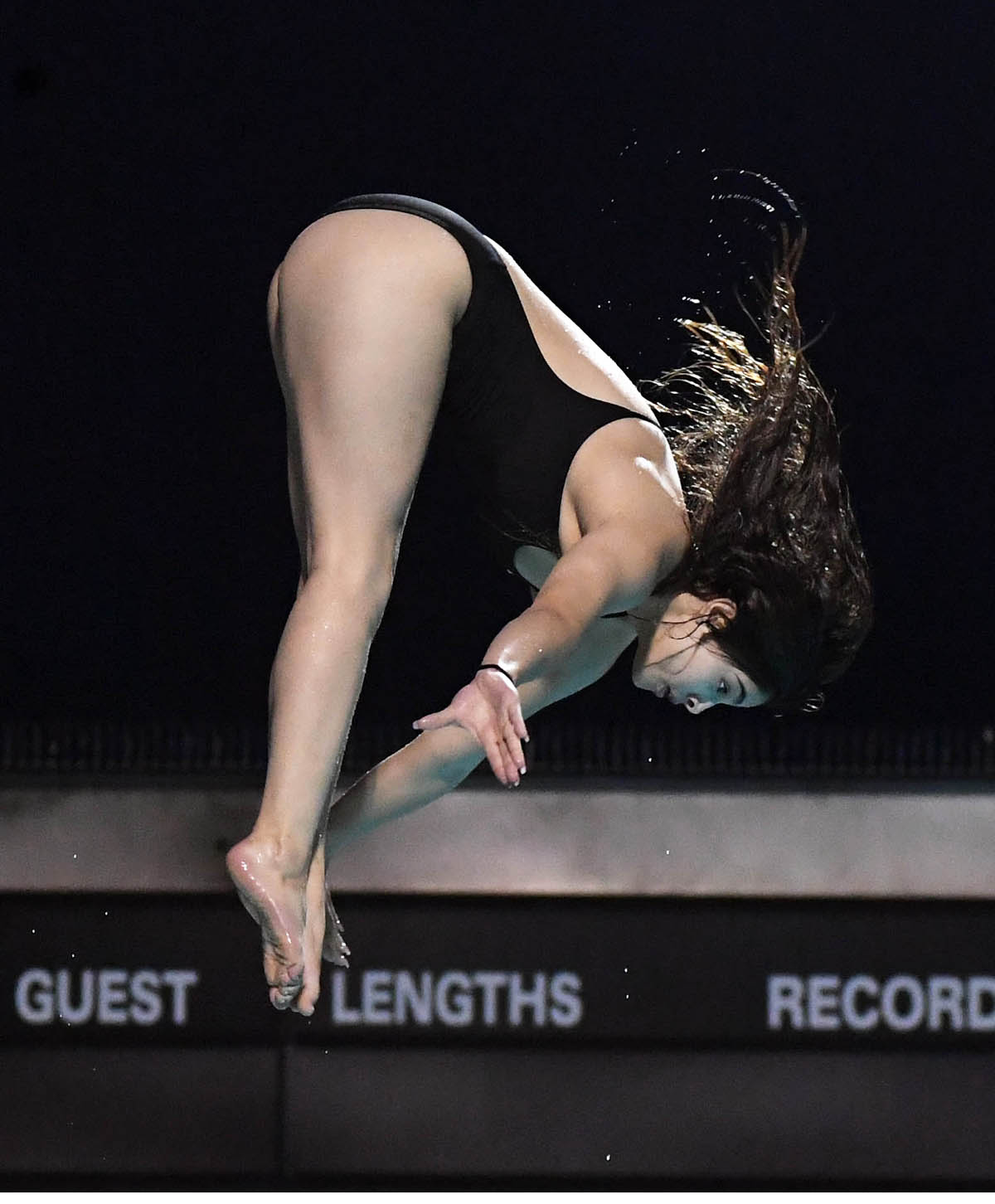 Cinco is returning to diving after an absence of several years. She started diving for a club in Tijuana when she was 8. She started diving again last year as a junior at Olympian.
Looking at how gracefully she executes dives, it's hard to believe she had such an extended lay-off.
"A lot of things come back; a lot of things I do come naturally," she said. "Last season I prepared a lot at the beginning of the season. I didn't think I'd be diving as well as I did by the end of the season.
"Diving is a mental sport. My diving team gives me the support I need to overcome my fears and just go for it. This sport is all about confidence."
At the end of the day, Bradley sits back and marvels at the progress the group as a whole has made since February.
"Driven, meticulous and resilient, this group exhibited all the qualities associated with being a successful student-athlete," he said. "Each one of these athletes — whether a senior with years of experience or a freshman with none — has helped pave the way for the sport of diving to continue to flourish within not only the Sweetwater Union High School District but the South Bay in general.
"In the end, I tip my hat to this group of 20-plus divers and am grateful to have had the opportunity to work with them. I believe I speak for their coaches and parents when I say how proud I am of what they have accomplished this season."
Think positive, perform to one's potential and success will follow.
Dive profile:
Erik Duarte, senior, Olympian High School
I have been participating in dive for 2 years, I started late as a junior.
What got me involved was when I tried out for swim but I did not do as well as I expected. Many people told me to try dive because of my leg strength, so I gave it a shot.
I play both soccer and football as a kicker and I believe that kicking in football has helped me in dive because it adjusted my body to be flexible and to be able to bend at an extreme pike position.
What I enjoy most about diving is that you can do a lot of things you might have thought were really hard or impossible on the ground; it also allows you to try and mess up without being too conservative, so it pushes me to try new and harder tricks.
I think that I have developed very well. When I started I had never stepped foot on a diving board, but in a matter of weeks I found myself medaling at the Metro League finals and qualifying for the CIF diving championship.
My teammates and my coach motivate me; I love to do new tricks because my teammates are always proud of not just me but anyone when they land a new trick. And my coach has always pushed me to do lots of things. I was coach's first male diver at Olympian in his first year coaching and I love to make him proud at every meet.
A challenge to overcome on the board was the fear of smacking the water and getting hurt. This is something that is very common and when you realize it will only sting for a little you become more comfortable and confident.
Two things I am proud about would have to be placing in an 11-dive invitational meet with many of the top divers in the county, as well as qualifying for CIF with very little diving experience. I was able to prove to myself that trying new things could be very rewarding.
My goal for this season is to place in the upper 15 of the divers at CIF and I believe that I am doing well to achieve my goal; however, there is always room for improvement and work to be done.
I do not plan to compete after high school. But one cannot tell the course of the future. I will always be grateful for this sport and for what it has taught me.
Photo Gallery by Phillip Brents
Diego Mungia, Olympian High School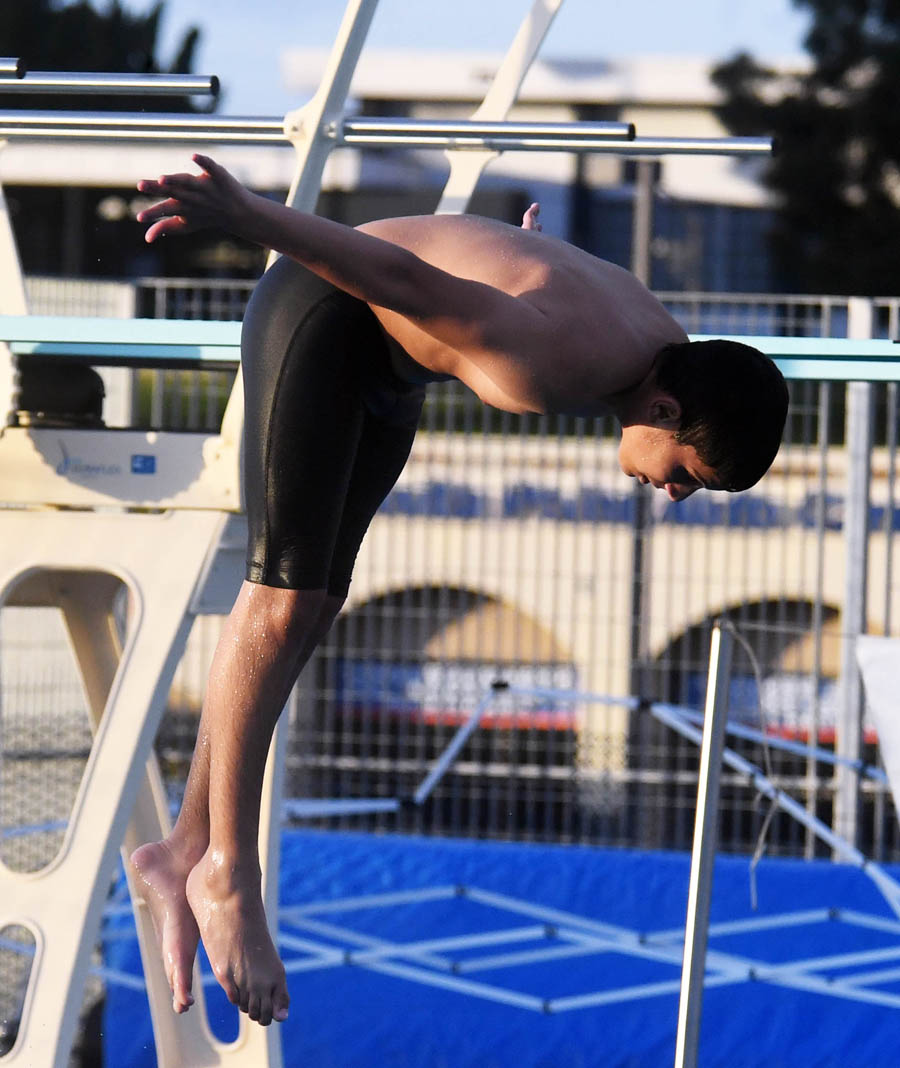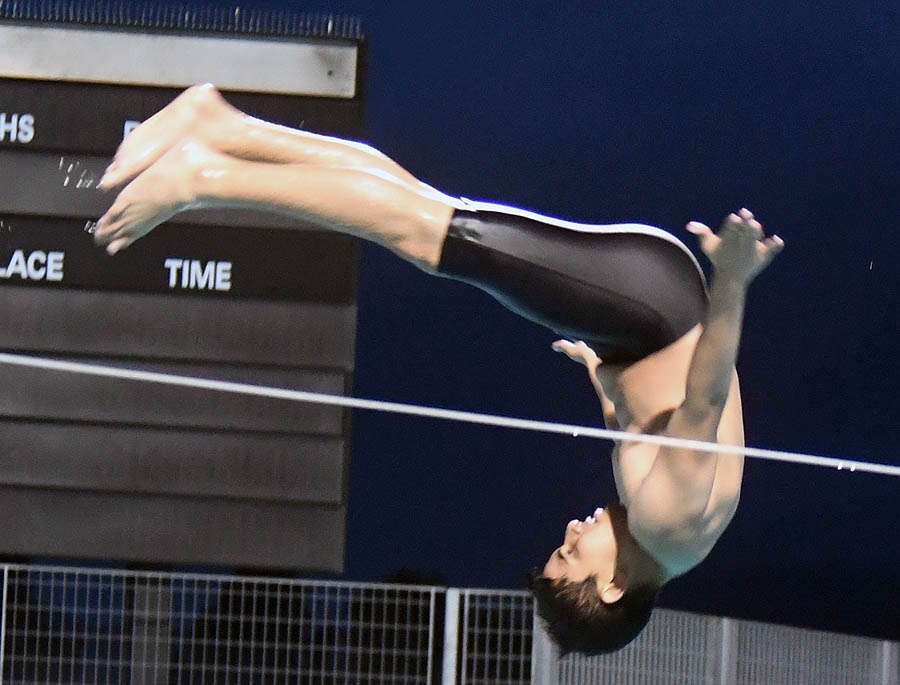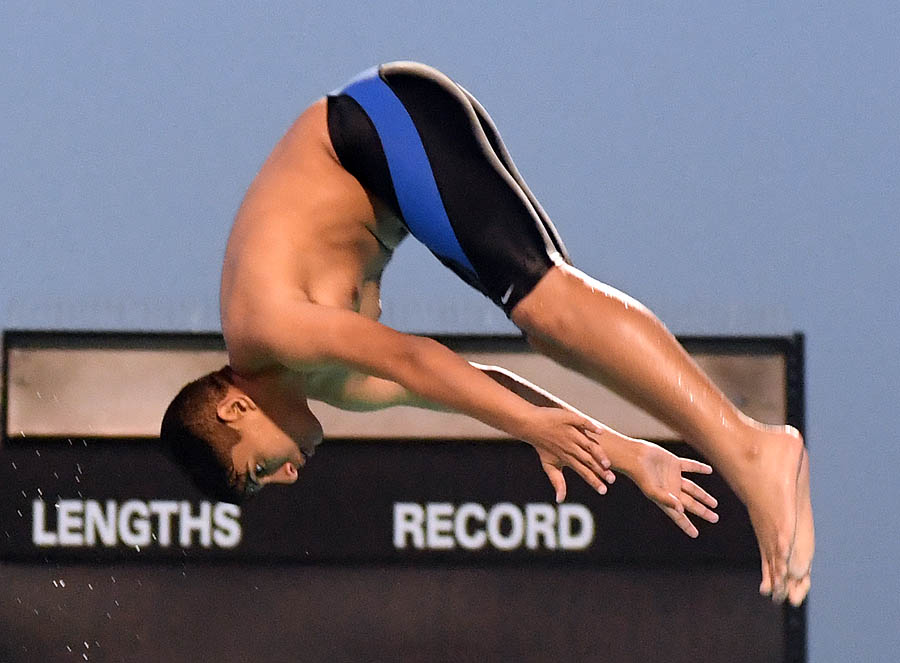 Zachary O'Hara, Otay Ranch High School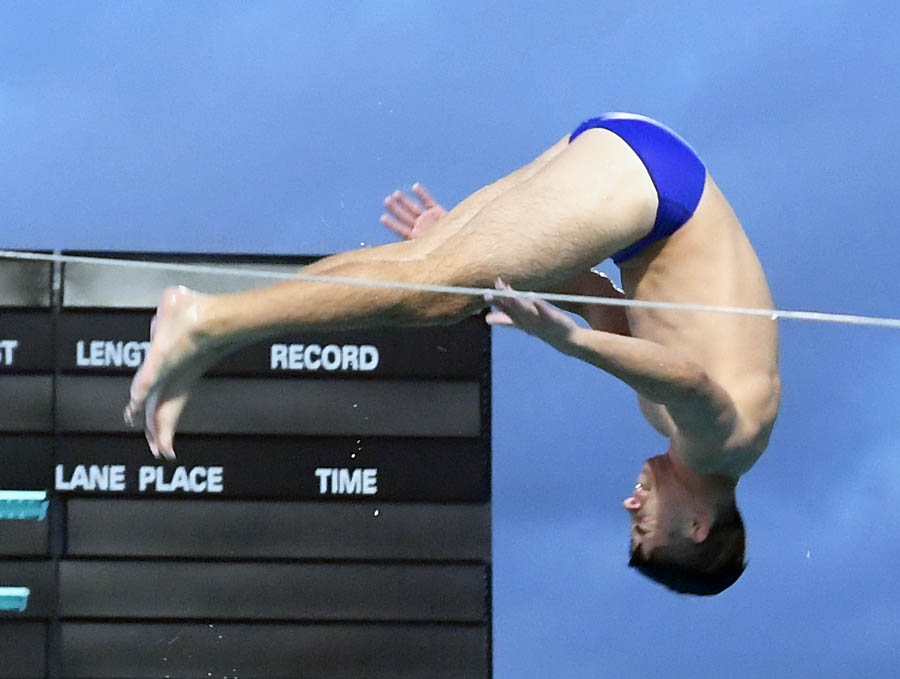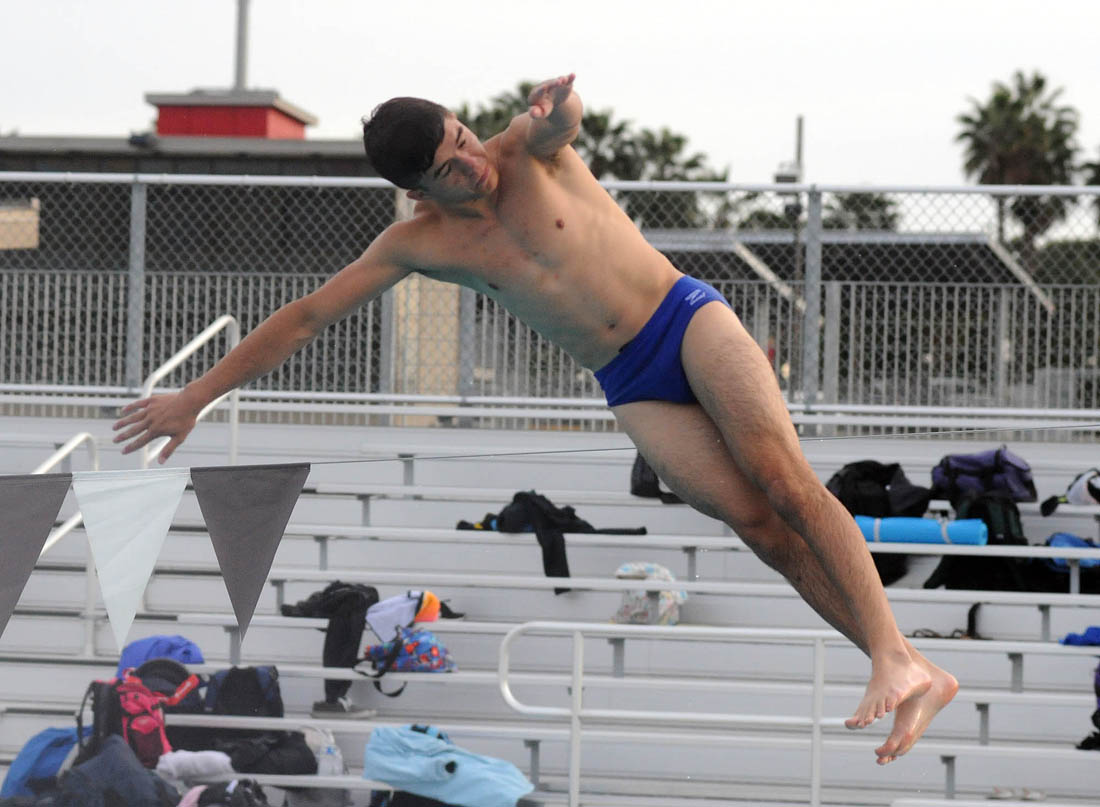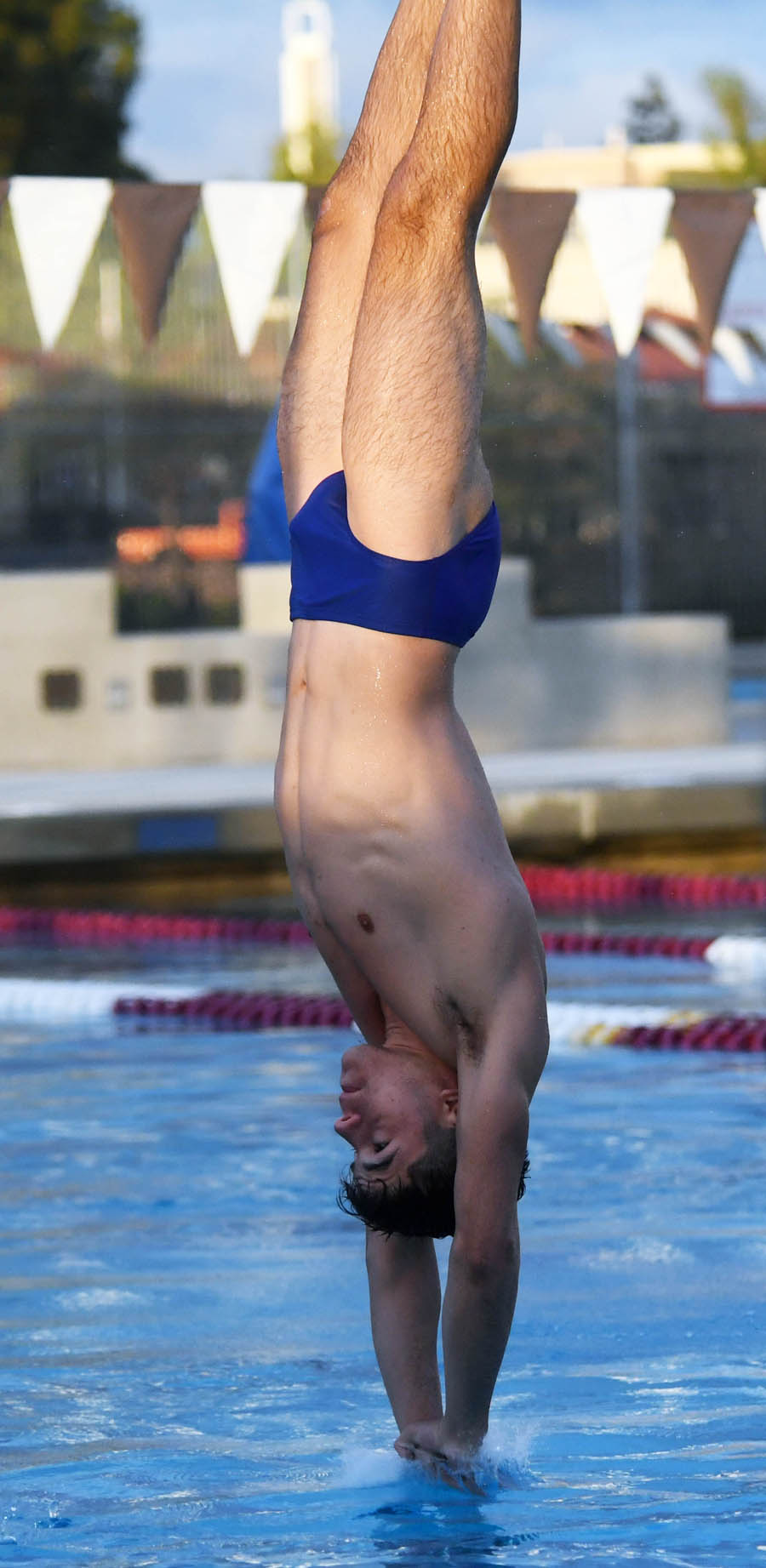 Alehtse Cinco, Olympian High School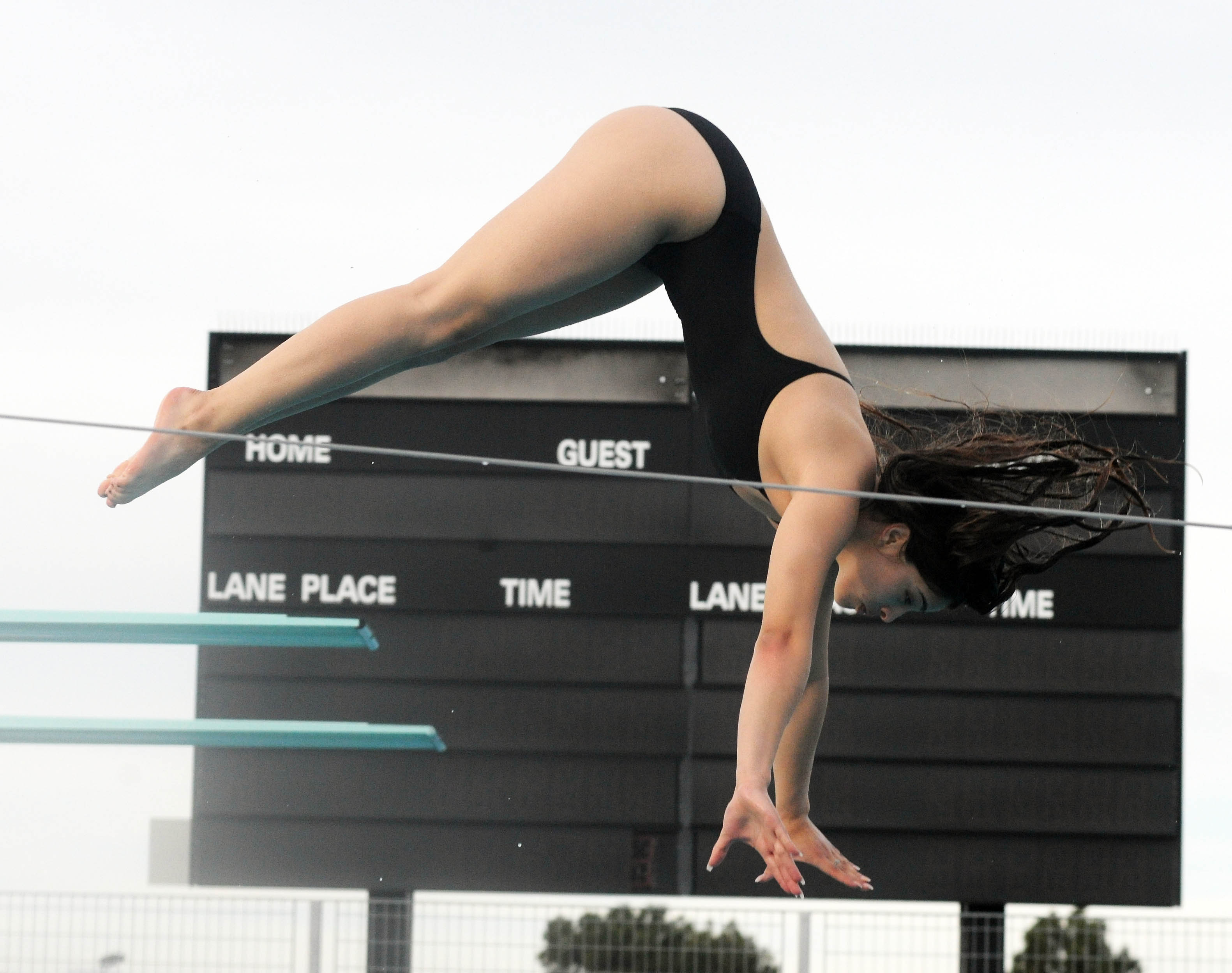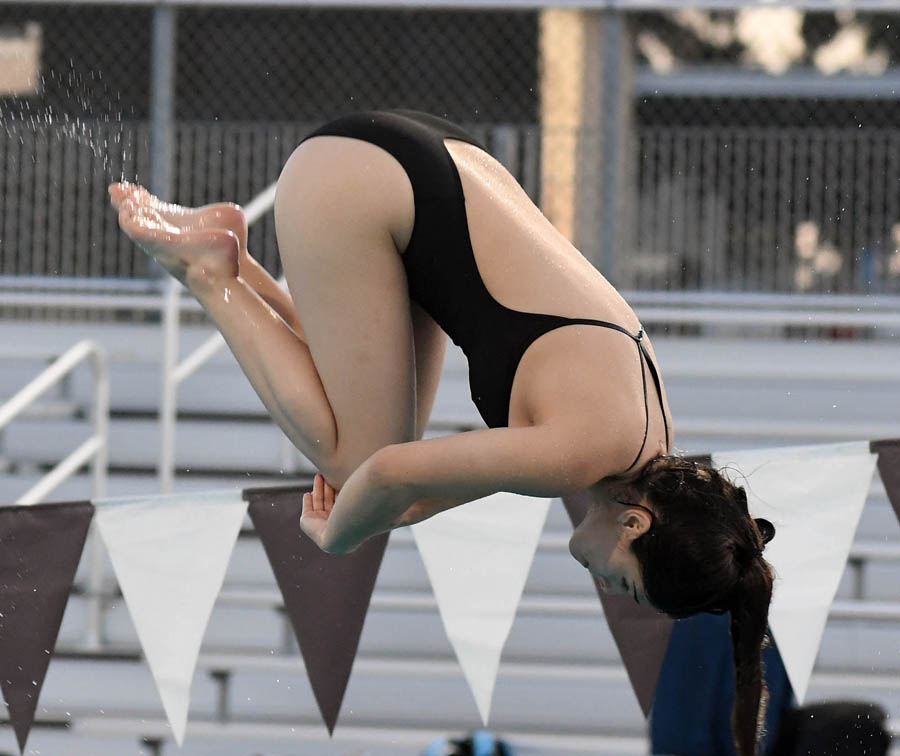 Montse Sanchez, Olympian High School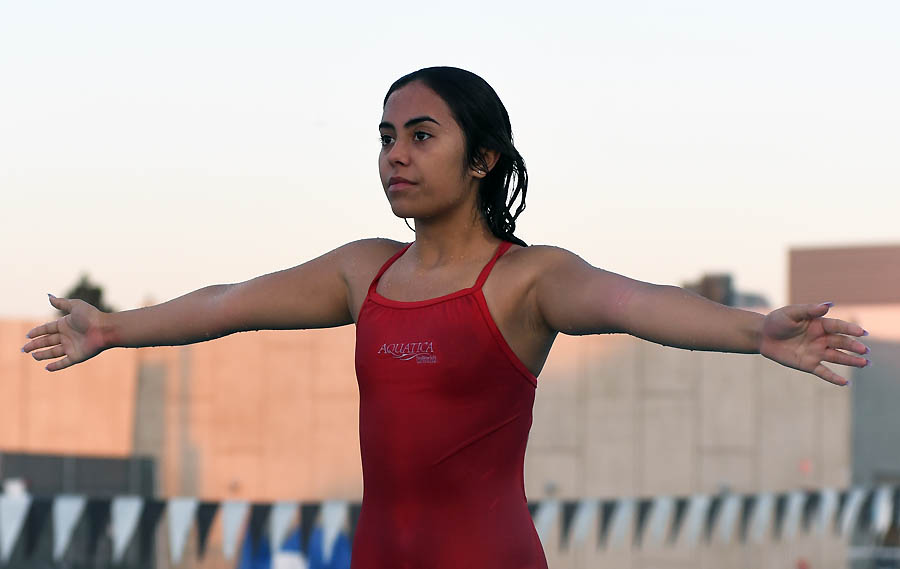 Carl Grosselfinger, Eastlake High School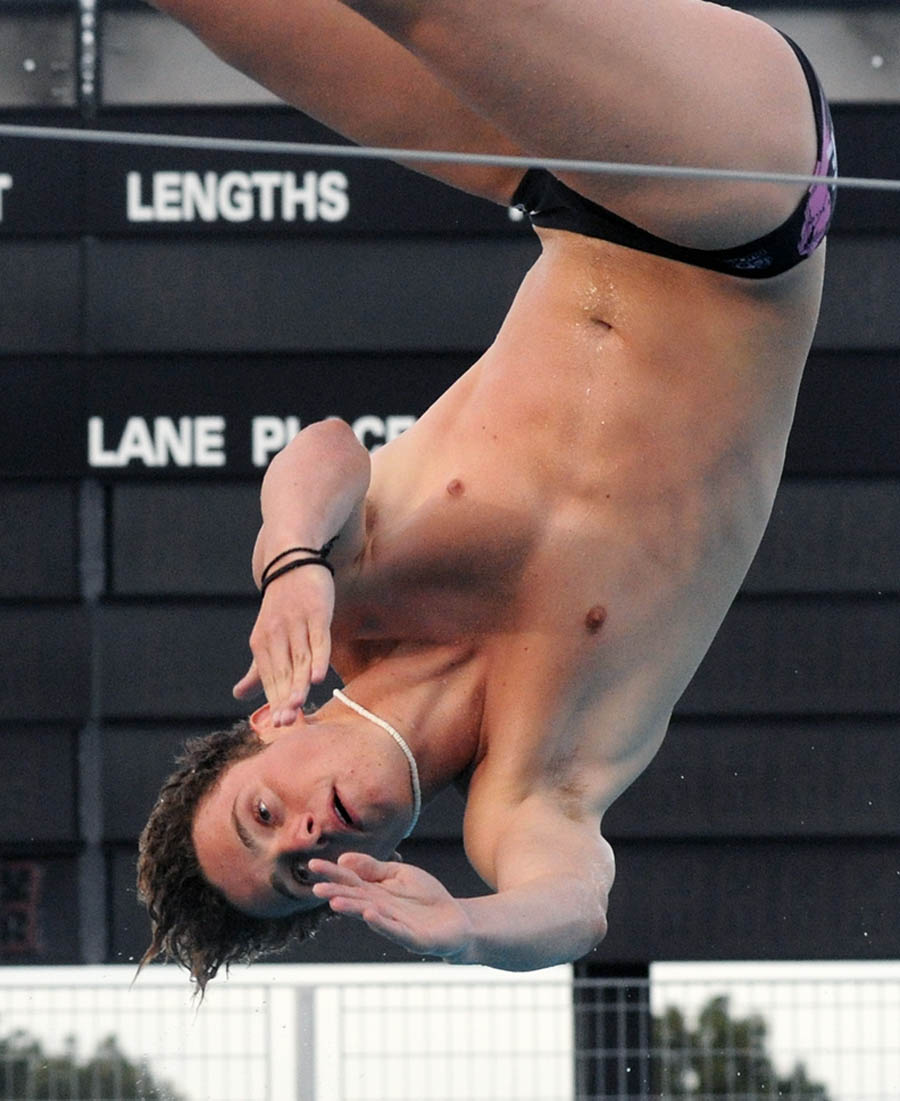 Hilltop vs. Bonita Vista dual meet