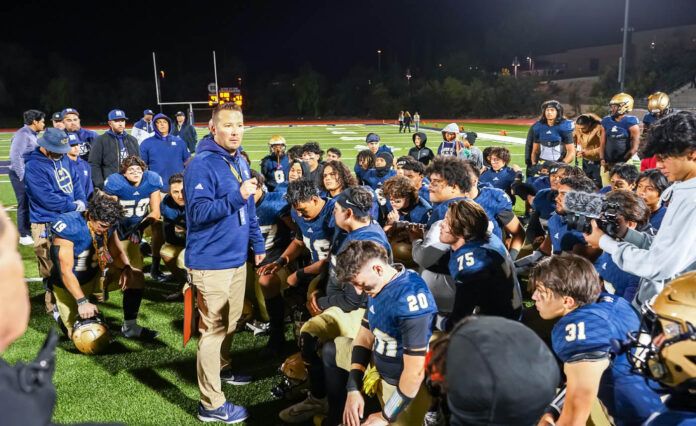 The Mater Dei Catholic High School football team takes an eight-game winning streak into Friday's San Diego Section Division I championship game against the top-seeded Mission Hills Grizzlies at Southwestern College.
Kick-off is 7:30 p.m.
The third-seeded Crusaders will be going for their second consecutive CIF championship after winning last year's Division III title.
Mater Dei Catholic went on to win last year's state Division 2-AA championship.
Even though moving up two divisions this year, the goals were the same this time around: win a league title, win a CIF title and hopefully win a state title.
The Crusaders have taken the first step after claiming their second consecutive Metro-Mesa League championship. The second step awaits against the Grizzlies (9-3) after third-seeded Mater Dei Catholic upended second-seeded Cathedral Catholic, 14-9, in last Friday's semifinals.
The intrepid victory made amends for a season-opening 28-14 loss to the Dons,
"We are very proud of the boys for bouncing back and beating Cathedral Catholic," MDCHS coach John Joyner said. "We know we have a huge game ahead of us against a great Mission Hills team, but we are excited to be back in the CIF Finals."
The winner of Friday's game is guaranteed a berth in the Southern California regionals.
Senior Dominic Nankil opened scoring with a 20-yard touchdown pass to senior Jerry McClure in the back of the end zone for a 7-0 Crusader lead.
Junior Anthony McMillian (103 rushing yards) later made it 14-3 Mater Dei Catholic on a short TD run.
Cathedral Catholic, which eliminated seventh-seeded Torrey Pines by a 30-10 score in the quarterfinals, came back to make the score 14-9 on a short touchdown run from senior Will Bond.
The Dons drove down the field and attempted a potential game-winning pass into the end zone with four seconds remaining. But the Crusaders intercepted the pass that was up for grabs to end the game in Mater Dei Catholic's favor.
Senior D.J. Overstreet had the game-winning pick.
Joyner called the Dons the premier program in San Diego County and said for his team to be in the game and pull it out meant a lot to the Mater Dei Catholic program and to him personally.
Cathedral Catholic finished the season 6-6 and will not repeat as state Division 1-AA champions.
Mission Hills advanced with a 28-21 semifinal win over fifth-seeded El Camino. Senior Lucas Scott caught a five-yard scoring pass in the first quarter and later returned a kick-off 98 yards for a touchdown to get the Grizzlies' motor running against their Avocado League rival. Senior tight end Henry Davis caught a nine-yard touchdown pass from junior quarterback Keaton Smith late in the third quarter to stand up as the game-winning touchdown.
Mission Hills defeated ninth-seeded St. Augustine, 42-0, in the quarterfinals as junior Jayden Williams had 132 receiving yards and two touchdown grabs.
Parade of champions
This year's section finals will crown seven champions – six at the 11-man level and one at the eight-man level.
Second-seeded Lincoln pulled off the shocker of the season by stopping top-seeded Carlsbad, 28-24, in last Friday's Open Division championship game at SDSU's Snapdragon Stadium.
The top-seeded Lancers (10-2) built a 21-6 lead only to have the Hornets (11-1) storm back with 22 second-half points, all in the fourth quarter.
It was the glamor game of the season.
Carlsbad scored on its first play from scrimmage as junior running back Mason Walsh scored on a 74-yard breakaway run. The Hive countered with a touchdown to pull to within one point by the end of the first period. The Lancers led 14-6 at halftime.
Neither team scored in the third quarter to set up a stupefying 32-point thrill-a-minute fourth quarter scoring extravaganza. Lincoln came out victorious by scoring 22 of those points on breakaway touchdown catch-and-carries.
Justin Johnson scored on a 57-yard interception return to put the Avocado League champion Lancers ahead by 15 points just 14 seconds into the fourth quarter. That served to unleash the Western League champion Hornets' sting.
Senior K.J. Chatham completed an 80-yard field march with a 25-yard scoring strike to senior Josiah Cox to cut the deficit to 21-13.
Carlsbad inched ahead 24-13 on a field goal before the Hive tacked on the final two touchdowns in the game.
Chatham connected with junior Mahki Gray on an 80-yard strike up the middle of the field. Chatham came back with a two-point conversion pass to senior Raylon Logan and the game suddenly took on a new face at 24-21.
The game's outcome hinged on one huge play. Facing a fourth-and-10 conversion, Chatham passed to senior Corey Thompson-Miller for a clutch first down. But Thompson-Miller kept going after the Carlsbad defense failed to bring him down, the end result of which was a 65-yard scamper down the sideline to score the game-winning touchdown with 3:38 to play.
Chatham finished the game with 231 yards and three touchdown passes while Lincoln senior star running back Roderick Robinson rushed for 121 yards as the Hornets topped 400 yards in total offense.
Walsh countered with 202 rushing yards for the Lancers, whose season ended with a pair of sacks by Lincoln senior D.J. Peavy and junior teammate Jerome Roberts.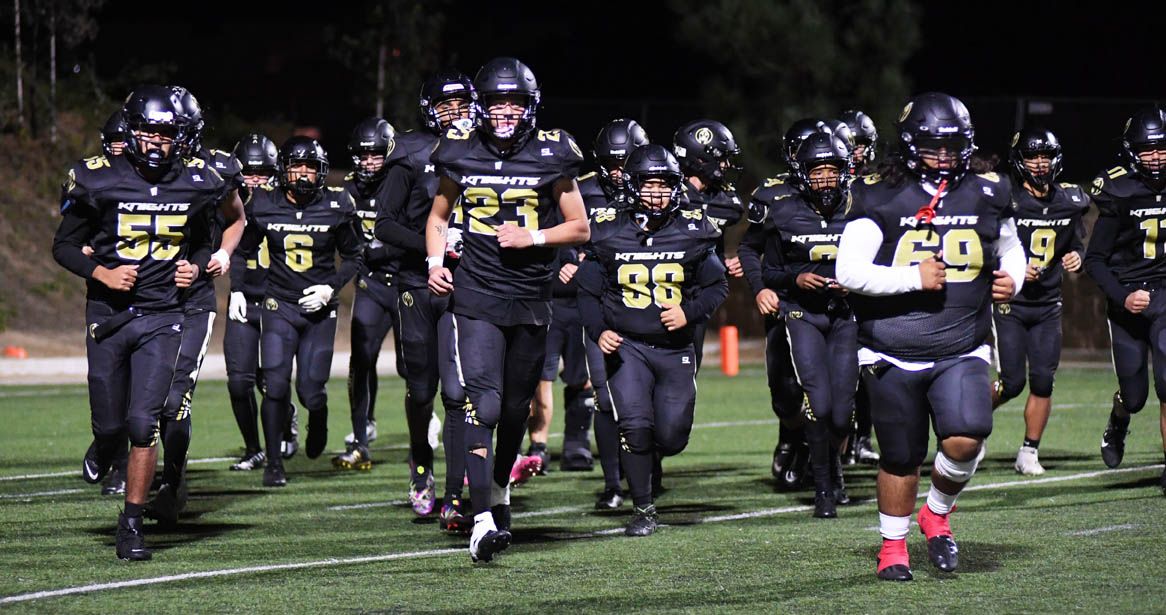 Eight is great for Victory Christian Academy (11-0) in CIF 8-Man championship final
It was a game to define a program as well as a season, and the top-seeded Victory Christian Academy Knights came out on top in both categories after capturing last Saturday's San Diego Section Division VI (8-Man) championship with a 39-12 victory against the second-seeded St. Joseph Crusaders in a game played at Escondido High School.
The win finalized a perfect 11-0 season for the Rancho del Rey team.
"It's been a pretty dominant season — it's been fun to watch them dominate," Victory Christian Academy athletic director Jonathan Ramirez said. "Coach Earl Benson has had them pretty dialed in. What I like most about this team is how respectful and how much class they have. The 12 seniors play a vital role in that system. They have a great chance to be successful in college."
Victory Christian previously defeated St. Joseph, 27-8, in an Ocean League game in early October. The rematch proved which team was indeed the strongest.
The Knights once again jumped on their opponent early to set the tone for the game with a 21-6 first quarter lead. Victory Christian led 27-12 at halftime and closed the game with a 12-0 showing in the second half.
Senior quarterback Tookie Davis had a part in four touchdowns in the game — two passing and two rushing.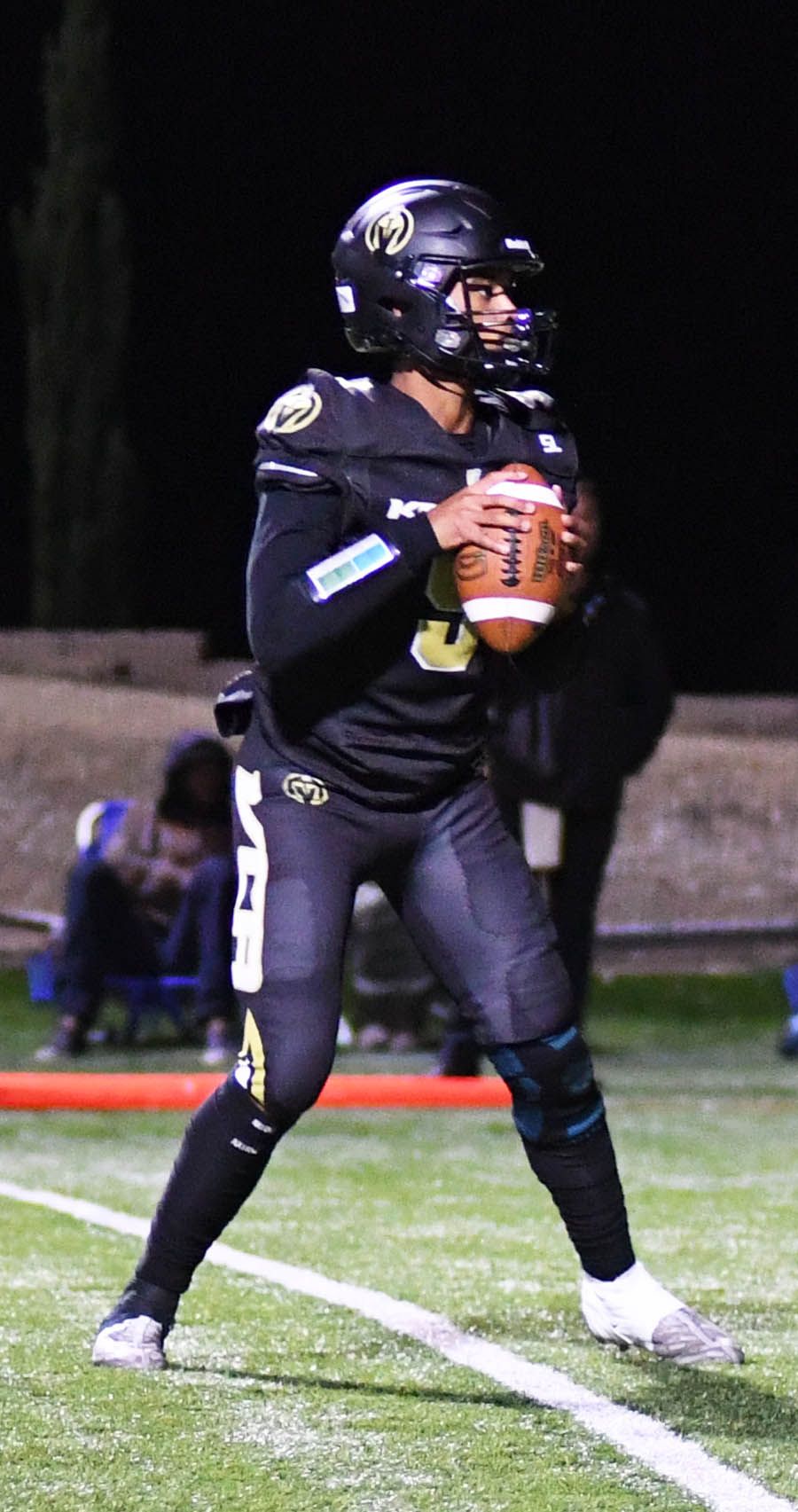 He opened scoring on a two-yard run before St. Joseph junior quarterback Andrew Wadds answered with a 26-yard rushing touchdown.
Davis passed 64 yards to junior Derek Edmond to take the lead. Senior Giancarlo Puccio scored on a pass play just before halftime to draw the Crusaders (9-2) to within 15 points.
Senior Isaiah Tabares took a pitch from Davis to extend the Ocean League champions' lead. Senior Quintin Richardson scored on a kick return to round out scoring in the game.
The Knights made amends for last year's 50-28 championship game loss to the San Diego Jewish Academy.
"It's an incredible feeling to have," Davis told a KUSI-TV crew on site after the game. "From last year the amount of work we put in, we were ready this year. I'm excited and a little sad because it's my last year playing with these guys at this school."
Victory Christian racked up a 496-71 point differential in securing its undefeated season. The Knights posted five shutout wins.