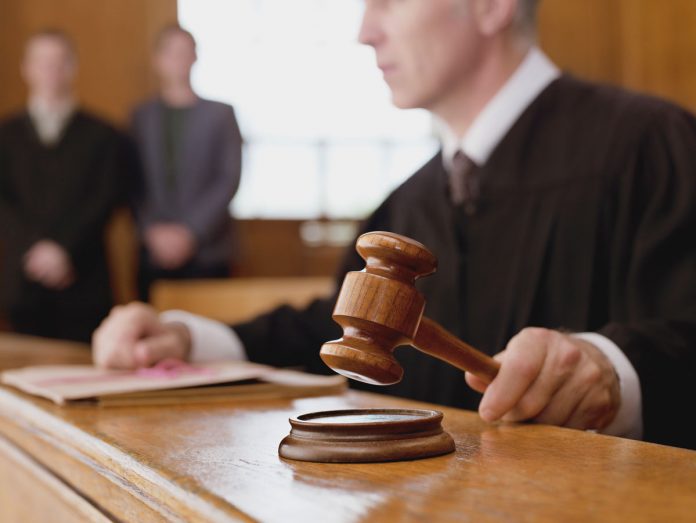 A man charged with ramming a police car in South Bay will be sentenced July 16 after he pleaded guilty to felony assault, resisting an officer, and burglary of a shoe factory.
The sentencing of Alfonso Ayala Flores, 26, will be live streamed online at the website of San Diego Superior Court at 1:30 p.m. on July 16. The court website is sdcourt.ca.gov and it will be audio only.
Superior Court is mostly closed with attorneys appearing remotely from another location and inmates on a video feed from jail due to the outbreak of the coronavirus.
Flores faces a 19-year prison sentence, said Deputy District Attorney Mary Naoom. He pleaded guilty to felony assault of a San Diego Police officer, resisting arrest by an executive officer performing his duties, and burglarizing the Nike Factory Outlet in San Ysidro.
Naoom said Flores admitted to personal use of a firearm in shooting at another vehicle
He pleaded guilty in March and his sentence recently was delayed to July 16. Dismissed charges include robbery, carjacking, grand theft, auto theft, shooting at an occupied vehicle, felon in possession of a firearm, and evading police with reckless driving.
The incidents with the officer occurred on Nov. 7, 2019. Flores was driving a stolen pickup on Dairy Mart Road and an officer tried to pull him over. He led police on a pursuit into Nestor. He pulled into a cul-de-sac and rammed one patrol car.
An officer fired a shot at Flores, but it missed. Officers pursued the truck into Imperial Beach, where Flores got out and ran off. He was captured the next day. The burglary of the shoe factory was on April 25, 2019.