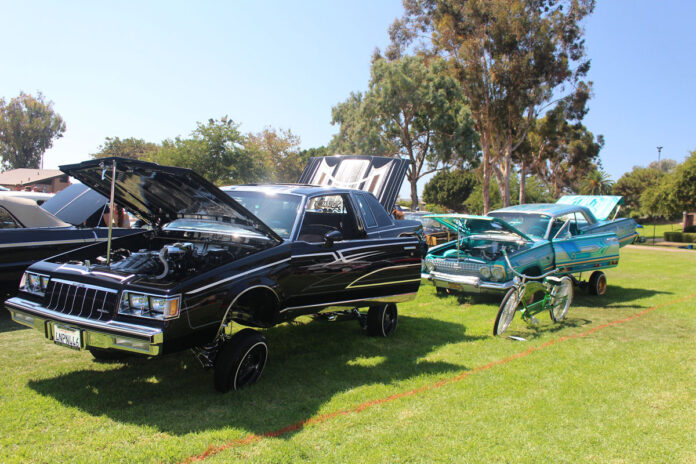 The San Diego County Lowrider Association hosted its second annual End of Summer Car Show and Cruise on Saturday at Kimball Park, featuring over 350 vintage cars painted in elaborate designs, traditional Folklorico dancers, musicians, and a car contest followed by a cruise down Highland Avenue.
The original event was held in 2019, but was skipped in 2020 as the COVID-19 pandemic hit National City in force and residents were encouraged to stay home and physically distance in an effort to reduce spreading the virus.
Organizer Bird Rice said he and co-organizer Robert Casas chose Kimball park specifically to bring the event to the heart of the community.
"I'd say it was a success and we're already planning our third annual event for 2022. We didn't have much time to plan because we were approved late due to COVID but the community came out and it is going to continue to grow," Rice said.
Early in the day, he said, people started helping out, including City Council member Ron Morrison, who was spotted placing garbage cans throughout the event.
"It took these two individuals, Robert Casas and Rob Bird Rice to actually put it together with months and months of planning, getting sponsors, permits, paying all the expenses, organizing all the details, and taking responsibility. All their work and their team of volunteers' hard work paid off with an awesome display of this cultural art in a very well organized, family-oriented, safe and well-received community event," Morrison said.
He also said the event should be renamed as an art show, "as indeed we had hundreds of pieces of art on display" that just happened to have wheels.
In addition to the art on wheels, Grupo Folklorico Herencia Mexicana dancers and other performers captured the crowd with traditional clothing in colors as bright as the paint on the cars and music that rang out across the entire park.
"This is Hispanic Heritage Month, we brought in the dancers and mariachis this year but we're trying to build a bigger stage next year with more performances. If we are approved and can plan a little earlier next year, we might be able to use the entire park," Rice said.
First place for the car show was awarded to Majestics Car Club for Final Judgement, a 1964 Chevy Impala painted in tangerine-orange tones with a biblical scene inside the hood of the car.