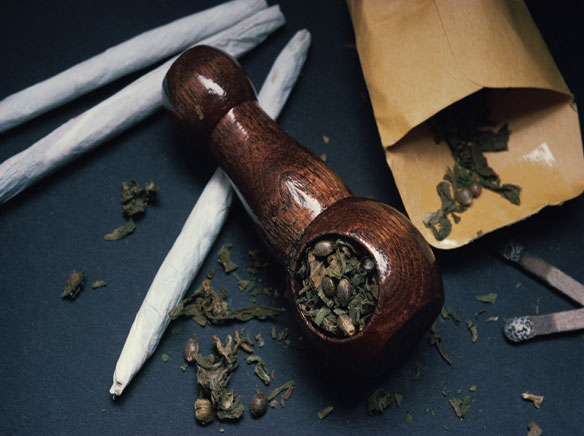 If adopted, a cannabis ordinance could make National City home to the first cannabis lounges in San Diego County, but it's still relatively early in the process.
In September National City City Council directed city staff to draft a regulatory ordinance that would allow for a maximum of three cannabis businesses in National City's industrial zones, and return with community feedback and an analysis of the potential fiscal impact.
In partnership with HdL, a cannabis consulting firm, city staff returned to council on Tuesday with multiple suggestions: allow for six cannabis businesses in National City, allow for cannabis lounges, and implement a uniform 5 percent community benefits tax rate.
The council voted to move forward with drafting an ordinance that includes all of them.
Cannabis lounges are public spaces where people can buy and smoke cannabis. Since California passed Proposition 64 in 2016, they have popped up in the Bay Area and Los Angeles.
"You want to look at consumption lounges the same way that we would look at bars and how we regulate alcohol in a bar setting," economic development specialist Megan Gamwell said at the City Council meeting on Tuesday.
Their report on Tuesday expanded upon the initial proposal by capping the number of cannabis businesses in National City at six instead of three, recommending that three cannabis businesses be allowed in National City's industrial zone and three be allowed in National City's tourist commercialzone in the Marina District west of I-5.
Mayor Alejandra Sotelo-Solis, Councilwoman Mona Rios and Councilman Gonzalo Quintero voted in favor of expanding the ordinance to allow for up to six cannabis businesses instead of threev and to allow for cannabis lounges. Council members John Cano and Ron Morrison voted against it.
When it came to voting on a uniform five percent community benefits tax rate for all cannabis businesses, city council voted to move forward with it and asked for more information about tax rate options, with Cano being the only one to oppose it.
City staff said they recommend a uniform tax rather than a different tax for each type of cannabis business to provide a simplified fee structure that allows businesses to conduct more than one type of licensed activity at their business.
With a uniform five percent tax rate city staff estimate each licensed cannabis distributor, manufacturer or retailer would bring the city about $100,000 of revenue annually. One cannabis cultivation site would yield about $250,000 of revenue annually for the city, according to the fiscal analysis.
Morrison said National City shouldn't be moving forward with drafting a cannabis ordinance because Prop 64 failed in National City. He also said the community outreach by HdL and city staff was insufficient.
While National City was one of the only two cities in San Diego with a majority no vote on Prop 64, only eleven votes made up the difference between yes and no votes, according to an analysis of Prop 64 results in San Diego County by data analyst Vince Vasquez. In 2016, 49.96 percent of voters in National City voted yes on Prop 64 and 50.04 percent of National City voters voted no.
The community outreach conducted by HdL and city staff consisted of a community forum held on Oct. 22 that more than 50 people attended, according to city staff.
They also did presentations at three economic development meetings between October and December and posted a survey online for about a month that yielded 56 responses. Of the 56 people that responded to the survey, nine of them were not National City residents or employed by a National City business.
Cano raised concerns about public safety and burdening police and firefighters with legal cannabis businesses.
"Having it behind my gut that voting for this thing can potentially hurt our fire department and hurt our police officers and those services that are going to be going to people that abuse the cannabis, maybe spice it up, I just cannot live with that," Cano said.
Rios said National City wasn't one of the cities that "jumped on the bandwagon" when cannabis was first legalized, and the time to move forward is now.
"I think that if we look at votes that are taken three, four years ago or more on any issue, we have the opportunity of never moving forward because times do change," Rios said.
In regards to introducing cannabis lounges to National City, she echoed the sentiments of one of the speakers during public comment, saying that if you live somewhere where smoking is prohibited and there are no public spaces to smoke marijuana — then there is no place for you to do it.
Sotelo-Solis said that the best way for the city to approach legalizing cannabis businesses in National City is to be proactive about it so the city can dictate exactly what the rules are.
"I think it's really important that we discuss the social equity piece, the local hires, penalties. I think the community benefits agreement — we can dictate what that looks like," Sotelo-Solis said.
Quintero voiced the same sentiment and said providing opportunities for National City residents to safely and legally consume cannabis ivs a social justice issue.
"People have been smoking marijuana for generations, people have been using it medicinally for generations, it's been part of people's religions for generations so let's not pretend that this is just some end-all-be-all when it comes to money making," Quintero said.
City staff will return to city council with a commercial cannabis ordinance. If adopted, they will then outline the fee structure for the application and review process.
But even if the ordinance is adopted, it could be a while before cannabis businesses and lounges actually open in National City. In Chula Vista, city council approved an ordinance allowing regulated cannabis businesses about two years ago in March 2018.
While 41 cannabis business applicants have been disqualified, no cannabis business applicants have been officially approved yet, according to City Manager Anne Steinberger.