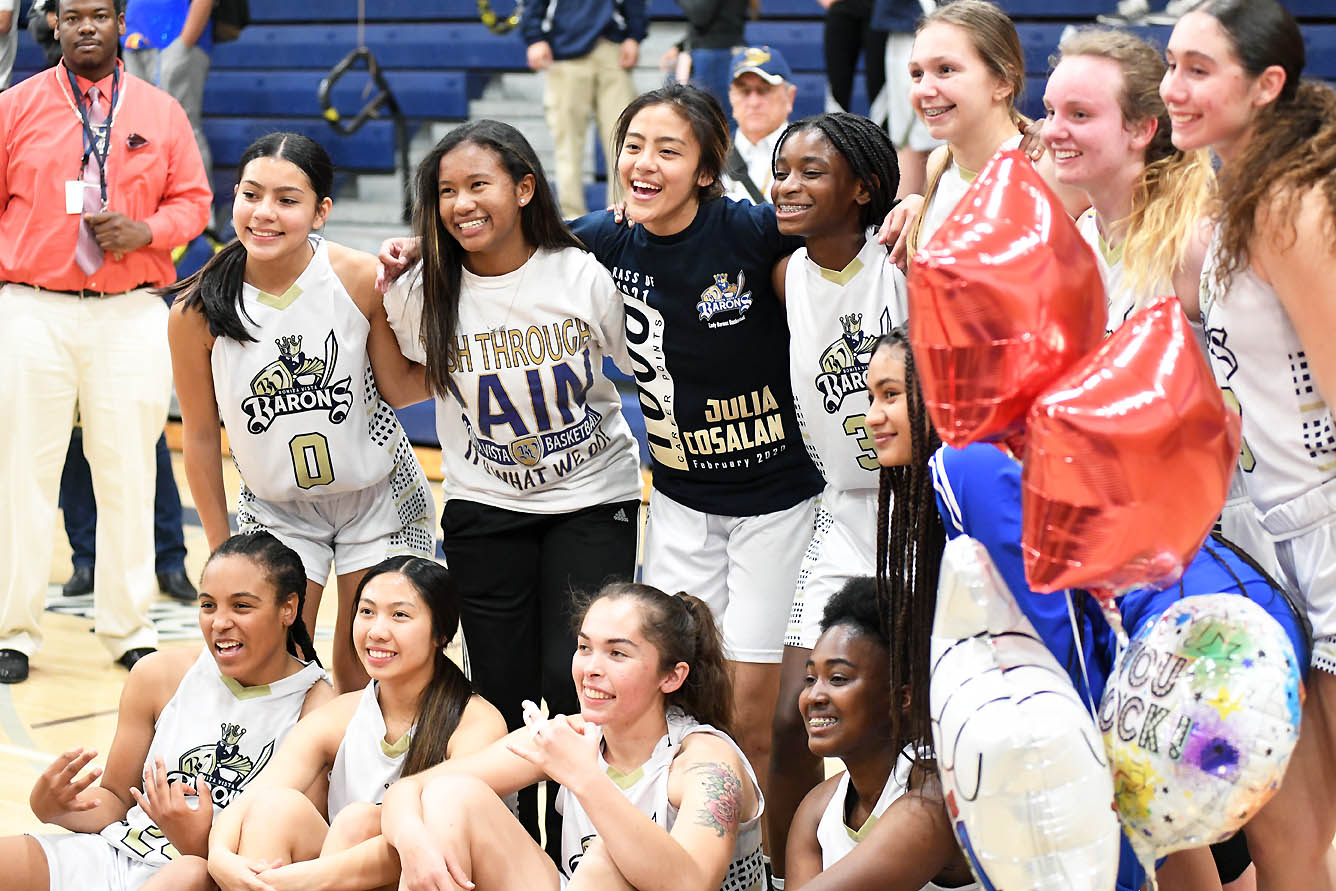 The San Diego Section basketball playoffs tip off Tuesday and Wednesday with first-round elimination games for boys and girls teams in most divisions.
The section's Open Division playoffs start at the quarterfinal-round stage and it appears that Bonita Vista High School's high-flying girls squad may be seeded among the top eight teams and tip off its quest for a championship title next weekend.
Open Division boys quarterfinal games are scheduled Friday, Feb. 21 while girls matchups are scheduled Saturday, Feb. 22.
The Lady Barons entered Wednesday's final regular season game against Mesa League rival Eastlake holding down the No. 4 power ranking in the division. Bonita Vista improved to 10-0 in league play, 20-8 overall, following a 70-30 win over Eastlake that cemented the team's third consecutive league championship.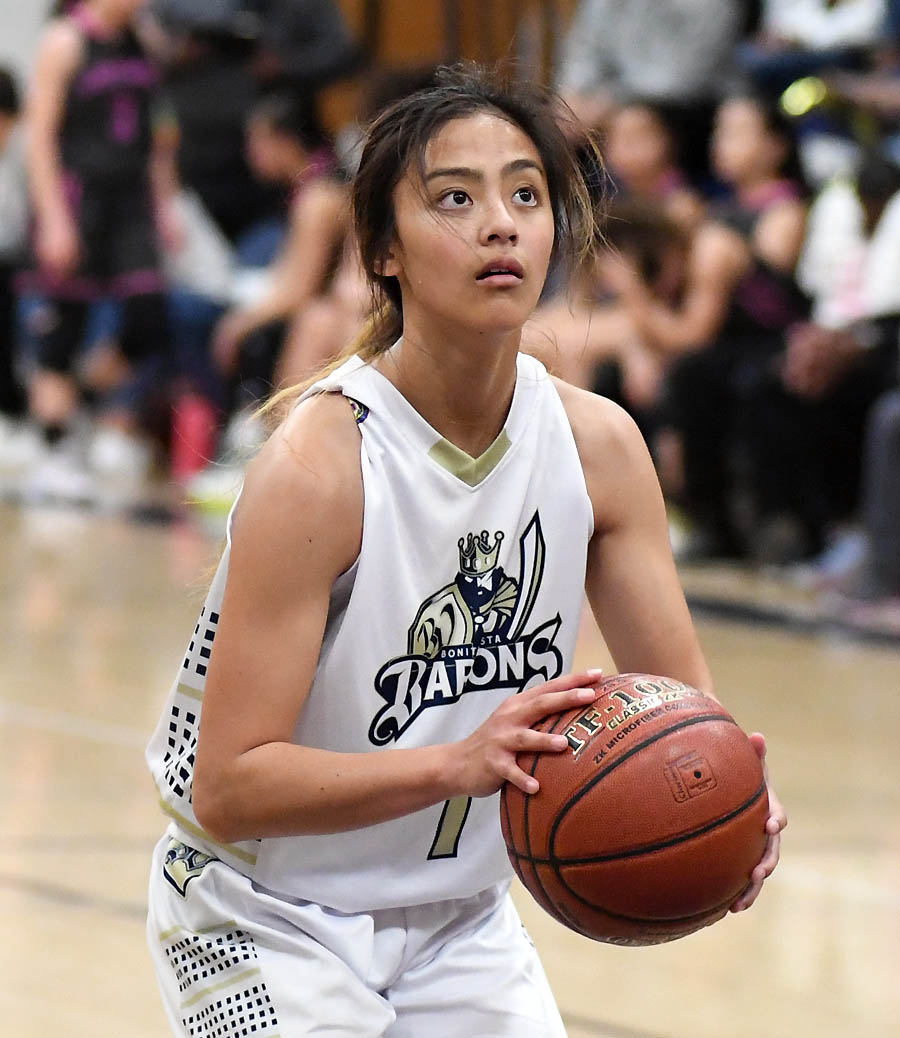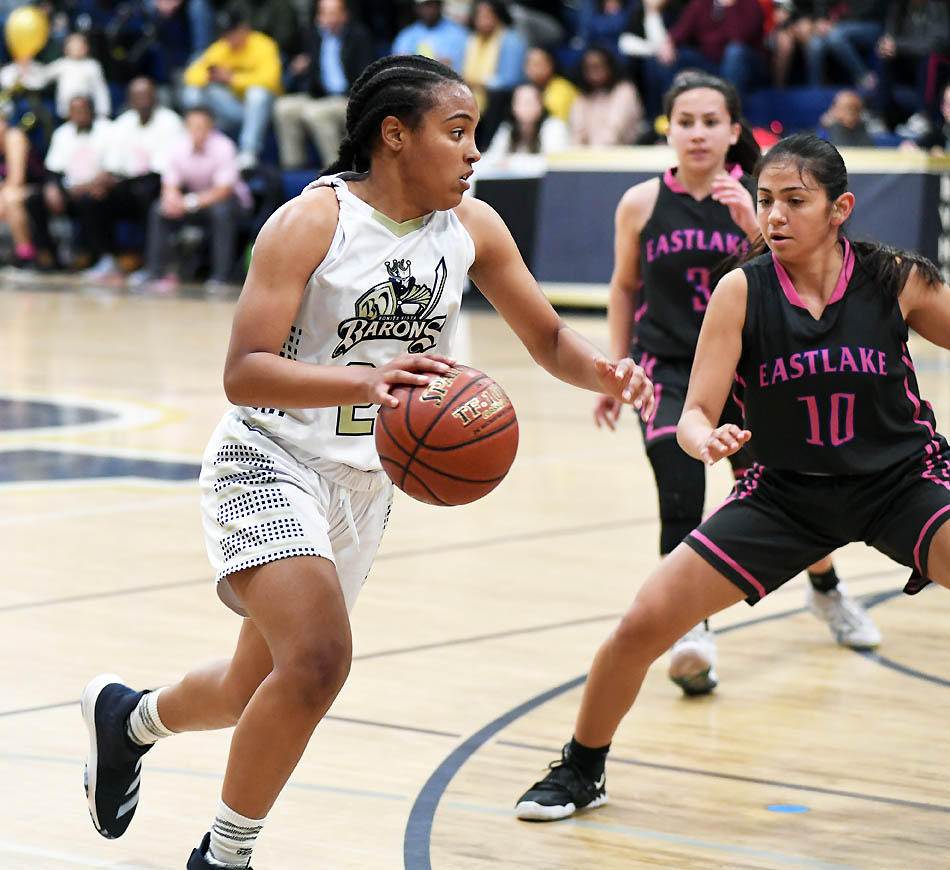 "It's not certain yet, but it looks like we might play La Costa Canyon in our first playoff game, which we could host," BVHS head coach Tristan Lamb said. "We're looking real good right now, we're finishing strong. The most important thing is that girls are having fun."
Junior Julia Cosalan led the hosts with 19 points in Wednesday's rivalry game victory while freshman Madison Canon poured in 16 points.
Freshman Alyssa Alvarado added eight points.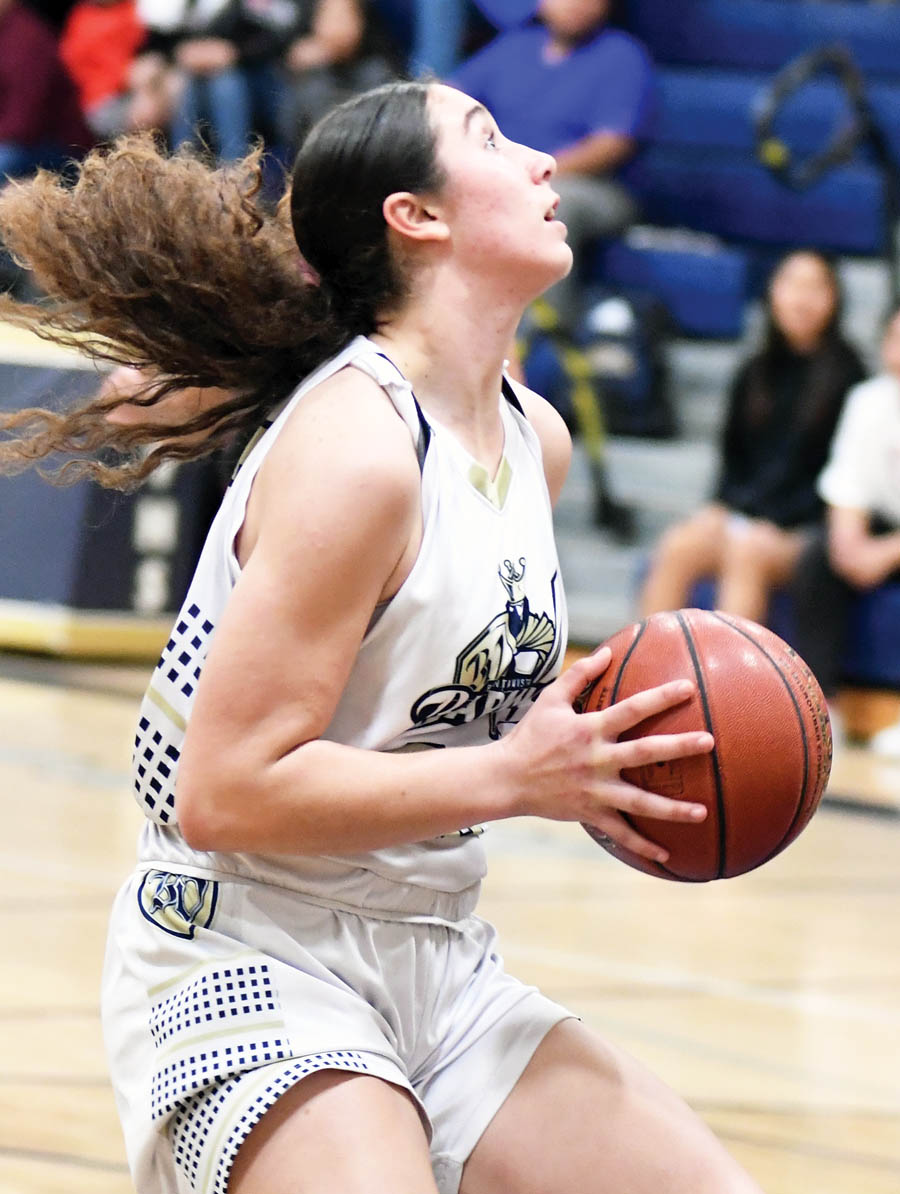 Cosalan paces the three-time defending Mesa League champions with a 15.3 scoring average, followed by junior transfer Sylena Peterson at 13.9 and Canon at 9.6. Canon, among the tallest players on the team at 6-1, leads the Lady Barons in rebounding with 9.7 per game.
Team chemistry is an obvious strong point; the girls just go out and win.
"I've been here for four years and this is our third league title, so I'd say we're moving in the right direction," Lamb said.
All eight Open Division teams receive berths in the Southern California playoffs, meaning that Bonita Vista is guaranteed at least two postseason games — one in the section playoffs and one in the regional playoffs.
There could be more, of course.
"It feels good to know that we'll still be playing when other teams aren't," Lamb said.
METRO CONFERENCE
GIRLS BASKETBALL STANDINGS
(Through Feb. 12)
Mesa League
Bonita Vista 10-0, 20-8
Mater Dei Catholic 8-2, 18-8
Otay Ranch 6-4, 21-7
Eastlake 3-7, 15-13
Montgomery 2-8, 13-15
Olympian 1-9, 10-18
South Bay League
Chula Vista 11-1, 19-9
Hilltop 10-2, 13-14
Castle Park 9-3, 14-11
Sweetwater 4-8, 8-19
Mar Vista 4-8, 7-21
San Ysidro 4-8, 10-17
Southwest 0-12, 3-17
Crusader hoop men charting course for Open Division playoffs
The Mater Dei Catholic High School boys basketball team could be ticketed for a berth in the upcoming San Diego Section Open Division playoffs. Clearly, the Crusaders are playing at a different level than most of their Mesa League rivals.
Mater Dei Catholic, which entered the week ranked seventh overall among Division I teams, improved to 8-1 in league play, 21-5, overall, following Monday's 59-42 win at Bonita Vista.
The top eight Division I teams make the Open Division cut.
The Crusaders' lone loss in league play has been, 65-63, at Eastlake on Jan. 31.
A 10-1 opening run on Monday made a statement against the second place Barons (6-3 in league, 19-8 overall), who entered the week ranked first among the section's Division II teams.
"We just want to keep winning games, finish league strong, get a spot in the Open Division and go from there," MDCHS head coach Jason Bryant said.
The Crusaders had little trouble generating momentum when they needed it in Monday's game.
The hosts bounced back to trail 27-22 in the latter stages of an extremely fast-paced opening quarter only to see the visitors surge on top 36-22 by the end of the quarter.
Mater Dei Catholic led by 20 points, 49-29, by the end of the third quarter. The Barons once again challenged to narrow the score to 51-34 but the Crusaders promptly tacked on eight more points to win by 17 points.
Both teams dropped bombs throughout the contest, with the visitors scoring eight three-point shots to ramp up their point total.
The Crusaders received an all-around team effort with points from 10 players. Junior Kailon King led the visitors with 16 points while junior Dexter Stratton dropped in eight points.
Junior Clarence Martin and senior Adrian Calderon both scored six points while team scoring leader Melo Sanchez popped in five points.
Bryant said Sanchez, a junior guard/forward, is the driving force behind his team's success this season.
"Melo is our best player," Bryant said. "He leads us in points, assists, rebounds and steals. He is what makes us go. We also have some size, but we need to get them moving quicker and get them better shot-blocking."
The Crusaders overall list 10 of 12 players taller than six feet, including 6-10 senior center Maximus Lane, 6-9 junior Christian Ubochi and 6-8 Stratton.
Sanchez paces the team with a 21.3 game scoring average, followed by Stratton at 12.4.
Freshman Jesus Figueroa keyed the hosts with 15 points, including 12 points on four treys. D.J. Holmes ranked second on the score sheet with 10 points.
Bonita Vista coach Don Dumas was proud of his team's effort against a superior opponent.
"Mater Dei Catholic is an Open Division team – they're at another level than what we'll probably see in the (Division II) playoffs," Dumas said. "It was a good effort to see how our guys fought.
"It's been a good season. We're 19-8. If we win on Wednesday in our big rivalry game at Eastlake, that will be 20 wins. Twenty wins is always a good measuring stick. To get 20 wins in a 28-game season means you've had a very good year. We don't want to think our season is over for us yet."
Bonita Vista is one of three Metro Conference teams ranked among the division's top 10 teams. Otay Ranch (2-7 in league, 17-10) entered the week ranked fifth while Olympian (5-4 in league, 18-9) was ranked seventh.
Montgomery improved to 3-6 in league play following Monday's 62-59 win over visiting Otay Ranch while Olympian defeated visiting Eastlake, 60-52, on Monday.
Eastlake, which entered the week ranked third among Division III teams, dropped to 3-6 in league play, 15-12 overall.
San Ysidro entered the week ranked first among Division III teams. The Cougars improved to 11-0 in South Bay League play, 19-8 overall, after rolling past visiting Chula Vista, 92-11, on Monday.
Freshman Mikey Williams poured in 31 points for San Ysdiro while senior Kailen Rains dropped in 28 points. Freshman Jurian Dixon tacked on 23 points as the Cougars led 61-1 at halftime.
The Cougars bolted out to a 37-0 first quarter lead on the Spartans (2-9 in league, 9-15).
Wednesday's scores:
Otay Ranch 71, Olympian 32
Mater Dei Catholic 70, Montgomery 46
Bonita Vista 76, Eastlake 64
METRO CONFERENCE
BOYS BASKETBALL STANDINGS
(Through Feb. 12)
Mesa League
Mater Dei Catholic 9-1, 22-5
Bonita Vista 7-3, 20-8
Olympian 5-5, 18-10
Montgomery 3-7, 12-15
Eastlake 3-7, 15-13
Otay Ranch 3-7, 18-10
South Bay League
San Ysidro 12-0, 20-8
Sweetwater 10-2, 18-10
Mar Vista 7-5, 18-10
Hilltop 6-6, 12-16
Southwest 4-8, 10-17
Chula Vista 3-9, 10-15
Castle Park 0-12, 2-21