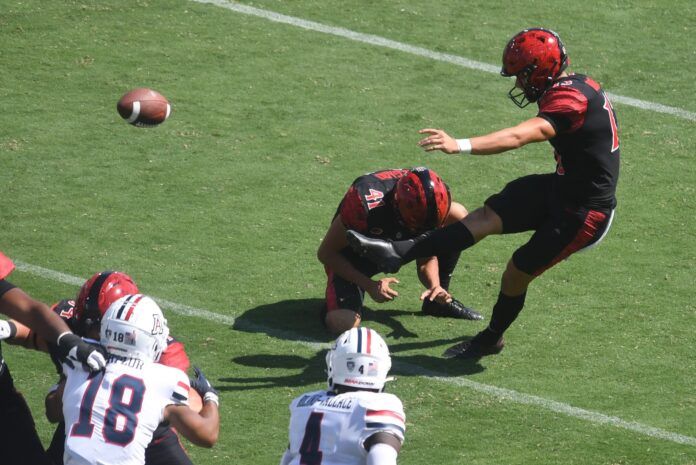 Trolleys running from either direction into Mission Valley with standing-room-only cars signified that college football had indeed returned to America's Finest City.
The San Diego State University Aztecs officially christened their new state-of-the-art stadium that took two years to build on Saturday with an announced attendance of 34,046. With the temperature at 100 degrees at the 12:30 p.m. kickoff, not all seats were occupied, of course, as fans sought refuge in shaded areas under overhanging decks.
For those who braved the unrelenting late summer heat and humidity, they saw what many didn't expect — the host Aztecs being outplayed by a University of Arizona team that had finished 1-11 last season.
It was certainly a message that SDSU — 12-2 a season ago — cannot rest on its laurels if it wants to compete for a Mountain West division title this season and once again have aspirations of not only being bowl eligible but winning a bowl game for the third time in three tries.
Aztec head coach Brady Hoke is hoping his team can play better.
"In the game, offensively and defensively, we have to get a lot better for next week," Hoke bluntly told the media after his team's 38-20 non-conference setback. "Looking at our tackling, (it) was atrocious. It's as bad as I have seen our team do in a long time. Offensively, we need consistency in what we're doing. The best players on our team are running backs, and we have to get them going early.
"Overall, coaching, starting with me, wasn't very good. As we get into this week, will evaluate more clearly, and then we're going to get ready for Idaho State."
SDSU hosts the Bengals (0-1) this Saturday in another non-conference game. Kick-off is 5 p.m. at Snapdragon Stadium. The Aztecs will be hoping for more pleasant weather and a first win of the season.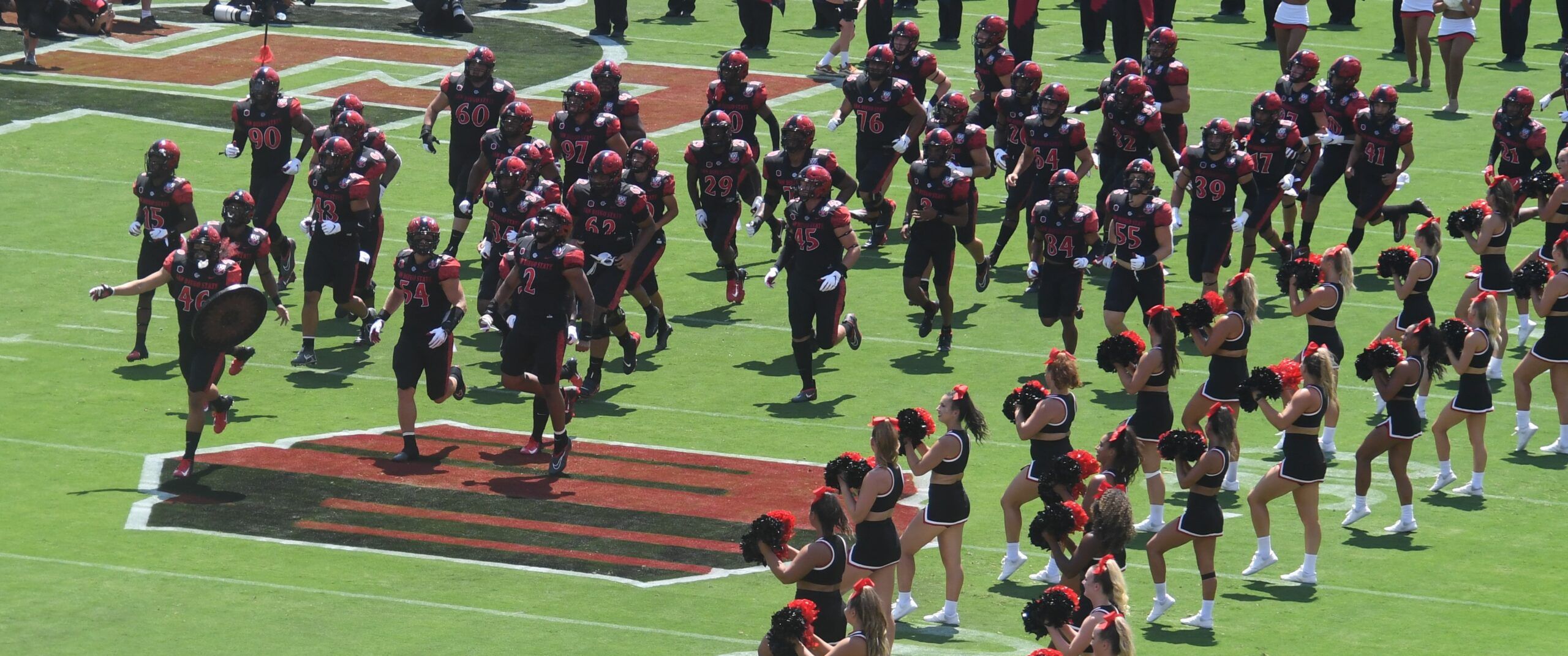 SDSU was clearly on the hot seat from the start of last Saturday's game when the Wildcats capped a 66-yard, 16-play drive with a 25-yard field goal by Tyler Loop. That was a portent of things to come when the Arizona visitors blocked a punt by West Hills High School/Grossmont College alumnus Jack Browning that put the ball on the Aztec 40 yard-line. Arizona proceeded to add to its existing 3-0 lead with a 17-yard touchdown pass from Jayden de Laura to Jacob Cowing to hike its early advantage to 10-0.
Browning made amends by putting the first points on the scoreboard in the new stadium for the Aztecs with a 44-yard field goal to cap an 11-play, 48-yard drive with 13:31 remaining in the second quarter. Hilltop High School alumnus David Delgado served as holder on the play.
Browning drilled the ensuing kickoff 65 yards. But the visitors marched right back to score their second touchdown of the game on a six-yard pass from de Laura to Tetairoa McMillan.
The 17-3 score had to obviously make the hometown faithful a bit queasy.
The hosts finally caught a break on an Arizona fumble when Cedorious Barfield knocked the ball loose and recovered it at the Wildcats 32-yard line. SDSU quarterback Braxton Burmeister kept the ball on a third-and-one play to advance the ball to the 18-yard line and completed the scoring drive with a fourth-down pass to Tyrell Shavers (two catches, 10 yards) from 11 yards out.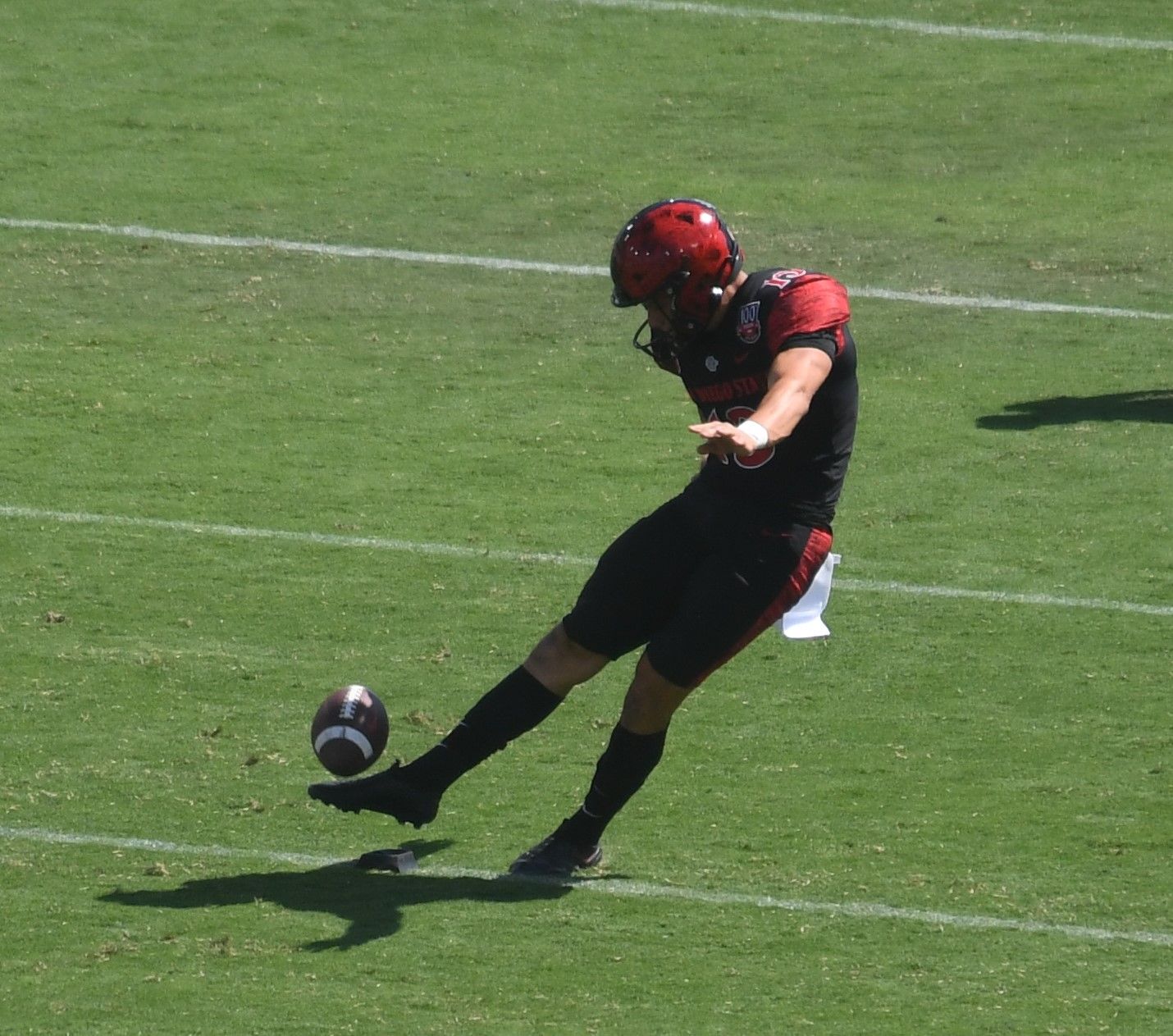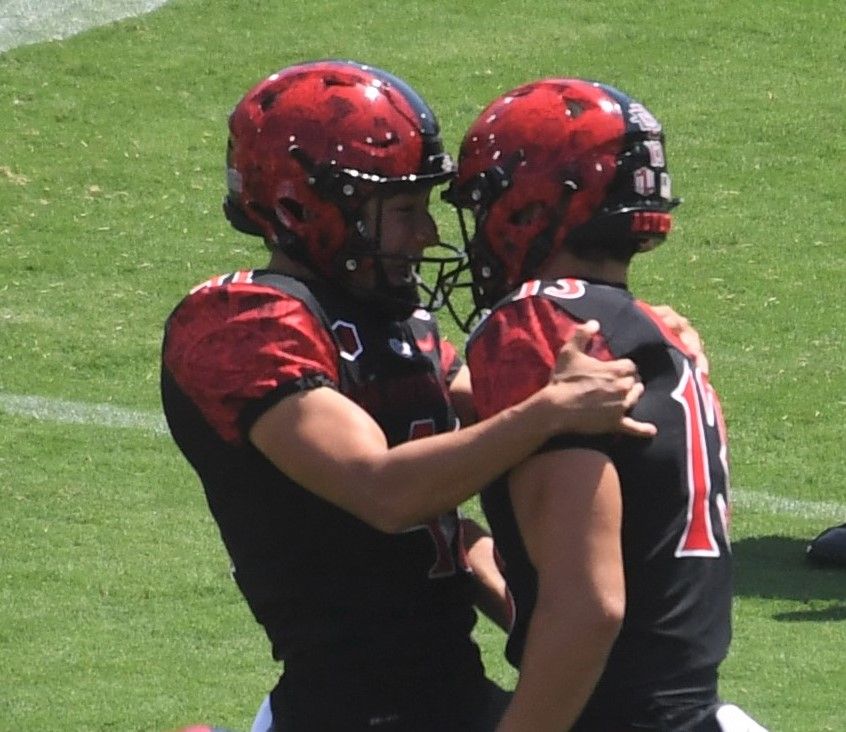 Browning and Delgado returned to the field to set up a successful PAT conversion and the Aztecs trailed 17-10.
That's when things started to unravel.
Noah Tumblin (Mira Mesa) intercepted the ball for SDSU 3:04 before halftime. Jordan Byrd broke down the sideline for an apparent touchdown run but it was called back because of a penalty.
On the next play, Jaxen Turner intercepted the ball for the Wildcats and got them going in the other direction. Arizona capped the first half with a four-yard touchdown catch by Cowing with 28 seconds left on the clock.
24-10 Wildcats.
The turnaround proved critical in the game's outcome.
With most of the stands empty by now because of the heat, Arizona gave its fans something to cheer about when the Wildcats opened the second half with a 25-yard touchdown pass from de Laura to Cowing to extend their lead to 31-10.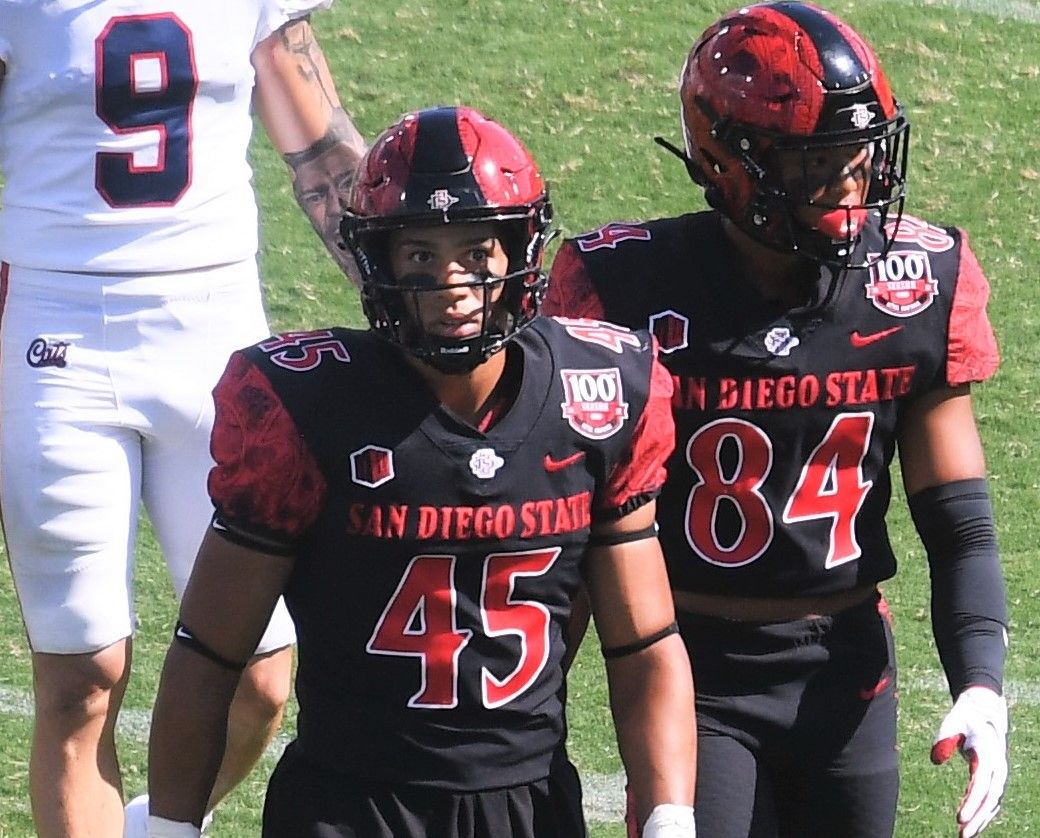 Browning later unleashed a perfectly-placed 44-yard punt to the Arizona two-yard line to help set up the Aztecs' second touchdown of the game.
The Wildcats attempted a punt from their own end zone that was blocked by a host of converging SDSU players. Jaylon Armstead fell on the loose ball for six easy points. After Browning's successful PAT conversion, the score stood at 31-17.
The Aztecs still had a lot of work to do but found the Arizona defense (and offense) difficult to deal with. Browning split the uprights from 23 yards for his second field goal of the game with 3:36 remaining in the third quarter to narrow the score to 31-20.
The field goal march gave SDSU 10 unanswered points on the scoreboard, but the Wildcats put the game out of reach on a 10-yard scoring run by D.J. Williams just 1:58 into the fourth quarter.
The Aztecs never got their passing game into rhythm. Burmeister was dinged up early and was replaced by No. 2 signal-caller Will Haskell. No. 3 quarterback Kyle Crum entered service in the fourth quarter.
Arizona passed for 299 yards to just 62 for SDSU. Burmeister completed five of 10 attempts for 51 yards with one interception and one sack while rushing 10 times for 20 net yards. Haskell was two-for-six for 11 yards.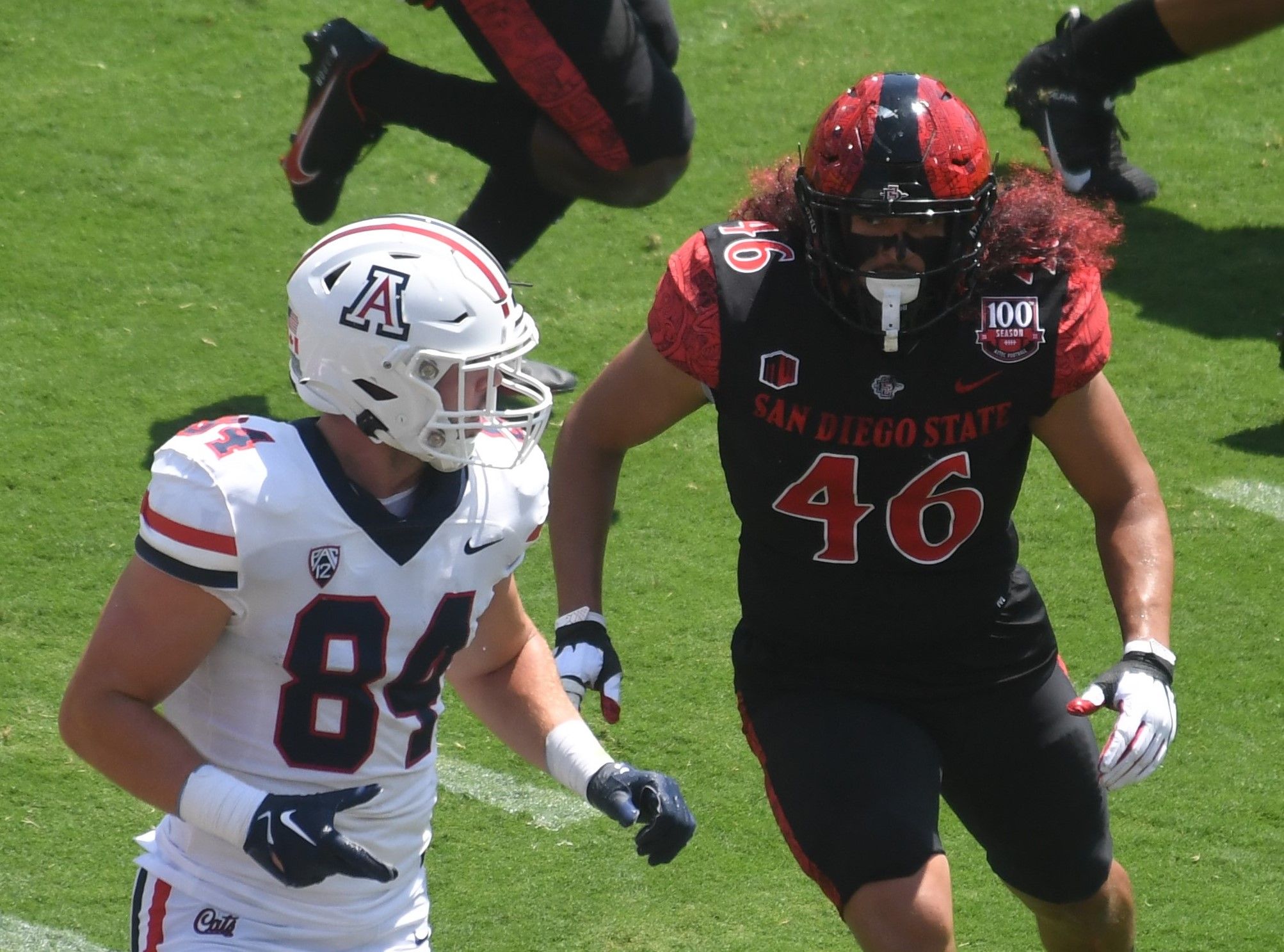 Kenon Christon (Madison) had two catches for 19 yards while Christian High School alumnus Jesse Matthews logged two catches for 18 yards, including a 15-yard reception for a first down early in the contest.
The Aztecs' ground game was a bit more robust with 170 rushing yards. Arizona rushed for 162 yards and out-gained the hosts 461-232 in total offensive yards in the game. The Wildcats racked up 25 first downs to 14 for the Aztecs and were five-for-five in red zone scoring.
Browning wound up leading SDSU in team scoring in the game with eight kicking points. He finished the game with four punts for 167 yards (41.8 average), five kickoffs for a 65.0 average, including four touchbacks, and field goals of 44 and 23 yards.
East County alumni finished on top of the stat board in two categories as Helix Charter alumnus Michael Shawcroft topped the Aztec defense with nine tackles (four first hits, five assists).
Other SDSU stat leaders included Byrd with one punt return for 22 yards and three kickoff returns for 64 yards, Cam Davis with eight rushes for 39 yards, Armstead with five carries for 33 yards, Chance Bell with eight carries for 30 yards and Byrd with three carries for 22 yards.
Byrd led the hosts with 108 all-purpose yards (22 rush, 86 returns).
Helix grad Josh Simmons started on the offensive line. Former Eastlake/Lincoln standout Darius De Los Reyes also saw field action.
Matthews, who is on the Senior Bowl watch list, participated in last year's 38-14 victory over Arizona in Tucson.
"I saw a lot of the same defensive backs, and the difference between today's game and last year was that we just didn't capitalize on opportunities we had," the former Patriot standout said. "Today we had momentum, then we let it go, and that was the whole difference.
"We have to move on from this moment, remember this feeling right now and make corrections, watch film, and don't let it hang over us. It's the first game of the year. We have 11 more opportunities. We have to bounce back. It's not about how you start; it's about how you end.
For the Wildcats, de Laura completed 22 of 35 passes for 299 yards with four touchdowns, one interception and one sack while Cowing had eight catches for 152 yards with three touchdowns. Williams had 14 carries for 88 yards to lead the visitors on the ground.
Idaho State lost, 52-21, at UNLV on Aug. 27. Arizona (1-0) hosts Mississippi State (1-0) in its home opener this Saturday.
Mountain West teams opening the 2022 college football season with victories included Air Force Academy, New Mexico, Utah State, Nevada-Reno, Fresno State, San Joe State and Nevada-Las Vegas.
"I thought the atmosphere (for the opening game at Snapdragon Stadium) was great," Matthews said. "The one thing we have to maintain at every game is the crowd's energy."