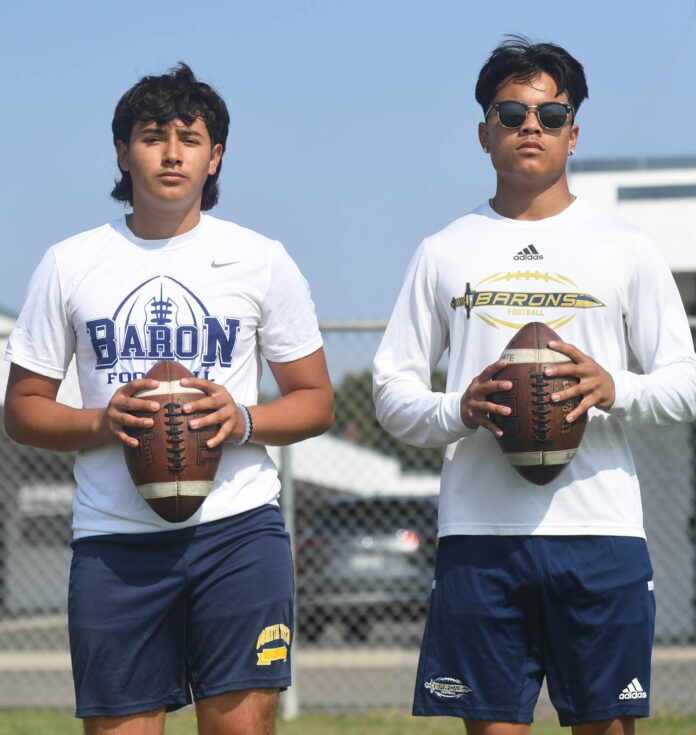 Tyler Arciaga has come home to his alma mater as Bonita Vista High School's new head football coach after playing for the Barons from 1998 to 2000.
Arciaga spent three years playing quarterback at the University of Nevada-Las Vegas. He got his feet wet as a head coach at San Yisdro High School in 2011-12 before embarking on a seven-year assignment at Mar Vista High School from 2013-19 during which he also assumed duties as the Imperial Beach school's athletic director.
Arciaga transferred to Bonita Vista High School in January 2020 to become the Barons' new athletic director. But becoming the Barons football coach wasn't on his agenda.
It just worked out that way when then incumbent coach Sam Kirkland III unexpectedly tendered his resignation after coaching the team for two seasons.
"This was not part of the plan when I came over," Arciaga said. "I came over to BV to be the athletic director and support coach Kirkland. His resignation from both his program facilitator position on campus and head football coach blindsided all of us at the school. I decided to apply for the position after speaking with my wife and some other folks regarding multiple factors. I thought it would also be great to be able to give back to a program that gave me so much."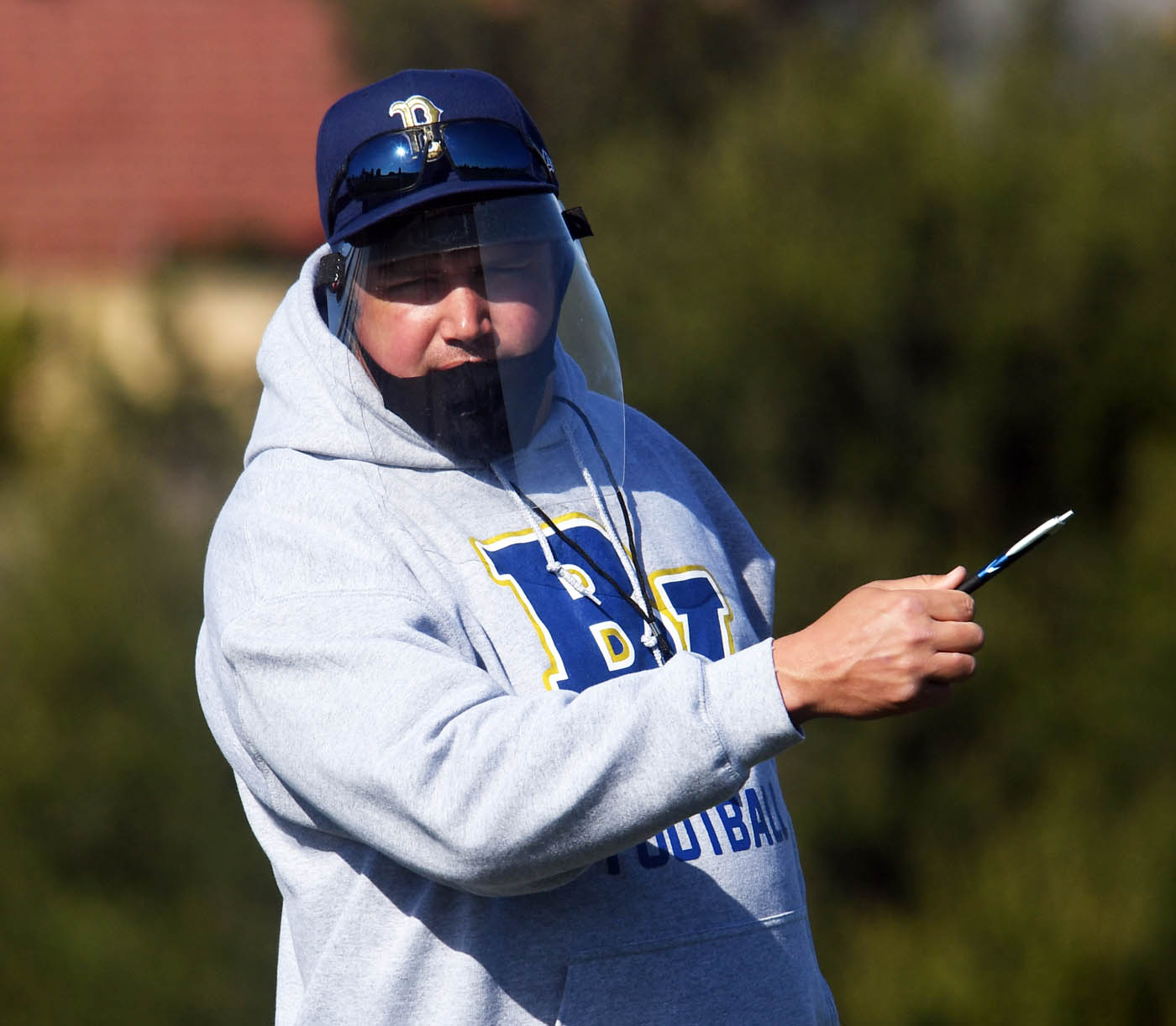 Arciaga played under coaches Carl Parrick and Greg Raby while at BVHS. Arciaga brought back both mentors on his staff as assistant coaches during the spring season.
Parrick elected to retire to spend more time traveling but Raby returns this fall.
"I have been blessed to be with a consistent coaching staff and they are essential to making the ship sail smoothly," Arciaga said." Mike Albright (offensive line) has been with me for 11 years, coach Parrick coached with me for five seasons, coach Raby for six seasons, Darren Fortie (wide receivers) for nine seasons), Barry Zuniga (defensive backs) for five seasons, Dave Geasland for eight seasons, R.C. Arciaga (his father) for 11 seasons.
"This is also the third program I have taken over, so I feel I have experience working through change and getting buy-in with the players and parents."
The new Barons head coach said he is starting to like the vibes he is feeling.
"I feel some nostalgia taking over and bringing (back) some familiar faces," he said. "We have several other coaches who are work on campus and are alumni or coached while I was in the program.
"As I said, this wasn't the plan in coming over. But sometimes life throws you a curveball and you have to go with the pitch."
Arciaga and his staff got their feet wet during the shortened spring season when the Barons, seemingly at a moment's notice from the district, geared up and got out on the field for four games, finishing 2-2 with a runner-up finish in the revamped Metro-South Bay League standings.
"It was a surreal feeling being back on campus," Arciaga said. "Being back at my alma mater and having a lot of familiar coaches brings back a lot of nostalgia. It's also neat to be coaching some of my teammates' children as well, so it's coming full circle getting them back into the program. I'm real fortunate to have the coaches I have on staff. They are great to be around and work really well with the kids."
Arciaga had very little contact with the team last spring because of the COVID-19 shutdown. When limited activities did return in late fall/early winter, the district approved only conditioning drills. It's been a learning process all around.
That was apparent when the team ventured into full contact games this spring. The Barons were humbled 55-3 in a non-league game at Eastlake as part of the teams' long-standing Battle for the Boot rivalry game.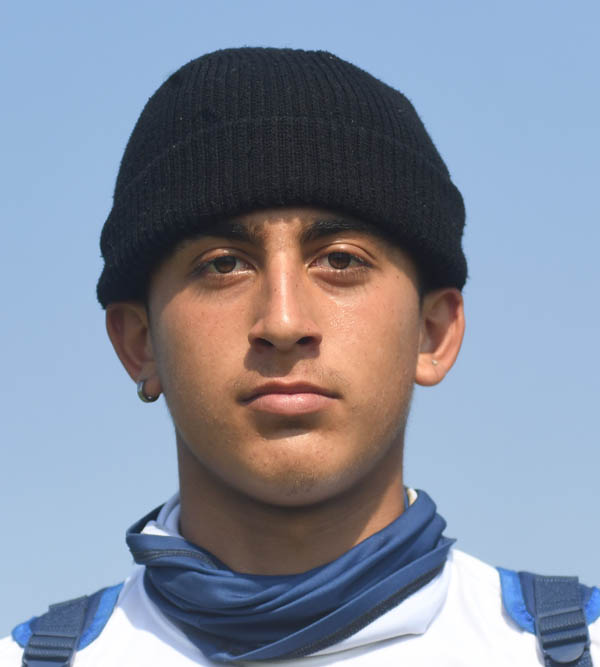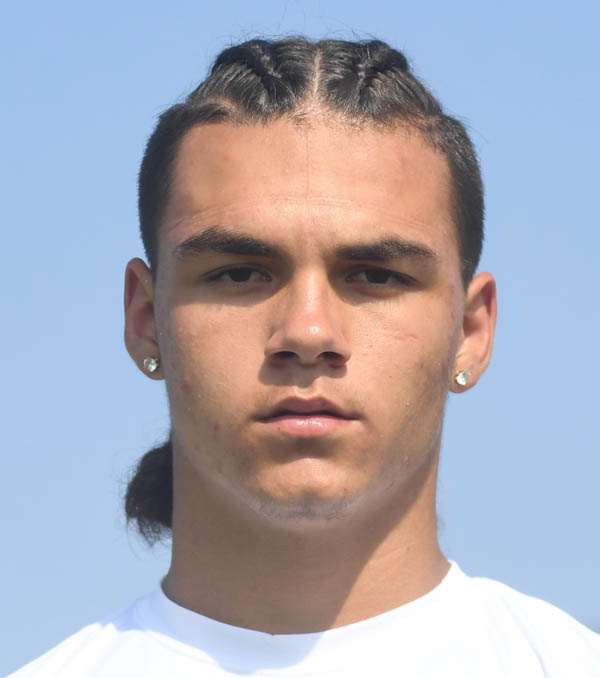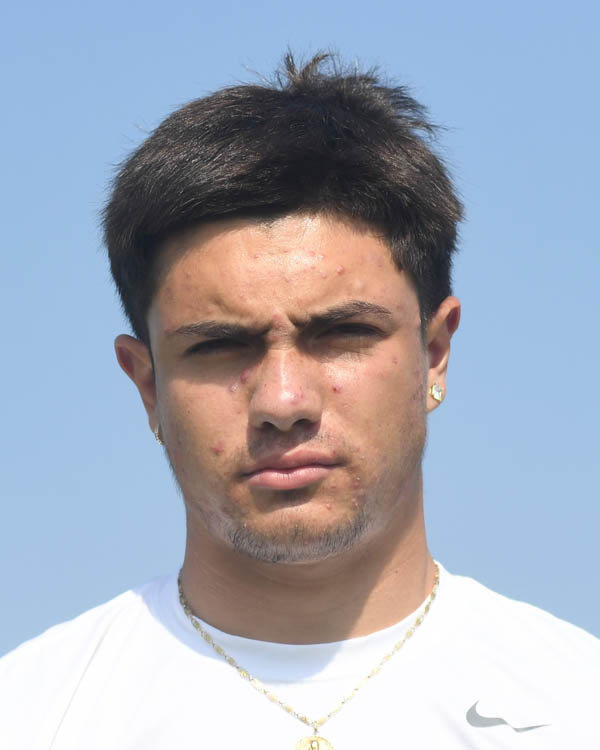 Bonita Vista came up on the short end of a 42-0 score against Metro-South Bay League rival Montgomery in its next game but finished its modest four-game season with league victories against Hilltop (13-0) and Chula Vista (21-3).
The Barons competed in half a dozen seven-on-seven passing events during the summer to refine the team's ongoing development.
"As far as what we have learned from the spring and summer is that the kids are coachable and want to learn," Arciaga explained. "Going through a coaching change can be difficult and the challenge is getting the 'buy-in' from the program. I felt this summer and seven-on-seven was good way for us to find how much they progressed from the spring.
"One silver lining about playing so late in the year is that is becomes a natural springboard into spring football (May) and then into the summer. The retention of the playbook is some of the best I have seen in my 11 years as a head coach. That's also a testament to the kids and their willingness to learn."
Bonita Vista lost 12 seniors to graduation but returns eight starters.
Top returners include senior receiver/defensive back Malosi Iuli (6-1, 175), senior offensive/defensive linemen Dante Gerbella (6-2, 280), Quentin McClure (6-0, 280) and Eli Colmenero (6-1, 275), senior defensive back Tabari Taper-Rodriguez (5-11, 165), junior receiver Dante Scott, junior running back/receiver/defensive back Dante Herrero (5-8, 160), senior Julio Cervantes-Gonzalez (5-10, 175), senior linebacker/fullback Garrett Eggum (6-0, 205) and junior quarterback Juan Gomez (5-10, 165).
Iuli, Taper-Rodriguez, Scott, Gerbella, Colmenero and Cervantes-Gonzalez are all returning all-league selections.
Iuli recorded 13 tackles in four games, including 11 solo stops.
Junior quarterback Nathan Roble-Cristobal (5-11, 175) returns to the program after spending last season at Montgomery, where he won a Metro-South Bay League championship.
Roble-Cristobal passed for 239 yards with five touchdowns and two interceptions during the spring with the Aztecs.
Impact newcomers also include sophomore receiver/defensive back Jayden Peterson (5-9, 150) and senior lineman Gunner Iuli (6-1, 240).
Arciaga said the most experience on the team will be in its receiver/defensive back corps.
"We are young on the offensive and defensive line after losing first team all-league performers Justin Locke (team-leading 36 tackles, 32 unassisted tackles, two sacks) and Anthony Antunez," Arciaga said. "Our quarterbacks should have some experience as they battle out for the starting spot.
"Defensively, we are led by free safety Malosi Iuli, who had five interceptions in four games. We are young at linebacker and defensive line as we anticipate competition at those positions."
The Barons kick off regular season play Aug. 20 with a non-league game against the Morse Tigers at 6:30 p.m. at the Southwestern College stadium.
BONITA VISTA BARONS 2021 FOOTBALL SCHEDULE
August
20: Bonita Vista vs. Morse, 6:30 p.m. at Southwestern College
27: Bonita Vista vs. San Ysidro, 6:30 p.m. at Southwestern College
September
3: Bonita Vista at Sweetwater, 6:30 p.m.
10: Bonita Vista at John Glenn (Norwalk), 7 p.m.
17: Bonita Vita vs. Patrick Henry, 6:30 p.m. at Southwestern College (homecoming)
24: Bye
October
1: Bonita Vista vs. Mater Dei Catholic, 6:30 p.m. at Southwestern College
8: Bonita Vista at Olympian, 6:30 p.m.
15: Bonita Vista vs. Otay Ranch, 6:30 p.m. at Southwestern College
22: Bonita Vista at Eastlake, 6:30 p.m.
29: Bonita Vista vs. Hilltop, 6:30 p.m. at Southwestern College (senior night)