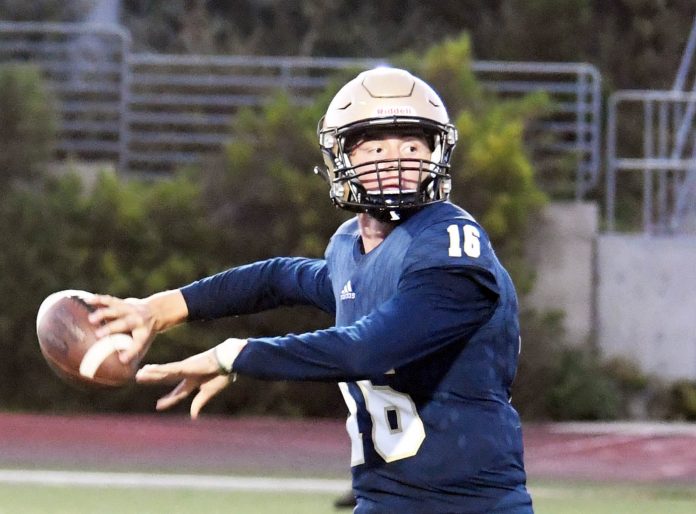 The high school football season appears ready to kick off for Metro Conference teams this weekend. It's been a long wait and coaches and players will have to do their part to keep it going by following the appropriate safety protocols.
Teams will play as many as five games in the shortened season that will extend through April 17.
While there will be no section playoffs, league champions will be crowned.
In games on Friday, March 19, Sweetwater and Chula Vista high schools will renew the county's longest-standing continuous rivalry when the Spartans host the Red Devils in the 74th edition of the Legacy of Pride series while Montgomery will play at Castle Park in the latest edition of the teams' Warrior Bowl rivalry series. Meanwhile, San Ysidro will host Mar Vista in a South Bay League clash.
All three contests start at 6:30 p.m.
Additionally, Mater Dei Catholic is scheduled to play a non-league game at Helix Charter High School at 7 p.m.
Metro Conference teams will play seven more games on March 26 as the full league schedule kicks off.
It should be a wild ride, so buckle up!
Prep preview
Mater Dei Catholic High School's football team finished the 2019 season with a 7-5 overall record, 3-1in Metro-Mesa League play.
In terms of returning talent and incoming transfers, the Crusaders should stack up as one of the Metro Conference's top teams in this shortened season.
"We are very excited about this team," said Crusader head coach John Joyner, whose squad is ranked No. 1 among the section's Division III teams. "There is lots of senior leadership on both sides of the ball and great team speed. Our goal in this crazy season is to try and win league and have a great experience."
Mater Dei Catholic will be out to reverse a 36-21 score against the Eastlake Titans, the reigning Metro-Mesa League champion, when the teams meet on April 10.
The Crusaders' other league matchups will come against Otay Ranch (April 2) and Olympian (April 16). Mater Dei Catholic will play a non-league game against Montgomery (March 26).
Teams will have three games to determine a league champion, so every down will count.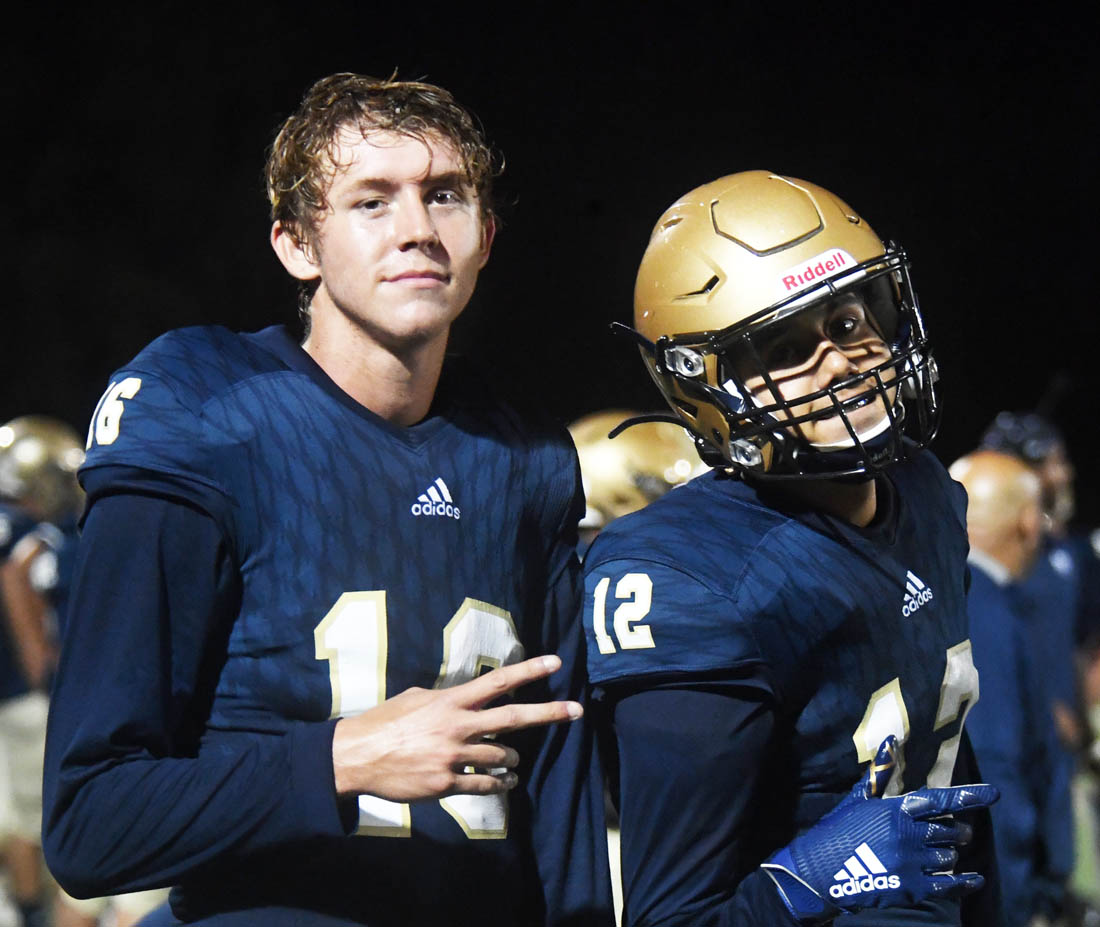 Senior quarterback Trevor Appelman headlines the long list of top returners for the Crusaders.
Appelman passed for 2,109 yards with 25 touchdowns and three interceptions in 2019 as the Crusaders reached the quarterfinal round of the Division III playoffs with a 28-14 loss to eventual division champion La Jolla.
Senior receiver/cornerback Darren Barkins is another high-end returner after ranking third on the team in receiving yards last season. He will continue his playing career at the University of Oregon.
Other top returners include senior offensive/defensive linemen Charles Marshall and Asiel Rodriguez, senior defensive lineman Eric Davis, senior defensive back Mike Harrington, senior receivers Raymond Romero, Jacob Cannon and Daman King, junior linebacker Jeremiah Cook, sophomore linebacker/running back Tre Edwards, Daman King, sophomore receiver/defensive back Chris Snyder, junior defensive end Jason Harden and senior running back David Jazo.
Jazo registered 258 rushing yards and one touchdown behind team leader Aiden Calvert (948 yards, 12 touchdowns), who has committed to the the Air Force Academy.
Romero ranked third on the team last season with 622 total offensive yards, including 369 receiving yards and five touchdowns.
Edwards ranked second on the team last season with 103 tackles, four interceptions and one sack as a freshman.
Harrington had three sacks while Snyder had 36 tackles as a freshman last season with two picks.
The Crusaders will definitely not lack for offensive weapons in this short season.
The team's impact newcomers include senior receiver Josh Meredith, senior tailback Nico Estrada, junior free safety Brian Dukes, and junior offensive/defensive linemen Joey Hiner, Jose Santos and Danny Lopez.
Meredith is a transfer from Valhalla High School while Estrada is a transfer from Kearny High School.
Meredith racked up 730 all-purpose yards during his sophomore and junior seasons at Valhalla with three touchdowns while Estrada collected 1,504 all-purpose yards with 17 total touchdowns with the Komets during the 2019 season.
Estrada, who has signed with Idaho, rushed for 1,306 yards with 14 touchdowns and caught 10 passes for 198 yards with three scores.
The Crusaders sit at No. 20 in the section rankings entering their season opener.
The section's top 10 teams include, in descending order, No. 1 Lincoln (0-0), No. 2 Cathedral Catholic (1-0), No. 3 St. Augustine (1-0), No. 4 Oceanside (0-0), No. 5 Carlsbad (0-0), No. 6 Helix (0-1), No. 7 Mission Hills (0-0), No. 8 Steele Canyon (1-0), No. 9 El Camino (0-0) and No. 10 Torrey Pines (0-1).
The section's next 10 ranked teams include No. 11 La Jolla (0-0), No. 12 Bishop's (0-0), No. 13 Vista (0-0), No. 14 Madison (0-0), No. 15 San Marcos (1-0), No. 16 Eastlake (0-0), No. 17 Scripps Ranch (1-0), No. 18 Granite Hills (1-0), No. 19 La Costa Canyon (0-1) and No. 20 Mater Dei Catholic (0-0).
Rounding out the 25 teams in the section rankings are No. 21 Serra (0-0), No. 22 Grossmont (0-0), No. 23 Christian (0-0), No. 24 Otay Ranch and No. 25 San Pasqual (0-0).
St. Augustine, led by a rushing score and passing score from former Eastlake Titan quarterback Richard Colemenro, overcame an early 7-0 deficit at Helix to post a 21-13 season opening victory against the 2019 Open Division champion Highlanders last Friday. Colmenero completed a 50-yard bomb to Ayo Shotomide for the Saints' first touchdowns and later scored on a quarterback sneak to push the visitors ahead, 21-7, on the scoreboard.
"It was great to beat a big rival," said Colmenero, who passed for 2,111 yards and 24 touchdowns as a sophomore at EHS. "It was a great team win."
Cathedral Catholic shut out Torrey Pines, 41-0, last Friday on the strength of five quarterback sacks, two fumble recoveries and two interceptions. Offensively, the Dons received three passing scores from quarterback Charlie Mirer, including two to Jack Kilpatrick, two field goals and four PAT conversions by Ian Hawkins, a 59-punt return for a touchdown by Dee'Shon Swafford and a five-yard touchdown run by Lucky Sutton.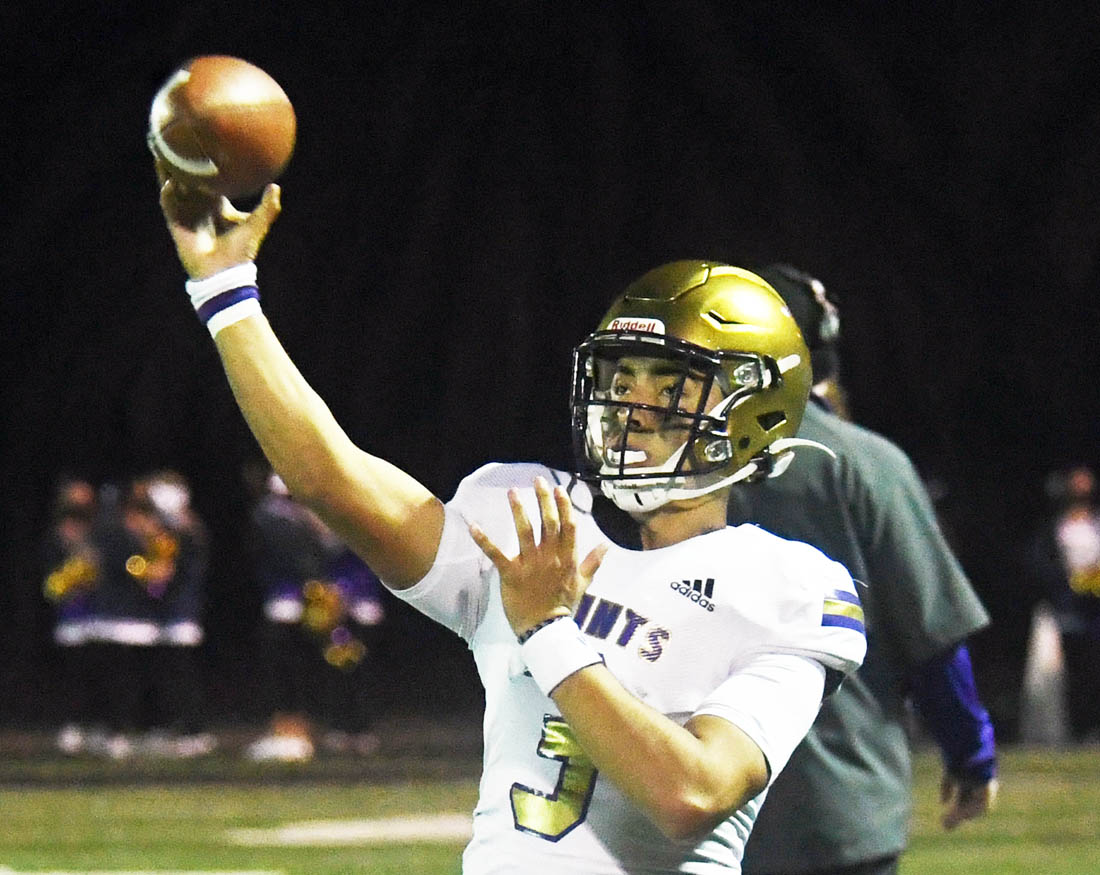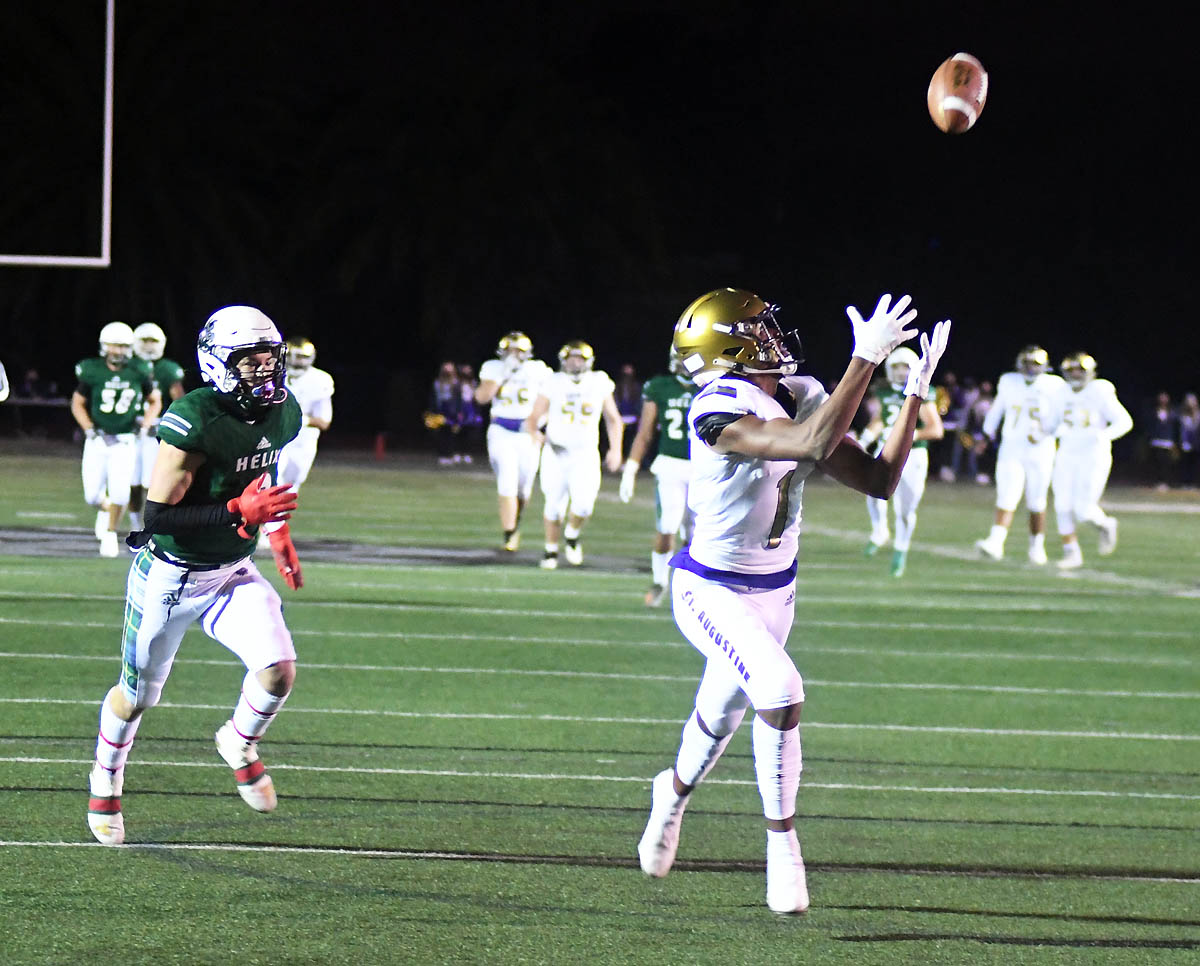 Who's on first?
The Eastlake Titans are set to kick off their 2021 season March 26 at home against Battle for the Boot rival Bonita Vista. They will kick off defense of their Metro-Mesa League championship the following week with a road game at Olympian High School.
The Titans finished a topsy-turvy season on an up note with four consecutive league victories to temper a 1-5 start amid the resignation of longtime head coach John McFadden, who compiled a career-defining 135-50-4 record in 16 seasons at the east side Chula Vista school. Assistant coach Paco Silva finished out the season as interim head coach.
Silva is now the head coach at Castle Park High School and the Titans have gone through three head coaches since the end of last season.
Drew Westling left Hilltop to take the open job at Eastlake but resigned before the team's first practice. Jason Texler, an on-campus employee, was then named head coach prior to the start of the 2020 season but was dismissed in December.
Jorge Mendoza, who was named as an assistant coach when Texler was hired, became Eastlake's latest interim head coach before being named head coach prior to the start of the spring season.
EHS principal Ricardo Cooke, who is an ardent supporter of athletics at the school, believes Mendoza's vast experience in coaching, as well as keeping the football staff intact, will provide stability for the program moving forward.
"Coach Mendoza has met with the administration team and has outlined a plan for success that will allow for the student-athletes to reach their potential, focus on academic achievement and promote team concepts," Cooke said. "In addition, he will promote the program via various social media platforms and provide the students with information and exposure for football opportunities beyond high school. He was a coach with Eastlake in the past and understands the rich heritage of this program."
Mendoza, who at one point served as the head coach at Sweetwater High School, has received praise from his coaching peers for his take on a smart and aggressive brand of football with specific schemes and assignments.
"Players rave about his dedication to details, promoting the team concept and coaching with great enthusiasm and energy," Cooke said. "Additionally, coach Mendoza is known for building strong relationships with students by holding them accountable to high standards while making football a fun and memorable experience."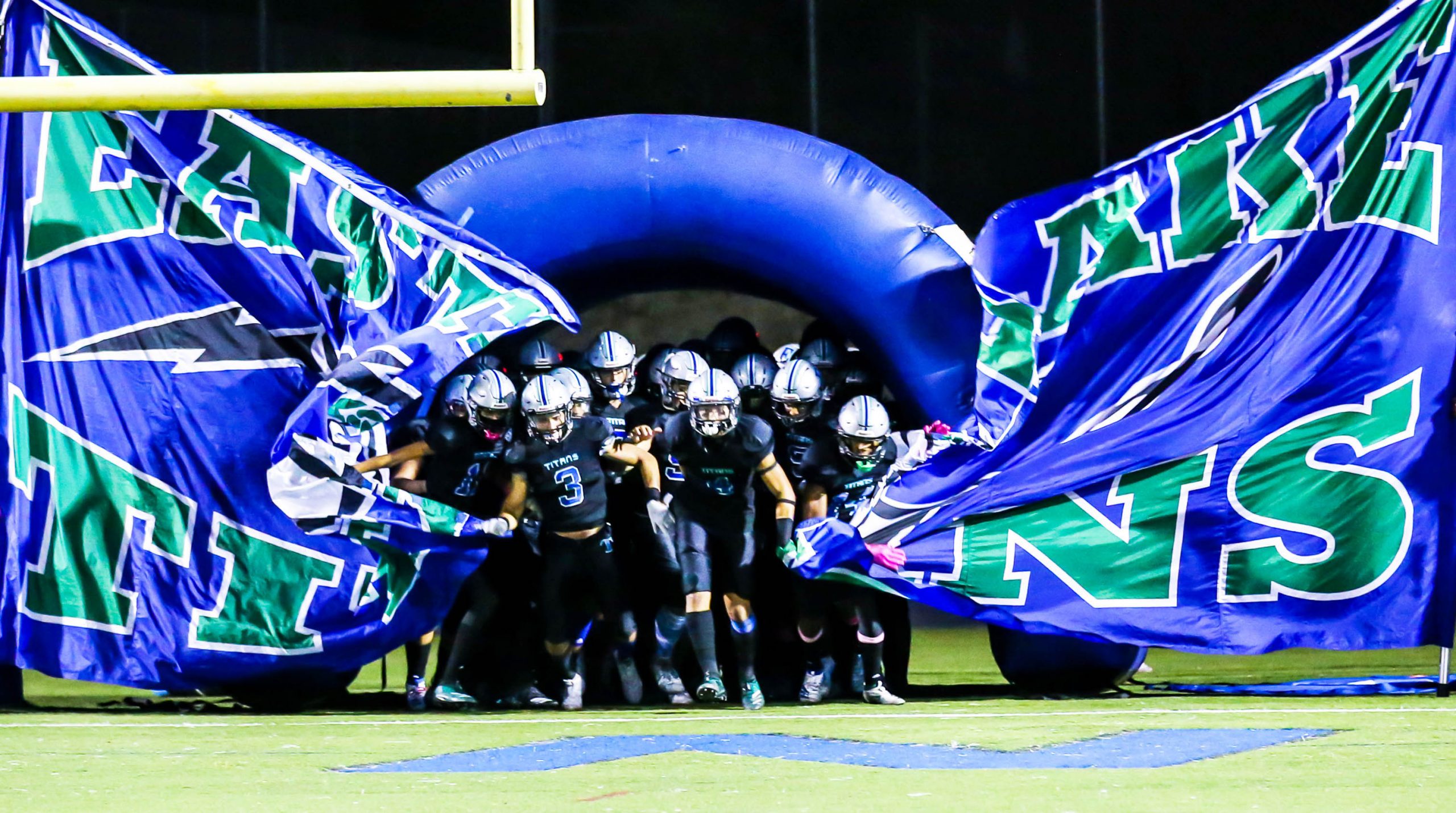 Cooke is obviously excited about the new era in the school's football program, which he hopes will continue to set the standard among district schools.
The Titans, ranked 13th among Division I teams, appear loaded in the depth department with 30 returning lettermen, 14 starters, including nine on defense.
Among the student-athletes expected to lead the team this season are defensive end Trey White, linebacker Christian Aguilar and receiver Jordan Blondin, all juniors.
Blondin nabbed 13 passes last season for 204 yards and three touchdowns.
Aguilar averaged 5.4 rushing yards per carry on offense while leading the team defensively with 68 tackles.
White topped the Titans with eight sacks while recording one interception and two fumble recoveries.
CIF notepad
The Division I rankings feature a heavy dose of top teams ranked from all divisions, led by Lincoln, Cathedral Catholic, St. Augustine, Oceanside, Carlsbad, Helix, Mission Hills, Steele Canyon, El Camino, Torrey Pines, Madison, San Marcos, Eastlake, Granite Hills, La Costa Canyon and Grossmont.
Lincoln, Cathedral Catholic, St. Augustine and Oceanside would qualify for the Open Division while Carlsbad and Helix would be vying for the top seed in the remaining Division I bracket.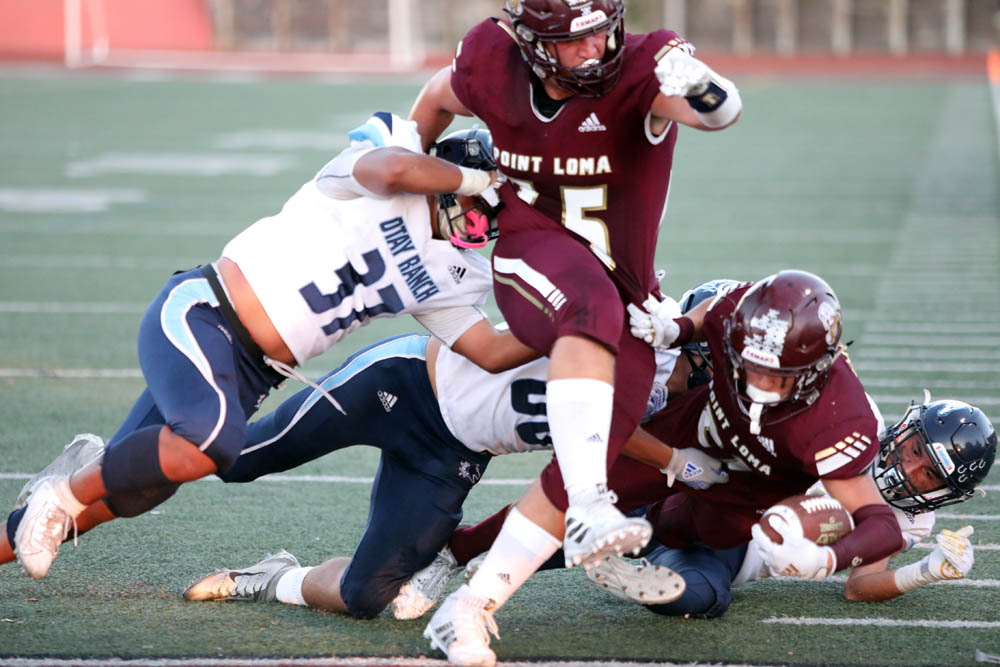 Horse power: Otay Ranch should be in the mix

The Otay Ranch Mustangs finished 4-7 overall last season, 2-2 in Metro-Mesa League play, but challenged for the league championship in 2018 with a gritty 14-0 loss to Eastlake in the league finale.
The Mustangs could be galloping toward the top of the league standings again in 2021.
"The coaching staff really likes this group of players," Otay Ranch head coach Lance Christensen said. "They get along very well together and have good team chemistry. We have some good experience at the skill positions but lack varsity experience on the offensive line and quarterback position. Our goal, as always, is to compete well every single game and win a league championship."
Top returners include senior running back Carl Addy, senior linebacker/running back Aidan Arguilla, senior defensive lineman Daven Autele, senior linebacker Dylan Baldoni, senior receiver/defensive back Joseph Firebaugh, senior offensive lineman Marcos Gobbi, senior running back/linebacker Ethan Knight, senior running back D.J. Meno, senior linebacker Sebastian Miramontes, junior linebacker Jonathan Nava and senior defensive back Keith Robinson.
Addy, Knight and Robinson all earned all-league honors last season.
Knight paced the Mustangs in 2019 with 972 all-purpose yards in just eight games, averaging 121.5 yards per game. He gained most of his yards (397) on kick returns while rushing for 329 yards and posting 232 receiving yards.
Addy rushed for 404 yards with three touchdowns while Meno collected 367 all-purpose yards.
Arguilla logged 83 tackles in seven games to go with four sacks while Robinson rang up 62 tackles in 11 games to go with three interceptions.
The team's impact newcomers include sophomore offensive linemen Abdiel Amolitos, Talon Beltran and Kaleb Bowler, junior defensive backs Haydn Brotschi and Noah Concepcion, junior offensive/defensive lineman Kito Fierro, senior defensive lineman Addison Karty, junior offensive lineman Dylan Lazo, sophomore receiver Allen Okere, sophomore defensive lineman Alvin Okere, sophomore quarterback Brian Rudden, junior running back Oscar Sandoval and junior defensive back Jayhalin Sanders.
Otay Ranch kicks off its season with its home stadium in repairs due to a fallen light fixture. The Mustangs will play their opening two games on the road – a march 26 non-league game at Hilltop and an April 2 league game at Mater Dei Catholic. Home games are scheduled April 9 against Olympian and April 16 against Eastlake.
CIF notepad
Though no section or state playoffs will be conducted this year, the Mustangs do rank sixth among the 16 Division II teams.
The Division II top 10 rankings place La Jolla at No. 1, followed by No. 2 Bishop's, No. 3 Vista, No. 4 Scripps Ranch, No. 5 Christian, No. 6. Otay Ranch, No. 7. San Pasqual, No. 8 Morse, No. 9 Central Union and No. 10 Poway.
The remainder of the division rankings include No. 11 Rancho Bernardo, No. 12 Mira Mesa, No. 13 Point Loma, No. 14. Valley Center, No. 15 San Diego and No. 16 Olympian.
It seems to be an extremely competitive mix.
Scripps Ranch defeated crosstown rival Mira Mesa, 21-0, last Friday.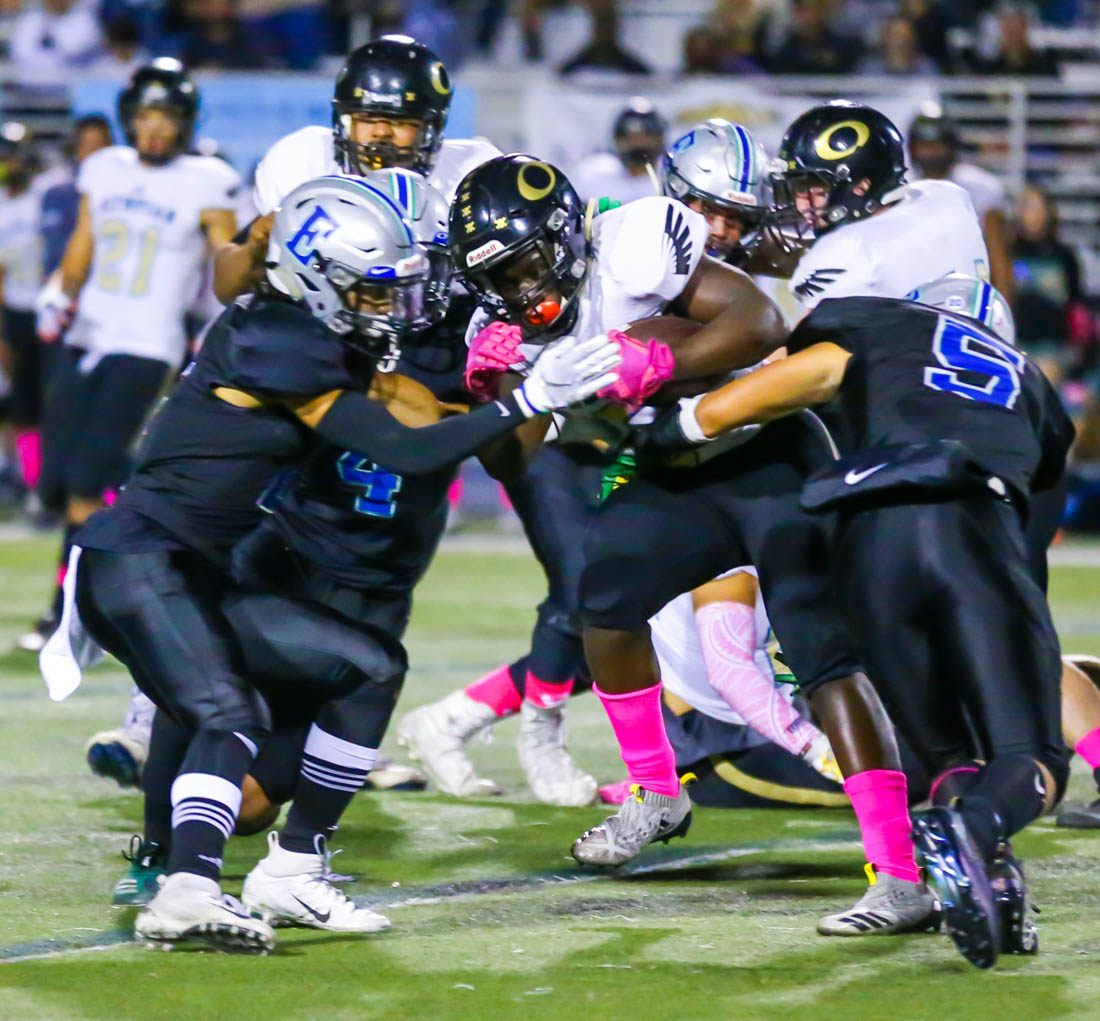 Olympian Eagles hope to take flight in 2021
The Olympian Eagles finished 2-8 overall, 1-3 in Metro-Mesa League play, under first-year head coach Ryan Van Nostrand in 2019. The Eagles won their first game under Van Nostrand's leadership, 35-14 in a non-league contest at Ramona, and topped Bonita Vista, 42-39, in a double overtime thriller during league play.
Van Nostrand, who took over the program from his father Paul Van Nostrand after a long tenure as an assistant coach, is looking for more success in his sophomore season as head coach.
Top returners include seniors Berry Buxton (wide receiver/defensive back), Rob Pagan (offensive line/defensive line), Adam Amaro (offensive line/linebacker), Alijah Robinson (running back/linebacker), Ohwofasa Briggs (running back/linebacker), Tai Manalo (running back/defensive back) and Matthew Hawkins (running back/defensive back).
Robinson scored four rushing touchdowns last season while Berry had two receiving touchdowns.
The team's impact newcomers include junior Josh Mannes (quarterback), sophomores Brandon Loe (running back/defensive back/kicker) and Jace Watson (offensive line/defensive line) and freshman Isaiah Buxton (receiver/defensive back).
"We will be looking for much senior leadership in this shortened season," the Eagles coach said. "Offensively, we will have a base wing-T running game with running backs Alijah Robinson, Ohwofasa Briggs, Tai Manalo and Matthew Hawkins to lead our rushing attack. Defensively, second team all-league selection Berry Buxton will lead our secondary and Adam Amaro will lead our linebacker core. In the trenches, senior Rob Pagan looks to lead both our offensive line and defensive line groups. Our team will have a lot of young talent led by freshman receiver/defensive back Isaiah Buxton."
Olympian kicks off its season March 19 with a non-league home game against Hilltop. The Eagles will host a non-league home game against the Chula Vista Spartans on March 26 before kicking off Metro-Mesa League play April 2 with a home game against defending league champion Eastlake. The Eagles conclude their abbreviated schedule with league games at Otay Ranch on April 9 and at Mater Dei Catholic on April 16.