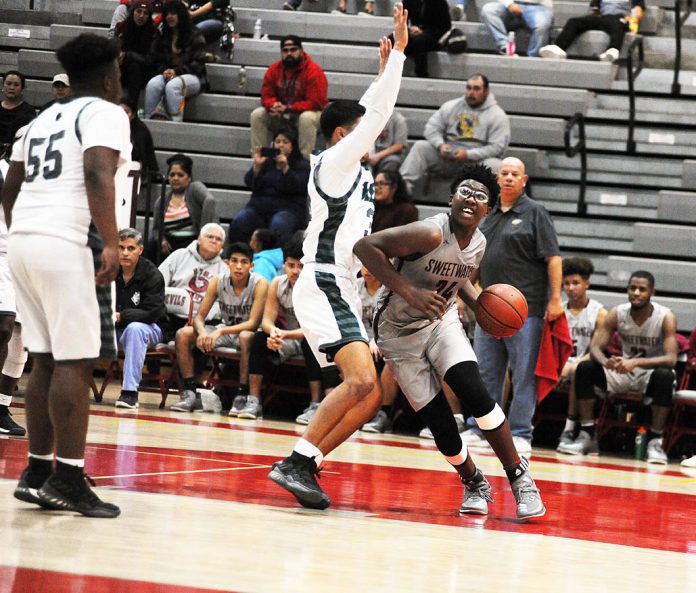 The Sweetwater Red Devils and Helix Highlanders boys basketball teams met in Thursday's final round of pool play in the 2017 edition of the Sweetwater Host Lions Club Classic in National City.
Helix walked off the court with a 71-69 win to remain undefeated in tournament play. But the Highlanders had to issue a heavy sigh of relief once the final buzzer sounded.
The young SuHi squad gave the heavily favored Scotties all they could handle, tying the contest three times and threatening to grab an upset victory in the final seconds.
Sweetwater head coach Jesse Aguirre called the Highlanders "absolutely loaded."
Yet the Red Devils were able to compete with them, so what does that say about this season's SuHi team?
"Everyone they sent out seemed to be 6-3 and 6-4 … I think our speed hurt them," Aguirre noted. "Things have been going well so far."
The Devils are making the transition this season from the Mesa League to the South Bay League and making a transition in other ways as well. Freshman Craig McMillan leads the team in scoring with 19.5 points per game. He dropped in 24 points in Thursday's setback and tacked on 15 rebounds.
Senior Neilryan Pangilinan remains the team's quarterback. He had 19 points in the setback to Helix.
Ariene Velasco added 11 points.
The Highlanders, who only figure to get better once all their football players are fully integrated into the basketball team, strode out to a quick 7-0 lead and led 23-10 by the end of the first quarter.
But the hosts went on a 16-4 run to trim the score to 27-26 with 3:22 left in the first half. A three-point shot by Pangilinan tied the score, 29-29, with 2:47 left.
A bucket by McMillan tied the game up again, 31-31, with 2:09 left in the second quarter.
But a pair of free throws by Isaiah Wooden nudged Helix back in front 33-31.
The teams exchanged three-point bombs before the Highlanders claimed a 38-34 halftime advantage.
The third quarter was equally hard fought, with Sweetwater knotting the score, 49-49, on a deuce by McMillan with 2:26 to play in the third quarter.
Devil senior forward Dallon Hurt dropped in a shot from the charity stripe to make the score 51-50 in Helix's favor at the end of three quarters.
But the Scotties did what they needed to do, which was break the game open at an opportune time, by engineering a 10-0 scoring run to pull ahead 61-51 on the scoreboard.
Then Sweetwater turned things around. The Devils trimmed the Highlander lead to 69-67 with 24.2 seconds to play in the fourth quarter. A pair of free throws by Amari Green extended the Helix lead to 71-67 before Pangilinan sank a shot with 2.1 seconds left to account for the final 71-69 verdict.
"We lost to them by two points in overtime in the semifinals last year," Aguirre said. "Our kids played hard. They didn't give up. We made some freshman mistakes, and we'll have to live with that.
"Kris Aguilo, our sophomore guard, really stepped up for us. He played a great ball game."
Helix, which will meet Mission Bay in Friday's tournament championship game at 8 p.m., improved to 4-0 in tourney play, 7-2 overall.
The loss dropped Sweetwater to 2-2 in the tournament, 3-3 on the season.
The Red Devils next journey to Sage Creek High School to compete in the Under Armour Classic Dec. 27-30.
"I really think this is going to prepare us for league," Aguirre said. "We only have three returners; this will give us time to come together as a team."
Sweetwater tips off South Bay League play at Mar Vista on Jan. 10.
The Devils return from the holiday break to take on Morse in a non-league game at the Tigers' gym on Jan. 6.
Other members of the South Bay League this season include Castle Park, Chula Vista, Hilltop and Southwest.
League play concludes Feb. 15.
"We will be very good and should be the front runner in our league this year," Aguirre said. "We are back in the South Bay League."
Pangilinan averaged 14 points and eight rebounds last season. "Neilryan is a true point guard who can get the ball up the court fast," the SuHi coach said.
Pengilinan will be joined in the back court by freshman Jimmy Mattox, the younger brother of Sweetwater's all-time leading scorer Spencer Mattox.
"Jimmy can handle the ball and shoot the three very well," Aguirre said. "Add the top freshman in San Diego to the mix in Craig McMillan Jr. Craig is close to 6-4 and weighs 180 and is still growing. He can play all five positions on the floor. He is dominant in the key and can shoot the three as well. He could be one of the best players to ever play at Sweetwater. The sky is the limit for this young man."
"Dallon Hurt is a senior and we will look to him for rebounding. He is 6-3 now. We have two freshmen and five Sophomores on varsity. Our goal is to win league and go deep into the Division III playoffs.
"I feel like we have now established ourselves as a basketball program and we expect to make playoffs year in and year out. This group can be really special by their junior year."
Sweetwater will host its annual Michael Lemaster Memorial Classic Jan. 27 against Monte Vista. The Devils will induct four more basketball alumni in the Sweetwater Basketball Hall of Fame: Calvin Murrell (1981), Larry Willson (1985), Mahlon Williams (1987) and CIF Player of the Year Joe McDowell (1990).
The game starts at 6 p.m., with ceremonies at halftime.
Tournament notepad
Mission Bay defeated Helix, 66-52, to win the tournament title.
Mission Bay point guard Boogie Ellis earned honors as the tournament's most valuable player. Sweetwater freshman C.J. McMillan also made the all-tournament team.
Mission Bay improved to 9-1 with the win while Helix saw its early season record dip to 7-3.
Sweetwater head coach Jesse Aguirre said the tournament will be renamed in honor of a SuHi alumnus and Lions Club member who recently passed away. The tournament will now be known as the Frank Pakarek Sweetwater Host Lions Club Classic.
Games of Friday, Dec. 22:
Championship: Mission Bay 66, Helix 52
Other scores:
Hoover 55, Morse 32
Point Loma 54, Sweetwater 46
El Camino 76, San Dieguito Academy 57
Tip-off
Helix finished 3-2 at the Hilltop Tournament (Nov. 29 to Dec. 8), defeating Eastlake (43-40), La Jolla (67-45) and Rancho Buena Vista (46-33) and dropping contests to Otay Ranch (73-71) and Canyon Crest Academy (46-31).
Otay Ranch finished 3-2 at the season tip-off tourney while Eastlake finished 2-4. Tournament host Hilltop finished 0-4.
Lady Barons take winning act to Arizona
The Bonita Vista High School girls basketball team is set to host the Bonita Vista Gold Crown Holiday Tip-Off Dec. 27-30 at Bonita Vista High School. However, the Lady Barons have some unfinished business in Arizona before returning home.
Bonita Vista defeated Sacramento's Bradshaw Christian, 56-49, in Thursday's Nike Tournament of Champions to improve to 2-1 in tournament play.
Bonita Vista (8-2) will play Fremont, Neb., Friday, Dec. 22, at 11 a.m. to close out the Arizona tournament.
The Lady Barons will tip off their holiday tournament Wednesday, Dec. 27, at 7:30 p.m. against Morse, then host High Tech High Chula Vista on Thursday, Dec. 28, at 7:30 p.m. before closing out pool play with a game on Friday, Dec. 29, against San Diego.
Playoff rounds are scheduled Saturday, Dec. 30.
Bonita Vista hosts Eastlake n Jan. 3 to tip off Mesa League play.
Senior Shyla Latone tops the Lady Barons with a commanding 35.1-point per game scoring average. She poured in 45 points in a 85-25 season opening win over Imperial on Nov. 27 and out did that with 49 points in an 83-42 win over Helix on Dec. 1.
She has scored more than 40 points on two other occasions to start the season. She is averaging 3.8 assists per game, 3.1 rebounds per game and 6.0 steals per game.
Bonita Vista is averaging 66.2 points per game.