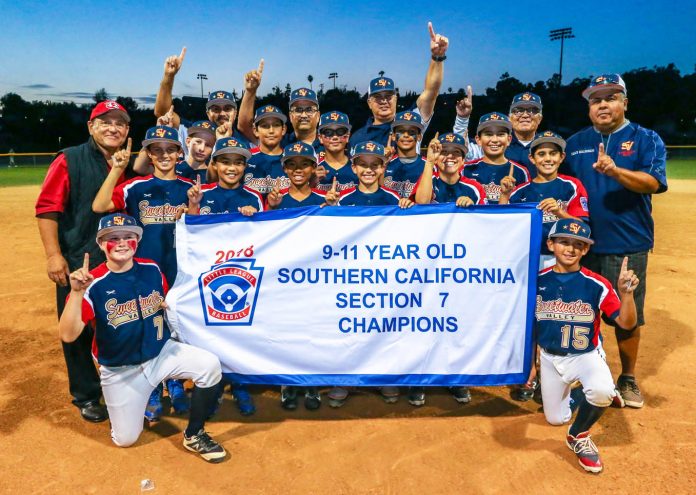 California District 42 advanced its 10U and 11U all-star teams to last year's Southern California Division III championship tournament, and has done the same again this year after Eastlake (10U) and Sweetwater Valley (11U) captured California Section 7 titles this week.
Eastlake Little League's 10U all-star tournament team is headed back to the Division III tournament after braving the heat in Imperial Valley — and a talented Calexico team — to win this year's section championship.
Sweetwater Valley Little League's 11U all-star tournament team will be joining its younger district sibling at the Division III level after successfully navigating the elimination round to capture this year's section title with a mercy-rule victory against Calexico in games played much closer to home at Spring Valley Little League.
Eastlake Little League's 10U all-star team defeated Calexico, 11-3, on Tuesday to win this year's California Section 7 championship banner.
The heat is on
District 42 champion Eastlake topped District 22 champion Calexico, 11-3, on Tuesday to earn a berth in the 10-team divisional tournament July 21-29 at El Cerrito Sports Park in Corona.
Eastlake will face the Section 5 champion in its first game in the divisional tournament Saturday at 6 p. m. The winner advances to play the Section 2 champion on Sunday.
Eastlake advanced as far as last year's division championship game, placing runner-up to Section 10 champion Santa Margarita.
Eastlake went undefeated in this year's section tournament, winning all three of its games played in Calexico.
Eastlake manager Adam Villarreal admitted playing in the dry heat presented a challenge but his young team proved up to it.
"It's pretty exciting," the Eastlake manager said. "This is the first time being all-stars at the 10U level, so it's all new to them. We have good team chemistry, and everyone is on board with the tasks to do. It's been good to work with."
Eastlake defeated Calexico, 7-5, in a game that went eight innings last Saturday. The temperature at the Imperial Valley site was 113 degrees at the start of the game and cooled to 101 degrees by the end of the extra inning contest.
Eastlake remained in control of its destiny by topping West Hills, 18-13, in a winners bracket game on Sunday as the temperature hit the 105-degree mark.
On Tuesday, the District 42 champions collected 13 hits and took advantage of 13 walks to race past the District 22 champions.
Noah Flores racked up seven strikeouts in five innings while teammate Josh Alo closed out the win by pitching the sixth inning.
Hamza Hatahet and Jake Serrano powered the team's offense with three hits apiece while Armando Mendivil drove in two runs.
Flores and Alo each drew four walks and each scored two runs. Hatahet and Noah Cook also each scored two runs.
Flores, Hatahet, Cook, Serrano and Reece Escuro each collected one RBI in the championship game victory.
"What an amazing game," Villarreal underscored. "Noah Flores had great command tonight as our starting pitcher.
"Josh Alo and Noah Flores showed great discipline at the plate drawing four walks each."
District 42 administrator Ernie Lucero lauded the effort put in by both championship finalists.
"Despite the extreme hot weather conditions in Imperial Valley, the Eastlake Little League 10's all-star team beat the Calexico squad," Lucero noted. "Once again manager Adam Villarreal and his coaching staff worked with the team and prepared them for this difficult tournament in Imperial Valley.
"The Calexico little leaguers gave it their all with skill and grace but in the end the Eastlake team prevailed.  A shout-out to the Eastlake parents who made the extra drive to take our little leaguers to this out-of-town tournament. They have time to relax a little before facing tougher opponents in the divisional tournament."
Eastlake Little League's 10U all-stars have yet to taste defeat in tournament play, taking a 7-0 record into the next and final round of competition for this age group.
Eleven's heaven
Sweetwater Valley Little League's 11U all-star team lost its opening game, 9-8, to District 41 champion Lakeside American last Saturday but managed to earn a spot in Wednesday's championship game against Calexico by winning three elimination games.
The District 42 champions extended their winning streak to four games by blanking District 22 champion Calexico, 14-0, in a double-elimination final to capture this year's section championship.
Sweetwater Valley now advances to the 10-team SoCal Division III tournament being hosted July 21-30 by Temple City Little League in Upland. The newly crowned Section 7 champions play their opening game in that tournament Saturday afternoon against the Section 5 champion.
Lucero said he had a hunch that the newly crowned District 42 champions would pull through in the clutch.
"Manager Mahoe Nakanelua and his coaching staff believe in their players and the players believe in their team," Lucero said. "Even though they faced elimination, their competitive talent kicked in. These little leaguers from Sweetwater Valley never gave up.
"We are so proud of them and know that they will be representing us well in Upland."
Despite dropping the tourney opener, Sweetwater Valley remained in championship contention by eliminating District 66 champion Valley de Oro (15-0 on Sunday) and Lakeside American (12-1 on Monday) in a pair of ensuing elimination contests.
Sweetwater Valley topped previously unbeaten Calexico, 15-4, on Tuesday to force Wednesday's double-elimination final.
In Wednesday's climactic championship game victory, Steven McDonald pitched a complete game shutout while teammate Daniel Sanchez got the fireworks going early in the contest with a three-run home run.
Sweetwater Valley threatened to end the game after three innings via the new 15-run mercy rule but stranded a runner at third base.
The District 42 champions did end the game after four innings via the traditional 10-run mercy rule.
Sweetwater Valley out-scored Calexico 29-4 in what turned out to be a two-game championship series.
Sanchez heaped praise on his teammates after Wednesday's championship game victory.
"It's fun playing with these guys," Sanchez told a KUSI-TV camera crew on site. "You can trust everybody. They cheer me on."
Sweetwater Valley takes a 7-1 all-star tournament record into the next round and will be out to match Eastlake Little League's state regional championship of last year.
With Wednesday's championship game victory by Sweetwater Valley, District 42 sweeps this year's Section 7 championships at the 10U, 11U and 12U levels for the second consecutive year.
All three local teams will be in action at the Division III level this weekend, with the 10U and 11U teams in search of state regional championships and the 12U team in search of landing a berth in the Little League World Series West Region tournament in San Bernardino.
For updates, visit the District 42 website at www.eteamz.com/cad42.
California Section 7
11U All-Star Tournament
Photo Gallery by Jon Bigornia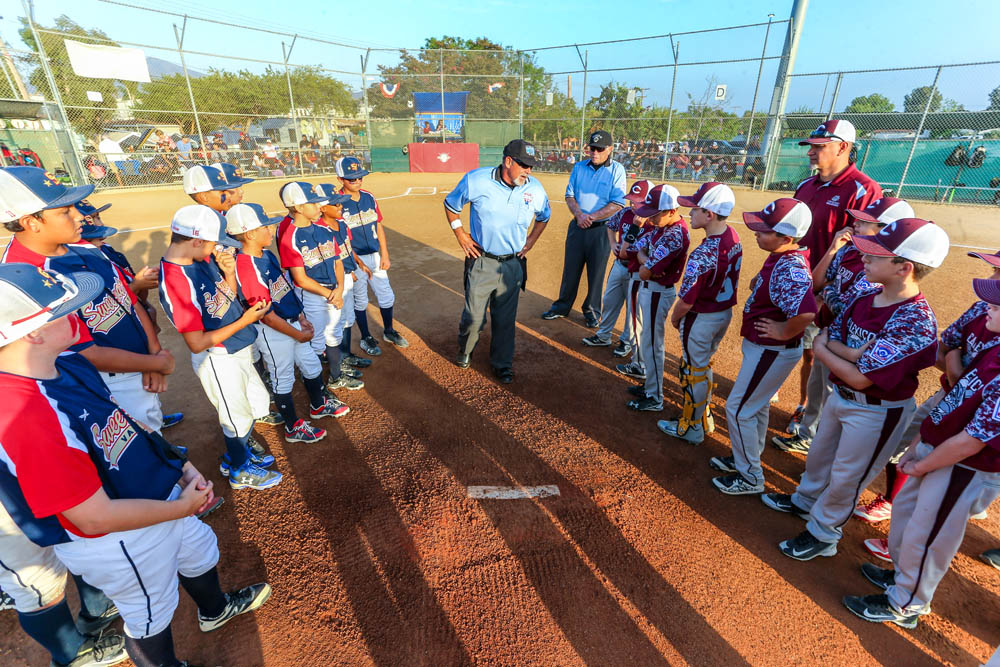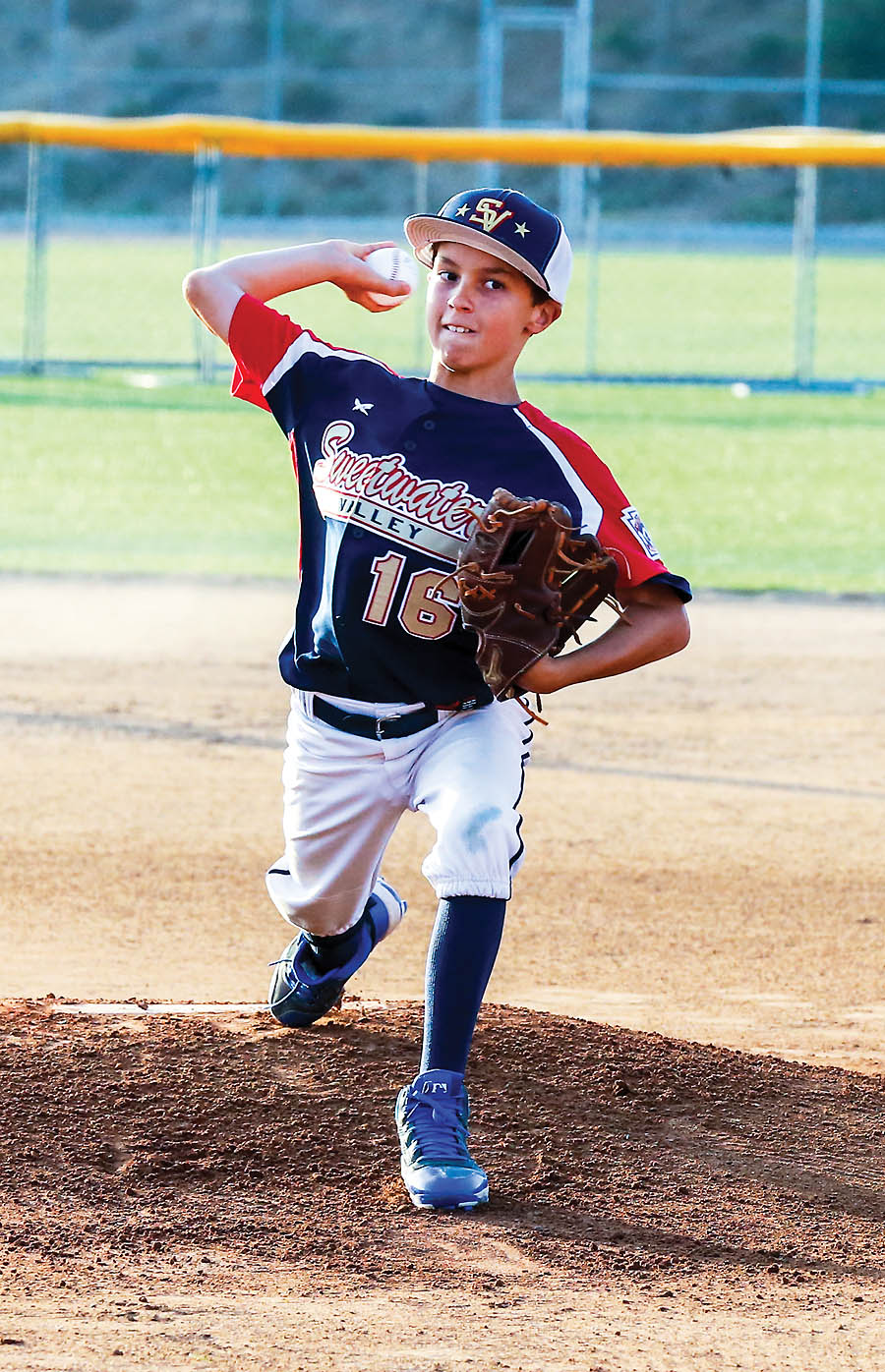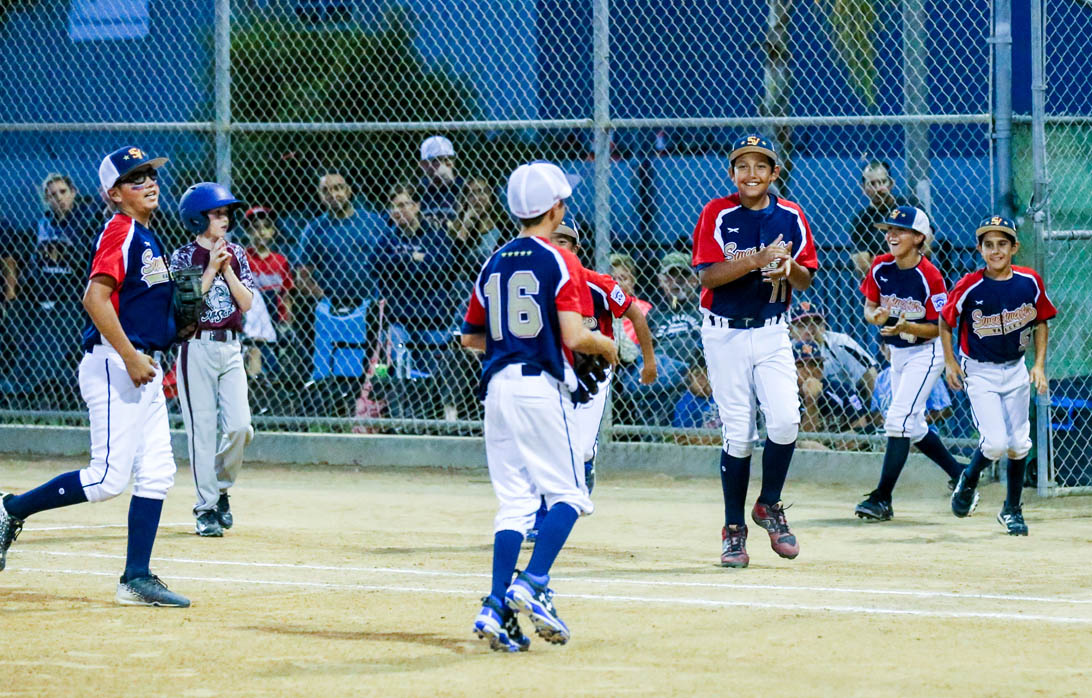 CALIFORNIA SECTION 7 CHAMPIONSHIP TOURNAMENTS
10U Division
July 14-17 at Calexico Little League/Heber Little League
Saturday, July 14
West Hills (District 41) defeated Valley de Oro (District 66), score unavailable
Eastlake (District 42) 7, Calexico (District 22) 5 (8 innings)
Sunday, July 15
Eastlake (District 42) 18, West Hills (District 41) 13
Calexico (District 22) 14, Valley de Oro (District 66) 4
Monday, July 16
Calexico (District 22) 21, West Hills (District 41) 19 (challenger bracket final)
Tuesday, July 17
Eastlake (District 42) 11, Calexico (District 22) 3 (championship game)
11U Division
July 14-18 at Spring Valley Little League
Saturday, July 14
Lakeside American (District 41) 9, Sweetwater Valley (District 42) 8
Calexico (District 22) 16, Valley de Oro (District 66) 0
Sunday, July 15
Calexico (District 22) 3, Lakeside American (District 41) 2
Sweetwater Valley (District 42) 15, Valley de Oro (District 66) 0
Monday, July 16
Sweetwater Valley (District 42) 12, Lakeside American (District 41) 1
Tuesday, July 17
Sweetwater Valley (District 42) 15, Calexico (District 22) 4
Wednesday, July 18
Sweetwater Valley (District 42) 14, Calexico (District 22) 0 (double-elimination final)
12U Division
July 14-17 at Chula Vista American Little League
Saturday, July 14
Park View (District 42) 9, Calexico (District 22) 5
Cajon de Oro (District 41) 11, Lemon Grove (District 66) 10
Sunday, July 15
Park View (District 42) 7, Cajon de Oro (District 41) 0
Lemon Grove (District 66) 4, Calexico (District 22) 1
Monday, July 16
Cajon de Oro (District 41) 9, Lemon Grove (District 66) 6 (challenger bracket final)
Tuesday, July 17
Park View (District 42) 17, Cajon de Oro (District 41) 2 (championship game)