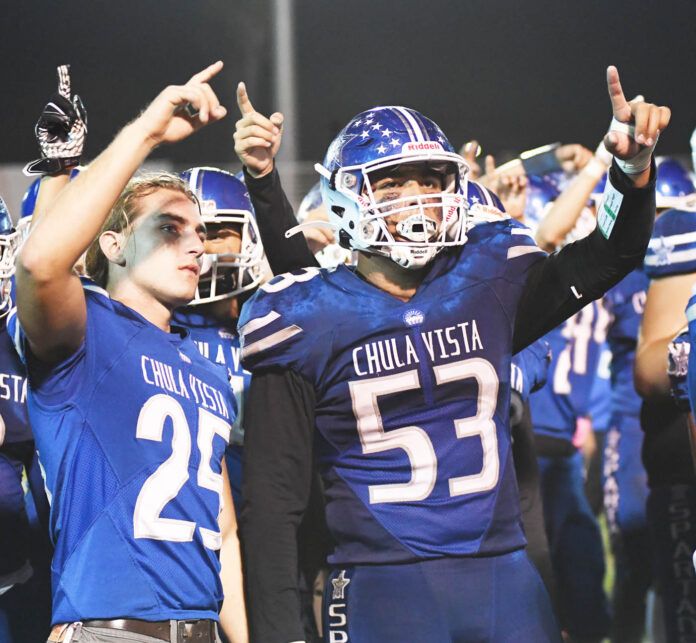 The San Diego Section playoffs enter the second round with six South County teams still vying to win a coveted divisional championship.
It's a daunting task. Six South County teams entered the single-elimination fray last weekend and just three survived to advance.
Chula Vista (Division IV), Mar Vista (Division V) and Castle Park (Division V) all won their opening games while Eastlake (Division I), Otay Ranch (Division II) and Hilltop (Division IV) all ended their seasons with setbacks.
Metro-Mesa League champion Mater Dei Catholic (6-4) and Metro-South Bay League champion Montgomery (8-2) both enter the 11-man quarterfinals with first-round byes as does Ocean League champion Victory Christian Academy (9-0) in the 8-Man bracket.
All six teams hope to remain in the championship pipeline with wins on Friday.
Game on
The Chula Vista Spartans appear to be playing their best football at the right time of the season as evidenced by the team's Metro-Pacific League championship and seven-game winning streak.
The Spartans' 0-4 start to the season appears to be far in the rearview mirror at this point of the season.
Chula Vista will travel across the bay to tackle the third-seeded Coronado Islanders (6-3) in Friday's quarterfinals. The winner advances to the semifinals against either second-seeded La Jolla Country Day (7-3) or seventh-seeded Palo Verde Valley (10-1).
Despite being seeded 11th in the Division IV bracket, Chula Vista earned a home game by virtue of being a league champion. It might have proven the difference in the Spartans' 35-27 victory against the sixth-seeded Calexico Bulldogs, the fourth-place finisher in the Imperial Valley League.
"Calexico was a tough, well-coached football team," explained CV head coach Howard Bannister III, whose team improved to 7-4 on the season. "It was a back-and-forth game with Calexico leading 13-7 at one point in the first half, to us leading 35-13 at the beginning of the fourth quarter … and then they stormed back.
"We were able to hold them off in the end, but it was the kind of game that you have to leave everything on the field.
"We are looking forward to traveling to Coronado this week. We feel like Coronado shares a lot of similarities in playing styles with Calexico, so we feel this first round game was exactly what we needed in preparation.
"We are the 11th seed, and we love being the underdog."
Both the Spartans and Bulldogs (7-4) were tied, 7-7, through the first quarter before the hosts took a 21-13 halftime lead. Chula Vista scored the only two touchdowns in the third quarter to go ahead 35-13. The visitors responded by scoring two touchdowns in the fourth quarter to fall one score short.
The Spartans scored five touchdowns in the game — four rushing and one passing. Senior Gio Barrios (10 carries, 137 yards) led the way with two rushing touchdowns while junior Paul Alvarez (14 carries, 69 yards) and sophomore John Paul Zapata (three carries, 10 yards) both scored one rushing touchdown.
Senior Jacob Pedroza (two catches, 21 yards) reeled in a seven-yard scoring pass from sophomore quarterback Izaac Baca (157 passing yards).
Chula Vista rolled up 371 yards in total offense, including 214 rushing yards. Sophomore Elijah Gillespie led Spartan receivers with four catches for 40 yards.
Seniors Matthew Robertson and Luis Lopez led the defense with 11 tackles apiece while Pedroza also logged an interception. Senior Josh Aguirre had one fumble recovery while Robertson had one sack. Aguirre also had four kicking points.
Castle Park 49, Southwest El Centro 32
A special ending to the 2022 high school season indeed appears in store for Castle Park.
Denied a shot at a league tri-championship, the Trojans returned to the gridiron the following seek to overpower the visiting El Centro Southwest Eagles, 49-32, to advance to the quarterfinals of the Division V playoffs.
Eighth-seeded Castle Park (4-6) will next tackle the top-seeded Crawford Colts (9-1) in a bid to advance to the division semifinals. El Centro Southwest finished the season 1-10.
The Trojans have won three of their last five games after opening the season 1-4.
Castle Park (4-6) racked up nearly 500 yards in offense in steam-rolling the one-win Eagles (1-10). Sophomore Ladell Hampton rushed for 240 yards on 16 carries and scored four touchdowns to lead the way to the quarterfinals and a tilt against top-seeded Crawford (9-1).
The Trojans previously met the Colts on Sept. 9, with Crawford claiming a 16-9 non-league win.
St. Augustine 13, Eastlake 6
The visiting Saints pulled off the upset in the opening round of the Division I playoffs as junior Parker Patterson rushed for 104 yards and one touchdown and sophomore Thomas Moore kicked a pair of field goals.
Ninth-seeded St. Augustine (4-7) built a 10-0 halftime lead before Eastlake junior Fabian Gerbella (18 carries, 101 yards) scored a touchdown to make it a four-point game in the third quarter.
The Saints out-gamed the eighth-seeded Titans 290-188 in a generally defensive game.
Next up
Mater Dei Catholic takes a well-timed six-game winning streak into Friday's quarterfinal match-up against sixth-seeded La Costa Canyon Mavericks (7-4).
"We face a really tough opponent in La Costa Canyon," Mater Dei Catholic coach John Joyner said. "They are very well-coached and don't make very many mistakes. We need to continue to play great defense and no special team mistakes."
LCC eliminated 11th-seeded Steele Canyon, 41-14, in last Friday's opening round.
There's no looking past the Mavericks, however, as Friday's winner will face either second-seeded Cathedral Catholic (5-5) or seventh-seeded Torrey Pines (4-7).
Montgomery will entertain the fifth-seeded Mission Bay Bucs (7-4) in a rematch of a non-league game on Sept. 16 won 9-6 by the host Aztecs. Mission Bay eliminated 12th-seeded Westview, 24-12, in last Friday's first round.
The winner plays either top-seeded Fallbrook (7-3) or ninth-seeded Francis Parker (5-6) in the semifinals.
Victory Christian will put its undefeated record on the line against fifth-seeded Coastal Academy (9-2) in Friday's semifinals.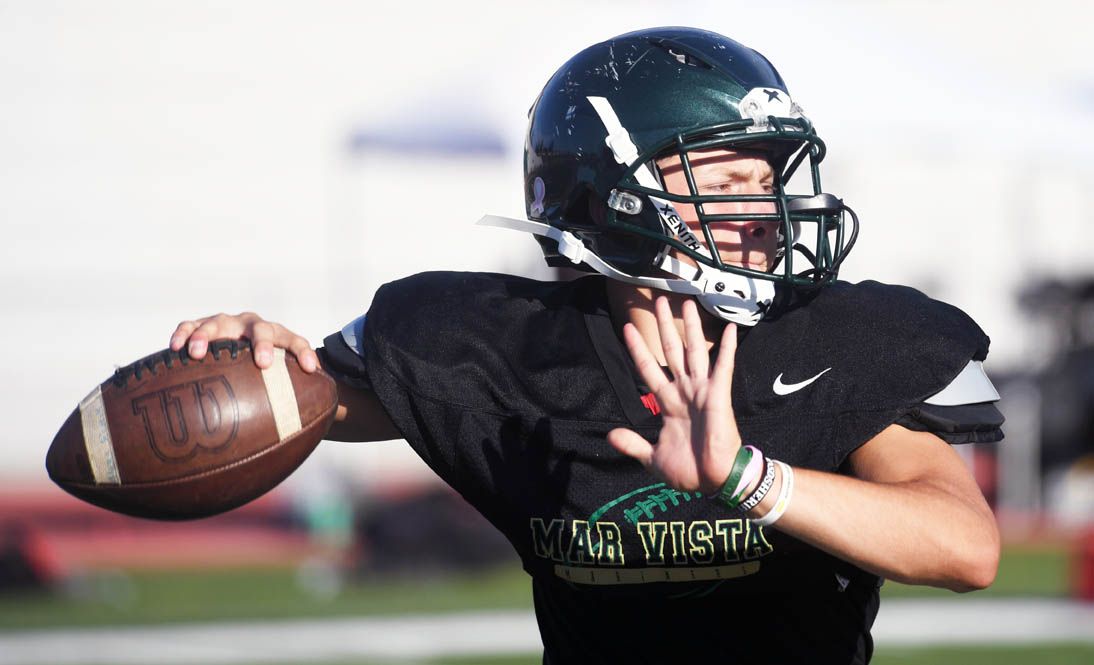 Mariners fire 10 TD salvos at Cardinals in 69-40 win
Mar Vista High School football coach David Moore had high hopes for his team for the 2022 season. He projected to start at or near the top of the Division V standings and finish at or near the top of the Division V standings.
Despite a disappointing 0-4 start to the season, Moore still retains high hopes for the Mariners, who closed the regular season strong with a 5-1 finish to indeed be poised for a finish at or near the top of the Division V playoffs.
It's just taken a while longer than expected.
Mar Vista finished as the runner-up team in the Metro-Pacific League standings to earn the No. 5 seed in the Division V playoffs. The Mariners look like a front-runner again after trouncing the 12th-seeded Hoover Cardinals, 69-40, in last Friday's opening round.
Mar Vista (6-5) advances to meet fourth-seeded Army-Navy Academy (9-1) in Friday's quarterfinals. The winner plays the winner between top-seeded Crawford (9-1) and eighth-seeded Castle Park (4-6) in the division semifinals.
Could a blockbuster finish still be in the cards for the Imperial Beach team.
Maybe if senior quarterback Aleks Wojcik continues to deal the cards.
Wojcik passed for 345 yards and eight touchdowns in last Friday's win over Hoover (4-7). The eight touchdowns in one game ties him for third overall in section history. The last time it was accomplished was in 2003.
He also rushed for 82 yards and added a two-point conversion run to finish the memorable night with 427 total offensive yards (of the 642 team total).
On the season, Wojcik has passed for 2,667 yards and 35 touchdowns against 10 interceptions while also rushing for 634 yards and five touchdowns for 3,314 total offensive yards and a 121.6 quarterback efficiency rating.
He snapped his own school record of seven touchdowns set last year.
Wojcik completed three touchdowns last Friday to junior Elijah Clark (six catches, 191 yards), two to senior De'Andre Hendrick (three catches, 37 yards) and one each to junior Lah'darius Crawford (one catch, 34 yards), junior Erik Garcia (two catches, 44 yards) and senior Nathaniel Ramos (two catches, 10 yards).
Despite the aerial assault, the hosts also rushed for 297 yards and two touchdowns – one each by senior Demarco Wright (nine carries, 79 yards) and Crawford (two carries, 66 yards). Crawford bolted 60 yards on one carry while senior Travon Smith broke away for a 52-yard run.
The Mariners kept the scorekeepers busy by scoring 10 touchdowns in the game.
Smith led Mar Vista with seven tackles while Smith and senior Nathan Pulido each recorded one sack. Ramos also had an interception.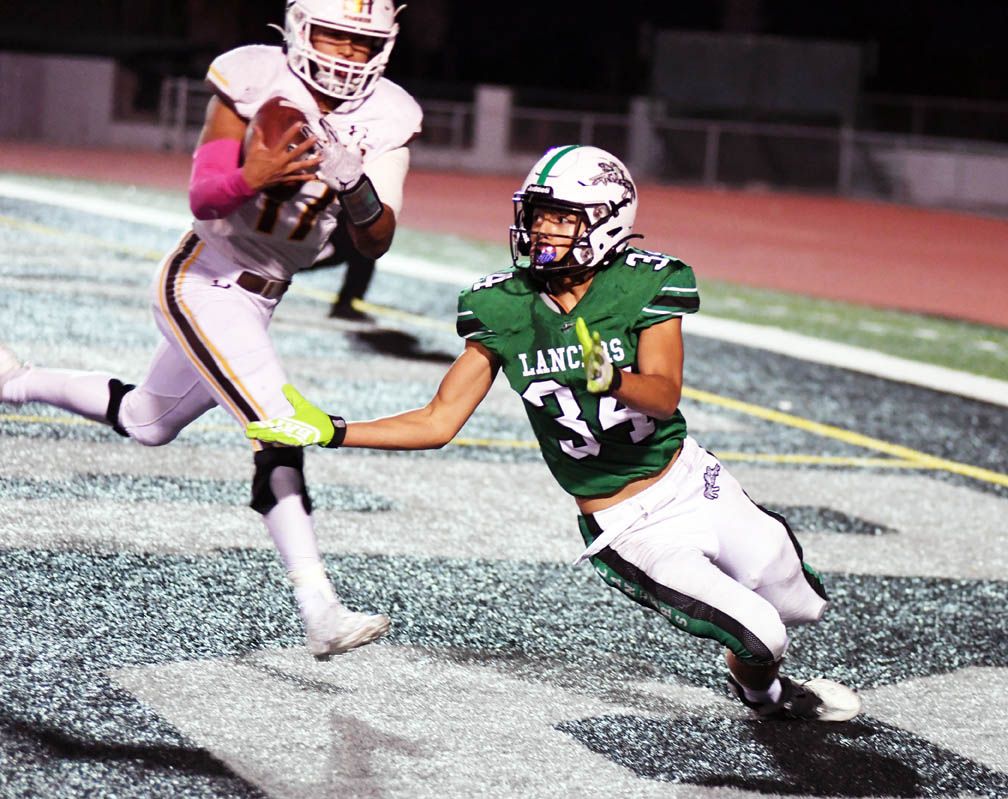 One-man army Williams downs Lancers on final play
Shades of Dillion Baxter and Abraham Muheize. This kid from Imperial Beach is the real deal.
Francis Parker senior Chris Williams set a San Diego Section single-game scoring record when he scored all his team's points in a 52-27 season-opening non-league win over visiting Pasadena Poly. His treasure trove included six rushing touchdowns, an interception return for a touchdown, seven point-after-touchdown conversions and a 28-yard field goal.
He went on to score 171 points in 10 regular season games while averaging 188.2 offensive yards per contest. On defense, he tacked on 41 tackles and four interceptions.
"I was honestly in disbelief," he said. "I didn't even realize I had the record until I kicked that last field goal."
While Williams was not able to break his own record after the season opener, he did prove a one-man wrecking crew in last Friday's 24-21 victory over the host Hilltop Lancers in the opening round of the San Diego Section Division IV playoffs.
All tallied, Williams scored three rushing touchdowns, six tackles, two interceptions, one caused fumble and the game-winning field goal with one second to play in regulation.
Not bad at all.
He could have had more: a punt return touchdown was called back because of a penalty while a 49-yard field goal attempt in the third quarter fell short.
He racked up 296 of Parker's 324 total offensive yards.
Williams was forced into the quarterback role late in the first half after the starting signal-caller suffered an injury and was sidelined with an ice pack around his neck.
Leading 14-7 at halftime on a pair of Williams' touchdowns, Williams led his team to 10 second-half points and the dramatic victory — a first for Parker since winning the Division V championship in 2019.
"We've been down with a small roster this season and injuries over the last few games, so it's been the next man up," Williams said. "I just want to put my teammates in a position to win."
Williams staked Parker to a 14-0 lead on a 10-yard rushing touchdown and 85-yard breakaway sideline scamper in the first quarter.
Hilltop halved the deficit to 14-7 on a 35-yard touchdown pass from junior Isaac Nones to senior Angelo Zapata midway through the second quarter.
Nones caught a 48-yard scoring pass from senior quarterback Jorge Garcia early in the second quarter. But a missed extra point left the hosts trailing 14-13.
Williams' third touchdown of the game put the visitors ahead 21-13 with 6:23 to play.
Hilltop later caught a break when Garcia fumbled into the end zone but teammate Isaac Meza fell on the ball for a touchdown. Nones then completed a two-point conversion pass to Garcia to tie the game, 21-21, to get the home fans roaring.
But Williams took over in clutch time with an amazing yards-after-tackle display that eventually placed the ball at the one-yard line for his game-winning kick.
Garcia led his team with 257 total yards — 178 passing and 79 rushing. However, Garcia was plagued by three interceptions.
Hilltop coach Bryan Wagner called it a tough loss."
"We played our hearts out and just ran out of time," he said. "No. 17 for Parker (Williams) almost single-handedly beat us. I am really proud of our guys the way that they played throughout the whole season. Our seniors put their stamp on the 2022 season by taking us to the playoffs and creating a winning culture that will fuel us in the years to come."
San Diego Section
Football Playoff Scoreboard
All games 7 p.m. unless noted
Open Division
Thursday's semifinals
(4) Poway (10) at (1) Carlsbad (9-1)
(3) Madison (9-1) at (2) Lincoln (9-1)
Division I
Friday, Nov. 4
First round
(9) St. Augustine 13, (8) Eastlake 6
(5) El Camino 35, (12) Scripps Ranch 6
(6) La Costa Canyon 41, (11) Steele Canyon 14
(7) Torrey Pines 24, (10) Rancho Bernardo 0
Friday, Nov. 11
Quarterfinals
(9) St. Augustine (4-7) at (1) Mission Hills (7-3)
(5) El Camino (8-3) at (4) Helix (7-3)
(6) La Costa Canyon (7-4) at (3) Mater Dei Catholic (6-4)
(7) Torrey Pines (4-7) at (2) Cathedral Catholic (5-5)
Division II
Friday, Nov. 4
First round
(8) La Jolla 28, (9) Santa Fe Christian 22
(5) Mira Mesa 38 (12) Otay Ranch 21
(6) San Marcos 41, (11) Valley Center 12
(7) Brawley 8, (10) Mt. Carmel 0
Friday, Nov. 11
Quarterfinals
(8) La Jolla (6-5) at (1) Granite Hills (8-2)
(5) Mira Mesa (8-3)at (4) Christian (6-4)
(6) San Marcos (5-6) at (3) Ramona (6-4)
(7) Brawley (8-3) at (2) Central Union (6-3)
Division III
Friday, Nov. 4
First round
(8) Rancho Buena Vista 49, (9) Santana 14
(5) Imperial 37, (12) Patrick Henry 7
(6) San Pasqual 41 (11) West Hills 2
(10) Morse 52, (7) El Capital 28
Friday, Nov. 11
Quarterfinals
(8) Rancho Buena Vista (6-5) at (1) University City (8-2)
(5) Imperial (8-3) at (4) Bishop's (8-2)
(6) San Pasqual (8-3) at (3) Del Norte (6-4)
(10) Morse (7-4) at (2) Point Loma (8-2)
Division IV
Friday, Nov. 4
First round
(9) Francis Parker 24, (8) Hilltop 21
(5) Mission Bay 24, (12) Westview 12
(11) Chula Vista 35, (6) Calexico 27
(7) Palo Verde 36, (11) Mt. Miguel 27
Friday, Nov. 11
Quarterfinals
(9) Francis Parker (5-6) at (1) Fallbrook (7-3)
(5) Mission Bay (7-4) at (4) Montgomery (8-2)
(11) Chula Vista (7-4) at (3) Coronado (6-3)
(7) Palo Verde (10-1) at (2) La Jolla Country Day (7-3)
Division V
Friday, Nov. 4
First round
(8) Castle Park 49, (9) Southwest El Centro 32
(5) Mar Vista 62, (12) Hoover 34
(6) Vincent Memorial 42, (11) Mountain Empire 6
(7) El Cajon Valley 21, (10) Clairemont 14
Friday, Nov. 11
Quarterfinals
(8) Castle Park (4-6) at (1) Crawford (9-1)
(5) Mar Vista (6-5) at (4) Army-Navy Academy (9-1)
(6) Vincent Memorial (7-3) at (3) Classical Academy (7-3)
(7) El Cajon Valley (5-6) at (2) Escondido Charter (8-2)
8-Man Football
Quarterfinals
Friday, Nov. 4
(5) Coastal Academy 22, (4) San Pasqual Academy 14
Saturday, Nov. 5
(6) Foothills Christian 51, (3) Rock Academy 8
Semifinals
Friday, Nov. 11
(5) Coastal Academy (9-2) at (1) Victory Christian Academy (9-0)
(6) Foothills Christian (8-3) at (2) St. Joseph Academy (8-1)