Every game at this point of the season becomes more important than the last as teams continue to build up seeding points during non-league play with an eye on fine-tuning their on-field product for the start of league play.
The Eastlake Titans look to have gotten back on track after scoring their second consecutive victory following a 21-7 setback to Poway on Aug. 27. The back-to-back non-league road wins over La Habra (18-14 on Sept. 3) and Granite Hills (31-0 last Friday) have pushed the Titans (3-1) back into the San Diego Section's top 10 weekly rankings at No. 10 and elevated the team to the No. 8 ranking among the section's Division I teams.
Eastlake sits at No. 10 in the section after playing only one home game so far. The Mesa League's road warriors have a well-earned bye this week but return to foreign turf for a Sept. 24 game at ninth-ranked El Camino before hosting the Olympian Eagles Oct. 1 in the league opener for both teams.
EHS head coach Jose Mendoza said his team entered last Friday's game with grit and determination.
"It was a simple game plan," Mendoza said. "Our team's focus was on our own performance and execution on both sides of the ball. We knew going into the game it was going to be a physical game. Much respect to Granite Hills' offense and defensive side of players and coaching staff. We were very fortunate to execute our game plan and match their physical play on the field.
"One key point defensively was the injury to Granite Hills quarterback. We were very determined not to lose the game."
The Mesa League looks to be especially tough this season and the champion will have to win five games to stand alone on top of the standings table.
Mater Dei Catholic (2-0) entered this week ranked seventh in the section while Otay Ranch is hovering right behind the Titans at No. 11.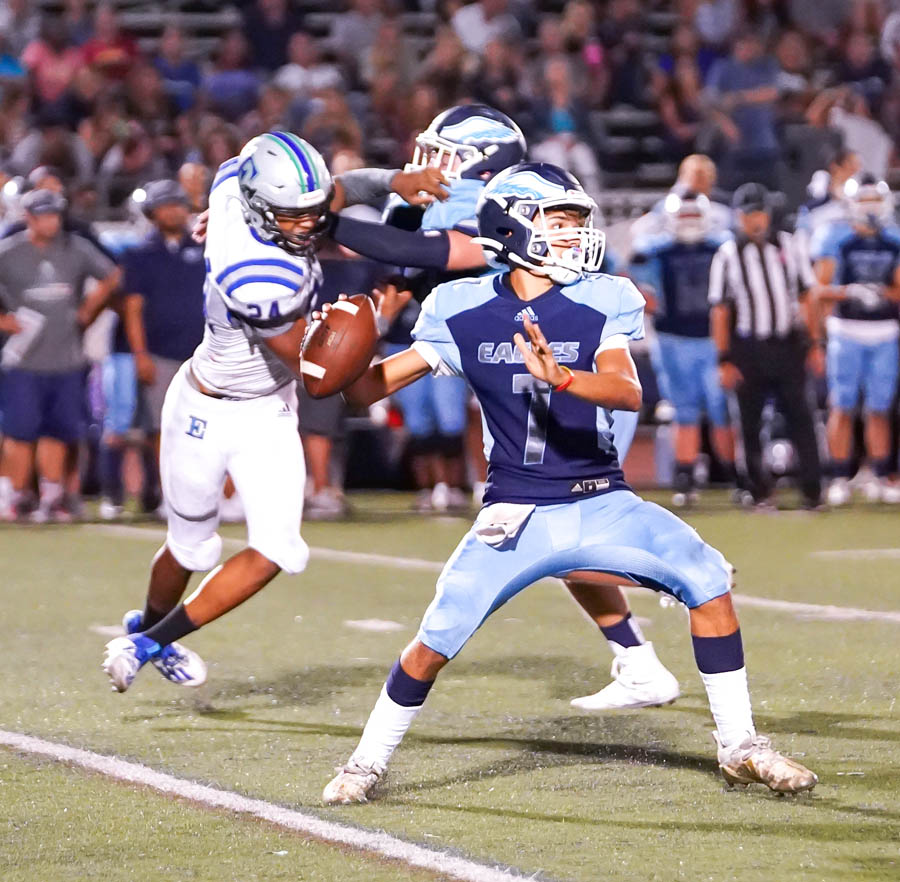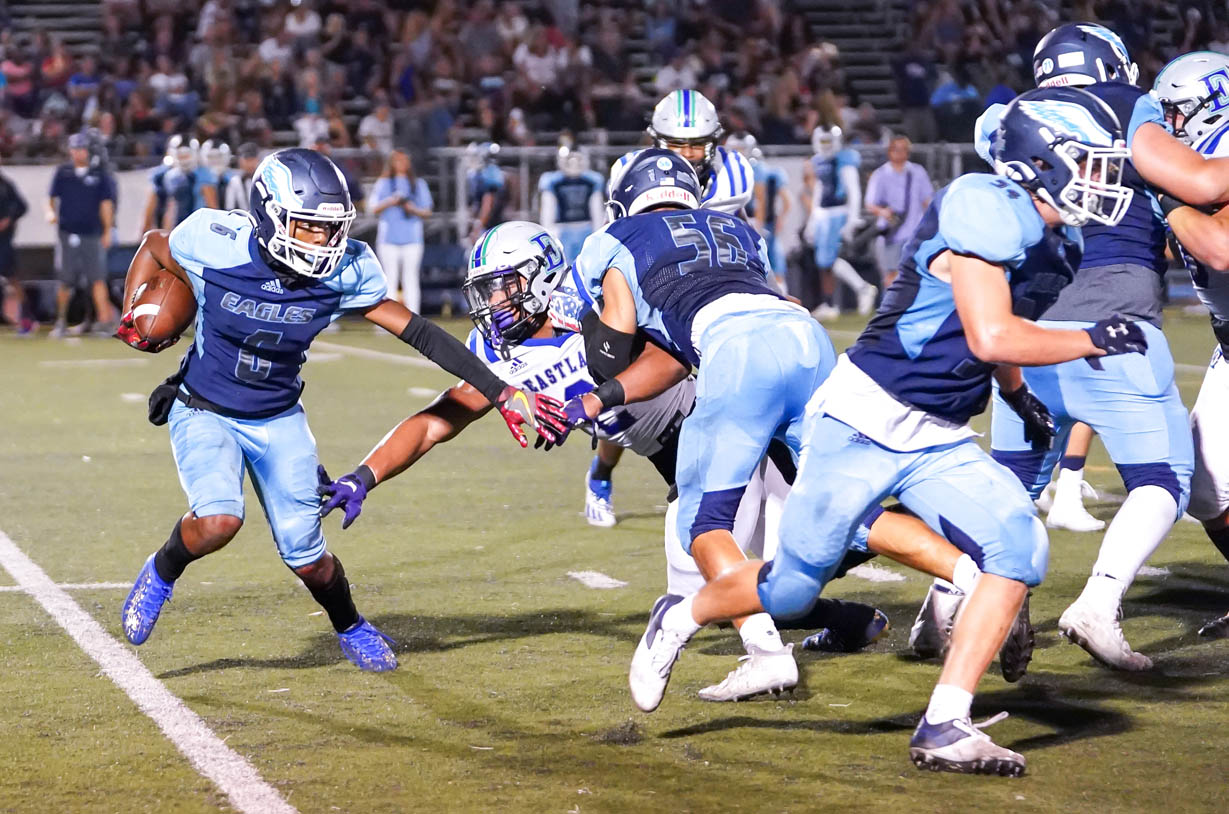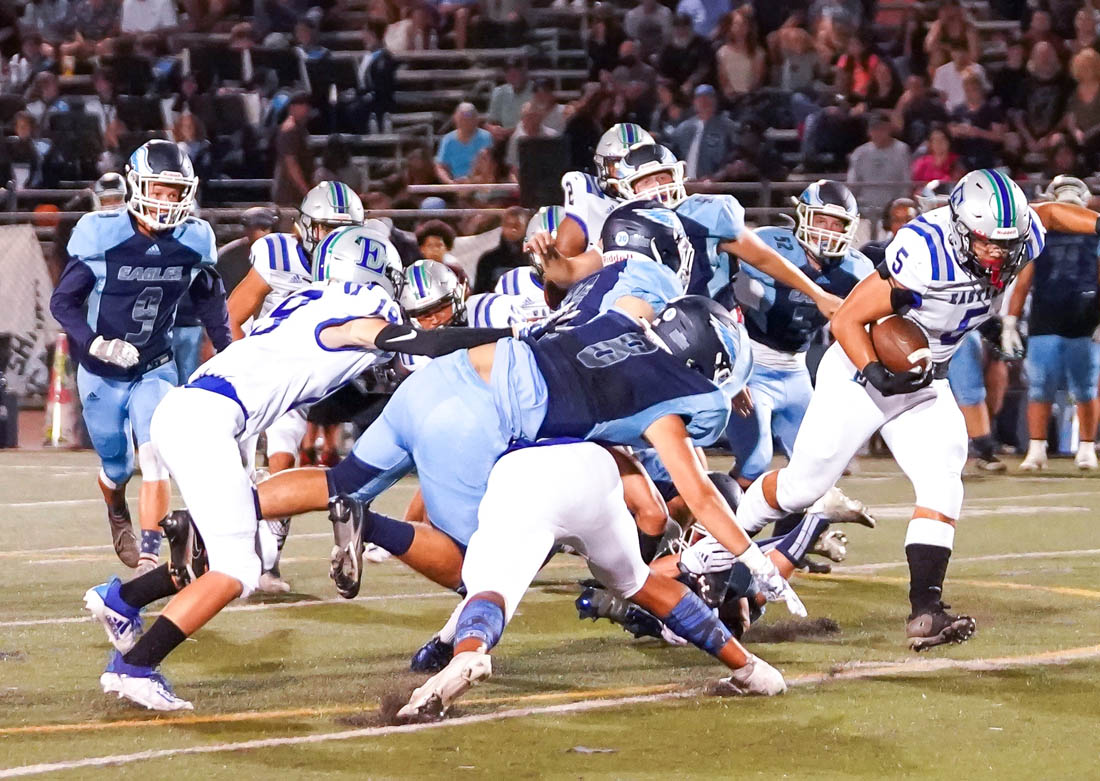 There's some room to move up and down but the top five teams seem fairly secure in terms of rankings points — Cathedral Catholic (3-1) at No. 1, Lincoln (2-1) at No. 2, Carlsbad (4-0) at No. 3, Mission Hills (3-1) at No. 4 and Torrey Pines (2-1) at No. 5.
The top four Division I teams advance to the Open Division playoffs, leaving the remaining 12 teams in the division in a battle royale for seeding position.
Helix (2-1) currently sits at No. 6 among Division I teams, followed by El Camino (1-2) at No. 7, Eastlake at No. 8, Madison (3-1) at No. 9, Oceanside (2-1) at No. 10, St. Augustine (1-3) at No. 11, La Costa Canyon (1-2) at No. 12, Granite Hills (2-2) at No. 13. Grossmont (2-2) at No. 14, Steele Canyon (1-3) at No. 15 and San Marcos (0-4) at No. 16.
Quite a bit of movement could take place between the No. 6 and No. 11 rankings positions in the division, which would affect which teams obtain home field advantage in the playoffs.
There has already been significant movement as Granite Hills rose to No. 7 following its 62-0 non-league victory against visiting Valhalla on Aug. 26 but now sits near the bottom of the division standings after suffering back-to-back non-league losses to a pair of section heavyweights in Madison (34-14 on Sept. 3) and most recently Eastlake.
Granite Hills will look to bet back on track when the Eagles test the Otay Ranch Mustangs this Friday at 7 p.m. in a neutral site game at Hilltop High School.
The Eagles will take a 2-2 record into the non-league encounter while the host Mustangs are 1-1.
Granite Hills dropped into the loss column for the first time against the Warhawks and saw the Titans spoil the school's homecoming contest last Friday.
After outscoring their opening two opponents 78-10, the Eagles have been outscored 65-14 in their last two trips to the gridiron.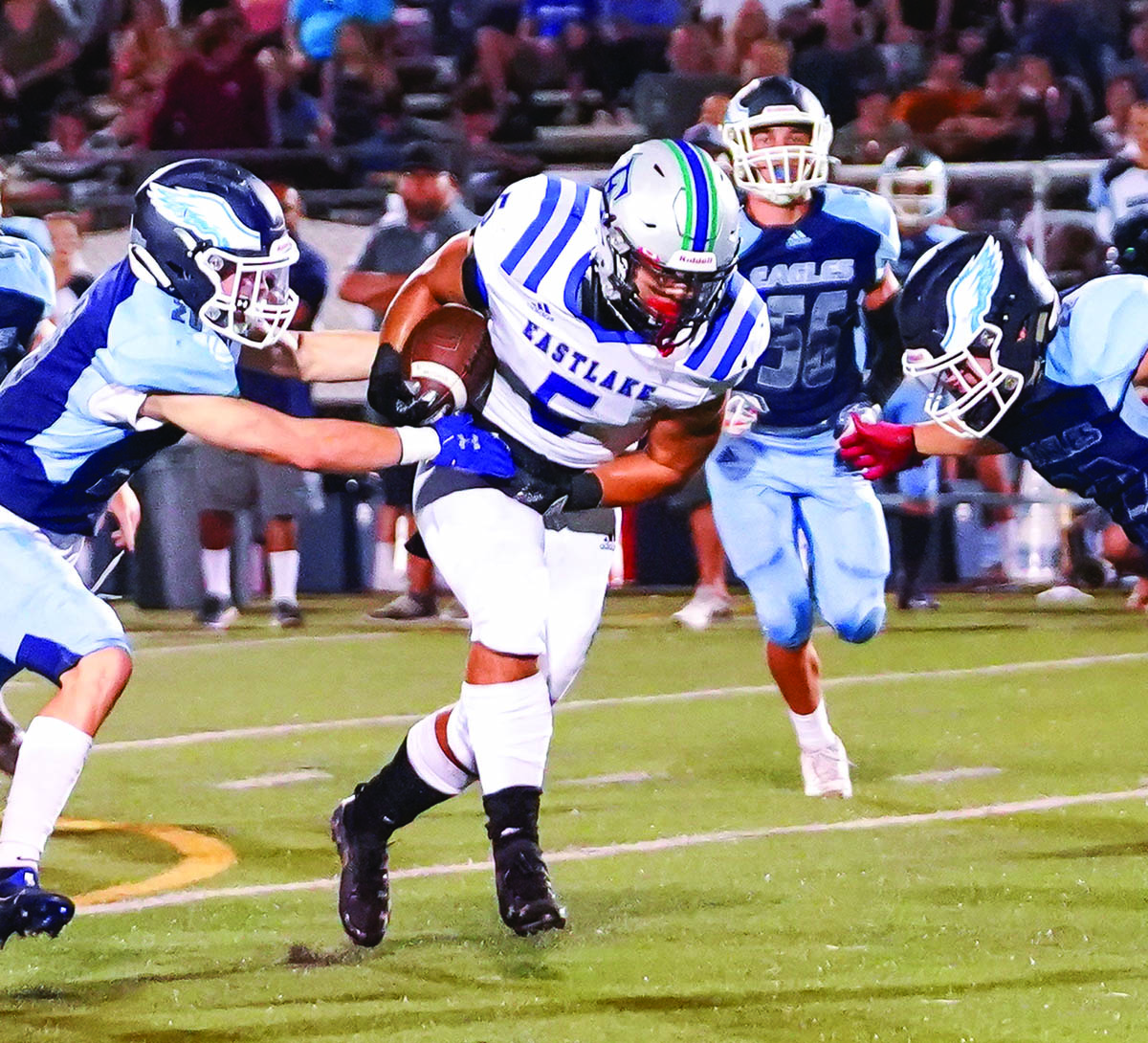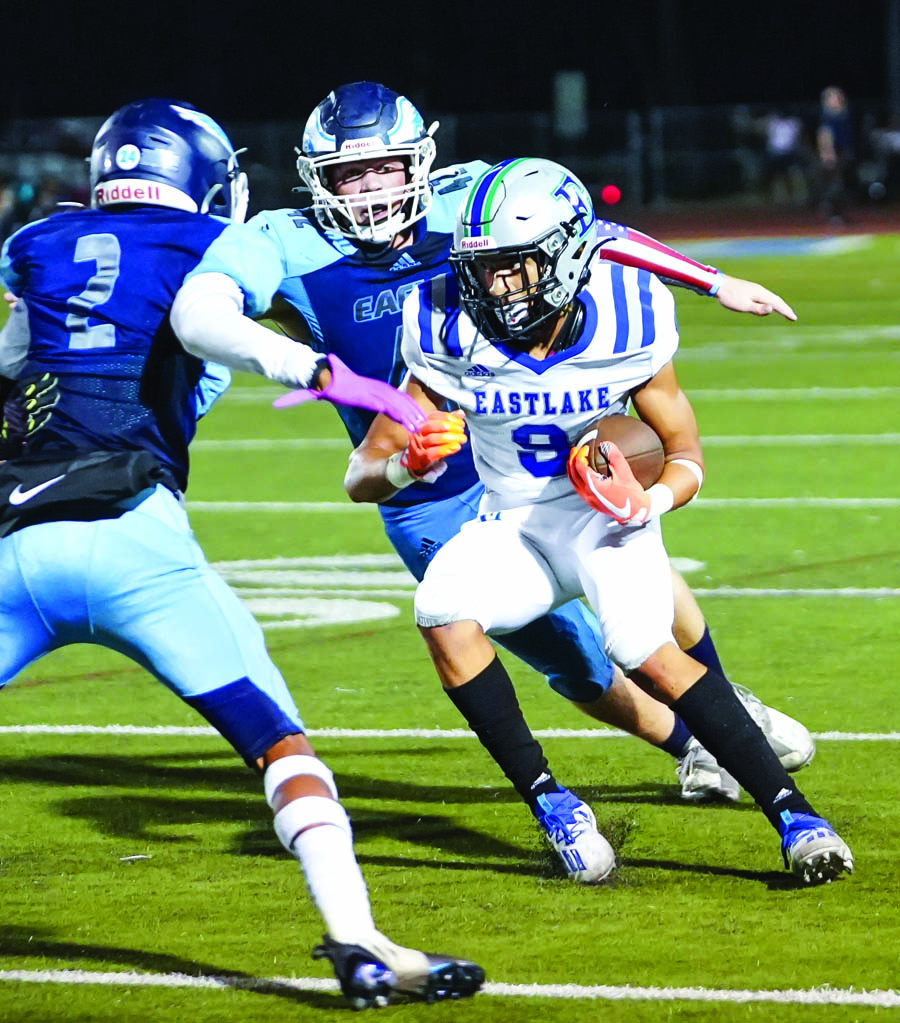 Otay Ranch defeated Madison, 19-14, in its season opener but dropped a 29-14 non-league contest to Helix Charter on Aug. 27. The Mustangs have been idle since after having their Sept. 3 game against Mira Mesa canceled due to COVID-19 protocols within the Marauder program and having a bye last week.
"We didn't play well on offense," Granite Hills head coach Kellan Cobbs said in regard to last Friday's blowout loss to 10th-ranked Eastlake.
The Eagles fell victim to the Titans' aggressive defense that recorded two interceptions and three fumble recoveries. The visitors turned three of those costly turnovers by the Eagles into 17 points.
Junior quarterback Lance Rodgers was pressed into service early on. The hosts relied on the ground game for much of the contest to move the ball but could not tame the Eastlake defense.
It was the first shutout loss by Granite Hills in nine years.
Eastlake (3-1) piled up 436 yards in all-purpose yards, including 210 rushing yards, 73 yards on kick returns and 50 yards on interception returns.
The Titans scored four rushing touchdowns — one each by senior quarterback Jordan Blondin (11 carries, 87 yards), senior Nayhum Lao (three carries, 44 yards), senior Christian Aguilar (two carries, 15 yards) and senior Trey White (two carries, seven yards).
Blondin, who took over signal-calling duties the previous week because of an injury to sophomore Johnny Limon, completed 15 of 19 passes for 106 yards. He scored on a 34-yard run following a strip fumble recovery.
Sophomore Ayden Billups led the Titans with 25 receiving yards on three receptions while senior Jordan Swan had three catches for 18 yards.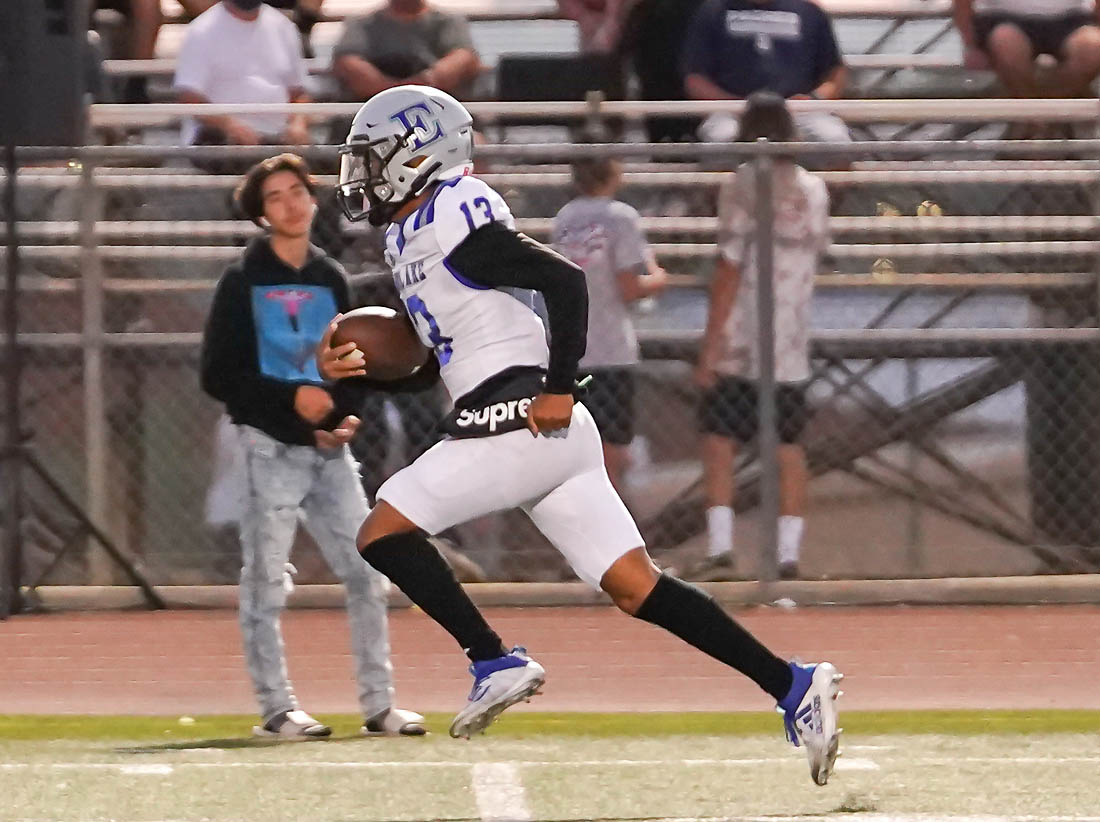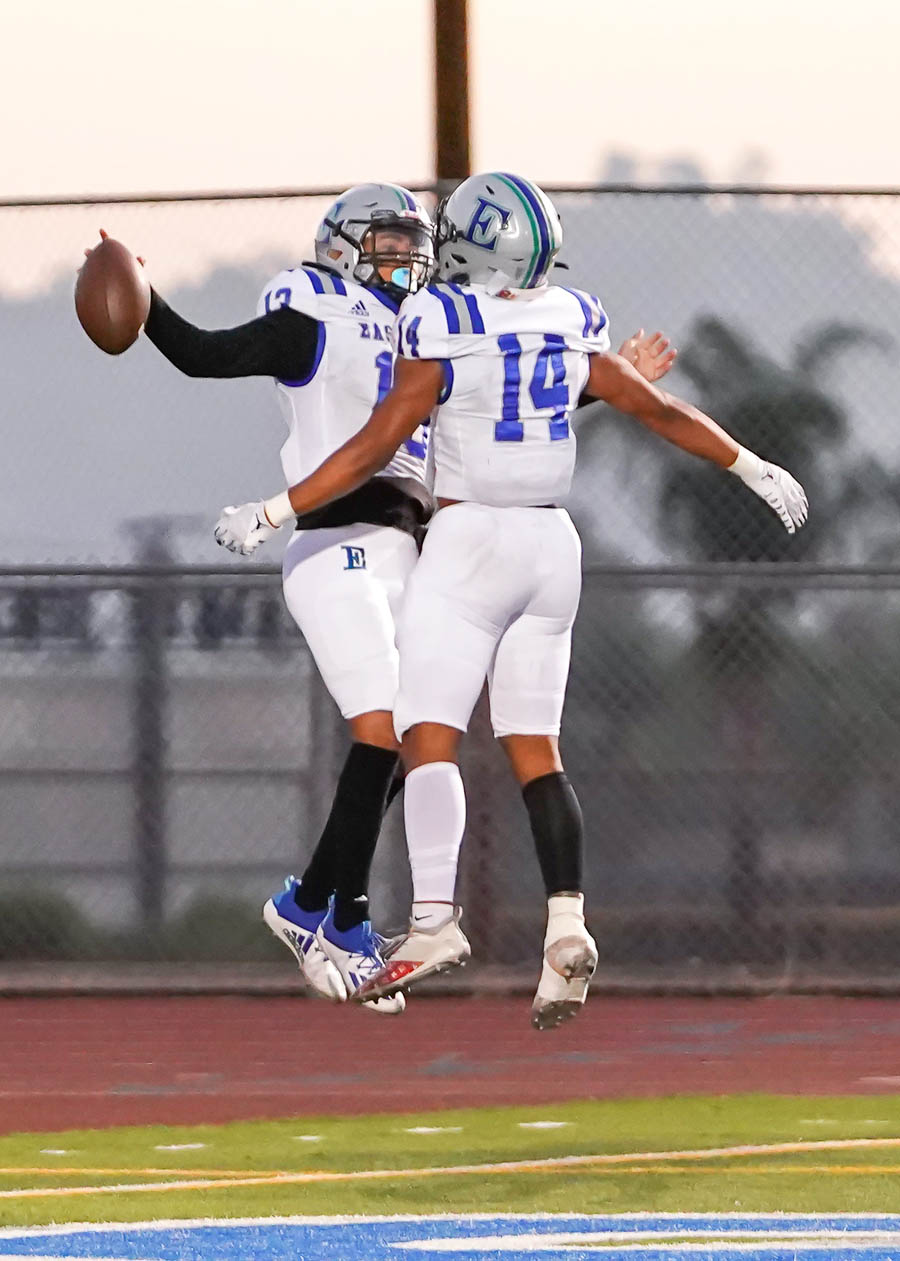 Junior Kaipo Mauga led the visitors with 13 tackles while Aguilar posted 11 stops. Aguilar and senior Dominick Wright had interceptions while Wright, senior Jayden Kendricks and senior Marco Gonzalez all recovered fumbles.
Wright returned his fumble recovery 40 yards. He also had an 83-yard interception return for a touchdown nullified by a penalty.
Junior Kalen Jones handled duties on six kickoffs and collected seven kicking points in the contest, including four extra-point conversions and a 47-yard field goal. He also returned a punt 43 yards.
Wright had a big night by returning one punt 30 yards; senior Isaiah Hinojosa had one sack.
Senior linebacker Carter Braun, who was a member of the homecoming court, keyed the Eagles with nine tackles.
Senior cornerback Mikey Birkenbach earned honors as this year's homecoming king during halftime ceremonies.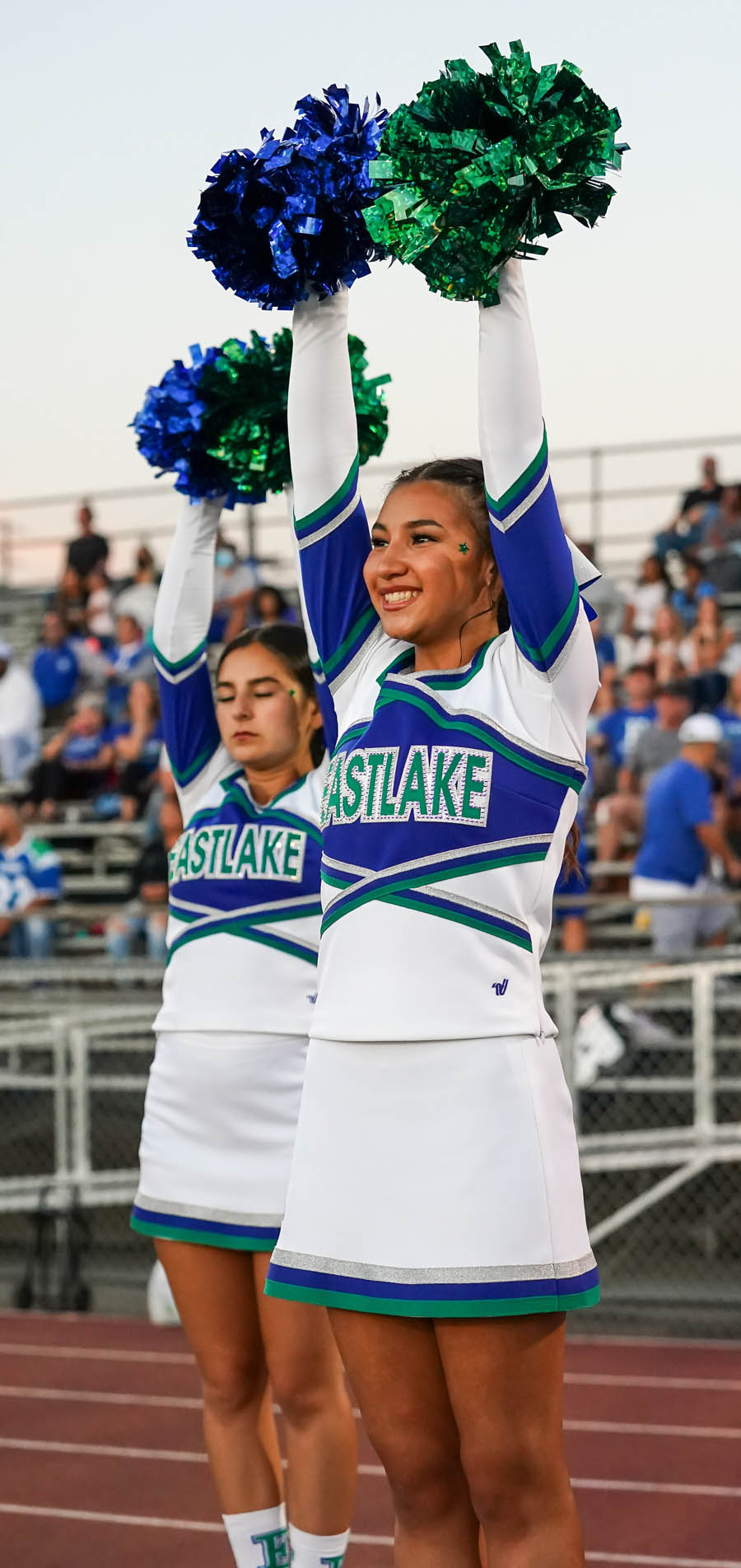 South Bay League teams hit gridiron with much on the line Friday
It's just mid-September and league play is already upon us.
The Metro Conference has realigned its football schedule into two league this season and there are no more four-team leagues with three league games packed into the final weeks of the season.
Both the Mesa League and South Bay League feature six teams each. Each team will play a five-game league schedule. The South Bay League was scheduled to have a seventh team, but Southwest High School elected not to field a varsity team this season.
Thus, the South Bay League opens a week earlier than the Mesa League does and will feature two league matchups this Friday: San Ysidro (2-1) at Castle Park (0-4) and Mar Vista (2-2) at Chula Vista (0-2).
Both games, which kick off at 6:30 p.m., are actually rather intriguing.
San Ysidro showcases one of its most athletic teams on both sides of the ball in recent years but is still seeking respect from its South Bay League opponents. Meanwhile, Castle Park is looking to shake off a 0-4 start to seek a measure of respect as well.
Mar Vista got off to a blazing start with lopsided non-league wins over Crawford (28-7 on Aug. 19) and Clairemont (59-6 on Aug. 28) before dropping its latest two contests: 40-27 at Santana on Sept. 3 and 49-18 to Coronado last Friday.
Chula Vista has only played two games this season due to COVID-19 protocols and is itching to show its fans — and itself — how much improvement the team has undergone since finally taking the gridiron.
The Spartans lost their season opener, 24-0, at Hilltop on Sept. 3 and were in position to pick up a win last Friday against visiting Canyon Hills with a 13-6 halftime lead but allowed 22 unanswered points in the second half in falling to 0-2 on the season with a 28-13 non-league setback.
Junior Matthew Robertson scored Chula Vista's first touchdown of the season on a 25-yard fumble return while senior Daniel Montes booted field goals of 20 and 19 yards to give the Spartans a seven-point halftime lead.
Junior quarterback Jacob Pedroza made his season debut with 108 passing yards while senior Anthony Venegas led the way on the ground with 72 rushing yards. Sophomore Jacob Davidson had three catches for 75 yards.
Senior Raymond Cruz paced the Spartan defense with 10 tackles while juniors Andres Moreno and Angel Zuniga both had interceptions.
Cougar country
After suffering a 35-14 non-league setback to visiting Fallbrook on Sept. 3, San Ysidro bounced back in a big way with last Friday's 28-0 shutout win at Hoover.
The Cougars outgained the Cardinals 528-379 in all-purpose yards and won the ground game 349-184 in total rushing yards.
"Hoover did a good job defending our passing game, so we turned to handing it off to our playmakers," Cougar head coach Keith Aguon said.
Those playmakers turned out to be senior Matthew Jaime with 11 carries for 186 yards, including a 74-yard touchdown, and McKai Jackson with 11 carries for 132 yards, including a 41-yard touchdown.
Junior quarterback Ja'Marcus Jiles (35 passing yards, 17 rushing yards) scored one rushing touchdown.
The visitors racked up seven sacks, two interceptions and two fumble recoveries to record the defensive shutout. Aguon proudly noted it was his team's second shutout of the season.
"We knew Hoover had athletes, but we had a good plan to contain them, and we executed it as good as we could," the Cougar coach said. "Special teams set us up with great field position throughout the game, and it started with David Saldivar's 53-yard punt return for a touchdown — his second TD return this season — that really fired up our team."
Jaime keyed the defensive effort with 16 total tackles, including 11 solo stops, 1.5 sacks and one interception to earn the team's overall player of the game award.
Jackson and senior Domenick Romo both recorded nine tackles while Saldivar, Romo, junior Cowboy Garcia, senior Sal Samano and junior Erick Padilla each registered one sack.
Jackson was credited with a half-sack while senior Johan Gutierrez had a 46-yard interception return.
Junior Jaden Banner and Samano both recorded fumble recoveries.
San Ysidro's four players of the game also included Saldivar (special teams), Jackson (offensive) and Gutierrez (defensive).
Extra points
Senior Davien Simler rushed for 127 yards and scored both touchdowns for Castle Park in last Friday's 33-13 loss to host Vincent Memorial (2-2). The Trojans have been outscored 170-32 in four games to start the season.
Barons pick up first football win of 2021 fall season behind three scores by Scott
Bonita Vista High School's football team, after two weeks of idleness due to COVID-19 protocols both within and outside the program, picked up its first win of the season with last Friday's 41-6 non-league victory at John Glenn High School in Norwalk.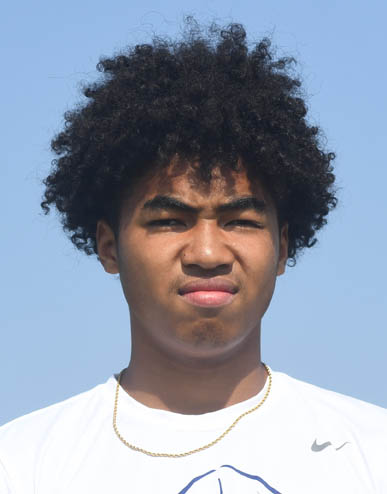 Junior receiver Dante Scott caught four passes for 98 yards, including three touchdown passes for the Barons (1-1).
"We hadn't played a game since Aug. 20 due to COVID issues, so it was nice to get back on the field and get a win," BVHS head coach Tyler Arciaga said. "Each of our quarterback threw for two touchdowns — Nate Cristobal and Juan Gomez. We also had a great defensive performance that slowed down the Glenn offense.
"It is a nice way to catapult into our homecoming game (Friday) against Patrick Henry. They are a well-coached team and have made big strides under their coach (J.T. O'Sullivan)."
Montgomery 46, Kearny 12
The Aztecs (2-1) picked up their second consecutive home field victory as junior signal-caller Ryan Vasquez passed for 186 yards and touchdowns to junior Jordan Benton (three catches, 86 yards) and junior Victor Flores (two catches, 18 yards).
Senior Juan Estrada rushed for 55 yards and scored twice on the ground and once on a a fumble recovery. The Aztecs rushed for four touchdowns overall.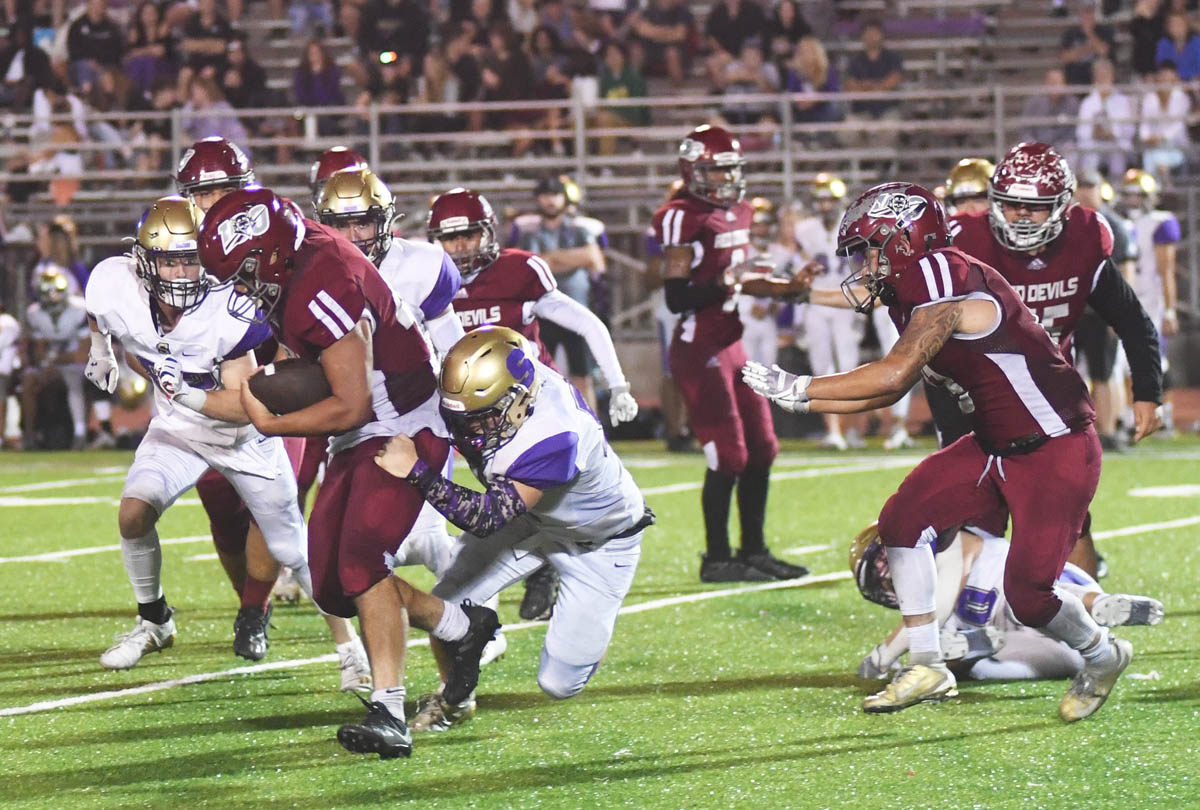 Sultans make Sweetwater see red in whirlwind finish to stay unbeaten
The opening half of last Friday's non-league game at Sweetwater High School appeared to favor the chances of the host Red Devils picking up their first win of the season; instead the visiting Santana Sultans found some late magic to spirit away a 28-21 victory to remain unbeaten on the season.
"We figured out a way to win — we've done that a couple times this season now," said Santana head coach Tim Estes, whose team trailed by scores of 7-0, 15-14 and 21-14 before notching the final two touchdowns of the game — the last with a minute to play — to emerge with a fortuitous victory.
The Devils opened scoring on a 73-yard run by sophomore Xzavier Crews and the Sultans tied the game on a 45-yard reception by senior Ethan Wright to lock the teams into a 7-7 standoff at halftime.
Santana broke the deadlock on a four-yard run by Wright before Sweetwater scored on a six-yard run and ensuing two-point conversion by senior Carlos Hopper (nine carries, 105 yards) to go up 15-14.
The Devils increased their lead to 21-14 on another short run by Hopper (and a missed two-point conversion attempt) before senior Brayden Breshears bolted 33 yards to trim the Santana deficit to 21-20. The Sultans were unsuccessful on the two-point conversion attempt, however, to leave them at a one-point disadvantage with 2:52 to play.
A 20-minute game stoppage due to an injury to a Sweetwater player wound up switching momentum in the Sultans' favor. The game didn't end fast enough for the hosts.
When play resumed, SuHi senior quarterback Nick Jenkins fumbled the snap but managed to recover the ball. The Devils were not as fortunate the next time as Santana senior Logan Jorden wrestled the ball away from the SuHi quarterback on a sack.
The Sultans didn't waste any time after the gift as junior Nick Leger connected with senior Dylan Anderson on a 38-yard touchdown pass down the home sideline to push the visitors ahead 26-21. Anderson then caught the two-point conversion for icing on the cake.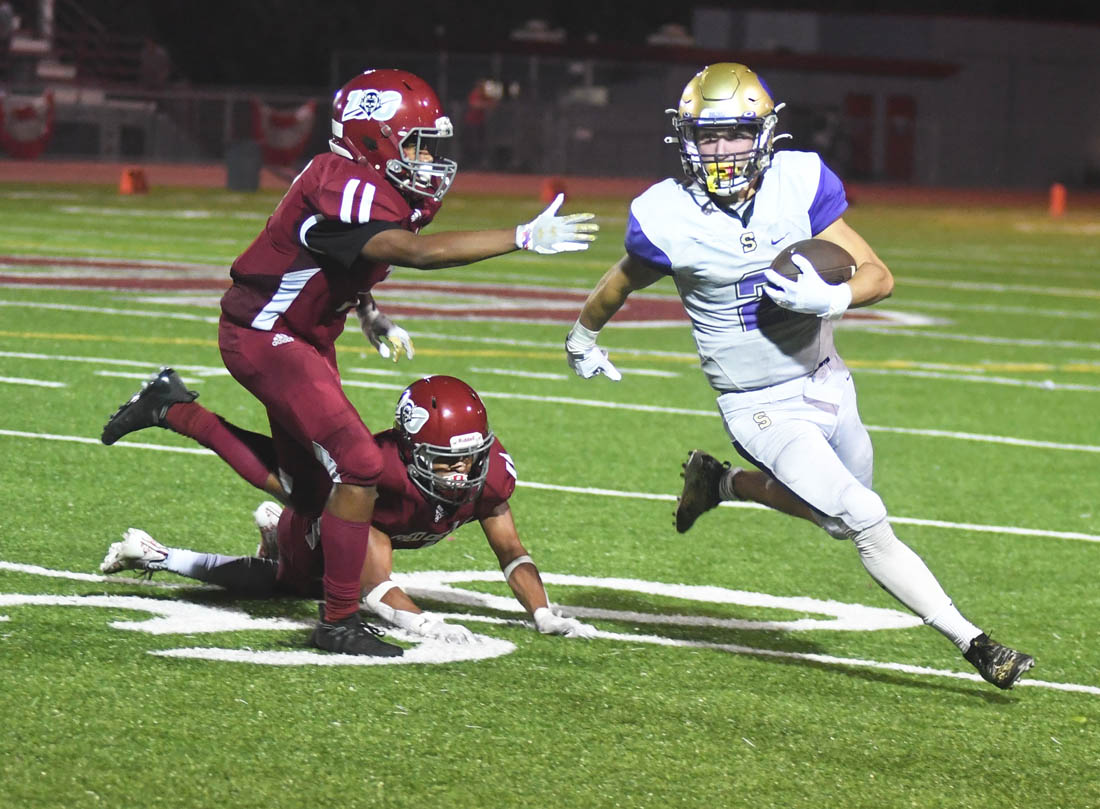 It was an obviously disappointing result for the hosts, who likely deserved better.
"Definitely a tough loss," said SuHi head coach Ervin Hernandez, whose team dropped to 0-3 on the season. "We had a challenging non-league schedule but it exposed a lot of things of how we need to get better in all three phases of the game.
"It taught us we need to compete more during practice in how to close out games. Our focus should be on us improving as a team each practice. We have time and will get it right before league play."
Sweetwater rolled up 253 rushing yards in the game while accumulating only eight passing yards.
Senior Fabian Venegas rushed for 69 yards while Crews caught the only pass of the game by the Devils.
On defense, Venegas led the team with 12 tackles, Hopper had one sack and senior Ricky Rodriguez had one interception.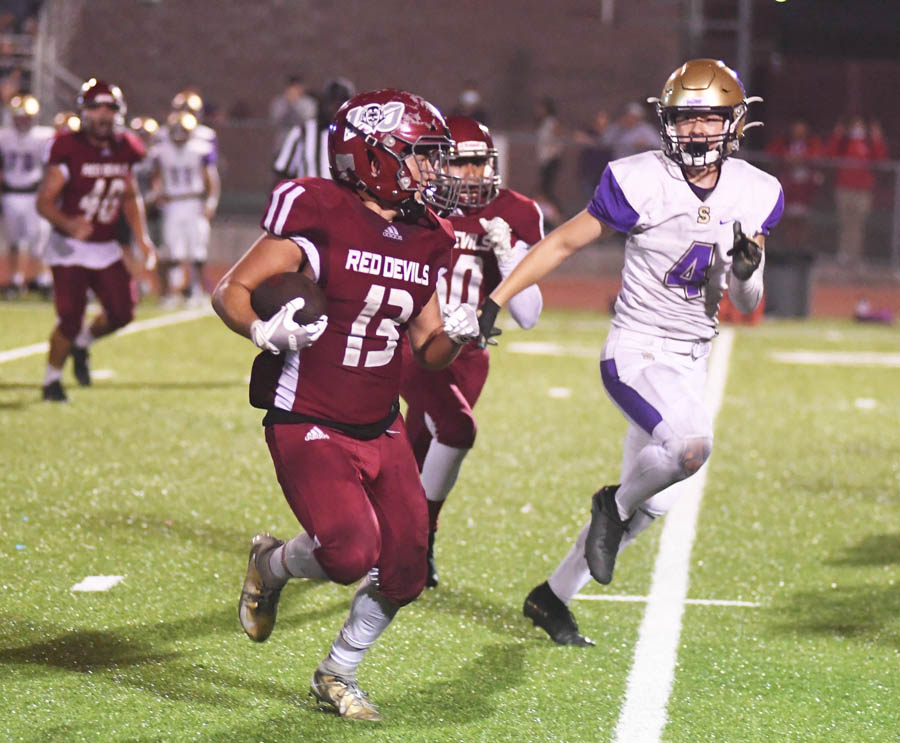 Breshears rushed 13 times for 85 yards with one touchdown while Wright had 11 carries for 71 yards and one touchdown.
Leger completed 23 of 37 passing attempts for 220 yards with two touchdowns and one interception. Anderson collected 90 yards on eight receptions while Wright had 73 yards on 10 catches.
The Sultans benefitted from a strong ground game, especially in the third quarter, as Breshears and Wright took the majority of handoffs.
"We were making the yards and we kept doing it," Estes said.
The Valhalla Norsemen (1-3) stand in the way of a 5-0 start for Santana as Grossmont Valley League play kicks off Friday.
"I only look to the next game," Estes said. "The next game is the most important game on the schedule."
Metro Conference Football Scoreboard
Friday, Sept. 10
Non-League
Eastlake 31, Granite Hills 0
Bonita Vista 41, Glenn (Norwalk) 6
Montgomery 46, Kearny 12
San Ysidro 28, Hoover 0
Vincent Memorial 33, Castle Park 13
Santana 28, Sweetwater 21
Canyon Hills 28, Chula Vista 13
Coronado 49, Mar Vista 18
Friday, Sept. 17
South Bay League
San Ysidro at Castle Park, 6:30 p.m.
Mar Vista at Chula Vista, 6:30 p.m.
Non-League
Scripps Ranch at Sweetwater, 6:30 p.m. (cancelled, COVID)
La Jolla at Mater Dei Catholic, 6:30 p.m.
Bonita Vista vs. Patrick Henry , 6:30 p.m. at Southwestern College
Otay Ranch vs. Granite Hills, 7 p.m. at Hilltop High School
Point Loma at Olympian, 7 p.m.
Hilltop at Morse, 7 p.m.
Montgomery at Mission Bay, 7 p.m.
Bye: Eastlake
San Diego Section Rankings

Through Sept. 14/MaxPreps
Top 25 teams
1. Cathedral Catholic (3-1), 2. Lincoln (2-1), 3. Carlsbad (4-0), 4. Mission Hills (3-1), 5. Torrey Pines (2-1), 6. Scripps Ranch (4-0), 7. Mater Dei Catholic (2-0), 8. Helix (2-1), 9. El Camino (1-2), 10. Eastlake (3-1), 11. Otay Ranch (1-1), 12. Poway (2-2), 13. Madison (3-1), 14. Oceanside (2-1), 15. St. Augustine (1-3), 16. Mt. Carmel (4-0), 17. Santa Fe Christian (4-0), 18. Ramona (2-2), 19. Rancho Bernardo (2-2), 20. La Costa Canyon (1-3), 21. Granite Hills (2-2), 22. Mira Mesa (1-1), 23. La Jolla (2-2), 24. Grossmont (2-2), 25. Christian (3-1)
Division I: 1. Cathedral Catholic (3-1), 2. Lincoln (2-1), 3. Carlsbad (4-0), 4. Mission Hills (3-1), 5. Torrey Pines (2-1), 6. Helix (2-1), 7. El Camino (1-2), 8. Eastlake (3-1), 9. Madison (3-1), 10. Oceanside (2-1), 11. St. Augustine (1-3), 12. La Costa Canyon (1-3), 13. Granite Hills (2-2), 14. Grossmont (2-2), 15. Steele Canyon (1-3), 16. San Marcos (0-4)
Division II: 1. Scripps Ranch (4-0), 2. Otay Ranch (1-1), 3. Poway (2-2), 4. Rancho Bernardo (2-2), 5. Mira Mesa (1-1), 6. La Jolla (2-2), 7. Christian (3-1), 8. San Pasqual (3-1), 9. Valley Center (2-2), 10. Point Loma (1-3), 11. San Diego (3-1), 12. Bishop's (3-1), 13. Central Union (1-3), 14. Vista (2-2), 15. Morse (1-1), 16. Olympian (0-3)
Division III: 1. Mater Dei Catholic (2-0), 2. Mt. Carmel (4-0), 3. Santa Fe Christian (4-0), 4. Ramona (2-2), 5. Santana (4-0), 6. West Hills (4-0), 7. Orange Glen (2-0), 8. El Capitan (3-1), 9. Brawley (2-2), 10. Imperial (1-2), 11. Escondido (2-2), 12. Westview (1-3), 13. Bonita Vista (1-1), 14. Monte Vista (0-3), 15. Hilltop (1-2), 16. Canyon Hills (1-2), 17. Kearny (0-2)
Division IV: 1. Del Norte (3-1), 2. Patrick Henry (2-2), 3. University City (3-1), 4. Coronado (3-1), 5. Rancho Buena Vista (3-1), 6. La Jolla Country Day (2-1), 7. Montgomery (2-1), 8. Francis Parker (2-1), 9. Sweetwater (0-3), 10. Mount Miguel (1-1), 11. Valhalla (1-3), 12. Southwest El Centro (2-2), 13. Mar Vista (2-2), 14. Vincent Memorial (2-2), 15. Classical Academy (0-3), 16. Castle Park (0-4), 17. Chula Vista (0-2)
Division V:: 1. Palo Verde Valley (2-1), 2. Mission Bay (2-1), 3. Holtville (4-0), 4. Fallbrook (2-2), 5. Calexico (3-1), 6. Escondido Charter (2-0), 7. Army-Navy Academy (3-1), 8. Mountain Empire (1-2), 9. San Ysidro (2-10, 10. Tri-City Christian (0-3), 11. O'Farrell Charter (1-2), 12. Crawford (0-4), 13. Hoover (1-2), 14. Calipatria (1-1), 15. El Cajon Valley (1-3), 16. Maranatha Christian (1-3), 17. Foothills Christian (0-3), Clairemont (0-4)