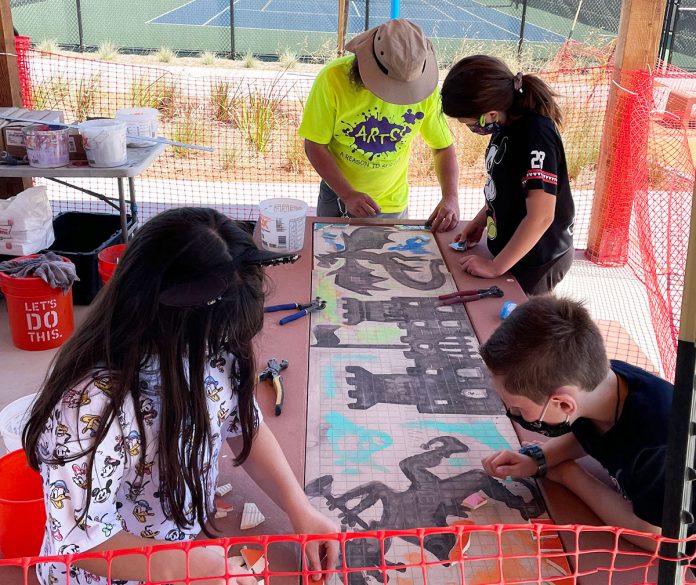 Featuring a regulation multi-purpose soccer field and tennis and pickleball court surrounded by a winding jogging path, a half basketball court, two play areas for children, picnic areas, a large space for community gatherings and events, Millenia Park was designed as a versatile community hub for the Millenia community. On June 5, the 3.5 acre park opened beginning with a ribbon cutting ceremony with Mayor Mary Casillas Salas, city officials, and the park's development team.
Kimley Horn, park designer and engineer, worked with numerous departments of the city and the Meridian Development, which is overseeing the development of the 210 acre Millenia Community.
"We are proud to unveil Millenia's fourth park, with furthers our commitment to make every home in Millenia within a three minute walk to the park," stated CEO and President Guy Asaro of Meridian Development in a press release. "We have been proactive in developing parks and community infrastructure to coincide with residential construction. It has taken sustained effort and tremendous coordination among the design and construction teams, city staff, and the development team—all in the middle of a pandemic. We're excited to give our residents great places to gather and play."
Opening day events included the installment of a site-specific art project inspired by local students in the Chula Vista Elementary School District's Thrively STEAM program and facilitated by ARTS (A Reason to Survive). This mosaic art project portrays "motion," the theme of Millenia Park, set along an entry wall, two long seat walls, two tables and two benches.
Also incorporated into opening day events, two other parks that opened during the pandemic were celebrated with a Park Crawl with activities and fitness programs at each park.
Orion Park is a 1.5 acre park located at the intersection of Orion Avenue and Strata Street and includes two children's play areas for younger and older children, a dog park, shaded picnic tables, a comfort station, and large lawn and plaza areas.
Strata Park features a dramatic trellis structure with colored lighting, an outdoor game area, cornhole, ping pong, horseshoes, a fitness training circuit, an interactive play area, community spaces, along with barbeque and picnic areas. It also includes a community garden managed by the Millenia Community Association that is open to Chula Vista residents. With the park's theme of "light," there is glow in the dark paving, specialty lighting fixtures and illuminated light cubes.
All three parks are located along the Chula Vista Regional Trail.