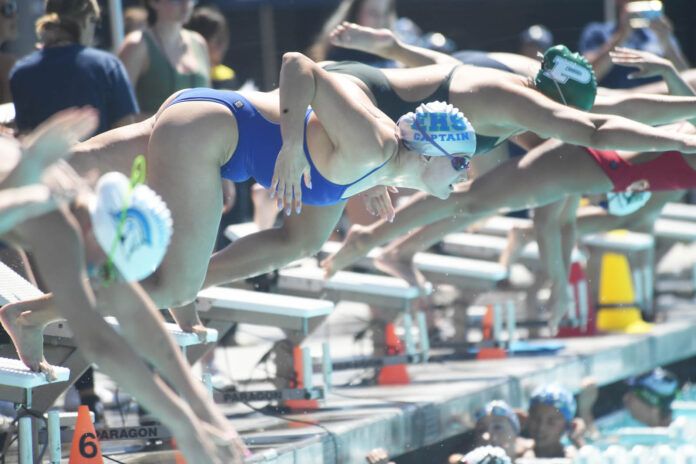 While competing established high school swim programs such as Granite Hills, Canyon Crest Academy, Del Norte, Cathedral Catholic, San Dieguito Academy and University City at last Saturday's Ben Hedberg Invitational on the campus of Granite Hills High School, the Eastlake Titans managed to make a very sizable splash.
The Titans finished third in the combined gender field after placing fourth in the boys half of the 20-team meet and fifth in the girls half.
The event, which featured more than 520 swimmers, was jam-packed with talent with nine meet records being broken, including four by Eastlake.
Moreover, Eastlake seniors Emily Lundgren and Colby Hughes earned distinction as co-MVPs of the meet.
Lundgren was involved in three of the meet records (girls 200 medley relay in 1:51.72, girls breaststroke in 1:03.60 and 400 freestyle relay in 3:40.59) while Hughes set another in the boys 500 freestyle (4:36.72).
Lundgren also timed under the previous meet record in the individual medley with a 2:07.37 while finishing runner-up to University City's Kathryn Hazle (who set a meet record in 2:05.10).
Lundgren and Hazle were named co-MVPs of the girls meet while Hughes shared the boys MVP honor with Christian senior Lucas Colombo, who helped set a meet record in the boys 200 freestyle relay while earning first-place finishes in the 200 freestyle (1:44.35) and 100 butterfly (51.24).
Hazle also won the girls 500 freestyle in 5:01.46 to post an individual double.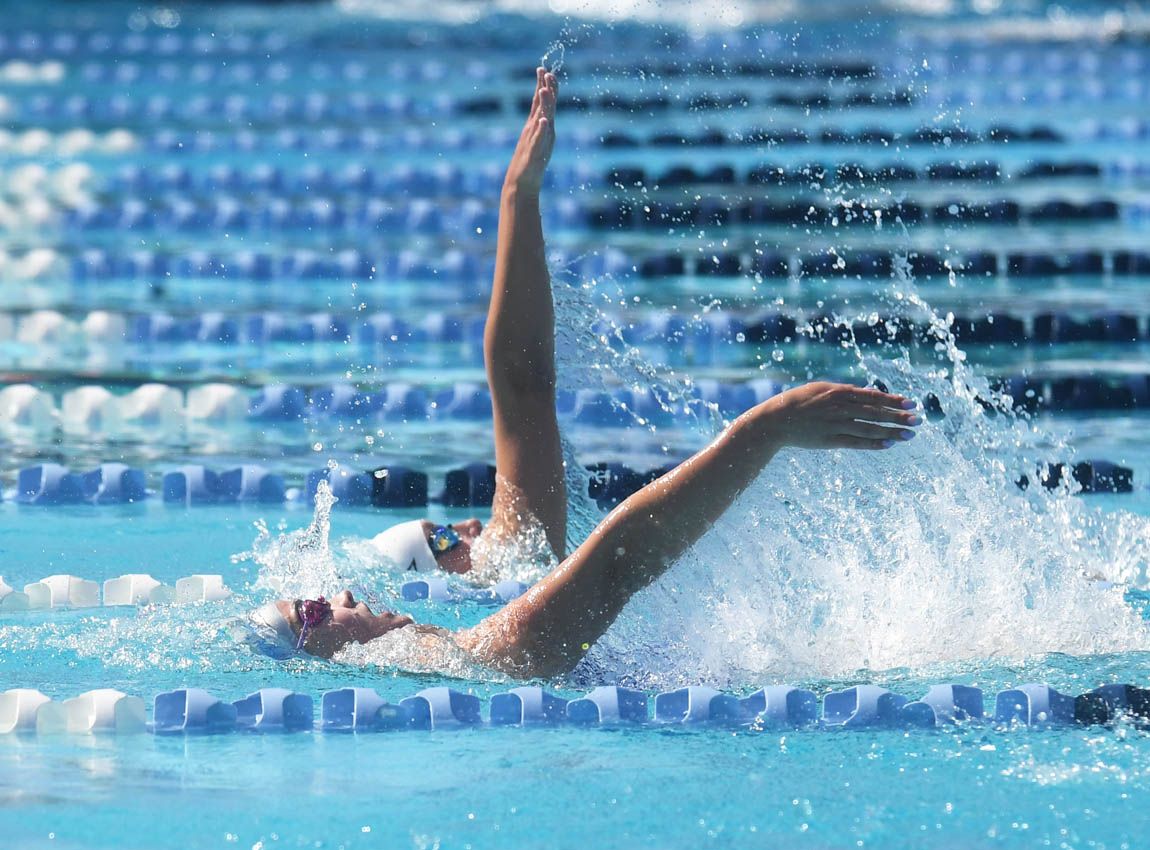 Lundgren, a state meet qualifier two years ago and the defending CIF Division I champion in the 200 individual medley and 100 breaststroke (in which she set a new section record), opened the meet in the 200 medley relay swimming the second leg. The team broke the old record by 0.48 second. Sophomore Victoria Naval swam the opening leg while senior Mirsha Lora swam the third leg and senior Aranza Martha swam the anchor leg.
Lundgren next competed in the IM where she and Hazle, swimming in adjacent lanes, went stroke for stroke for virtually the entire race separated by just 0.20 seconds. Hazle eventually touched first by 0.27 second.
Lundgren won by a two-second margin over Poway's Ashlyn Hernandez in the 100 breaststroke, an event in which both swimmers eclipsed the previous record.
Incidentally, Hernandez also dipped under the old record in the 200 IM to join Hazle as a record-setting trio.
Eastlake won the girls 400 freestyle relay by a half-second margin over University City. The winning quartet included Lundgren, Martha, Lora and Naval.
"I definitely want to get back to state," said Lundgren, who placed ninth as the consolation finals winner in the 200 IM in her 2019 trip to the state meet. "I want to make the finals (top eight heat) and get a medal."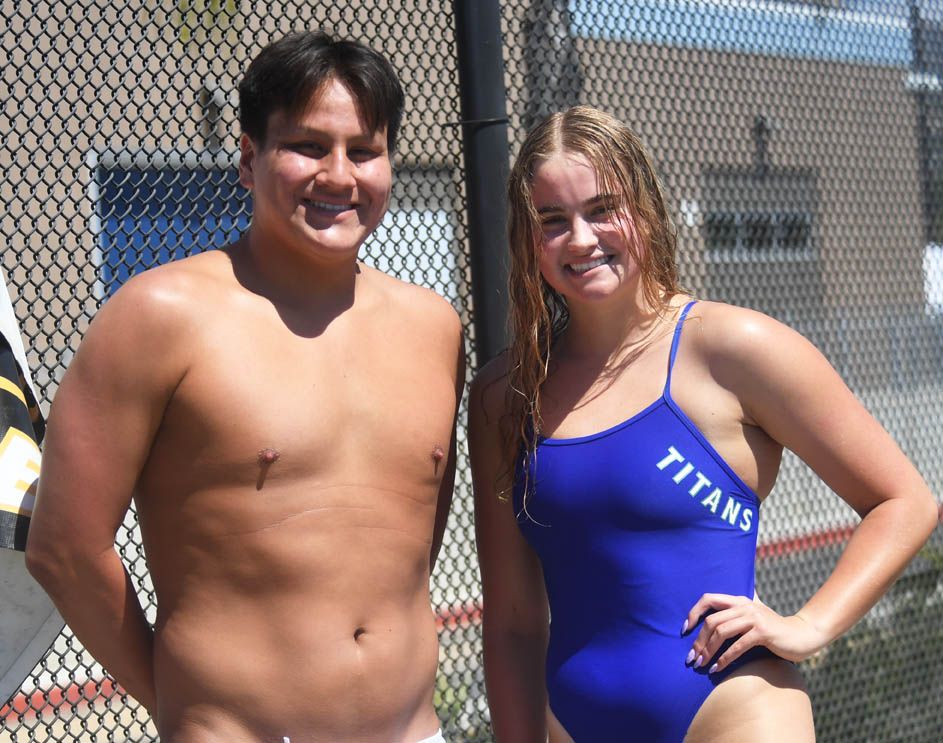 Besides winning the 500 freestyle by two seconds (over Del Norte freshman Julien Rousseau) and dipping four seconds under the old record, Hughes also recorded a runner-up finish in the 200 freestyle (1:44.49) to Colombo by a scant 0.14 second.
Hughes also swam the first leg on the Titans' winning 400 freestyle relay team (3:20.14) that also included sophomores Zane Johnson and Edgar Martinez and freshman John Luca Calma.
"I haven't really swum high school since my freshman year," Hughes said. "I'm coming into this year with the idea that I'm trying to set as many records as I can."
Lundgren and Hughes weren't the only Eastlake swimmers to snatch individual gold at the meet. Martha recorded the top time in the girls 50 freestyle (25.00) and came back to place third in the 100 freestyle (55.41).
"Seeing what she did today gives us hope for the rest of the season," EHS coach Steve Wiggs said. "She has some personal goals she wants to accomplish. She wants to go under 24 seconds in the 50 and 52 in the 100."
Eastlake swimmers posted a number of top 10 finishes in their respective events.
Johnson posted a runner-up finish to Colombo in the boys 100 butterfly (51.81) while snaring a fourth-place finish in the boys 200 IM (2:01.67). Johnson finished 0.51 second off the winning time in the butterfly.
Naval, runner-up in the 200 freestyle (2:01.86), tied for sixth in the girls 100 backstroke (1:03.25).
Also for the Titans, Martinez placed seventh in both the boys 200 freestyle (1:53.19) and 100 backstroke (58.54).
Calma notched a sixth-place finish in the boys 100 breaststroke (1:03.06) and a ninth-place swim in the boys 100 freestyle (51.81).
Senior Erin Gidley finished 10th in the girls 100 freestyle in 57.82.
Eastlake finished 10th in the girls 200 freestyle relay (1:51.30) behind legs from Gidley, freshman Camille Arcega, senior Melinda Espinosa and freshman Abigail Conner.
The Titans are undefeated in their opening four Mesa League dual meets against Hilltop, Bonita Vista, Mar Vista and Olympian.
"It's always a team goal to place top three in CIF," Wiggs noted. "It's also a team goal to be able to take a team to state. We' do have a couple of swimmers who will make it, but we have some relays that also could go to state. We could bring a small team there."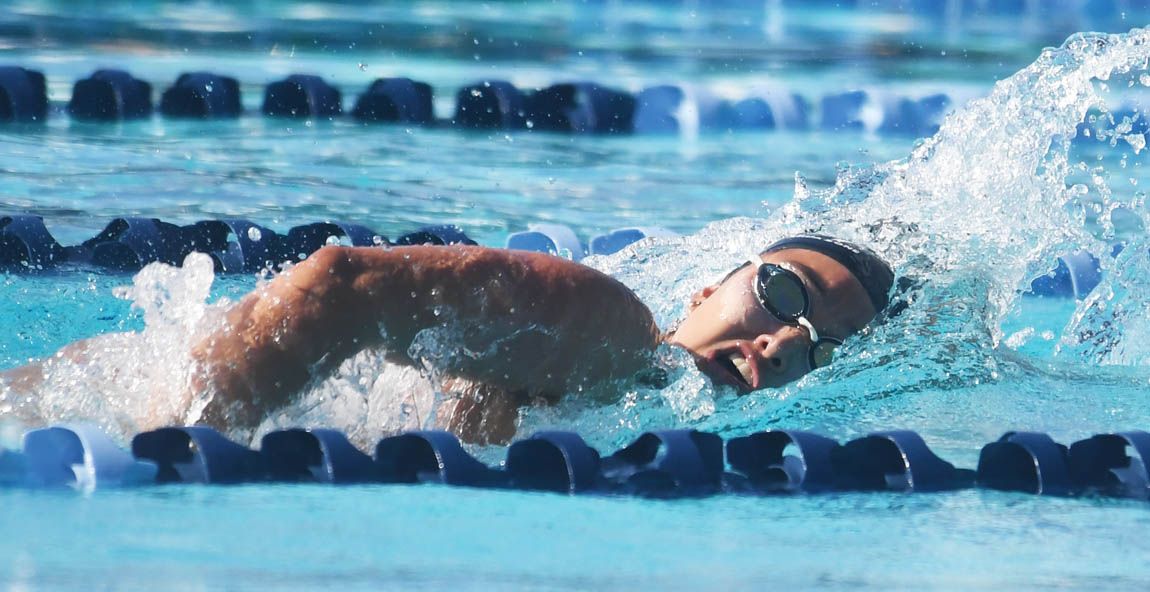 Fast lane
Bonita Vista senior Paolo Castillo, who placed runner-up in the 500 freestyle at last year's Division I finals, captured the top time in the girls 200 freestyle (1:59.82) while placing third in the 500 freestyle (5:17.11).
Castillo bettered Naval's time by two seconds to post the win in the 200 freestyle. The Lady Baron finished 16 seconds off Hazle's winning time in the 500 freestyle and five seconds behind runner-up Revere Schmidt, a junior from Santa Fe Christian.
"I've been traveling with Team Mexico, so it was good to be able to drop in and win an event," Castillo said.
Olympian freshman Audrey Hill posted the top time in the girls 100 butterfly (1:00.13) while placing sixth in the 200 IM (2:18.09).
Hill also swam legs on the school's 200 medley and 400 freestyle relay teams. The 400 freestyle relay team placed eighth in 4:03.51. The unit included Audrey Hill, senior Grace Hill, freshman Annia Luna and sophomore Poppy Constantino.
The medley relay team, featuring the same foursome, placed ninth in 2:00.75.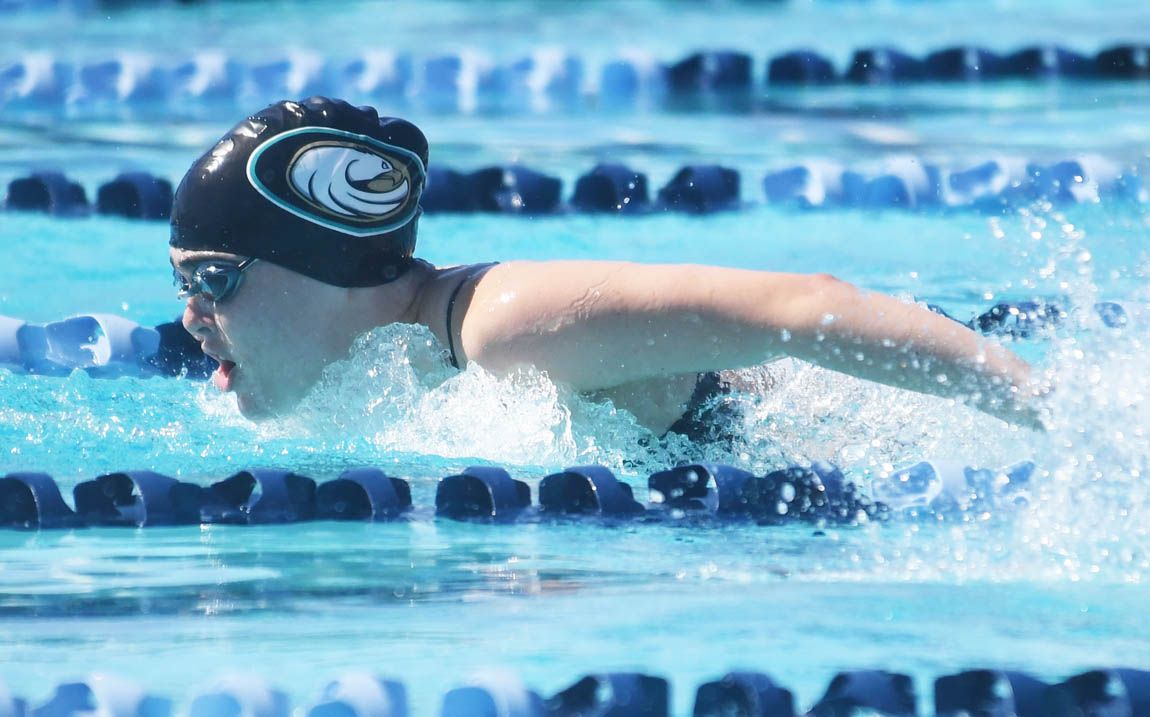 Olympian finished 13th in the combined team standings with 103 points — 11th among girls teams with 73 points and 13th among boys teams with 30 points.
Olympian senior Alexander Asuncion posted a seventh-place time in the boys 100 breaststroke (1:03.28) while placing 13th in the 50 freestyle (23.76).
Top teams in the girls meet included University City (first with 281 points), Del Norte (second with 268.5 points) and Canyon Crest Academy (third with 244.5 points). Granite Hills placed fourth with 241.5 points while Eastlake was fifth with 230.5 points.
Canyon Crest Academy won the boys team title with 480 points, followed by Del Norte with 253 points in second place, Cathedral Catholic with 246 points in third place, Eastlake with 223 points in fourth place and San Dieguito Academy with 193 points in fifth place.
Canyon Crest Academy had the highest combined score of 724.5 points, followed by Del Norte with 521.5 points and Eastlake with 453.3 points.
Events were conducted by heats and then sorted by times to produce a winner. There were 11 heats in the girls 50 and 100 freestyle events and 10 heats in the boys 50 and 100 freestyle events.
Both the girls 50 freestyle and 100 freestyle were water-logged with 95 entrants while the boys 50 freestyle had 83 entrants and the 100 freestyle had 84.
The competition was fierce from start to finish on the day.
"A lot of meet records were set," Granite Hills coach Cathy Elgas said. "There were a lot of kids here who will be CIF champions."