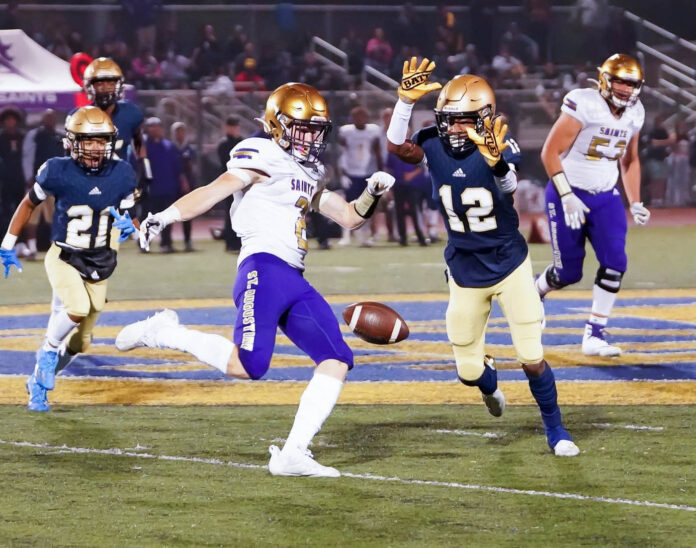 Mater Dei Catholic High School head coach John Joyner was the first to admit it took an all-around effort for his team to post an emotionally satisfying 35-0 non-league victory against the visiting St. Augustine Saints last Friday in front of an appreciative homecoming crowd.
"I thought we played very tough," explained Joyner, whose team rolled to its fourth consecutive win to kick off the 2021 fall prep pigskin campaign. "We tackled well and played a great swarming style of defense. I was really proud of the way our defense played and how strong we were up front against the run. Taylor Lepisi, Jason Harden, Joey Hiner and Luke Teskey were outstanding on the defensive line all night."
Other top individual performances permeated the team's lineup on the festive night.
"Chris Snyder had a huge game with a receiving touchdown and an interception," Joyner pointed out. "Jason Harden returned a blocked punt for a 53-yard touchdown. Vincent Freund had nine solo tackles and was flying around the field all night."
Junior quarterback Domini Nankil displayed some grit and determination in coming back from an injury to his non-throwing hand the previous week to lead the team to a victory.
Nankil passed for 252 yards with three touchdowns.
"Dom is such a talented young man, but he showed great toughness coming back and playing so well with three touchdown passes," Joyner said. He controlled the offense all night with his arm and his legs; he was really the biggest offensive threat all night on both sides of the ball. Dom showed why he was voted one of our team captains."
St. Augustine had reeled off a long series of victories between the teams upon the relocation of the former Marian Catholic High School to eastern Chula Vista and the rebirth as Mater Dei Catholic High School.
But the Crusaders (4-0) were obviously on a crusade.
The hosts electrified the large homecoming crowd early on as Nankil hit junior receiver Jerry McClure on a 45-yard bomb that set up junior Tre Edwards for a 13-yard pass reception over the middle from Nankil.
Mater Dei Catholic also showed it could move the ball in sustained fashion by capping a 17-play drive with a 20-yard scoring pass from Nankil to junior receiver Chris Snyder late in the second quarter.
The Crusaders got the ball back before halftime but in a most fortuitous manner as sophomore defensive back Isahia Buxton blocked a punt by Saints senior Dominic Gross that MDC senior Jason Harden picked up and returned 53 yards for a touchdown.
21-0 Crusaders at halftime.
Mater Dei Catholic scored twice in the third quarter to seal the non-league victory.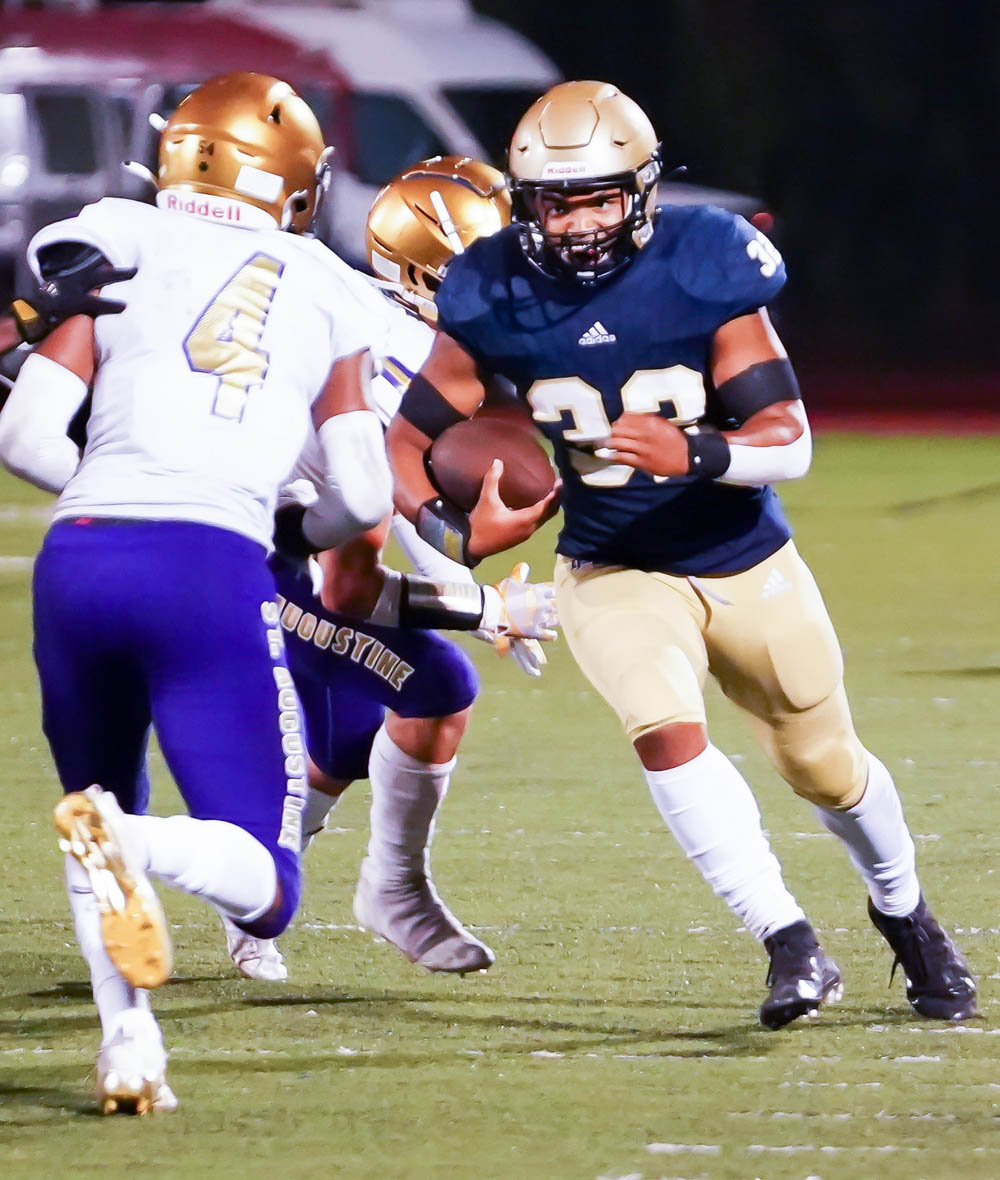 Nankil completed his third touchdown pass of the game to junior Surahz Buncom with 5:49 to play in the quarter. The eight-yard completion hiked the lead to 28-0.
Senior Anthony McMillian scored on a 15-yard carry with 11 ticks left on the clock in the quarter to provide the hosts with a 35-point lead they would not relinquish.
The Saints dropped to 1-5 on the season amidst a run of a punishing schedule, the Crusaders included.
Metro-Mesa League play kicks off this Friday as Mater Dei Catholic meets the Bonita Vista Barons in a 6:30 p.m. game at Southwestern College. The host Barons are 2-2 after posting a 37-13 non-league win at Classical Academy last Friday.
The Crusaders continue league play with an Oct. 8 game against Otay Ranch before hosting Eastlake (Oct. 15), Hilltop (Oct. 22) and Olympian (Oct. 29) in succession to end regular season play.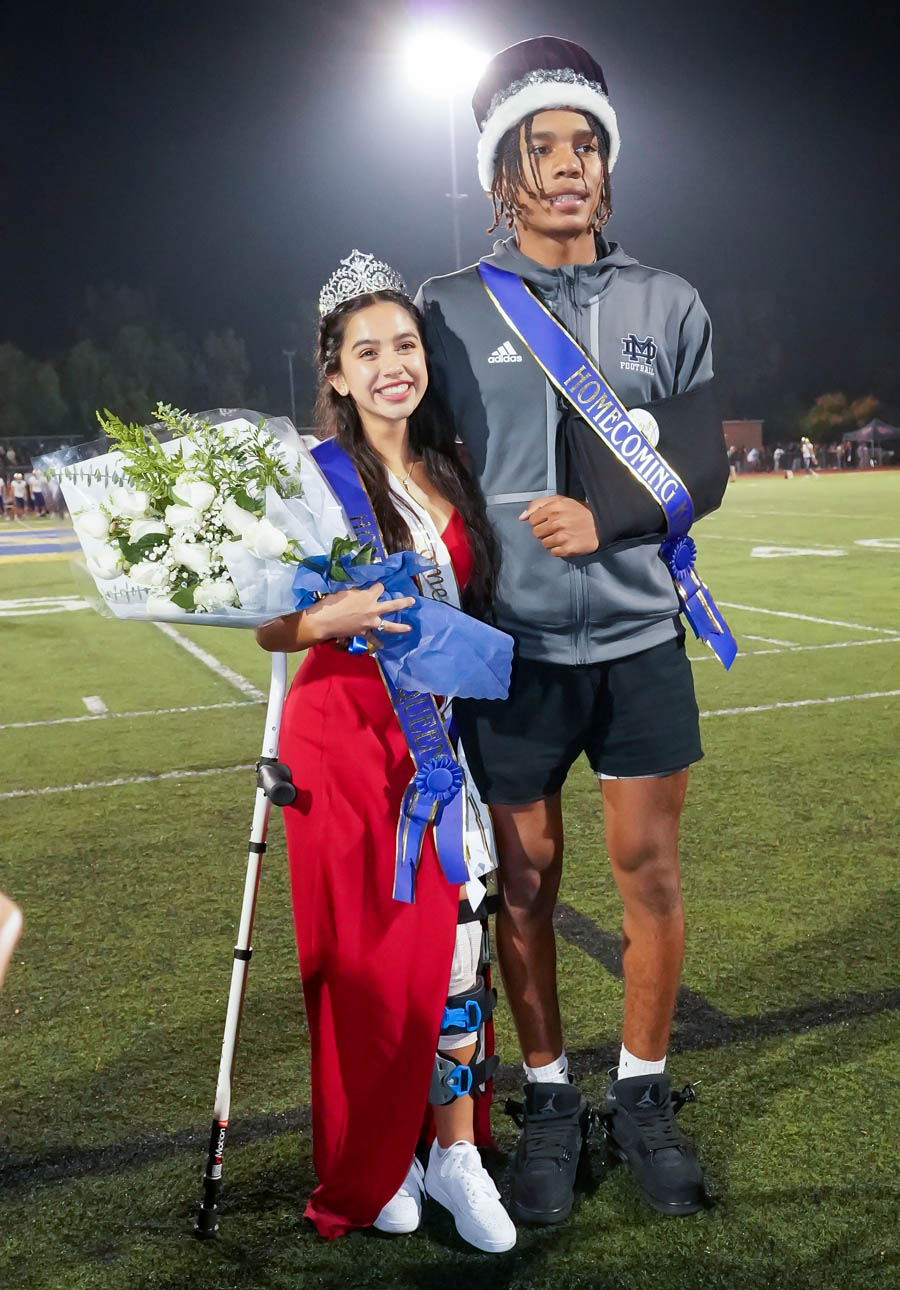 Mater Dei Catholic finds itself sitting at the top of the San Diego Section's Division III power rankings released for this week. The Crusaders remain the top-ranked high school football team in South County, ranking fourth overall in the section in the MaxPreps weekly rankings.
Eastlake (3-2) sits eighth in the section's Division I power rankings, 10th overall in the section by the MaxPreps algorithm.
Otay Ranch (1-3) is third in the section's Division II power rankings, fourth overall in the division in the MaxPreps ratings system.
"It should be a tough league again," Joyner assessed. "I think Otay Ranch will be very tough. They have played a very tough schedule but are well coached and talented. Eastlake is the defending champion and seems to be playing phenomenal defense like usual. It should be a fun stretch."
St. Augustine senior quarterback Kyle Herburger completed 13 of 24 passing attempts for 182 yards with two interceptions. The Saints were limited to 51 rushing yards on 23 carries for an average of 2.2 yards per rush. Senior Isaiah Pressley gained 52 yards on 17 carries but Herburger lost 13 yards on five carries to put a dent into the overall rushing ledger.
Sophomore Johnny Scott led St. Augustine receivers with 57 yards on three catches while senior Justin Stearns did haul in one completion for 55 yards.
Pressley (575 rushing yards, five total TDs on the season) did ignite the Saints cheering section with one 32-yard gain in the second half.
St. Augustine kicks off City Conference Western League play this Friday at Lincoln (4-1). Game time is 7 p.m.
The Hornets are coming off a 52-0 non-league win against visiting Otay Ranch last Friday.
Barons triumph
Bonita Vista bounced back from a 47-0 homecoming loss to visiting Patrick Henry by scoring five touchdowns in the win over the host Caimans (0-5).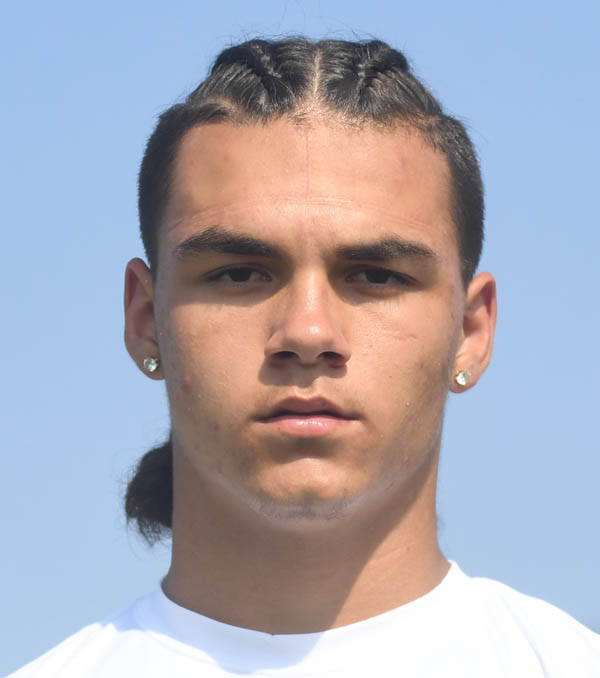 Junior Dante Herrero (10 carries, 57 yards) led the Barons with two rushing touchdowns while seniors Malosi Iuli (three carries, 99 yards) and Alexander Jennen (four carries, 14 yards) also scored via the rush.
Junior Dante Scott (two catches, 31 yards) caught one touchdown pass while senior Julian Acosta connected on a 35-yard field goal.
Iuli scored on a 70-yard burst while making two interceptions on defense.
The visitors generated 273 rushing yards and only 40 passing yards in the victory. Senior Nathan Roble-Cristobal completed two of seven attempts for 19 yards and one touchdown while junior Juanmanuel Gomez completed two of five attempts for 21 yards.
"It was nice for us to rebound after our homecoming loss to Patrick Henry," BVHS head coach Tyler Arciaga said. "We have a tough Mesa League schedule coming up starting with Mater Dei, which is a top five team in the county."
Titans foiled at El Camino
Tenth-ranked Eastlake fell 15-9, in last Friday's non-league game at El Camino despite a two-yard scoring pass from senior Nicolas Peters to senior Isaiah Hinojosa in the first quarter and a 27-yard field goal by junior Kalen Jones in the fourth quarter.
The Titans (3-2) recorded three sacks, one interception and two fumble recoveries on defense in the loss.
Metro Conference Football Scoreboard
Friday, Sept. 24
South Bay League
Montgomery 39, Castle Park 0
Chula Vista 34, San Ysidro 14
Non-League
Mater Dei Catholic 35, St. Augustine 0
Bonita Vista 37, Classical Academy 13
Sweetwater 20, Canyon Hills 19
Mar Vista 32, Army-Navy Academy 23
El Camino 15, Eastlake 9
Lincoln 52, Otay Ranch 0
Escondido 38, Hilltop 0
Oceanside 49, Olympian 0
Friday, Oct. 1
South Bay League
Chula Vista at Castle Park, 6:30 p.m.
San Ysidro at Sweetwater, 6:30 p.m.
Mesa League
Otay Ranch at Hilltop, 6:30 p.m.
Olympian at Eastlake, 6:30 p.m.
Bonita Vista vs. Mater Dei Catholic, 6:30 p.m. at Southwestern College
EIGHT MAN
Friday, Sept. 24
Citrus League
Victory Christian Academy 56, Warner 0
San Diego Section Power Rankings
(Through Sept. 25)
Division I: 1. Cathedral Catholic (4-2), 2. Carlsbad (5-0), 3. Torrey Pines (3-1), 4. Madison (4-1), 5. Mission Hills (3-2), 6. Lincoln (4-1), 7. Helix (3-2), 8. Eastlake (3-2), 9. El Camino (3-2), 10. Grossmont (2-4), 11. Oceanside (3-2), 12. Granite Hills (4-2), 13. St. Augustine (1-5), 14. Steele Canyon (1-5), 15. La Costa Canyon (2-3), 16. San Marcos (0-5)
Division II: 1. Scripps Ranch (4-0), 2. Poway (3-2) 3. Otay Ranch (1-3), 4. La Jolla (3-3), 5. Mira Mesa (2-2), 6. Rancho Bernardo (3-2), 7. Valley Center (2-3), 8. Morse (3-1), 9. Christian (4-2), 10. San Pasqual (4-1), 11. San Diego (5-1), 12. Central Union (1-4), 13. Bishop's (4-1), 14. Olympian (0-4), 15. Vista (2-3), 16. Point Loma (2-3)
Division III: 1. Mater Dei Catholic (4-0), 2. Santa Fe Christian (5-0), 3. Santana (5-0), 4. Mt. Carmel (5-0), 5. Ramona (3-2), 6. West Hills (6-0), 7. El Capitan (4-1), 8. Westview (1-4), 9. Imperial (3-2), 10. Brawley (4-2), 11. Bonita Vista (2-2), 12. Orange Glen (3-1), 13. Canyon Hills (1-4), 14. Kearny (0-4), 15. Escondido (3-3), 16. Hilltop (1-4), 17. Monte Vista (0-5)
Division IV: 1. Coronado (5-1), 2. University City (3-2), 3. Rancho Buena Vista (4-2), 4. Del Norte (3-2-1), 5. Patrick Henry (3-2), 6. Francis Parker (3-2), 7. Valhalla (1-5), 8. Southwest El Centro (2-3), 9. Sweetwater (1-3), 10. La Jolla Country Day (4-1), 11. Mar Vista (3-3), 12. Montgomery (3-2), 13. Vincent Memorial (3-2), 14. Mount Miguel (1-2), 15. Chula Vista (2-2), 16. Classical Academy (0-5), 17. Castle Park (0-6)
Division V: 1. Palo Verde Valley (3-2), 2. Mission Bay (4-1), 3. Holtville (5-0), 4. Army-Navy Academy (4-2), 5. Fallbrook (2-4), 6. Escondido Charter (5-0), 7. Calexico (3-2), 8. O'Farrell Charter (1-4), 9. Crawford (1-5), 10. El Cajon Valley (2-4), 11. Maranatha Christian (1-4), 12. San Ysidro (3-2), 13. Foothills Christian (2-3), 14. Tri-City Christian (0-5), 15. Hoover (2-4), 16. Mountain Empire (2-3), 17. Calipatria (2-2), 18. Clairemont (0-6)
MaxPreps Football Rankings
Top 25 Teams
1. Cathedral Catholic (4-2), 2. Carlsbad (5-0), 3. Lincoln (4-1), 4. Mater Dei Catholic (4-0), 5. Mission Hills (3-2), 6. Torrey Pines (3-1). 7. Helix (3-2), 8. Scripps Ranch (4-0), 9. El Camino (2-2), 10. Eastlake (3-2), 11. Poway (3-2), 12. Madison (4-1), 13. Mt. Carmel (5-0), 14. Oceanside (3-2), 15. Granite Hills (4-2), 16. Mira Mesa (2-2), 17. Otay Ranch (1-3), 18. St. Augustine (1-5), 19. Rancho Bernardo (3-2), 20. Santa Fe Christian (5-0), 21. La Jolla (3-3), 22. Ramona (3-2), 23. La Costa Canyon (2-3), 24. Steele Canyon (1-5), 25. West Hills (6-0)
Division I: 1. Cathedral Catholic (4-2), 2. Carlsbad (5-0), 3. Lincoln (4-1), 4. Mission Hills (3-2), 5. Torrey Pines (3-1), 6. Helix (3-2), 7. El Camino (2-2), 8. Eastlake (3-2), 9. Madison (4-1), 10. Oceanside (3-2), 11. Granite Hills (4-2), 12. St. Augustine (1-5), 13. La Costa Canyon (2-3), 14. Steele Canyon (1-5), 15. Grossmont (2-4), 16. San Marcos (0-5)
Division II: 1. Scripps Ranch (4-0), 2. Poway (3-2), 3. Mira Mesa (2-2), 4. Otay Ranch (1-3), 5. Rancho Bernardo (3-2), 6. La Jolla (3-3), 7. San Pasqual (4-1), 8. Christian (4-2), 9. Valley Center (2-3), 10. Point Loma (2-3), 11. San Diego (5-1), 12. Bishop's (4-1), 13. Vista (2-3), 14. Central Union (1-4), 15. Morse (3-2), 16. Olympian (0-4)
Division III: 1. Mater Dei Catholic (4-0), 2. Mt. Carmel (5-0), 3. Santa Fe Christian (5-0), 4. Ramona (3-2), 5. West Hills (6-0), 6. Santana (5-0), 7. Brawley (4-2), 8. El Capitan (4-1), 9. Imperial (3-2), 10. Orange Glen (3-1), 11. Escondido (3-3), 12. Westview (1-3), 13. Bonita Vista (2-2), 14. Canyon Hills (1-4), 15. Hilltop (1-4), 16. Monte Vista (0-5), 17. Kearny (0-4)
Division IV: 1. Del Norte (3-2), 2. University City (3-2), 3. Patrick Henry (3-2), 4. Coronado (4-1), 5. Rancho Buena Vista (4-2), 6. La Jolla Country Day (4-1), 7. Sweetwater (1-3), 8. Montgomery (3-2), 9. Mount Miguel (1-2), 10. Francis Parker (3-2), 11. Valhalla (1-5), 12. Mar Vista (3-3), 13. Southwest El Centro (2-3), 14. Vincent Memorial (3-2), 15. Chula Vista (2-2), 16. Classical Academy (0-5), 17. Castle Park (0-6)
Division V: 1. Mission Bay (4-1), 2. Palo Verde Valley (3-2), 3. Escondido Charter (4-0), 4. Holtville (5-0), 5. Fallbrook (2-4), 6. Calexico (3-2), 7. Mountain Empire (2-3), 8. Army-Navy Academy (4-2), 9. San Ysidro (3-2), 10. Crawford (1-5), 11. O'Farrell Charter (1-4), 12. El Cajon Valley (2-4), 13. Tri-City Christian (0-5), 14. Calipatria (2-2), 15. Foothills Christian (2-3), 16. Maranatha Christian (1-4), 17. Hoover (1-4), 18. Clairemont (0-6)