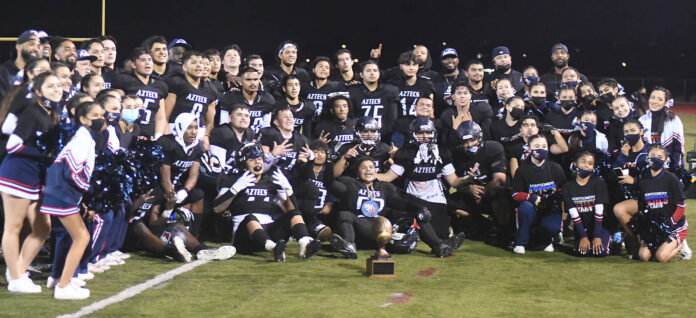 The Montgomery High School football team would like to think it still has something left in the tank after graduating a sensational class of 2021 in June.
Groups as talented as that come around maybe once in a decade and that group unfortunately due to circumstances beyond its control was not able to participate in postseason play because of the San Diego Section playoffs having been canceled due to the coronavirus pandemic.
The 2021 fall edition of the Aztecs have something to prove in their own right, which might possibly include a league championship and a trip to the CIF playoffs.
Montgomery flexed its muscles in last Friday's 39-0 win over neighborhood rival Castle Park in the teams' latest edition of the Warrior Bowl. The Aztecs have now won the last three rivalry games since coaches Freddy Dunkle and Demarco Sampson & Co. have taken reins of the team.
Last Friday's victory pushed Montgomery's early season record at 3-2 overall and gave the Otay Mesa team a 1-0 record in South Bay League play.
Castle Park dropped to 0-2 in league play, 0-6 overall.
"It's exciting anytime you can play a rival," said Dunkle, who graduated from neighboring Castle Park before playing college football at San Diego State University. "Getting the first league win is always important."
The Aztecs scored six touchdowns in the win over the Trojans, including three in rapid-fire succession to take a 20-0 lead.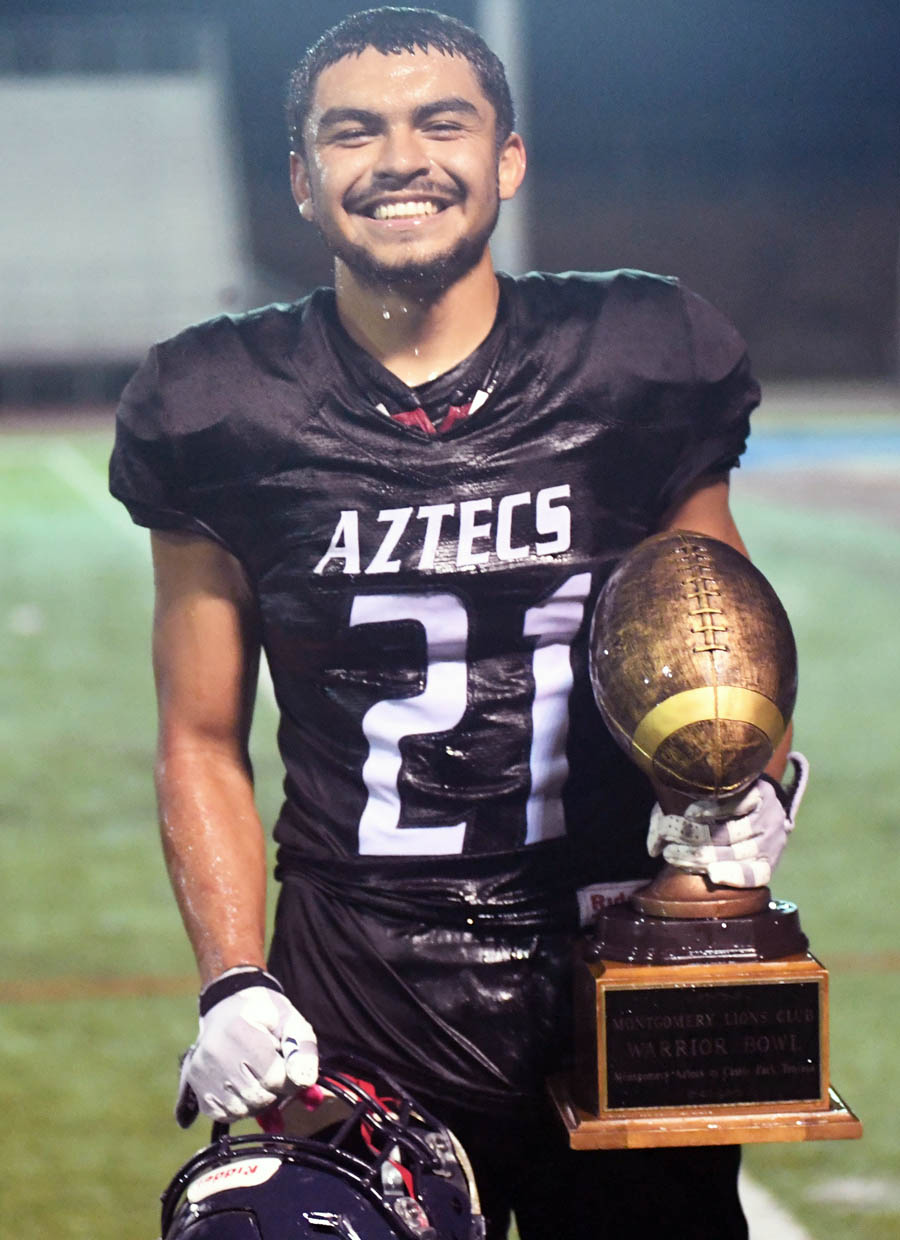 Junior Jordan Benton returned Castle Park's first punt of the game to the Trojan 21-yard line. Junior Isaac Cervantes (six carries, 31 yards) bowled in from five yards out for the first touchdown of the game with 9:35 left in the opening quarter. Senior Francisco Rodriguez supplied the extra-point conversion and the hosts led 7-0.
The Aztecs doubled their lead with 4:35 remaining in the quarter when junior Victor Flores (six carries, 55 yards) scored from one yard out and Rodriguez once again supplied the conversion.
Flores' TD was set up by an interception by senior Levi Garcia.
Senior Juan Estrada (four carries, 102 yards) scored three of Montgomery's final four touchdowns in the game, starting with a 14-yard catch in the endzone.
The Trojans blocked the extra-point attempt, but Rodriguez got another chance when senior Cody Johnson caught a 45-yard scoring pass from junior quarterback Ryan Vasquez just before halftime.
Vasquez (four-of-eight, 87 passing yards) alternated at the signal-calling position with senior Ansel Flanagan (two-of-seven, 27 passing yards). Vasquez threw a pair of touchdown passes while being intercepted once.
Estrada made the score 33-0 on a 30-yard run with 2:32 to play in the third quarter and concluded scoring with a 49-yard breakaway run midway through the fourth quarter.
The fourth quarter was played with a running clock.
Estrada collected 116 all-purpose yards in the win.
He was doused with water by teammates following a post-game television interview.
"The offensive line made it easy for me by opening holes for me to run through," said Estrada, who tops the Aztecs with nine touchdowns on the season (five rushing, three receiving, one fumble return). "It's great to keep the trophy. Castle Park is just down the street, they're in the neighborhood."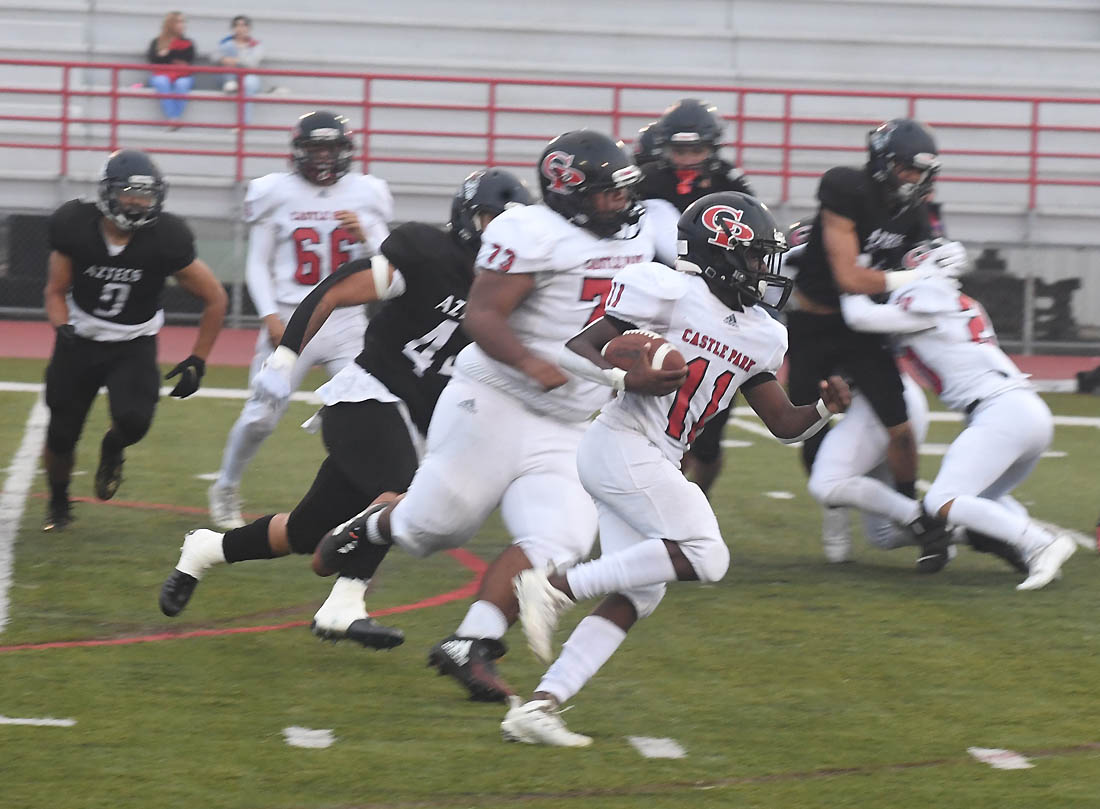 Benton finished the game with 81 all-purpose yards. Besides 37 yards on punt returns, he had two catches for 32 yards while rushing for 12 yards.
Montgomery rolled up 327 total offensive yards, including 217 rushing yards. Sophomore Arath Leyva had two carries for 22 yards to help round out the ground game. He also led the team with 10 tackles.
Junior Gideon Baraka had one sack to go with six tackles. Flores also had a fumble recovery.
The Aztecs finished as the second-ranked team (behind Patrick Henry) in the Division IV rankings during the 2021 spring season. They find themselves bouncing around in the middle of the division rankings this season.
Five of the six South Bay League teams are included in the section's Division IV power rankings. Sweetwater leads the group at No. 9 in the latest Week 6 release, followed by Mar Vista at No. 11, Montgomery at No. 12, Chula Vista at No. 15 and Castle Park at No. 17.
San Ysidro sits at No. 12 in the Division V power rankings.
Chula Vista improved to 2-0 in South Bay League play after defeating San Ysidro, 34-14, last Friday. Mar Vista snapped a three-game losing streak with last Friday's 32-23 non-league win over visiting Army-Navy Academy to even its season record at 3-3.
San Ysidro is 1-1 in league, 3-2 overall.
"There's a couple tough teams out there in our league," Dunkle acknowledged. "We're looking at it week by week. Our league is solid. We respect everyone out there."
The Aztecs have a bye this week before hosting Sweetwater on Oct. 8 and Mar Vista on Oct. 15. Montgomery plays at San Ysidro on Oct. 22 and at Chula Vista on Oct. 29.
All four games should be extremely competitive.
The Trojans moved the ball between the red zones but were unable to score a touchdown while recording several defensive takeaways in the neighborhood rivalry matchup.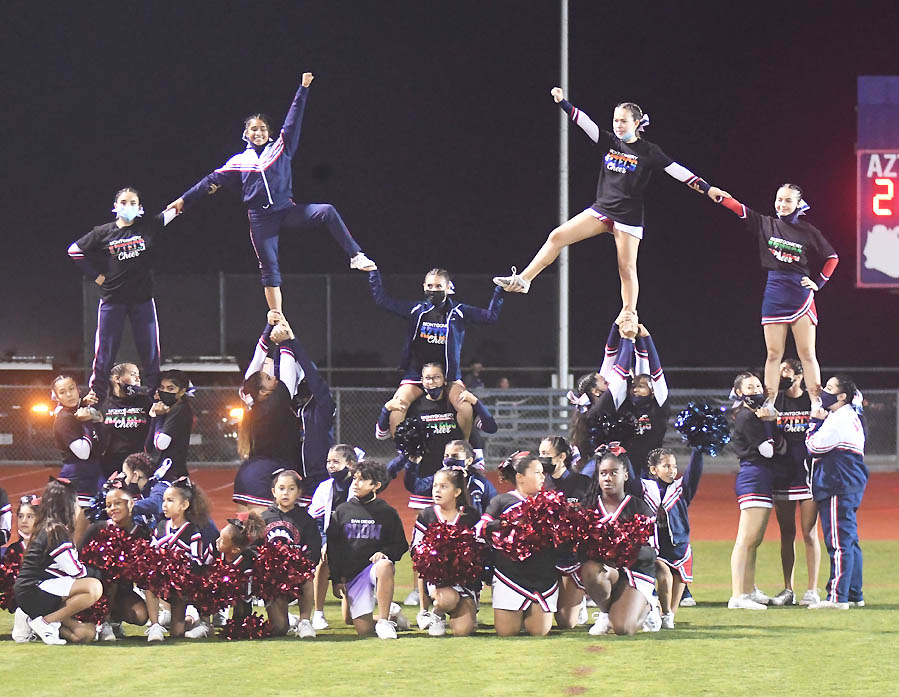 Metro Conference Football Scoreboard
Friday, Sept. 24
South Bay League
Montgomery 39, Castle Park 0
Chula Vista 34, San Ysidro 14
Non-League
Mater Dei Catholic 35, St. Augustine 0
Bonita Vista 37, Classical Academy 13
Sweetwater 20, Canyon Hills 19
Mar Vista 32, Army-Navy Academy 23
El Camino 15, Eastlake 9
Lincoln 52, Otay Ranch 0
Escondido 38, Hilltop 0
Oceanside 49, Olympian 0
Friday, Oct. 1
South Bay League
Chula Vista at Castle Park, 6:30 p.m.
San Ysidro at Sweetwater, 6:30 p.m.
Mesa League
Otay Ranch at Hilltop, 6:30 p.m.
Olympian at Eastlake, 6:30 p.m.
Bonita Vista vs. Mater Dei Catholic, 6:30 p.m. at Southwestern College
EIGHT MAN
Friday, Sept. 24
Citrus League
Victory Christian Academy 56, Warner 0