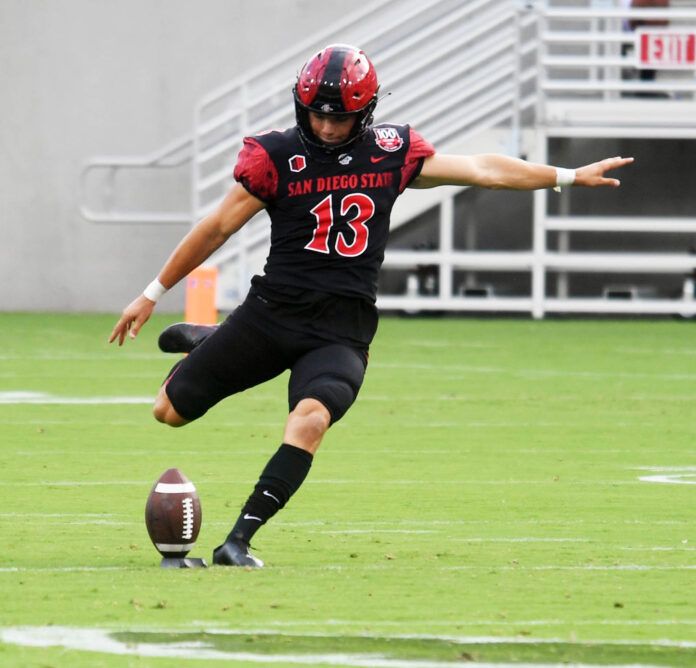 With injuries to SDSU's existing quarterbacks for last Saturday's game against Hawaii at Snapdragon Stadium, safety Jalen Mayden suited up behind center for the Aztecs. He did a remarkable job with 24 completions in 36 attempts for 322 yards with one touchdown and two sacks in a dramatic 16-14 victory in the team's Mountain West home opener.
How dramatic? Junior Jack Browning kicked a 26-yard field goal with seven seconds remaining in regulation to overturn a 14-13 Hawaii lead.
It was Browning's career-high third field goal of the game to go with one successful extra-point conversion.
The West Hills alumnus continues to lead SDSU in team scoring through six games with 39 points (nine field goals, 12 extra-point conversions).
The Rainbow Warriors had inched ahead with 1:19 to play in the fourth quarter on a 22-yard run by Dedrick Parson. Matt Shipley's PAT gave the visitors a one-point lead.
But the Aztecs responded with seven-play game-winning drive covering 56 yards. Key plays included a 14-yard pass from Mayden to Tyrell Shavers, a pass interference penalty and a 16-yard pass to Brionne Penny to the Hawaii nine-yard line.
SDSU initially had squandered a 10-0 lead on a 45-yard field goal by Browning (the only points in the first half) and a five-yard scoring pass from Mayden to Jordan Byrd early in the third quarter.
The Rainbow Warriors responded with a 66-yard pass completion from Brayden Schager to Zion Bowers to trim the Aztec lead to 10-7.
Browning converted a 30-yard field goal early in the fourth quarter to extend the SDSU lead to 13-7.
While the SDSU offense continues to struggle in scoring points, Browning has been a player to count on during the first half of the 2022 season. He is nine-for-10 in field goal tries and perfect on 12 extra-point conversions.
Browning punted five times for a 44.8-yard average with a long of 53 yards while placing three punts inside the Hawaii 20-yard line.
Browning missed his first field goal attempt of the season with 4:57 to play in the fourth quarter but quickly made amends with his game-winning boot 4:50 later.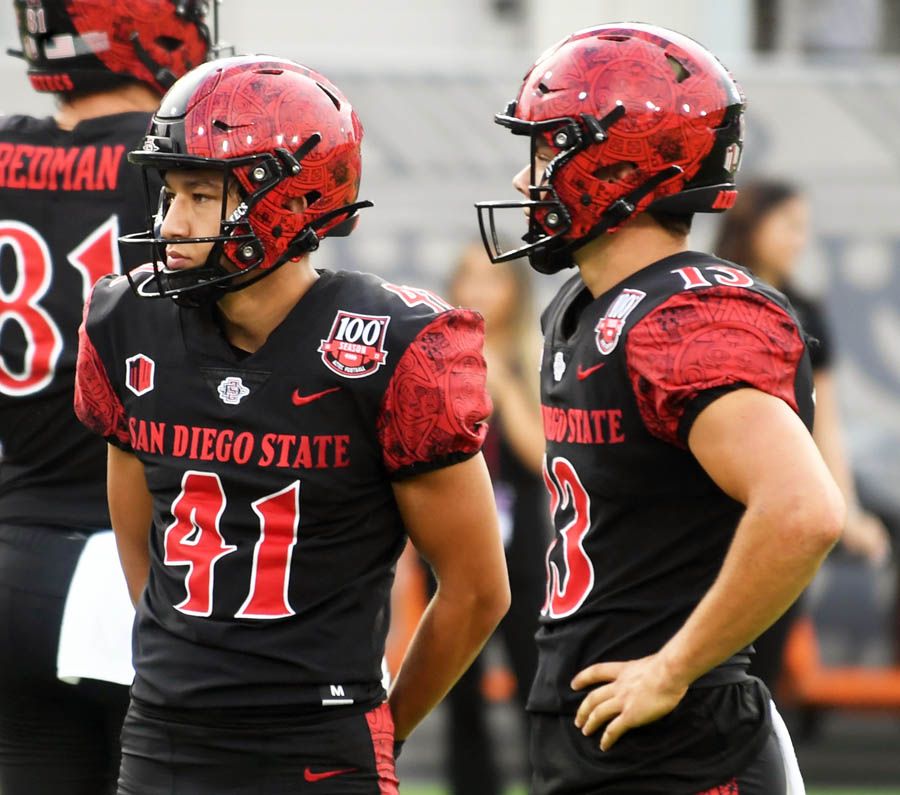 "That was a heck of a finish," SDSU head coach Brady Hoke said. "I am really proud of Jack Browning and how he came back after that missed field goal. I'm proud of the offense and how they went down with the last drive, and obviously, quarterback Jalen Mayden had something to do with that.
"We're excited to get to win like everybody; that's what we're in this for. From an offensive standpoint, we did a nice job, and we were balanced. Defensively, we'll need to shore some things up when we look at tackling; we need to tackle a little better."
Red and Black
The Aztecs out-gained the Rainbow Warriors 417-342 in total offensive yards, holding a 322-196 advantage in net passing yards. Hawaii won the rushing battle 146-95.
Shavers had an explosive night with eight catches for 149 yards, including 49 yards after catch. Christian alumnus Jesse Matthews caught six passes for 68 yards while Penny had four catches for 54 yards as Mayden spread the ball around to his receivers.
Mekhi Shaw had four catches for 28 yards and Byrd caught one pass for 15 yards. Mark Redman had one catch for eight yards.
Chance Bell keyed SDSU with 53 net rushing yards on seven carries while Byrd had 22 yards on 10 carries. Mayden wound up with nine net yards on eight rushing attempts.
Mayden's 322 yards were the most by an Aztec quarterback in his starting debut since Lindley threw for 352 against Cal Poly on Aug. 30, 2008. The yardage was the most in a debut in an Aztec win since Kevin McKechnie threw for 371 against Navy on Sept. 5, 1997.
"I would be lying if I said I saw this coming, but Jalen is a good athlete," Hoke said in regard to Mayden's eye-opening performance. "He's played a lot of football; he is an intelligent guy, and he can pick up things really well. The time that he and quarterbacks coach Ryan Lindley spent together since Ryan got here last Sunday was unbelievable. Just like Jalen said, I asked him if he was interested, and he said, 'If it helps, I'll do it.'"
The Aztecs (1-1 in conference, 3-3 overall) continue to draw well at Snapdragon Stadium with 33,073 fans in attendance for Saturday's game.
SDSU next travels to Nevada-Reno (currently 0-2 in conference, 2-4 overall) for its third conference game on Oct. 22 following a much-needed bye week.
Hoke said the plan for the bye week is to get the word out about Aztec football in the community.
"We've got a lot of recruiting that we'll do," Hoke said. "A lot of the guys will be out for four days and will go to football games and high schools, and then we'll get back together on Tuesday and have about an hour or practice. It's all going to be based on fundamentals and techniques, things that we haven't done well. In our situation, it gives coach Lindley a chance to get to know his guys and get more adjusted into the verbiage and what we're trying to do offensively."
MW standings
West division: San Jose State 2-0 (3-0), UNLV 2-1 (4-2), SDSU 1-1 (3-3), Fresno State (0-1, 1-4), Hawaii 0-1 (1-5)
Mountain division: Boise State 3-0 (4-2), Colorado State 1-0 (1-4), Wyoming 2-1 (4-3), Utah State 1-1 (2-4), Air Force 1-2 (4-2), Nevada 0-2 (2-4), New Mexico 0-3 (2-4)
Ex-Aztec star Lindley named team's new quarterbacks coach
El Capitan High School alumnus Ryan Lindley, SDSU's all-time passing leader, joined the Aztecs staff as an assistant coach on Oct. 3. Lindley, who served as a graduate assistant coach with the Aztecs for part of the 2018 season, will coach the SDSU quarterbacks.
Lindley was a four-year starter at San Diego State from 2008-11, where he set program passing records in yards (12,690), touchdowns (90), completions (961), attempts (1,732), starts (49), consecutive starts (44) and victories (23, which has been broken).
Lindley was a second-team all-MW selection in 2010, a three-time MW Offensive Player of the Week and a four-time Byron H. Chase Memorial Trophy honoree (SDSU's outstanding offensive player).
Lindley was drafted by the Arizona Cardinals in the sixth round of the 2012 NFL Draft. For his NFL career, he played in nine games at Arizona and started six times, and later played in one game for Indianapolis during the 2015 season. Lindley finished his professional career with the Ottawa Red Blacks of the Canadian Football League in 2017, throwing for 391 yards and a touchdown, and scoring five touchdowns on the ground.
Following his first stint at San Diego State as a graduate assistant in 2018, Lindley worked in the NFL with the Cleveland Browns as the running backs coach for the rest of the 2018 campaign and the quarterbacks coach in 2019. He then returned to the college ranks, becoming an offensive analyst at Utah for 2020, working with former Aztec offensive coordinator Andy Ludwig, before spending the past two seasons at Mississippi State as a defensive analyst with former SDSU defensive coordinator Zach Arnett.
After graduating in 2011, Lindley helped coach numerous players leading up to the NFL Draft, including quarterbacks Carson Wentz, Jared Goff, Mitch Trubisky, C.J. Beathard and Luke Falk.
Lindley and his wife, Lindsay, have a son, Caden.
***
The quarterbacks coaching position opened up after the Aztecs parted ways with offensive coordinator/quarterbacks coach Jeff Hecklinski in the wake of SDSU's 35-13 loss at Boise State in the team's Mountain West opener on Sept. 30.
The Aztecs took a 13-0 lead in the game on field goals of 21 and 25 yards from junior Jack Browning and a 36-yard blocked punt return by Tyrell Shavers.
The Broncos did the rest of the scoring — all in the fourth quarter.
The three SDSU quarterbacks in the game combined for two completions in 16 attempts with one interception.
Starter Braxton Burmeister was two-for-eight for 33 yards with one pick while backup Lui Aumavae failed to complete a pass in seven attempts. Kyle Crum was 0-for-1.
Southwestern College 2022 Football Schedule
September
3: Grossmont 41, Southwestern 31
10: College of Canyons 43, Southwestern 7
17: Palomar 17, Southwestern 0
24: Cerritos 63, Southwestern 24
October
1: Chaffey 42, Southwestern 27
8: Bye
15: Southwestern at Golden West, noon
22: Southwestern at Fullerton, 6 p.m.
29: Saddleback at Southwestern, 6 p.m.
November
5: Southwestern at San Bernardino Valley, 6 p.m.
12: Southwestern at San Diego Mesa, 6 p.m.