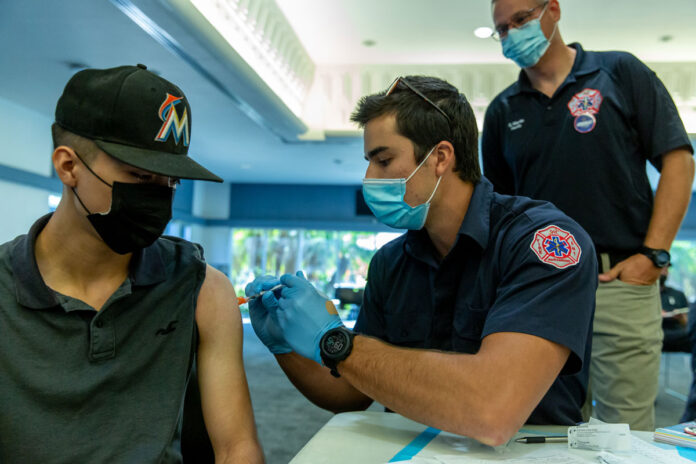 Students at Southwestern College are receiving a boost in health services and education in the recent partnership with San Ysidro Health, as the Delta variant of the COVID-19 virus is a prime target for the demographics in the area.
Latinos and other communities of color are most of the college's population, and while the Health and Human Services Association states that the vaccination rate in the U.S. is at about 69.8%, the Hispanic or Latino population are at 29.8%.
The partnership between San Ysidro Health and the colleges paramedic, EMT, and nursing students set out to make a difference in these numbers, one patient at a time.
San Ysidro Health vice president of External Affairs Ana Melgoza said this partnership is much more than only providing COVID vaccines and HIV testing. She said there is a shortage of healthcare workers, and the pandemic created a larger gap with many workers leaving due to COVID burnout. She said another reason for the shortage is the high cost of tuition that sends new workers into specialty care to pay off huge student loans.
"Clinics like San Ysidro Health clinics…are nonprofit and working in the most underserved resource areas with a high-need population. During the pandemic, we saw infection rates four to five times higher. We must compete with these private practices for healthcare workers," Melgoza said.
The clinic found that if they introduce people to its patients, staff, and facilities while in school they get an idea of improving the health in underserved communities with its "access for all" mission, and that many are drawn to work there because of its family and demographics.
"For us to partner with Southwestern College, the EMT and nursing students are experiencing firsthand working with our staff. It has been such a fruitful experience," she said. Recently "the vibes, the camaraderie, and the passion that everyone was providing to unvaccinated students and members of the community. It felt wonderful."
The sooner that San Ysidro Health can connect with potential employees, the better it is for the entire community, said Melgoza.
"When you get care from someone who is like your neighbor, you get better care," she said. "People know you. They see you. There is a connection with you. And that really is the competitive advantage in healthcare. It is that bedside manner. When you feel seen, and you feel that connection you automatically have the feeling that you are getting better care. That is what this partnership is really about."
Melgoza said that the first day, with 23 vaccinations, might seem unimpressive, but there is a lot of meaning behind those numbers.
"These are people that are very much on the margin," she said. "The county has done a fabulous job and we have partnered with them in those initial campaigns and popup clinics.
There was a huge rush initially of vaccines being administered. Now, mandates are helping, the FDA approval of Pfizer is helping, but if you look at every single student that we vaccinated yesterday, none of that mattered. What mattered to them was knowing that they could still work out after the vaccine because no one had ever answered that question. It took a peer. Someone who looked like them, to explain to them the side effects of the vaccine, and what they can do after they receive it. Just that one question allowed someone to get vaccinated. There is still hesitation, and in this distinct demographic, they are distracted from these major campaigns."
She said on that first day what they saw was "friends calling friends" and telling them to come to Southwestern because it was offering free vaccinations, another barrier as this age group does not have money and many do not work.
"Other questions asked were, 'Can I still go out and party?' Yes. 'Am I going to become sterile?' No. It does not matter if [Dr. Anthony] Fauci is saying this, or that the governor is saying this. It does not even matter if a doctor is saying this. What matters is that their peer is telling them. And that is what this campaign is all about," she said.
Geoffrey Martin, assistant professor of Emergency Medical Technology and Paramedic programs said this partnership is exciting because due to the pandemic, its 2019/20 class were not able to do some of the things like before the pandemic, such as ride alongs with ALS ambulances 911 system.
"The ambulance system could not afford to take them in, so we started doing some of the COVID clinics," he said. "Students started giving the shots just like they were doing today. It gave us a way to give students real patient contacts, where they could not get them on the ambulances last semester."
He said students working with San Ysidro Health can learn a little administrative work, talk with patients, answer questions they might have, especially with the vaccine hesitancy going on now.
"The students have been doing well," he said. "This group that was here today, this is their first vaccine clinic because they are a new cohort of paramedic students. They were very excited because they just started paramedic school and are getting to do some of these skills. The class before them did anywhere between five and 10 clinics. The clinics were much busier then, seeing 300 to 500 people a day, so each student would do two of these intramuscular injections for the vaccine. This setting is great because it also helps them get some of the interpersonal skills."
Martin said it is talks with San Ysidro Health about its students working in their clinics as he believes it is a great opportunity to gain experience in their education.