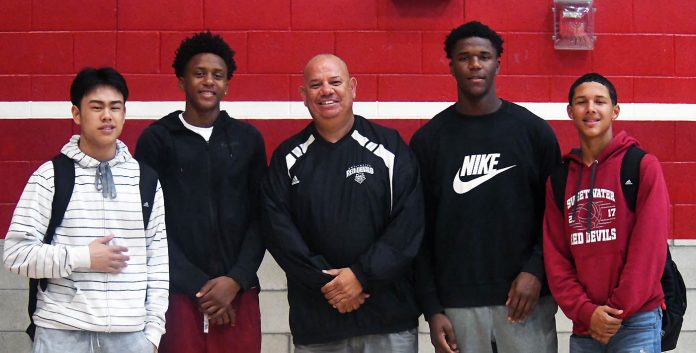 The 2018 edition of the Sweetwater Host Lions Club Frank Pekarek Memorial Tournament is in full sway on the Red Devils' campus in National City. Twelve teams are entered in the event, including a team from North Carolina.
Sweetwater has opened with a 2-1 record while fellow South Bay League rival Southwest, last season's San Diego Section Division V champion, has tipped off play with a 2-1 start, including a 63-60 overtime loss to South Granville from Creedmoor, N.C.
"Southwest is one of the top teams in this tournament and the team from North Carolina is pretty darn good," SuHi head coach/tournament director Jesse Aguirre assessed of the quality present in this year's tournament field.
"They (the North Carolina team) are solid," Aguirre noted. "They are fast and athletic."
Helix remained unbeaten in tournament play following Tuesday's 75-27 blowout win over Kearny. The Highlanders are 2-0 in pool play after previously downing Lincoln, 45-42, on Monday.
Sweetwater dropped its tournament opener to Lincoln, 58-47, last Friday.
"Helix is as strong as ever, strong man-to-man as ever," Aguirre said.
Seeing red
The Red Devils rebounded with wins over Central Union (85-53) on Saturday and Crawford (69-47) on Monday
Sophomore Craig McMillan dropped in 23 points while grabbing 12 rebounds in the win over Central Union while senior transfer C.J. Jackson contributed 15 points and 12 boards.
Overall, five Devils finished in double digits in the scoring column in the win over Central Union. Junior Ariene Velasco dropped in 14 points while junior Isai De Leon had 12 points and junior Jeilien Jackson had 11 points.
McMillan poured in 23 points and added nine rebounds in the win over Crawford while C.J. Jackson had 20 points and 13 rebounds.
The Jacksons are transfers from Mount Miguel after moving into the area. C.J. Jackson stands 6 feet, 7 inches tall and has understandably been an impact addition to the team.
The older Jackson brother is averaging 15.3 points per game and 8.5 rebounds per game in Sweetwater's 3-3 start to the season. He had 17 points and 15 rebounds in last Friday's loss to Lincoln.
McMillan tops the Devils with a 20.7 scoring average and 13.3 rebounding average.
Sweetwater closes out its four tournament games with a contest against Kearny at 8 p.m. on Wednesday.
Otay Ranch improved to 2-0 in tourney play after overwhelming Crawford, 94-42, on Tuesday. Diego Sanchez led the Mustangs (6-4) with 21 points while Ray King and J.D. Singson each added 19 points.
The Mustangs tipped off tournament play with a 95-75 win over Central Union on Saturday.
Otay Ranch tangles with Lincoln on Thursday and closes out pool play with a game against Kearny on Friday.
"If we can beat Lincoln, I think we can go undefeated in the tournament," Mustang head coach Howard Suda said.
Otay Ranch continues to build on its 2-3 showing in the previous Hilltop tournament.
"Hilltop was a tough tournament," Suda said. "We lost two games in overtime (58-50 to Westview and 67-64 to Helix. We have bounced back well in this tournament."
Bonita Vista is also entered in this year's Sweetwater tournament field, though the Barons have started off 0-3 with losses to Southwest, Point Loma and Morse.
Bonita Vista wraps up pool play with a game Wednesday against Helix.
Point Loma and Morse are also 2-0 in tourney play so far.
Aguirre said due to non-league games and the intrusion of league play, championship finals could not be accommodated in this year's Sweetwater tournament, so teams are each playing four pool games instead.
In fact, Southwest tips off South Bay League play on Wednesday with a home game against Chula Vista. On Friday, Sweetwater hosts Hilltop while Southwest hosts Mar Vista.
Due to Sweetwater's league game on Friday, two Sweetwater tournament games will be played in the school's old gymnasium.
The 2018-19 South Bay League alignment includes the addition of San Ysidro along with returners Sweetwater, Southwest, Hilltop, Chula Vista, Mar Vista and Castle Park.
Sweetwater drew a bye in Wednesday's league openers. The Red Devils won last year's league title with a 9-1 record while Hilltop and Southwest tied for the runner-up spot with 7-3 league records.
Southwest went on to win the Division V section title and advance as far as the Southern California regional semifinals.
"It's going to be loaded," Aguirre said in handicapping this year's South Bay League championship race. "It's going to be competitive. San Ysidro is athletic. Coming off its CIF championship, Southwest is playing with a lot of confidence. I'd like to believe we're right with them."
The Devils tipped off the season with three games in the San Diego Tip-Off Classic at Montgomery High School, defeating Christian, 63-61, in its opener before dropping non-league contests to St. Augustine (92-37) and Santa Fe Christian (61-43).
McMillan (25 points, 10 rebounds) and C.J. Jackson (17 points, 25 rebounds) made an instant impression in the season opening win over Christian.
"I think we'll be all right," Aguirre noted. "We'll see on Friday."
Notepad
Helix finished its four games with a 3-1 record after topping Bonita Vista (0-4 in the tournament) by a score of 61-53 on Wednesday and dropping a 66-50 decision to South Granville.
The North Carolina team takes a 2-1 tourney record into Friday's tournament finale match-up against Morse. South Granville lost, 61-57, to Point Loma on Wednesday. Morse is bidding for a perfect ending to the tournament with a 3-0 following wins over Crawford, Bonita Vista and Central Union.
Sweetwater defeated the Kearny, 91-51, on Wednesday to improve to 3-1 in the tournament, 4-3 overall with the win.
Southwest topped Kearny, 76-59, on Thursday to finish tourney play 3-1. The Raiders are 10-5 overall.
Otay Ranch closes out tournament play with a 6:30 p.m. game on Friday with a chance to finish undefeated after topping Lincoln, 64-54, on Thursday. Ray King led the Mustangs with 22 points.
Point Loma topped Crawford, 77-28, on Thursday to finish tourney play 4-0. The Pointers swept through their bracket by defeating Bonita Vista, Central Union, South Granville and Crawford to improve to 8-1 on the season.