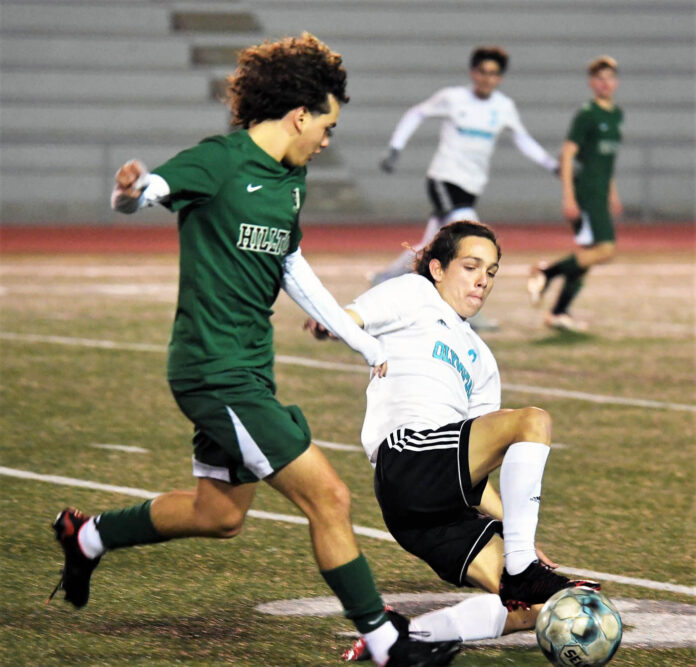 The San Diego Section power rankings have been released for boys and girls soccer and girls water polo for the 2022-23 winter sports season. These are the official rankings that will be used to determine playoff seeding.
South County teams are well represented in these initial rankings, including several teams ranked at or near the top of their respective divisions.
The soccer playoffs will include six divisions, including the Open Division, while the water polo playoffs will feature four divisions, including the Open Division.
Each league champion will be guaranteed a berth in the playoffs, including any play-in games.
One important note about the power rankings is that they remain fluid, with teams changing positions with each win or loss. They should be viewed as something trending rather than final, particularly at this point of the season.
Getting their kicks
The Division I soccer rankings include 20 teams – the top eight qualify for the Open Division and the remaining 12 teams will contend for the Division I title.
The top 12 teams in the power rankings for Division II, Division III, Division IV and Division V qualify for postseason play.
Among boys teams entering the week, Eastlake (14-1-2) topped the Division I power rankings while La Costa Canyon (7-4-3) was the top team in the Division II power rankings. Crawford (9-1-3) topped the Division III power rankings while La Jolla Country Day (9-3-1) topped the Division IV power rankings. The Preuss School (9-2-1) topped the Division V power rankings.
Eastlake stormed out to a 12-0-2 start before tasting a 2-0 defeat at the hands of the visiting Chula Vista Spartans in a non-league clash on Jan. 12. Despite the loss, the Titans – off to a 2-0-0 start in Metro-Mesa League play – appear to be the team to beat in this year's Open Division playoffs.
The Titans could be joined in the Open Division playoffs by the Sweetwater Red Devils, who held down the final No. 8 spot with a 1-0-1 league record and 6-3-3 overall mark entering the week.
In line for guaranteed berths in the reduced Division I playoff field following the Open Division cut are the Southwest Raiders with an 8-6-2 overall record and No. 13 ranking in the division.
The Division II field could get interesting with five Metro Conference teams in the mix and not too much to separate them on the pitch. Hilltop (8-3-6) entered the week at No. 4 in the division behind the front-running Mavericks, No. 2 Fallbrook (10-4-3) and No. 3 Steele Canyon (7-4-2). Not far behind were the Spartans (11-5-2) at No. 6 and the San Ysidro Cougars (6-6-1) at No. 7. The Montgomery Aztecs (6-6-4) were also contending for a playoff berth at No. 11 while the Olympian Eagles (3-9-5) were farther back at No. 17 in the 21-team division.
The scores between the teams are close, however. Hilltop kicked off Metro-South Bay League play with a 1-0 win at San Ysidro on Jan. 17 and hung on to edge visiting Olympian, 2-1, on Jan. 19.
Sophomore Nicolas Sanchez netted the game-winning goal in the road victory at San Ysidro, assisted by junior Christopher Tapia, while Sanchez and sophomore Albert Camacho staked the host Lancers to a 2-0 lead against the Eagles.
The latter stages of the Jan. 19 game, however, proved misleading on the scoreboard as the Eagles attacked in waves during the second half and were finally rewarded with a goal with 10 minutes to play to halve the deficit.
Senior Pablo Torrez had six saves in the game against Olympian and seven saves to record the shutout win over the Cougars.
"So far, it's been going great," Hilltop head coach Jesus Acevedo said. "This team has exceeded expectations after losing 10 starters and 12 seniors to graduation. We've moved up a division and are still finding success. It's been very productive so far."
Bonita Vista (8-3-2) entered the week at No. 9 in the Division III power rankings while Mater Dei Catholic (3-6-2) was No. 15. Chula Vista Learning Community Charter (1-8-1) was ranked 20th out of 21 teams in the division.
Bonita Vista entered the week with a spotless 4-0 Metro-Pacific League record following commanding victories against Mar Vista (6-0 on Jan. 10), Otay Ranch (5-1 on Jan. 12), Mater Dei Catholic (7-2 on Jan. 17) and Castle Park (5-0 on Jan. 19).
In a show-stopping performance, senior Esteban Salais had racked up 22 goals and five assists in 13 games.
Otay Ranch (6-6-3) was ranked at No. 10 in the Division IV field while Castle Park (2-8-2) was ranked No. 16.
Among the section's Division V teams, Bayfront Charter (7-5-0) entered the week at No. 7 while Mar Vista (6-6-1) was ranked 11th, Victory Christian Academy (4-5-0) was ranked 15th and High Tech High Chula Vista (0-3-0) was ranked 25th of out 29 teams in the division.
Among girls teams entering the week, Cathedral Catholic (11-4-1) topped the Division I power rankings while Canyon Crest Academy (9-4-2) topped the Division II power rankings. Pacific Ridge (10-4-1) topped the Division III power rankings while Kearny (10-1-1) topped the Division IV power rankings. Madison (8-4-0) topped the Division V power rankings.
Three South County teams are pushing to make the Open Division playoffs: No. 7 Bonita Vista (4-3-4), No. 9 Eastlake (3-3-4) and No. 10 Mater Dei Catholic (7-0-3). If two of them do not, they should be high seeds in the reduced Division I field.
Otay Ranch (9-3-0) entered the week ranked third among Division II teams while Olympian (9-5-3) was 12th.
Hilltop (4-5-3) was ranked sixth in the Division III field, followed by No. 16 CVLCC (3-3-1), No. 17 Southwest (3-4-2) and No. 18 San Ysidro (5-7-2).
Sweetwater (11-4-1) and Montgomery (5-7-3) were ranked third and fourth, respectively, in Division IV, followed by No. 12 Chula Vista (3-6-2).
Mar Vista (6-6-1) was ranked fourth among Division V teams while Bayfront Charter (2-10-0) was ranked 19th.
Making a splash
Mar Vista (5-10) will compete in the Division I girls water polo playoffs despite being ranked 18th among the 20 teams prior to the Open Division cut while top-rated Eastlake (11-4) and sixth-ranked Bonita Vista (9-2) both appear to have Division II playoff berths seemingly locked up.
Chasing No. 1 Lady Titans in the Division II rankings were No. 2 San Marcos (10-6), No 3 Torrey Pines (14-5), No. 4 Francis Parker (13-4) and No. 5 Oceanside (10-4).
The Division III field contains a glut of South County teams vying for playoff berths: No. 2 CVLCC (3-1), No. 6 Southwest (6-3). No. 7 Otay Ranch (6-8), No. 8 Olympian (9-9), No. 9 Mater Dei Catholic (9-13), No. 12 Hilltop (6-10) and No. 13 Sweetwater (5-5).
Up-to-date power rankings can be accessed at www.cifsds.org.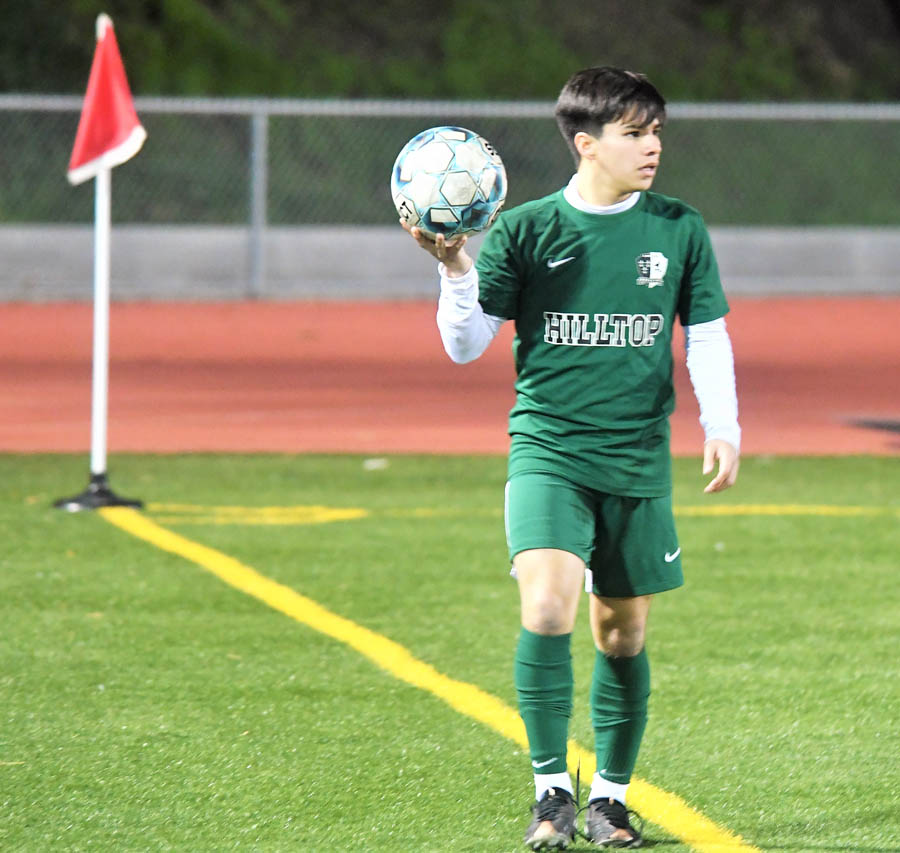 Boys Soccer
Division I
Eastlake 14-1-2
San Dieguito Academy 12-2-4
Del Norte 8-4-0
San Pasqual 10-3-3
St. Augustine 9-4-1
Torrey Pines 6-3-6
Poway 8-2-3
Sweetwater 6-3-3
Coronado 8-3-1
Pt. Loma 6-6-1
Westview 7-4-1
Rancho Bernardo 5-4-1
Southwest 8-6-2
Cathedral Catholic 3-6-0
University City 7-6-3
Carlsbad 5-6-4
Calexico 8-7-2
Canyon Crest Academy 3-6-2
Escondido 1-14-1
Francis Parker 1-11-1
Division II
La Costa Canyon 7-4-3
Fallbrook 10-4-3
Steele Canyon 7-4-2
Hilltop 8-3-5
San Diego 6-4-3
Chula Vista 11-5-2
San Ysidro 6-6-1
San Marcos 7-5-3
Helix 6-5-0
Scripps Ranch 6-5-0
Montgomery 6-6-4
Hoover 11-8-4
Grossmont 4-6-3
Oceanside 4-7-2
Valhalla 4-4-7
Patrick Henry 3-7-3
Olympian 3-9-5
Sage Creek 1-4-3
El Camino 1-4-4
Vista 3-7-5
West Hills 1-11-3
Division III
Crawford 9-1-3
Bishop's 10-1-1
Kearny 10-1-3
Rancho Buena Vista 9-2-4
Santana 6-4-4
Mission Hills 7-3-3
Clairemont 10-2-1
Mt. Carmel 7-5-2
Bonita Vista 8-3-2
Monte Vista 9-7-2
Santa Fe Christian 4-2-3
Granite Hills 3-4-3
Southwest El Centro 8-10-3
Valley Center 6-6-3
Mater Dei Catholic 3-6-2
Mission Vista 6-6-4
Foothills Christian 5-5-4
Orange Glen 3-5-2
Central Union 5-5-6
Chula Vista Learning Community Charter 1-8-1
Mira Mesa 1-11-0
Division IV
La Jolla Country Day 9-3-1
Morse 10-2-2
Brawley 13-4-3
Mission Bay 6-5-0
La Jolla 5-3-1
Pacific Ridge 5-3-1
Canyon Hills 8-4-2
Calvin Christian 8-3-0
Lincoln 8-3-1
Otay Ranch 6-6-3
Escondido Charter 5-7-2
Imperial 8-9-2
Mt. Miguel 8-6-3
Del Lago Academy 5-4-3
Ramona 1-6-5
Gompers Prep 1-5-0
High Tech High San Diego 1-8-0
Castle Park 2-8-2
SD Jewish Academy 2-6-0
Holtville 5-11-1
High Tech High North County 0-6-0
Division V
Preuss UCSD 9-2-1
Classical Academy 7-4-2
El Capitan 9-10-1
Vincent Memorial 5-3-2
Guajome Park 8-5-2
Coastal Academy 6-3-1
Bayfront Charter 7-5-0
Army-Navy Academy 7-5-0
Palo Verde Valley 9-0-2
El Cajon Valley 5-11-2
Mar Vista 6-6-1
Madison 4-9-3
Liberty Charter 4-4-2
Health Sciences 6-3-1
Victory Christian Academy 4-5-0
St. Joseph Academy 2-6-0
Borrego Springs 2-8-1
High Tech High Mesa 8-3-3
West Shores 5-8-0
Christian 0-7-1
Maranatha Christian 1-7-3
O'Farrell Charter 2-5-0
Mountain Empire 2-8-1
Calipatria 3-10-1
High Tech High Chula Vista 0-3-0
King Chavez 0-7-0
River Valley 0-4-0
Bonsall 0-12-0
Cristo Rey 0-1
Girls Soccer
Division I
Cathedral Catholic 11-4-1
Westview 8-2-3
Del Norte 7-1-2
Torrey Pines 6-2-2
San Marcos 9-7-2
Coronado 5-4-3
Bonita Vista 4-3-4
Mission Hills 6-3-5
Eastlake 3-3-4
Mater Dei Catholic 7-0-3
La Costa Canyon 4-2-5
Sage Creek 6-3-2
Carlsbad 4-4-4
Rancho Bernardo 5-1-2
West Hills 10-7-1
Pt. Loma 5-4-3
Mission Bay 7-3-2
Poway 3-7-2
Christian 2-8-1
20.Helix 2-8-4
Division II
Canyon Crest Academy 9-4-2
Patrick Henry 12-2-1
Otay Ranch 9-3-0
Classical Academy 13-3-1
Francis Parker 7-4-1
Our Lady of Peace 7-4-3
Santana 6-2-1
Granite Hills 8-4-1
Mt. Carmel 5-4-3
San Dieguito Academy 4-7-3
San Pasqual 6-4-2
Olympian 9-5-3
El Camino 4-2-4
Mission Vista 6-5-3
Scripps Ranch 3-5-6
Rancho Buena Vista 4-7-2
Steele Canyon 5-7-5
Central Union 9-8-0
Mira Mesa 1-6-5
University City 2-9-2
Bishop's 2-6-2
Division III
Pacific Ridge 10-4-1
Santa Fe Christian 13-1-0
Oceanside 3-3-5
Foothills Christian 9-4-2
San Diego 6-5-1
Hilltop 4-5-3
La Jolla 7-1-3
Monte Vista 5-5-2
Valley Center 5-3-3
El Capitan 7-5-3
Valhalla 3-6-4
Imperial 9-5-3
Fallbrook 3-3-4
Grossmont 2-6-3
Escondido Charter 4-7-2
Chula Vista Learning Community Charter 3-3-1
Southwest 3-4-2
San Ysidro 5-7-2
Vista 5-6-3
La Jolla Country Day 0-10-1
Ramona 2-8-4
Division IV
Kearny 10-1-1
Clairemont 10-2-0
Sweetwater 11-4-1
Montgomery 5-7-3
Mt. Miguel 7-3-0
Del Lago Academy 5-5-1
High Tech High San Diego 6-4-2
Escondido 6-4-2
Morse 6-6-2
Calexico 9-9-2
Canyon Hills 5-7-1
Chula Vista 3-6-2
Calvin Christian 4-4-2
Brawley 5-12-1
Maranatha Christian 4-7-1
Holtville 4-8-0
17.Gompers Prep 3-5-2
Tri-City Christian 3-4-0
Orange Glen 1-6-1
Hoover 4-15-0
Mountain Empire 0-8-0
Division V
Madison 8-4-0
O'Farrell Charter 9-2-0
River Valley 1-1-0
Mar Vista 6-6-1
Southwest El Centro 10-9-0
El Cajon Valley 5-5-1
High Tech High Mesa 3-5-1
HTH North County 4-4-0
Guajome Park Academy 4-6-0
Crawford 4-4-1
Health Sciences 1-3-3
Palo Verde Valley 6-9-2
Lincoln 3-9-0
Preuss UCSD 2-4-3
Liberty Charter 3-8-1
Coastal Academy 0-10-0
SD Jewish Academy 2-8-0
Vincent Memorial 1-8-0
Bayfront Charter 2-10-0
Borrego Springs 1-5-0
West Shores 1-5-0
King Chavez 0-3-0
Girls Water Polo
Division I
Clairemont 20-5
Helix 15-4
Bishop's 9-4
El Camino 11-3
Coronado 6-5
La Jolla 17-7
Grossmont 11-5
Valhalla 11-7
Carlsbad 9-10
Rancho Bernardo 11-7
Patrick Henry 10-7
Santana 7-8
Westview 4-6
Granite Hills 4-9
Poway 10-10
La Costa Canyon 8-10
Cathedral Catholic 11-13
Mar Vista 5-10
Del Norte 1-9
Santa Fe Christian 1-6
Division II
Eastlake 11-4
San Marcos 10-6
Torrey Pines 14-5
Francis Parker 13-4
Oceanside 10-4
Bonita Vista 9-2
Mission Bay 7-3
Fallbrook 8-6
Valley Center 11-2
Ramona 7-4
El Capitan 10-4
Steele Canyon 9-6
San Pasqual 12-6
University City 10-11
West Hills 10-12
Pt. Loma 8-12
Canyon Crest Academy 6-12
Classical Academy 0-8
San Dieguito Academy 4-11
Vista 2-12
Division III
Mt. Carmel 19-5
Chula Vista Learning Community Charter 3-1
Scripps Ranch 5-5
Rancho Buena Vista 6-6
Our lady of Peace 5-4
Southwest 6-3
Otay Ranch 6-8
Olympian 9-9
Mater Dei Catholic 9-13
High Tech high San Diego 5-9
Escondido 0-4
Hilltop 6-10
Sweetwater 5-5
Mt. Miguel 2-9
Orange Glen 0-1
Canyon Hills 2-9
Chula Vista 2-10
Mission Hills 0-10
Monte Vista 0-8
Montgomery 1-3
Mira Mesa 3-7
San Ysidro 0-1
ROLLER HOCKEY:
The Bonita Vista Barons are undefeated to start the 2022-23 CIF-Metro Conference season for the second consecutive season. The Barons improved to 7-0 after rolling past Otay Ranch, 11-2, on Tuesday.
BOYS SOCCER:
Albert Camacho scored on a direct free kick jusgt before the end of the first half and the goal stood up as Hilltop posted a 1-0 shutout victory at Chula Vista on Tuesday to remain undefeated in the 2023 calendar year.