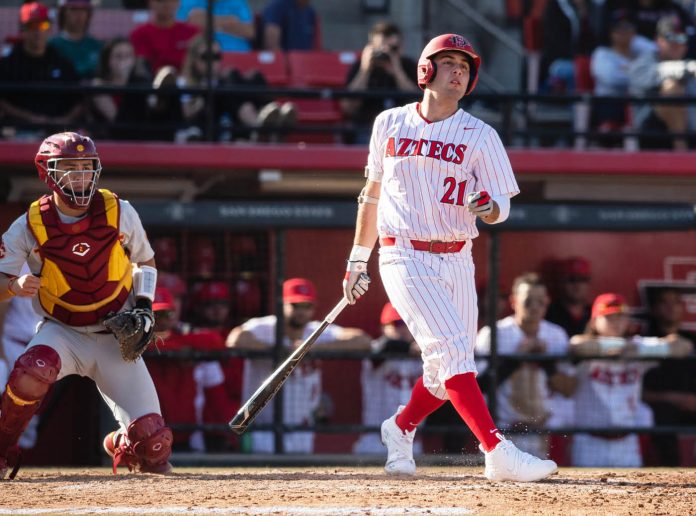 For the third consecutive season, San Diego State University's baseball team has been picked first in the Mountain West Preseason Coaches Poll. Besides earning the honor, the Aztecs also had three players selected to the preseason all-MW team: redshirt sophomores Jaden Fein (Simi Valley) and Troy Melton (Anaheim) and redshirt junior Matt Rudick (Scripps Ranch High School).
SDSU received 36 points and five first-place votes to top second-place Fresno State (29 pts, 1 first-place vote), while New Mexico and UNLV tied for third with 23 points apiece. Rounding out the remainder of the poll were Nevada (fifth, 16 points), Air Force (sixth, 11 points) and San Jose State (seventh, 9 points).
The Aztecs, who posted a 10-6 record during the 2020 campaign that was cut short because of the COVID-19 pandemic, return six starting position players and three starting pitchers from last season's squad. Meanwhile, SDSU welcomes 20 newcomers, including 13 true freshmen, four transfers from the Division I ranks and three junior college players, all of whom comprise a talented recruiting class that was ranked 22nd nationally by Perfect Game.
Fein, who earned Mountain West Co-Freshman of the Year honors in 2019 to go with Freshman All-America accolades from Collegiate Baseball magazine, recorded a team-high .348 batting average during the abbreviated 2020 season, finishing with one home run, one double, seven RBIs and seven runs scored in 16 games.
Besides receiving the all-conference consideration, Fein was named the MW Preseason Player of the Year by Baseball America.
Melton, meanwhile, received all-Mountain West recognition in 2020 after posting a 3-1 record with a 3.22 ERA and 26 strikeouts. He was tabbed the preseason Mountain West Pitcher of the Year by Baseball America.
Rudick merited all-conference distinction for the second consecutive year in 2020 after posting the Aztecs' third-highest batting average (.313) while leading the team in slugging percentage (.478), hits (21) and runs scored (13), with the latter tying for ninth in the league. The SDSU center fielder also topped the squad with 32 total bases and tied for second in the MW with a team-high three triples, which was tied for 10th in the country.
In the summer of 2020, Rudick was named San Diego College Baseball League Player of the Year after batting .419 in 16 regular-season games while posting four doubles, three triples, three home runs, 18 RBI and 22 runs scored for the Warriors squad. He also went 5-for-10 at the plate in two playoff games.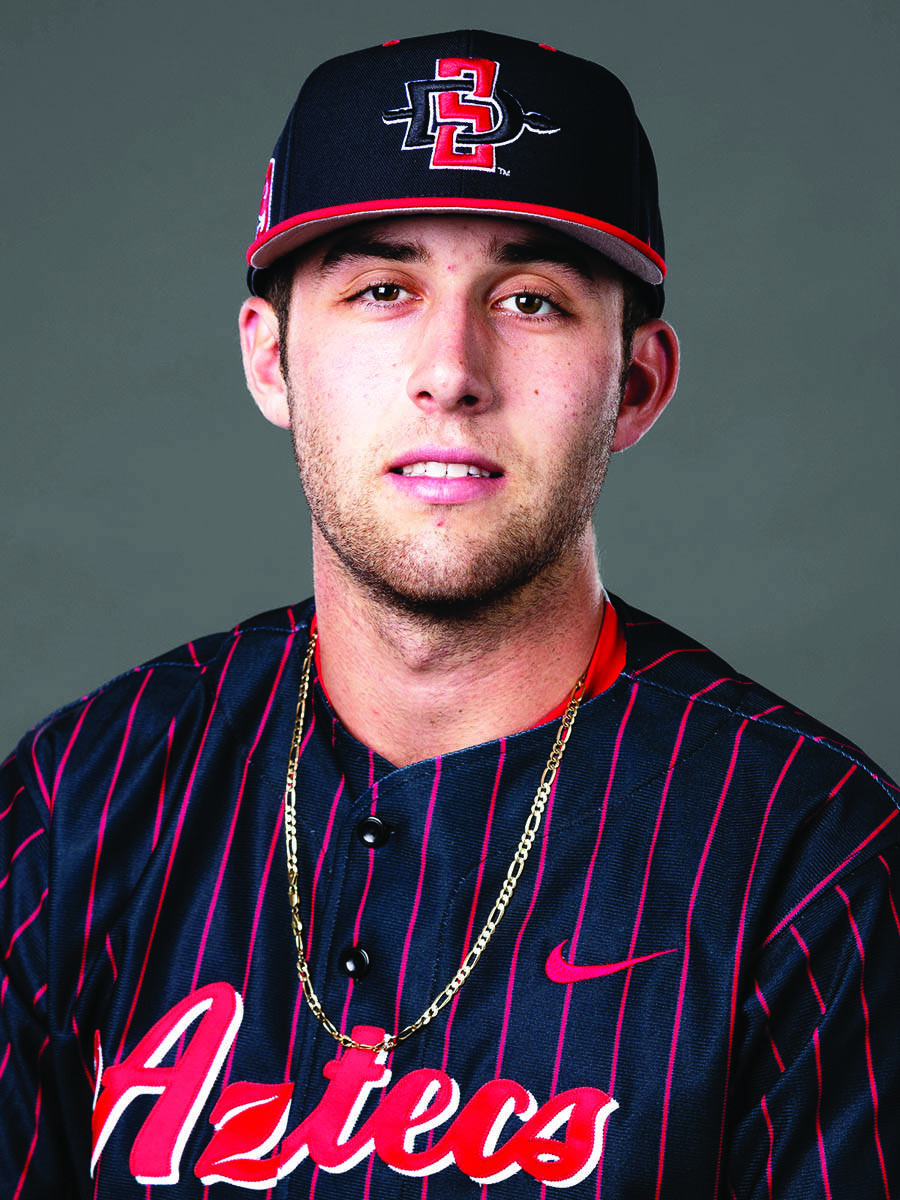 South County players on SDSU's 2021 roster include redshirt sophomore first baseman Brian Leonhardt (Eastlake), freshman catcher Poncho Ruiz (Mater Dei Catholic), redshirt-freshman pitcher Ricky Tibbett (Eastlake) and redshirt junior pitcher Tre Brown.
Leonhardt hit .269 with two home runs and 12 RBI in 16 games last year after hitting .272 with 14 doubles and 34 RBI in 2019.
Brown appeared in nine games last season with a 1-0 record, 16 strikeouts in 14.1 innings and 1.26 ERA.
Tibbett appeared in three games as a true freshman last year with a 1-0 record, 0.00 ERA and two strikeouts in 5.1 innings.
A four-year varsity letter-winner at Mater Dei Catholic, Ruiz earned honors as the (2019?) South Bay League Player of the Year. He has also represented Team Mexico at three Pan American Games (COPABE).
East County players on this year's Aztec roster include pitchers Casey O'Sullivan and Joseph Ingrassia, both from Valhalla High School, and Trevor Hazelhurst from Granite Hills.
O'Sullivan is a redshirt junior while Ingrassia and Hazelhurst are freshmen.
O'Sullivan has a 4-4 record with two saves in 45 career appearances for the Aztecs.
Hazelhurst played two years at Grossmont College before transferring to SDSU. He was an All-Pacific Coast Athletic Conference honorable mention as a freshman with the Griffins in 2019 after recording a .322 hitting average in 24 games with two home runs, seven doubles, 20 RBI and 15 runs scored.
The Aztecs are slated to play 46 games during the 2021 regular season, starting Feb. 19-21, when they take on San Diego in a crosstown series. SDSU will play host to the Toreros at Tony Gwynn Stadium for the first two games of the set (Feb. 19-20) before the scene shifts to Fowler Park on the USD campus for the finale (Feb. 21).
At this time, spectators will not be allowed inside Tony Gwynn Stadium for Aztec home games.
With the Mountain West back to seven teams, the league returns to a double round-robin format for this year. The teams will play a 36-game conference schedule with weekends consisting mostly of doubleheaders on Saturday and a Sunday series finale. The conference tournament has been eliminated and the regular-season champion will receive the league's automatic NCAA tournament bid.